Brianna Steele
Brianna is the motherhood and travel blogger behind The Adventures of a Twin Mom, based out of Charleston, SC. When she's not with her husband or boy/girl twins, she's pursuing one of her passions: traveling (48 countries and counting), interior design, organizing or watching reality TV!
Instagram
Facebook
Pinterest
Website
Download Beach Packing List
I am SO excited for today's post about two of my most favorite things: the beach and vacation!

Packing for a family vacation can be a little stressful in and of itself. Throw in everything you need for a successful beach getaway, and it can be even more overwhelming. But with this family beach vacation packing list … it won't be!

As a mom, a frequent traveler and now a beach resident in Charleston, SC, I feel like an expert packer for all things beach and vacation.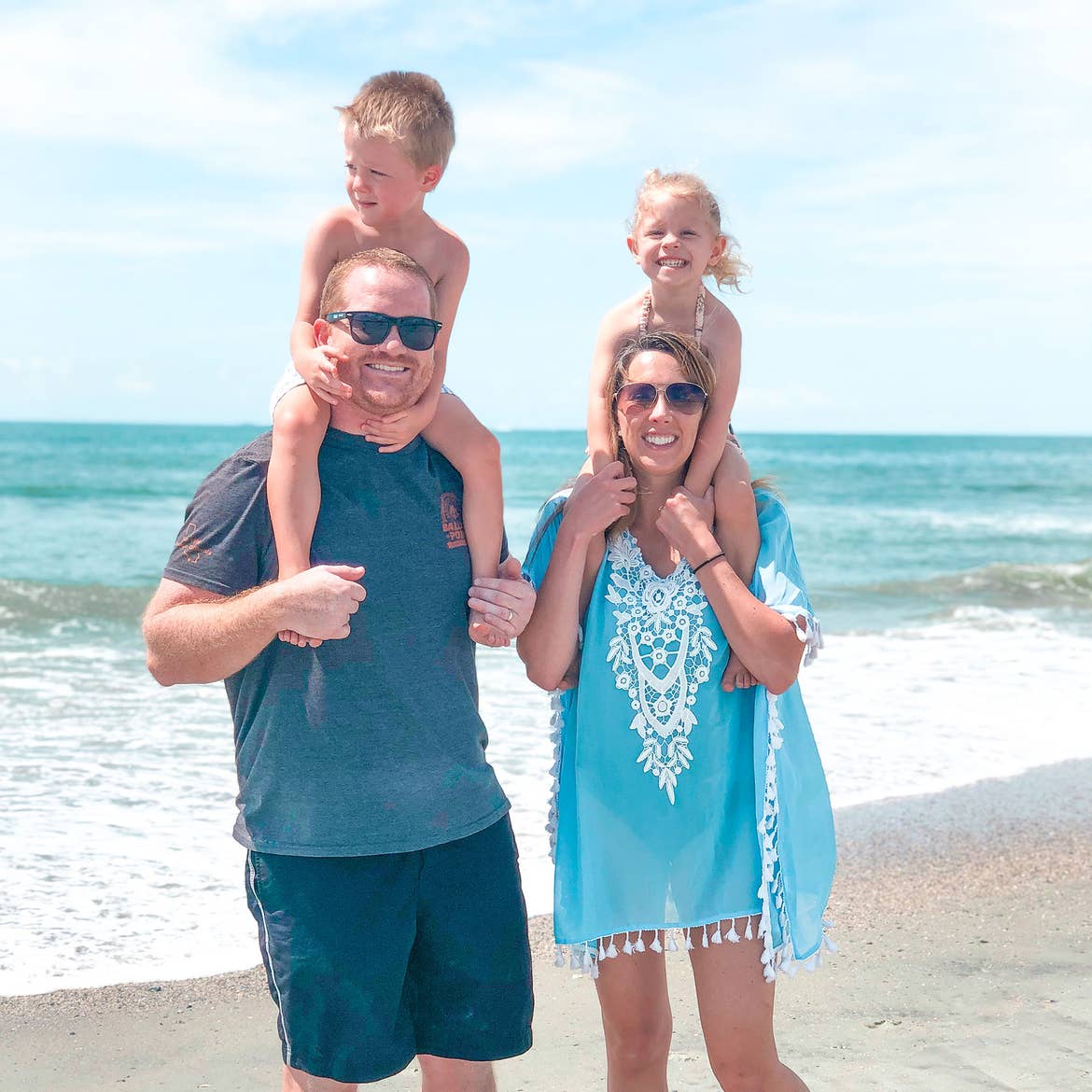 Meet the Steele family! Justin, Brianna and twins, Camden and Ella.

My checklist below has come after years of experience and lots of trial and error, and I even used it for our most recent getaway at South Beach Resort in Myrtle Beach.

Plus, you can easily download, print and save it for all your family vacations to make packing a breeze.

DOWNLOAD CHECKLIST


General Vacation Packing List
Let's start with what you need for any vacation (not just beaches!). I actually have a packing template saved on my computer and every time we travel, I print it out to help me pack. It saves a ton of time!

Here's what I have on my list:


Personal Items:
Money

Debit or credit card
Cash

Driver's license & insurance cards
Travel plans: I recommend printing the important things out, such as reservations. You might have it on your phone, but having a paper version is sometimes easier and faster to find.
Covid-19 Essentials:
Hand sanitizer
Masks
Disinfecting wipes
Medicine:
Always better to come overprepared!
First aid kit
Tylenol
Bug spray
Stomach medicine
Prescriptions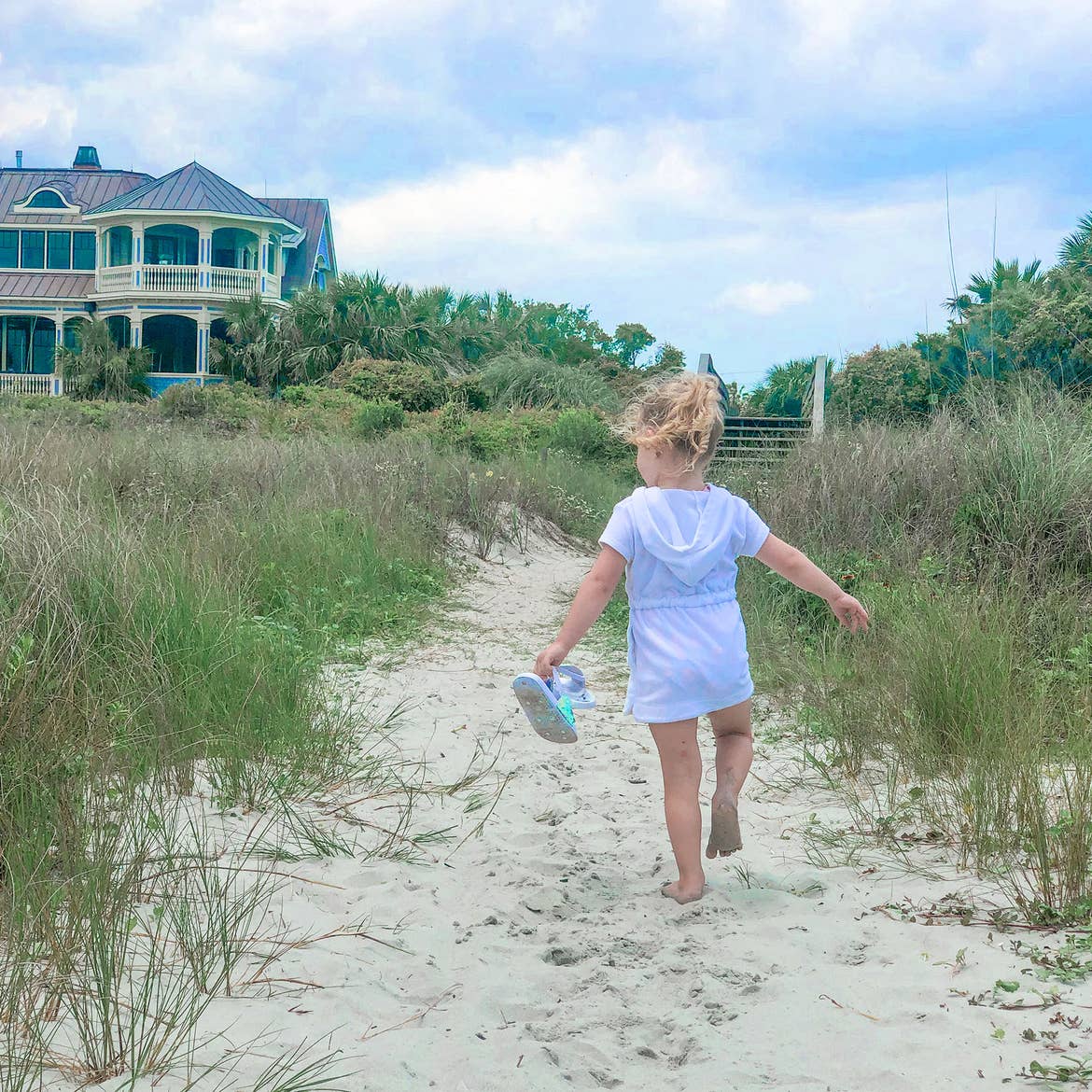 Vacation Essentials:
Toiletries: Walk around your bathroom and write down everything you use every day, including:

Deodorant
Toothbrushes
Toothpaste
Shampoo
Conditioner
Soap
Razor & shaving cream
Hairbrush
Hair ties
Lotion
Makeup
Floss
Clothes: Our family finds vacation way more relaxing when we don't have to make any decisions. That's why I pick out our outfits for every day prior and pack them accordingly. (And if you're like me, you might also color coordinate your outfits. Haha!) It saves us a lot of time on vacation.
Shoes
Sunglasses
Laundry products: Definitely consider staying at a resort with a washer and dryer, which is especially great for cleaning and drying wet, sandy bathing suits (and packing light if you're traveling cross-country). Be sure to check if they already provide laundry items before packing them.
Fun Stuff:
Camera & charger
Phone & charger
Games
Books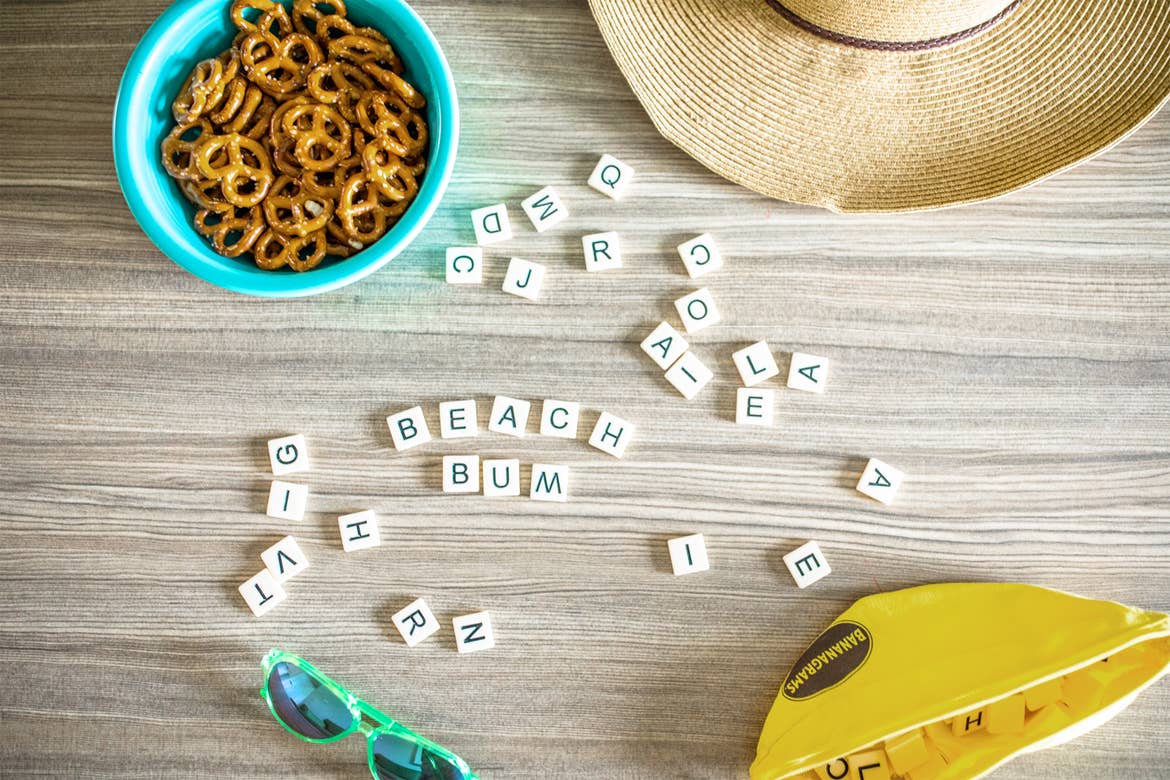 Kids Packing List
Now, if you have kids, you know how much stuff they need … sigh! Here's a family beach vacation packing list made specifically for the kiddos (depending on age):


Any Age:
Clothes … & extra clothes
Toys
PJs
Shoes
Hats
Bath products
Hand wipes
Blankets
Toiletries
Babies & Toddlers:
Diapers & wipes
Pacifiers
Sippy cups
Breast pump & attachments
Formula
Filtered water
Stuffed animals
Pack N Play: But first, check to see if the resort has this or a crib you can use.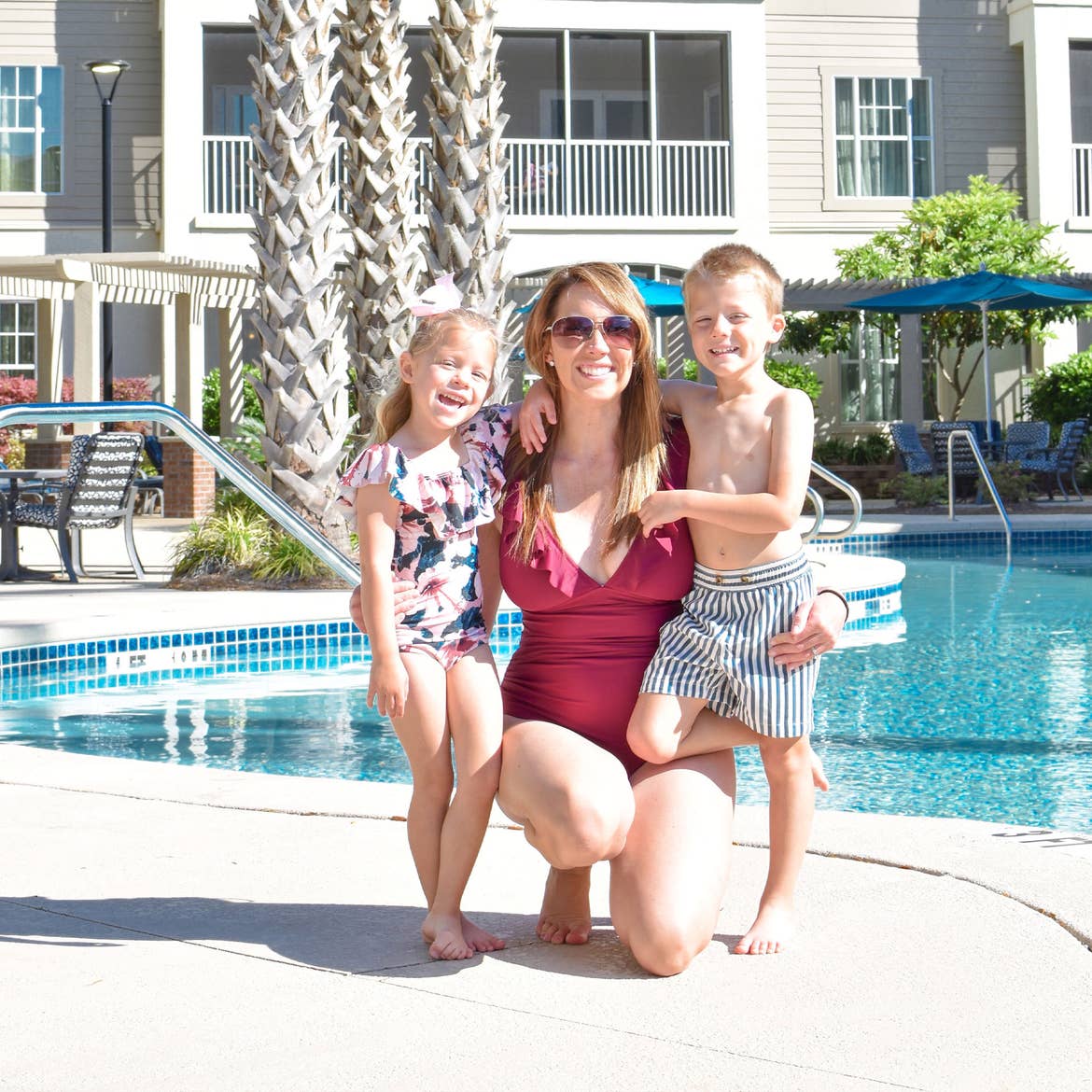 All smiles and sunshine on our Myrtle Beach vacation at South Beach Resort
Family Beach Vacation Packing List
And now we have the fun stuff … your beach vacation!! I 100% believe it's better to be overprepared for the beach. It can sometimes feel ridiculous with how many items you need to take, especially if you have kids, but it's so worth it!

Whether you're going to the beach for a day or a week, this list will cover it all:


Beach Clothes & Accessories:
Swimsuits
Cover-ups
Hats
Flip flops
Water shoes: In case anyone doesn't like touching the bottom of the ocean.
Sunglasses: Get polarized ones for everyone to protect your eyes from harmful rays.
Hair ties: Trust me, if you have long hair, this is a must!
Hairbrush: Salty beach hair is beautiful until you try to run your hands through it! I always have a small detangle brush in our bag; it makes things a lot easier when we shower after the beach.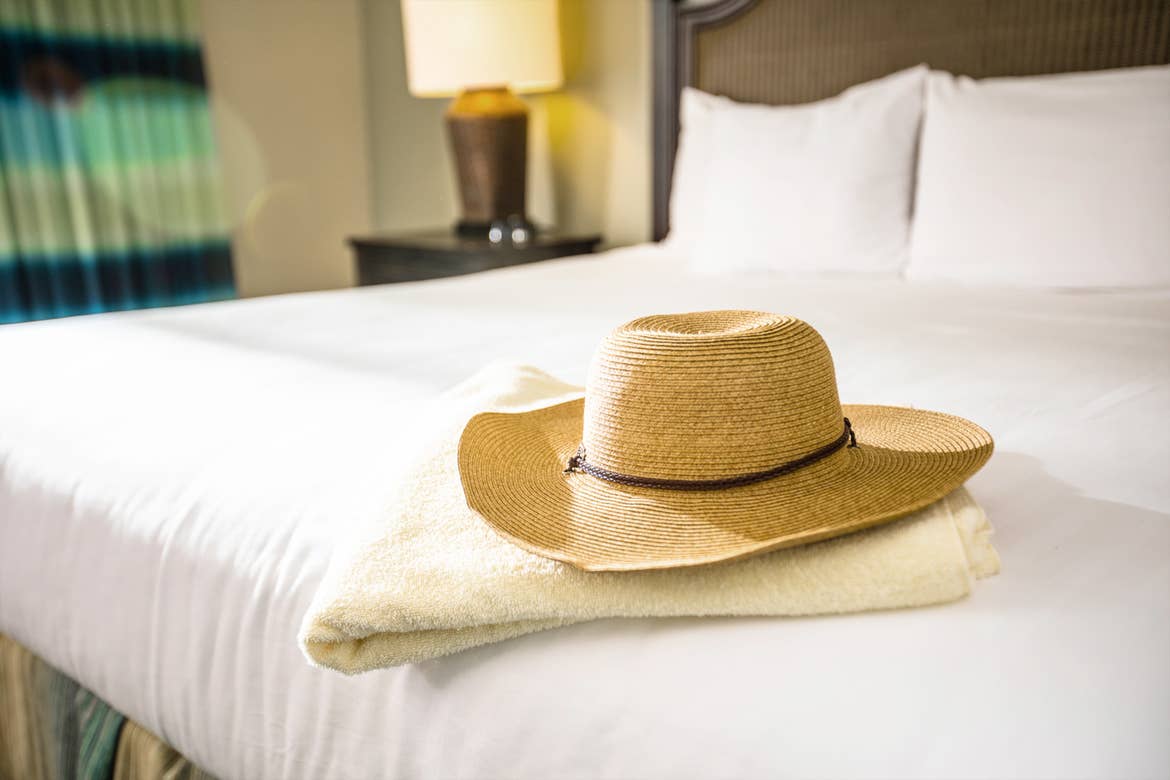 A two-bedroom villa at South Beach Resort
Sun Care & Safety:
Sunscreen for your body & lips: Pack lots of it! You won't believe how fast you go through sunscreen, and it can be expensive around the beach, so I'd recommend stocking up ahead of time.
More sunscreen: Seriously, you're welcome!
Aloe
Eye drops: Many people's eyes get irritated at the beach. Almost every time we go, someone needs to put eye drops in their itchy eyes!
Life vests
Hand sanitizer: You never know when you might need it.
First aid kit: Better safe than sorry! Some beaches have lifeguards, and some don't. Always be prepared for small injuries, especially with kids!
Beach Essentials:
Beach bag: I recommend an oversized one so you can throw everything in it!
Chairs: Check with your resort to see if they have them for you to use or rent.
Umbrella
Large blanket or mat: This is great if you don't have chairs or want to lie down flat.
Towels: Your resort might provide these as well; always check before packing!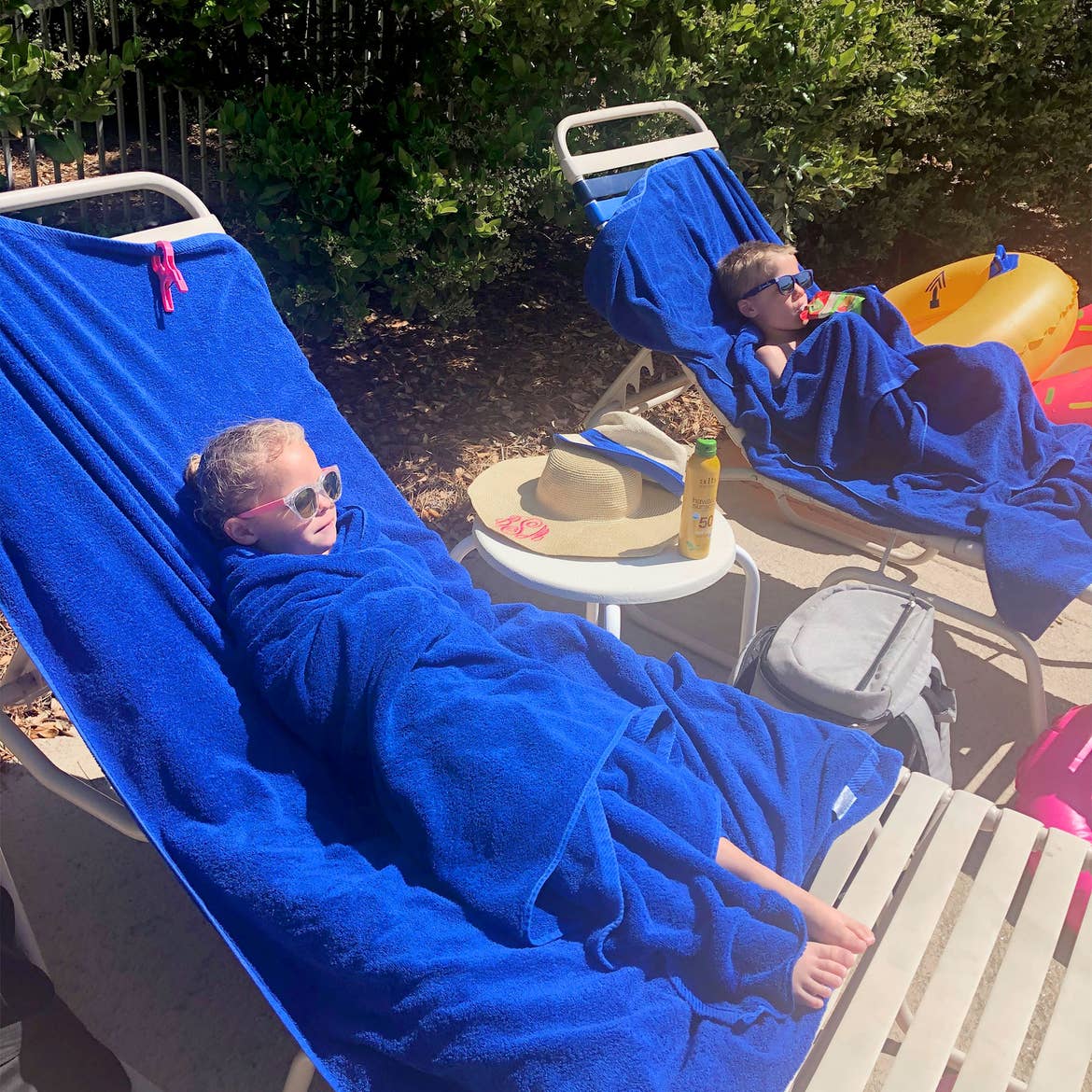 Taking a little break from all that pool and beach fun in the sun
Towel clips: These are amazing to hold your towel in place!
Beach wagon or cart: To pull everything in. This might not be needed, but we used it when our kiddos were really young!
Snacks, snacks, snacks: You can never have enough snacks on the beach.
Cooler: The collapsible kind you can wear around your shoulders has been great for us!
Drinks, drinks, drinks: You will be amazed at how much cold drinks can help you keep cool on the beach.
Water bottle: When you're spending the day in the sun, it's important to stay hydrated. I recommend a large, insulated water bottle so it will stay cold all day!
Plastic bag: This is for your wet clothes to prevent everything else in your beach bag from getting soaked or sandy.
Waterproof bags: Perfect for putting your phone or keys in, so they don't get wet and/or sandy either!
Swim diapers: Did you know these only hold number 2 in? Haha! I was a little shocked the first time I was holding one of my twins in a swim diaper and felt pee run down my hip and leg.
Trash bags: This is always nice if you bring food or have kids. Easy to just throw all your trash in so it doesn't get mixed up with your other items!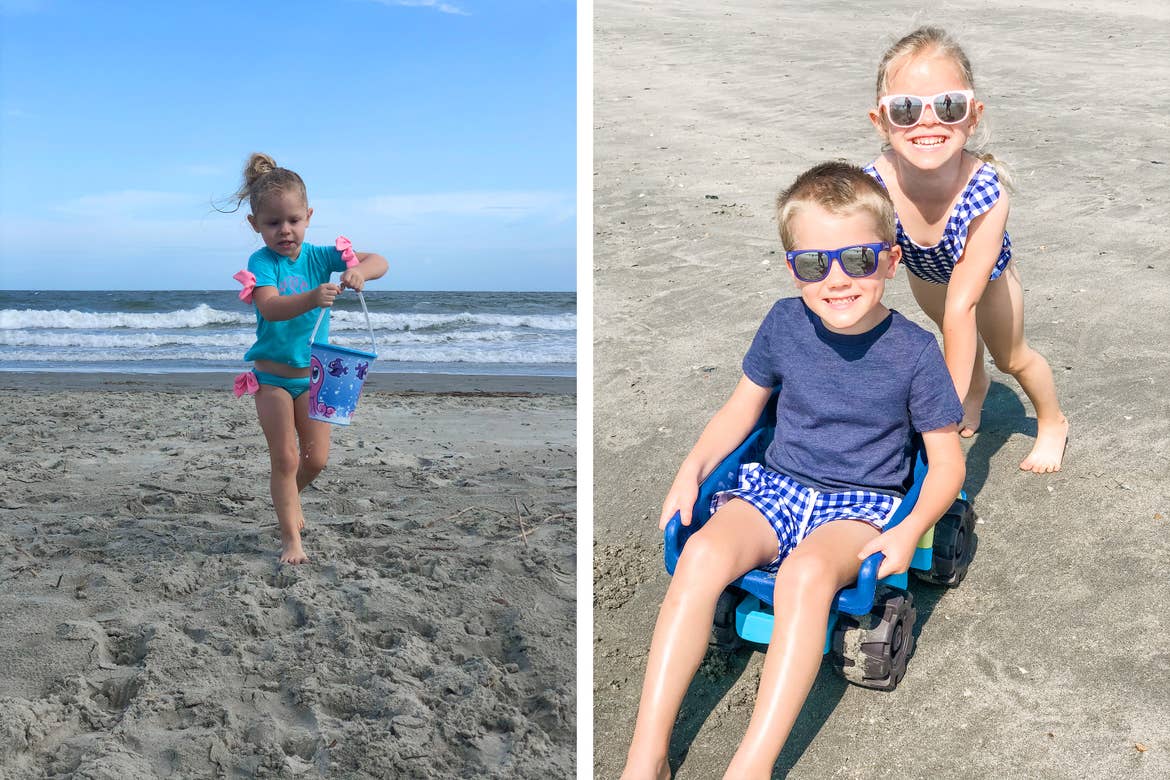 It doesn't take much to keep these kids happy at the beach!
Fun Stuff:
Beach toys: Think of the kids' ages and what everyone likes to do for fun! Does someone like to build sandcastles? What about flying a kite? Will they spend most of the time in the water? Here are some ideas to get you started:

Inner tubes
Boogie boards
Floats
Goggles
Snorkels (Snorkeling tip for first-timers: Practice before your trip to get your kids used to it.)
Volleyball or football
Frisbee
Corn hole

Portable speaker: If your family loves music, this is always a good idea! (Pro tip: Make a special beach playlist for your trip.)
GoPro camera: Always fun to take photos or videos underwater or when trying a watersport!
Ok, now I know this list looks super long, but a lot of these items are small and can just be thrown into a beach bag. Plus, this is a comprehensive list, and you might not need all of it!

One of my biggest tips for beach getaways is to make your grocery list prior to arriving, especially if you have a full kitchen to cook meals in at your resort.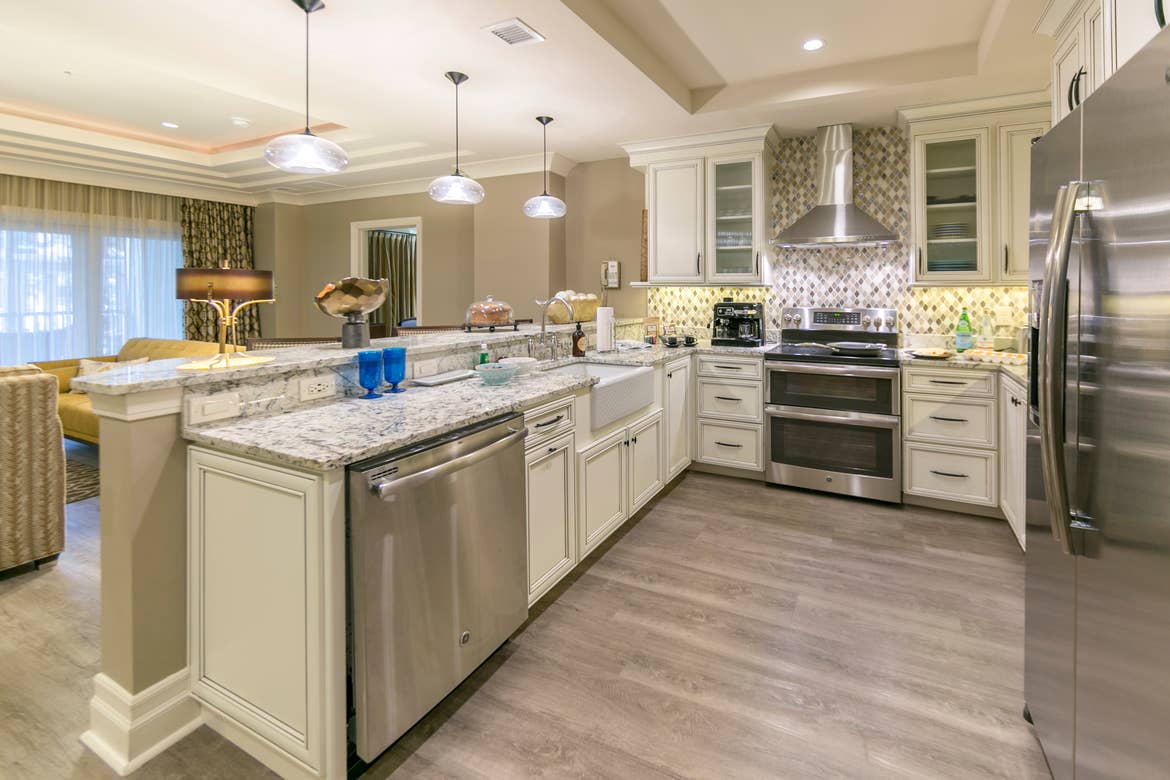 A Signature Collection villa at South Beach Resort

That way, you don't have to worry about that once you arrive! Because who wants to meal plan while on vacation, am I right? :)

And if you're looking for some of the best beach destinations, check out Holiday Inn Club Vacations® resorts.

They have lots of dreamy, waterfront properties that have villas with full kitchens, plenty of space for your family to spread out and amenities — like pools, restaurants, mini golf and more — for your non-beach days.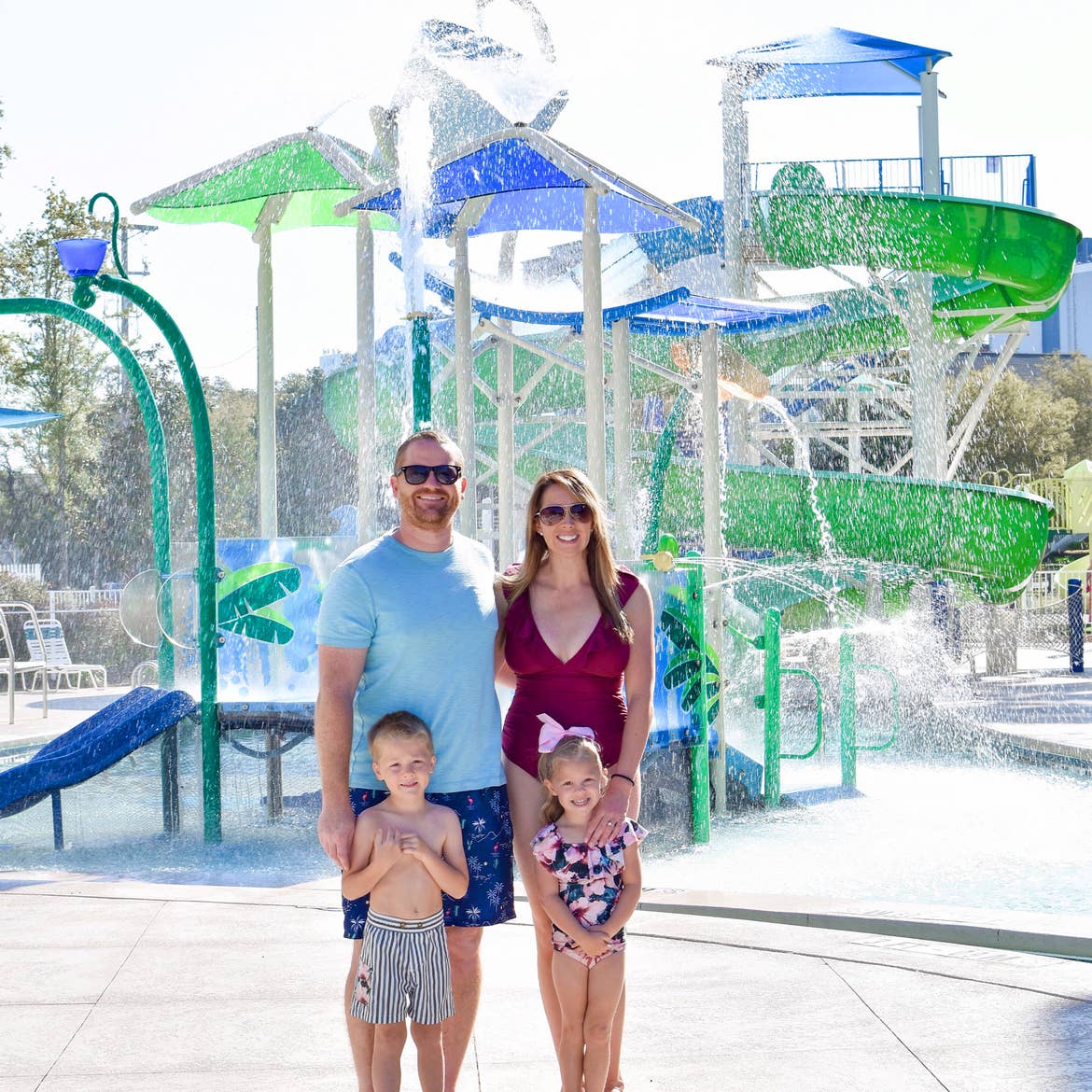 Our family really loved spending time in Splash Cove at South Beach Resort.

I hope this family beach vacation packing list made your life a little easier and that you have a wonderful trip. Don't forget to download, print and save it for the future!

DOWNLOAD CHECKLIST

There's nothing better than having your feet in the sand, the sun on your face and the sound of the waves crashing — all knowing you have everything you need right there!


Our guest bloggers are compensated for their writing contributions and honest opinions.

All information is subject to change. This article is a curated guide and is neither sponsored nor considered an official endorsement. Please be sure to check information directly with any/all tours, guides or companies for the most up-to-date and direct details.