Jessica Sanchez
Jessica is a writer, photographer and social media strategist for The Jetsetting Family. Three years ago, she sold most of her stuff and took her family on a full-time adventure around the world. In two years, she visited more than 40 countries with her husband and two young children, working with dozens of brands in the travel and hospitality industry. She now calls Florida home and is always ready for the next big adventure!
Instagram
Facebook
Pinterest
YouTube
Website
After traveling the world full-time for 2 years, our family recently settled in Florida and have loved exploring all the incredible places it has to offer.

Since my husband Rodrigo is an Aerospace Engineer, visiting Florida's Space Coast was high on our list.

We were specifically eager to explore the Kennedy Space Center™ Visitor Complex and dive deeper into learning about spacecraft, missions, astronauts and so much more.

My family's excitement to see the center also led us to discover Cape Canaveral Beach Resort, which is a short drive away.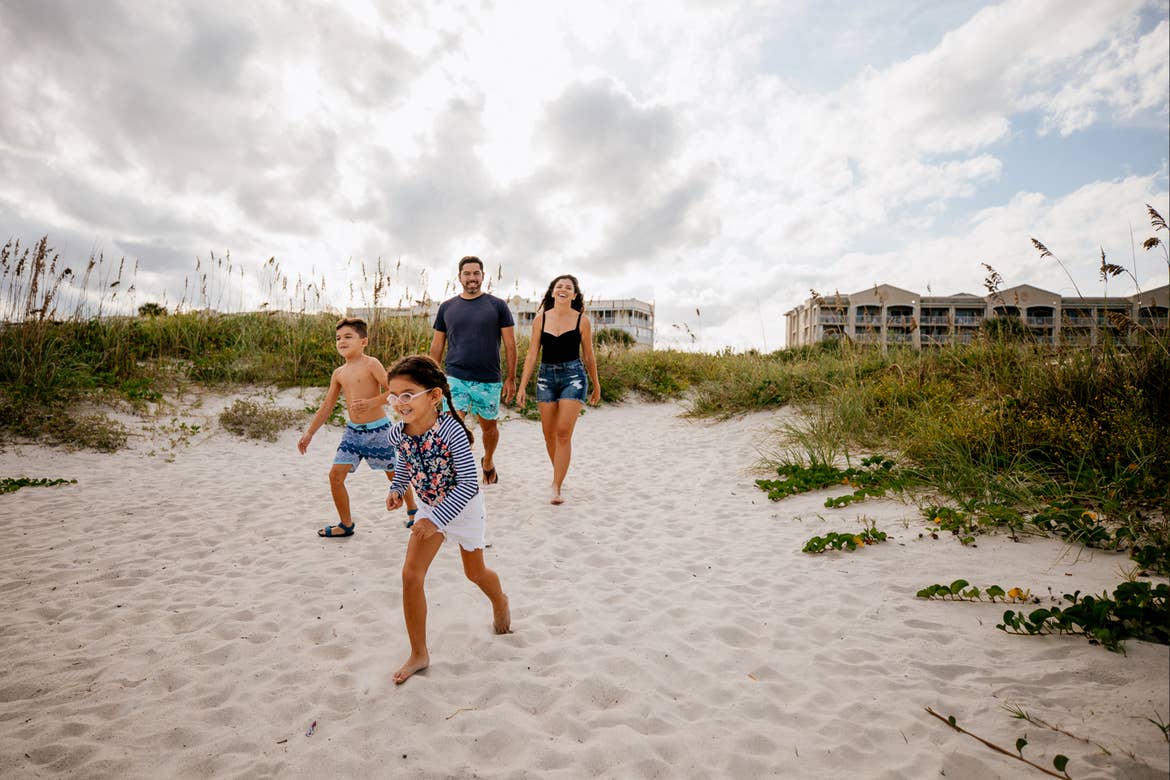 Cape Canaveral Beach Resort

It's the perfect place to stay nearby and enjoy a mix of the beach, amenities and space!

Since we had such a good time during this trip, I wanted to share more about this area of Florida, our Space Coast adventures and ways you can have a blast on your own journey to Kennedy Space Center!


What is the Space Coast?
The Space Coast is a region in Florida surrounding the Kennedy Space Center™ and Cape Canaveral. It has been an enormous part of the United States Space Program since its first launch in 1950.

All of NASA's launches from 1961–2011 departed from this region, and it's still used by other organizations (like SpaceX or the US Space Force) today.

Outside of space, there are so many other things to do in this area, such as spending time at the beach, seeing manatees, visiting the Brevard Zoo and much more.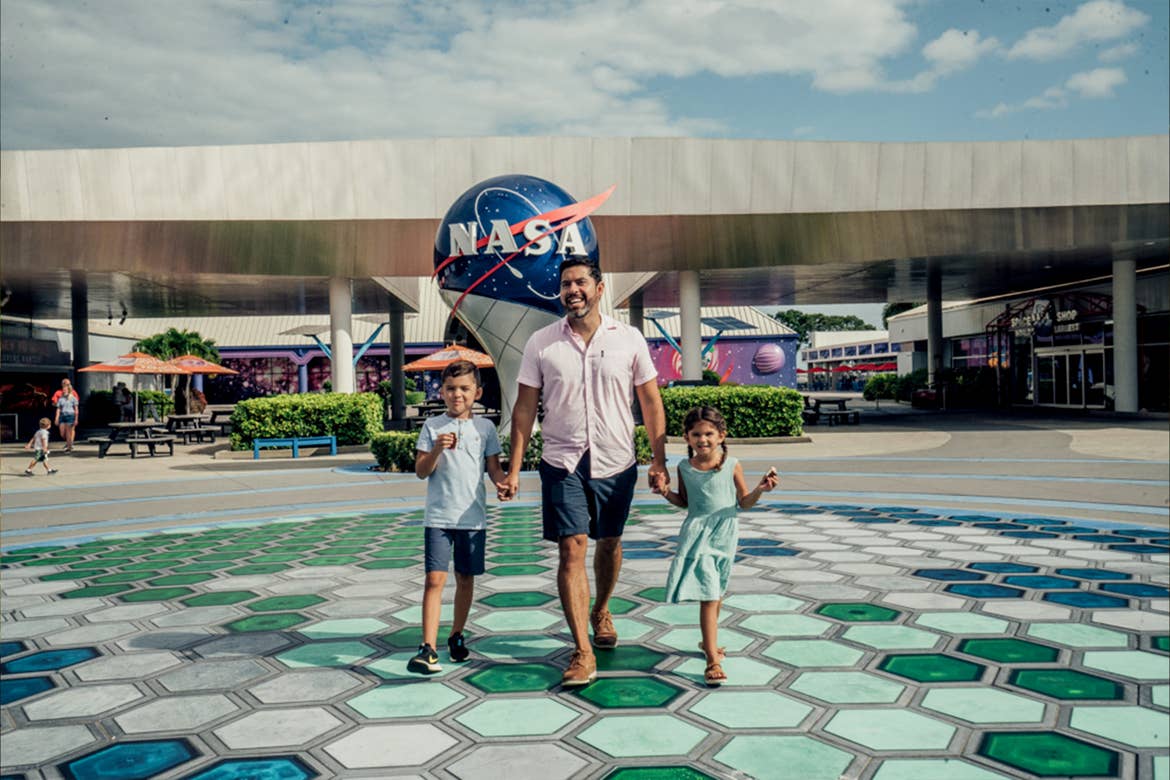 Kennedy Space Center™ Visitor Complex in Cape Canaveral, Florida


What is the Kennedy Space Center Visitor Complex?
The Kennedy Space Center™ Visitor Complex is an entirely visitor-funded indoor and outdoor attraction with incredible exhibits, a close-up view of Space Shuttle Atlantis and days' worth of hands-on activities for all ages.

The center is divided into Mission Zones that are all categorized by chronological eras, allowing you to see the evolution of the US Space Program.

The Mission Zones include:
Heroes and Legends
Behind the Gates
Race to the Moon
Shuttle: A Ship Like No Other
NASA Now + Next
There are so many activities that you can definitely spend an entire day or two exploring, so make sure to give yourself enough time as each area is so informative and aesthetically captivating.


3 Best Things to Do at Kennedy Space Center
These next three mission zones were our family's top favorite attractions and exhibits from our day at Kennedy Space Center.


Heroes & Legends
The Heroes & Legends Mission Zone is hard to miss, as it greets you when you walk through the gates.

The Rocket Garden is filled with real rockets, so you can admire their scale and the incredible efforts that were made to launch them to space.

You can walk through this area and enjoy it alone or you can join a guided tour.

From the Rocket Garden, you can also visit the U.S. Astronaut Hall of Fame, where you get to learn about all the brave men and women who made the Space Program what it is.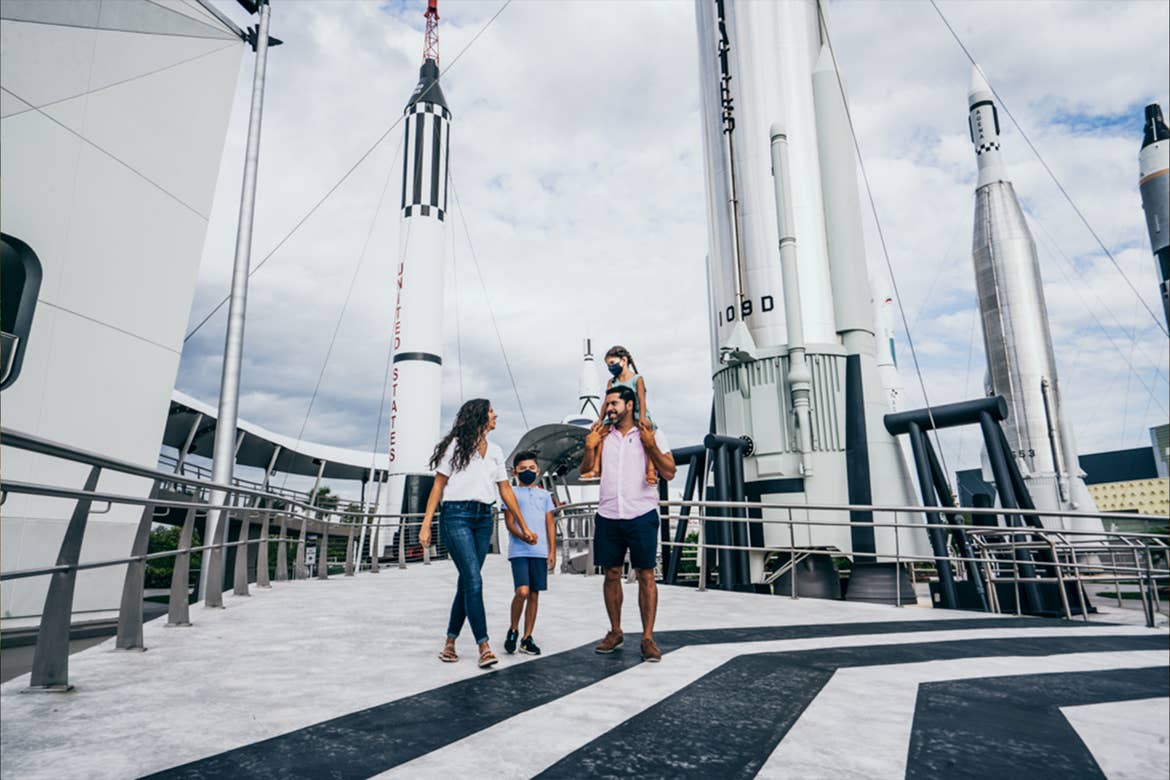 Heroes & Legends Rocket Garden


Shuttle: A Ship Like No Other
If you only have time for a few hours at Kennedy Space Center, I would prioritize seeing Shuttle: A Ship Like No Other.

It's jam-packed with activities, so plan to spend 2-3 hours in this area.

You commence your time here with two videos about the journey to creating the space shuttle, and the kids found the videos really fascinating.

At the end of the video, you enter the large hall where you can get an up-close look at Space Shuttle Atlantis, which is a truly unforgettable sight!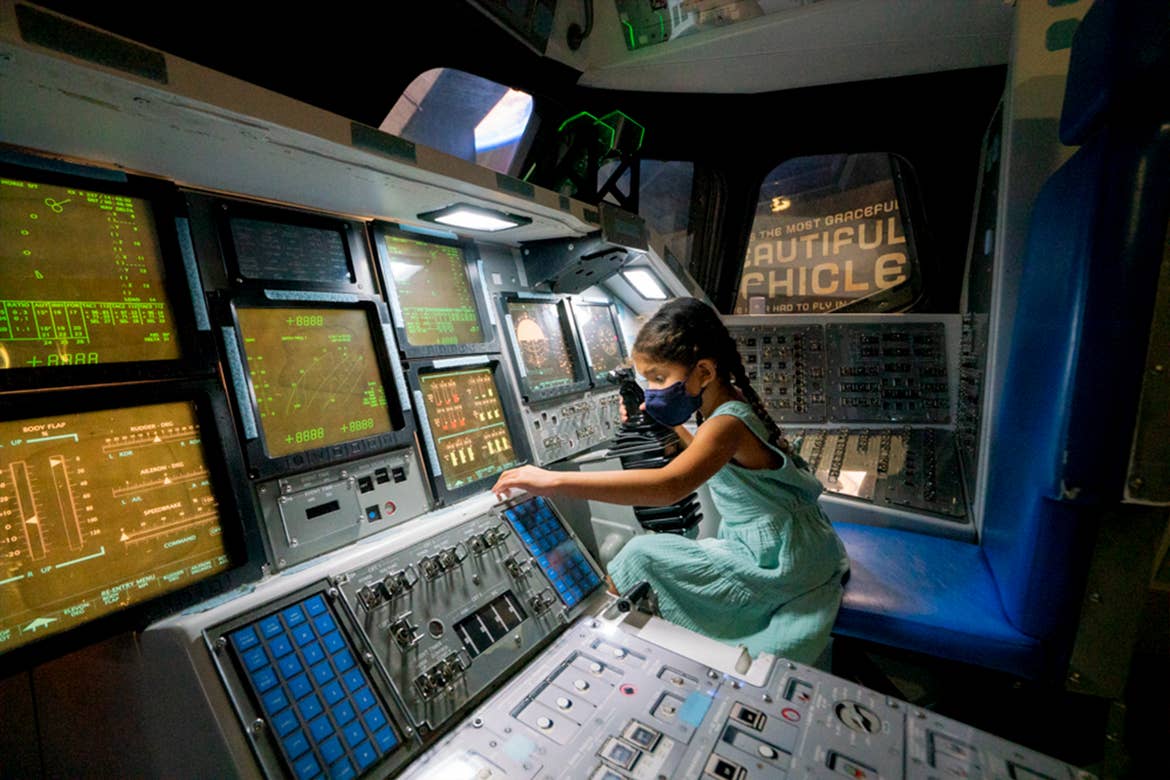 Shuttle: A Ship Like No Other Mission Zone

The kids also loved the hands-on activities in this area. They had different exhibits showing how the astronauts would eat, sleep and, of course, their favorite: how they go to the restroom.

They had a large slide, an area to crawl through that simulated being on the spaceship, and even astronaut training simulators, which the kids loved!

Finally, we ended our time in this Mission Zone with the Shuttle Launch Experience, a simulator that gives each rider the opportunity to feel as though they're riding the shuttle into space.

The immersive ride was so unique and a true highlight, especially after just seeing and learning all about the space shuttle.


Planet Play
While Planet Play isn't a Mission Zone, if you have kids between the ages of 2–12, you definitely shouldn't pass it up. It's a brand-new, multi-story, interactive playground.

While our kids loved climbing the planets and going down slides, there were also fun games and art areas.

They loved drawing their own satellites and watching them be projected and fly by on an adjacent large screen. There was an area to map a constellation or play a round of trivia as well.

As parents, we really appreciated the nice sitting area where we were able to grab a beer and coffee while watching the kids play!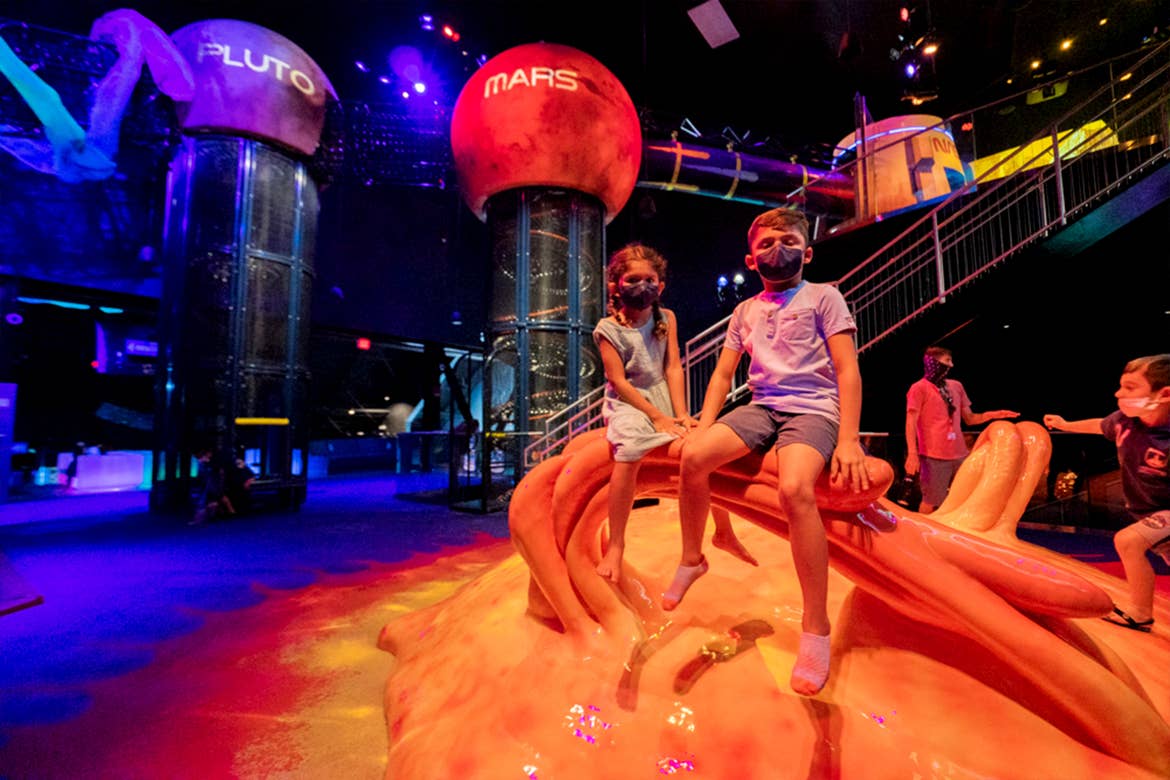 The Planet Play interactive playground


Where to Stay Near Kennedy Space Center
After a day of fun at Kennedy Space Center, we took a 20-minute drive to where we would be staying at Cape Canaveral Beach Resort.

The resort is just steps from the beach and Port Canaveral, and just a short drive to Kennedy Space Center and the heart of town, making it the perfect place to stay for Space Coast adventures (and even a romantic beach getaway).

When we got there, we were instantly impressed by our two-bedroom Signature Collection villa, as it had extremely modern yet cozy décor.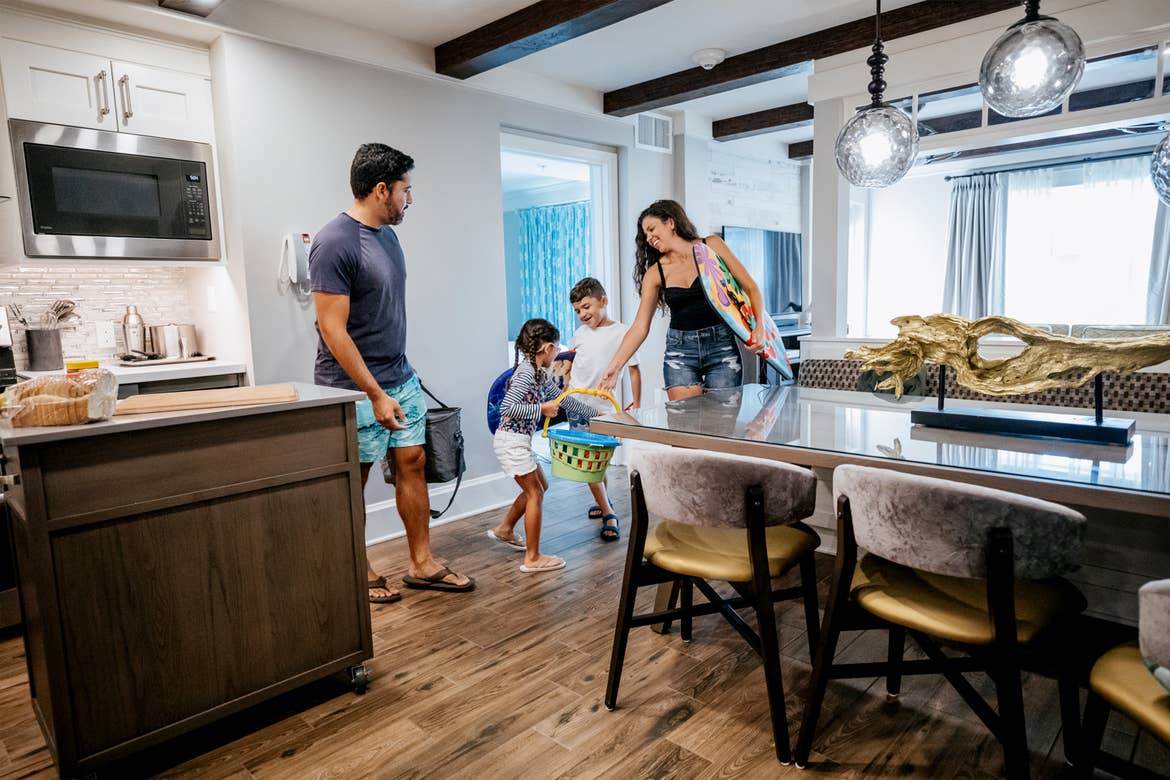 Our two-bedroom Signature Collection villa at Cape Canaveral Beach Resort

It was fully stocked with everything we could need — from a DeLonghi coffee machine to a washer and dryer — making it quickly feel like our family's own personal apartment.

We were also greeted by a beautiful, unobstructed view of a cruise ship departing Port Canaveral from our balcony; it looked like the ship was floating in the trees!

The resort has some villas closer to the pool amenities and others closer to the beach with a golf cart shuttle available to transport you to each, although our family enjoyed the short walk.

We especially loved the main pool area, which had a waterslide and "lazy" river that the kids couldn't get enough of.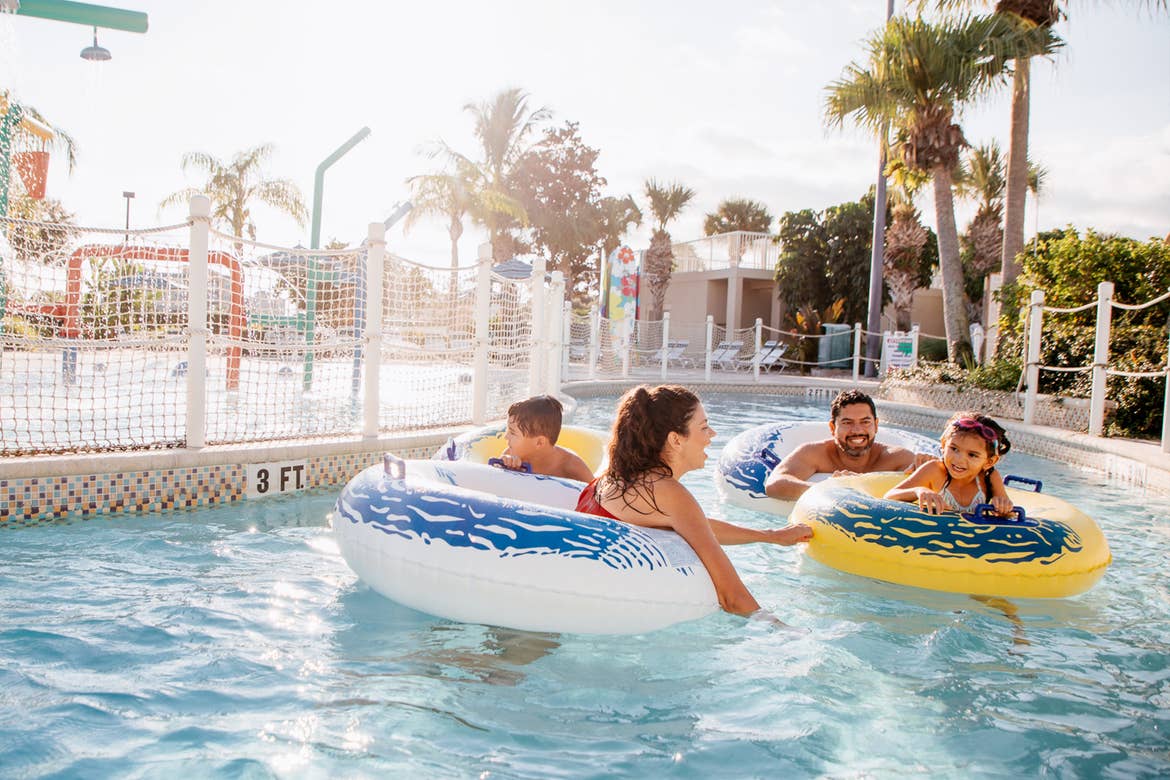 The lazy river at Cape Canaveral Beach Resort

And we were extremely impressed by both the drinks and food that you can eat poolside or inside the onsite restaurant.

Each night, we enjoyed time at the beach, and the boardwalk right outside of our building made it super convenient and easy to access.

The beach stretches along the coast for miles, making it perfect for evening walks and kite flying. We also made sure to bring our sand buckets as building a sandcastle is our favorite family beach activity.

But if the beach and pool aren't your thing, there are still plenty of other resort activities as well, such as an arcade, miniature golf, a movie room, gym and tennis.

And, if there's one scheduled during your stay, you can even watch a rocket launch from the resort or the beach.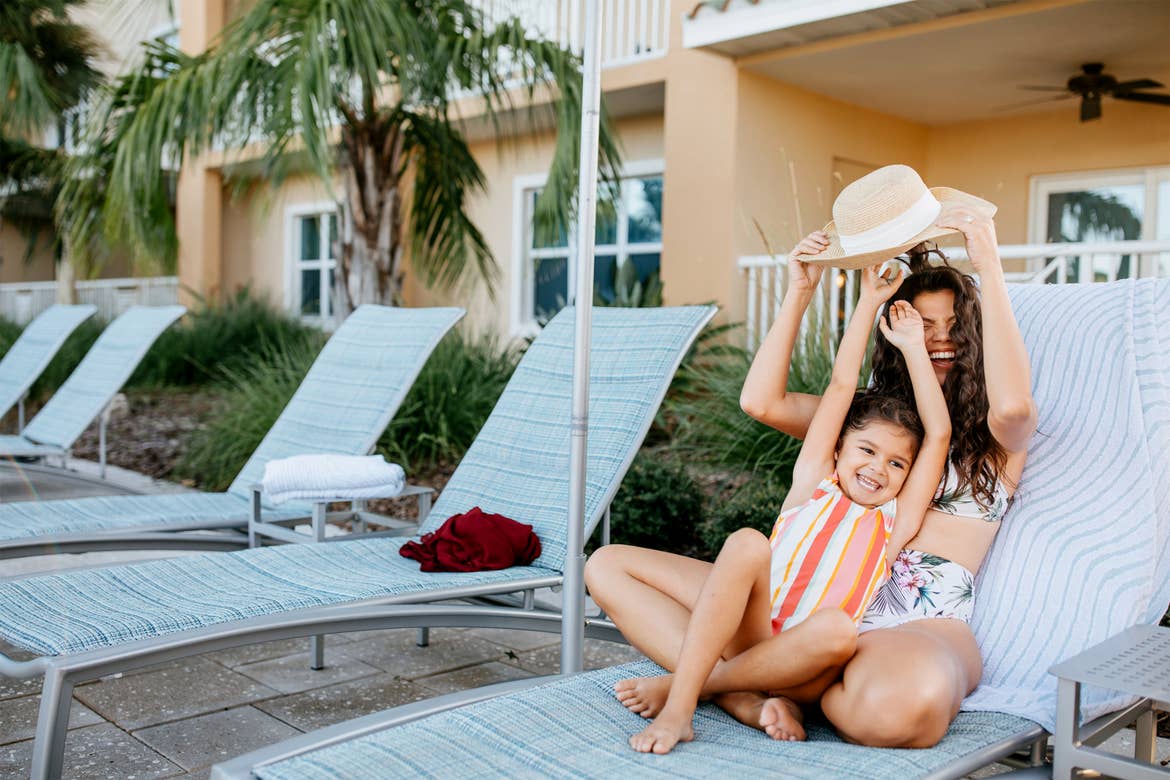 Overall, we had a fun-filled family beach vacation in Cape Canaveral, and we can't wait to return.

We loved the Kennedy Space Center so much that we plan to enroll our son in its weeklong summer camp!

Thankfully, we now know of the perfect place to stay when we come back to the Space Coast for camp.


Our guest bloggers are compensated for their writing contributions and honest opinions.

All information is subject to change. This article is a curated guide and is neither sponsored nor considered an official endorsement. Please be sure to check information directly with any/all tours, guides or companies for the most up-to-date and direct details.