Rona Gindin
Rona is a travel writer who explores the world, yet she's most at home enjoying Orlando's natural, quirky and cultural attractions.
Website
We know you'll show up for your resort vacation eager, all smiles and ready to relax.

But before that, you might be wondering what you'll need to have the best time with the least amount of packing stress.

To help, the Holiday Inn Club Vacations® team asked Club members and social media followers to share their resort "packing essentials" on Facebook and Instagram.

You might be surprised to see what these vacationers bring for their stays at Holiday Inn Club Vacations properties across the U.S.

We were thinking, you know, socks or bathing suits, cameras and crossword puzzles. But nope.

More than 600 resort-goers generously shared their packing essentials, ranging from sea salt to cooking equipment (including one Instant Pot!).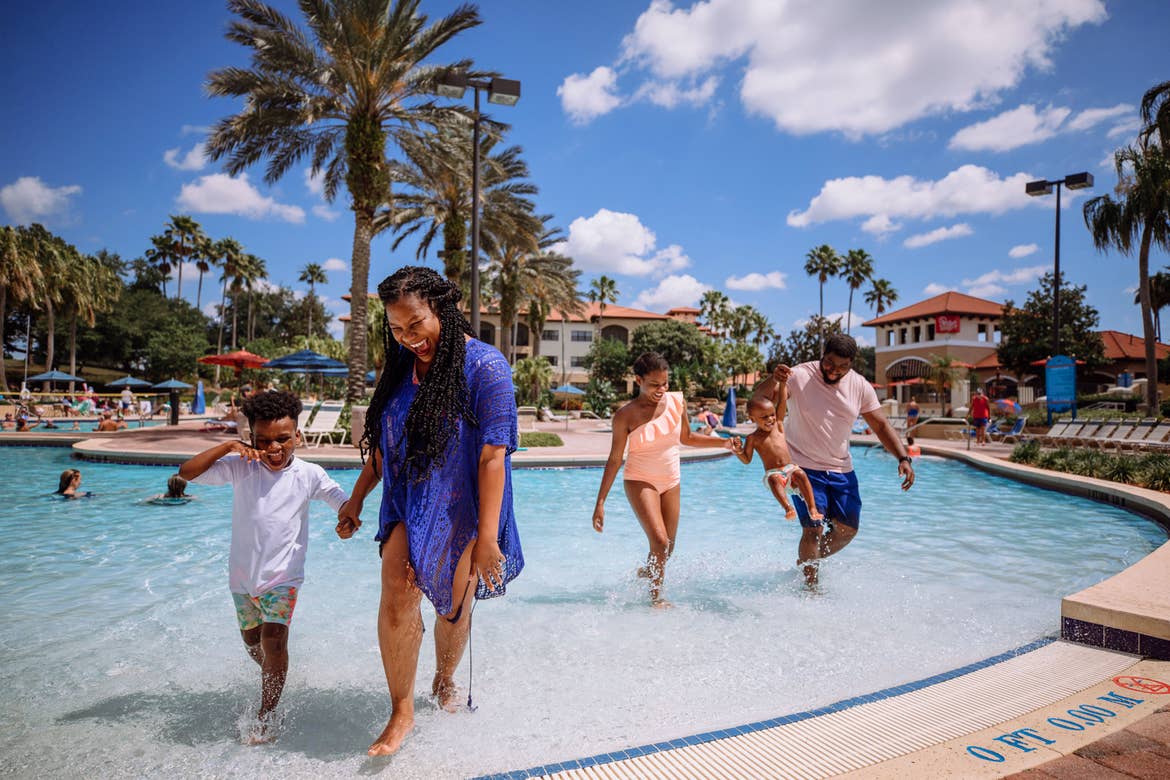 Krystin of @growingupgodfrey packed all the pool fun for her family's stay at Orange Lake Resort!

It's clear these members, owners and guests truly make themselves at home during their vacations.

Read on to see 13 packing tips we've gathered based on those 600+ responses.

You'll find ideas for how to fill your bags with anything and everything you might need to make your getaway even better, simply by being prepared.


1. Curate Your Coffee Experience
Holiday Inn Club resort vacationers are wildly enthusiastic coffee drinkers. Powdered or ground, each morning, often sipped from a big, deep mug — these tips come from java junkies for sure. You'll see...


"Coffee Coffee Coffee!!!" – Kimberly D.
Some Holiday Inn Club Vacations villas are equipped with a coffeemaker, which is more than enough for many resort-goers to combine with whatever brand they pick up at the nearest store (or in some cases, at the resort's on-site Marketplace).

Others, though, take all kinds of extra-specific steps…


"Folgers coffee grounds and coffee filters." – Dawn Z.

"I'm a crazy packrat, so I bring everything you can think of. The only thing we buy is food and our Joffrey's coffee, which you can only buy in Florida!" – Nichole P.

"Tim Horton's coffee" – Beverly B.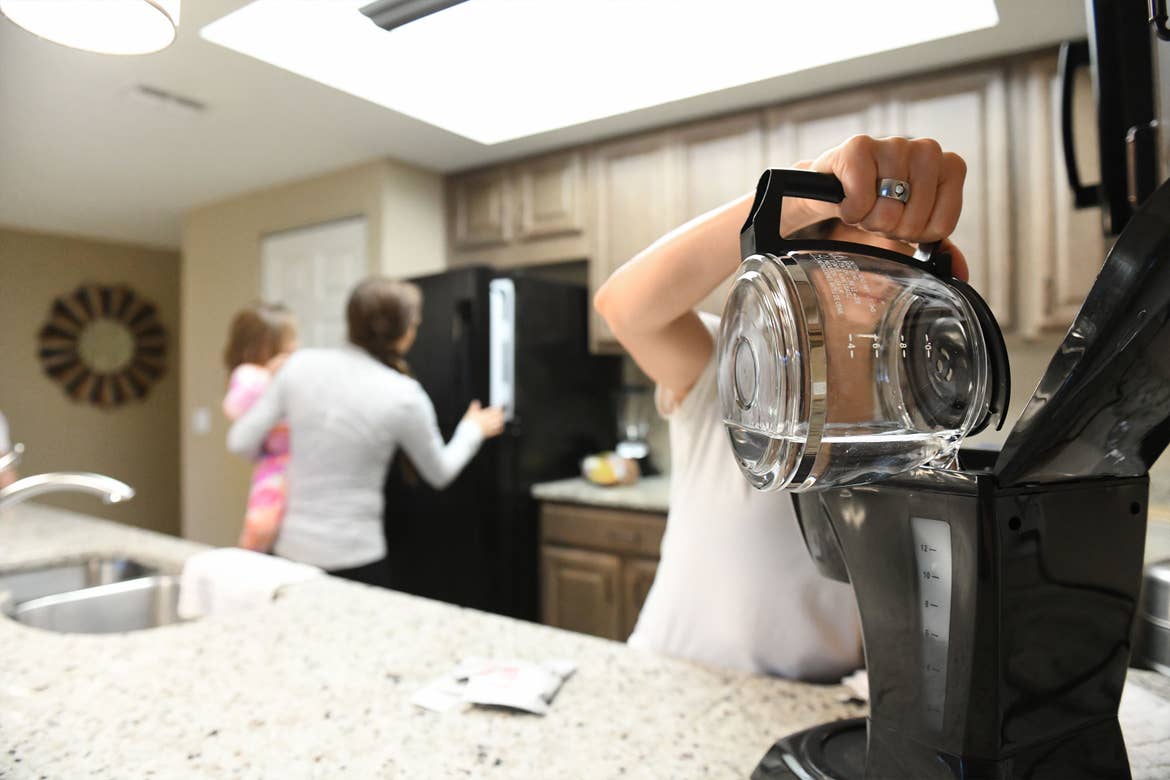 Raff of (@raffinee) and her family starting the day with a cup of Joe in their villa at Orange Lake Resort


"… Dark Roast Community Coffee … and a throw for the couch if we go in cooler weather." – Ruth BM

"My husband has to pack his coffee from a convenience store only found in NY!!!" – Tricia MA
The purists go whole-bean when possible and some coffee connoisseurs get even more detailed, with not only coffee machines but also baby formula gizmos...


"I used to bring my coffee grinder and fresh beans, but can't pack that second suitcase anymore." – Eleanor M.

"Espresso machine, electric tea kettle and Baby Brezza!!" – @mcpattys
Prefer a quick cup? In that case, K-Cup makers can be great add-ons to your resort kitchen.


"… My mom brings her own Keurig everywhere we go🤣🤦🏼‍♀️." – @jennahfahh

"We always bring a single-cup coffee maker and our own creamers and sugar." – Debbie E.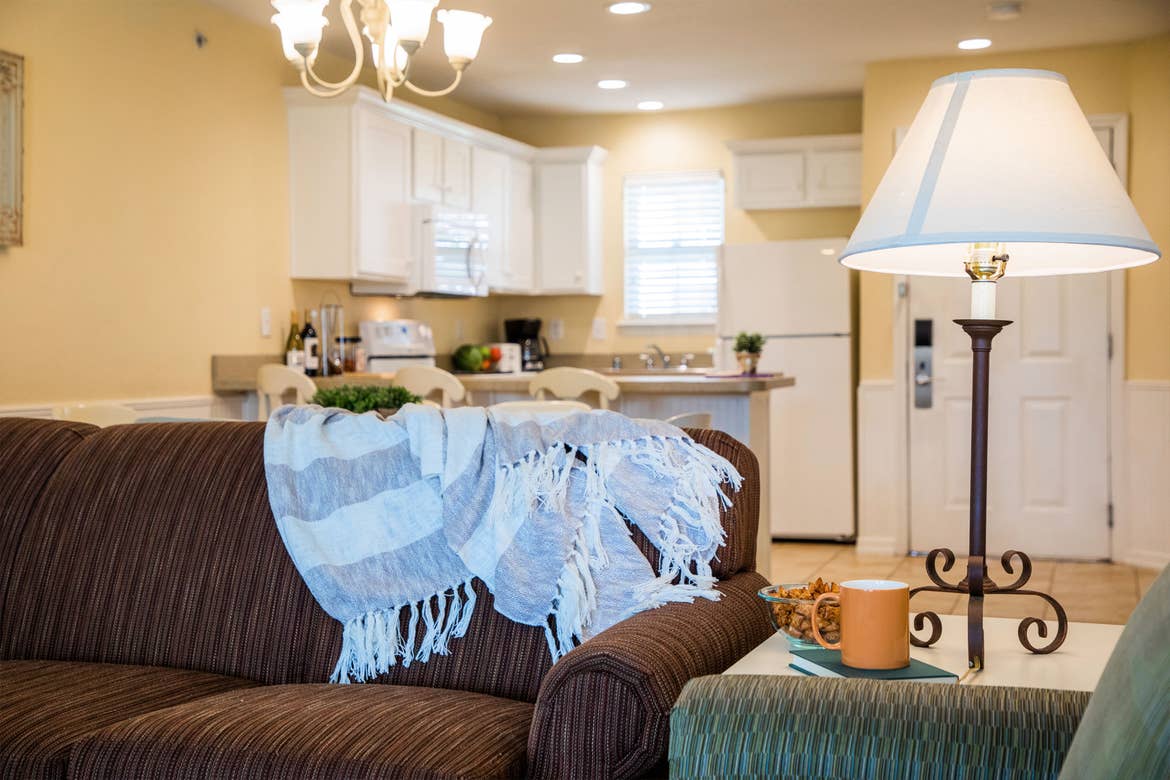 A two-bedroom Beach Club Presidential villa at Villages Resort

While villas come ready-to-go with coffee cups, several guests are so set on starting their day with an oversized mug that they lug along their own.


"A big big big coffee mug " – Robin M.

"Those little 6-ounce mugs are not big enough for a morning cup of coffee." – Justine V.
And when you need more coffee after breakfast?


"Travel coffee mugs to have coffee by the pool or on day trips…" – Laurie L.
2. Add Your Favorite Flavors to Your Meals
Whether it's eggs and bacon to start the day or full-on home-cooked dinners, Holiday Inn Club members are active in their resort kitchens.

And so, they bring flavorings. Based on the responses, salt and pepper are packed almost as often as underwear!

Then there are the more ambitious culinarians…


"… all the seasonings I may need to cook quick and easy meals like tacos." – Ann KA

"Having mini containers of olive oil, vinegar, sea salt, and multiple spices and seasonings on-hand can really elevate your dishes. Cooking is essential to saving money while vacationing." – Stacey V.

"Adobo along with other family favorite seasonings." — Kristy FS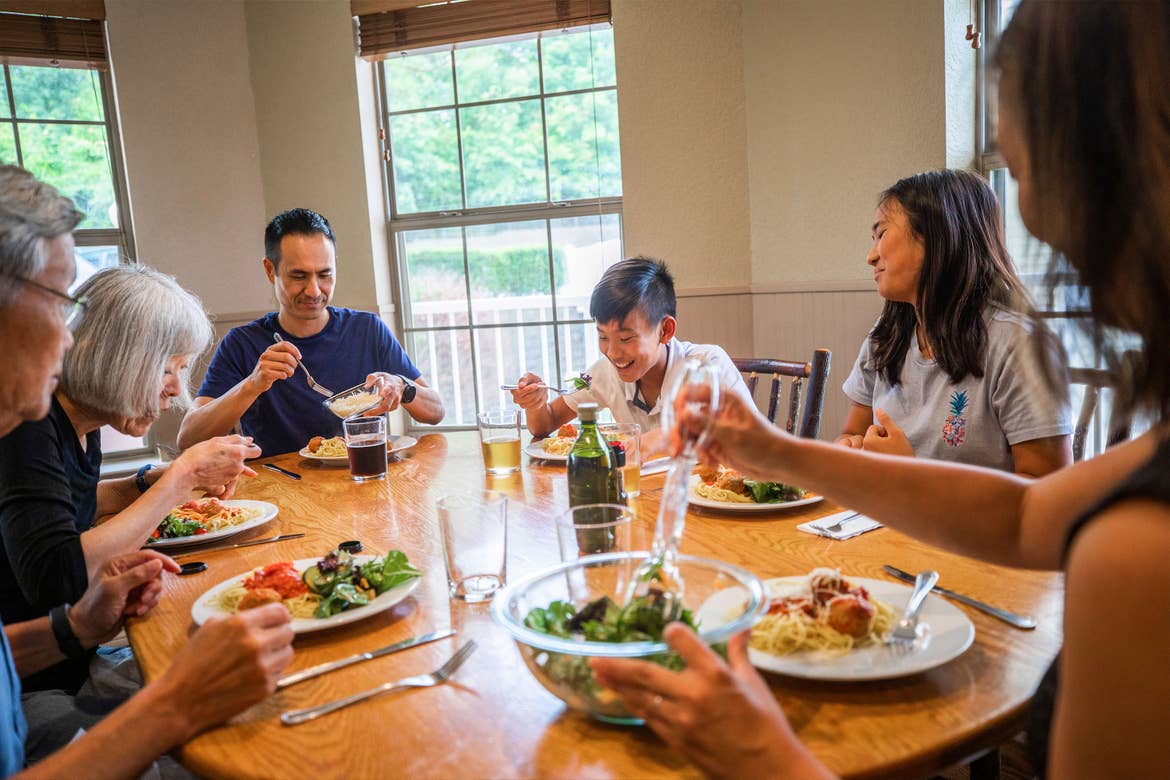 Lauren (@limbylim) and her family enjoying dinner time in their villa at Villages Resort


3. Collect Your Must-Have Kitchen Tools & Doodads
Speaking of cooking basics, we now know how many guests bring their own knives for prepping, chopping, slicing and dicing.

Those taking family road trips, or who check suitcases rather than carry them on, slide their favorite chef's knife in between their tees and jeans.


"I always bring a sharp kitchen knife. My family makes fun of me, but they love that I love to cook delicious meals for them on vacation." – Martina LB
That knife won't slice a pizza well, but no matter … Whether heating up frozen pies or ordering in, Club members regularly divvy up their pies into eight triangles.


"A pizza cutter … have never seen one at one of your resorts 🍕 ." – Brenda UR

"Pizza pan and cutter…" – Coryle S.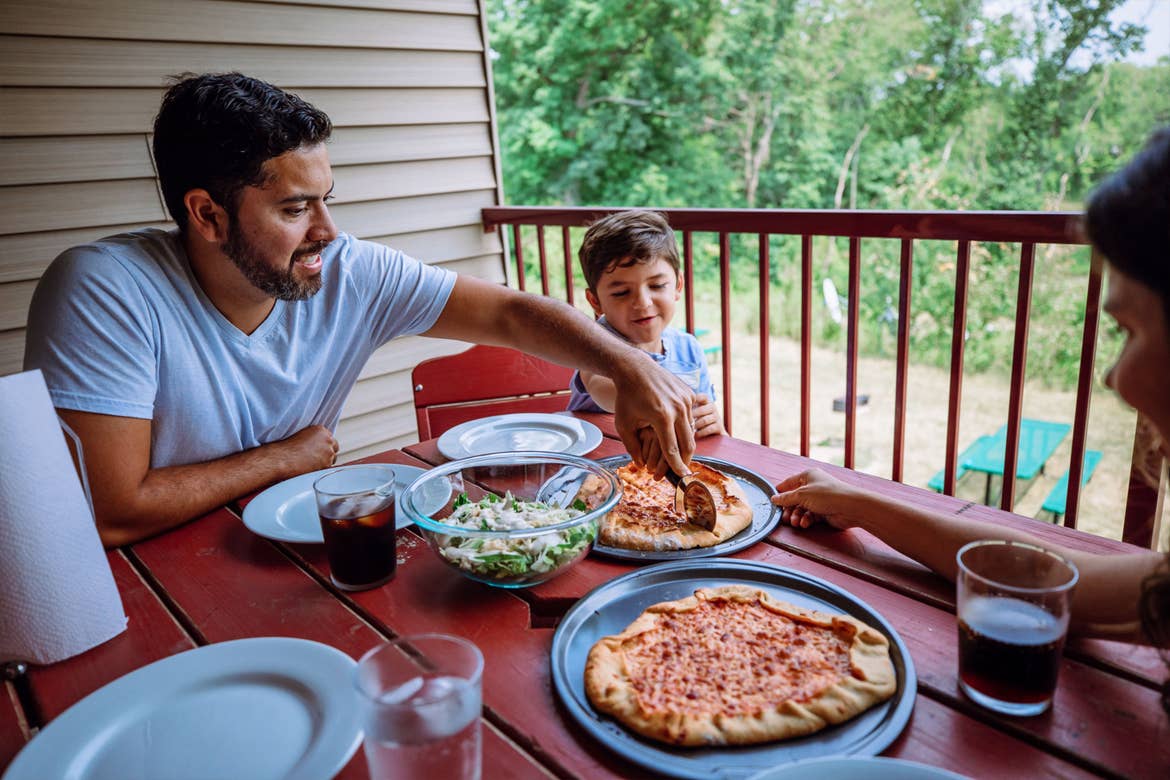 @thejetsettingfamily getting ready to chow down on some pizza on their patio at Fox River Resort

Our practical vacation pros even arrive with all kinds of other practical items.


"We always bring … our favorite baking pan for cookies or dinner, spices and our own beach towels." – Corie H.

"Rugs for the bathrooms, box of tissues, kitchen timer." – Eileen C.

"Coffee, coffee filters, chips, chip clips, shampoo and conditioner and so many more essentials because it is our home away from home…" – Timothy B.

"[A] silicon spatula that's actually flexible, plus our favorite small skillet to go with it." – Mary W.

"[A] large nonstick skillet." – Paige HM

"If driving, a foldable wagon to cart water, reusable drink mugs, napkins … [and a] cast-iron skillet. – MaryLou P.

"Sharp kitchen knives, cutting boards, a cooler, spices … foil … coozies … a car-full!" – Heather M.
4. Prioritize Plug-in Cooking Devices
Whether it's to work within a budget or for the joy of whipping up wonderful meals on vacation, a whole lot of vacationers set themselves up for kitchen success in bigger ways.

Road trips mean you (might) have the room for a heavy-duty lineup of appliances, like slow cookers…


"At times, I bring a crockpot to have a meal waiting when we come in from the beach or pool." – John S.
It makes sense, for sure.

Load in the ingredients. Plug it in. Then swim or ski, golf or hike, knowing you'll return to not only a hot homemade dinner that's ready to eat, but also its enticing aroma. (Win!)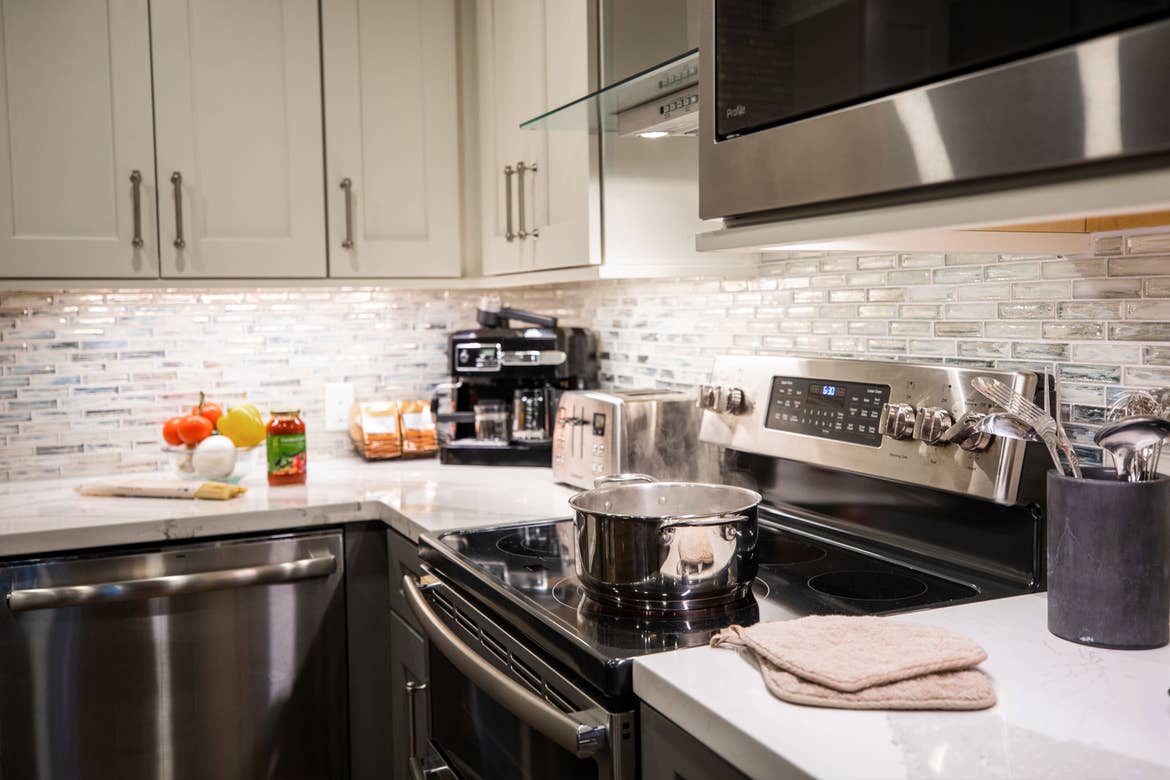 A two-bedroom Signature Collection villa at Cape Canaveral Beach Resort


"We always bring a crockpot and a large electric griddle." – Dianne

"[A] flat-top griddle for making pancakes!" – @ngalloway

"… sometimes a crockpot and a George Foreman grill." – Lori I.
Oh, that's not all…


"Waffle iron." – Debbie YM

"Air fryer lol" – Stacey M.
(We'd like to stop by Debbie's place for breakfast and Stacey's for dinner!)

Even better yet, do your cooking before vacation starts, then tote heat-and-eat meals with you...


"Spices!! And pre-made frozen casseroles."– Jennifer KK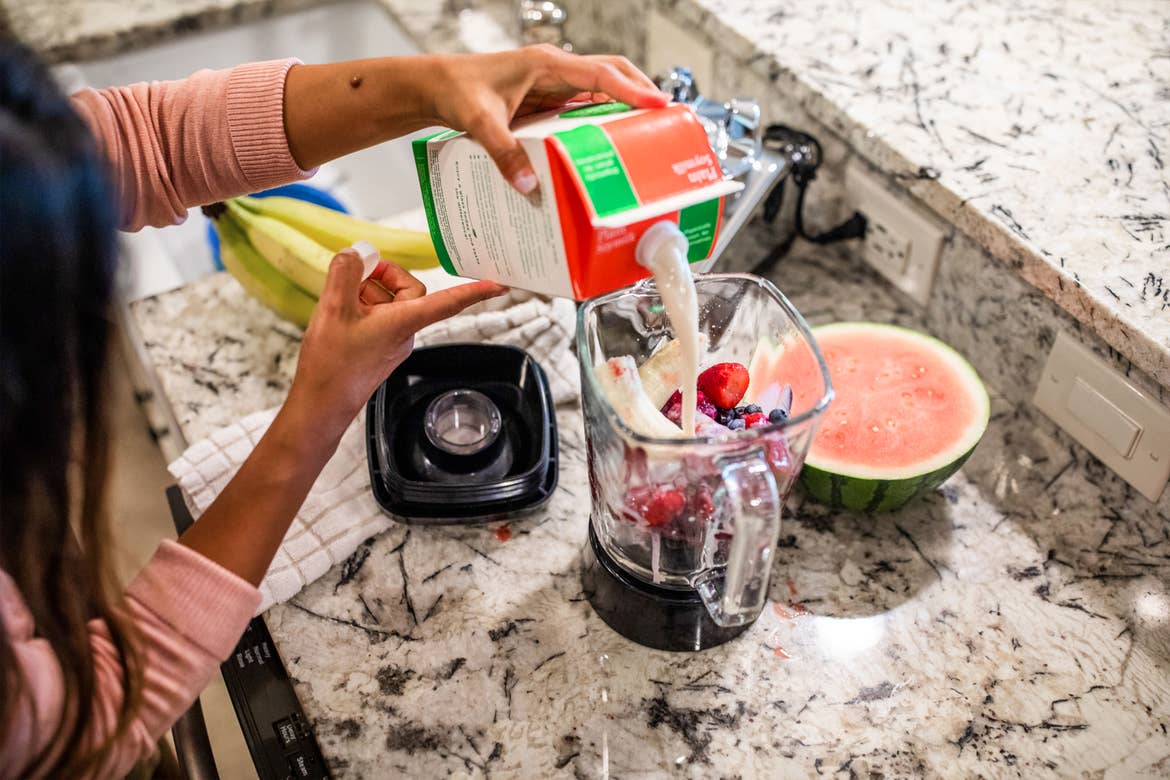 Brenda (@she_plusfive) shaking up some fruit-smoothie goodness in her villa kitchen at South Beach Resort

Cold, fruity beverages are a perk on sunny summer days, and these guests prepare to whip those up, too.


"[A] crockpot and Ninja blender — perfect for budgeting and necessities for a large and athletic family." – Sara of @perezfireteam, who's also a Club member and contributor here at Checking In
Those fruit whipper-uppers have a second benefit…


"A smoothie maker is a must, and it doubles as a margarita maker!!" – Lindie BN


5. Definitely Use Disposables
Washing dishes is not on the resort vacation ok list, according to these members and guests. Despite there being a handy-dandy dishwasher in villas with full kitchens, paper plates are a priority for some.


"Lysol and paper plates. We really don't like doing dishes." – Nikki R.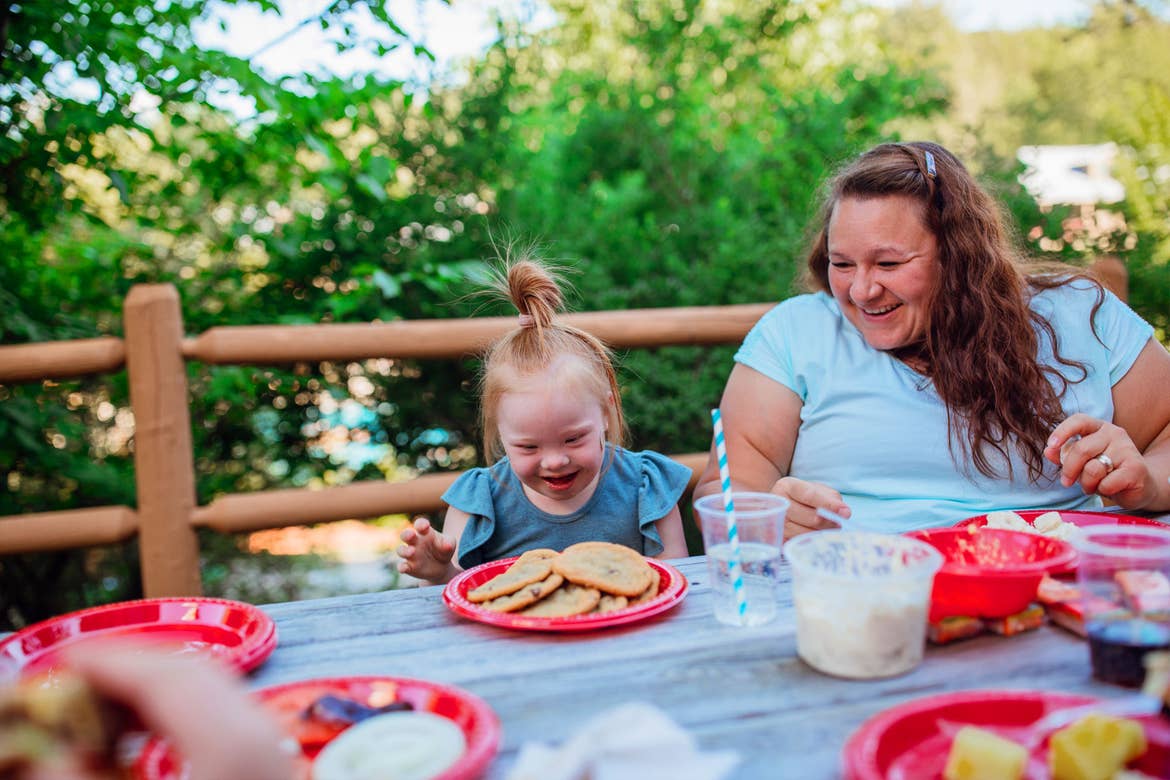 Melody (@downwithadventure) and her family had a sweet vacation at Oak n' Spruce Resort.

Same for drinking vessels…


"The resorts are so well stocked, but we do bring a travel coffee mug and usually a sleeve of plastic cups for the kids. I don't want them dropping and breaking the real glasses." – Obie O.


"My essentials when going to an HICV resort (other than the normal essentials) are paper plates, Ziploc bags and Kool-Aid packets so we don't have to buy them when we grocery shop." – Patti SC
6. Cater to the Adults in Your Crowd
Margaritas aren't the only "spirited" way for adults to relax on vacation.


"We like our own pillows, a couple of large mugs for coffee and, of course, an extra-large wine glass 🍷." – Lizzie M.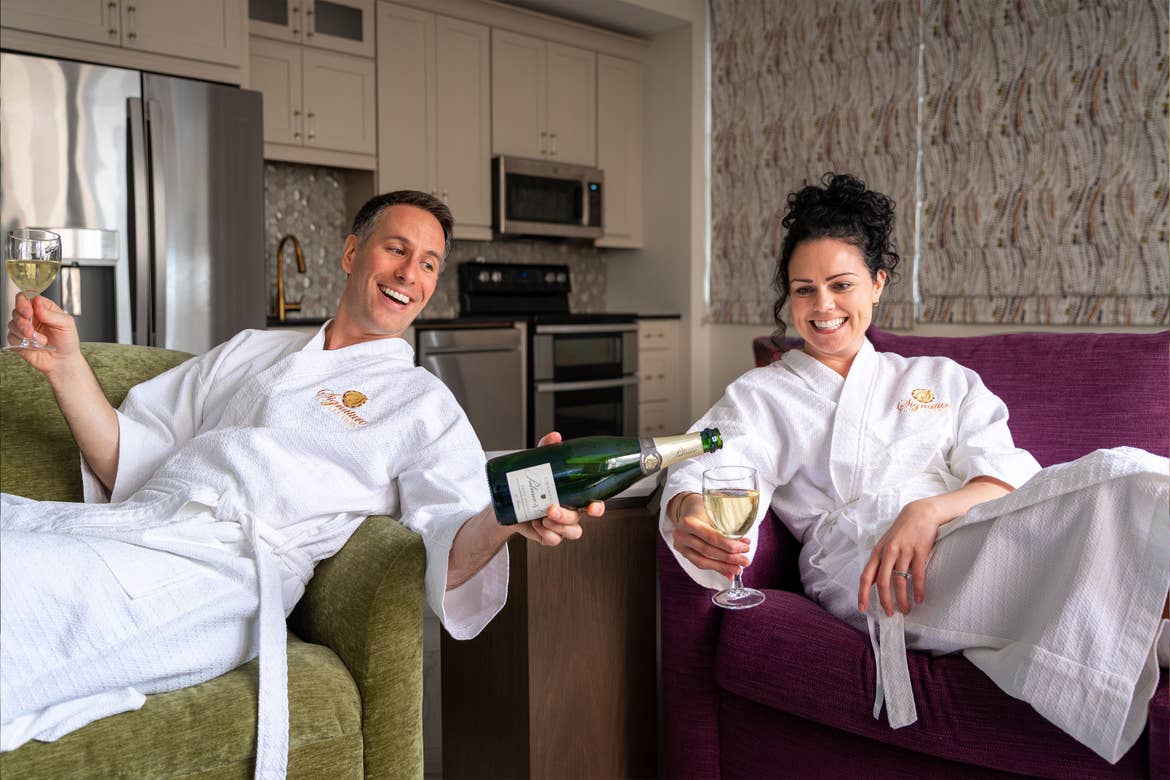 Lauren and Anthony treating themselves in the extra-special Signature Collection villa at New Orleans Resort

To fill those cups? Packing helps here, too.


"Besides a few bottles of wine? A box of spaghetti and a jar of sauce." – Michele MB
"Alcohol! Lots of it ." – Nichole P.
These ladies are far from alone in the uncorking department. Wine, beer and drink accessories show up in many ways.


"No matter where or what season we travel, we always have books and a corkscrew for wine!" – Janice RB
7. Bring a Bag of Bags
Mess is the last thing you want during your getaway, and plastic bags are a good way to contain it. From snack- to gallon-sized, with sandwich and pint in between, they showed up a lot in responses, possibly more than any single item.


"This is silly, but we always pack a bag of Ziploc bags of different sizes, a few extra garbage bags and our own laundry pods. (We never come home with dirty laundry, and we love it.)" – Tricia MA
Yep, you read it right. Some villas have washers and dryers (and detergent) right in them or right nearby, making packing light extra easy.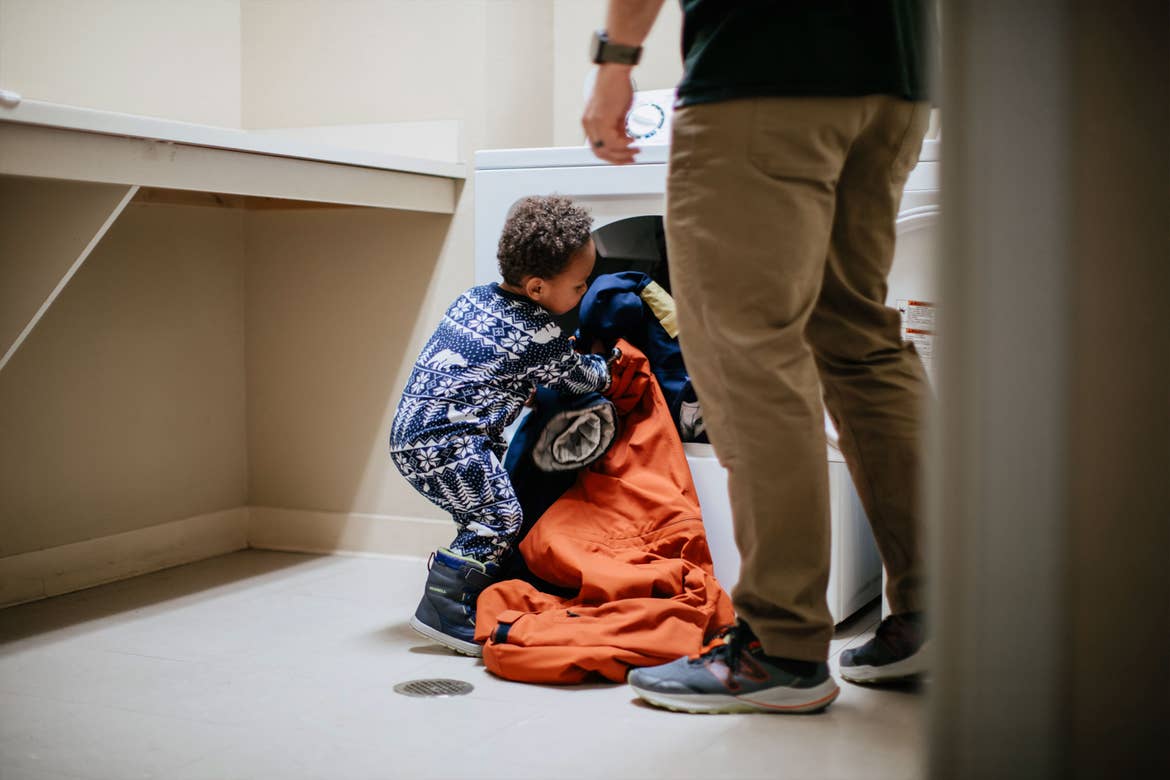 An active trip for Andrea's family (@hikingtheglobewithkids) = full use of the washer at Tahoe Ridge Resort


8. Aim for Organization
The emphasis on organization extends wayyy beyond Glad and Hefty products. Let's head to the closet, shall we?


"Plastic clothes hangers…" – Dawn Z.
That seems pretty organized, but not compared to resort regulars who keep a to-go box at the ready.

Whenever it's time for their next vacation, they pick up this always-packed container and tote it along, sort of like a cosmetics bag with mini-sized doubles of all the make-up basics.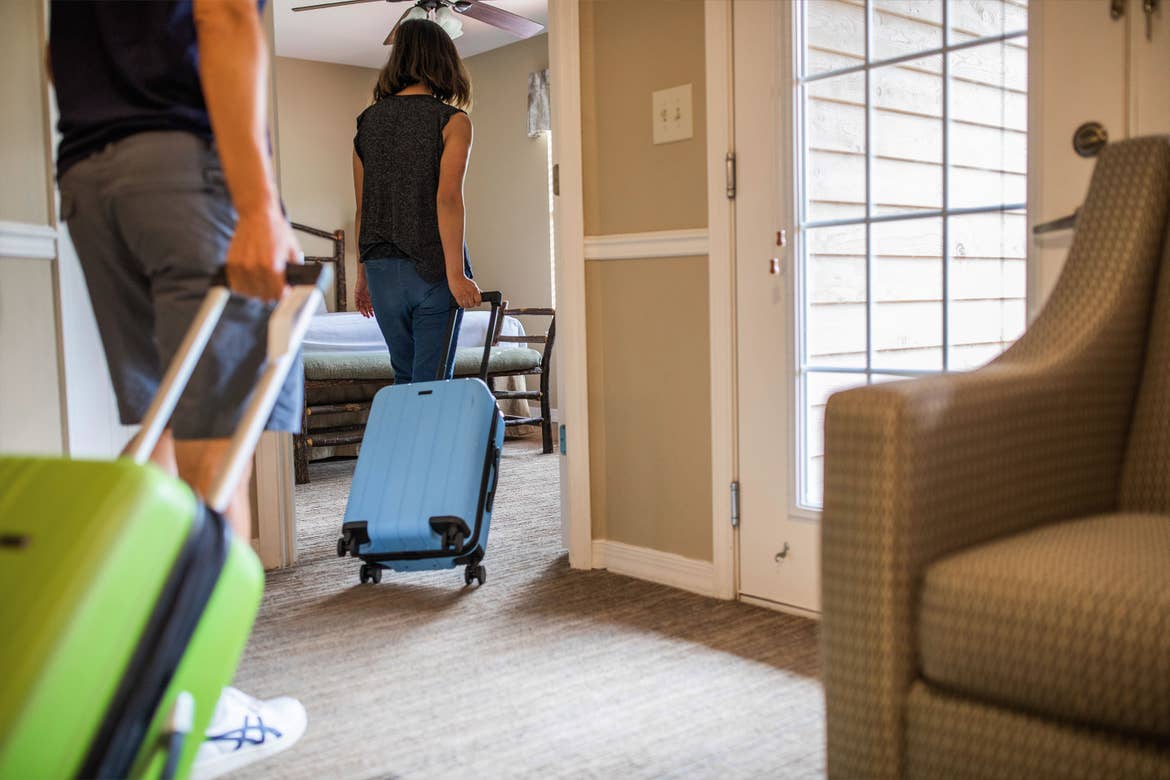 Lauren (@limbylim) getting ready to unpack and unwind at Villages Resort

Hauling all this gear from auto to accommodations can be a burden, which is why some take more gear to handle their gear…

It's the kind of system everyone admires but few follow through on.


"We bring our 'condo box' (plastic tote). It has knives, cutting boards, a grater, a corkscrew, coffee mugs … coffee filters, spices, extra skillets … a hand mixer and sometimes a crockpot. We also bring beach towels and floats along with our wireless speaker. We do the majority of our cooking in the unit, so it's great that they're stocked with most of the things we need … We sometimes pack our collapsible wagon to port things to and from the beach." – Debbie MS

"I have a purple toolbox that I bring. It has some spices, favorite knives, peeler, corkscrew, cooking spray, Ziploc bags, an ice cream scoop, foil and clips to close snack bags." – Victoria C.
(Definitely take Victoria's advice when you're ready to dish out Ben & Jerry's.)


9. Game Up for Game Night
When you're not hitting up the pools or mini golf course, TV and texting aren't your only source of at-home entertainment.

Nor are the occasionally mentioned book or Kindle.


"Fire Stick!" – Bianca R.

"… It's chargers, power banks, goggles, towels, bathroom spray, aspirin and the beloved Nintendo game system." – Glenda C.
Plus, a deck of cards. It's lightweight, easy and perfect for solo, doubles and group games.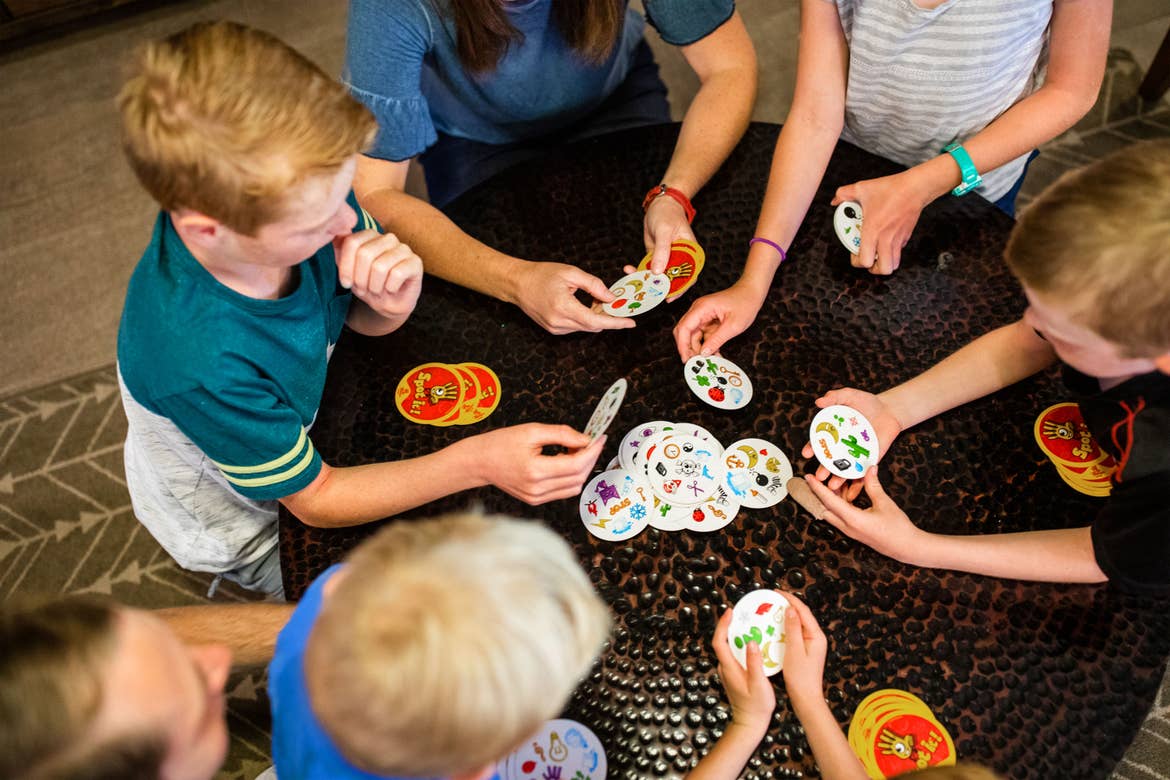 Jessica (@bring_the_kids) brought the gaming goods for her family's vacation at Scottsdale Resort.

Respondents called out Uno repeatedly. Other specifics were Skip-Bo, Phase 10 and Cards Against Humanity — the latter for adults only, please!


"Family games are a must. Uno has traveled with us for about 15 years and never let us down." – Beverly LM
Those with more space to spare bring board games, too, from Candy Land to Catan (or so we assume) — actually, they named others.


"We also bring the Headbanz game because my daughter loves it!" – Timothy B.
10. Tune into Music Mode
Music sets the tone for cooking time, playtime and downtime. Enter: the wireless speaker. Stream music from your smartphone to a Bluetooth speaker for the playlists of your choice.

Pro Tip: Make your own Spotify playlist and theme it to the type of vacation you're taking (beach, mountain, city, etc.).


"A scented 🕯to make it smell more like home and a Bluetooth speaker to play the 🎵🎵" – @chandaville

"Bluetooth speakers for jamming while I cook ❤️❤️." – @indelible_e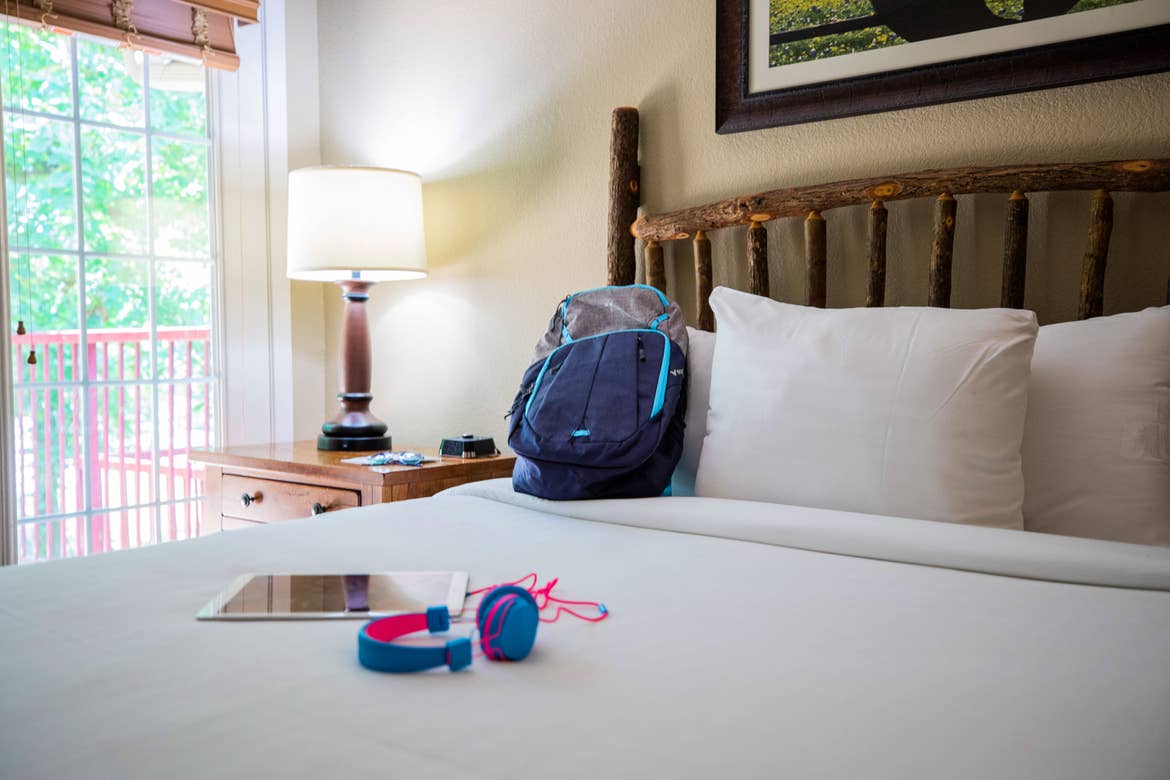 A two-bedroom Spring Creek Cabin villa at Villages Resort


11. Keep it Clean, the Easy Way
What a spick-and-span bunch these resort-goers are!

Even though all resorts and villas are thoroughly cleaned (and reinforced with extra cleaning by the Safe Travels program), they're taking extra precautions themselves.

Maybe it's the current situation, yet we suspect Lysol and Clorox products have been part of their vacation preparation for years.


"… Lysol, Lysol wipes and hand sanitizer for some extra cleaning and sanitizing protection throughout the trip." – Justine V.

"…disinfectant spray and wipes … are all a must!" – Peggy VH
12. Add in Other Odds and Ends
Every traveler has a one-of-a-kind list of must-pack ABCs. Here are a few other fun finds from the Holiday Inn Club Vacations social media poll.


"Foaming hand soap." – @nikki_buehl

"For me, it's a Xerox box (with lid) that stores our breakfast items and snacks for the week. Having a variety of mini cereal boxes, Toast'em pop-ups, a package of bagels and a box of granola bars is key. Also in that box are pretzels, Goldfish, fruit snacks, fruit leathers and crackers. These foods are a little connection to home while we're away, and they make the mornings easy — we're on vacation!" – Susie R.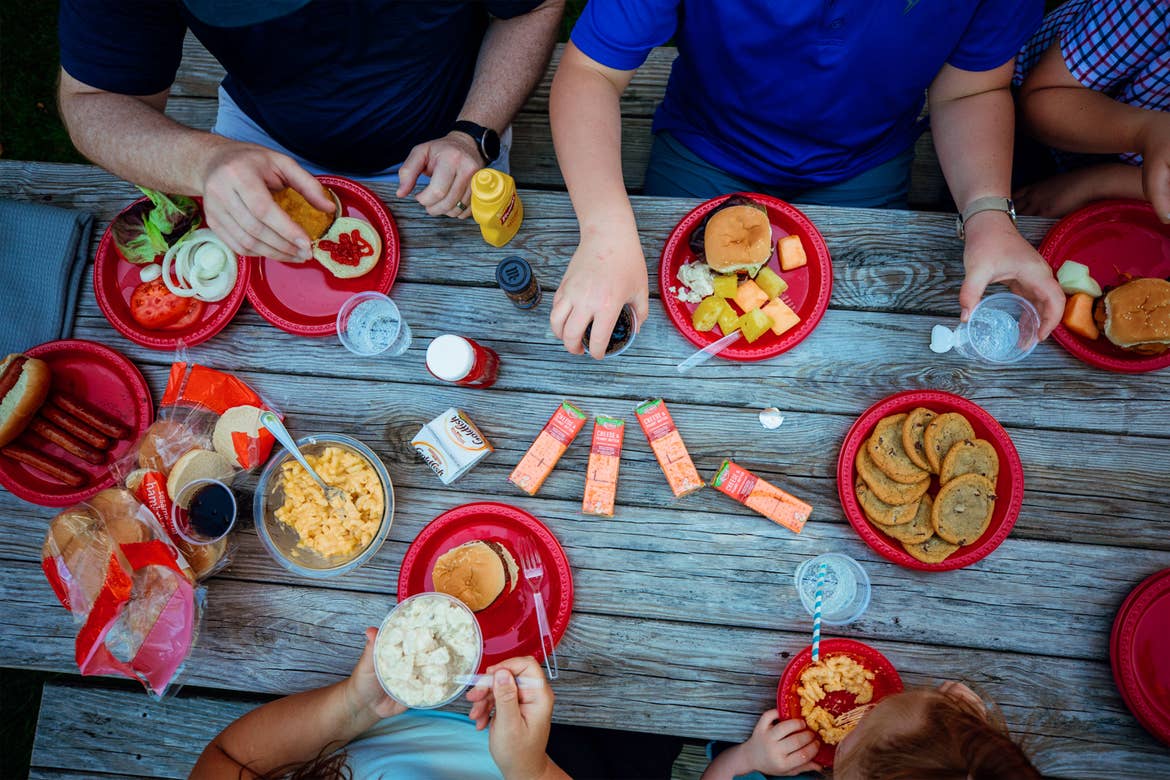 Melody (@downwithadventure) & her family enjoying a barbecue on their Berkshires trip at Oak n' Spruce Resort


"Rabideaux's sausage." – Bubba P.

"I carry a hair straightener, my in-room footwear and a comb." – @dealfinder21

"I always take my Yeti [insulated cup], an extra carry-on bag for shopping and another weird one that's a must is bathroom spray — LOL Poo-Pourri." – Davina SS

"Poo-Pourri … it makes sharing a bathroom a little more comfortable. People always laugh when I bring it out of the bag, but then they always comment that it was a great idea a day or two into the trip." – April W.
Of course, plenty of guests leave all the extras in their garage and pack ultralight instead...


"I bring my golf bags and my fishing pole. That's all I need. The rest [the resorts] provide." @lieutenant_kolb shares.


13. Finally, Come Prepared with Great Company
One major thing you can't pack into your suitcase? Amazing people to share your vacation with…


"I always bring fun people with me to enjoy time with! That's a definite essential!" – Susan D.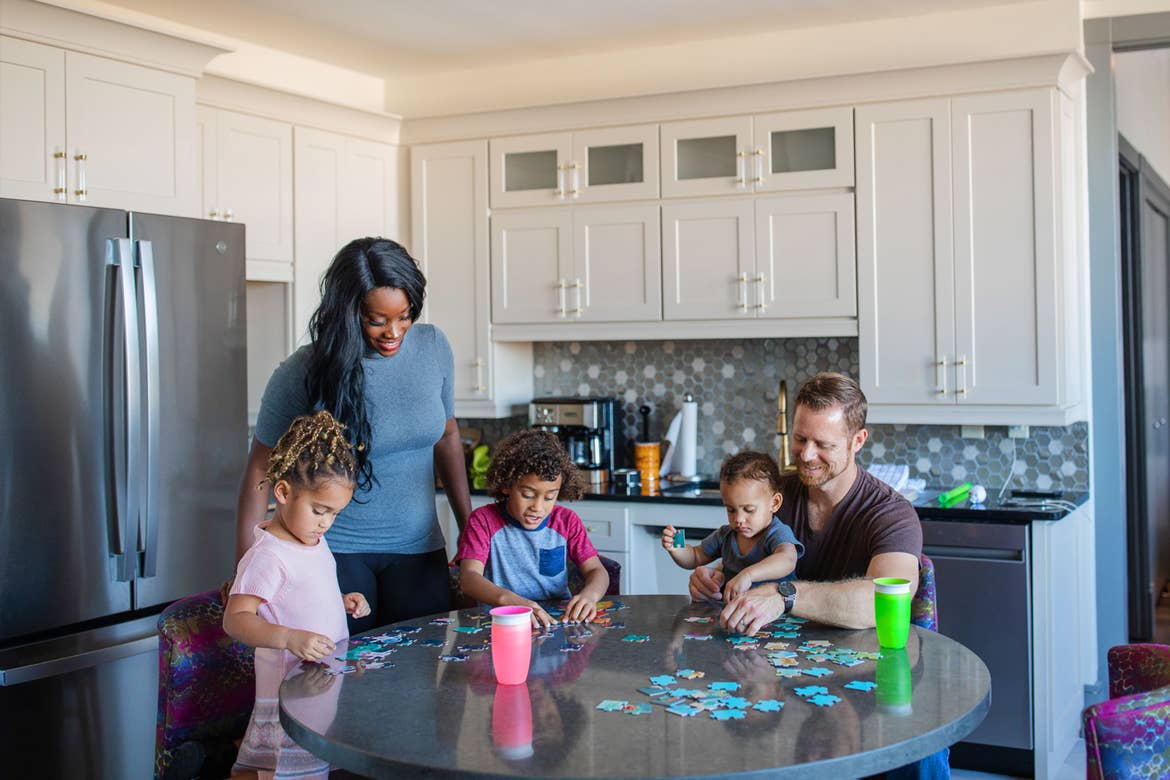 Sally (@thebutanclan) and her family spending quality time together in between all their New Orleans adventures

What ideas will you snag from these fellow Club members and guests for your next big vacation?

Choose the ideas that are right for you and your trip might be even easier, even more pampering, even better.

For more suggestions, read everyone's input on Facebook and Instagram, and be sure to let us know if we missed anything that you typically bring along!

Our final advice comes from Stacie DL…


"I bring an open mind for adventure, patience all around and lots 'o love for everybody!!!!"
That might just be one of the best resort vacation packing tips ever.


Our guest bloggers are compensated for their writing contributions and honest opinions.

All information is subject to change. This article is a curated guide and is neither sponsored nor considered an official endorsement. Please be sure to check information directly with any/all tours, guides or companies for the most up-to-date and direct details.