Rob Taylor
Rob is the founder of 2TravelDads, the original LGBTQ Family Travel blog. Focusing on the outdoors and education, 2TravelDads inspires ALL families to go beyond their usual getaways and use travel to learn about and be part of a bigger world. Rob's newest book, The Road Trip Survival Guide, is an exciting step in making travel more accessible to families. As road trips become more popular, there are endless opportunities to help others learn how to travel with a low impact and make the most of their time off.
Instagram
Facebook
Pinterest
YouTube
Website
Orlando, Florida, is one of the most popular destinations in the U.S., both for theme park fun and as the starting point for exploring Florida.

Whether you like to kayak, swim, see wildlife or just walk in the woods, there are many easy day trips from Orlando you can take and be almost instantly surrounded by nature.

Central Florida and its neighboring towns are ideal for getting kids on the water thanks to the calm rivers and abundant freshwater springs, too.

My family and I are lucky enough to live in Florida, and we plan getaways to Orlando frequently, both to play and get into nature.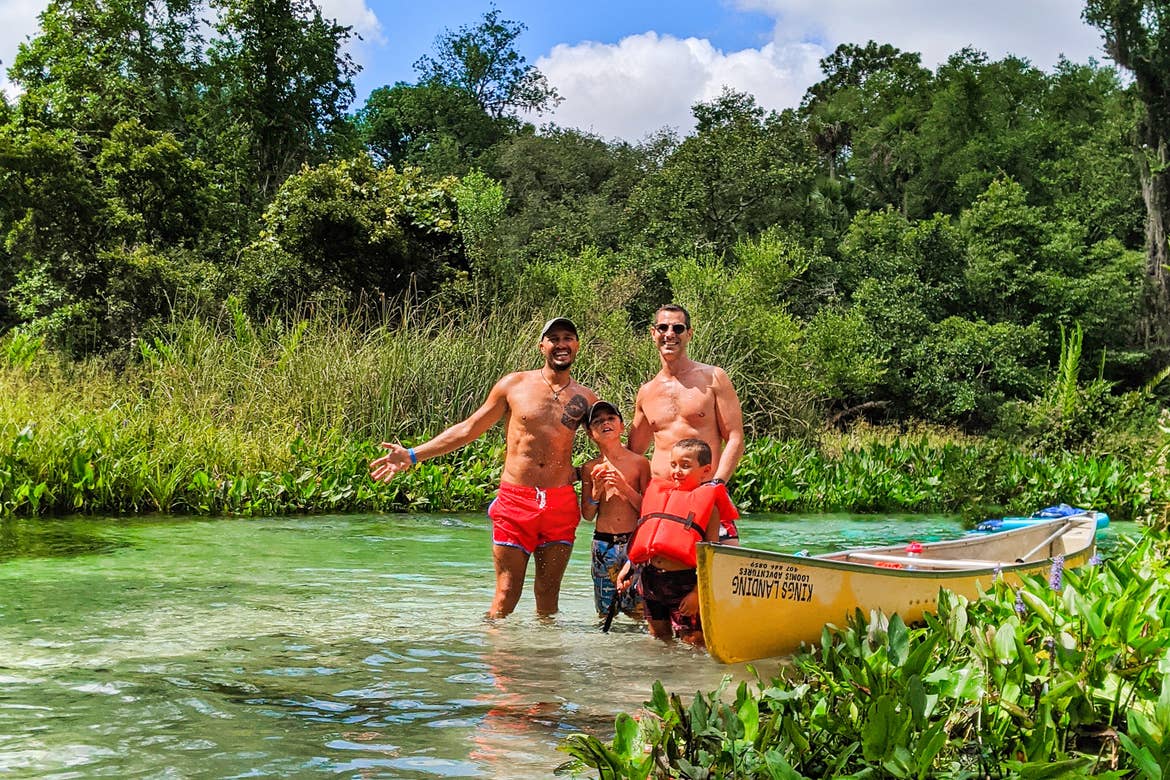 With two dads (Chris and I) and our kids, Oliver (9) and Elliott (6), we've got diverse interests when it comes to the outdoors, but we also have our favorite activities we enjoy together.

We love to kayak and paddleboard, so we look for opportunities like that wherever we travel.

Below I'm sharing our 5 favorite nature-filled day trips from Orlando, along with things you can do at each and what makes them special.

If you're like us, your love of kayaking will blossom on one of these day trips. And if you're not like us, you might be surprised at how much you'll fall for the tropical trails and unique wildlife.


1. Manatees & Jungle Swimming at Blue Spring State Park
Is there anything as iconically Florida as a manatee? I struggle to think of anything so unique and wonderful.

Imagine leaving the buzz of Orlando theme parks and attractions and walking onto a boardwalk to see hundreds of manatees swimming in front of you. It's possible and amazing.

Blue Spring State Park is one of the best places to spot manatees in Florida. Plan your trip from November to February and you can see anywhere from 10 to 400 of them in the springs run. It's remarkable and such an amazing sight to experience with kids.

We first visited Blue Spring State Park during a day trip from Orlando over Spring Break. While there weren't hundreds of manatees like in the winter, we saw several and were baffled by the HUGE Florida garfish all through the run.

We jumped into the crystal-clear water while turtles watched us from a nearby log, and we were sold.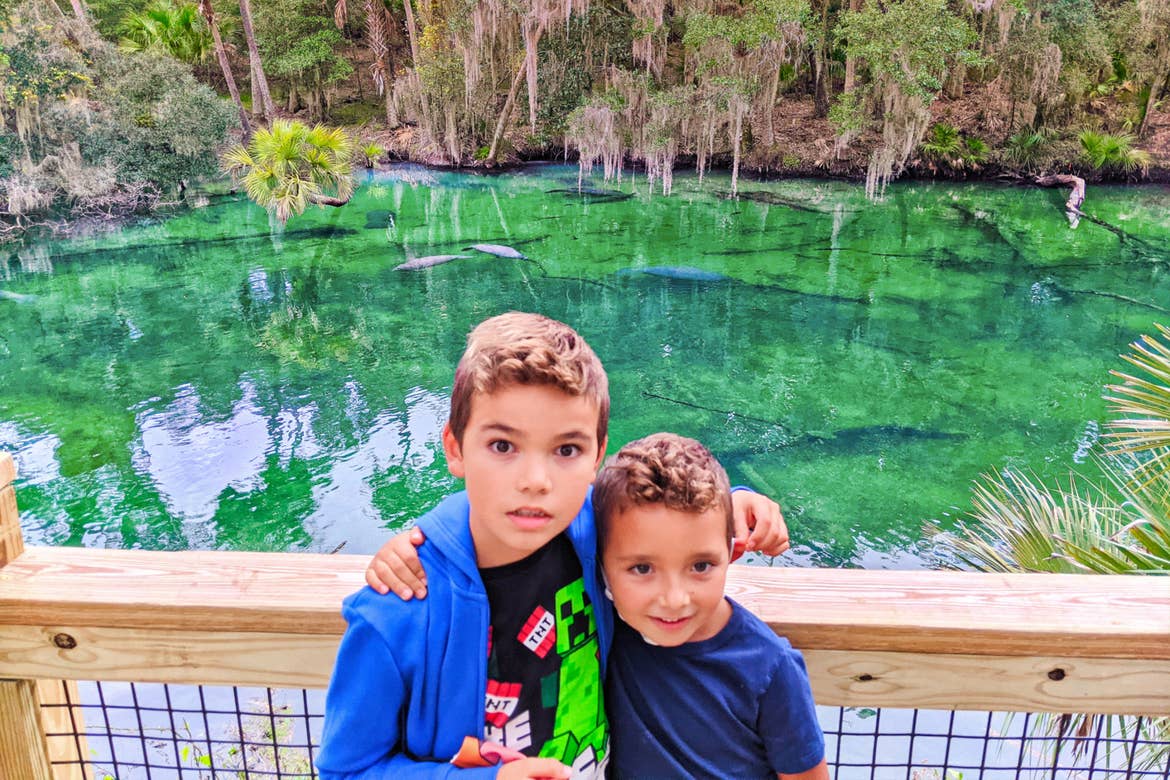 Excited (and a little shocked) to see so many manatees in one spot!


Tips for Visiting Blue Spring
Blue Spring State Park is a popular spot for locals on the weekend, so try to visit on a weekday to get a good glimpse at the wild side of Florida.
In the summer, swim in the spring yourself, or perhaps go kayaking or do the eco-cruise on the St. Johns River.
In fall and winter, walk the boardwalk for some of the best birdwatching in the state.
Location
Blue Spring State Park is in Orange City and can be about 45 minutes to an hour away, depending on where you are in Orlando.

It's a little over an hour's drive from Holiday Inn Club Vacations® Orange Lake and Orlando Breeze Resorts — which are both great places to use as your "home base" for any of these day trips.


2. Cypress Streams in Shingle Creek Regional Park
Trails and footbridges lead visitors through Shingle Creek Regional Park.

This quiet slice of protected cypress forests is gorgeous, especially in winter when the trees are bare and the light shines through to the still waters of the creek. It's the perfect escape for recharging on a busy vacation.

We first discovered Shingle Creek on a trip to Universal™ Orlando. With the kids riding on the front of our paddleboards, we spent nearly two hours drifting through the calm streams, like glass, watching great white egrets and herons all along the way.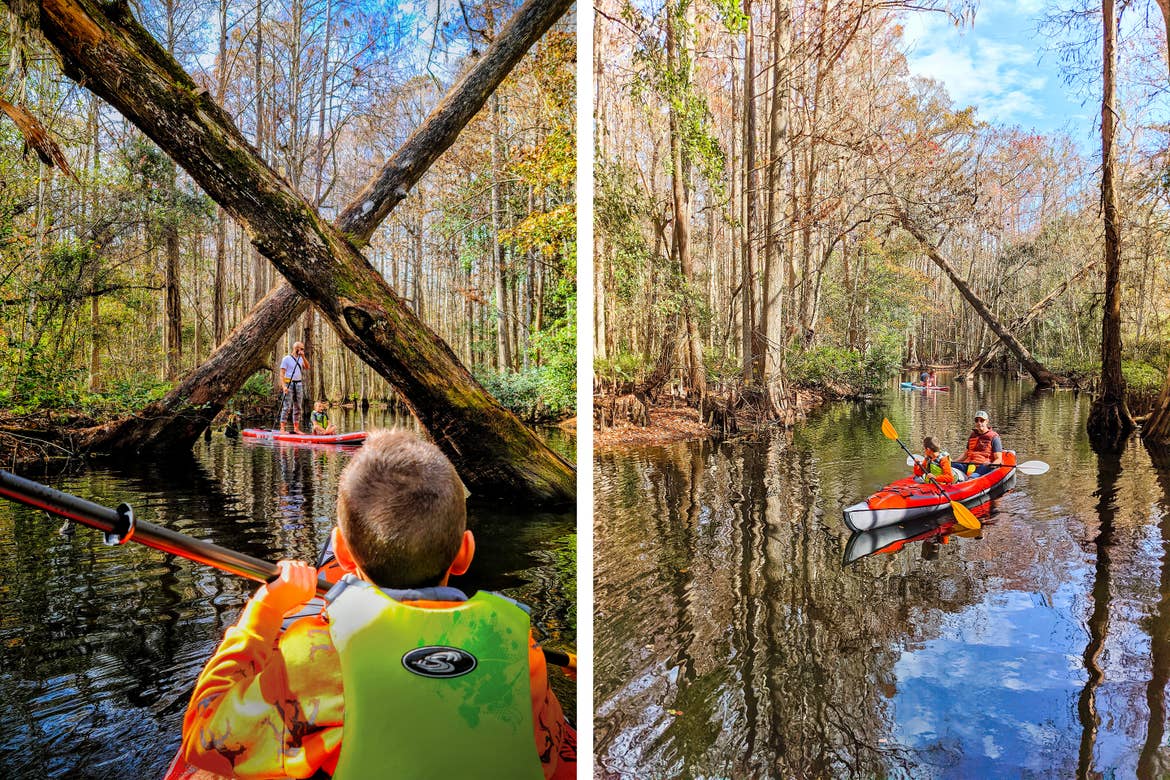 Tips for Visiting Shingle Creek
Rent a kayak or bring your own gear so you can paddle on one of the most beautiful creeks in Florida.
In addition to paddling, there are walking trails that wind through the forest with lots of places to stop and relax along the way.
This is also a popular biking destination, so if you did a family road trip to Orlando and brought your bikes, Shingle Creek is just the spot to ride the Kissimmee Trail or the Shingle Creek Trail.
Location
Located in Kissimmee, Shingle Creek Regional Park is under 30 minutes from major Orlando attractions like Walt Disney World® Theme Parks and Universal Orlando. Who knew there was such a unique experience so close to the theme parks?!

It's also only 40 minutes away from Orange Lake and Orlando Breeze Resorts.


3. Glowing Bioluminescence at Merritt Island National Wildlife Refuge
One of the more famous day trips from Orlando is to Cape Canaveral and the Kennedy Space Center™ Visitor Complex to experience all things NASA.

But there's another incredible sight to see here, too: glowing bioluminescence!

The Merritt Island National Wildlife Refuge is home to Mosquito Lagoon which has, hands down, the most vibrant bioluminescence I've ever experienced.

Bioluminescence occurs in lots of organisms, and at the Merritt Island National Wildlife Refuge, it's the dinoflagellate plankton that lights up the water.

In the daytime, you can watch dolphins and manatees in the lagoon and Haulover Canal, and if you arrive just before sunset, you can see the sky turn gold and watch dolphins make glowing blue splashes in the water after dark.


Tips for Visiting Merritt Island
Because the bioluminescence happens at night, I strongly recommend doing a tour with a professional guide, even if you brought your own gear or kayak frequently. Between the wildlife and paddling in the dark, doing a guided experience is a must.
The first time we did bioluminescent kayaking, our guide had clear kayaks so we could watch the water light up and glow beneath us as we paddled. It was remarkable, but after a few more trips, we discovered that we prefer regular kayaks both for comfort and to navigate more easily.
Location
From Orlando, it's a 1.5-hour drive to Merritt Island National Wildlife Refuge. To make the most of your Space Coast getaway, spend the afternoon at Kennedy Space Center or lounging on the sand at one of the best Florida beaches — Cocoa Beach.

And if you're looking to stay for the night or a weekend, check out Cape Canaveral Beach Resort, which has a lazy river, mini golf and its own walkway to the beaches at Jetty Park.


4. Turquoise Springs & Wild Oranges at Gemini Springs County Park
Florida has over 1,000 freshwater springs, and many are located in public places, such as the Ocala National Forest or within countless state parks.

When we're traveling, some of our best finds are within city and county parks, and Gemini Springs is one of them.

So, what makes Gemini Springs such a special place and a worthwhile day trip from Orlando?

Between the two bubbling springs and their gorgeous waters and then trails winding through the dreamy live oak trees, it's a unique park you could spend all day at. Our kids love watching alligators from the safety of the shore trails and boardwalks.

Add play spaces and a wild orange grove to all that, and you've got a Florida outdoor experience unlike any other.

The most unique trail we've been on in Florida, it's a must-visit!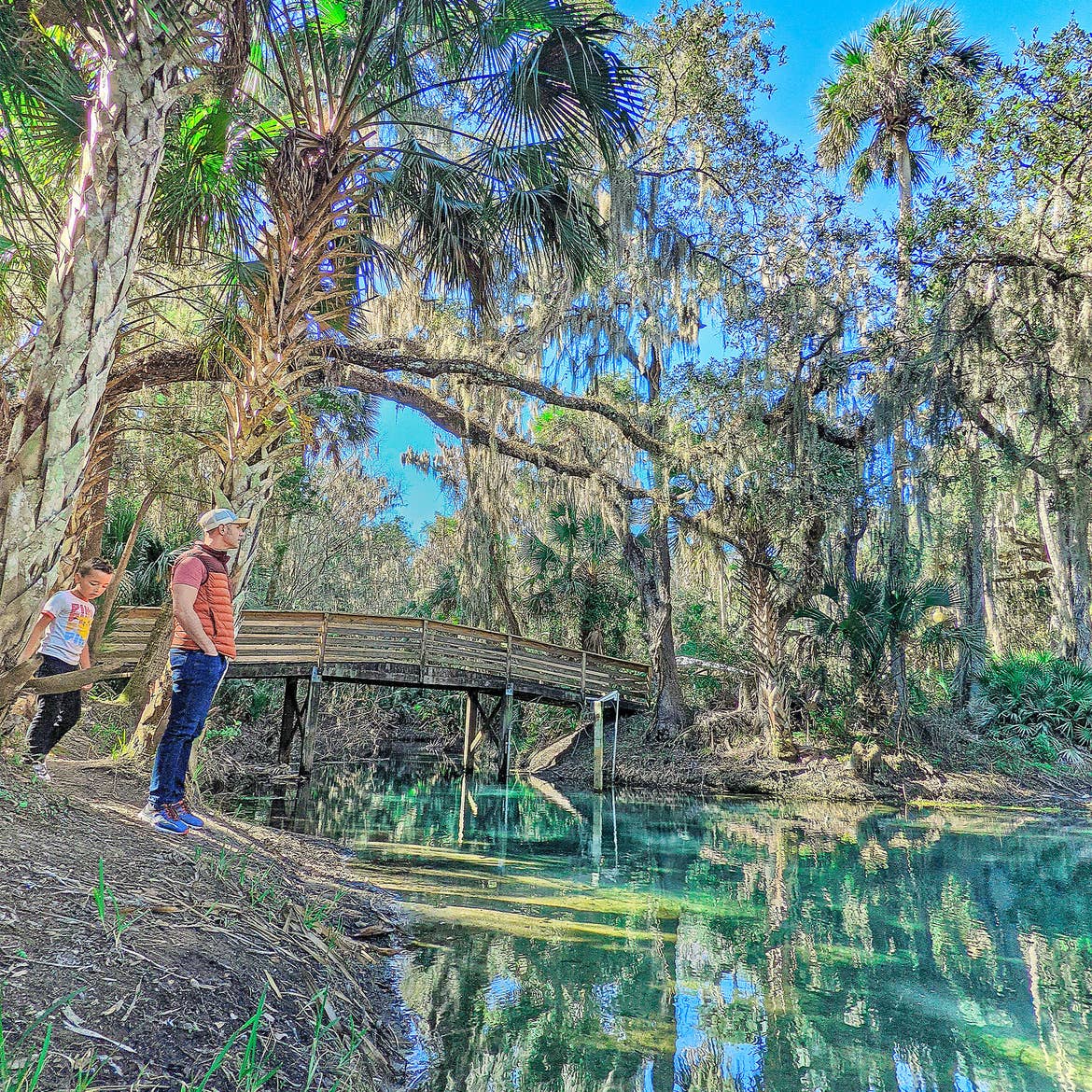 Tips for Visiting Gemini Springs
To make the most of your day trip, pack a picnic lunch to enjoy at one of the park's many picnic shelters or benches.
Wander over the footbridges to stroll through the unassuming forest … where you'll find orange trees among the magnolias and live oaks.
Location
Gemini Springs is in the town of DeBary (north of Orlando) and is a Volusia County Park. It's about a 50-minute drive from Orange Lake Resort and a little over an hour from Orlando Breeze Resort.


5. Wekiwa Springs & Rock Springs Run
There are only a few designated Wild and Scenic Rivers in Florida, and the Wekiva River is one of them. There are 3 great ways to enjoy this idyllic slice of Central Florida:


Lounge and swim at Wekiva Springs.
Wekiva Springs is the perfect place to jump in the water and enjoy a picnic, watching the springs bubble all day long.

Bring snacks and drinks and relax on the hillside, popping into the headspring to cool off whenever you feel like it.


Paddle the Wekiva River from Wekiva Island to the springs.
Paddling out of Wekiva Island, you'll encounter alligators and egrets all along the wild and scenic river. Plus, at the island, you'll have access to water vessel rentals, a café, bar and general store.

Our kids love when we paddle out from Wekiva Island because it's a fun place to hang out before and after kayaking, especially when we're there during a summer rain (so much splashing!).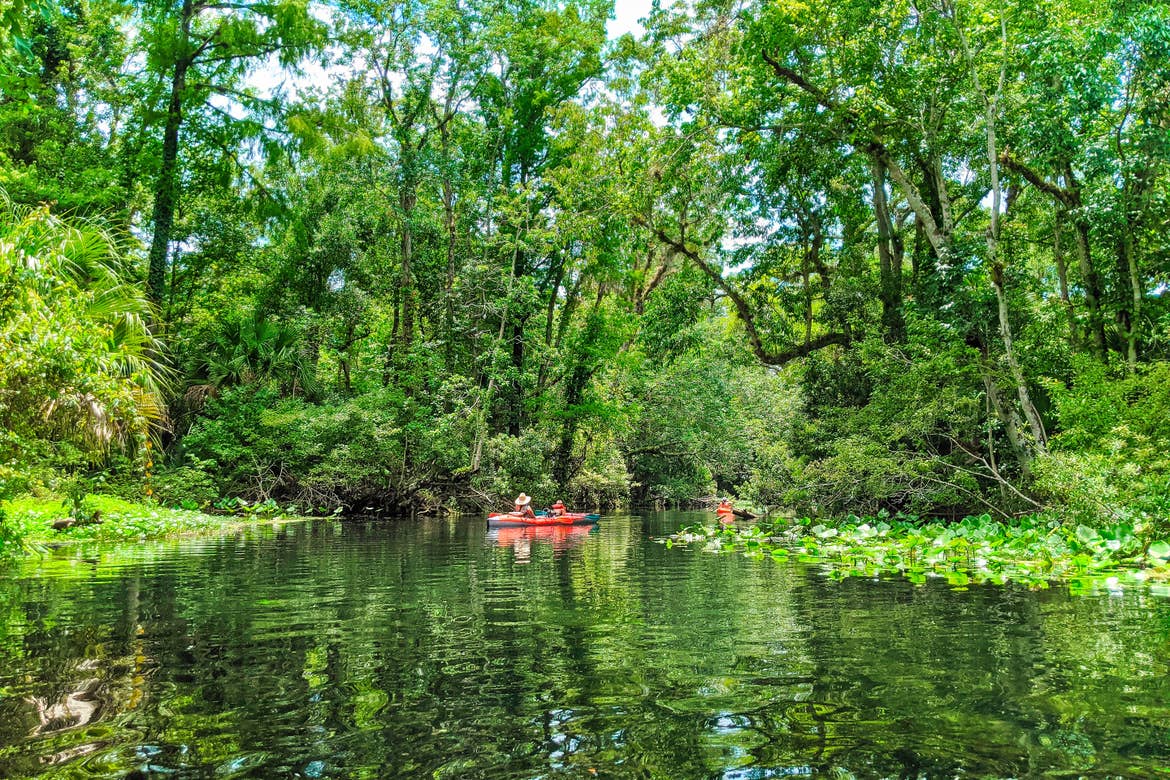 Do the famous Rock Springs Run.
For a truly unique experience, set up a shuttle to take you to King's Landing, where you can gently paddle the Rock Springs Run. You'll find some of the most iconic and fantastical sights in the Florida forest there.


Location
About 45 minutes from both Orange Lake and Orlando Breeze Resorts, Wekiwa Springs State Park is located in Apopka and is a great spot to start your adventures in the incredible Florida forest.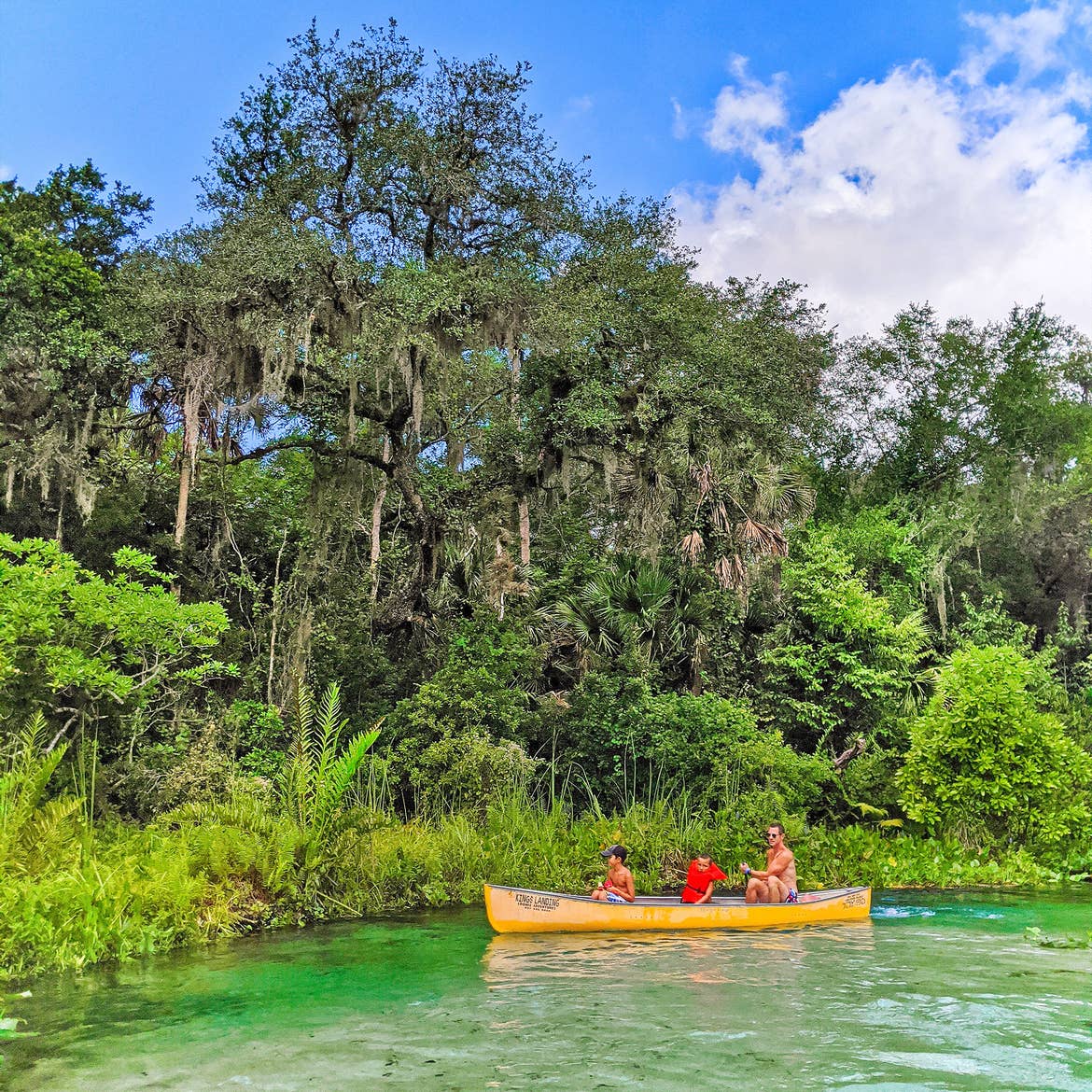 There are so many wonderful options for nature-filled day trips from Orlando, but these 5 are the easiest to add to your vacation and provide some of the most unique outdoor experiences near Central Florida.

Any of these adventures can be done in a half or whole day and all of them are beyond beautiful and memorable.


Our guest bloggers are compensated for their writing contributions and honest opinions.

All information is subject to change. This article is a curated guide and is neither sponsored nor considered an official endorsement. Please be sure to check information directly with any/all tours, guides or companies for the most up-to-date and direct details.