Danny Pitaluga
Danny and his family are on a mission to enable PWDs (people with disabilities) and their families to explore the world around them and dismantle institutional barriers to accessibility. He's also a Club member with us here at Holiday Inn Club Vacations.
Instagram
Facebook
Twitter
YouTube
Website
If you, a friend or family member are a wheelchair user, take it from me: Do not discount that beautiful beach vacation you've been dreaming of. It IS possible ... with a little extra effort and planning.

Picture this: You're lying on a towel at the beach under the bright, mid-morning sun.

A cool breeze blows through your hair as you dig your feet into the warm, soft, white sand and wiggle your toes. You have an ice-cold drink in your hand as you take a deep breath and exhale the words, "This is the life."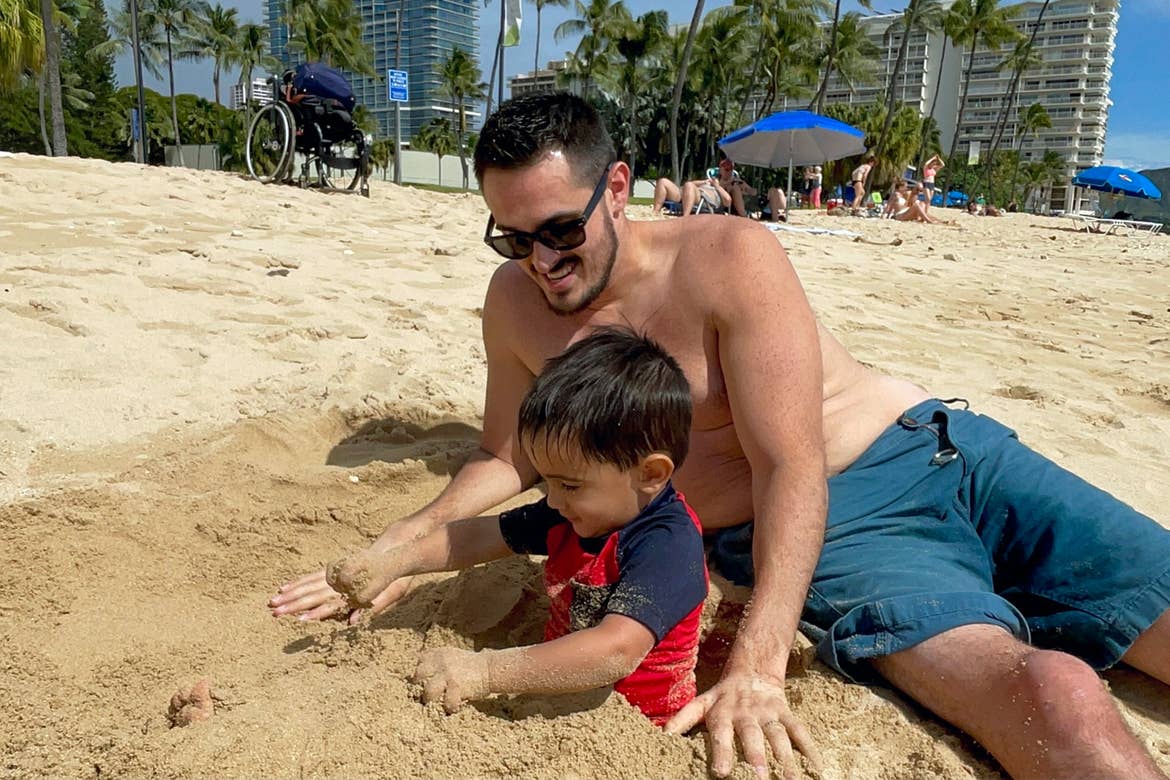 We all daydream of tranquil moments like that often enough to want to do something about it. But these dreams are often more easily accessible to some than others.

If you're wondering how to plan a wheelchair-friendly beach trip, I can tell you this: As a wheelchair user, the idea of visiting a beach comes with additional planning, coordination and patience.

I would compare it to planning a wedding—and, no, I'm not exaggerating!

But I'm here to share some tips on how to make it not only possible, but ENJOYABLE! Because everyone deserves a great family day at the beach.

From packing and planning to getting onto the beach itself (with a toddler), here's some of my best advice for navigating the beach in a wheelchair.


1. Make a Packing List for the Beach with a Wheelchair (& a Toddler)
Before even leaving home for our beach trip, I have an extensive list of items I need to consider bringing (aside from everything we're already planning to pack for our toddler, Joey) .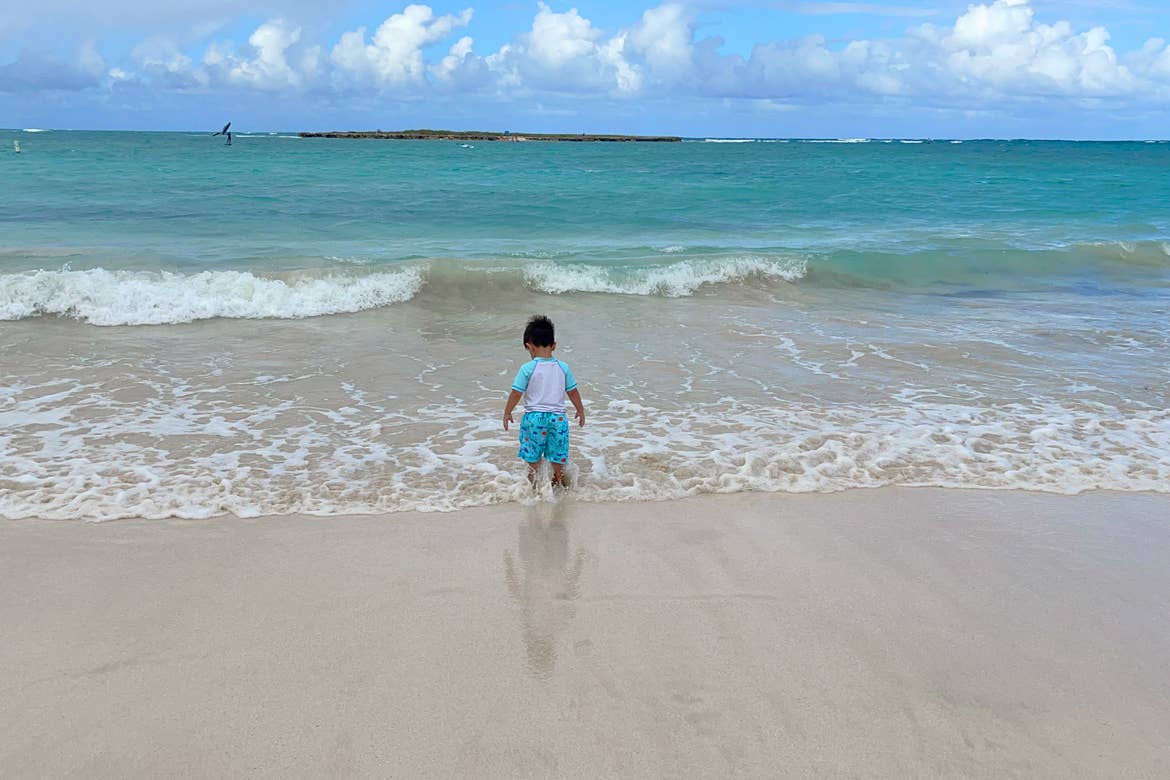 As a person with a disability, I need to make sure I have:


Emergency medication
Catheters (due to my loss of voluntary bladder function)
A water spray bottle and fan (due to loss of my ability to sweat)
Handicap placard
But the most important thing to remember for your wheelchair-friendly beach trip isn't an object at all.

If I'm planning on going in the sand, or even the water, I need to make sure I bring along a companion, friend or relative who can help me overcome some major beach obstacles.


2. Finding Handicap Parking at the Beach
As a wheelchair user, I need to consider how hard it is to actually find handicap parking at the beach.

Handicap parking spaces are often taken early in the day by other beach visitors, which forces disabled drivers or passengers to park in distant parking lots with adequate handicap parking to utilize the transfer space traditionally marked by diagonal blue stripes.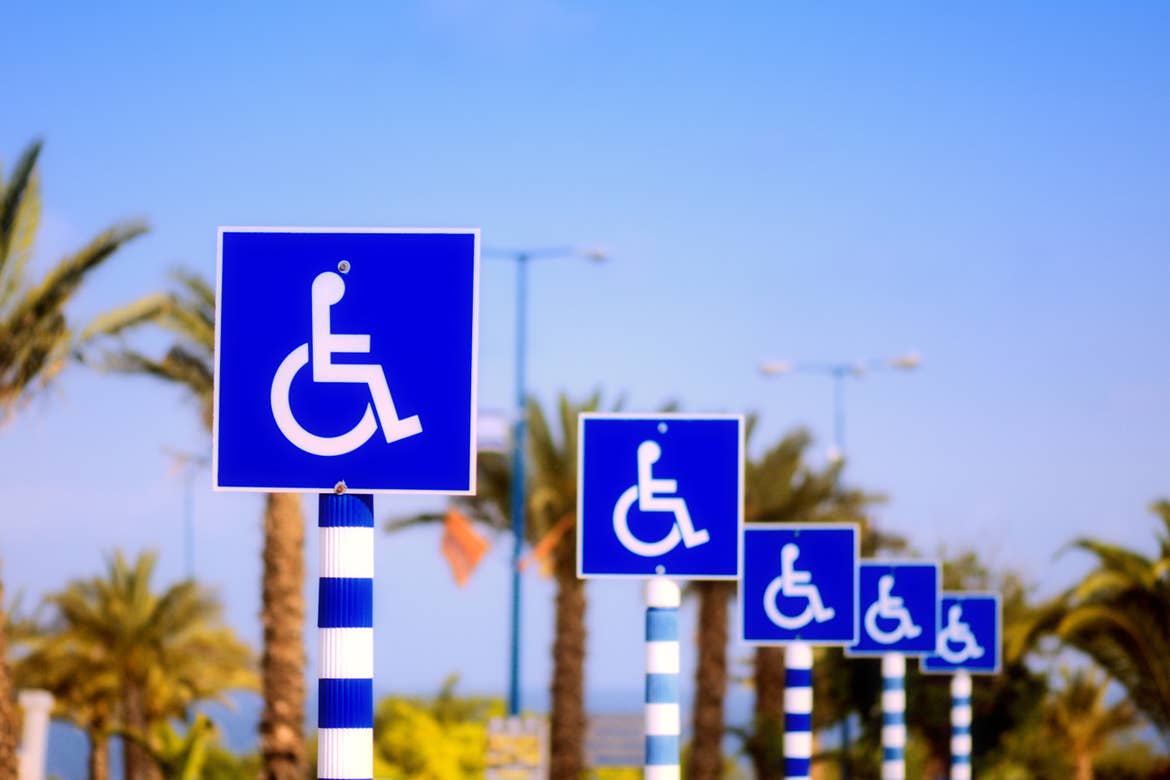 However, parking in a distant lot with my family poses an exceptional amount of danger when crossing busy streets, especially with a toddler.

It's for those reasons that I need to remind myself the value of patience and arriving early in the day when I go to the beach.

OR, better yet, we would prefer to stay at a beachfront resort, like the Holiday Inn Club Vacations® Sunset Cove Resort, so we don't even have to worry about parking.

There's nothing quite like rolling out on the dock, hopping in the boat and going to a nearby beach where you can enjoy a nice, cold beverage!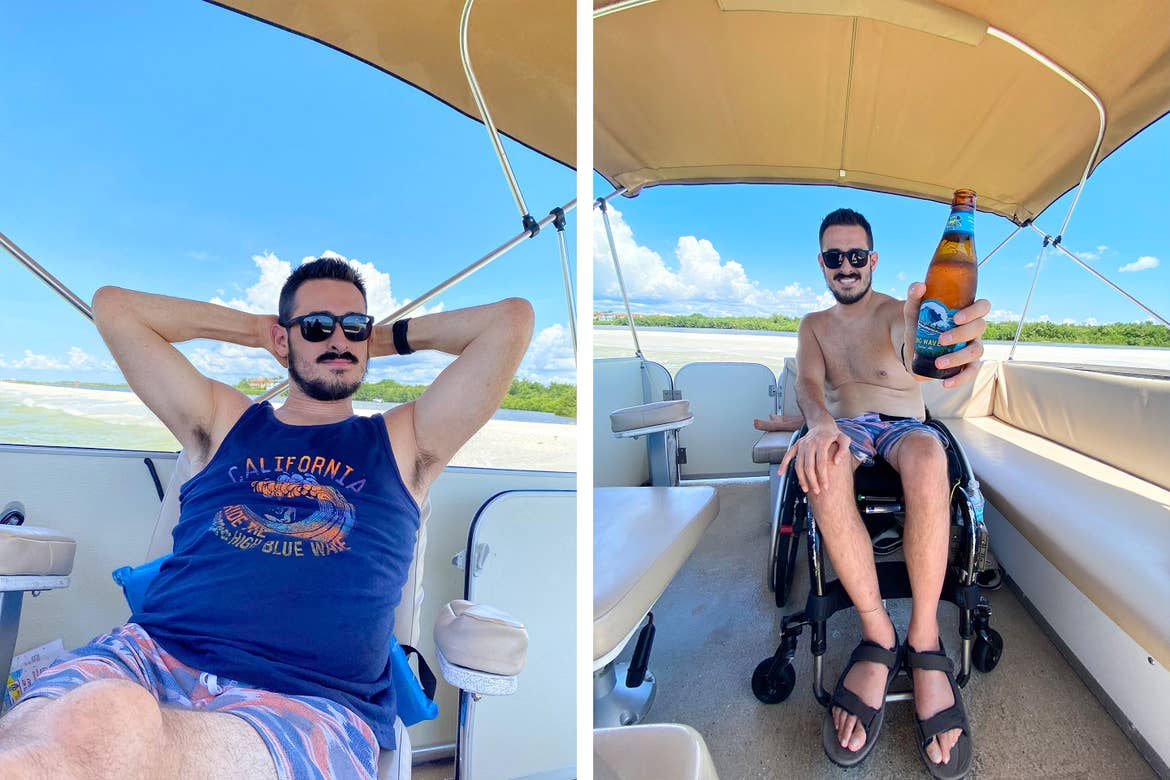 3. Getting onto the Beach with a Wheelchair
After unpacking the car with all our beach stuff for the day and heading toward the beach, there comes a point where I officially have a decision to make.

I typically stop my wheelchair right at the end of the boardwalk where the old planks of wood meet the white sand.

I know if I just roll in, I'll sink 2 inches deep and be stuck in place with sand-corroded bearings in my wheels and no way out. Thankfully, my family is always there to save the day!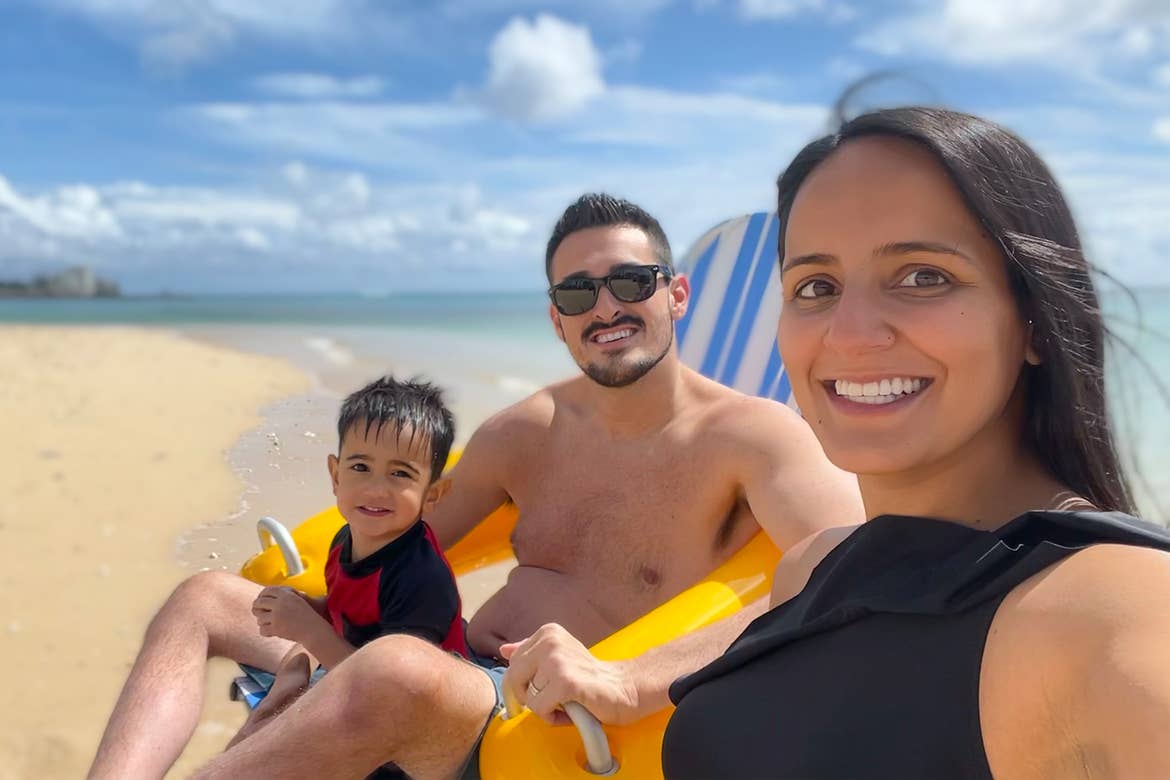 At this point, my spouse usually asks me to turn around so she can drag my wheelchair through the soft sand and over to the perfect spot for us to lounge. She tilts my wheelchair backward to prevent my small wheels from being damaged by the sand.

The only problem left is a loose toddler on the beach!

We've been diligent—and fortunate—in teaching our son the importance of staying close to us when given the liberty to walk on his own.

As you can imagine, children don't always listen, but we haven't had a runaway child as of yet while visiting the beach.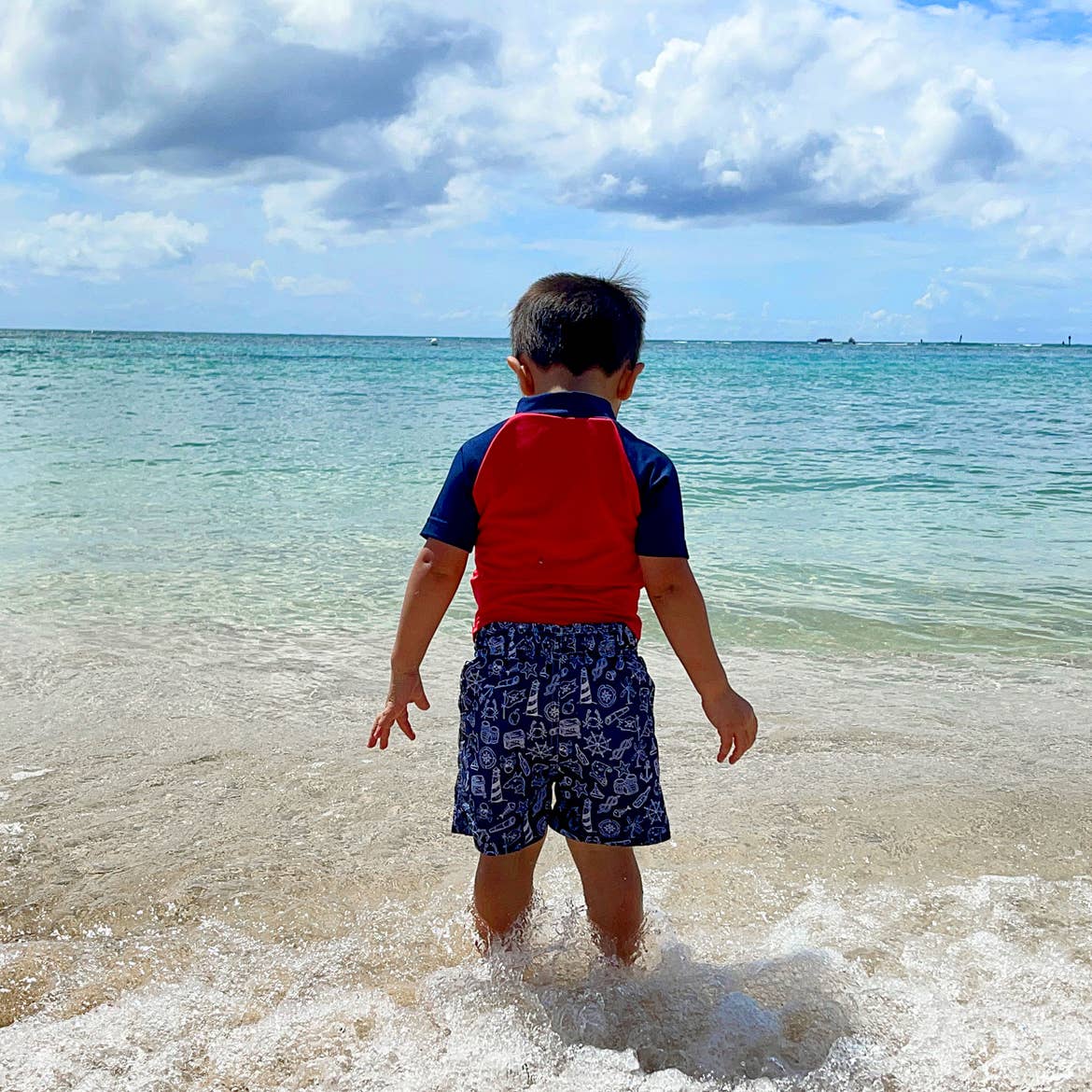 After a gentle transfer onto the beautiful, white sand, I can finally have that special moment I described earlier with a cool drink in my hand.

There's nothing quite like an ocean view with your family as you say to yourself (and maybe even out loud), "This is the life!"


Tips for Overcoming Wheelchair Obstacles
I've learned a few things throughout my life that have molded my character over time.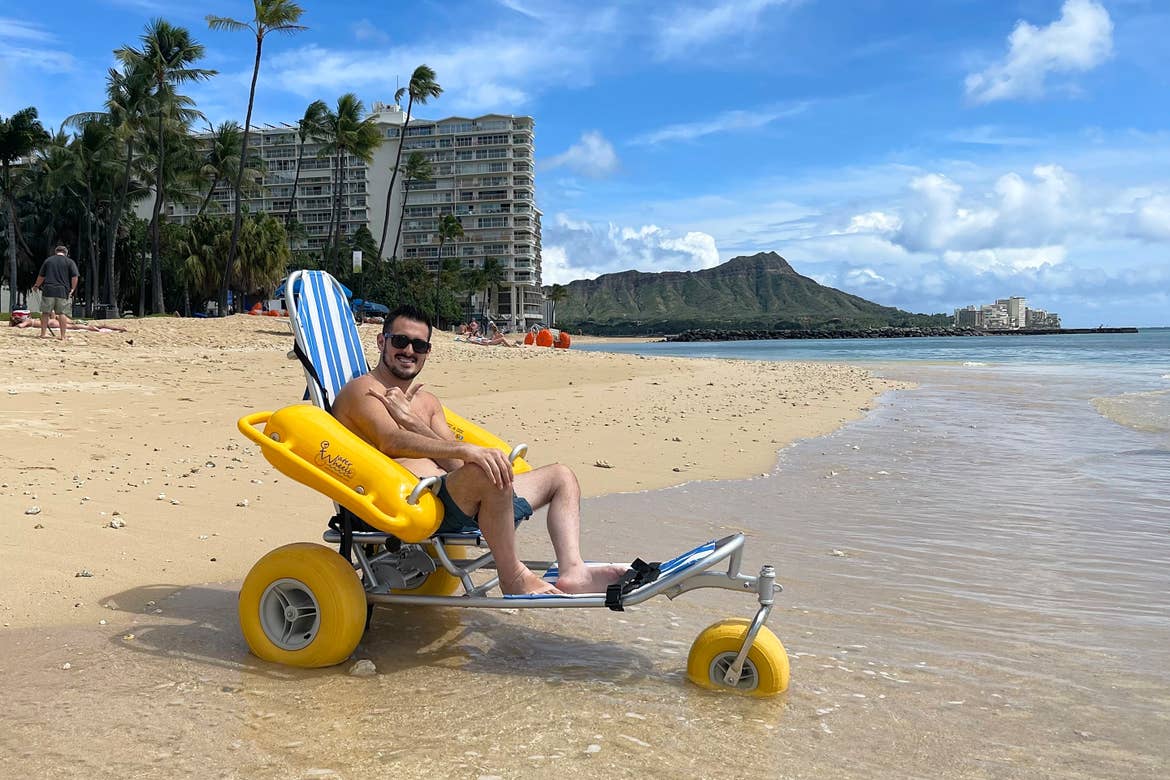 Here are my words of wisdom when it comes to planning your wheelchair-friendly beach trip and even any other adventures you have:


I've learned the value of not letting your disability get in the way of fulfilling one of the most, if not the most, important role you have, which is that of being a parent. I want my children to have a life where they remember the quality time we spent together and the love their parents had for them growing up.

So, one tip that's especially true if you're traveling with a disability: If there's an obstacle you need to overcome to enjoy time with your family a little more, push yourself to knock down those walls and challenge anything.


Be comfortable asking for help from others. Not everything is accessible. That's the unfortunate truth about life with a mobility impairment.

However, learning to ask others for help will empower you to accomplish new goals and develop stronger relationships with others.

It also shows my children the value of humility and power of networking, even if it's for the most mundane task. You never know who you might meet, so never stop networking.


Last but not least, I've learned that there are many others who let fear get in the way of attempting to overcome their obstacles.

Hopefully, by sharing my experiences, I can encourage and inspire others with limitations to face their challenges, too.
Life is an opportunity. When I have the chance to enjoy my family with something as beautiful as a family beach day, I will always take it. And speaking of family…

As Club Members with Holiday Inn Club Vacations, we recently spent a weekend at Sunset Cove Resort to enjoy the beach with our extended family.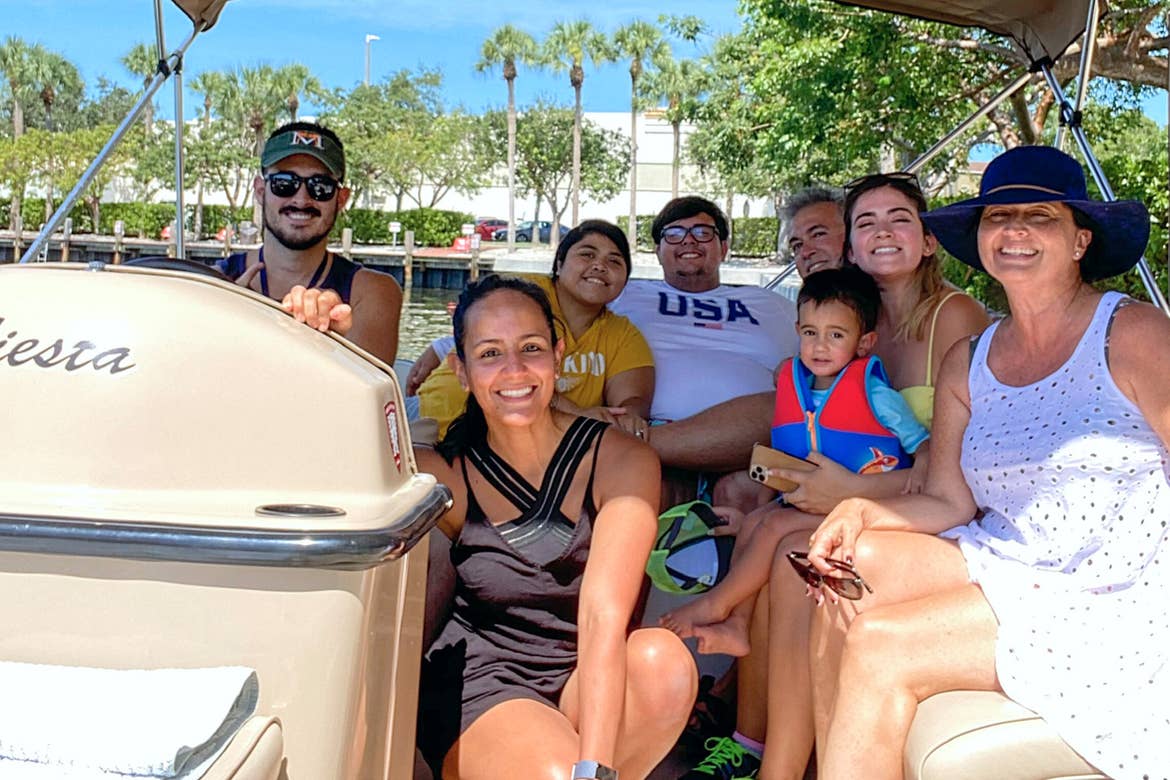 We enjoyed a weekend of rest and relaxation, including a boat day, plenty of time at its zero-access pool, quality family time in the on-site arcade and grilling burgers poolside.

But, by far, the highlight of our Marco Island getaway was finding out our family would be growing by two feet!!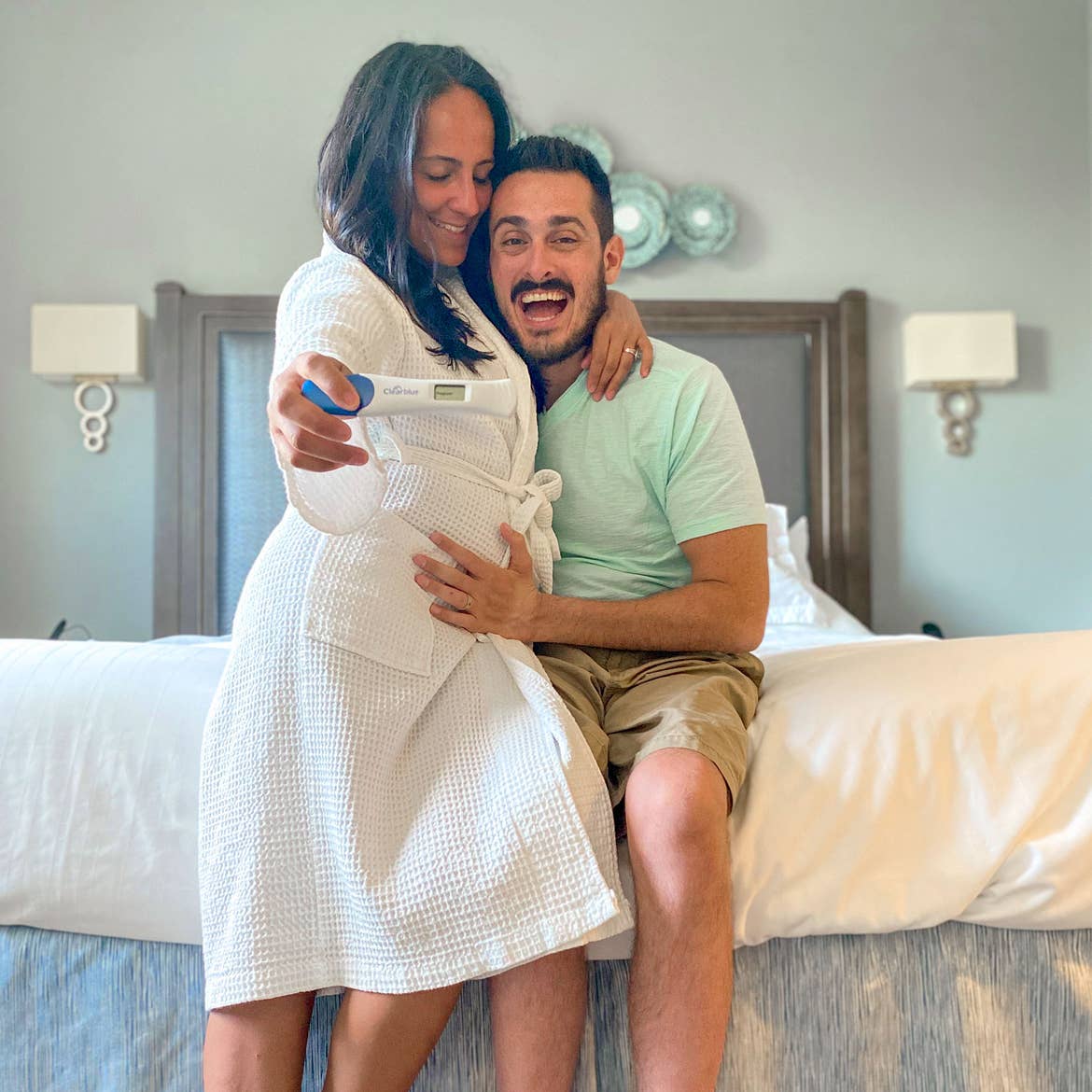 Despite any obstacle or limitation you might have, whether you're planning a wheelchair-friendly beach trip, coastal excursions or any other exciting adventures, I hope you'll take advantage of all the opportunities life gives you, too!


Curious about what vacation ownership could look like for your family? Learn more about membership with us, request a virtual tour or connect with one of our virtual consultants at (855) 605-8458.

Our guest bloggers are compensated for their writing contributions and honest opinions.

All information is subject to change. This article is a curated guide and is neither sponsored nor considered an official endorsement. Please be sure to check information directly with any/all tours, guides or companies for the most up-to-date and direct details.