Danny Pitaluga
Danny and his family are on a mission to enable PWDs (people with disabilities) and their families to explore the world around them and dismantle institutional barriers to accessibility. He's also a Club member with us here at Holiday Inn Club Vacations.
Instagram
Facebook
Twitter
YouTube
Website
We'll admit we had a lot of questions when we started considering buying a timeshare and before we officially became Club members back in 2016. If you're anything like we were several years ago, you may be wondering: "What is a timeshare?" "What is it like to have a timeshare ownership?" "What makes vacation ownership better or different than hotels or vacation home rentals?" Or even, "What and how the heck do you use Points?!"

And Danny even had a bit of buyer's remorse the moment we left after purchasing our Club membership with Holiday Inn Club Vacations. (Spoiler alert: That faded quickly!)

Here's our membership story and how we went from, "What were we thinking?" to "When's our next trip back?!"


Meet Danny & Val: Club Members Since 2016
Hi! We're the Pitalugas: Danny, Val and our son Joey. We're a couple of South Florida locals who love the sunshine a little too much and enjoy palm tree Christmases every winter.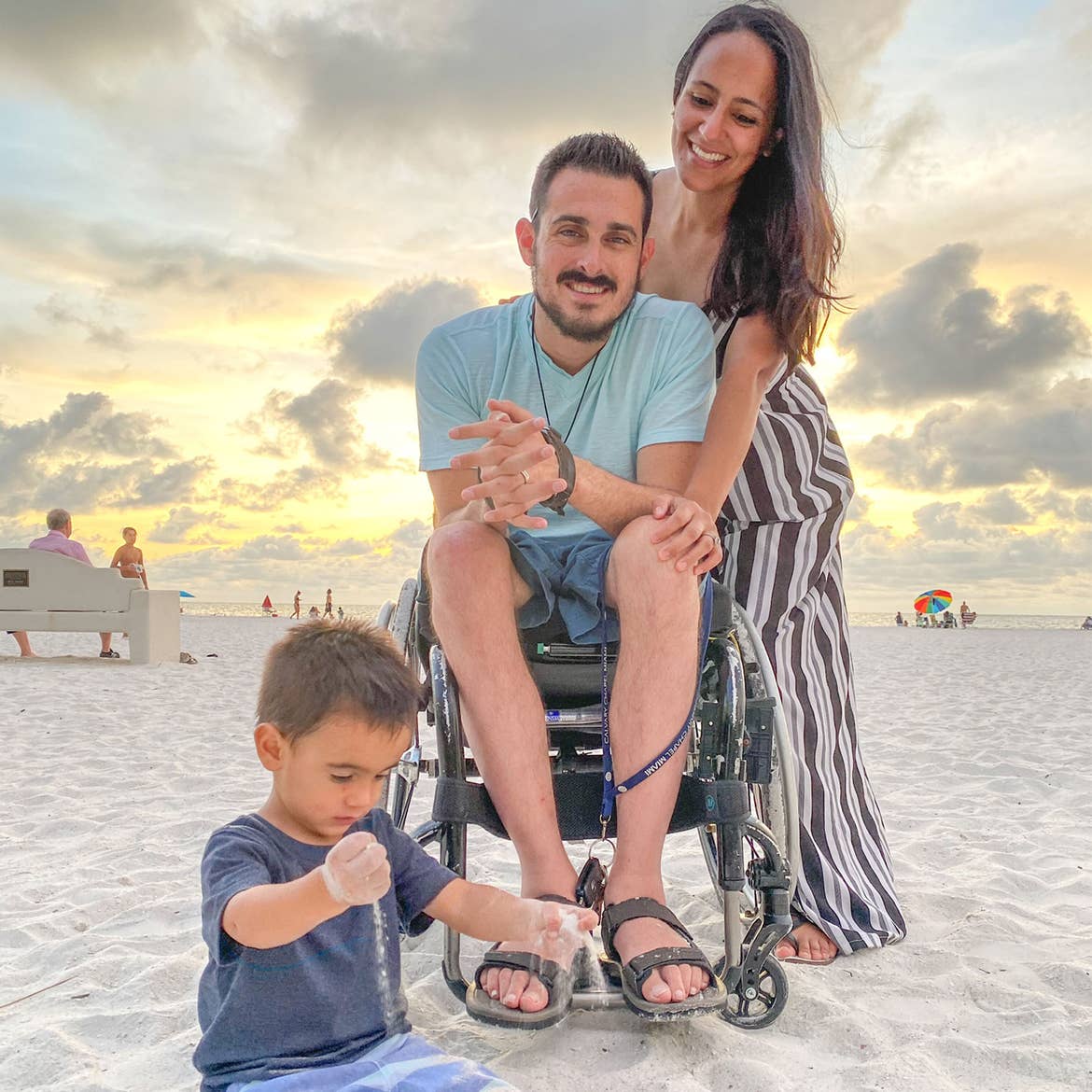 We went to high school together, but our paths didn't cross until 2010, a year after Danny was in a bad car accident that paralyzed him from the chest down. He's been in a wheelchair ever since, but his paralysis didn't stop him from trying new things and chasing after new dreams, including travel!

Eventually, that dream became a proposal to Valerie. Right as we were finishing up a delicious steak dinner at a restaurant, Danny broke out into song with a guitarist (who came out of nowhere!) and finished singing to Val with a ring in his hand.

We were married in 2016 and our family grew within a few years to include our son, Joey. He's two years old, smart, loving, and sometimes a real headache, but that's what makes our family so real and enjoyable.



Joey enjoying the splash pad in North Village at Orange Lake Resort

We realized that our unique lifestyle was something we wanted to share with the world. That's when we started Accessible Vacations. Our goal is simple: to enable people with disabilities and their loved ones to get out and see the world, despite the many barriers to accessibility in travel and daily life.

Not too long after our wedding, we found a great deal to stay at a place called Orange Lake Resort at Holiday Inn Club Vacations. It was too good to pass up, both financially and because they offer accommodations for people traveling with disabilities, so we grabbed our extended family and went to check it out. Our vacationing life changed from that day on.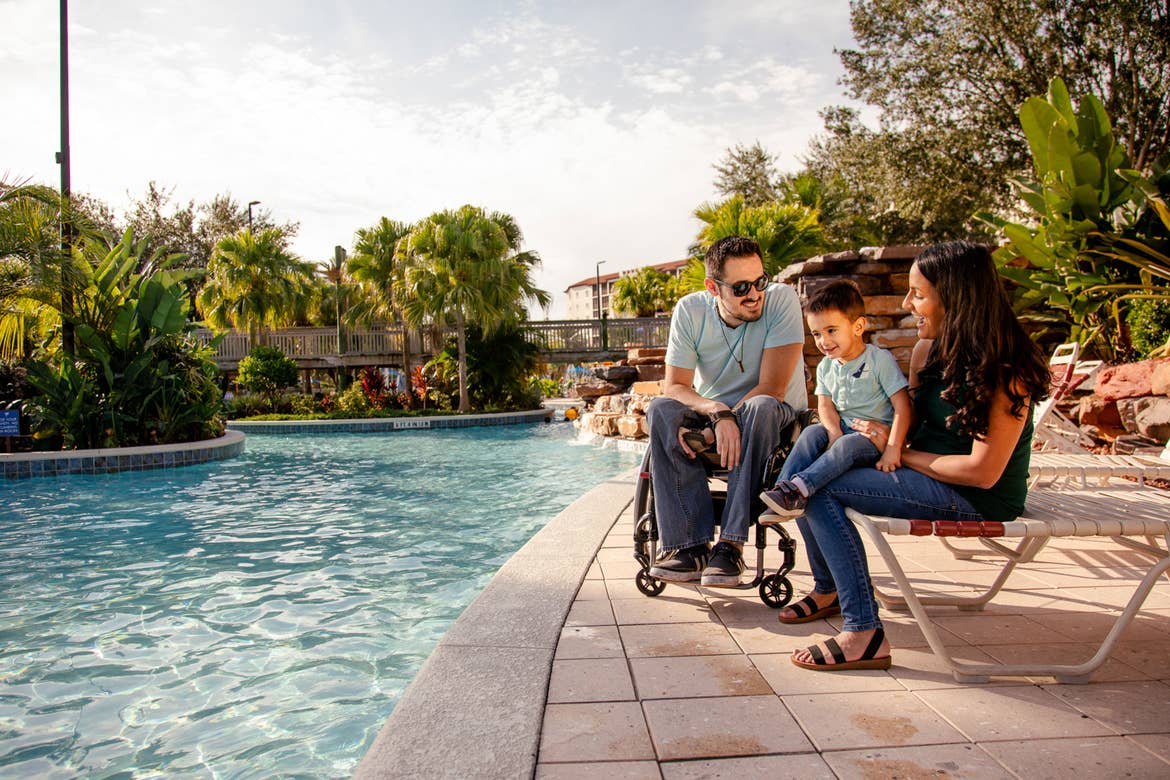 The Pitaluga family at their favorite vacation place: River Island at Orange Lake Resort!


How does the timeshare sales process usually work?
Danny: I booked our first, discounted, introductory stay at Orange Lake Resort, and I thought I knew what to expect. In fact, a representative at the resort very clearly told me when I booked that I'd be asked to spend two hours of my day doing a timeshare tour of the property and a Club membership presentation. The rest of my vacation could be spent as I pleased. No biggie. Two hours in exchange for a discounted, ADA-friendly vacation? I was in.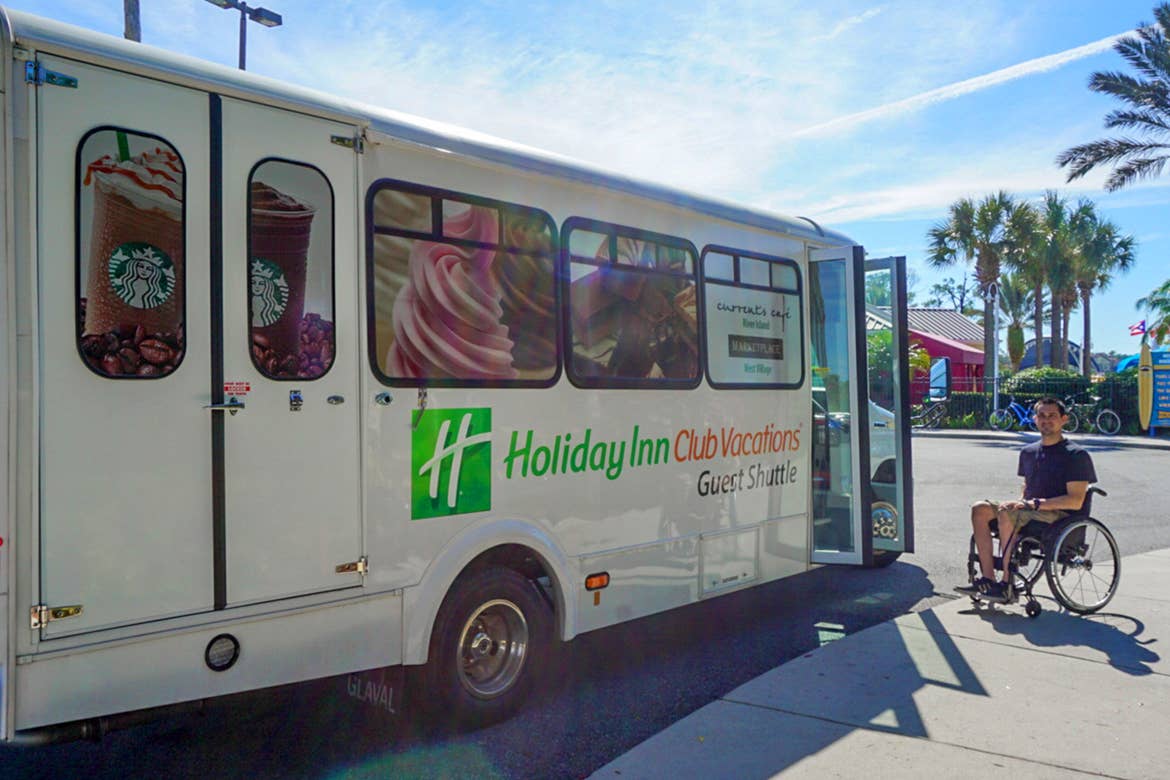 I invited my family over and planned a really fun weekend for all of us to enjoy. The plan was to sit through the "sales pitch" everyone warned me about and get out to continue having fun. I knew enough about timeshares to know that I had no plans to purchase one same day. That was not "the plan."

Val: Right, right that wasn't the plan. But I am totally the impulsive shopper who can't go through a self-checkout line without grabbing at least a couple of candy bars and maybe some new socks juuuuuuust in case. Needless to say, our tour of the sprawling, beautiful and close-to-Walt-Disney-World property at Orange Lake Resort made it very easy for me to feel ready to "pull the trigger," so to speak.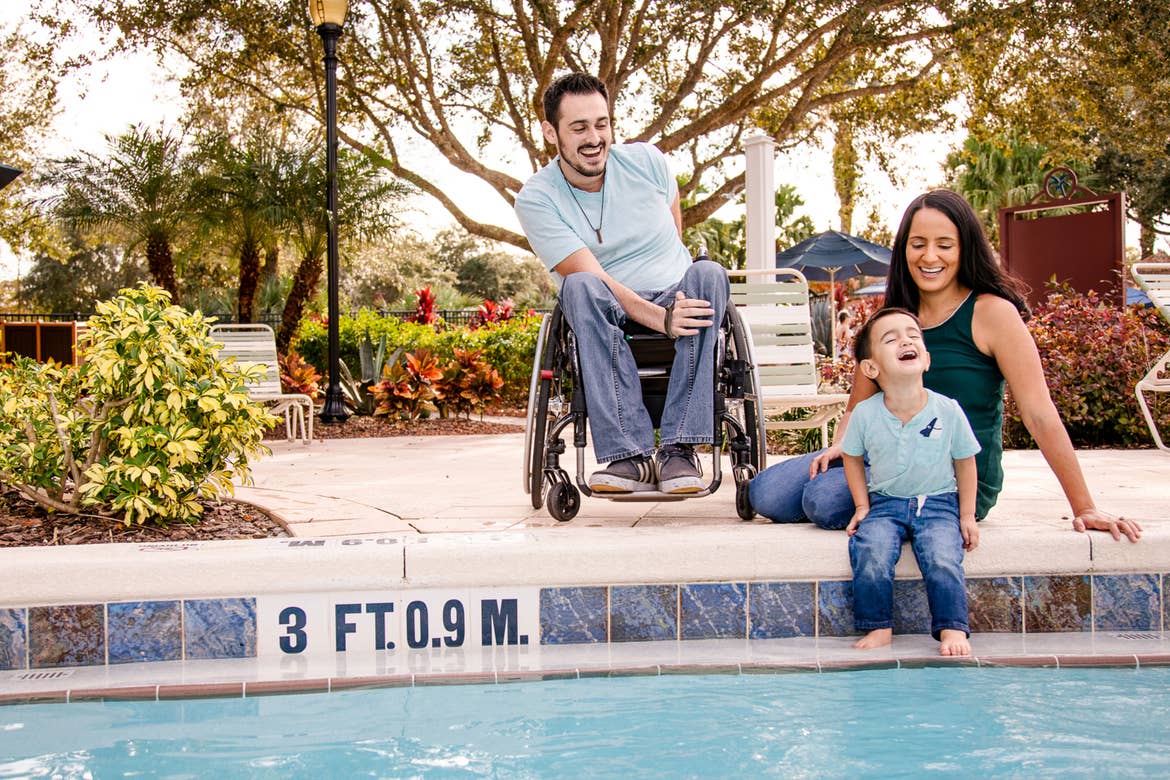 Danny: I loved Orange Lake Resort right away … but I have always had a much more cautious demeanor, and I often overthink things to my own demise. So, as you could imagine, I had every question in the book. I asked every what-if question I could think of, including accounting ones and even awkward personal ones!


How do timeshares work?
Danny: The sales associate explained that I would have the vacation ownership rights to a certain type of room, at a specific resort location, for a week every year. However, it could be converted into Points to use as freely as we'd like to book other vacations within the program.

I could change its location, length of stay and room type. We could even travel outside of the 28 Holiday Inn Club Vacations resorts and use our Points to stay at thousands of IHG® network partner hotels around the world.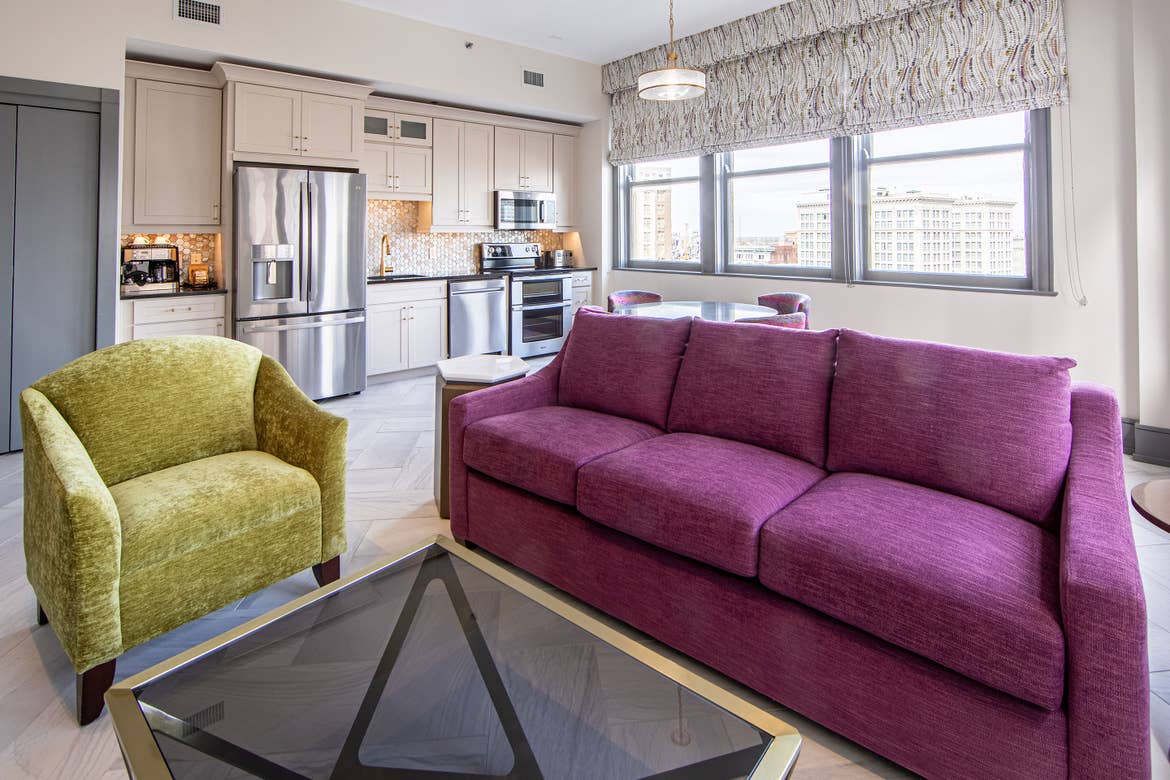 A Signature Collection villa at the newest Holiday Inn Club Vacations Resort in New Orleans.

The Points become currency, so to speak. We crunched the numbers on what Val and I typically spent each year on vacations and compared it to the cost of the Club membership, the variety of destinations to stay at and the better, bigger accommodations we'd be getting.

Although the numbers made sense and I could see the value of traveling this way, I had it embedded that these presentations were scams; that timeshares are a scam in and of themselves. I was always told to never buy them.


Did you have any regrets after buying your timeshare?
Danny: To be completely honest, we took almost the entire day thinking and talking it over, deciding and then finalizing and putting pen to paper on what would become our official timeshare ownership with Holiday Inn Club Vacations. And … I was not thrilled.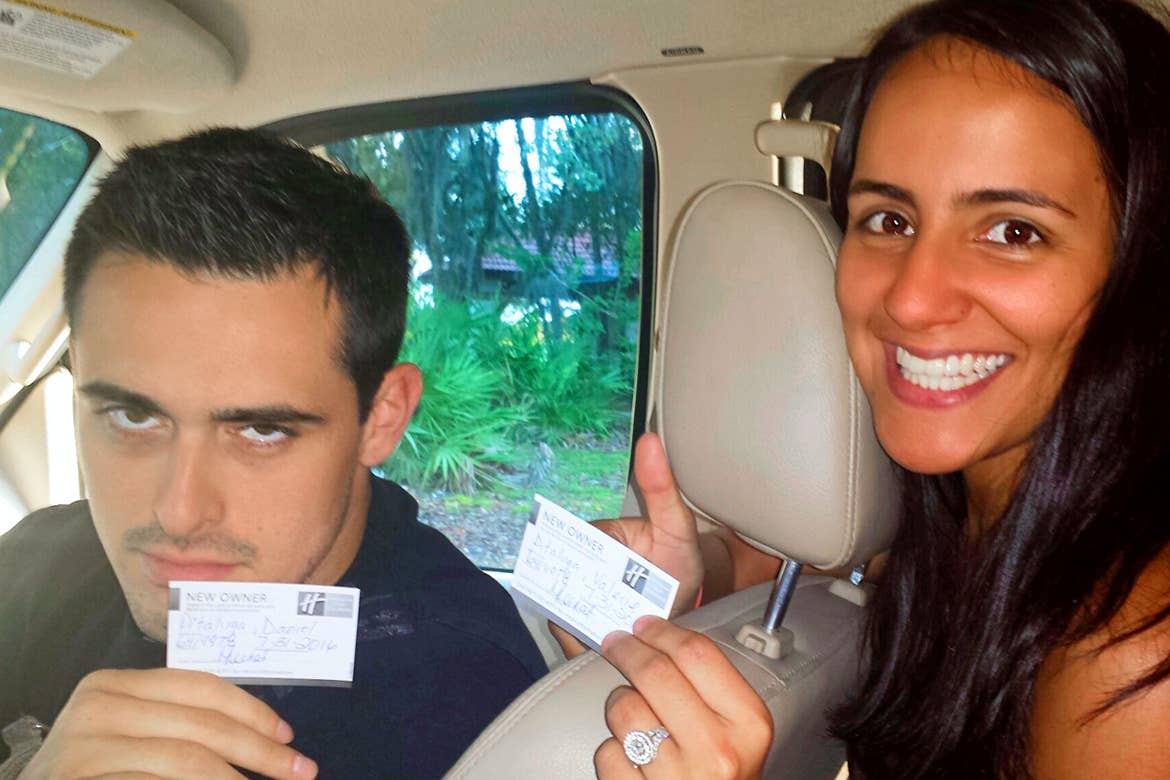 Val: Ha! I will never forget getting into my in-laws' car straight out of the Founder's Club (where we signed our paperwork) to go out for dinner and how EXCITED and happy I was! (I'm sure the copious amounts of free coffee on the timeshare tour helped in that regard, too.)

Then I looked at Danny's face, which screamed of buyer's remorse and worry. That only intensified after my mother-in-law jokingly said we got "suckered!!!" I immediately knew this moment would be one we could look back on and laugh about. But in the moment, to say we were a mixed bag of emotions would be an understatement.


How do you feel about owning a timeshare now?
Danny: I look back at that day as such a pivotal point in our lives. We've always known that vacationing would be a big part of who we were, but this vacation ownership changed how we view hotels now, too.

Staying at the average "just a hotel" when traveling feels so vanilla nowadays. There's nothing like the amenities the Holiday Inn Club Vacations resorts offer. Full kitchens, laundry, pools, mini-golf, beautiful grounds and landscaping, the lazy river in Orlando…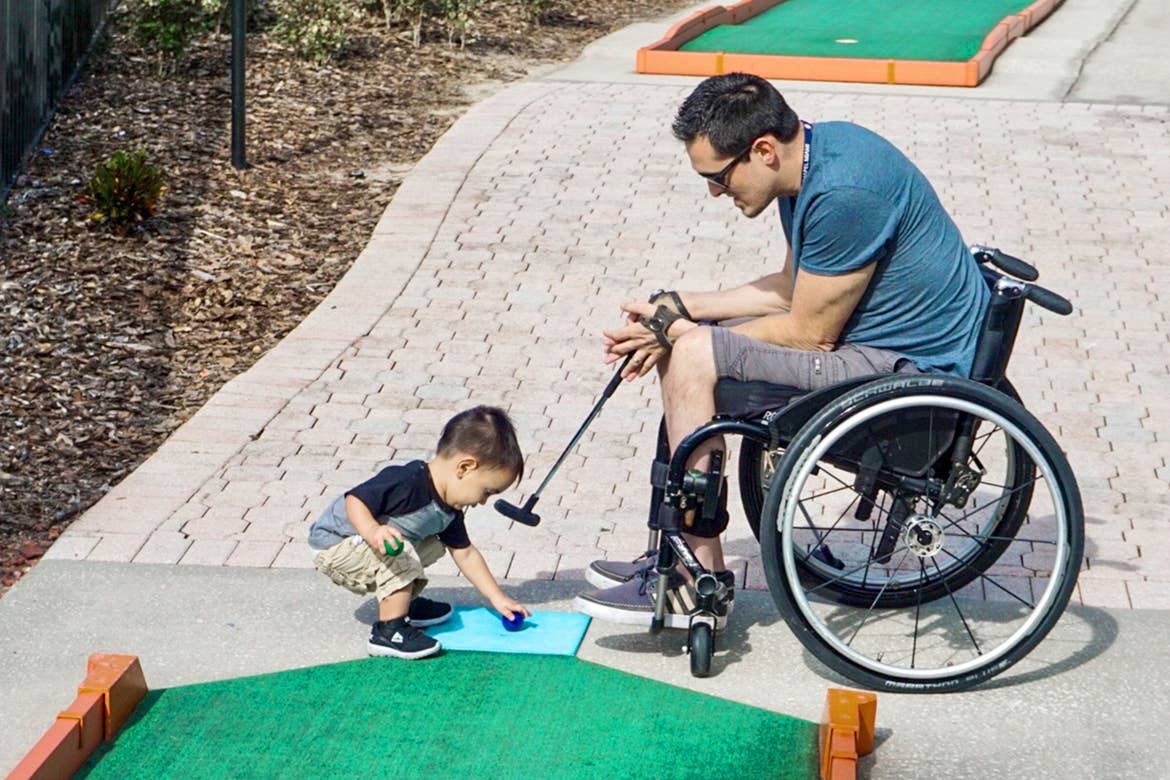 In fact, whenever we travel to Orange Lake Resort, our two-year-old son instantly recognizes his surroundings and says, "We're on vacation!" It's moments like that one that make me realize my family is worth every penny.


What can vacation ownership do for you in the long-term?
Val: Despite his (responsible husband) worries, Danny told me as we were signing the papers that he could see how this timeshare would be a massive benefit to our family in a couple of years. And he was absolutely right.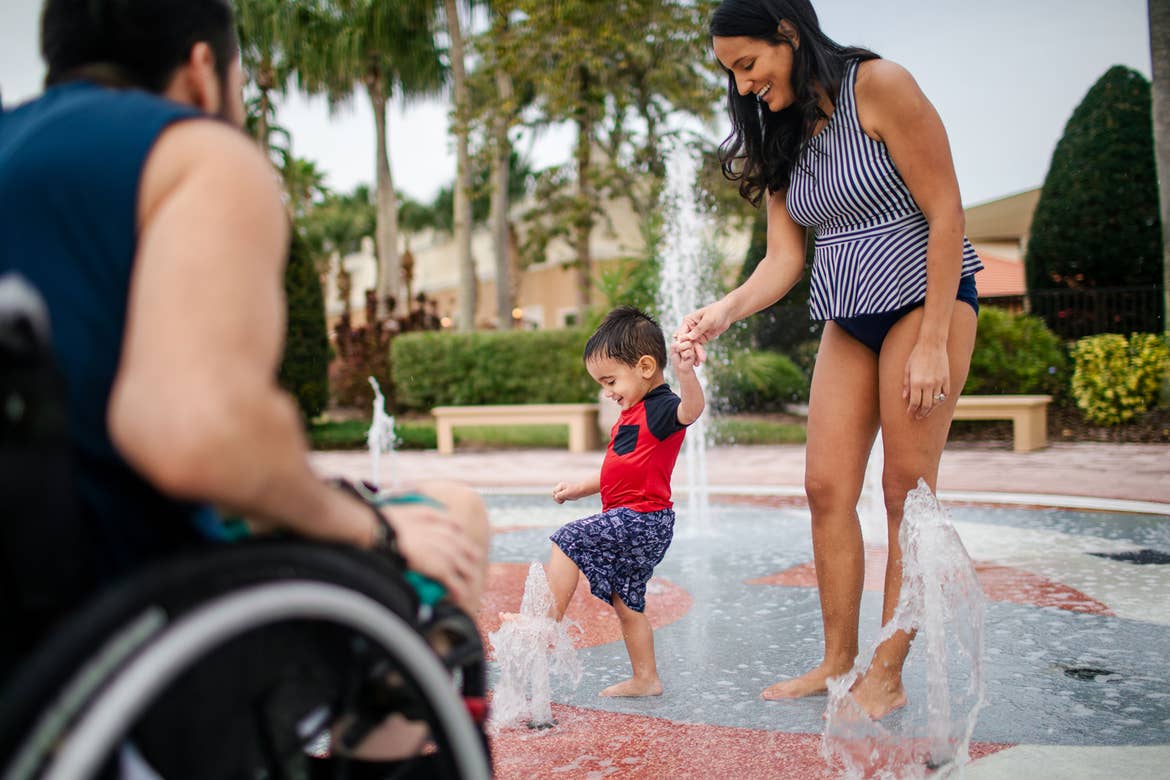 Financially, we were a bit nervous about taking on an extra payment per month for something we didn't truly understand at first. We now know that the more you know about your timeshare, and how to use it, the more it works for you. It MAKES you vacation because it's part of your household budget. It creates anticipation and traditions, and we find it easier to plan and enjoy our time off. It's been a good buy for us, both personally and financially.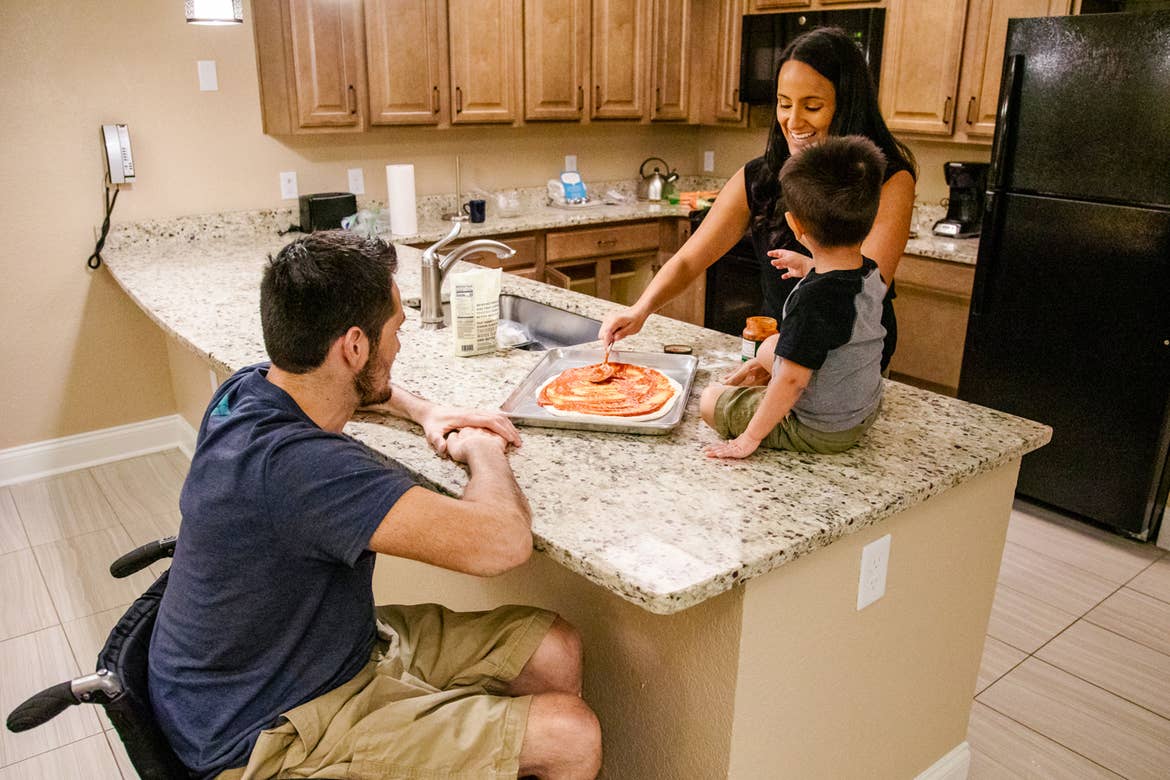 Danny, Val and Joey making pizza in their ADA-friendly full kitchen at Orange Lake Resort.

As our family grows, we expect our vacations will become less spontaneous and less adventurous (and, yes, a little less dangerous at times) compared to our travels from when we were a young couple. But as parents, we actually love the idea of trading our parachutes for floaties, zip lines for splash pads and snorkels for arcades. It's part of our progression in life to cater to our children, and our Club membership fits our lifestyle from when we were newlyweds to what it's becoming.


What are your favorite parts of vacation ownership with Holiday Inn Club Vacations?
Danny: As Club members with Holiday Inn Club Vacations, we love having the option to balance busy family vacations with more relaxing stays. For example, we recently had the pleasure of enjoying the beach lifestyle on a little getaway in Marco Island at Sunset Cove Resort.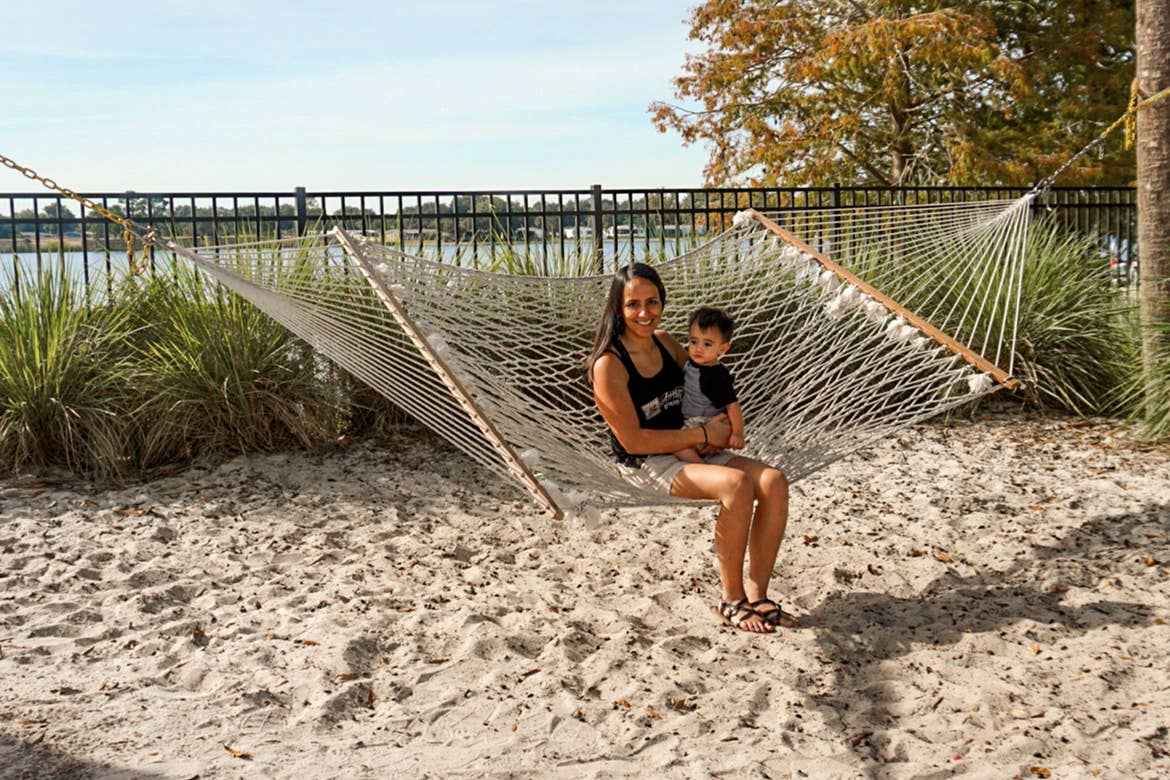 Alternatively, we know our future time off could also send us to a city setting like their new resort in New Orleans for some beignets and tours of the bayou.

But of course, our favorite tried-and-true resort will always be Orange Lake. Again, as a person in a wheelchair with an ADA vacation mission in mind, I can vouch for how important and special it is to find a "home away from home" that's beyond ADA-friendly.

Once you find that one place where you can truly relax and vacation and know that you won't encounter obstacles or accessibility issues, everything else in the Club network is like the cherry-on-top bonus.

Every resort offers a unique experience that makes you want to visit them all. You can rest assured that as we continue to visit new ones, we'll be back to tell you more about them, the surrounding destinations, local things to do and, yes, their accessibility features.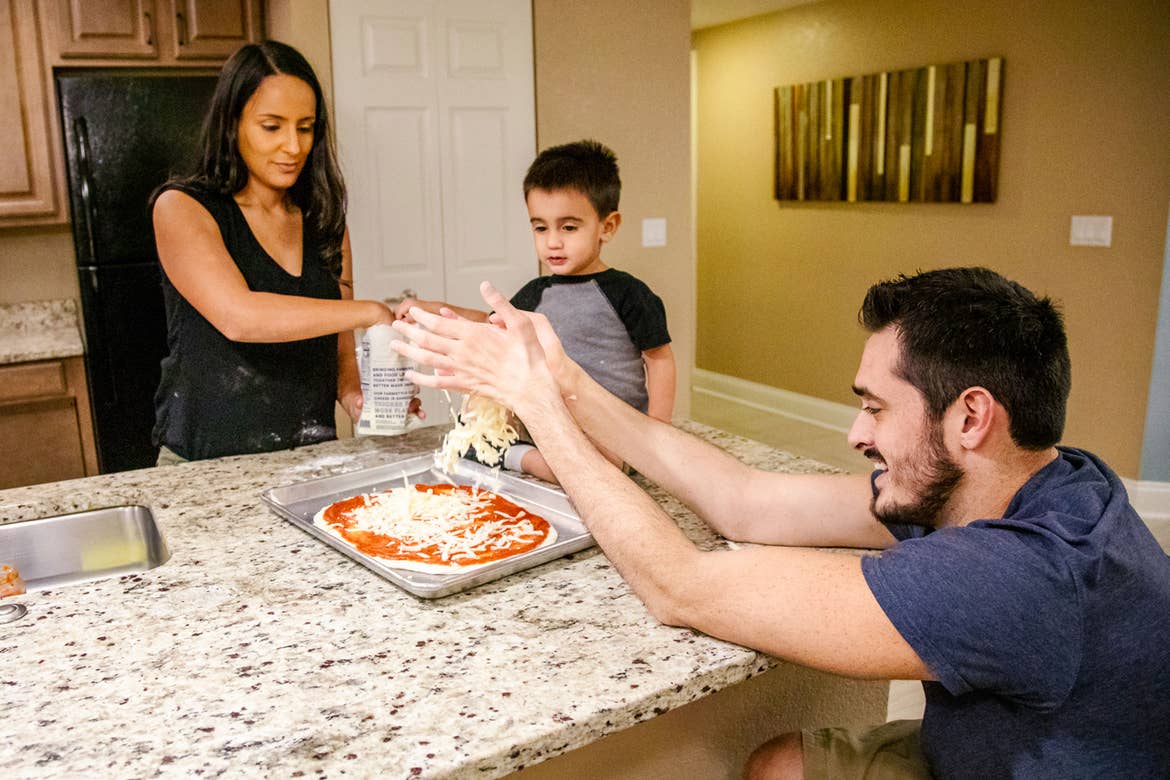 Val: As a busy mom and wife, Orange Lake Resort tops my list as my all-time favorite resort to book in Orlando. Plus, it's no small thing that, like Danny mentioned, we already know they have great accessibility features for us on property, including pool lifts at every pool and incredible attention to detail in each spacious, wheelchair-accessible villa.

Orange Lake is the one place where we know nothing is off limits due to Danny's disability. And, for me, seeing the joy on Joey's face as dad splashes in the splash pad with him? It's priceless.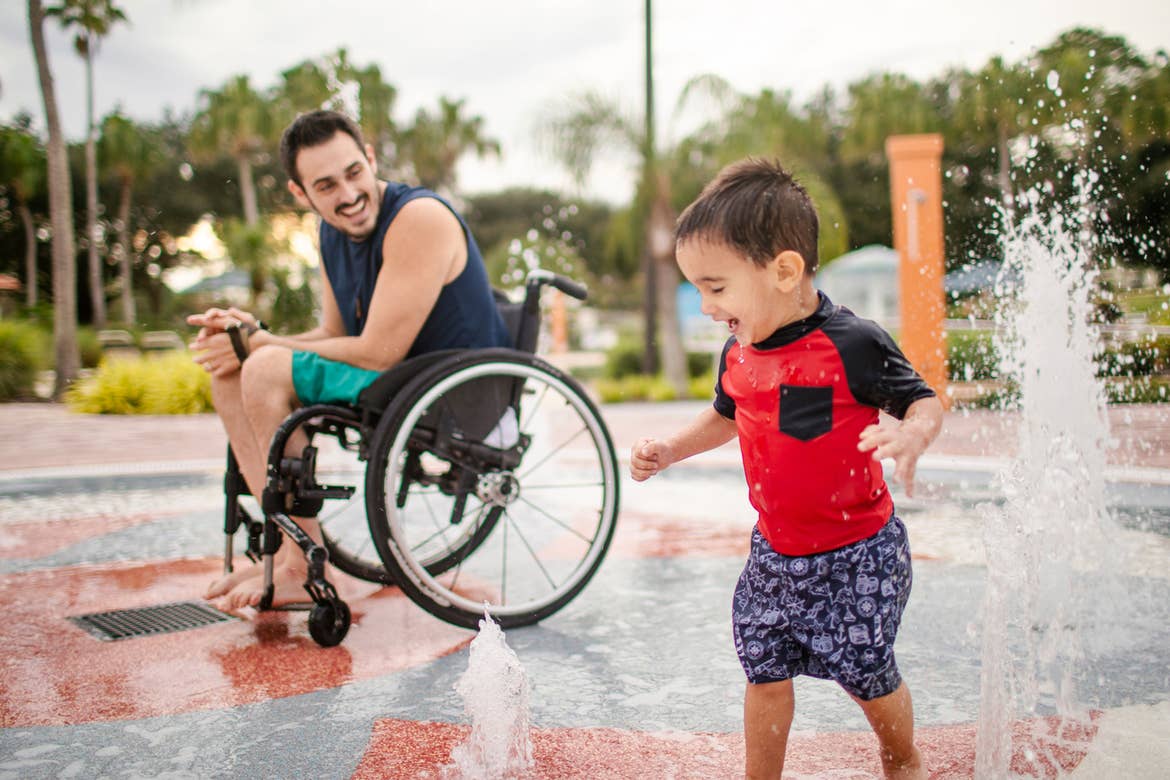 This may seem silly, but I know moms everywhere will relate: the full kitchen and washer/dryer combo in the villas are a lifesaver! We can quickly whip up a meal or heat up leftovers before heading elsewhere on-site, and I don't even remember what it's like to pack for a vacation and come home with dirty clothes after our trip. I love already having our vacation clothes laundered and ready to put away when we get home. One less thing, right mamas?!


What advice do you have for anyone interested in vacation ownership?
Danny: We made a great decision to become owners at Holiday Inn Club Vacations. If you've ever thought about doing the same, I'd tell you to do your own research—it's important. And this decision is a personal one.

But I'd also tell you, if you want to consider a timeshare, you can feel confident that Holiday Inn Club Vacations is a top choice. As our days and nights get a little bit cooler, and the spirit of Christmas starts to roll in, now might just be a great time to set your family up with a promise to always put vacation fun for the family at the top of your priorities.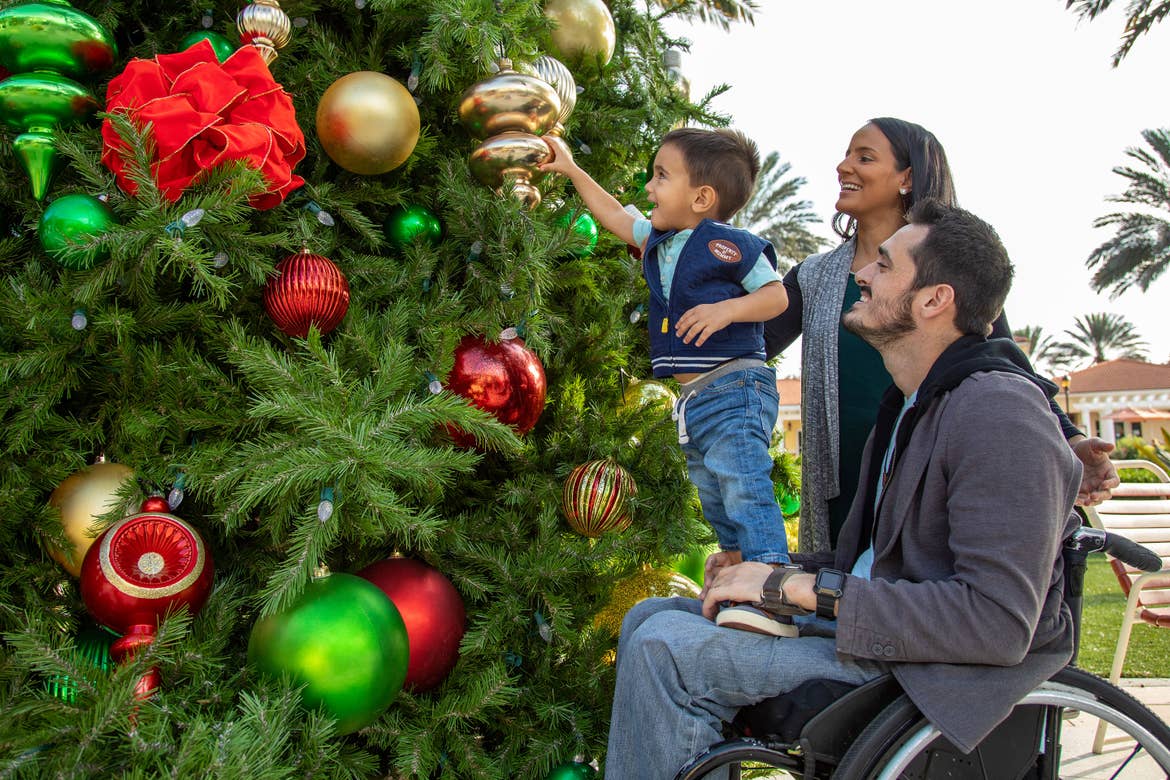 Danny & Val: From our family to yours, we wish you love, laughter and relaxing vacations. May you have a merry Christmas and happy holidays, and, of course, the gift of Safe Travels!


Curious about what vacation ownership could look like for your family? Learn more about membership with us, request a virtual tour or connect with one of our virtual consultants at (855) 605-8458.

Our guest bloggers are compensated for their writing contributions and honest opinions.

All information is subject to change. This article is a curated guide and is neither sponsored nor considered an official endorsement. Please be sure to check information directly with any/all tours, guides or companies for the most up-to-date and direct details.