Danny Pitaluga
Danny and his family are on a mission to enable PWDs (people with disabilities) and their families to explore the world around them and dismantle institutional barriers to accessibility. He's also a Club member with us here at Holiday Inn Club Vacations.
Instagram
Facebook
Twitter
YouTube
Website
We can all imagine what our perfect vacation looks like. There are simply so many vacation moments out there to enjoy. And those moments shouldn't be reserved for those who are physically able to experience them.

Yet, this is a real challenge for those traveling with disabilities.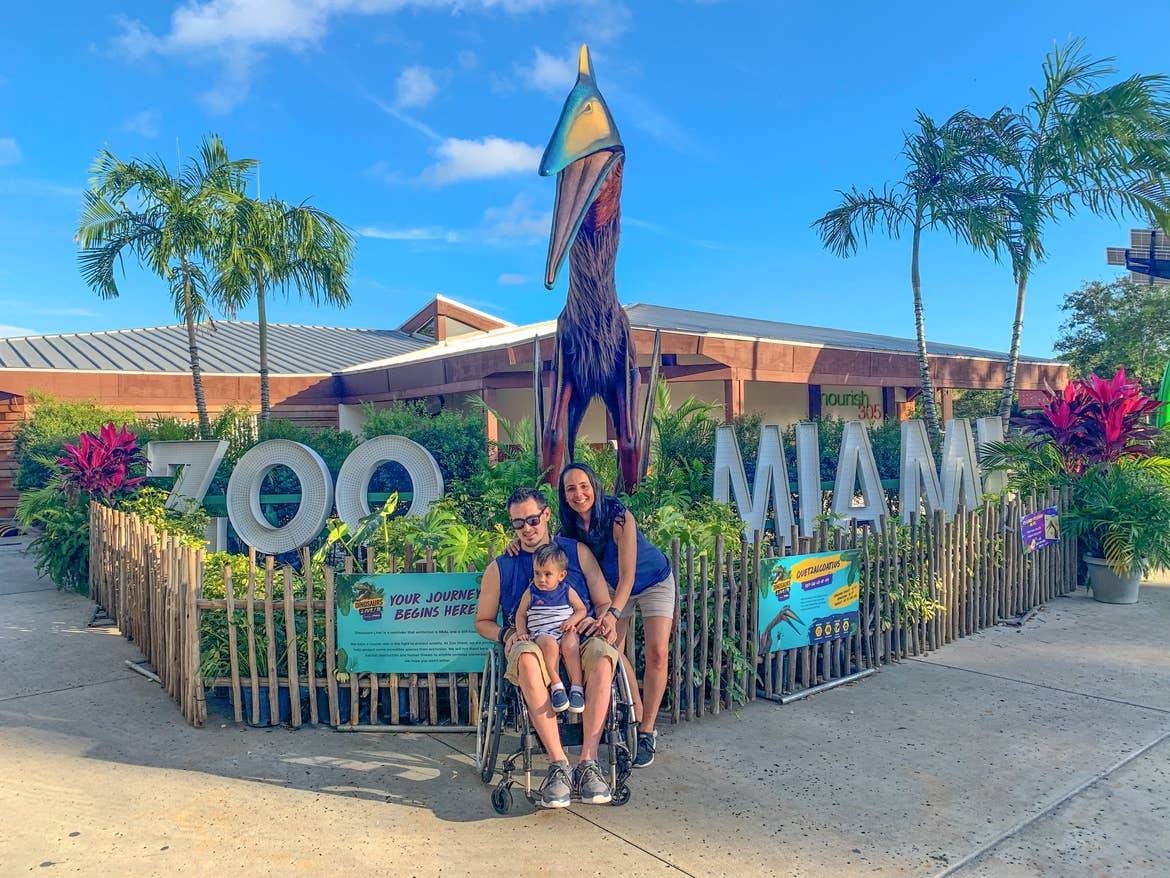 I will admit—traveling with a disability is quite challenging. There's so much to consider and so many things to plan ahead of time, and if you miss one step (pun not intended), it can ruin everything.

But I'm here to help you out and offer you my top tips for traveling with disabilities. I hope you find them helpful next time you're enjoying your perfect vacation moments.


A little about me, my disability & my family
My name is Danny and I'm a quadriplegic, which means I have no use of my legs or core, and my hands hardly function at all.

Back in 2009, I was a passenger in a bad car accident that broke my neck and paralyzed me instantly upon impact. I was airlifted to a nearby hospital where I spent the next three months learning how to live a life I'd never known before.

Simple things, like brushing my teeth, eating my food and using the bathroom would never be the same for me again. But I didn't give up. I couldn't give up. I was convinced there was more to life than just surviving.

Slowly, but surely, the little things became easier. I learned to shower myself, I learned to drive, and I went back to the gym … all from a wheelchair.

One day, I met a girl named Valerie. She was fun and charismatic, and she enjoyed my company.

Even though she went to school 1,000 miles away, I knew what I had to do. I bought a plane ticket, packed up my stuff and took my very first trip on my own as a quadriplegic.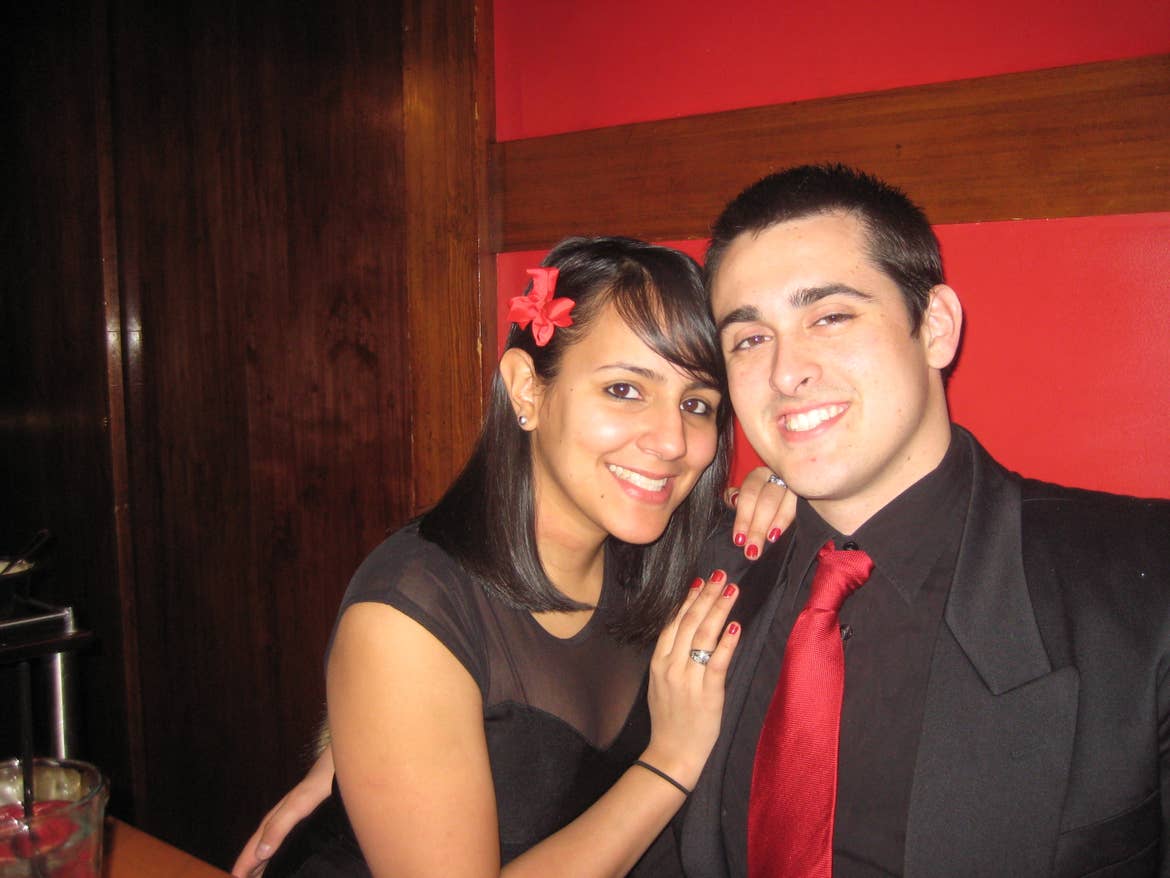 Fast forward a decade: Valerie is now my wife and my partner in Accessible Vacations. We have a two-year-old son named Joey. We love life, we love our family and we love to travel!

That one plane ticket opened up a whole new world for me! We've been to the Bahamas, Mexico, Honduras, Belize, Puerto Rico, Dominican Republic, St. Thomas, Canada, Hawaii and Philadelphia, and who knows what tomorrow will bring!

Personally, I love traveling with my family. We may all explore the world in different ways but, for me, it'd be pointless if I had no one to experience it with.

My favorite thing to do is to find a moment of tranquility, like lying on a beach, gazing across a volcano sunrise or watching evening fireworks over gorgeous waterfalls, and looking over at my wife and telling her, "This is what life's all about."


Tips for flying with physical disabilities
After countless flights to many different places, I picked up a few things that made my travels easier and helped me be better prepared for (almost) anything. Like, when flying:


I always make sure I bring extra supplies, medication and clothes, so that if I miss a flight or it gets canceled, I'm ready for an extended stay.
I take the most important medications with me in my carry-on just in case my checked baggage gets lost for an extended period of time.
I've learned over the years to be flexible and understanding with the people whose job it is to help you get through the airport. You know your disability better than anyone and they might not know what you need from them. Educating them throughout the process helps everyone.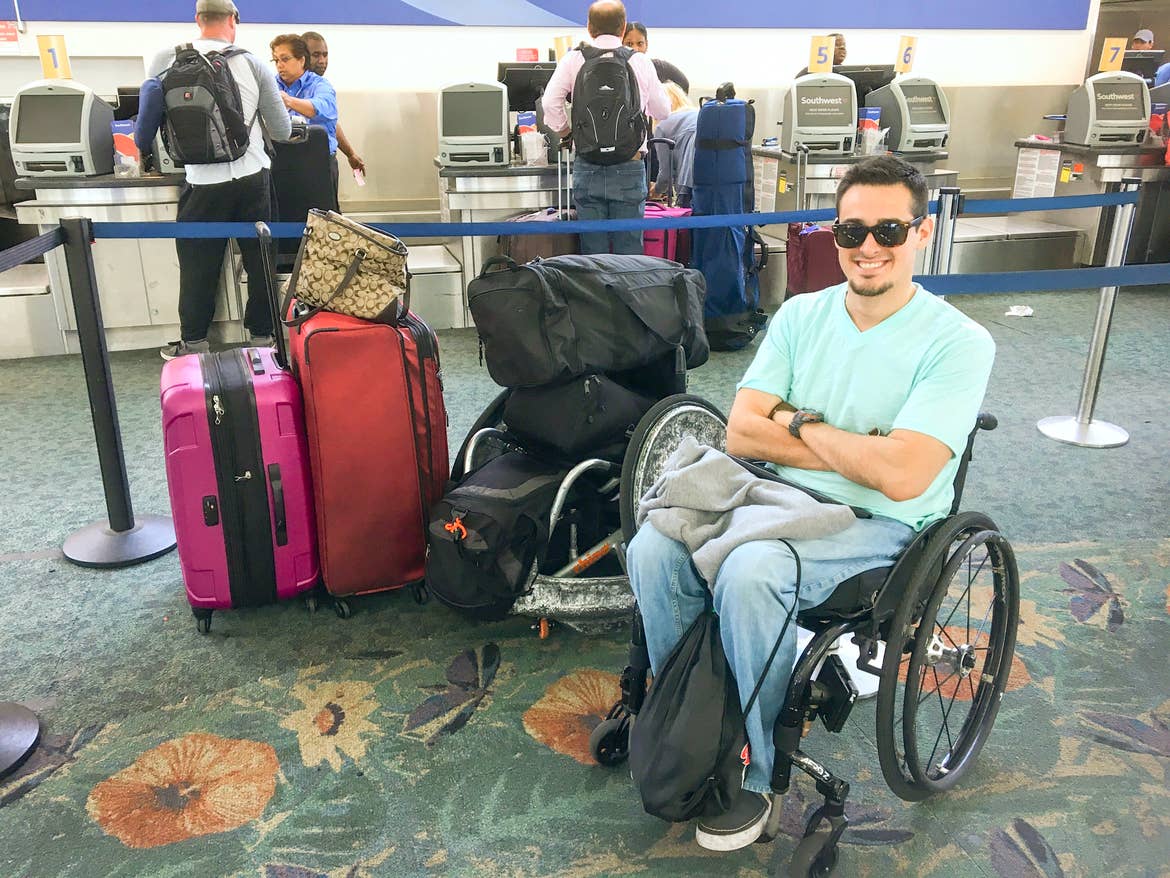 My typical experience includes a full-body pat-down at TSA and hopping on an aisle chair to board the plane. People with disabilities are usually the first onboard the plane and the last to get off.

On the bright side, we usually don't have to wait very long for our luggage to arrive at baggage claim. It may take more planning and a few extra steps, but the trip itself and the freedom to travel is always worth it.


Is road-tripping better than flying?
I have to admit, road tripping is almost the complete opposite experience of flying to your destination. It's not so much about the destination as it is about the journey, and that's still no different with a disability.

Although it's crucial to have some extra padding on your seat for the long haul, taking a long drive to your destination might prove easier if you have a lot of medical equipment or supplies, like your shower chair, spare parts and your wheelchair, to take with you.

For others, it may be a service animal or even just a lot of luggage. For my family and me, it was a little bit of everything.


What to look for in an ADA-friendly resort
Our family loves driving to Central Florida for some theme park fun and relaxation, and we usually do this a few times a year.

Since we're Club members at Holiday Inn Club Vacations®, we love to stay at Orange Lake Resort, a great place to vacation for both members and visitors.

We can easily unpack the car and then go relax by the lazy river within a matter of minutes.

And they have all the accommodations we need to stay comfortable throughout our stay, such as ample space in the bathroom, an accessible roll-in shower, wide doors, easy-to-enter key cards/key readers, and accessibility features throughout the property.

Plus, when we stay in Orlando, our vacation days are filled with hopping around the nearby theme parks (if the weather allows).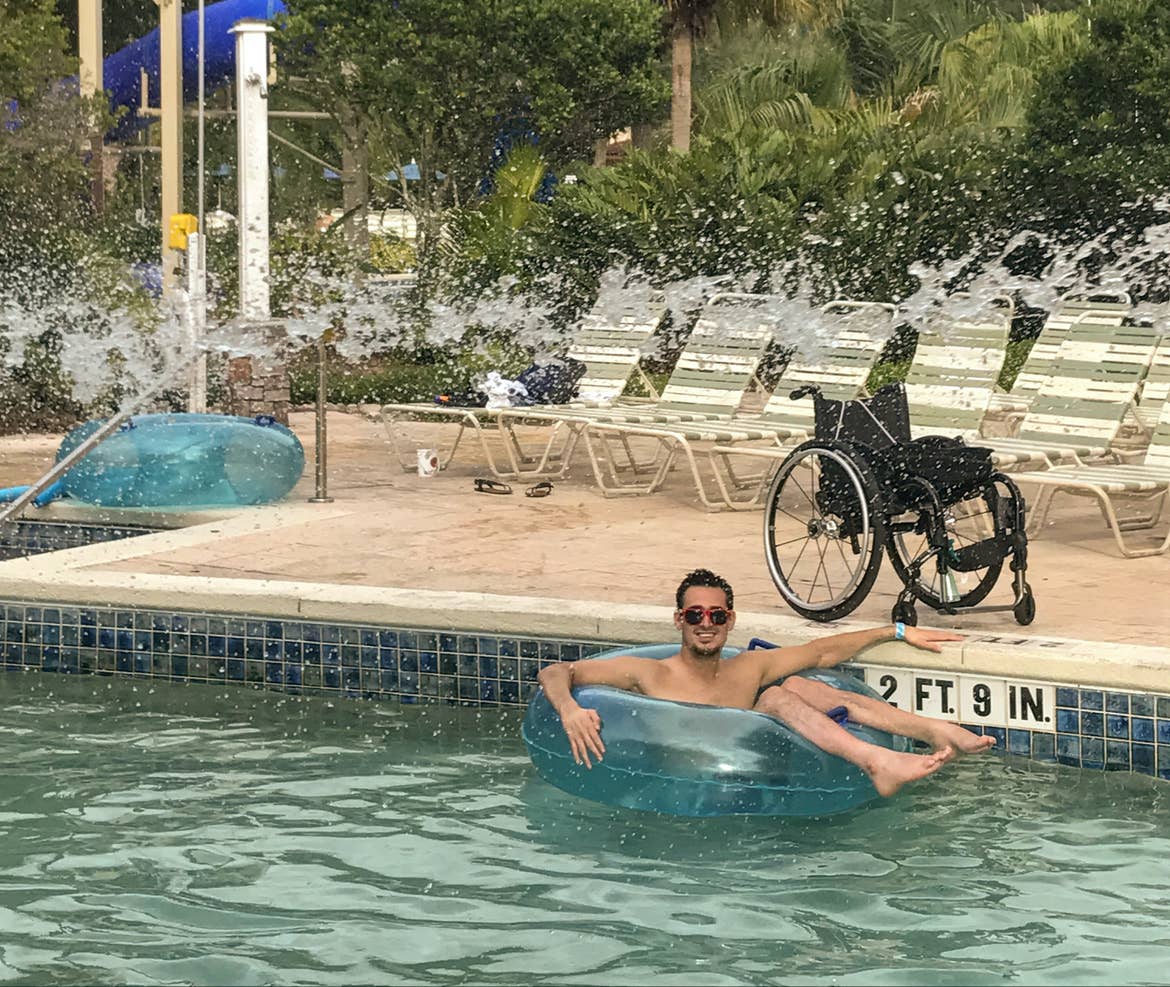 Here are some more ADA-friendly accessibility features Orange Lake Resort offers in its villas that I would definitely look for when planning to stay at a resort:
A spacious fully-accessible restroom with a rarely-found roll-in shower and tub combination
Custom wheelchair-friendly cabinetry in both the restroom and kitchen that allows you to wheel under sinks and countertops
Lever handles instead of doorknobs on closet doors
Wide doorways and hallways
Front loading washer and dryer at the perfect lowered height
Lowered front door peephole
Digital oven controls on the front of the oven
Low height refrigerator
Low height kitchen countertop
Stepping outside the villa, Orange Lake Resort also has local, on-site amenities that are equally accessible. We want to do everything any other guest would do, even though I happen to be in a wheelchair.

Here are a few ways Orange Lake Resort was accessible for us around the property:
Pool lifts are found in every pool and even in the lazy river
Pool tubes are available to disabled guests, free of charge
One of the pools features a zero-entry, roll-in pool that feels very beachy
One of the shuttles that transports guests between villages is equipped with a wheelchair lift
The mini-golf courses are wheelchair friendly
Sidewalks connect the entirety of the resort!
We decided to become Club members of the Holiday Inn Club Vacations vacation ownership program a few years ago, and I'll tell you—it's been a huge blessing as our family grows.

For us, it's always nice having that go-to place where we can stay that we already know meets all of my ADA needs.

And while Orange Lake is our favorite, we also like the variety of resort destinations to choose from (and the option to stay at even more places with our points through the IHG network).


My #1 tip for traveling with disabilities
Whether traveling by plane or by car, the fact remains: you want to have the best possible time on your vacation. To make sure that happens, the #1 tip I can give you is this: first plan ahead, then call ahead.

What exactly does that mean? Plan your itinerary. Choose potential options of where to go and what you're going to do for fun.

Then call the hotels, resorts, restaurants and activities, and ask them about their accessibility features and accommodations. Tell them about your specific disability and needs and ask if they would be able to accommodate your requests.

I've avoided so many headaches by doing those two things. Likewise, I've also been pleasantly surprised by some activities that could accommodate me in ways I didn't even think were possible.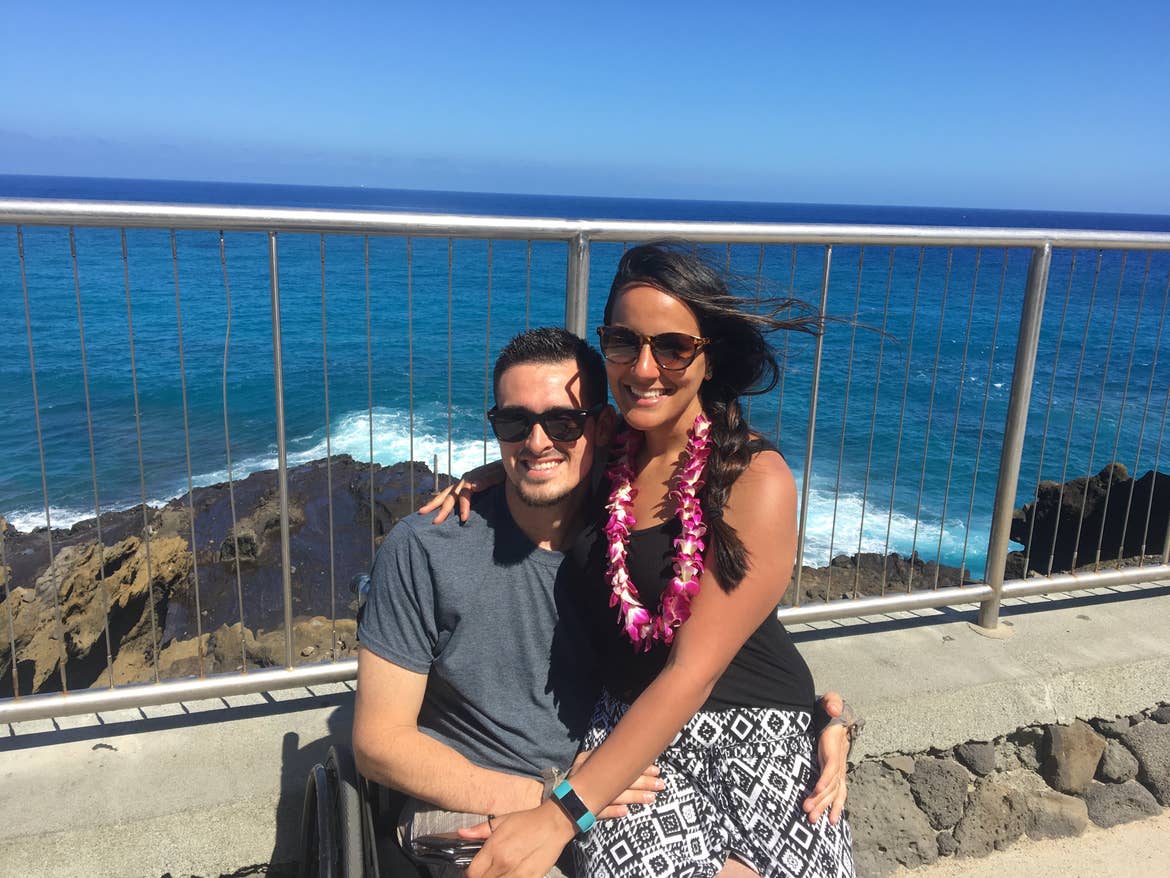 So, go ahead: have fun, push your limits and take a vacation or two. You've earned it.


Curious about what vacation ownership could look like for your family? Learn more about membership with us, request a virtual tour or connect with one of our virtual consultants at (855) 605-8458.

Our guest bloggers are compensated for their writing contributions and honest opinions.

All information is subject to change. This article is a curated guide and is neither sponsored nor considered an official endorsement. Please be sure to check information directly with any/all tours, guides or companies for the most up-to-date and direct details.