Ashley Fraboni
As a Corporate Communications Manager at Holiday Inn Club Vacations, Ashley has the opportunity to work on a lot of exciting projects and announcements, but her favorite part of the role is when she can visit our resorts and experience these fantastic destinations first-hand. A proud Orlando resident, Ashley currently spends most of her free time exploring everything Central Florida has to offer—from its world-famous attractions to local favorites. Ashley also enjoys traveling across the U.S. with her better half and is currently on a mission to visit all the country's national parks.
Vegas might look a little different nowadays, but there's still so much action and entertainment that you can have with the added comfort and peace of mind of safety measures.

If you're wondering what Vegas is like right now, I'm sharing a recap of my recent trip below, including travel tips, things to do and where to eat, shop, stay and more.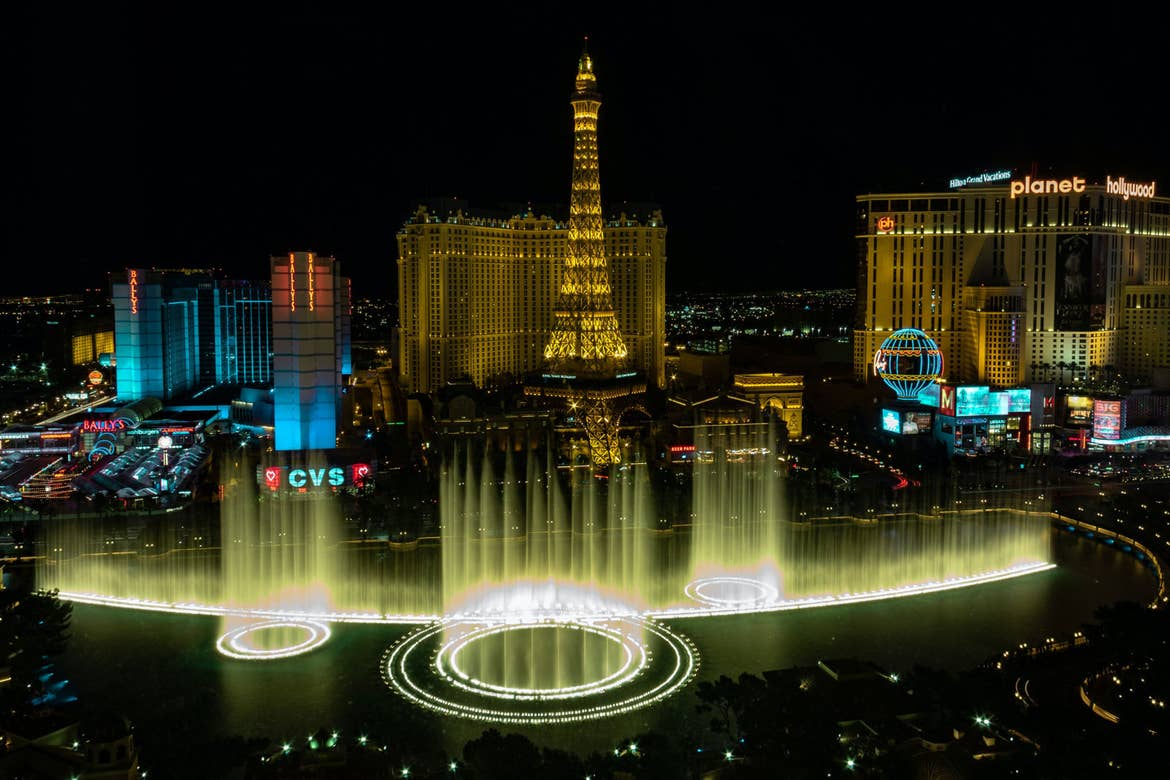 Currently, Vegas is following the state's COVID-19 mitigation measures, which will remain in effect until May 1. At that time, they will transition to local government authority.

Right now, many places, including restaurants, bars, stores and gaming floors, are operating with 50% reduced capacity (indoors). Nightclubs and day clubs are still closed.

All this being said, we still had a great time, and I encourage you to review any state or city guidelines before planning your visit.

I hope my Vegas experience helps you decide if now is the right time for you to visit the City That Never Sleeps!


Flying to Vegas During COVID-19
This year, my fiancé, Nicholas, turned the big 3-0, and I've always wanted to surprise him with a trip to Las Vegas for this milestone birthday.

After a lot of researching and planning, I somehow managed to pull it off (which is quite an achievement for me; I'm usually terrible at surprises).

Because we live in Florida, we decided to fly to Vegas. Aside from the required use of face coverings and social distancing measures in place at the airport, the biggest difference I noticed between flying during COVID-19 compared to beforehand is the quietness during the flights.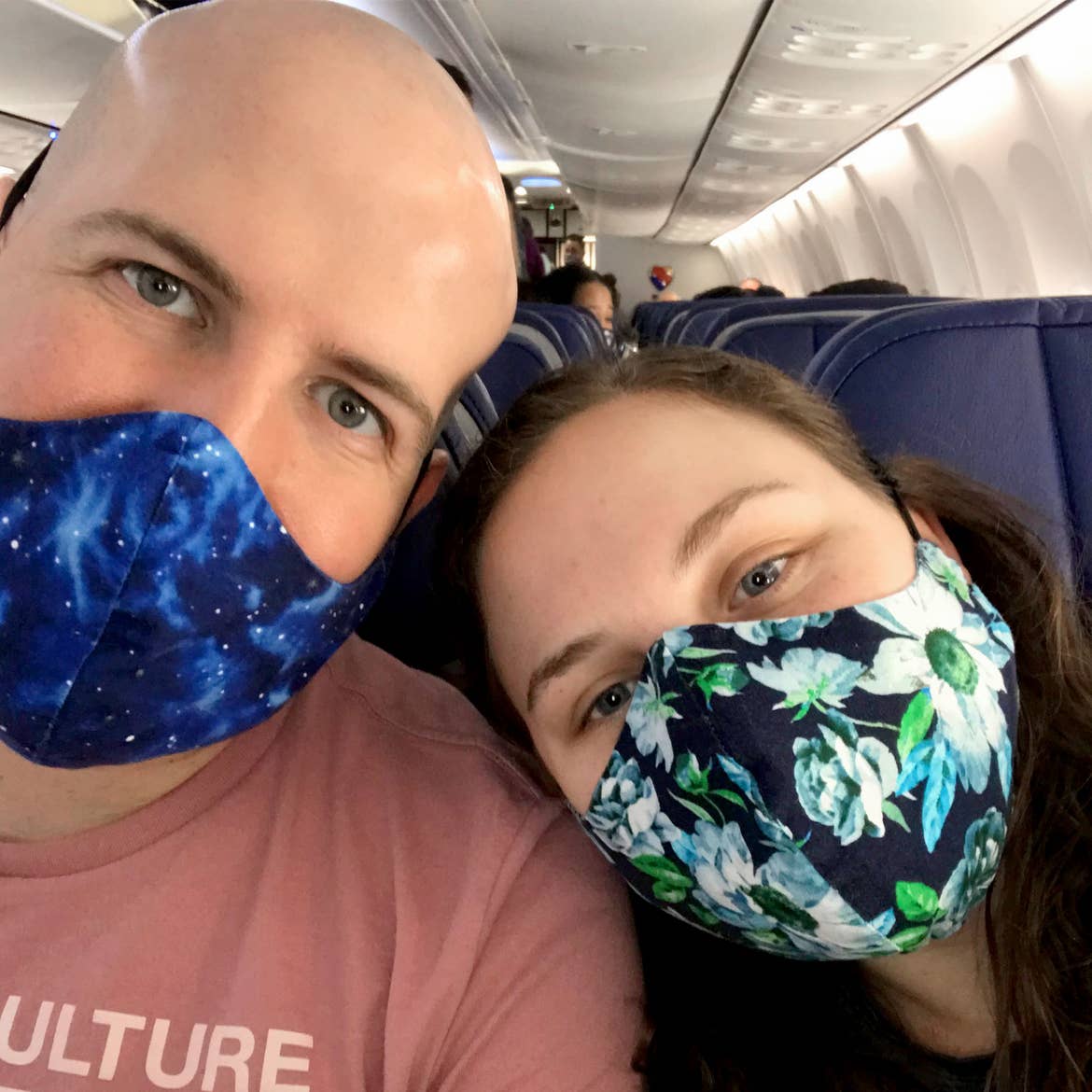 Whether it's due to face masks, reduced airline food and beverage services or other reasons, there seemed to be very little conversation among travelers while in the air.

Believe it or not, I thought it created a nice setting for reading a book or taking a nap.

If you're taking flight for your vacation sometime soon, here are some tips I picked up from my own travels:


1. Be sure to bring a comfortable mask.
Remember, you'll be required to wear a face mask the entire time you're in an airport and on the plane.

We opted for our fabric masks with an elastic band that wraps around our heads (as opposed to our ears) because they're the most comfortable ones we own.


2. Bring sanitizing wipes.
We packed a few sanitizing wipes and gave our seats, seatbelts and tray tables a good wipe-down before getting situated. You can never be too careful.


3. Try to eat before boarding the plane.
Most airline services are not doing their normal drinks and snacks services, so I'd recommend eating a meal or a hefty snack before boarding the plane.


Vegas Safety Measures During COVID-19
Throughout the city, there are many new protocols in place designed to keep everyone safe.

Per state orders, masks are required in all public spaces, and occupancy at many establishments — including casinos, restaurants and retail shops — are reduced.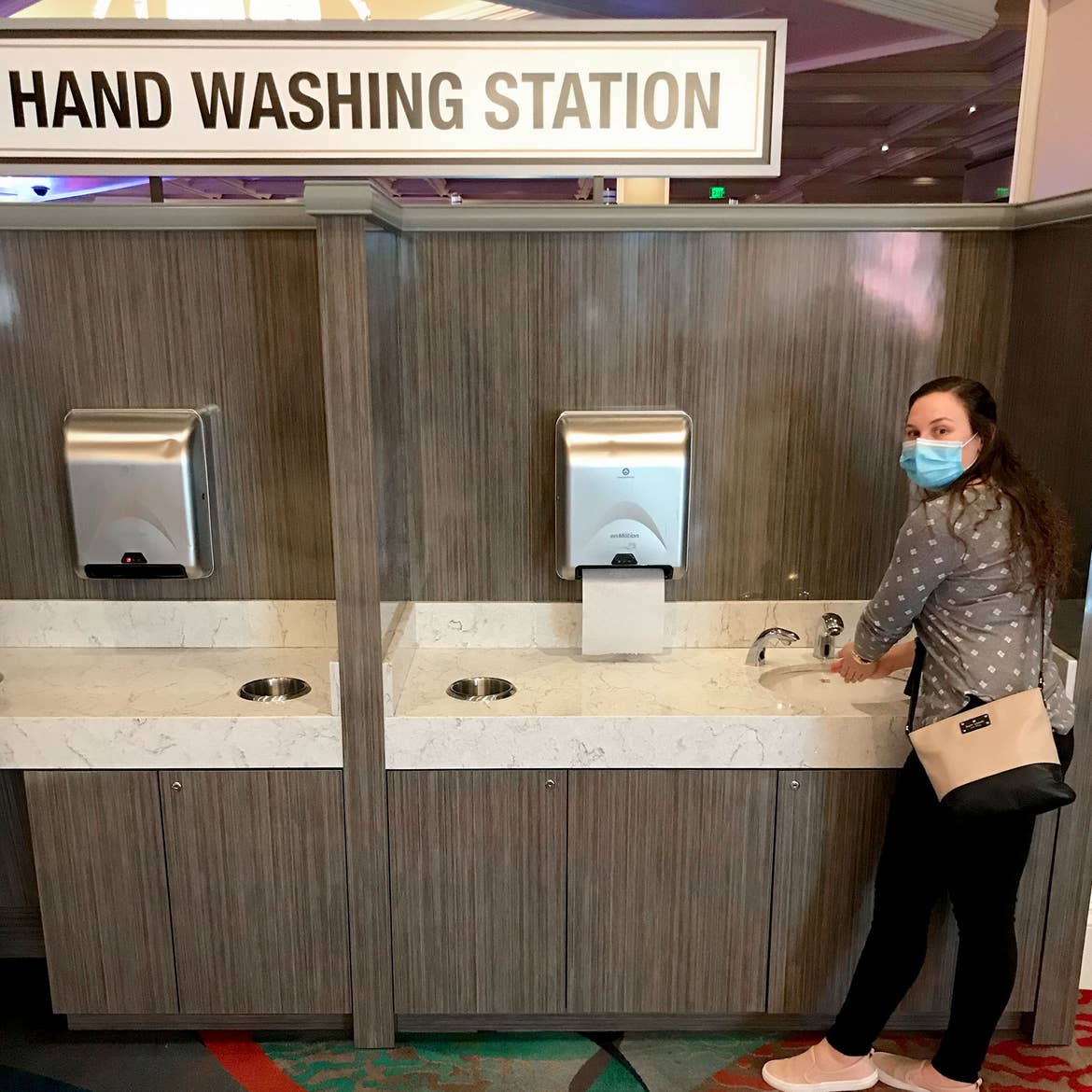 Even though I'd never been to Vegas before, I actually liked that they were letting less people into popular places for that "less crowded" feel.

(As Orlando residents, I've heard that lots of people are liking that about Walt Disney World® Theme Parks and Universal Orlando™ Resort these days, too.)

Some Vegas shows have already returned to the city, though they are subject to reduced occupancy limits. Major headliner shows with globally recognized acts seem to be gearing up for their return later this year.

In both indoor and outdoor spaces, we frequently saw signage and ground markers that encouraged social distancing.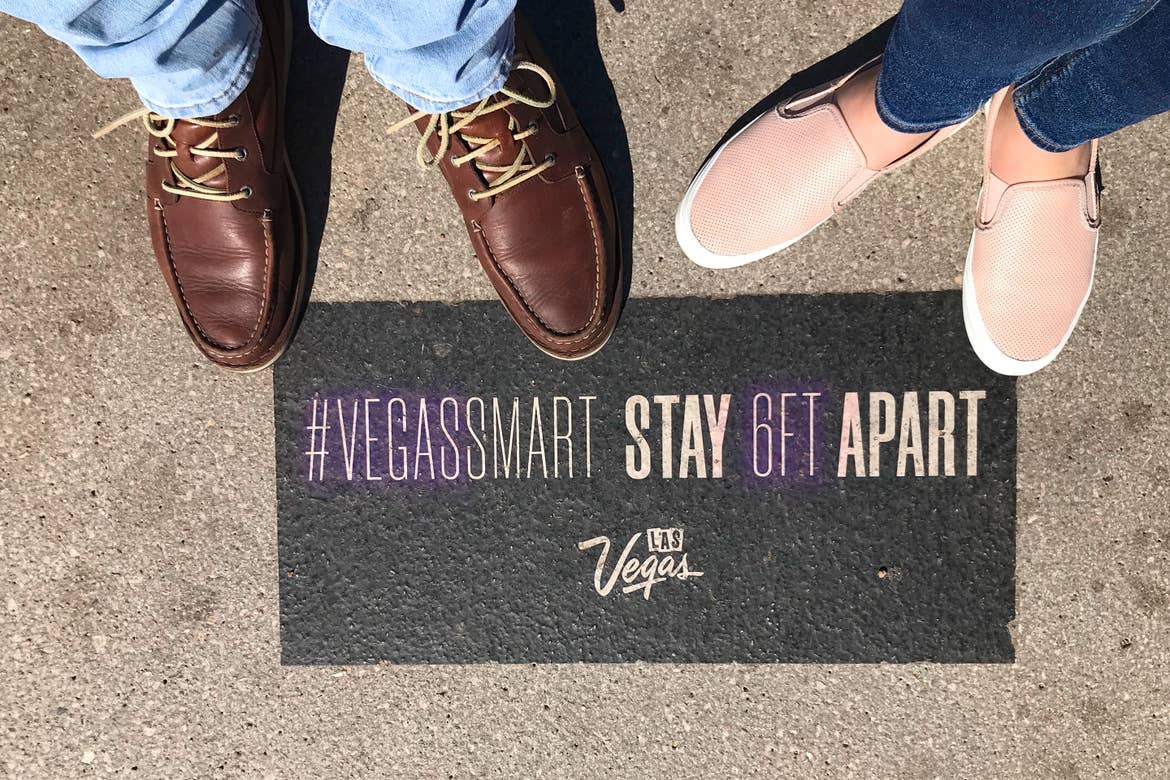 Plus, many casinos have implemented additional safety measures. A few examples we noticed include sanitizing wipes located near machines, plexiglass dividers on card tables and bars and hand-washing stations added to the casino floor.


Exploring the Las Vegas Strip
My favorite part of the trip was checking out all the different casino hotels on Las Vegas Boulevard, better known as the Strip.

Each uniquely themed, many of these hotels have a lot more to do and see beyond the casinos. Here are a few of our favorite places we visited on the Strip.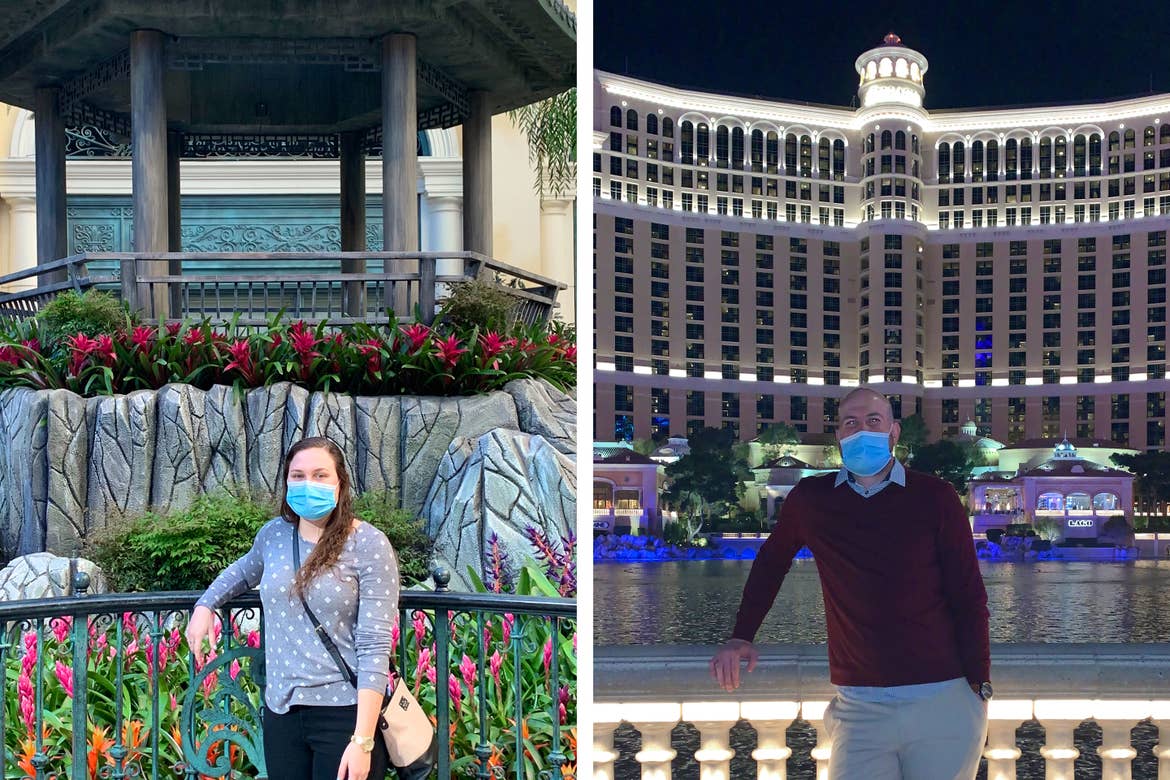 The Bellagio
We loved visiting the Bellagio Conservatory & Botanical Gardens in the daytime and Fountains of Bellagio in the evening.

The fountain shows take place every 15 or 30 minutes, depending on the day and time. Feel free to get comfortable and stay for a few different shows, as they alternate throughout the night.


The Grand Canal Shoppes at The Venetian Las Vegas
The Grand Canal Shoppes is a luxury shopping mall located right inside The Venetian Hotel & Casino and The Palazzo.

Walking through this mall truly made me feel like I was walking through Venice, Italy. AND there are indoor canals, so you can even ride a gondola in it!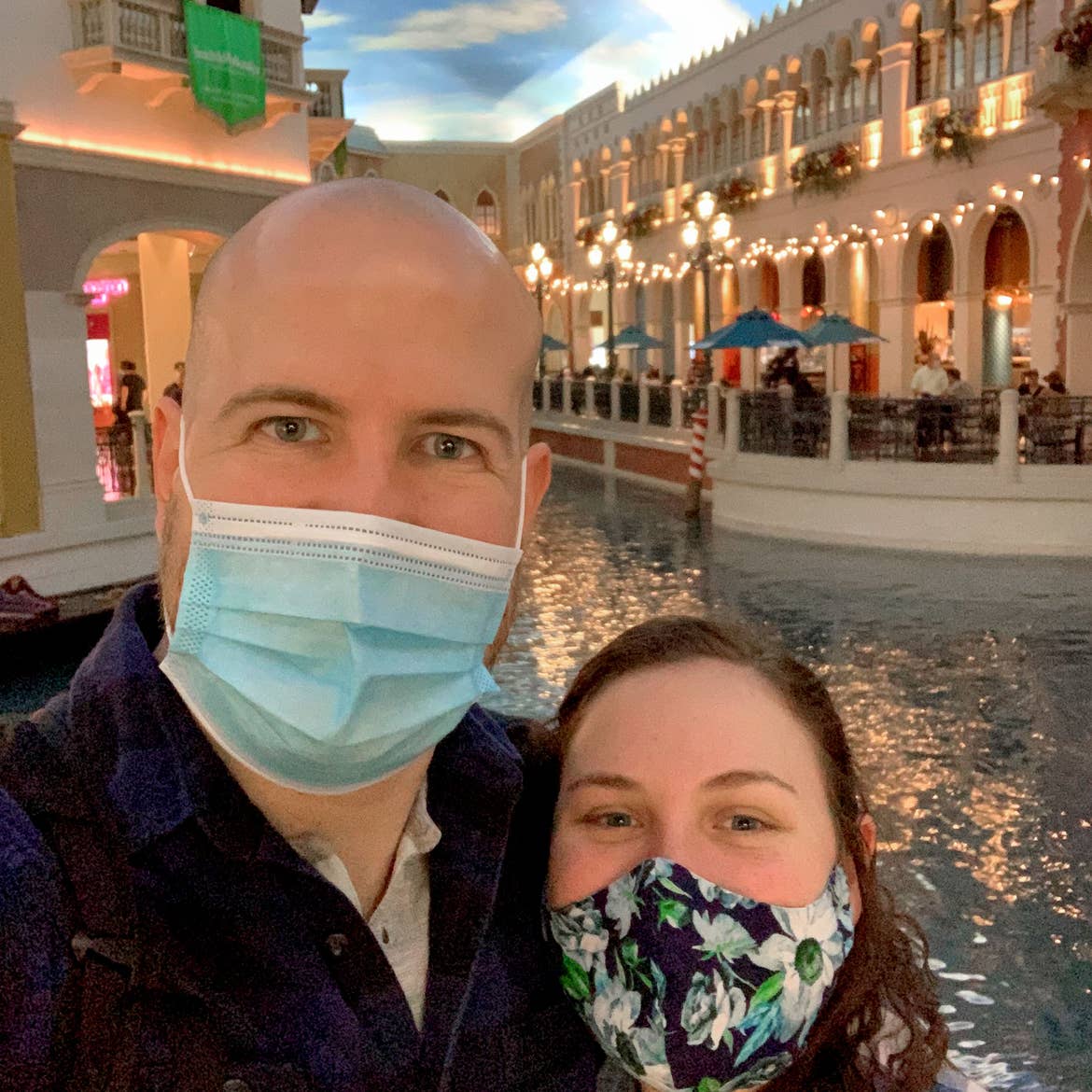 The Cosmopolitan of Las Vegas
The Cosmopolitan is a resort that features art installations and immersive experiences throughout. The modern design of this hotel is stunning and there is plenty of cool art to see around every corner.

Pro tip: The Strip is huge, so you'll need a couple days to see it all. Before you head out for the day (or night), be sure to review a map or set a plan for which part of the Strip you'd like to visit.

Some of the big casino hotels are connected, making it easy to move from one spot to the next.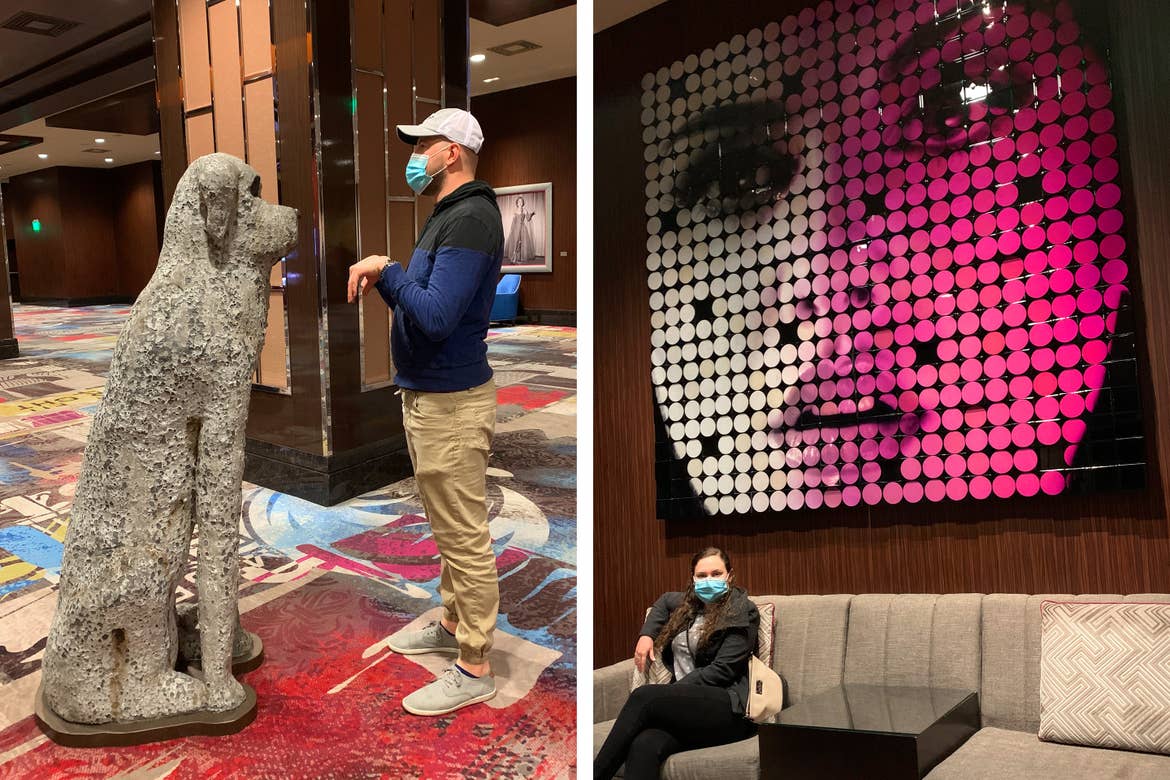 Dining & Shopping in Vegas
In Vegas, there is certainly no shortage of awesome places to eat and shop — whether you're looking to splurge or stay budget-conscious.

The city has something for everyone — including kid-friendly activities, romantic things for couples and even adventures for solo travelers.

While five days isn't nearly enough time to experience everything, I do have a few recommendations to share.


For Souvenir Shopping: M&M's World Las Vegas
This place has four floors of candy and M&M-themed items! If you're visiting with little ones, or even just looking for souvenirs to bring home to little ones, this is a great spot.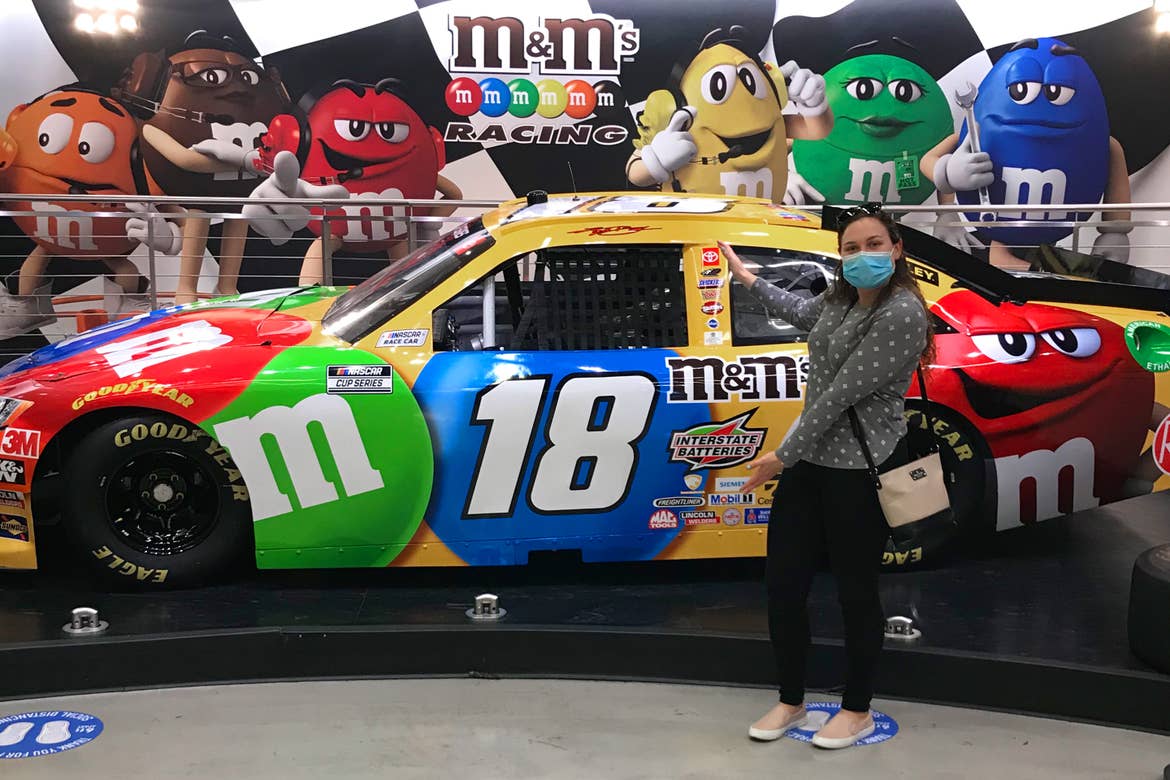 For Window Shopping: Wynn Plaza Shops
Prepare to feel fancy as you walk through this shopping plaza, which has designer brands in an elegant hotel right off the Strip.


For Breakfast: Maxie's
With a delicious breakfast menu and a cute diner setting, Maxie's offers the perfect place to fill up before Vegas adventures.


For Dinner: SATAY Thai Bistro & Bar
This is a little bit off the Strip, but definitely worth the short drive or Lyft ride if you love authentic Thai cuisine.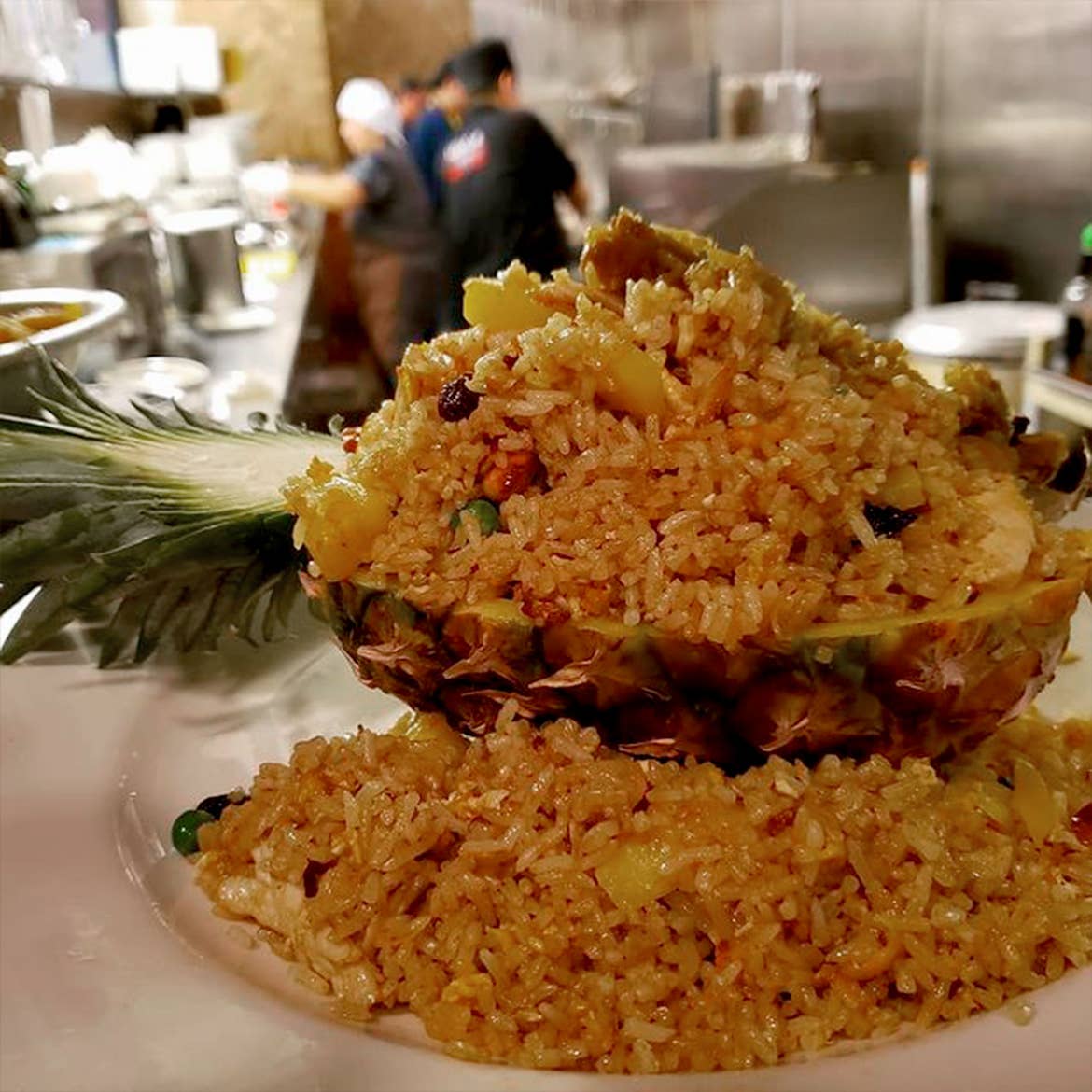 Photo courtesy of SATAY Thai Bistro & Bar


For a Little Bit of Everything: LINQ Promenade
LINQ is a short walk from our Desert Club Resort and boasts many restaurants, shops, bars and entertainment venues.


Fresh-Air Adventures Near Vegas
For some outdoor activities outside the city, Red Rock Canyon National Conservation Area is less than 20 miles away from Vegas and is a beautiful area with a ton of scenic views, hiking trails and unique wildlife.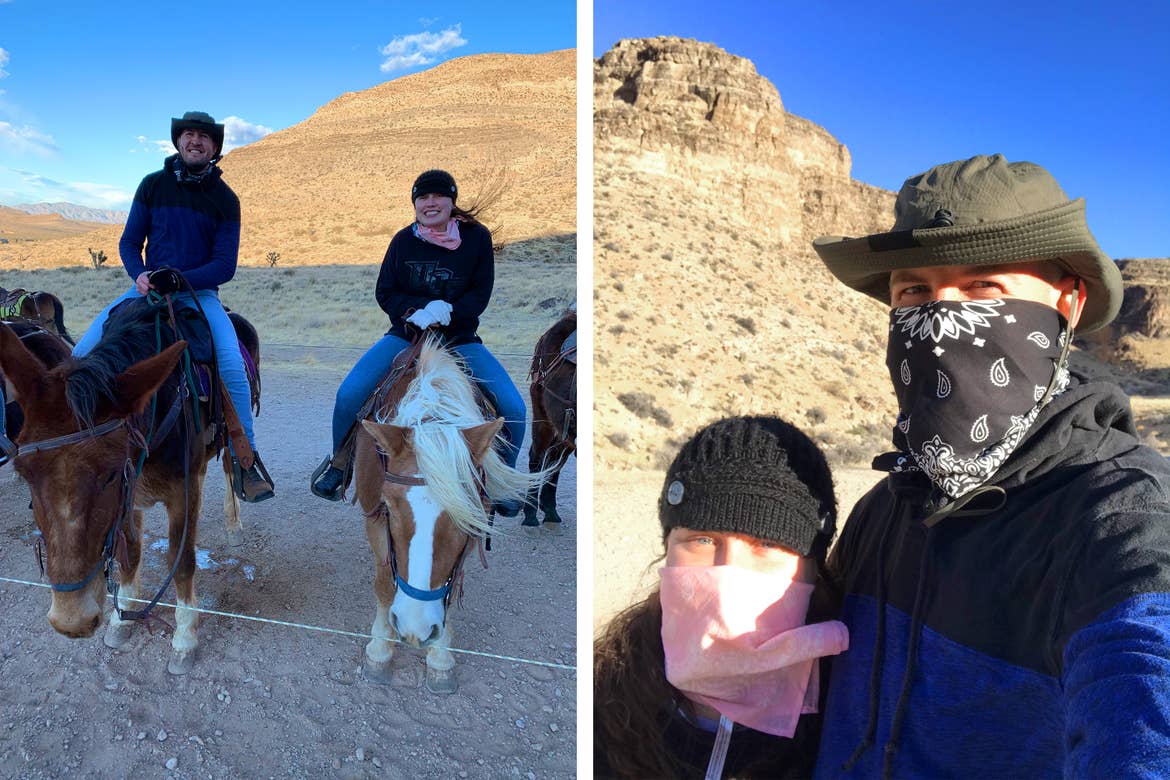 If you're looking for a fun way to explore the area, I'd highly recommend a horseback trail ride. We booked a ride with Cowboy Trail Rides and it was fantastic! The horses were well-trained (perfect for newbies like us), and the staff was very helpful.

Plus, certain rides include transportation to and from the camp.


Our Stay at Desert Club Resort
We were more than happy to set up our home-away-from-home at Desert Club Resort.

From the full-size kitchen to cook meals in to the living room complete with a fireplace to the huge spa tub in the master bathroom, everything about the villa was roomy and spacious.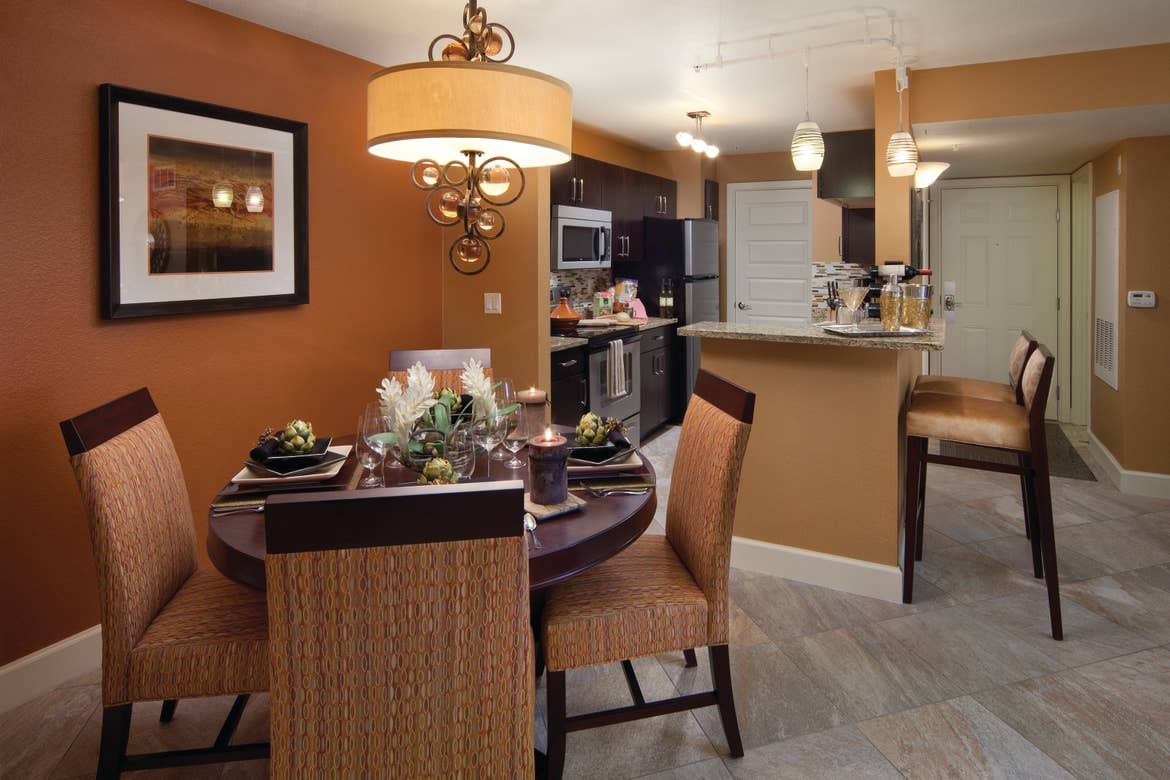 Check out our kitchen and dining room in the two-bedroom villa!

And we definitely took advantage of the washer and dryer after spending a day with the horses at Red Rock Canyon.

Because the resort is just a block off the Strip, we usually walked everywhere; however, our legs appreciated the breaks whenever we opted to use the shuttle service. You can also use the shuttle to visit popular spots off the Strip, like Fremont Street.

The Safe Travels program, implemented throughout the entire resort property, brought us added peace of mind during our stay, too.

The virtual check-in queue kept the process quick and easy. The entire team and other resort guests wore masks and maintained safe distancing.

Plus, the resort shuttle only allows a limited number of riders right now, ensuring that responsible distancing can be maintained among guests.


Viva Las Vegas!
I had never been to Vegas before this trip and it wasn't even on my radar of places to visit, as I assumed the city wasn't for me. Boy, was I wrong!

Even though we visited Vegas during COVID-19, we had an incredible trip and felt completely comfortable and safe the entire time.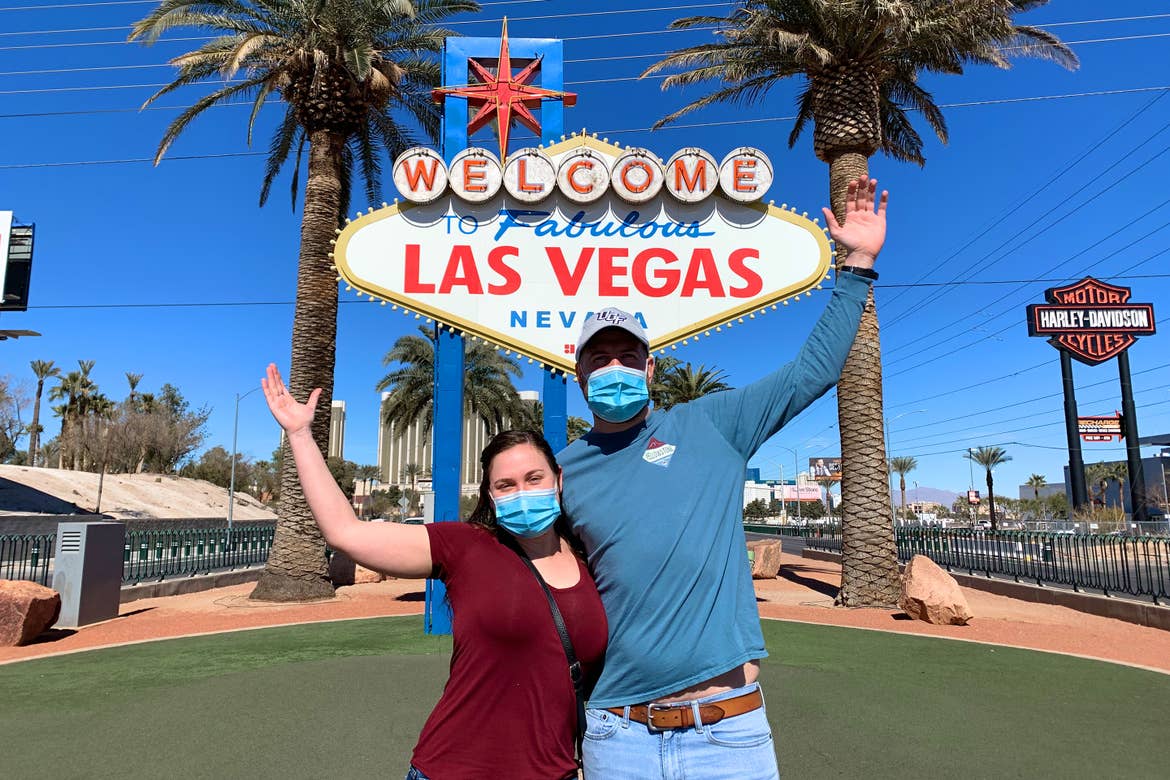 If you're asking yourself what Vegas is like right now, I hope my trip recap helps you decide if it's worth it for you.

Whether Vegas is completely new to you (like it was for me) or it's one of your favorite vacation spots, in my opinion, now is a great time to visit Sin City.


All information is subject to change. This article is a curated guide and is neither sponsored nor considered an official endorsement. Please be sure to check information directly with any/all tours, guides or companies for the most up-to-date and direct details.