Chris Johnston
Chris is a kindergarten teacher specializing in teaching and mainstreaming students with special needs in her general ed classroom. She lives in Central Florida with her husband, Josh, and their two awesome daughters, Kyndall and Kyler. Chris is a proud breast cancer survivor, a UF grad and HUGE Gators fan. She especially loves planning and taking national parks trips with her family (and collecting national park passport stamps, photos and memories along the way).
My family's favorite kind of vacation is visiting the beautiful national parks our country has to offer together.

It's actually a travel tradition of ours now. We've visited 11 national parks in just 4 years and absolutely love planning these adventures and memories for our girls.

Our most recent was an RV road trip through 5 Utah national parks, which included Canyonlands, Arches, Capitol Reef, Bryce Canyon and Zion.

If you're planning a national park vacation of your own, take a look at our summer adventure visiting these 5 Utah national parks in an RV and what are, hopefully, some helpful planning tips and tricks for your fam.


About Me & My Family
Hi! My name is Chris and I live in Florida with my husband of 15 years, Josh, and our two awesome daughters, Kyndall (10) and Kyler (7).

I've been teaching an inclusive kindergarten class for 17 years, where students with special needs are mainstreamed into my general ed classroom.

And while I love my job, our family enjoys taking EPIC trips right after the girls and I get out of school in early June to celebrate the start of summer.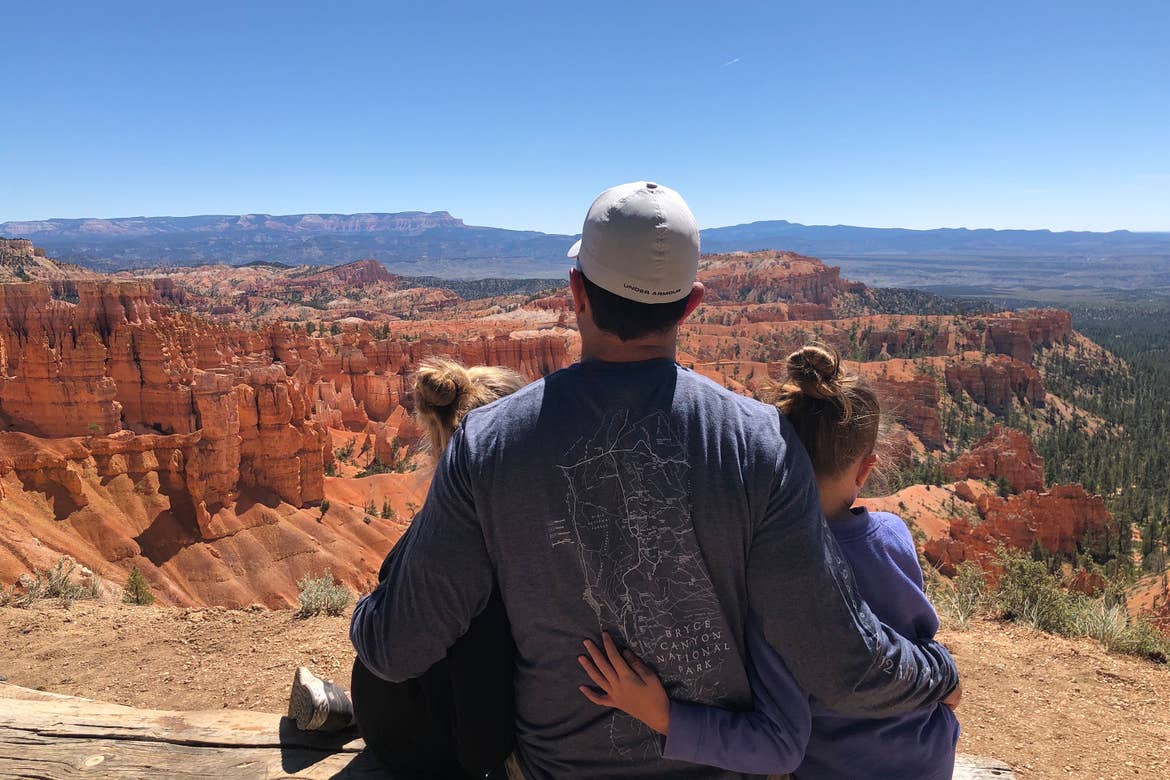 Deciding on Utah national parks for our summer vacation
We originally planned on staying close to home this summer to check out our home state of Florida's Biscayne National Park and Dry Tortugas National Park.

We were really looking forward to some 2020 passport stamps, and to our first family snorkeling experience, but … COVID-19 had different plans.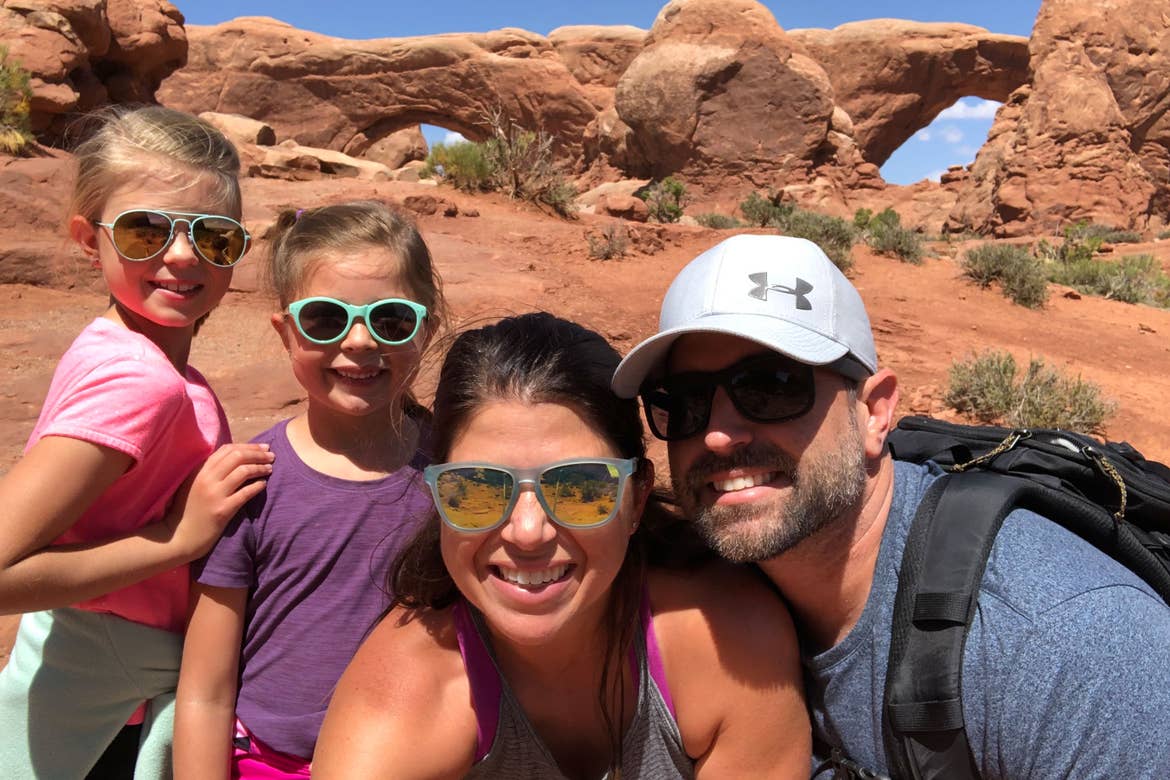 Since Florida was mostly closed, and with our departure date quickly approaching, we decided to bail on plan A, fly to Utah, rent an RV and check off FIVE Utah national parks instead! Not a bad plan B!


Why we decided to rent an RV
Not only did the RV allow us to easily travel (and sleep) between 5 Utah national parks, but it also allowed us to keep safely to ourselves mid-pandemic. So the RV decision was easy.

The hardest part was (quickly) reading up about the hikes and adventures we hoped to have in each park, estimating how long we would need in each park, and mapping it out in a way that made the most sense, travel-wise.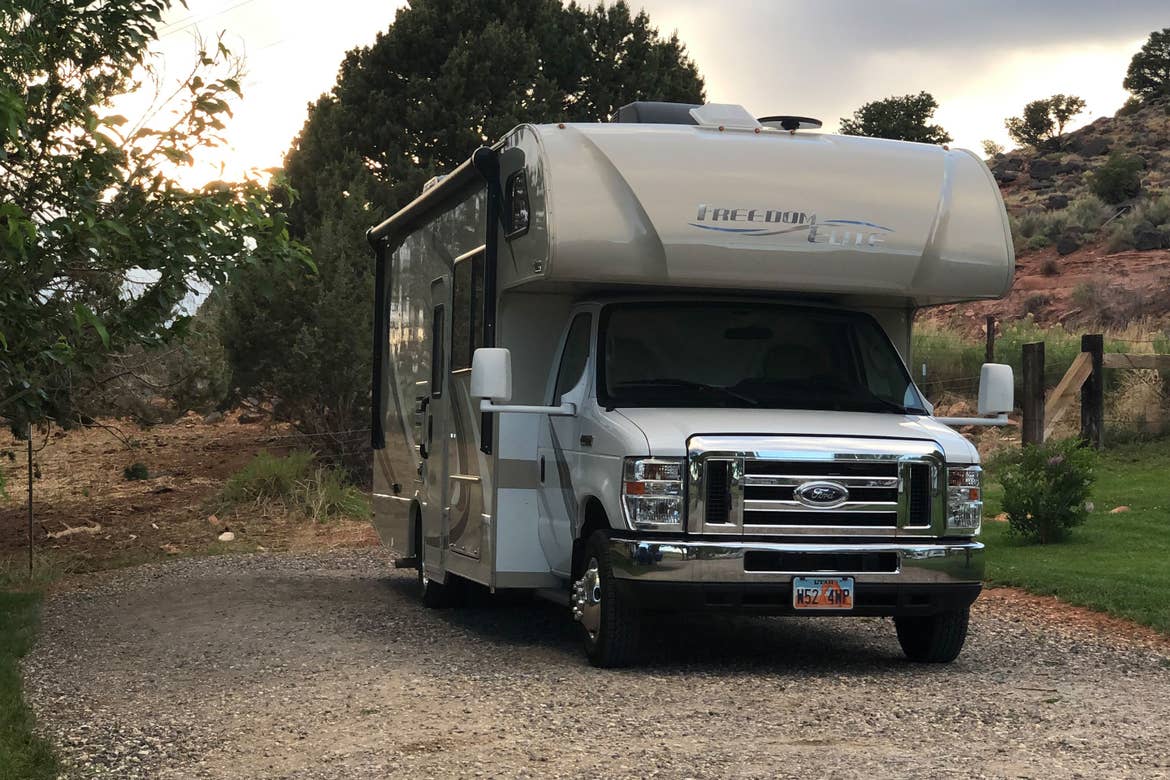 With having to pivot due to COVID, we planned and booked everything for this trip in less than 10 days. That was tough for a Type A gal like me, but Utah had already been on our radar as somewhere we wanted to take our girls.


And we'd always discussed it being the perfect trip to rent an RV for park hopping, so we just went for it!


Flying during COVID-19
I was certainly nervous about our flight from Orlando to Salt Lake City, Utah, since we would be flying during COVID-19. We flew on Southwest and, honestly, I felt they did an excellent job ensuring everyone kept their masks on and that they continued to wear them properly throughout the flight, too.

We specifically ate in the airport before boarding so that we could remain masked for most of the flight with minimal needs for snacking.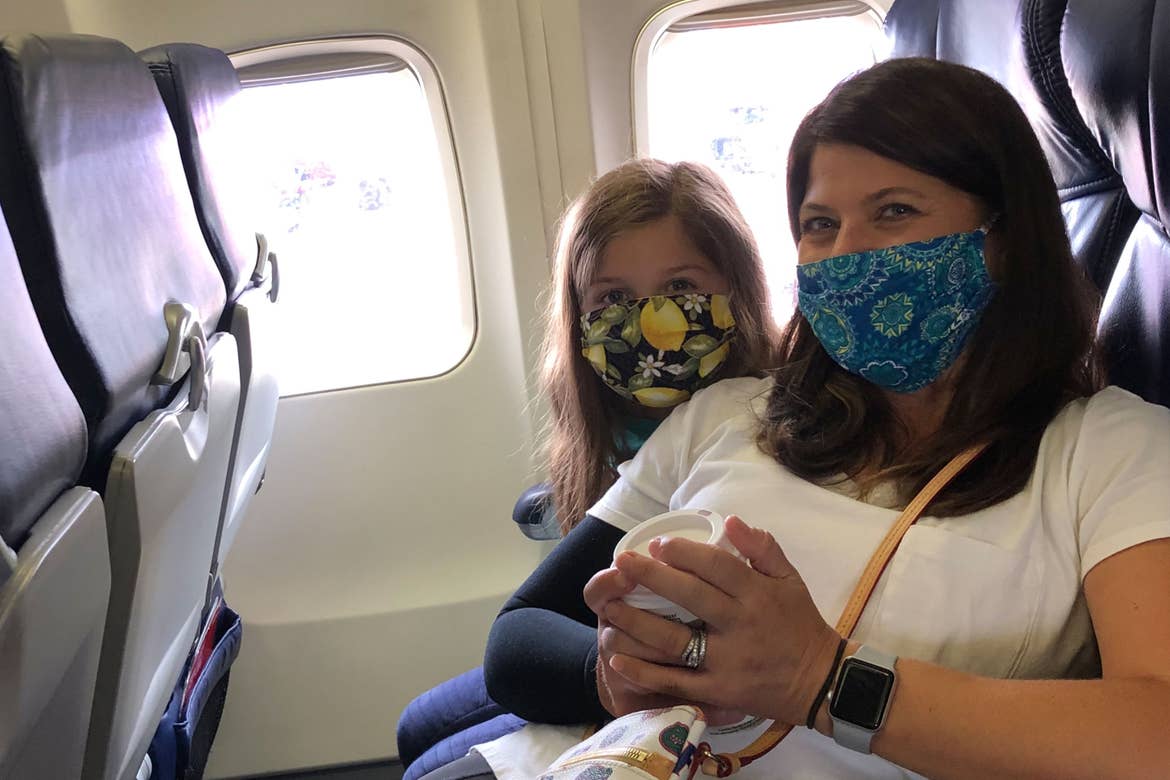 Southwest left space for each middle row to remain open, so it really eased my mind and felt much safer not having anyone sitting directly next to my family unit.

We chose to sit in the back of the plane for easy access to a bathroom, as we've learned this is the best fit for our family when we fly (regardless of COVID).

Otherwise, we didn't have to interact with the airplane attendant or other passengers very much, and as soon as we landed, we saw a crew come aboard immediately to begin disinfecting each and every seat, seatbelt, table, etc.

We were really impressed and thankful to see that!


Choosing and picking up our RV rental
We began our 10-day adventure in Utah by picking up the RV we booked through Outdoorsy. We rented from a super helpful and informative family who even provided us a few local suggestions for food, supplies and our overall itinerary.

Their 27-foot RV was well stocked with linens, pots and pans, cleaning supplies, and other important items that many other RV rentals were charging extra fees for. Our RV also had a back-up camera, which we found to be incredibly useful throughout our journey.




With so many things to plan for when taking one of these trips, checklists are my best friends. Back in Florida, we meal planned as a family and this particular trip checklist proved especially helpful because once we picked up the RV, we headed straight to the nearest Walmart for supplies.


Things to consider for your RV adventure checklist:
Get enough toilet paper (you need special RV TP if you plan to use the restroom onboard)
Plan for meals that aren't too messy as clean-up is rather difficult in the small RV sink
Browse the RV and take things OFF of your checklist that are already there (e.g. we bought a small grill and they already had one—ack!)
GET ENOUGH RV TP! (Seriously! This is NOT available once you venture into the parks).
Kicking off our trip in Moab, Utah
After stocking up at Walmart, we began our four-hour drive to Moab. (Pro tip: This is something I would NOT suggest and chalked up to having had less time to plan this trip … taking a 7-hour flight and then having a four-hour drive to the RV resort was over-ambitious for one day of traveling. We were totally exhausted and very cranky.)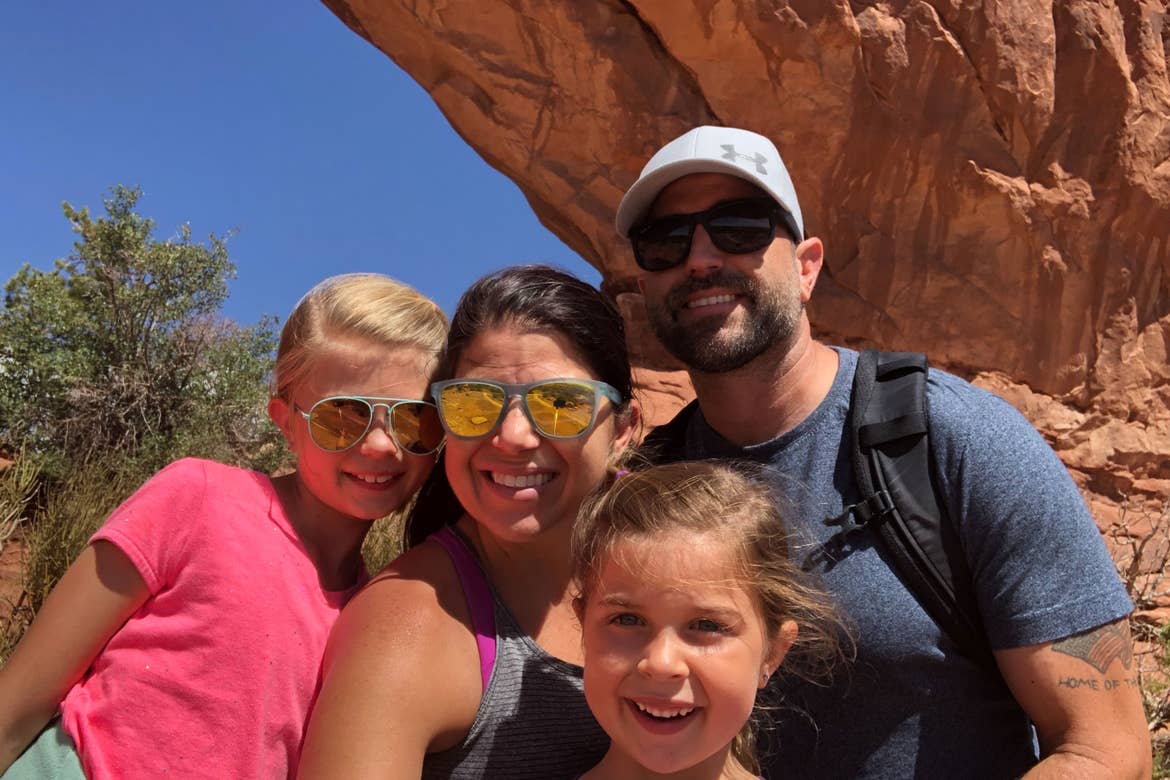 Why Moab? Well, we chose to begin our "Utah 5" with Arches National Park and Canyonlands National Park. Moab is a cute little town fairly close to both of these parks, so we booked three nights at the OK RV Resort to give us time to explore each.

Hooking the RV up was rather easy, but we highly recommend doing it while it's still light out. This was a luxury we did not have, and it made a simple task way more stressful than it needed to be.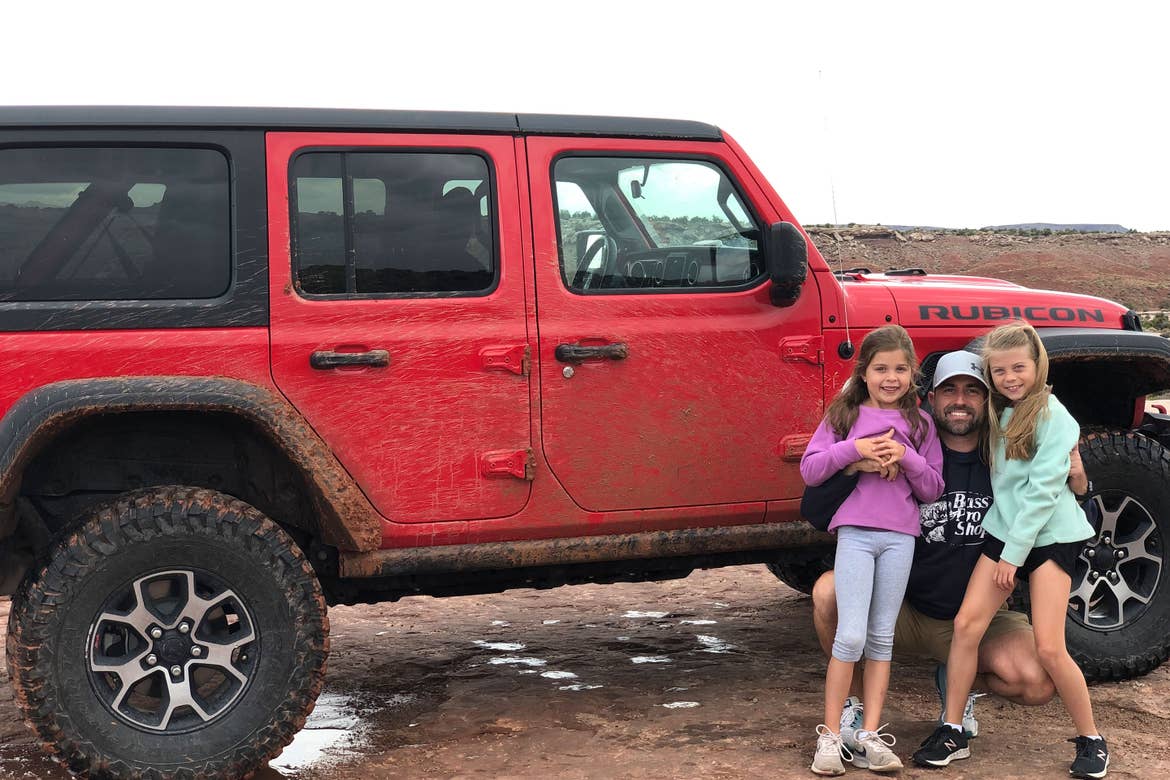 One more Moab note: Josh had his own personal bucket list item to "off-road in Moab" as the area is quite famous for this activity. So, in addition to our RV, we rented a Jeep Wrangler from a local Moab company and this experience DID NOT DISAPPOINT!!


About Canyonlands National Park
Canyonlands National Park was our first official park adventure in Utah. We drove the Jeep for about 1.5 hours to get to the Needles District from Moab. The drive was GORGEOUS and didn't feel long at all.

We stopped at Newspaper Rock to eat our peanut butter and Nutella sandwiches (they're always our go-to national park trip lunch) at a place where there were ancient writings dating back hundreds of years.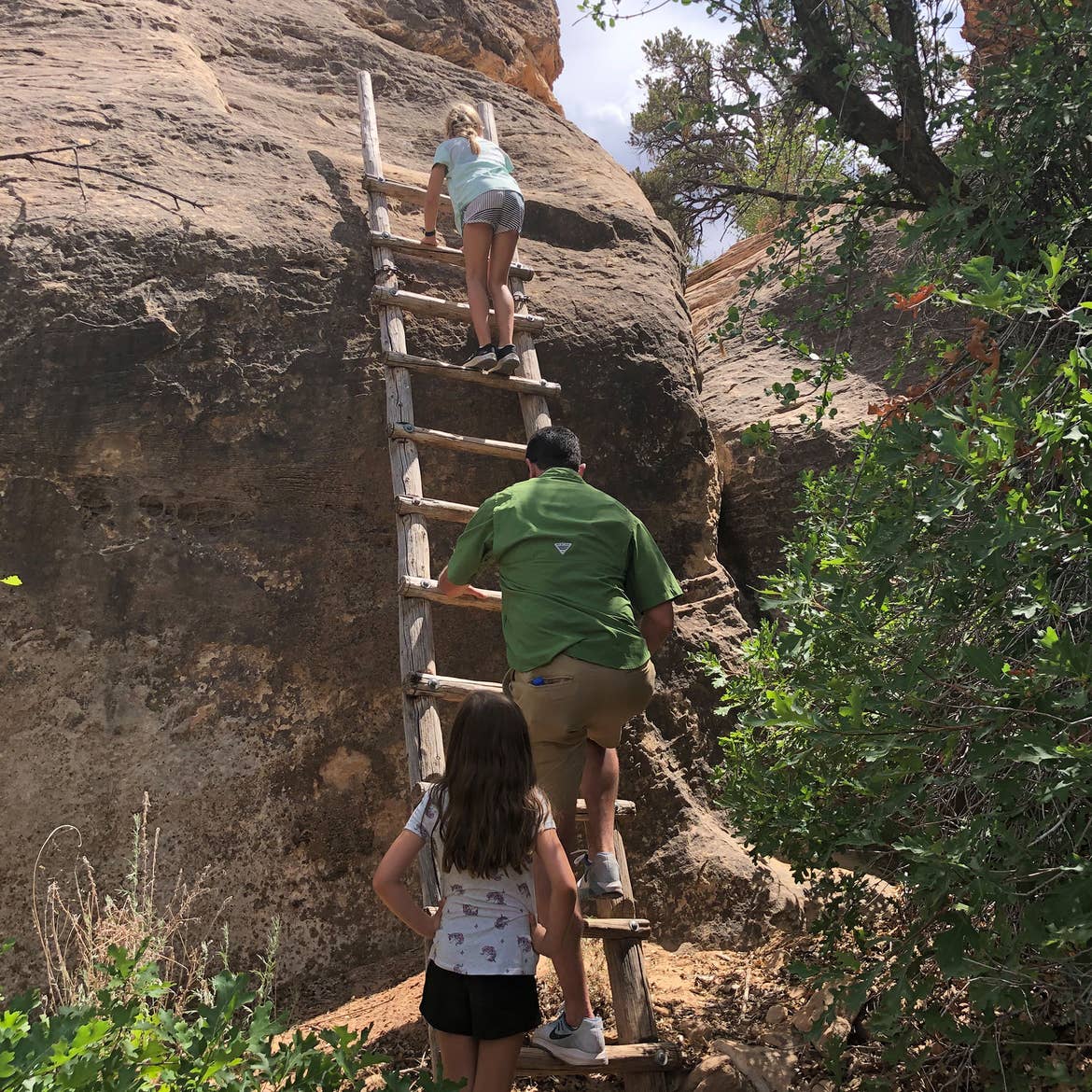 Other highlights of Canyonlands Needles District: Slickrock Hike (a 2.7-mile loop), Cave Springs Trail (a short 0.6-mile loop but with two fun ladder climbs within it), and an off-road trail in the Jeep to the Colorado River Overlook.


About Arches National Park
Our family still laughs about our near-disastrous second day in the desert … TORRENTIAL RAIN AND HAIL!! It made for some memorable times, but honestly? We feel like we'll need a weather redo for Arches National Park eventually.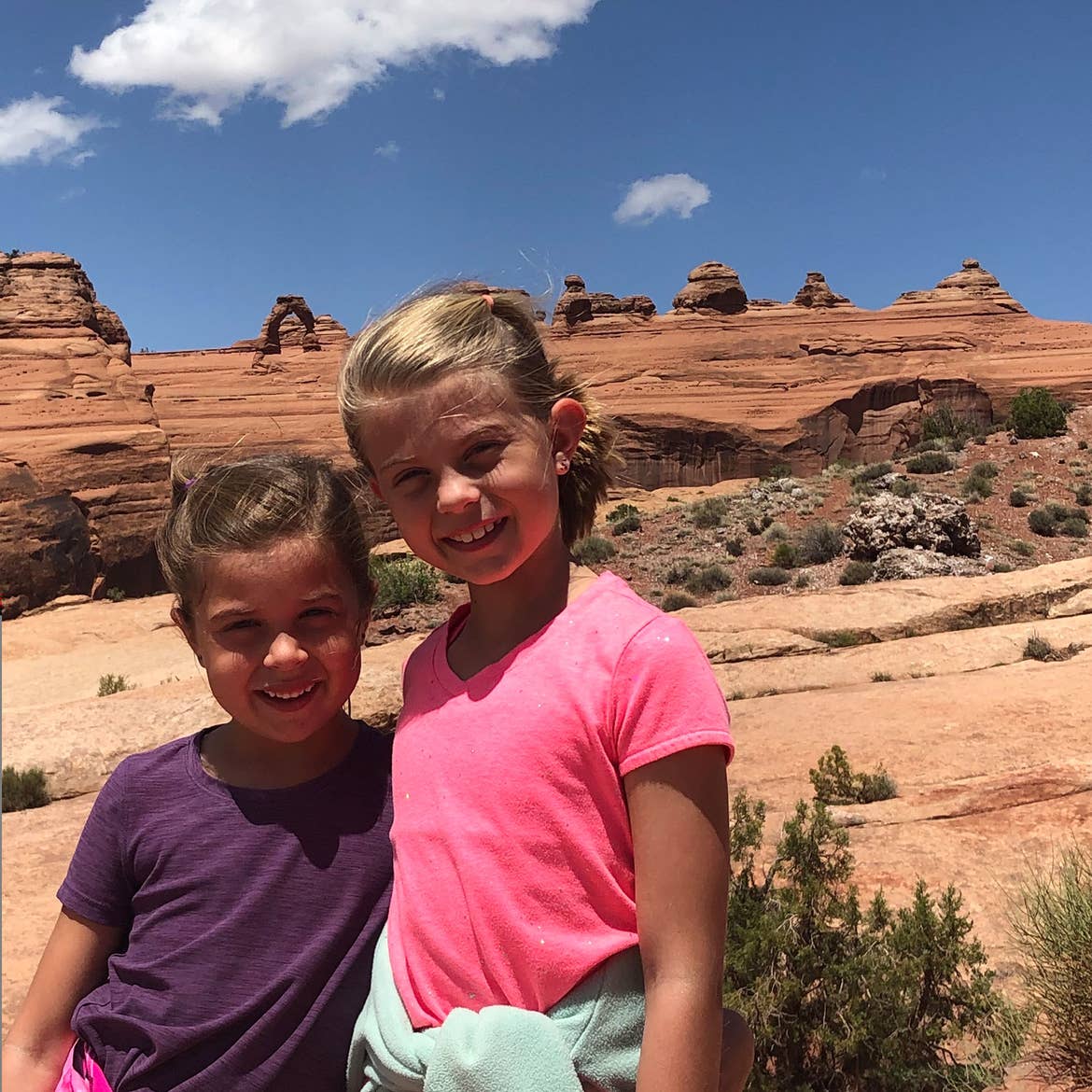 We took a back road into Arches in the Jeep and greatly enjoyed seeing preserved dinosaur footprints and Balanced Rock before the storm hit. We drove on an off-road trail up to Tower Arch hoping to miss the rain, but unfortunately, it followed us most of the way up to our hike. Weather is just something you can't plan for, but we still made the most of our day.

We saw the famous Delicate Arch, Windows Arches, and revisited Balanced Arch in different lighting and better weather. Arches National Park is full of great views and hikes, but also LOTS of people.

(Note: While we were able to keep our distance, COVID did not keep the crowds away from Arches for those of you that may be nervous about this aspect.)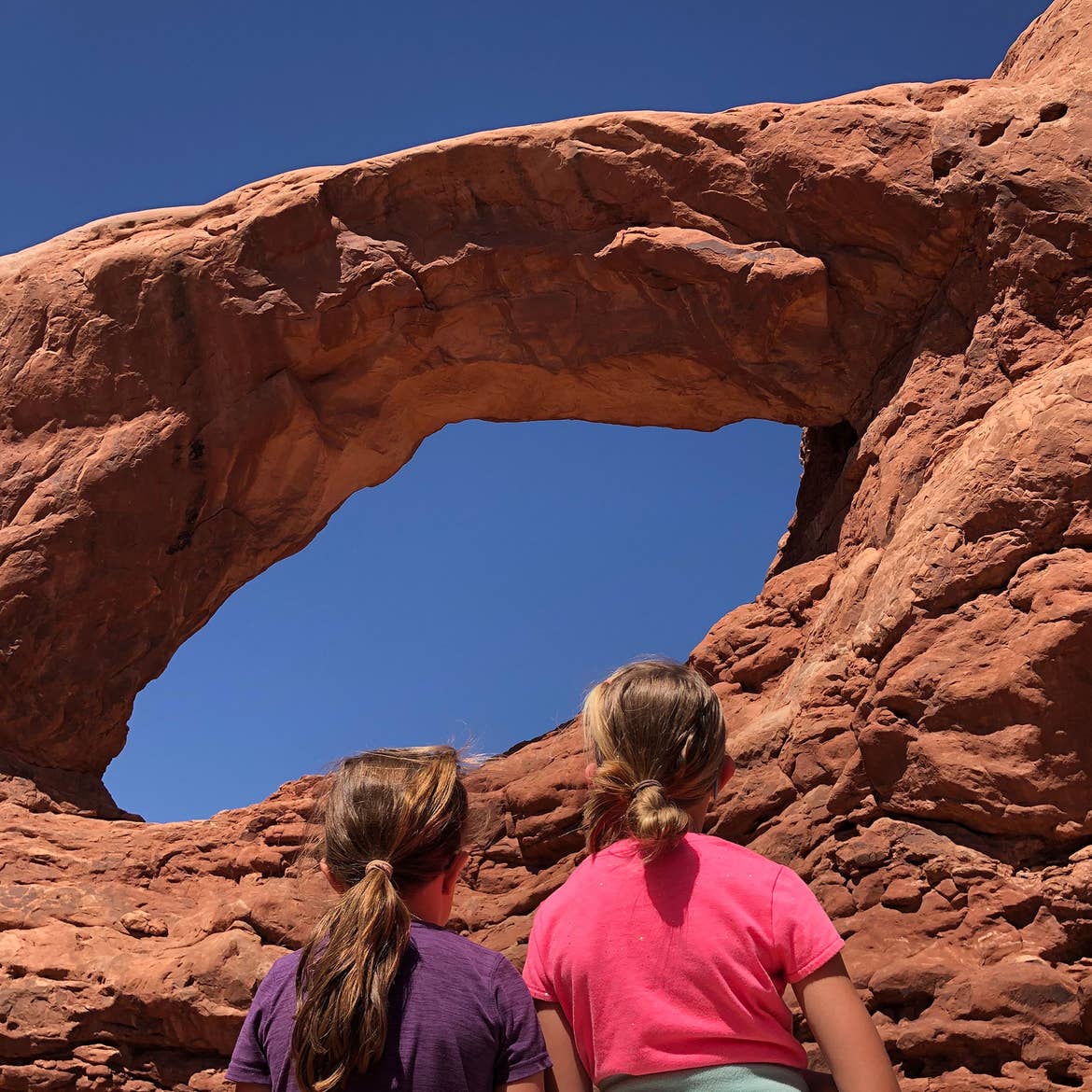 The evening after our Arches park day was one of the best in the RV. We fired up the charcoal grill and cooked burgers and hot dogs while laughing about the day's funny (and soggy) stories.

The mountain views were incredible, and the weather was absolutely perfect. It reminded me that there are still precious family memories to be made even when things go a bit "wrong."


Back to Canyonlands National Park
The following day, we said a sad goodbye to the Jeep, and we were off in the RV to Canyonlands again. This time we checked out the "Island in the Sky" district.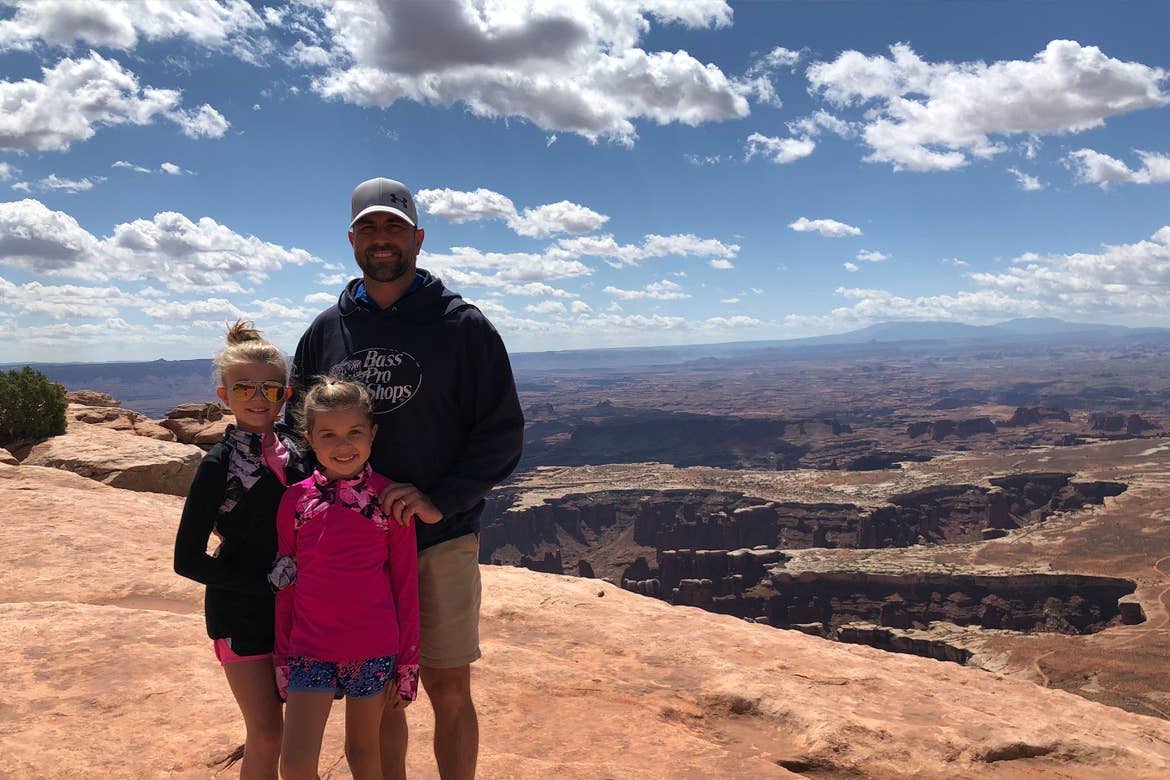 It was pretty incredible to have a completely different perspective within the same park. We really enjoyed the views of the Green River and White Rim overlooks.

Our two best hikes of the day were Grand View Hike (2 miles of the most incredible canyon views I'd ever seen!) and the Mesa Arch hike.

Pro tip: Turn travel time into an educational moment! Both Kyndall and Kyler loved learning how to navigate by using a real map (!!)

And the teacher in me loved that they were learning a new skill by "helping" us find our way to the next park, while still having so much fun in the passenger seats.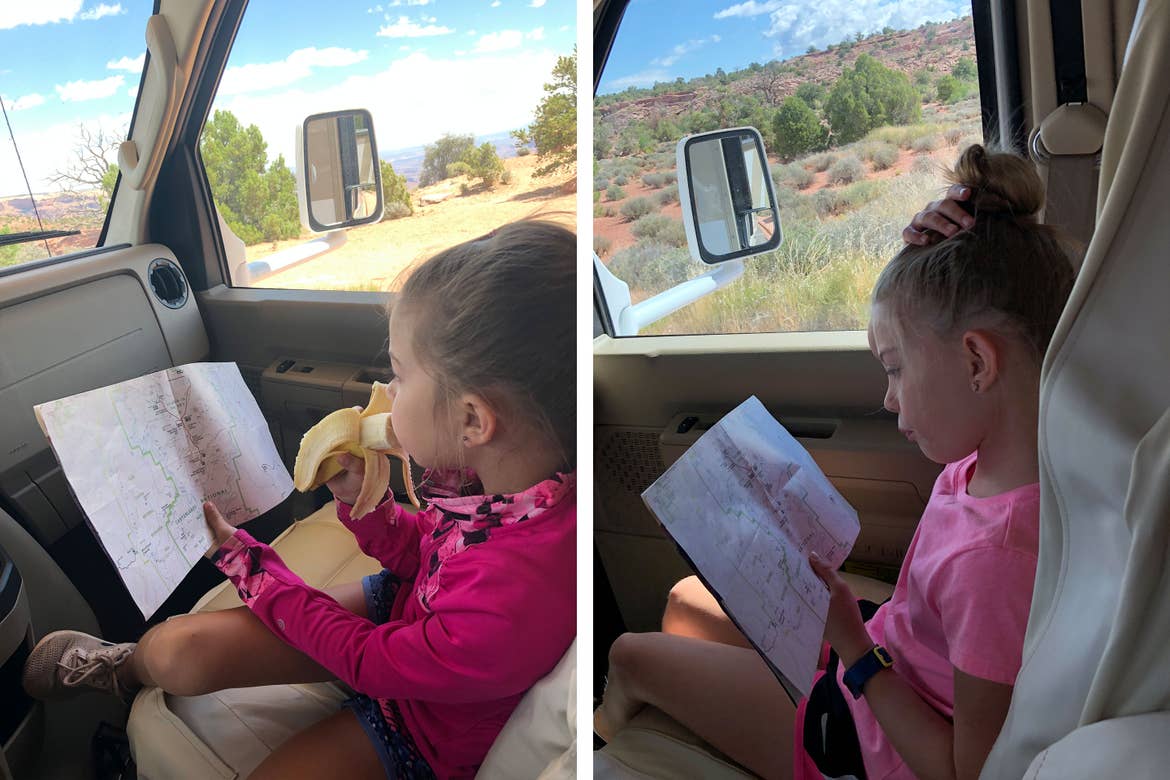 About Goblin Valley State Park
Before heading to our next RV resort for the night, we decided to drive a bit out of our way to Goblin Valley State Park.

While it's not a Utah national park, I had read about this state park from the Crazy Family Adventure blog (a family of 6 with young kids) and it was highly recommended because you can climb all over the hoodoos, which are tall, thin rock formations.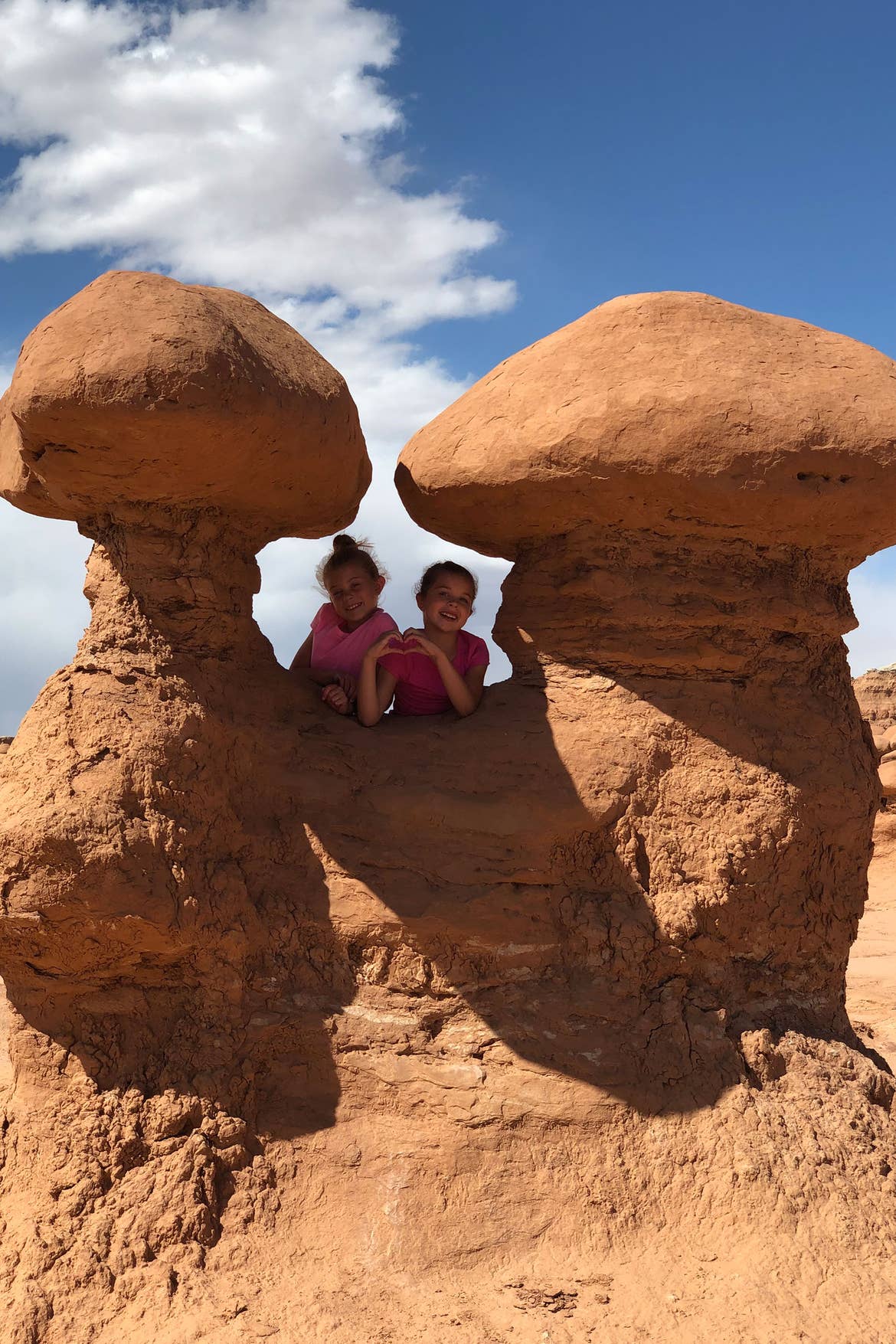 We were so glad we took this detour, as it truly felt like we were inside a real-life sandcastle. This day in particular made me super thankful for the RV.

When you're traveling in an RV with kids all day long, it does wonders to be comfortable and have lots of amenities and space onboard. The girls enjoyed the views in the back while they played cards, read books and even watched a movie or two.


Stopping at Wonderland RV Resort
The Wonderland RV Park was our next stop on this 10-day adventure as we traveled closer to our third national park of this trip. We were quite surprised to find it was adjacent to a farm where we had the pleasure of seeing horses, cows, goats, dogs and ducks!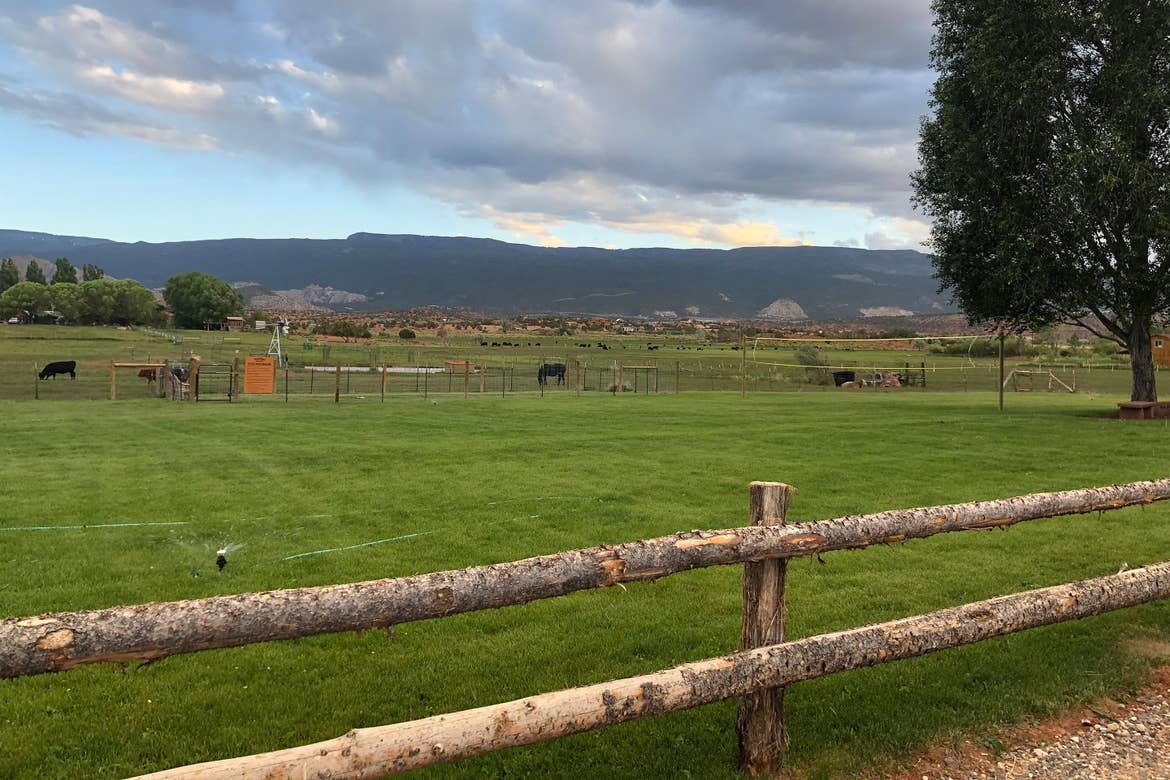 That night, the temperatures dropped significantly, and we enjoyed cooking spaghetti dinner together as a family. The next morning, Josh and Kyler woke Kyndall and me up with the smell of eggs and bacon cooking outside … in 26-degree temps. Brrrr!

Despite the cold, it was really fun to see the meals we had planned—and family moments we'd hoped for with the RV—all come together!


About Capitol Reef National Park
Capitol Reef National Park was our third family-friendly national park of this trip. We were surprised to see so many deer and marmots, as we hadn't seen much wildlife during our Utah time so far.

Our two most memorable hikes were the Capitol Gorge trail (2 miles out-and-back) and the Hickman Bridge trail (about 2 miles as well).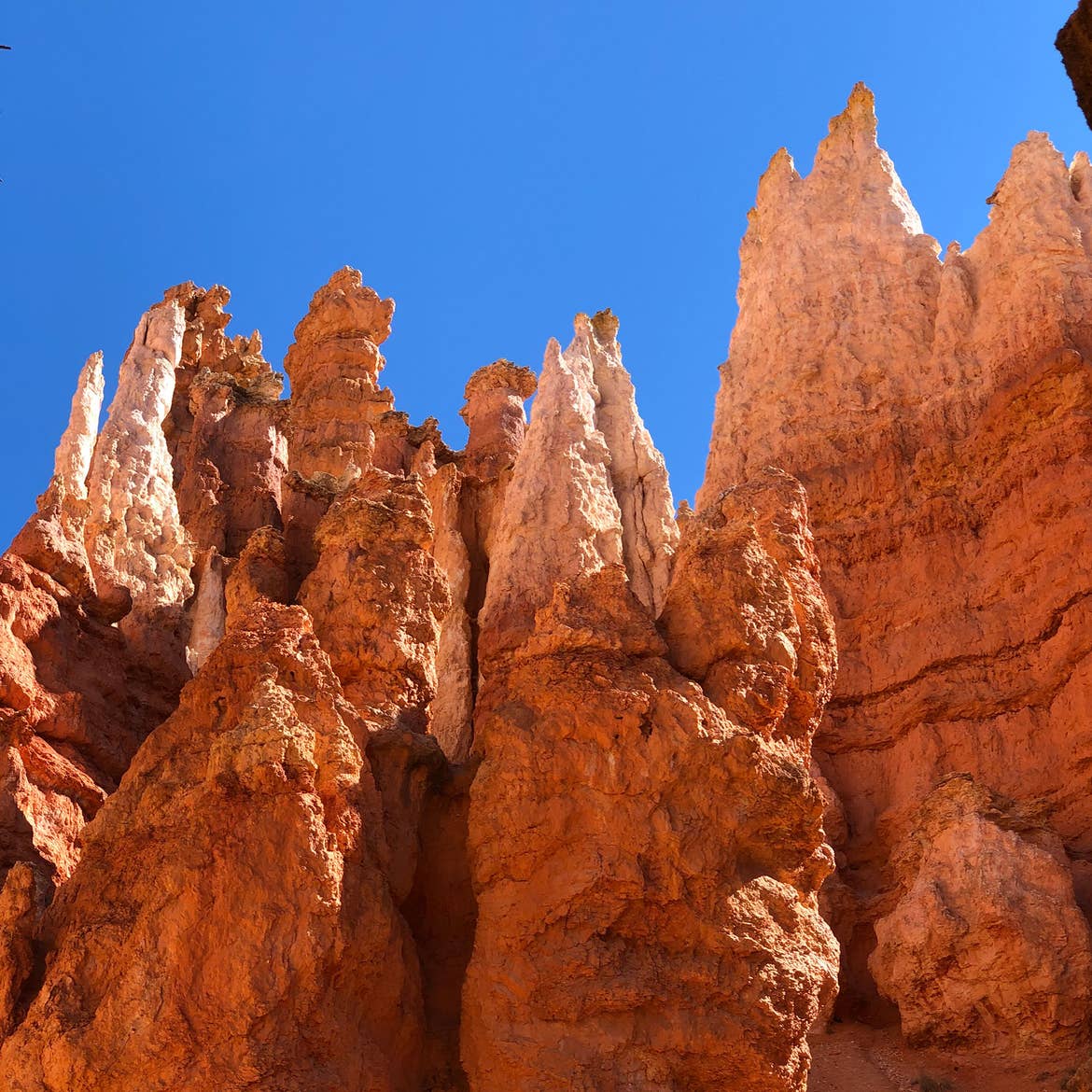 We enjoyed a picnic lunch in the RV, where we thawed out a bit and three deer visited us quite closely.

We left the park rather early in order to check out the Grand Staircase-Escalante National Monument as we edged closer to Bryce Canyon National Park. While it was a bit of a tricky drive in the RV on a windy day, the views were insanely gorgeous, and we'd highly recommend it.

This, unfortunately, was the night where things didn't go as we planned or hoped they would with the RV. The brisk 22 degrees seemed perfect for a fire in our pit at our RV resort.

Unfortunately, the wind made the smoke rather unbearable (we even had smoke detectors continue to go off in the RV!).




Remember: Not everything will go smoothly, and this certainly was the night where we needed to just microwave the marshmallows for our s'mores and go to bed early.


About Bryce Canyon National Park
We woke up the next morning and were just about the first people in Bryce Canyon National Park, our fourth Utah stop. Without hesitation, this was my favorite park of our entire trip.

The views we witnessed as we hiked the Navajo trail (over 5 miles) were breathtaking to say the least.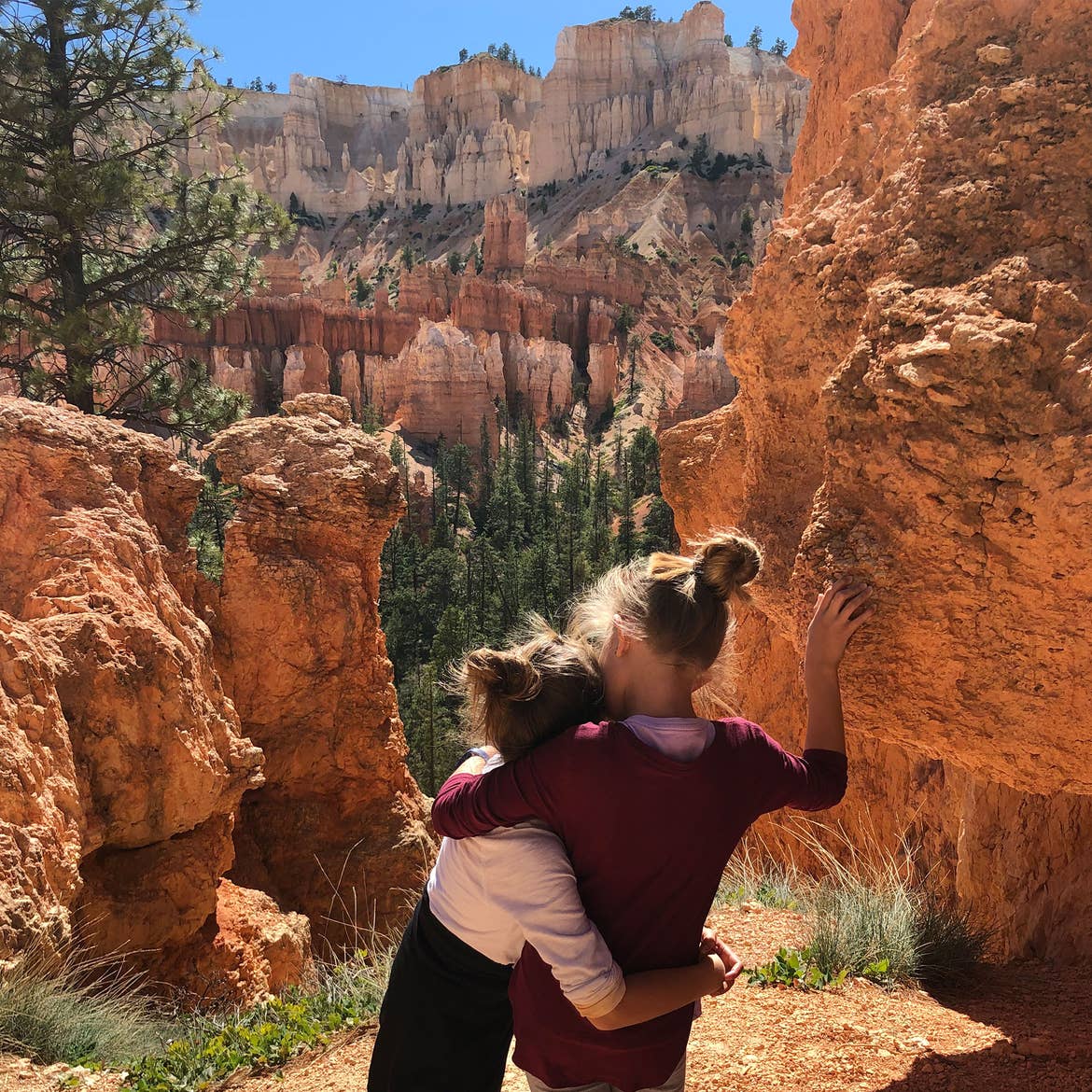 My favorite family hiking memory of any park (so far) was rocking 6 miles of the Peek-A-Boo Loop. It was strenuous but rewarding as we wound up and down 1,400 feet of elevation changes.

As we hobbled back to our RV, we decided to make the most of our experience in Bryce and stay in the park as late as possible in order to have our best chance of the trip at seeing the stars within a true, dark night sky.

So, we showered in the RV in the park parking lot, ate beef stew, watched a movie and awaited the night sky. It was worth the wait and easily one of my favorite highlights of the trip! We didn't head back to our RV resort until well after 10:30 p.m.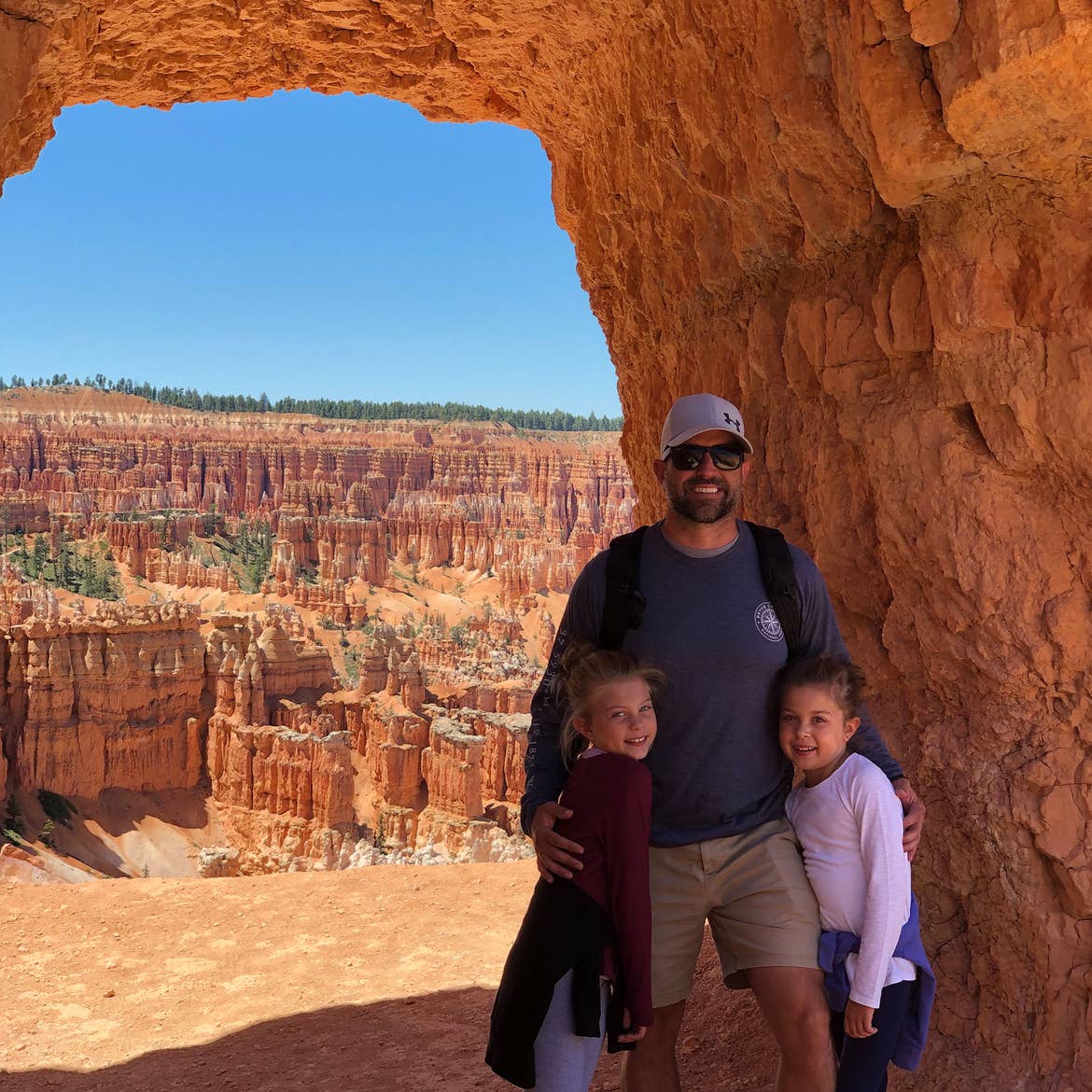 The next day, it was breathtaking to see another sunrise in Bryce Canyon and I was so happy to have planned that additional time in this park. We completed one final hike in Bryce: the Queen's Garden, which was about 3 miles.

Fun family activity: We had a blast talking about who named all these hiking trails and why. The girls even took turns naming their own hikes and we really enjoyed hearing their ideas!


About Zion National Park
Our fifth and last national park of this trip was driving through Zion to get to Springdale, Utah. Zion was gorgeous and very busy.

The highlight of our "drive-through park" was the several mile tunnel through a mountain that was constructed a hundred years ago. It was mind-boggling.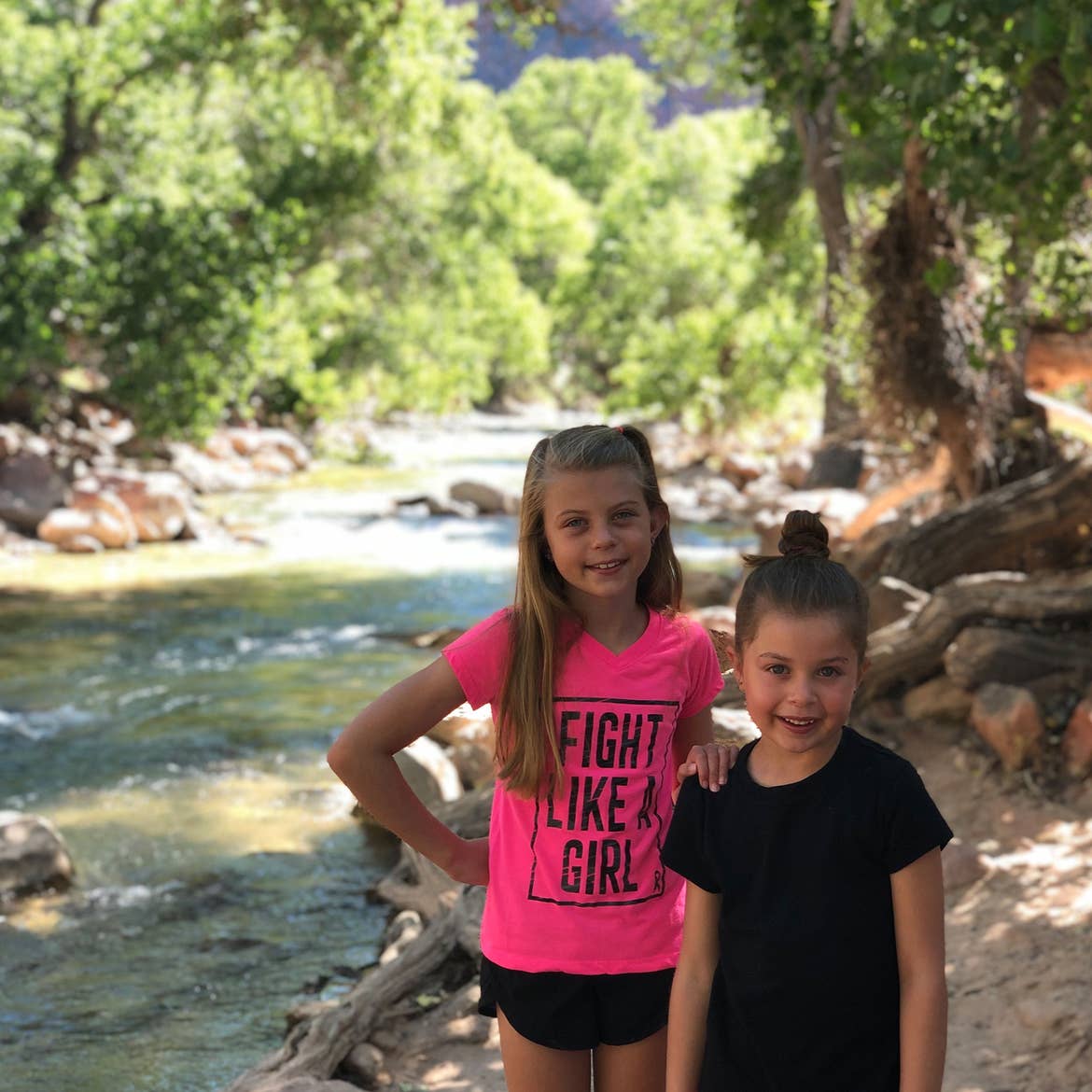 Zion National Park is absolutely gorgeous, but again, busy! There were also several hikes that were closed due to a rough winter that made them unsafe for explorers, so Zion will be another park that we feel we'll need a redo for.

We only ended up completing one hike while there, the Watchmen Hike (about 3.5 miles). It was a really cool hike though, and we even saw a rattlesnake on our way back down the trail! Eeeek!


Recharging with a hotel stay post-RV
We booked a hotel room at the Best Western Plus Zion Canyon Inn less than a mile away from the Zion park entrance, and it was the PERFECT way to start wrapping up our trip.

While we all loved the adventures and memories made in our RV … I'd be lying if I told you that we all didn't race each other to get into our hotel room. We immediately threw on our swimming suits and took a dip in the hotel pool!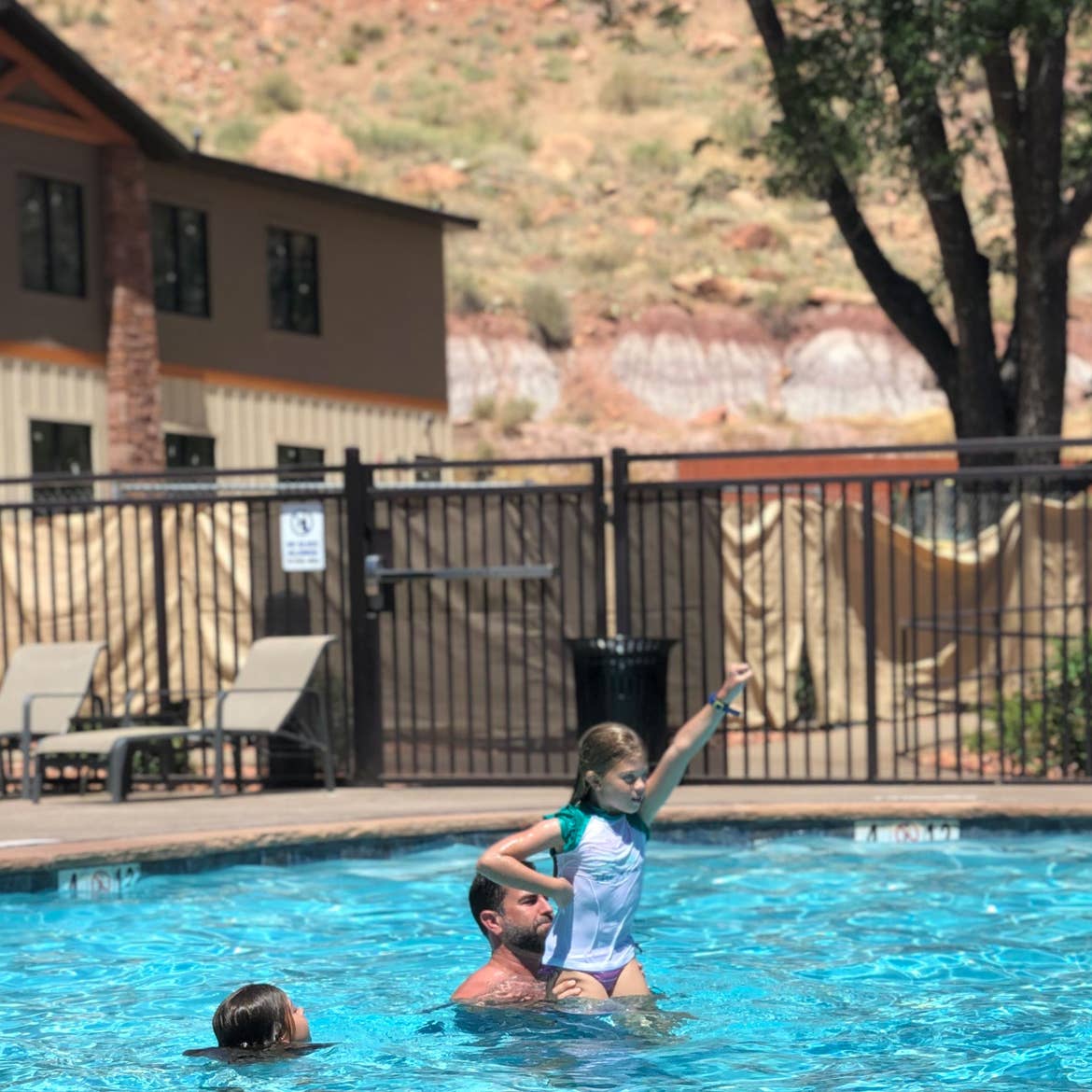 We had spent 7 days of hiking at least 4 miles each day and we really needed this break. Our girls were amazing and such tough cookies, but even they needed to recharge a bit. I'd highly recommend adding this to the end of your RV plans.

For our meals, we enjoyed eating at local restaurants, Oscars Café and MeMe's Café, in this adorable town, along with homemade ice cream at Springdale Candy Company. It was the perfect ending of an imperfectly perfect family adventure.


A Q&A for More Planning Tips & Special Memories to Share
Editor's Note: I asked Chris to answer just a few more questions for readers who may be considering an RV trip with kids through the Utah 5. ~ Jennifer C. Harmon


How do you plan for these national park trips?
We purchase maps of each national park that we visit. The maps have every hike available with good descriptions to help guide us on deciding if a trail will be good for our family or not.
We also use the All Trails app and download all hikes that we plan to take before we leave for our trip. (That way you don't need the internet, which is spotty within the parks).
Finally, I love to read blogs from other hiking families to get their perspectives on the specific trails within these parks.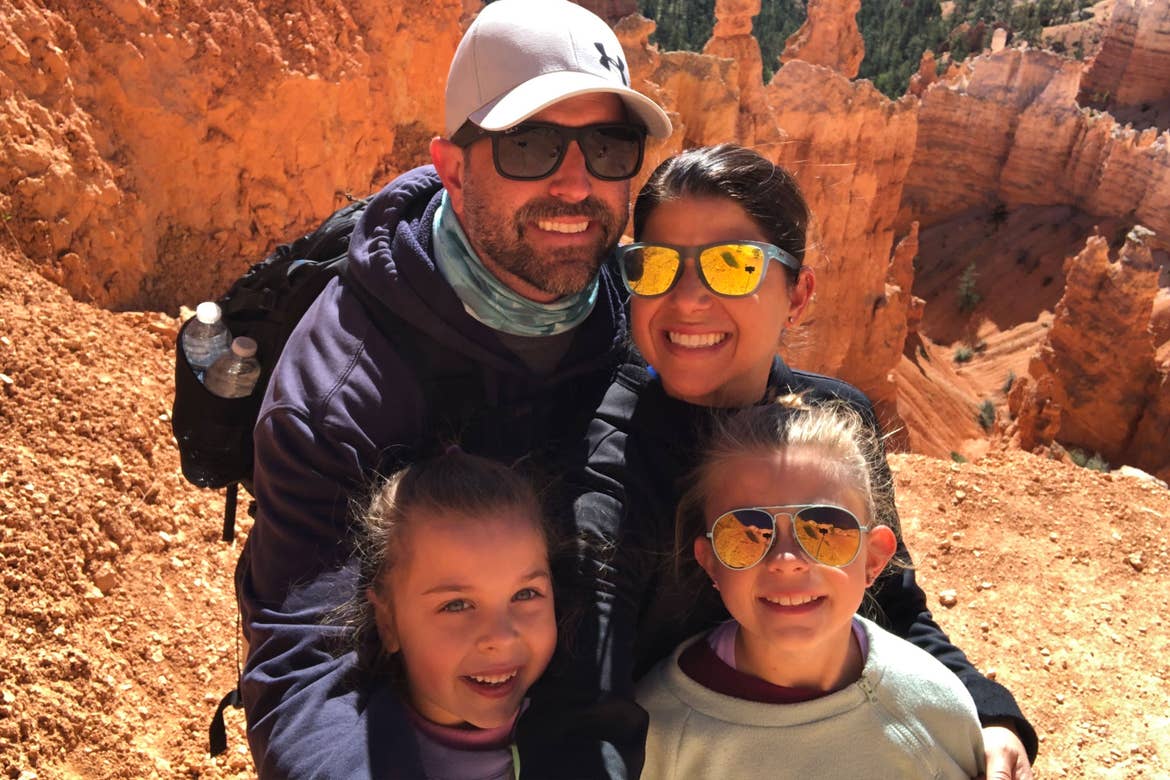 What was your overall opinion of traveling in an RV?
I would absolutely recommend getting an RV for a fun family adventure and looking up family-friendly RV tips before your trip!
Our 27-foot RV was perfect for our family of four.
I suggest packing lightly, as there aren't a ton of places to store your luggage. Our bags were often in the way.
Gas and propane were fairly inexpensive, but we did need to fill up both twice along the way.
The shower was small and while we certainly couldn't take too long while in there, we were so glad to have it each night. It was nice for all four of us to feel clean before bed after our hiking adventures.
Cooking simple meals, and being able to begin each day with a coffee surrounded by amazing views, were things I was most thankful for with the RV.
Overall, through good and bad, I truly believe that the RV was responsible for some of our best moments (and memories) together on this trip!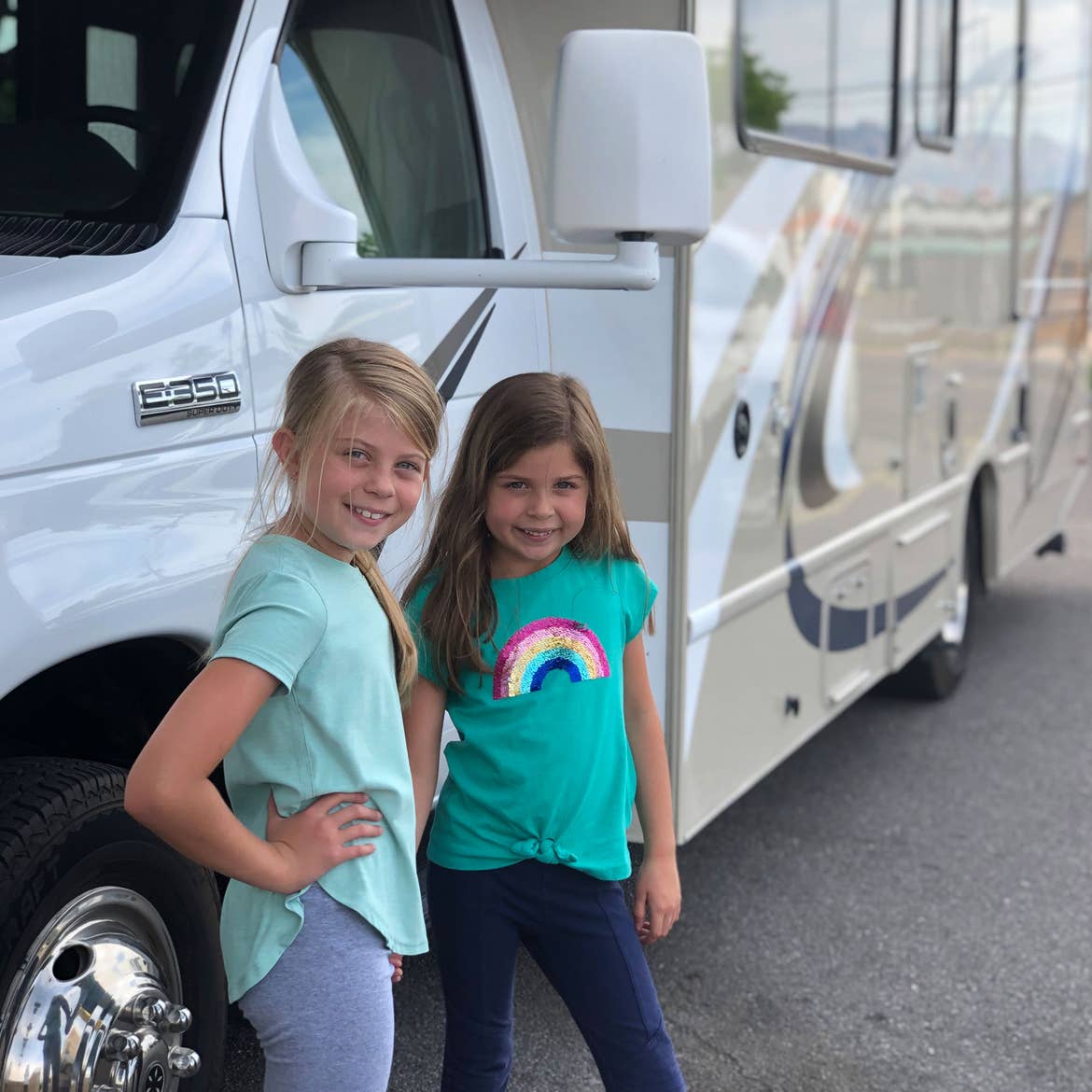 What was your favorite place you visited on the Utah 5 trip?
Without hesitation, Bryce Canyon National Park. You can't really describe the beauty of what we saw and the hikes we took. I feel so thankful to have seen it and look forward to going back there one day!
What was your favorite hike of the trip?
The Peek-A-Boo Loop in Bryce Canyon was probably my favorite hike that I've ever done in my life, not just of this trip. It was tough! The climbing felt impossible at times, but it was such a neat thing to accomplish with my family.
I will always remember the silly conversations we have on these hikes (I guess to keep our minds off the aches and pains…)
This hike found us discussing Fuller House and my daughters provided me with a thorough update on all the characters I watched in Full House when I was their age. It was too cool!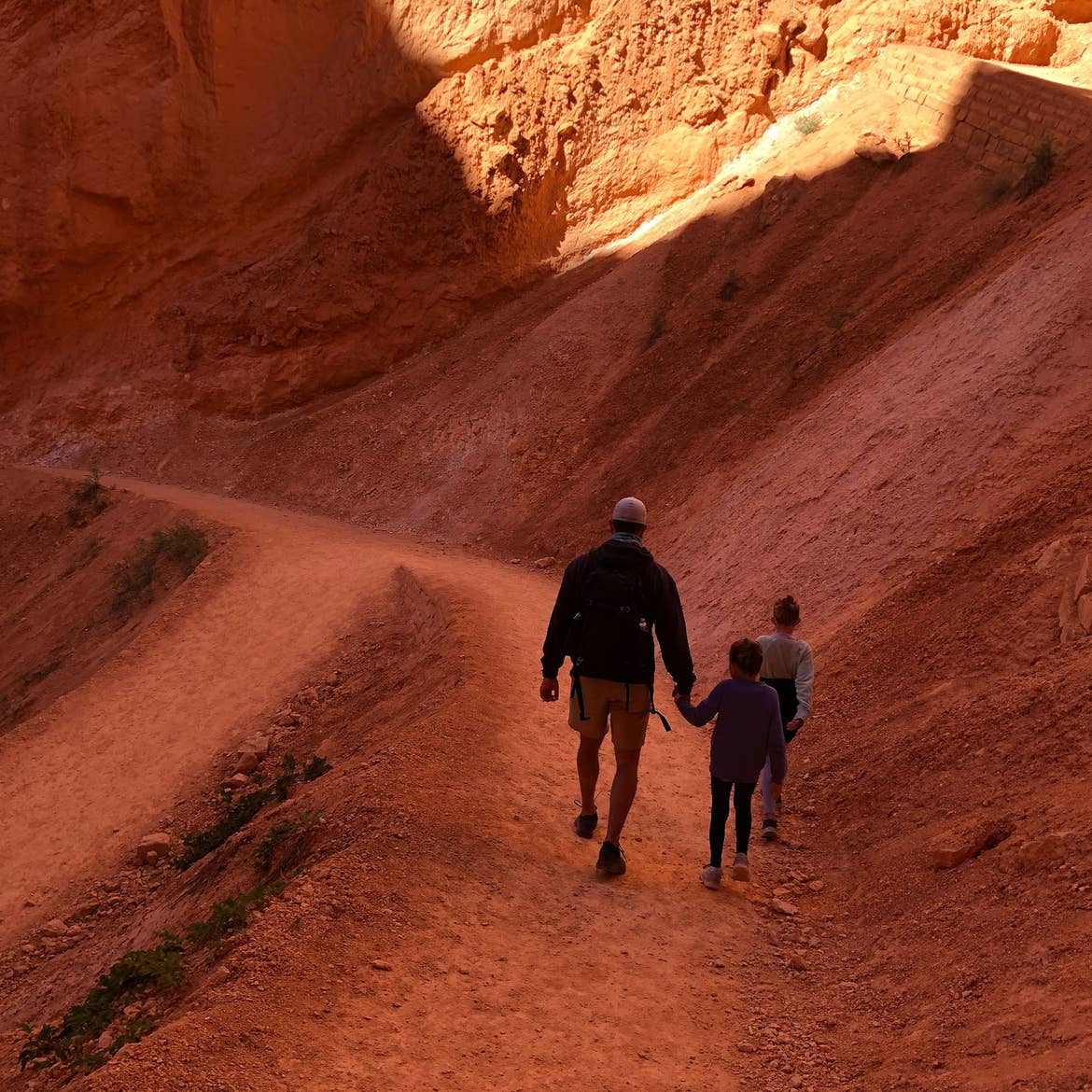 Kyndall (10), what was your favorite memory from your trip?
"Even though it kinda scared me at the time, my favorite memory was our off-roading adventure and getting stuck in Arches National Park. I also really liked seeing the different arches in that park. They were really cool."
Kyler (7), what was your favorite memory from your trip?
"Definitely the off-roading part! It was so fun and I really liked that Jeep!"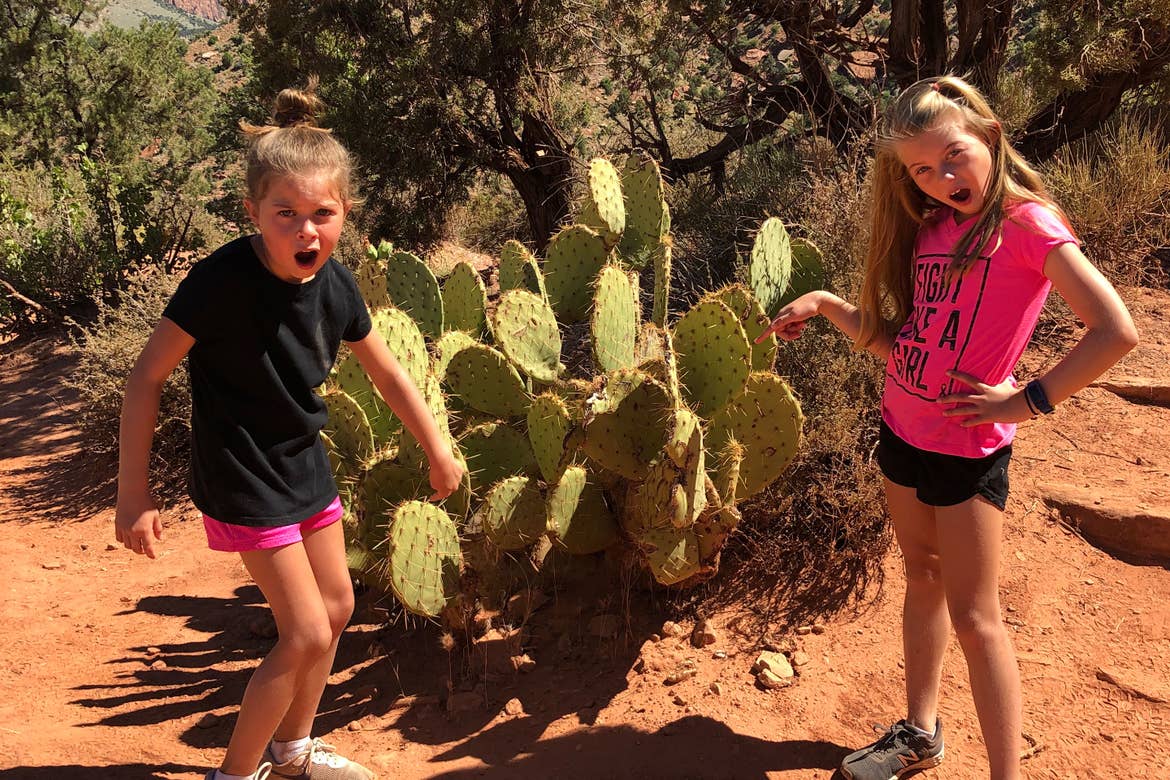 Chris, what was the funniest moment of the trip?
There were many moments that didn't seem funny AT THE TIME, yet we laugh about them all the time now:

Getting stuck in a flash flood in the Jeep
Setting off the smoke alarms in the RV from the firepit
Seeing a rattlesnake and, umm, not reacting very rationally to it, just to name a few...
How would you rank your Utah trip to other national park trips you've taken?
Utah ranks pretty high up, especially during a pandemic!
It's hard to beat Yellowstone National Park in the glorious states of Montana and Wyoming and all the wildlife that we saw on that trip though.
That being said, Utah and all of its beauty didn't disappoint.
It was really enjoyable to see so many different types of landscapes in each national park we traveled to and the RV made the trip both comfortable and exciting.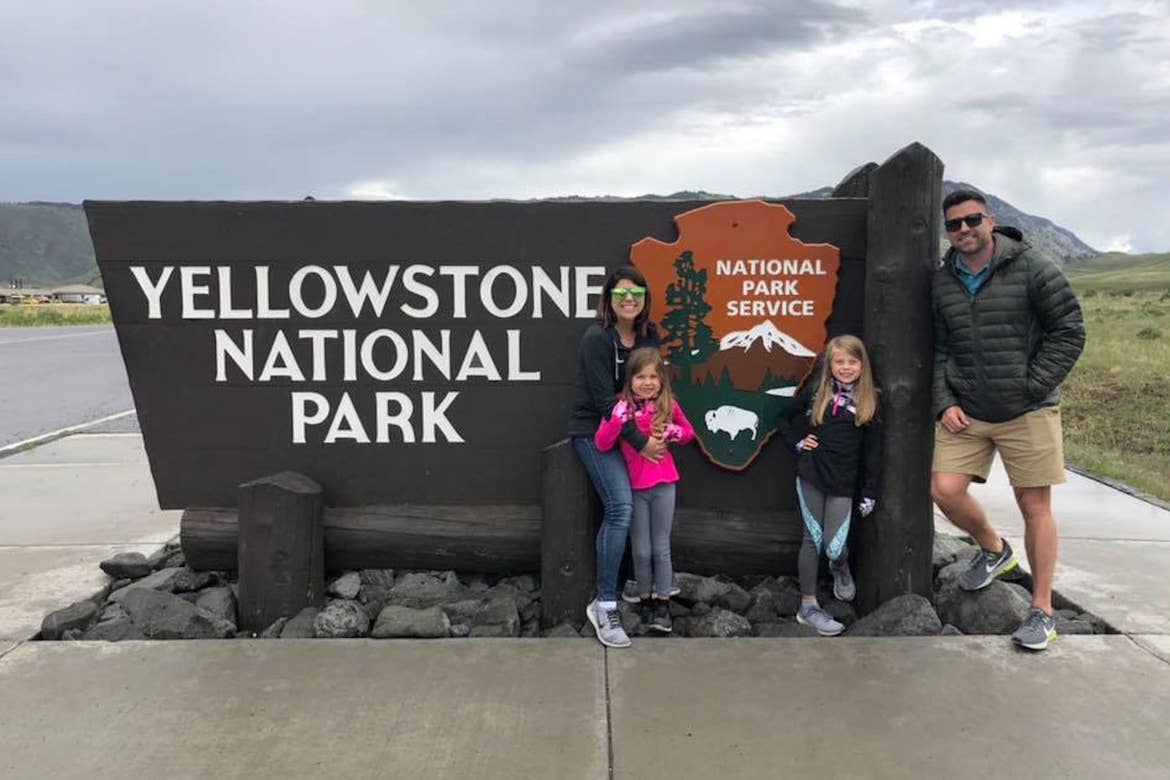 Any other helpful tips?
Would we do it again? ABSOLUTELY! We're already considering an RV for exploring the national parks in beautiful Colorado.

For that trip, we're researching RVs that can be pulled behind a truck or SUV, to give us that Jeep-like flexibility to more easily drive and navigate more of the narrow or slippery roads.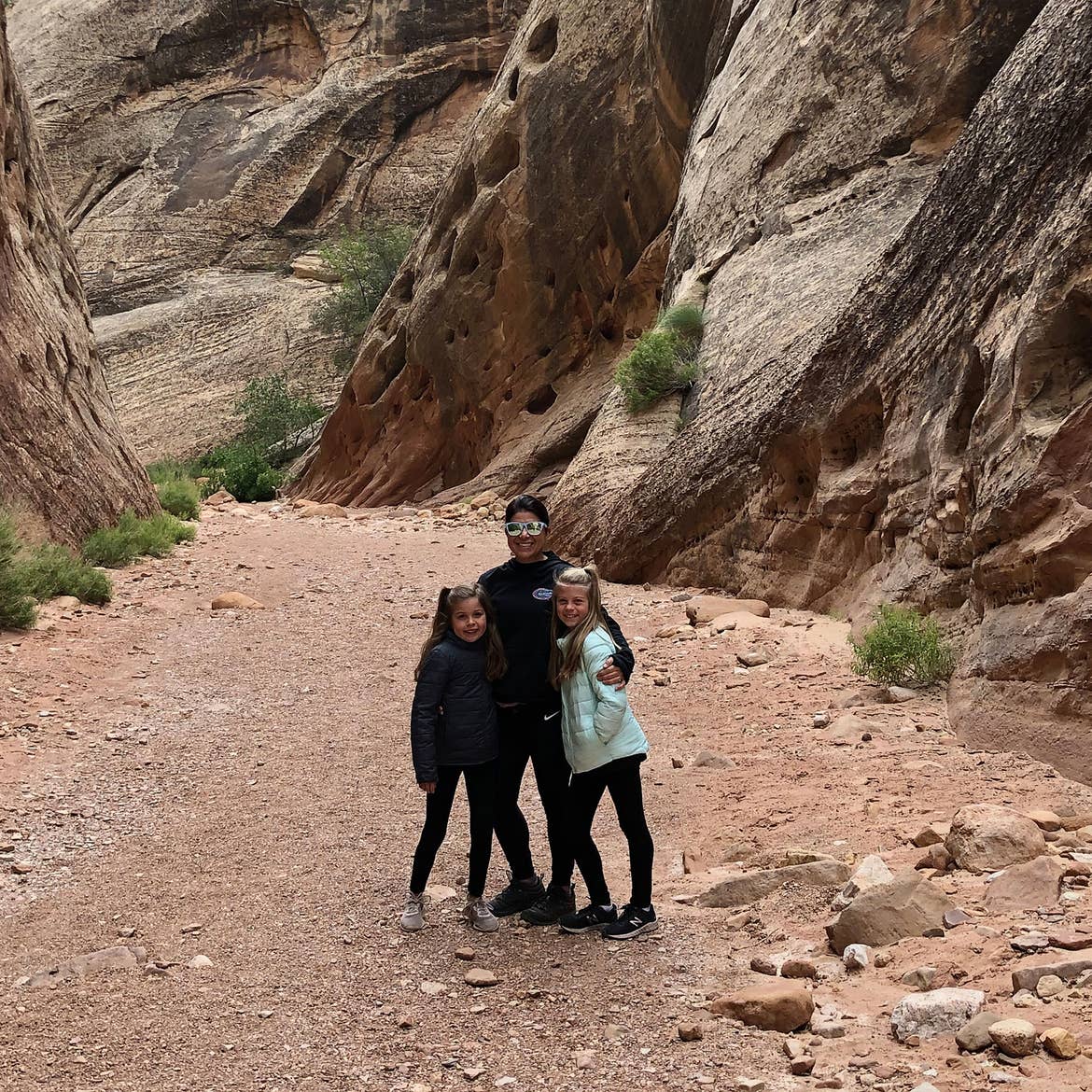 Until then, we've been enjoying revisiting our Utah photo albums and I especially loved taking this walk down memory lane for sharing this blog post with you and your family.

Hope you enjoyed our recap!


Our guest bloggers are compensated for their writing contributions and honest opinions.

All information is subject to change. This article is a curated guide and is neither sponsored nor considered an official endorsement. Please be sure to check information directly with any/all tours, guides or companies for the most up-to-date and direct details.