Chris Johnston
Chris is a kindergarten teacher specializing in teaching and mainstreaming students with special needs in her general ed classroom. She lives in Central Florida with her husband, Josh, and their two awesome daughters, Kyndall and Kyler. Chris is a proud breast cancer survivor, a UF grad and HUGE Gators fan. She especially loves planning and taking national parks trips with her family (and collecting national park passport stamps, photos and memories along the way).
All right, Florida, show us what you've got!

Our adventurous family of four decided to tackle our home state's national parks in 2021, and we started the year off with a bang during our spring break trip to Everglades National Park.

Now, we've seen a lot of our country's beautiful parks — I'm talking 12 in 5 years!! Yellowstone, Zion, Arches, Shenandoah, you name it.

For this national park trip, we were more than pleasantly surprised to find so many things to do in the Everglades, and with gorgeous beaches nearby, it checked all the boxes.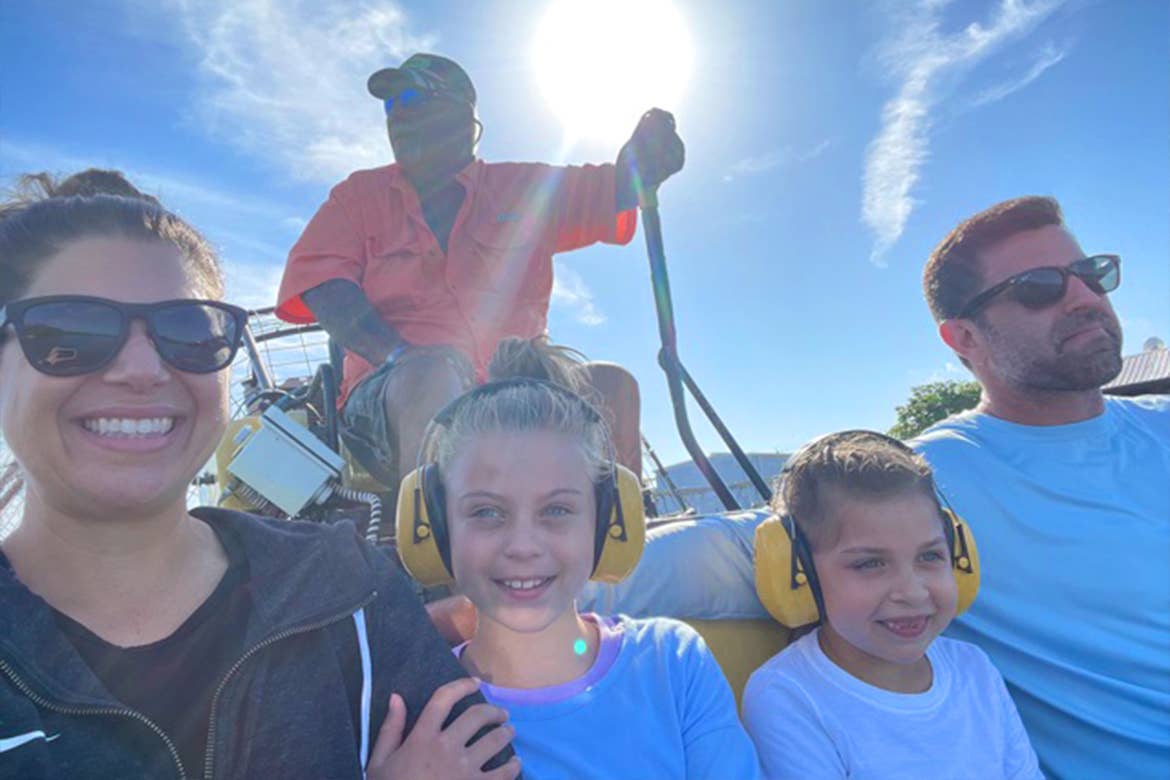 Hi, I'm Chris! And these are my adventure buddies, my husband, Josh, and our daughters, Kyndall (10) and Kyler (8).

We stayed in Marco Island and enjoyed the perfect mix of Everglades, pool and beach time.

Below I'm recapping our vacation, sharing the best things we did and offering some advice we learned along the way.

I hope you find our tips and experiences helpful as you get ready for your next exciting trip to the Everglades!


2 Tips for Planning Your Everglades Trip
First off, let me give you a couple of helpful tips for your Florida vacation.


1. Plan your visit in Florida's cooler months.
Timing may be one of the most important things to consider as you plan your visit to Everglades National Park.

Our gorgeous Sunshine State allows for fun in the sun year-round, but the best time for your Everglades family adventure will most likely be in our cooler months (November–April), as the mosquitoes can be fairly aggravating.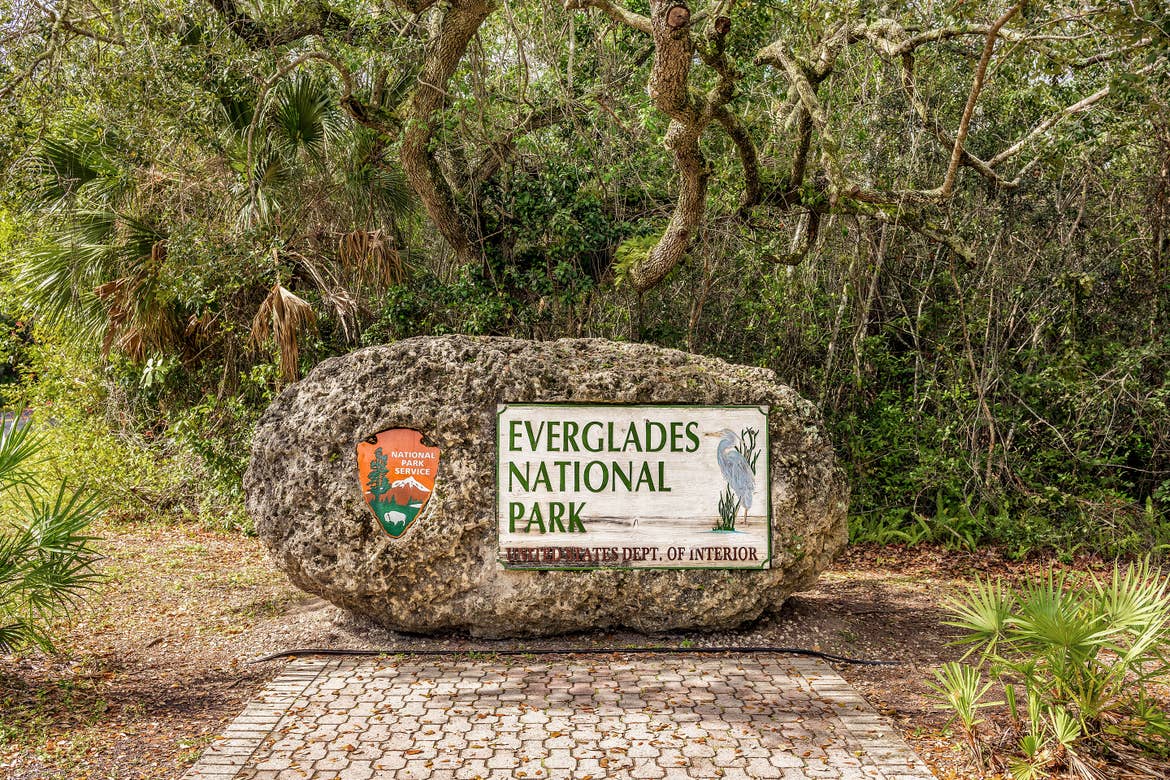 2. Plan and reserve where you're staying ASAP.
When it comes to finding a place to stay, be sure to plan and reserve your spot as far in advance as possible, as Florida has lots of visitors out enjoying the beautiful weather during these months.

We stayed in the clean, adorable and super-friendly beach town of Marco Island and found it to be the BEST location, only an hour away from two separate visitor centers/areas of Everglades National Park.

We spent five nights at Sunset Cove Resort and felt that it gave us ample time to enjoy everything we wanted to do.

The location of this resort was incredible, as EVERYTHING was nearby. Like, walking distance nearby! (More on that later though...)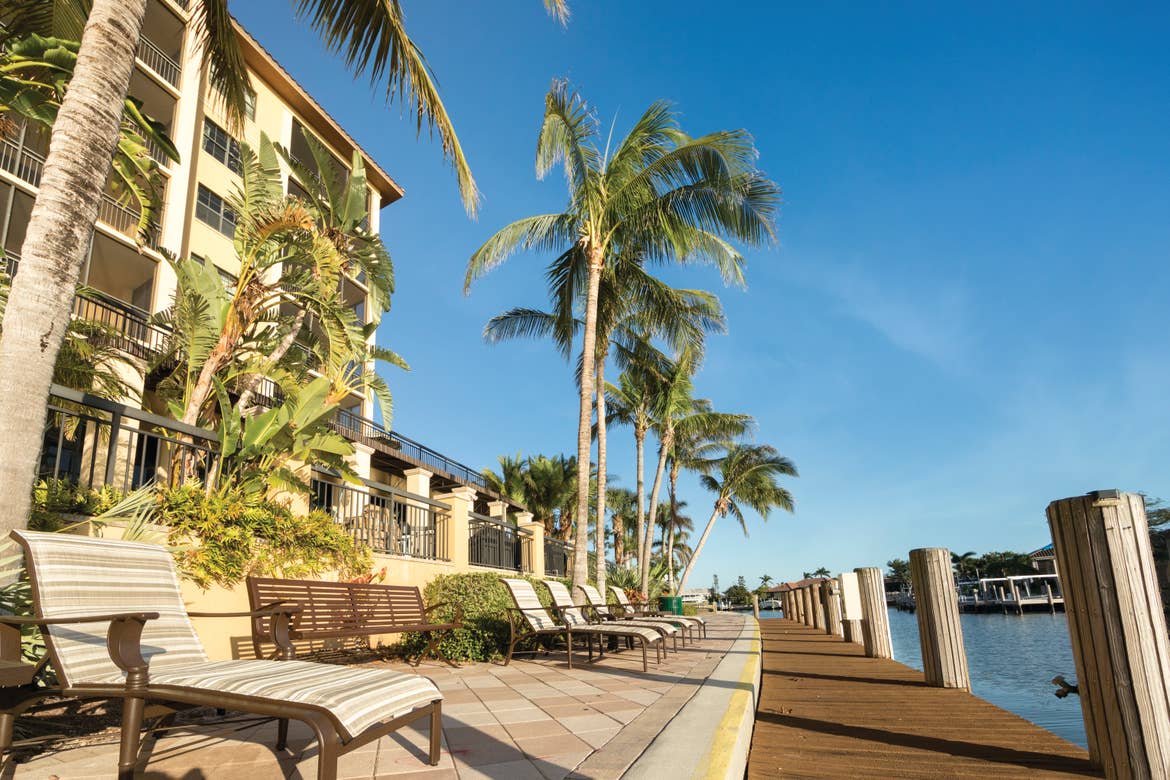 Our home base for this trip, Sunset Cove Resort


5 Best Things to Do in Everglades National Park for Families
When you're plotting out your Everglades adventures, be sure to read about the available activities on its website.

It's updated regularly by the National Parks Service and is very important as weather, COVID-19 restrictions, etc., may impact your trip. It's also how I booked a few of these adventures in the park.


1. Check out Shark Valley Visitor Center & spend some time with a Park Ranger.
We drove just over 1 hour from Sunset Cove Resort in Marco Island to get to the Shark Valley entrance of Everglades National Park.

I would absolutely recommend planning a visit to the Shark Valley Visitor Center and carving out some time to chat with a Park Ranger.

Kyndall and Kyler loved their time with this Everglades expert. Our entire family learned so much about the park and its diverse ecosystem during our 15-minute session with him.

He even let the girls hold a 12-foot python snakeskin!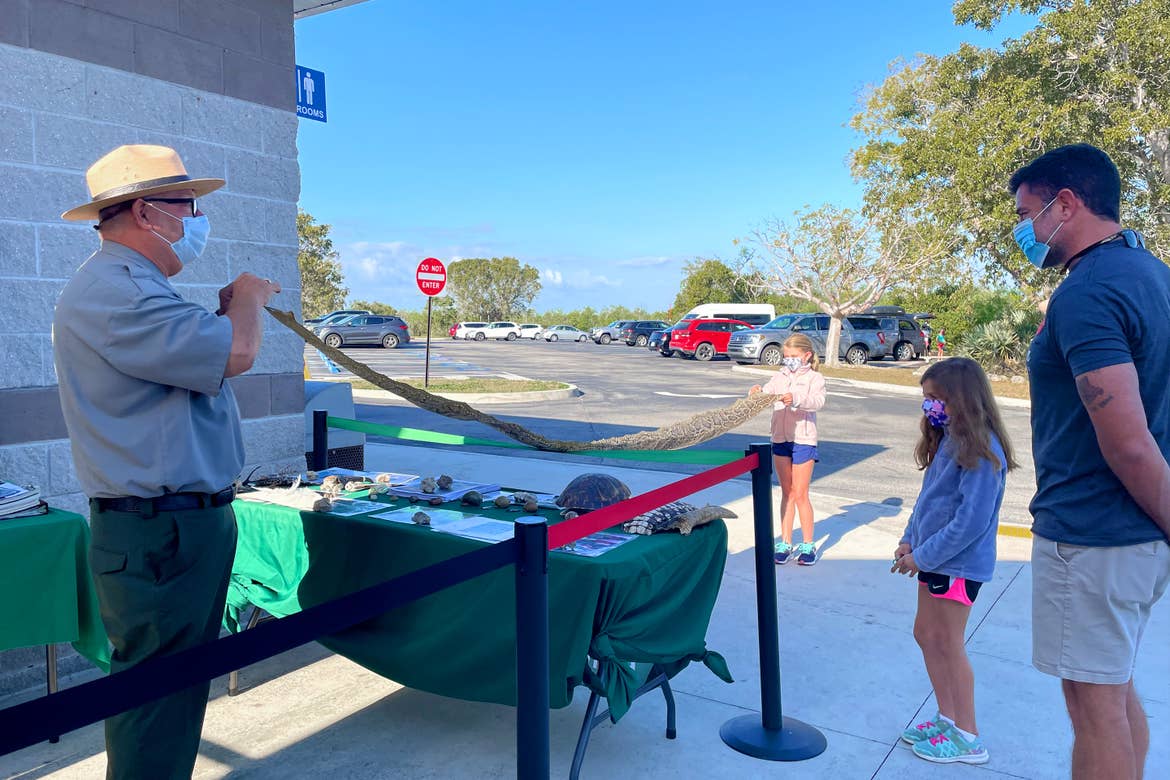 2. See wildlife on a ranger-guided tram tour in Shark Valley.
We had an absolute blast on the 90-minute tram tour through the Everglades!

It was incredible to see almost 100(!!) gators in their natural environment, along with hundreds of birds, diverse insects and even an American crocodile!

That's right, our tour guides were over-the-moon excited about the rare spotting of the crocodile in this part of the Everglades.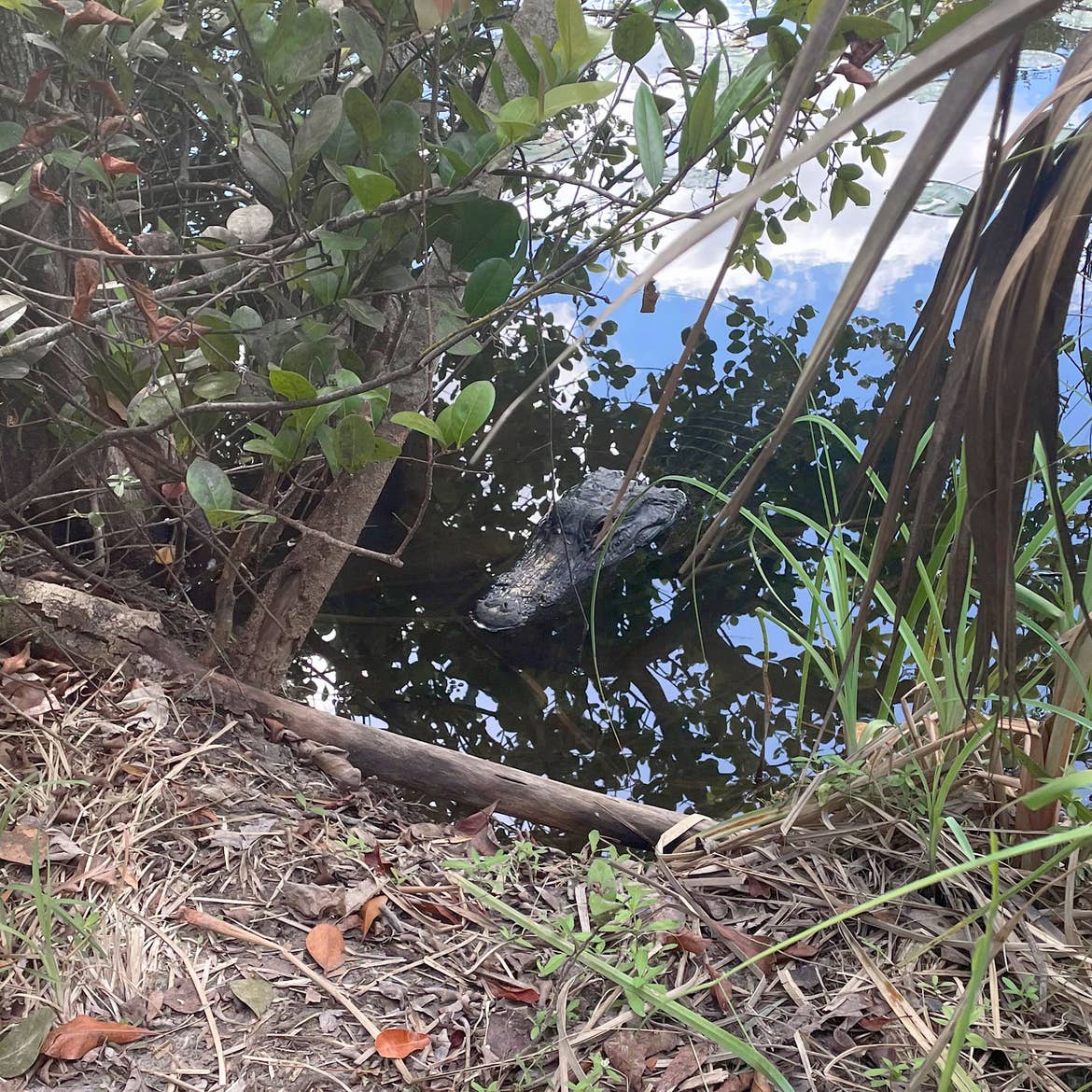 About halfway through the adventure, we stopped at an observation point where we got to take a short hike and see a panoramic view of the landscape.

(They also had bathrooms at this halfway point, which was a super awesome surprise!)

We had an amazing day in Shark Valley and made it back to our resort by 3 p.m., giving us plenty of time to relax by the pool at Sunset Cove Resort and recap our adventures of the day.

Pro tip 1: Due to COVID-19 safety restrictions when we visited in March of 2021, they were only allowing 50% capacity on each tram tour. I'd highly recommend booking your visit in advance, even if/as restrictions lift.

There were a handful of visitors who booked their tours when they arrived, but they weren't guaranteed a seat on the tram together with their party.

Pro tip 2: Plan to bring lunch, as there weren't restaurants that were easily accessible on the hour drive. That made for a cranky ride back to the resort from four very hangry adventurers.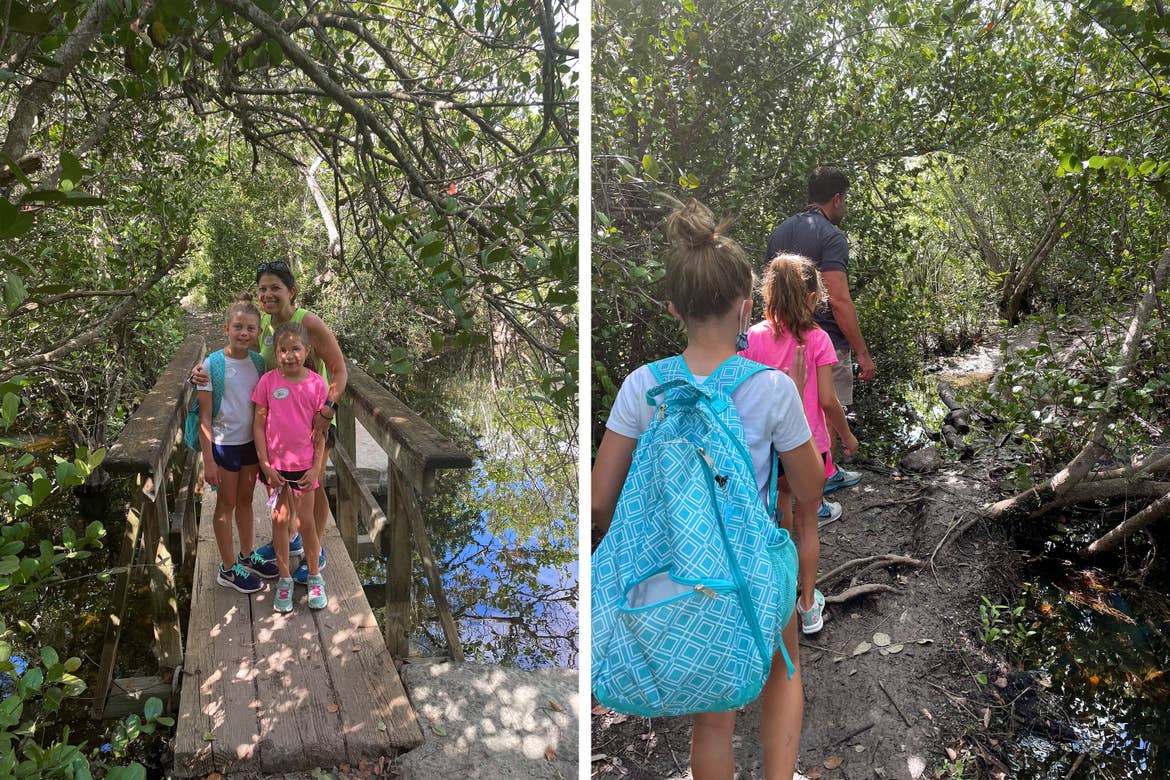 3. Head to Gulf Coast Visitor Center for even more Park Ranger lessons.
The following day, we had an exciting adventure booked in the Gulf Coast portion of the Everglades, and we were amazed to see such a different view of this park.

The Gulf Coast Visitor Center was only a short 45-minute drive from Sunset Cove Resort.

Again, plan to save some time to chat with the expert Park Rangers at the visitor center.

This Gulf Coast Ranger focused his lesson with Kyndall and Kyler mostly on the animals we may see in this portion of the Everglades and let them hold real fossils.

It was such a cool (and free!) experience and again, we learned so much!

Since we've made visiting national parks our family travel tradition, we got out our National Parks Passport and were excited to receive our 12th stamp.

After that, we left the visitor center and drove only 5 minutes to get to our airboat tour in Everglades City.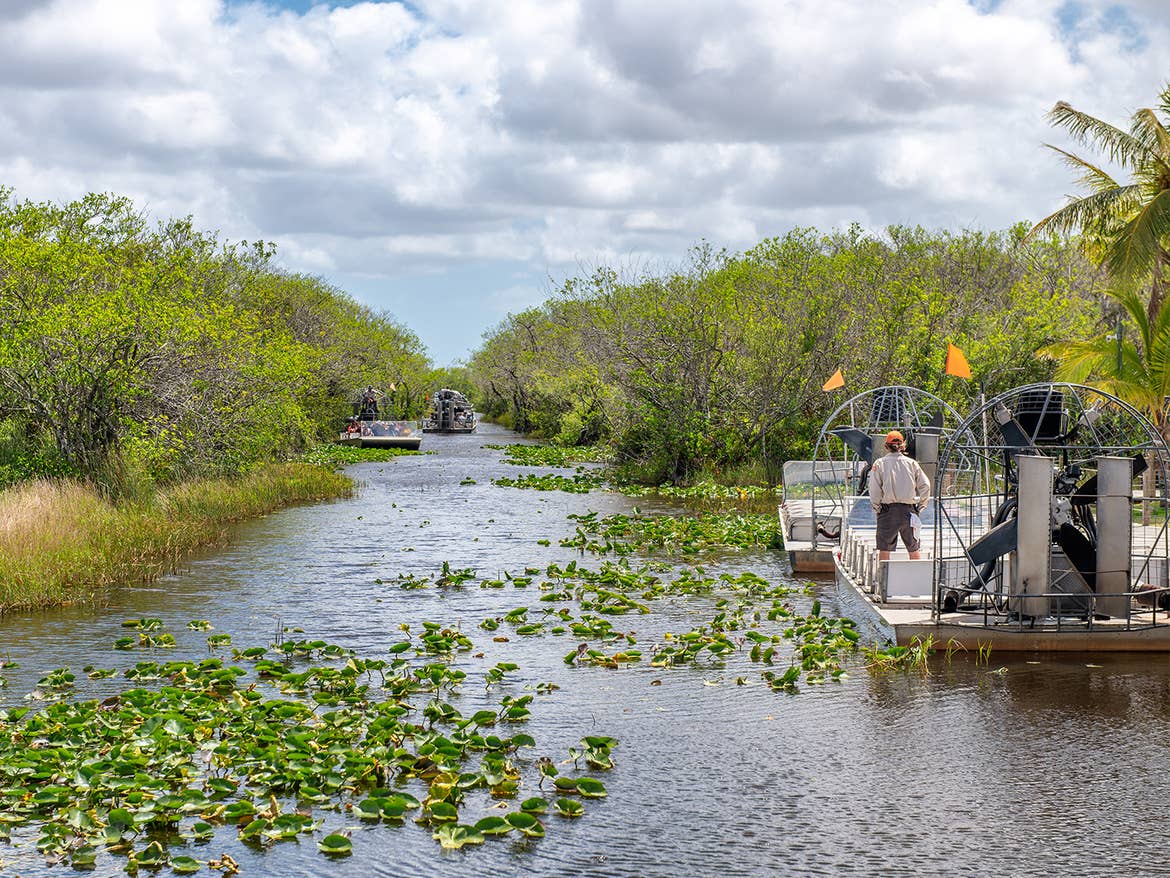 4. Cruise through the mangroves on an airboat ride in Everglades City.
Without hesitation, THIS was the most memorable experience of the trip for every member of our family. It was thrilling, educational and absolutely beautiful.

Captain Hoss from Speedy's Airboat Tours came highly recommended to us from our concierge at Sunset Cove Resort and he did not disappoint.

We enjoyed a 60-minute tour of the mangroves portion of Everglades National Park, and it was a completely different world from the previous day's Shark Valley visit.

We didn't see as much wildlife, but it was very cool to see the mangroves from this perspective and the boat ride was a lot of fun.

Pro tip 1: Bring a light jacket to wear, as — surprisingly for Florida — it was certainly a chilly ride!

Pro tip 2: You'll also want to book this in advance because it was quite busy the morning we arrived.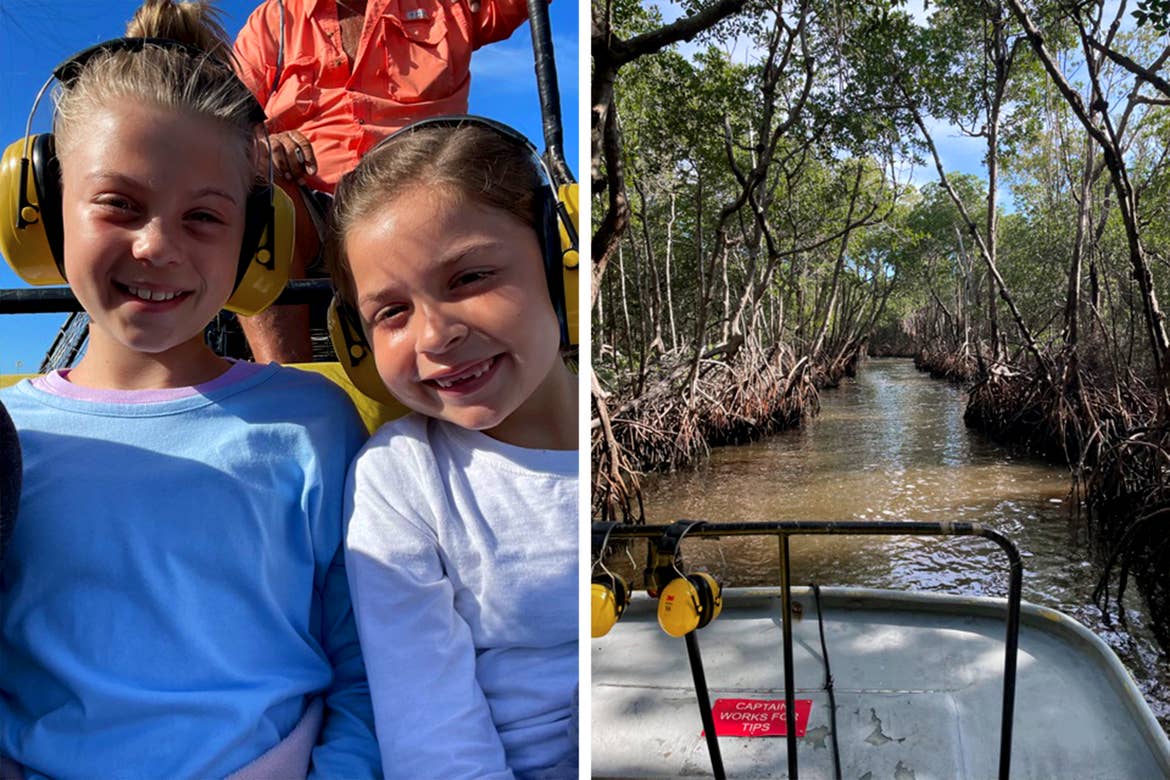 5. Grab a bite from Camellia Street Grill.
Please do yourself a favor and eat at Camellia Street Grill while you're in Everglades City. This quirky, waterfront café was so fun and absolutely delicious!

(This was actually a recommendation from the super helpful concierge at Sunset Cove Resort. Thanks to Angie, we had the BEST lunch.)

We enjoyed walking through the succulent garden and viewing the adorable décor as we waited for our food.

Pro tip: Take a minute to read some of the fun signs in the bathroom. They aren't exactly rated PG for young kids, but they are indeed HILARIOUS and deserve a shout-out!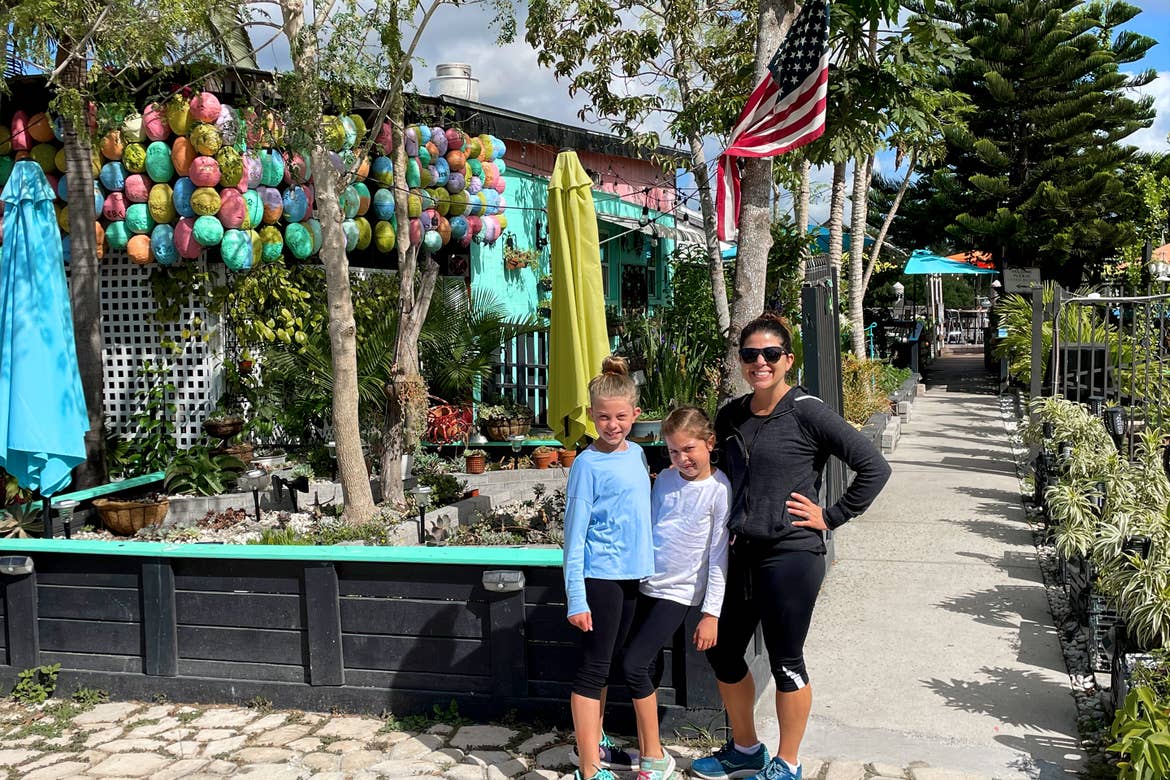 Where to Stay for Your Everglades Trip
Not only did we get to explore the Everglades, but we also got to spend plenty of time seeing what Marco Island and Sunset Cove Resort have to offer during this national park vacation.

The girls just loved getting to enjoy pool and beach time in between all our gator, airboat and national park adventuring.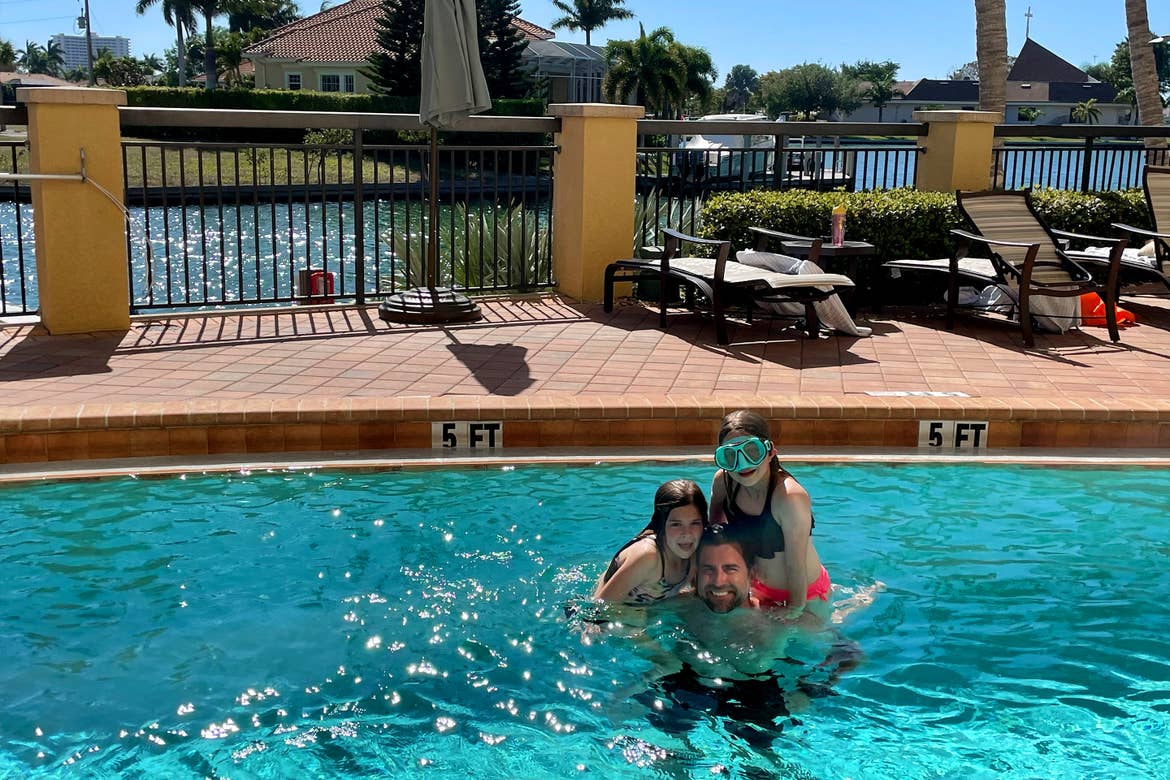 Post-adventure pool time at Sunset Cove Resort!

And with so many things to do in Marco Island, we got to do some shelling on Tigertail Beach, play games and see a concert at a nearby park, eat at local restaurants and so much more.

It was truly the perfect balance for a perfect family vacation.


Our Next National Park Adventures
For our next big summer national park vacation, the Johnston Crew is heading to the other two parks in Florida, Biscayne and Dry Tortugas.

We'll be traveling down through the Keys and trading in our annual hiking boots for flippers during our snorkel adventures!

We're also very excited to visit Lake Tahoe in March 2022 for our family's first ski trip!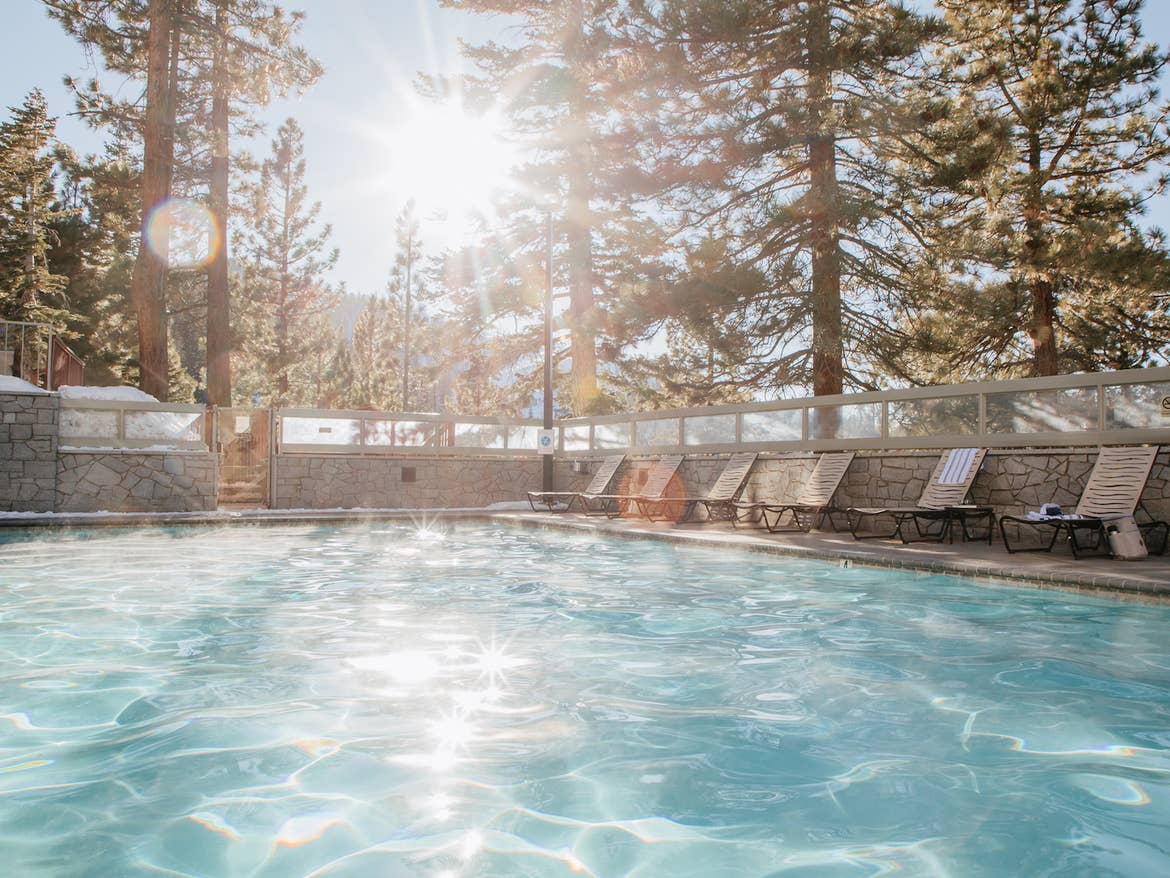 We hope to get in lots of (heated) pool time at Tahoe Ridge Resort, too.

We'll be staying at the gorgeous Tahoe Ridge Resort for what will be our 3rd stay with Holiday Inn Club Vacations®, and we just can't wait to see the lake and the mountains.

I hope this quick read inspires you to bring your families down to South Florida to enjoy the many family-friendly things to do in the Everglades.

We had the best time, and we were honestly surprised by the number of activities we got to enjoy in our short time there.

The ecosystem in Everglades National Park is unique to any we've seen so far, and we saw some of the most stunning Florida beaches in Marco Island with calm and crystal-clear aqua waters.

We look forward to traveling back to this area and staying at Sunset Cove Resort again soon. We'd highly recommend this vacation to all families!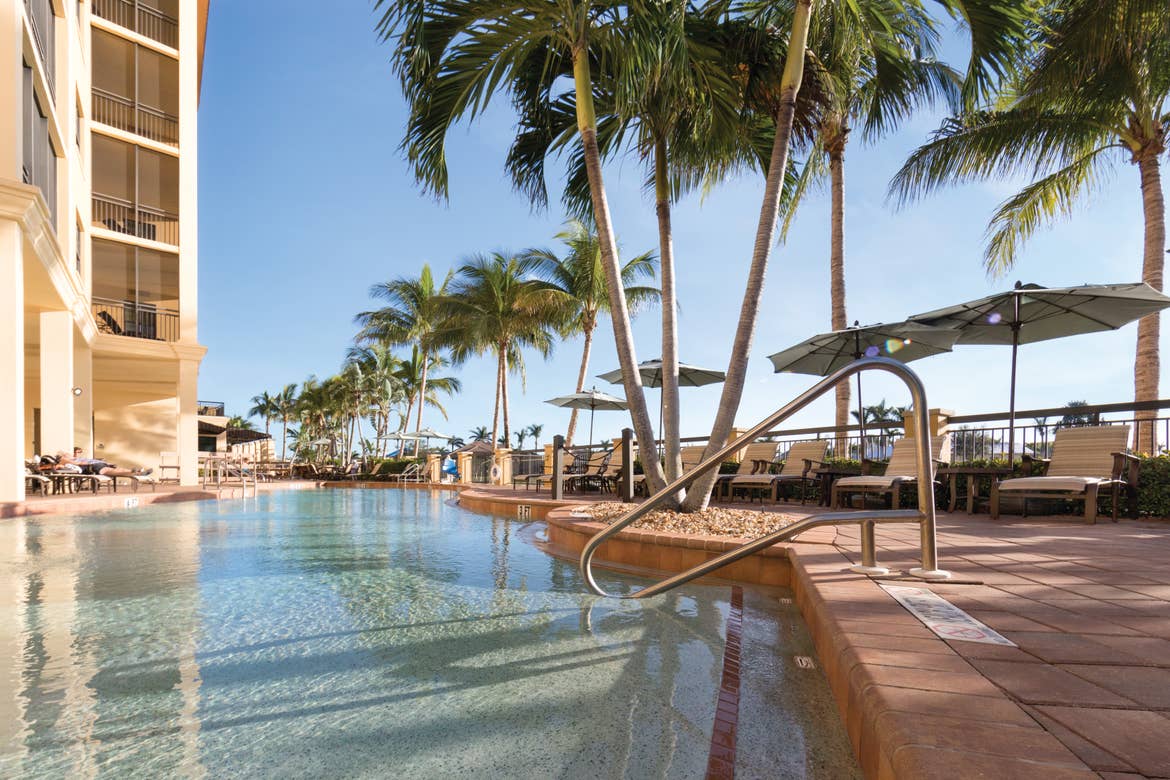 Our little palm tree paradise at Sunset Cove Resort


Our guest bloggers are compensated for their writing contributions and honest opinions.

All information is subject to change. This article is a curated guide and is neither sponsored nor considered an official endorsement. Please be sure to check information directly with any/all tours, guides or companies for the most up-to-date and direct details.