Jessica Averett
Jessica Averett is an adventure-loving mom to five kids. She and her family have a serious case of wanderlust and are constantly exploring to find the best travel experiences for families. You can follow her writing and adventures at Bring The Kids, where she shares how to get outside and live an adventurous, travel-filled life with kids in tow.
Instagram
Facebook
Pinterest
Website
In my mind, summer and national parks are the best combination. Some of my favorite family memories were made exploring national parks along the trails and waterways that always seem to transport me to the most beautiful places.

It was before sunrise when my parents would load all four sleepy children into the car for our summer family vacation.

We'd pull out of the driveway on our way to Rocky Mountain National Park, with the back of our car loaded down with backpacks, water bottles, trail mix and always accompanied by an amazing picnic. It was a routine that we'd replicate many times throughout the summer, year after year.

Those same national park traditions are the exact ones that I'm now trying to replicate for my own children.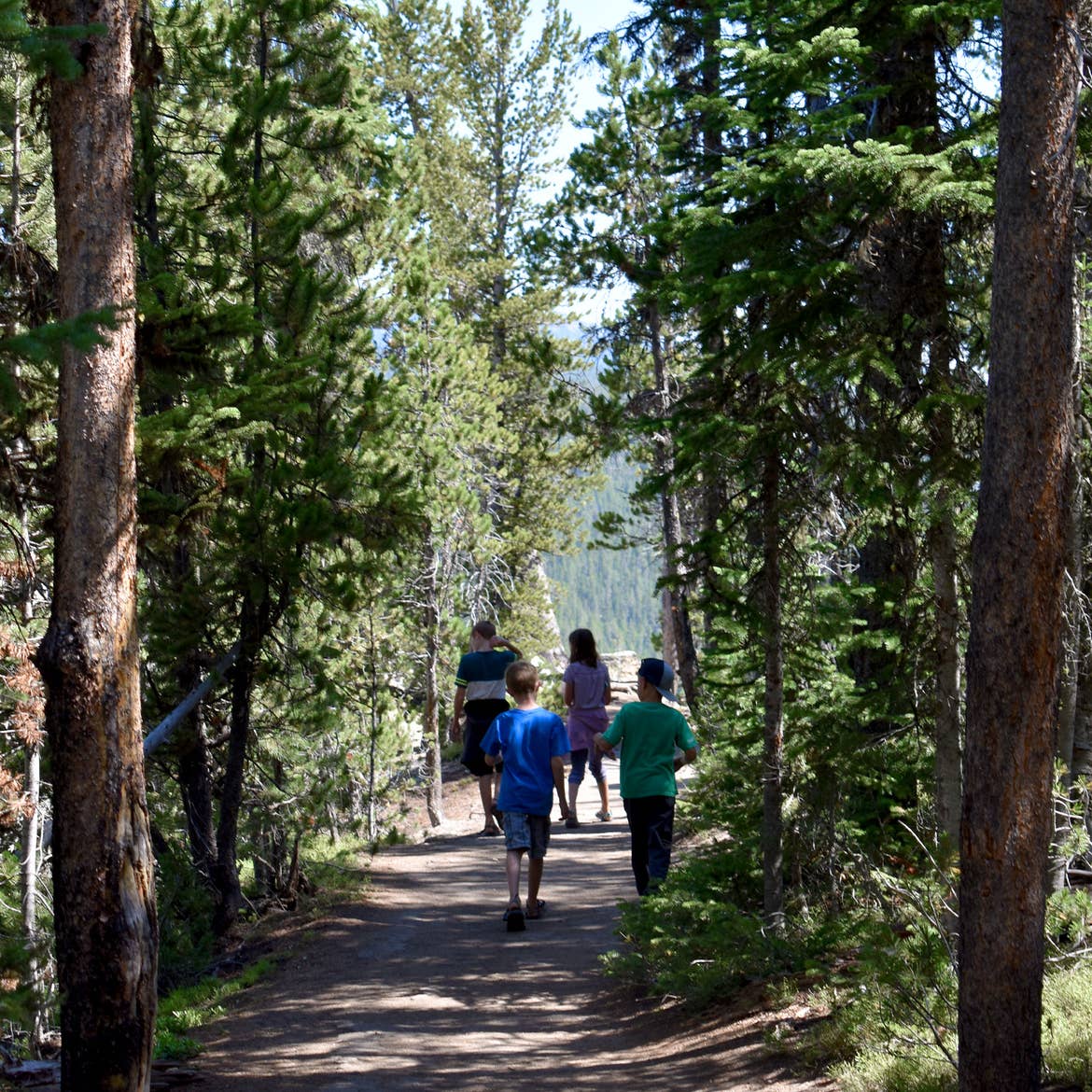 However, with 63 national parks, it can be a bit of a challenge to narrow down the best parks to visit.

To help you plan your warm-weather getaway, here is my list of the best national parks to explore for a summer family vacation.


1. Glacier National Park, Montana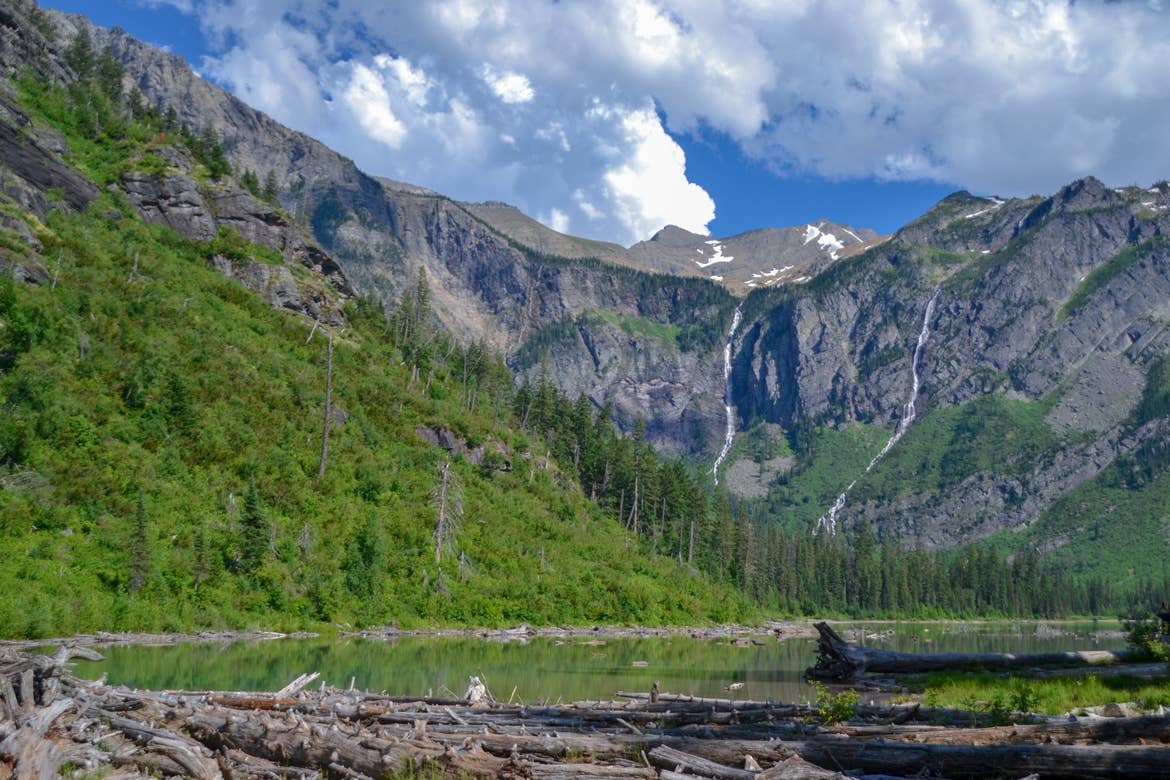 Glacier Lake, Glacier National Park

This is hands-down one of the best national parks to visit as a family in the summer. During most of the year, large portions of Glacier are inaccessible to cars because of the huge amounts of snow it receives.

However, once July and August roll around, the park can be easily accessed, giving you a chance to see some of the most beautiful mountain scenery in the entire United States.


Best Trails in Glacier National Park
While you're there, make sure to check out the iconic Trail of the Cedars, and then continue on to Avalanche Lake, our family favorite hike in Glacier. If you've got older kids who enjoy longer hikes, they'll absolutely love trekking to the glacial lakes in the Many Glacier area of the park.

For an up-close view of mountain goats and bighorn sheep, you absolutely MUST visit Logan Pass where both animals regularly hang out. Dress for warmth at Logan Pass, as snow is always on the ground along the trail, and I've even gotten stuck in a blizzard up there in July.

Above all, make sure to practice bear safety in Glacier. Bears are abundant there (we saw nine(!) on our last visit), so always store food in bear-safe containers and carry bear spray as well.

Glacier National Park is fairly remote and is best accessed by car. While you're in the area, head a few hours south to Yellowstone, too!

Speaking of...


2. Yellowstone National Park, Wyoming, Montana, Idaho

Norris Geyser Basin, Yellowstone National Park

When most people think of American national parks, Yellowstone is one of the first they think of. It has one of the most unique blends of the mountain west scenery, combined with otherworldly geothermal activity.

I first visited Yellowstone when I was 8 years old, and it still remains one of my most vivid childhood memories.

Your entire visit to Yellowstone will be largely impacted by where you stay. Staying inside the park will allow you the most flexibility, but campgrounds and cabins have been known to be booked up to a year in advance.

If you're unable to stay inside of the park, I highly recommend staying in West Yellowstone.


Best Trails in Yellowstone National Park
To see the most geothermal activity, plan on spending at least a day on the lower loop. There, you can see Old Faithful, Grand Prismatic Spring, West Thumb Geyser Basin and the Norris Geyser Basin.

If you're looking for wildlife, the valleys are your best bet. Hayden Valley is the place to go to see bison, and for wolves, check out the Lamar Valley around dawn and dusk.


3. Rocky Mountain National Park, Colorado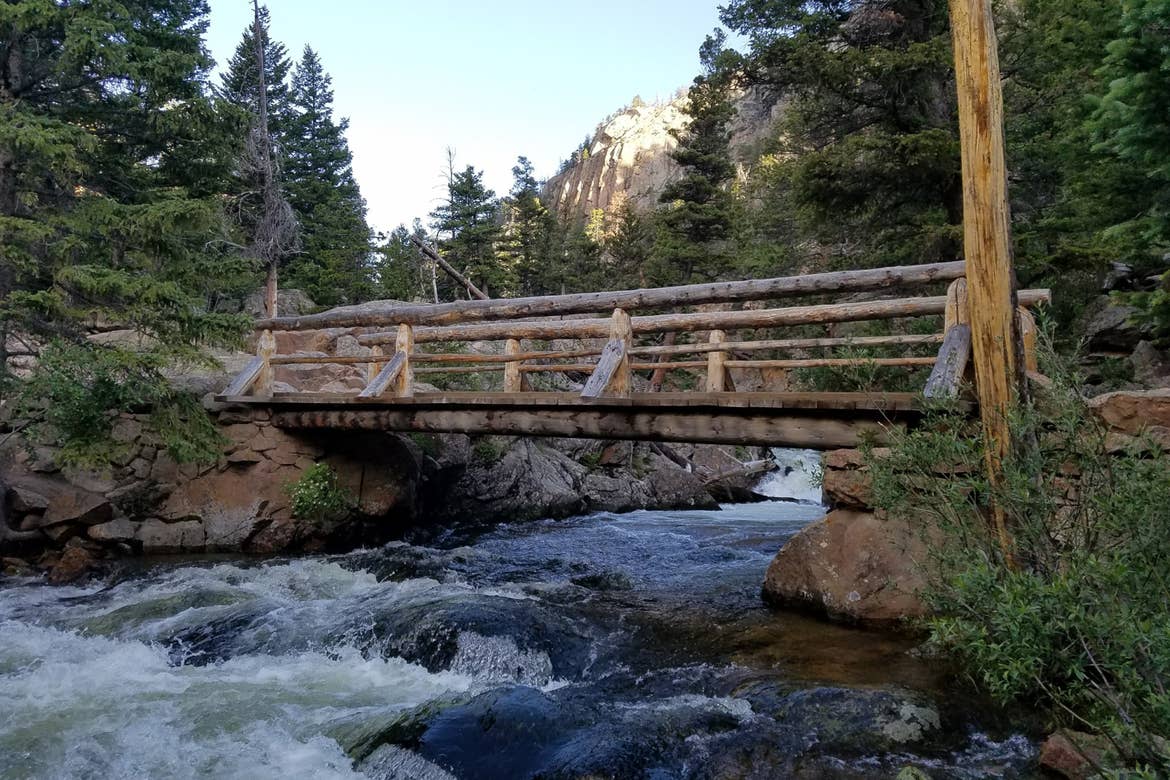 Roaring River Footbridge at Alluvial Fan, Rocky Mountain National Park

As I mentioned earlier, Rocky Mountain National Park was my childhood stomping grounds. If you're looking for some serious Rocky Mountain scenery, you absolutely won't be disappointed.

There are five different campgrounds inside the park, though if you're looking for more options, the town of Estes Park is right outside and provides easy access to everything inside the park.

To get a good overview of the park, there are a few scenic drives that will make your jaw drop.

The most popular is Trail Ridge Road, the highest highway in the United States, which will take you through the park and up over the summit. Only open during the summer months, this drive will give you sweeping views of the entire park.

If you're looking for a more remote drive, check out Old Fall River Road. This dirt road will give you a more immersive nature experience, and a good chance to see some wildlife at very slow speeds.


Best Trails in Rocky Mountain National Park
If you're planning to hike with kids, definitely go with the Alluvial Fan Trail. It's super short but has some really amazing views.

If you want a hike that's just a bit longer, make sure to check out Bear Lake Loop or Sprague Lake Loop, both of which are under a mile roundtrip.

And if you've got older kids or kids who love to hike, they'll absolutely love trekking to Chasm Falls. At just about 3 miles, this trail will treat you to some of the most amazing views in the entire park.


---
More tips and ideas for your next national park adventure:
---
4. Acadia National Park, Maine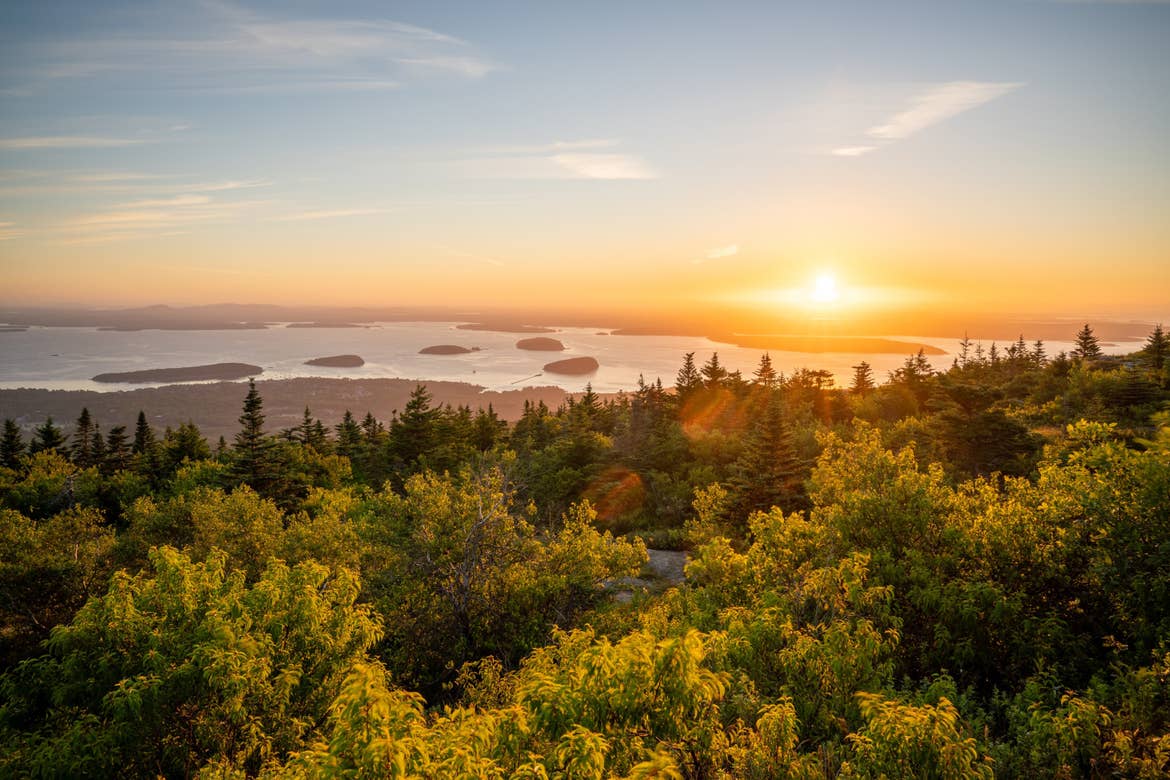 Sunrise at Cadillac Mountain, Acadia National Park

Acadia National Park is tucked up into the eastern corner of Maine and is often overlooked by national park seekers, but summer is the absolute best time to visit.


Best Trails in Acadia National Park
Set your alarm early for a pre-dawn trek to Cadillac Mountain, one of the first places in the United States to see the sunrise. Although this will require an early rise, you can drive right to the summit, so catching a great sunrise is made even easier.

Afterward, soak in the morning at Sand Beach while the kids enjoy dipping their toes and splashing in the ocean.

For a truly spectacular ocean experience, you'll also want to check out Thunder Hole. Here, the ocean comes into a small inlet and makes a thundering crash as it hits the waves and sprays into the air.

If your kids are older and adventurous, they'll probably love the cliff-hugging hikes of the Beehive and Precipice trails, where there are sections where you need to hold onto iron railings.

For an easier stroll, head over to Ocean Path or take the loop around Jordan Pond.

And for a truly amazing adventure, go just outside of Acadia to explore the ocean with some paddling. In nearby Bar Harbor, visitors can go on stand-up paddleboards and kayak tours in the ocean where you can learn all about the local ecology as you paddle.


5. Shenandoah National Park, Virginia

Overlook at Shenandoah National Park

If you're living on the east coast and are looking for a quick getaway, check out Shenandoah National Park. While Shenandoah is most well-known as a fantastic fall destination to see the leaves change colors, it's also excellent in the summertime.

Although it's just a short drive from Washington DC, you'll find that the higher elevation makes this park much cooler than the surrounding metropolitan areas.


Best Things to Do in Shenandoah National Park
If you're taking a family trip to Shenandoah in the summer, pack your swimming suits because there are some great places to cool down. With lots of little waterfalls and swimming holes, you'll have no trouble finding a place to take a dip.

Of course, with all of that water comes some amazing fishing. For any anglers in the family, make sure they bring their rod to enjoy some of the great fishing that can be found in over 70 streams in the park.

For a nice relaxing day, cruise along Skyline Drive. With more than 70 viewpoints, you'll get a chance to soak in some amazing scenery all without ever leaving the comforts of your car (and air conditioning).


6. Zion National Park, Utah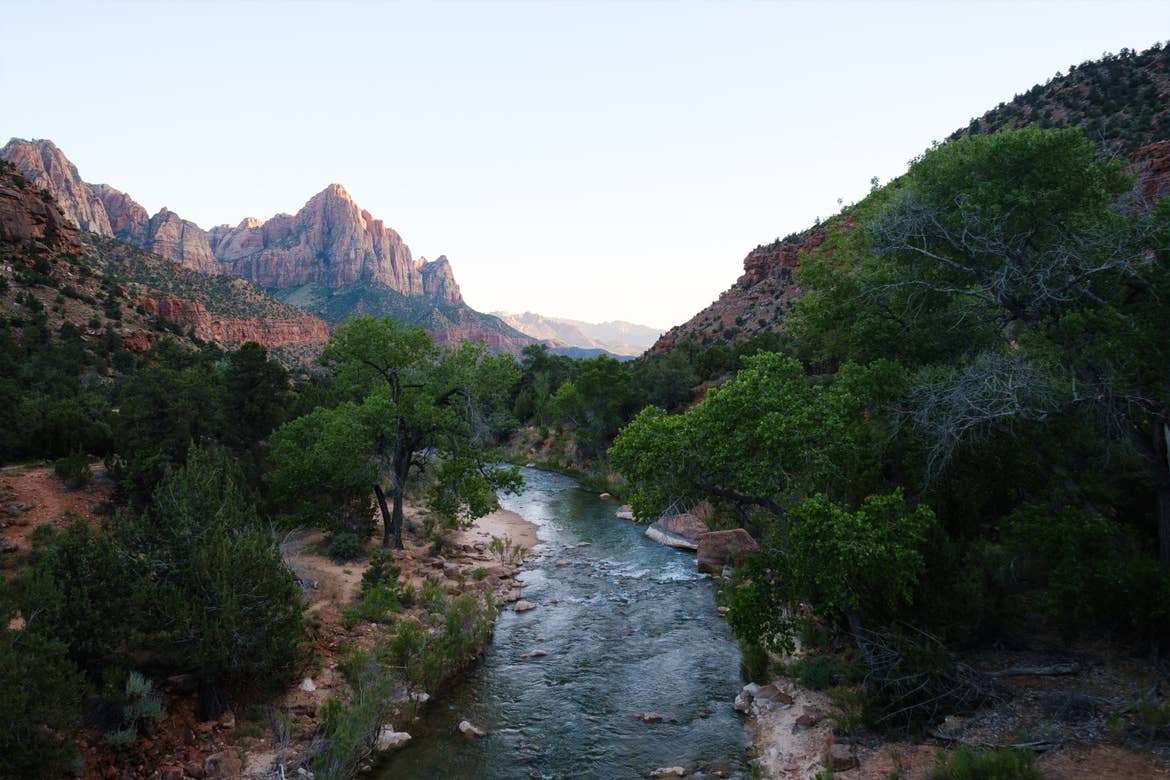 The Virgin River, Zion National Park

There are some stunning parks in the Southwest, but Zion National Park is the best one to visit in the summer.

While other parks like the Grand Canyon, Joshua Tree and Arches are absolutely miserable because of the heat, the massive canyon walls and Virgin River help keep Zion National Park cooler, even in the summer.

Even with that, it can still get quite warm, so take advantage of it by staying inside the park or in nearby Springdale, so that you can enjoy exploring in the early morning and late afternoon/evening with a midday break.


Best Trails in Zion National Park
Zion National Park is really huge, and the main roads only take you to a small portion of the park. For a great morning hike, try the short walk to Weeping Rock. Emerald Pools is one of the best easy hikes that's perfect for the afternoon.

To really cool down, plan on hiking up the Virgin River for part of The Narrows Hike.

While the full Narrows hike is traditionally done from top to bottom and requires some special equipment and clothing, most visitors with sturdy water shoes can hike up the bottom area of the hike at lower water levels. (Don't attempt this in the spring or if flash flood conditions exist though.)

For a once-in-a-lifetime experience, hire a local guide to take you on a slot canyon canyoneering adventure. Some of these are technical hikes, while others require big rappels, swims and some climbing experience.

All slot canyons within Zion require a permit, so going with a local outfitter is often the easiest way to arrange this.


7. Mount Rainier National Park, Washington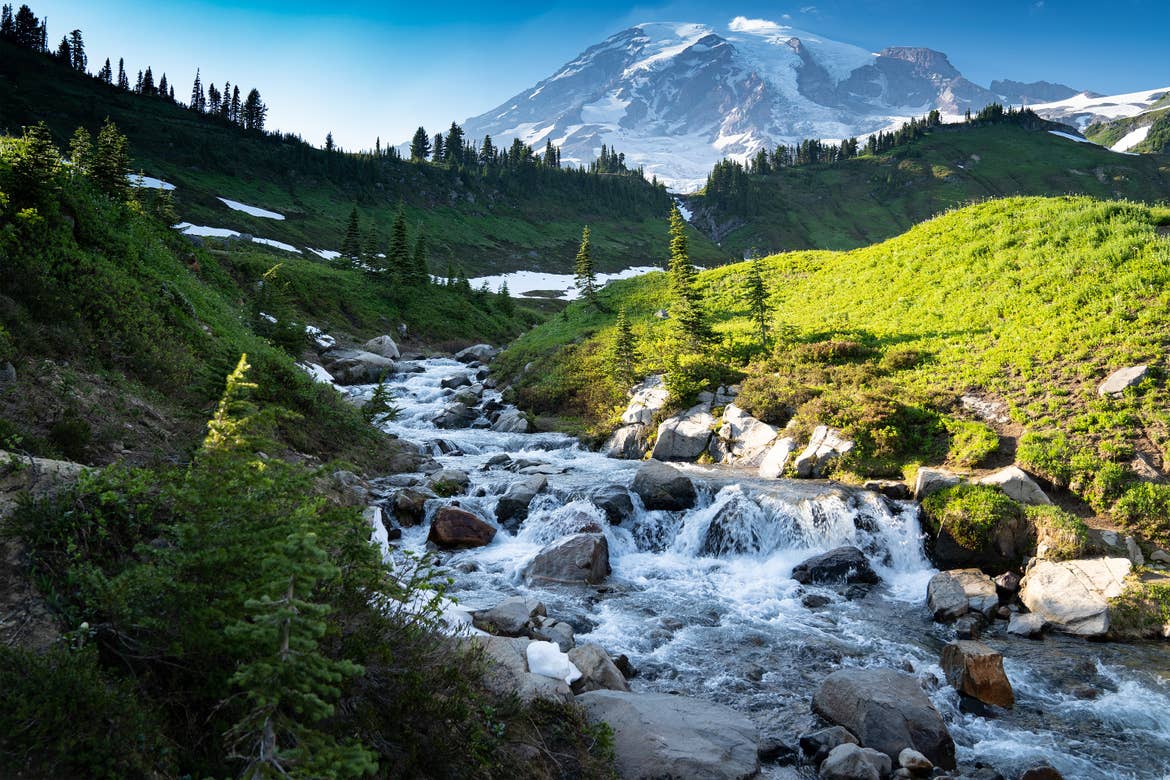 The top of Myrtle Falls, Mount Rainier National Park

If massive mountains fill you with a sense of wonder and awe, then Mount Rainier is the perfect national park for you. It's so amazing that one of the most popular sections of the park is named Paradise Park! And if you look closely, you can spot Mount Rainier up to 100 miles away.

While you're in Mount Rainier National Park, make sure to spend some time exploring the trails to really get a feel for the park.


Best Trails in Mount Rainier National Park
For a short and easy hike with kids, check out the 0.4-mile Twin Firs trail. This will take you through some old-growth forest and doesn't have much elevation gain, so it's perfect for younger kids.

Looking for a breathtaking waterfall view? Head out to Myrtle Falls, a short 0.5-mile hike from Paradise Inn. From here, not only can you see the waterfall, but you'll also get an amazing view of the summit of Rainier.

If there's one trail in Mount Rainier that will really blow your kids' minds, it's Grove of The Patriarchs. This trail is only 1.5 miles out and back, but it includes a suspension bridge and a riverbed to explore, in addition to some giant trees that your kids will love.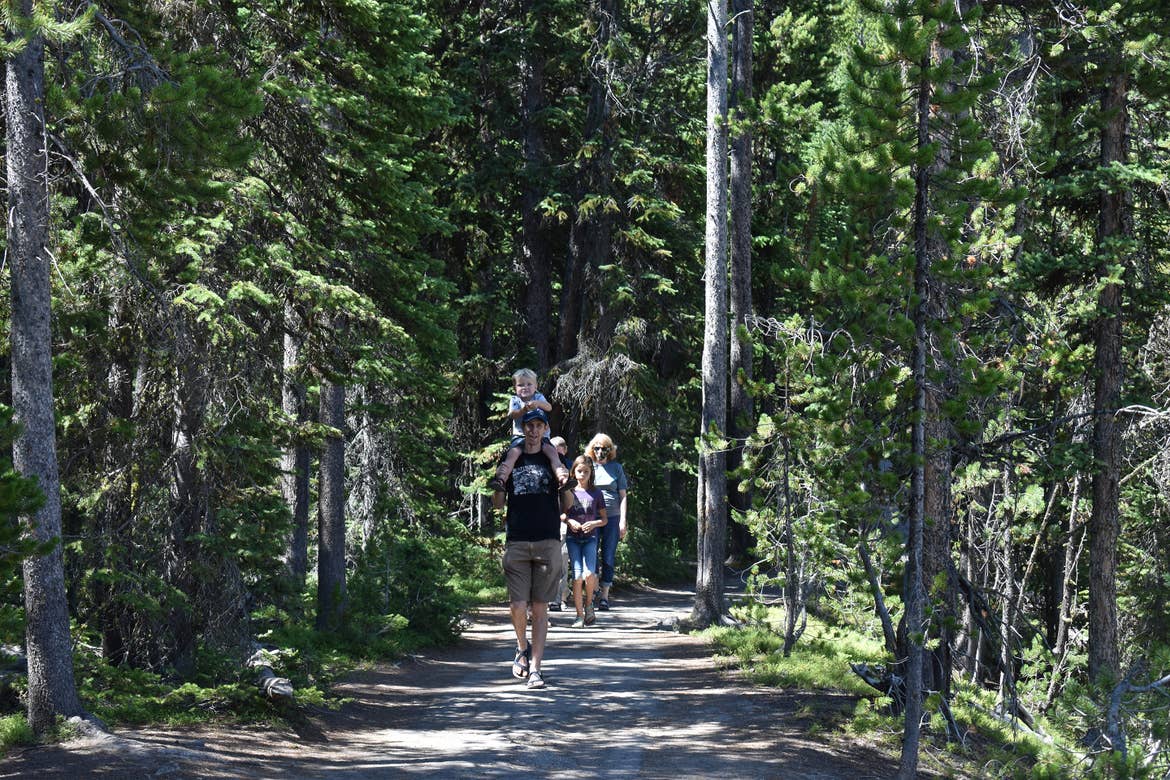 With 63 national parks in the United States, it really is hard to narrow down just one or two to see in the summer. But with the exception of parks in really warm climates like the south and southwest, most US national parks are amazing in the summertime.

With the increasing popularity of national park trips, make sure to plan as far in advance as possible for your summer family vacation, especially if you want to stay inside the park or if there are special permits required for any of the activities you're planning.

Most of all, plan to unplug, take your camera and get ready to make some incredible family memories!


Our guest bloggers are compensated for their writing contributions and honest opinions.

All information is subject to change. This article is a curated guide and is neither sponsored nor considered an official endorsement. Please be sure to check information directly with any/all tours, guides or companies for the most up-to-date and direct details.