Jessica Averett
Jessica Averett is an adventure-loving mom to five kids. She and her family have a serious case of wanderlust and are constantly exploring to find the best travel experiences for families. You can follow her writing and adventures at Bring The Kids, where she shares how to get outside and live an adventurous, travel-filled life with kids in tow.
Instagram
Facebook
Pinterest
Website
Looking for some great ways to enjoy being active with your family in the winter, but need other ideas besides just skiing?

While our adventurous family of seven absolutely loves taking family ski vacations, my kids crave variety in their lives, so we've come to fully embrace a wide range of family-friendly winter sports. Thankfully, most of them are significantly less expensive than skiing, so it's easy to add these winter sports to your family activity line-up.


1. Snowshoeing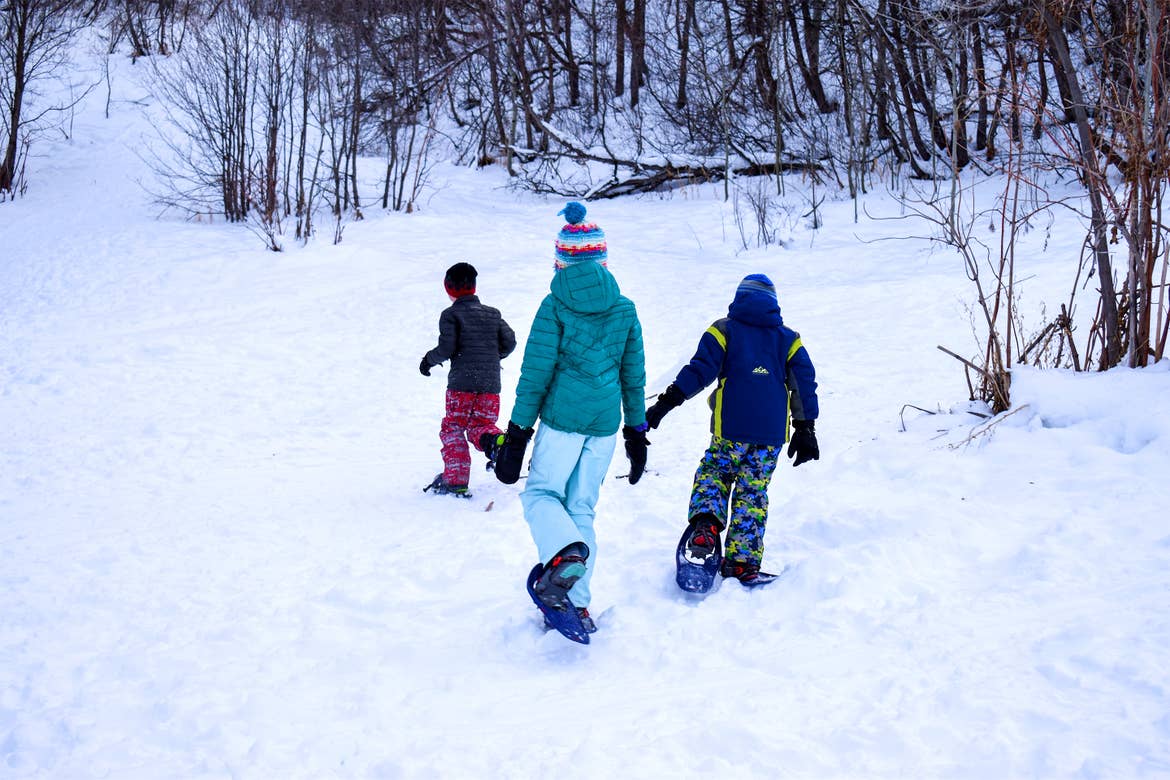 While snowshoeing may seem complex, it's probably one of the easiest winter sports for families. Think of it as hiking, but with lots of snow and big paddles on your feet. I love snowshoeing with kids because they often need little to no instruction to learn how to do it.

To teach kids how to snowshoe, let them practice walking around in a snow-covered field or park so that they get used to walking with snowshoes on. After they feel confident walking on flat, open terrain, choose a simple trail to get them started.

For families just learning how to snowshoe, I recommend starting out on trails that are relatively flat and less than two miles. Once your family is comfortable with that, start introducing more mileage and steeper terrain.

Just like our family hikes in other seasons, snowshoeing is our easy backup whenever we need to get outside with the kids, but don't want to put a lot of time or effort into getting gear ready. All we need to do is grab our snowshoes and head to the nearest trail.

While I'd love to someday cover a lot of ground on snowshoes, right now, most of our trekks are a few miles at best, and our kids spend more time throwing snowballs than they do actually heading down the trail.

For us, we're good with that, since we'd much rather our kids learn to love being active in the winter than to feel like they always need to get to an end destination!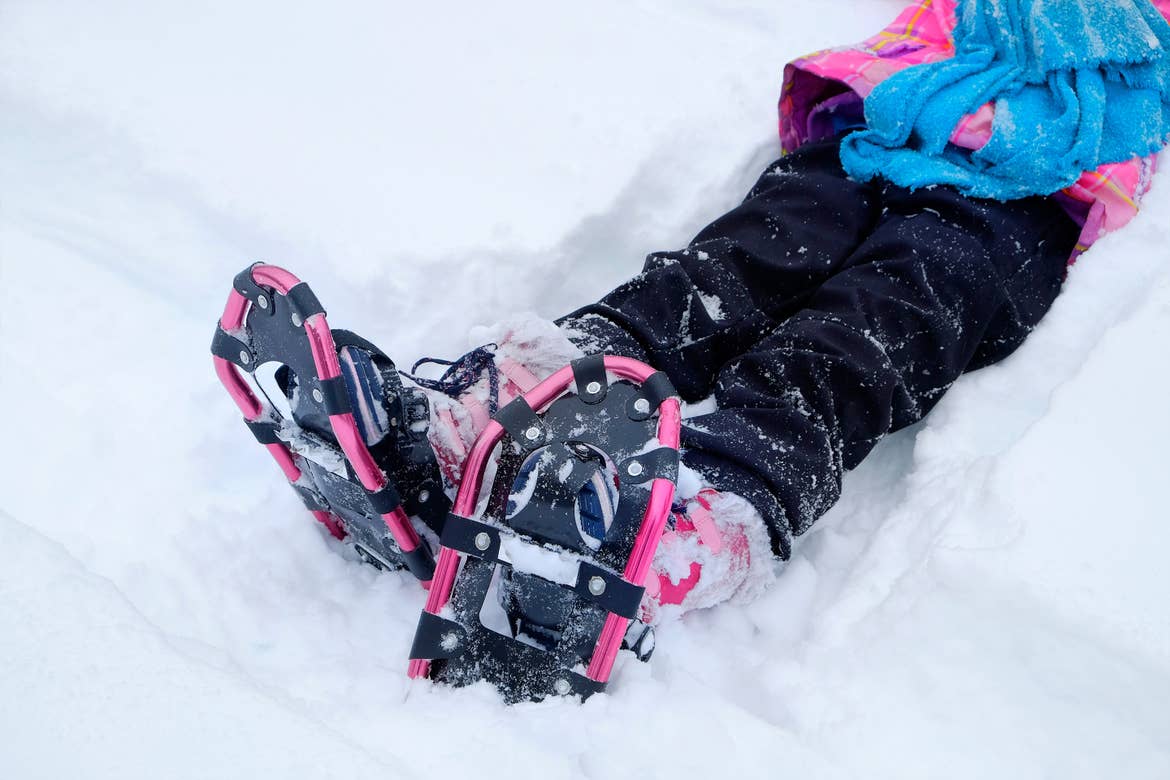 Skill Level:
Easy


Special Equipment:
Snowshoes


Best Ages:
4+ (younger kids can be pulled in a sled or worn in a baby carrier)


Cost:
Usually free, aside from equipment


Where to Go:
Most easy-moderate hiking trails are suitable for snowshoeing, as long as they are away from avalanche terrain.


What to Wear Snowshoeing:
Snowshoeing is an aerobic activity that will get your heart rate up and make you break a sweat. Make sure to wear high-quality base layers (merino wool is our favorite), that will insulate you, but also wick moisture away from your body. Kids should also wear snow pants, and everyone should wear snug-fitting waterproof boots, a hat and gloves.


2. Ice Skating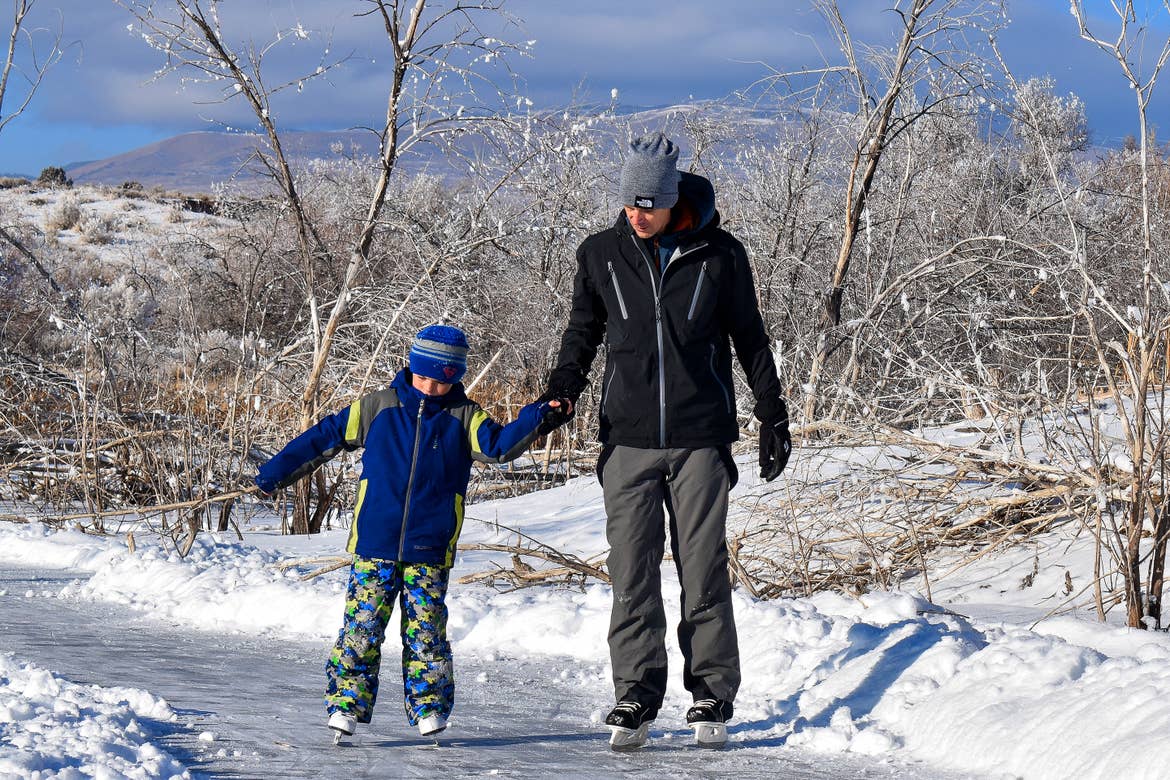 As a child, I never loved ice skating. The only skating I ever did was at overcrowded indoor rinks where all the rental skates smelled like a hockey player's feet had just stepped out of them.

However, as an adult, I've learned that the secret to loving ice skating is to ditch the indoor rink and find a great outdoor rink or pond to skate on. Thankfully, we live just a few miles from the cutest little town rink, so my kids have only experienced the magical side of ice skating.

Ice skating has more of a learning curve than something like snowshoeing, but it's still a great family winter sport. In fact, thanks to some great little double-bladed ice skates, even our two-year-old knows how to skate.

To teach kids how to ice skate, there are a few tricks that we've learned. First of all, kids are going to fall A LOT. Let them know that up front so that they know that falling is normal.

When your kids are learning how to ice skate, it really helps for them to have something to hang onto. That could be a railing around the outside of the rink, a skate balancing aid (most rinks have these), or in a pinch, we've even used a stroller.

All of these help kids to figure out their balance as they learn to maneuver on skates. When kids are first learning to ice skate, have them try to just walk around a bit and as they get comfortable doing that, encourage them to try gliding.


Skill Level:
Easy


Special Equipment:
Ice skates


Best Ages:
2+


Cost:
Rink entrance fee and skate rental (plan on $15-20 per person)


Where to Go:
OUTSIDE! Most mountain towns have a skating rink nearby, so make sure to ask around.


What to Wear Ice Skating:
When you're ice skating, make sure to dress in layers so that you stay warm and always wear gloves. Snow pants aren't necessary, but they can be helpful for really young kids since they're more likely to be falling more.

I also highly recommend that kids wear a helmet the first few times that they try ice skating (a ski or bike helmet is just fine). My kids have had several big falls straight onto their backs and wearing a helmet has saved us a lot of pain and injury.


3. Cross-Country Skiing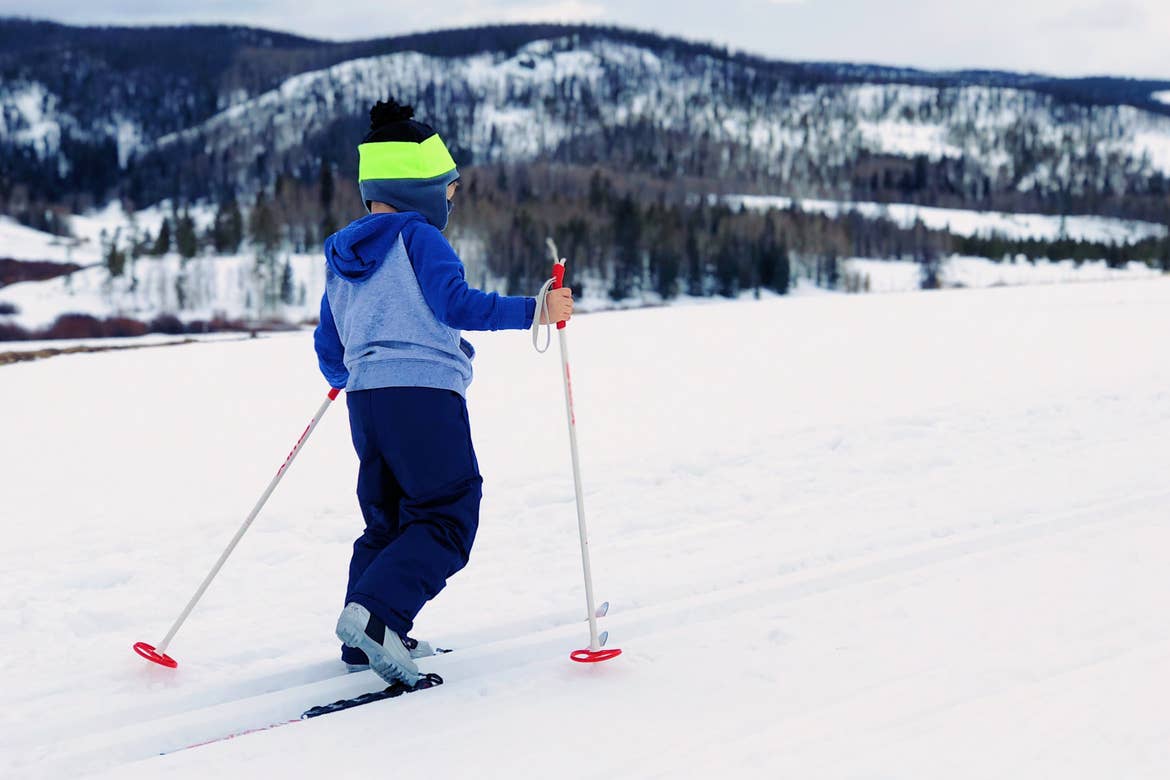 Of course, I had to try and sneak in some form of skiing into our winter sports round-up! While most people think of downhill skiing when they think of winter, cross-country skiing is another great option that is often overlooked.

The difference between cross-country and downhill skiing is that downhill skis are designed to go down a mountain, while cross-country skis allow you to move around on flat ground and hills. For downhill skiing, your foot is completely attached to the ski, but cross-country skis are only attached to the front of your foot, allowing you to move more freely.

Thankfully, it's much easier to learn to cross-country ski than it is to downhill ski, and it's also significantly cheaper. In our experience, kids pick up on the sport of cross-country skiing much better than many adults do.

To make learning easier, head to a cross-country ski facility where there are designated trails and set tracks, and where you can rent your equipment all at the same place.

While skate skiing may seem exciting, classic skiing is easier to learn, so I recommend that you start with that. If you've got really young kids or kids that may not be able to ski very far, plan on renting a chariot or a pulk to pull behind you. They're not only great for letting kids ride in, but most also have a bar on the back that kids can hang onto if they're tired and need a little boost from mom and dad.

Once you've gotten the hang of things at the Nordic center, ask about other local trail systems. If you're looking for places to take a winter vacation with cross-country skiing, mountain towns have groomed trail networks, and many can be accessed for free or very cheap.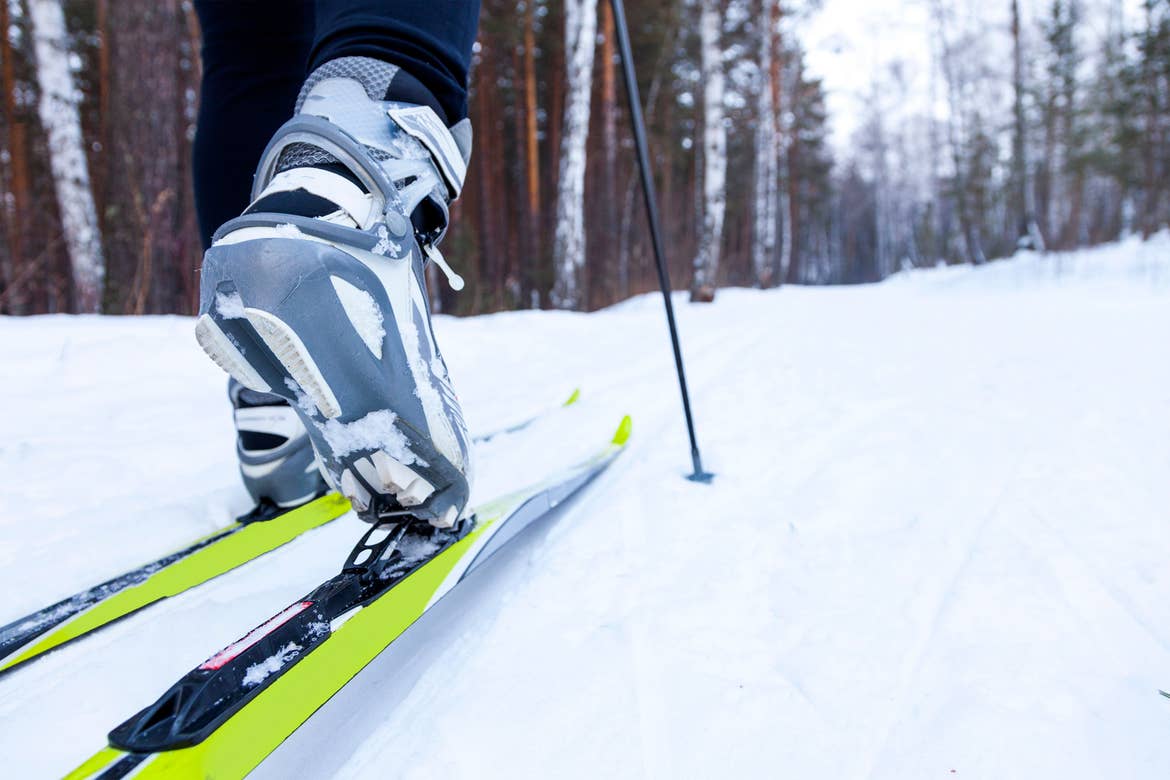 Skill Level:
Easy

Special Equipment:
Cross-country skis and boots


Best Ages:
4+


Cost:
Trail fees if you visit a Nordic center, otherwise free aside from equipment


Where to Go:
Start out at a Nordic center and then go onto other groomed trails


What to Wear Cross-Country Skiing:
Cross country skiing is a very aerobic activity, so plan on getting nice and warm. High-quality base layers are a MUST, as are good merino wool socks, gloves and snow pants.


---
More snowy travel inspiration:
---
4. Fat Biking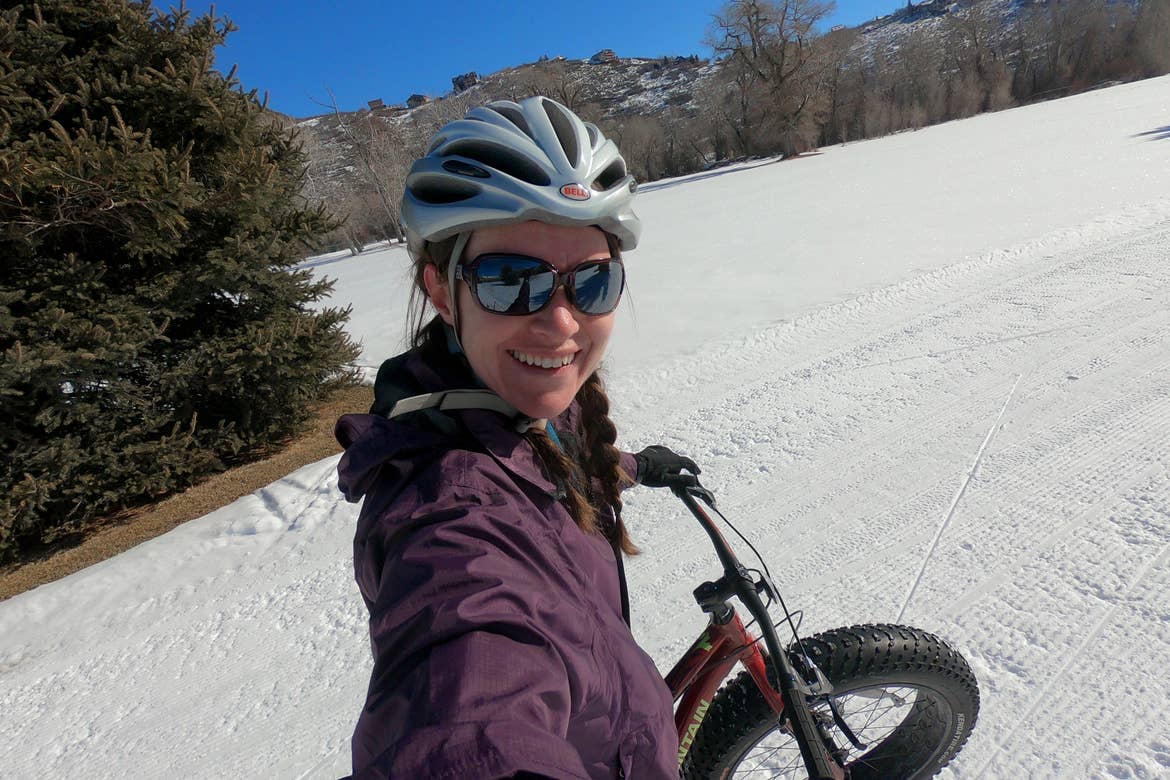 Fat biking is the newest activity that's taking the winter sports world by storm. If you love biking in the summer, then you absolutely must try fat biking.

If you've never heard of fat biking, it's exactly what it sounds like—a bike with fat tires so that you don't sink into the snow as much. It's an absolute blast and a great way to have fun and stay active on vacation. You can ride a fat bike on groomed trails, or on mountain bike trails if you're feeling adventurous.

Fat biking does require more balance and strength than regular biking so it's best for ages 10+. We've also found that not many shops carry fat bikes in kids' sizes, so if you have kids who need a smaller bike, plan on calling ahead to check and see what shops carry in advance.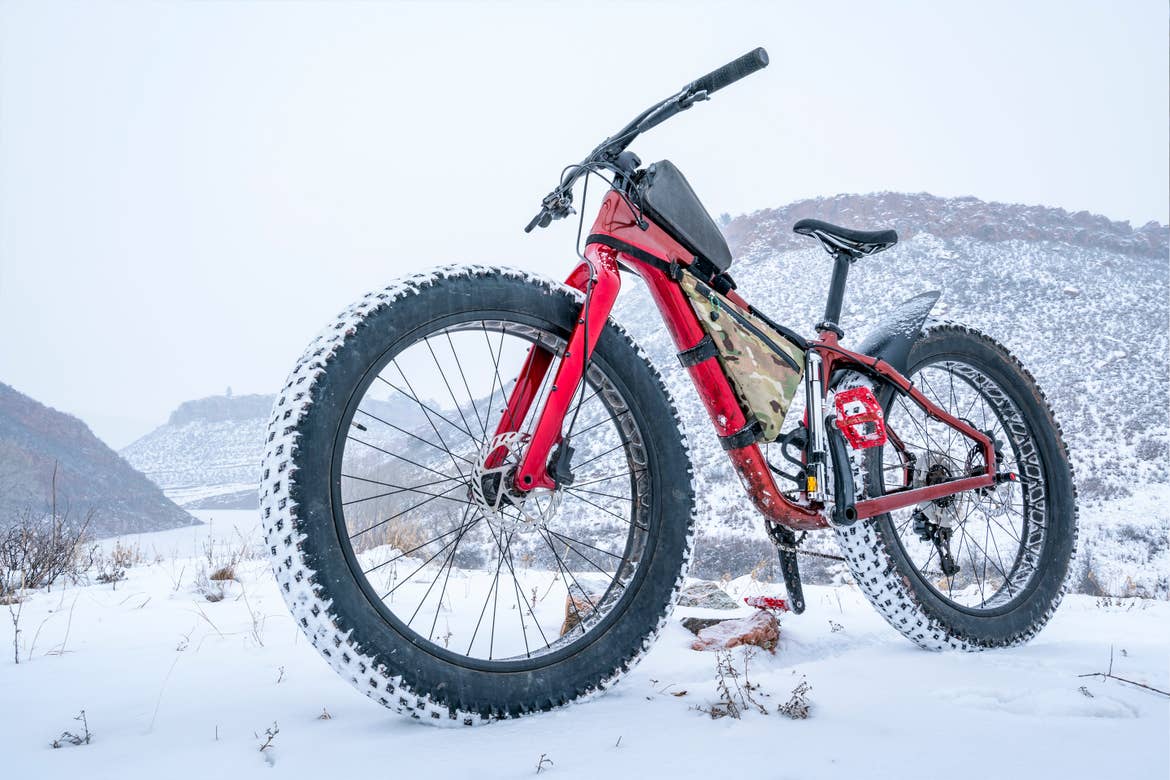 Skill Level:
Easy-Moderate


Special Equipment:
Fat bike and helmet


Best Ages:
10+


Cost:
Free aside from equipment


Where to Go:
Start out on groomed trails, and then try mountain bike trails after you're comfortable


What to Wear Fat Biking:
Dress in layers so you can add or remove them as you get warm or cold. I recommend tighter fitting pants so that they don't get stuck in the chain, and I typically wear a down jacket or a fleece on top depending on the weather. Gloves are an absolute must, and you'll also want a lightweight hat that can fit under your bike helmet as well.


5. Sledding & Tubing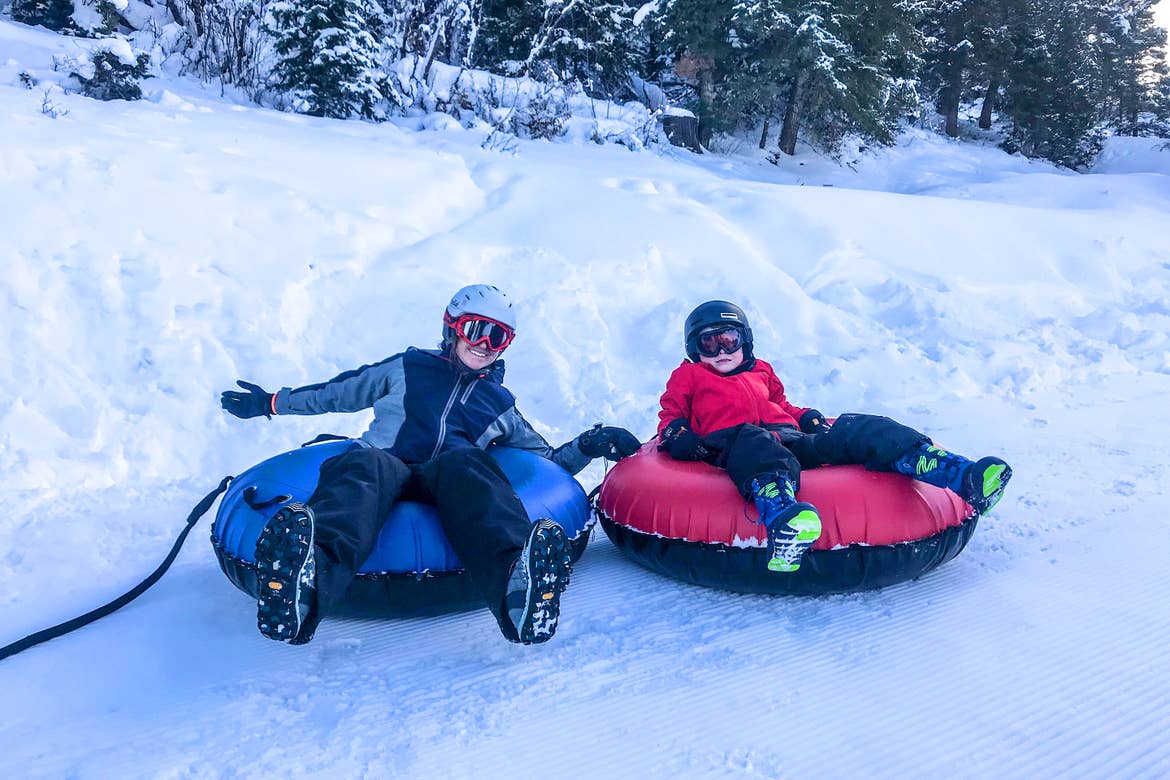 While sledding and tubing may not exactly qualify as a winter sport, they're some of the most fun winter activities for families, so I absolutely had to include them. Probably my favorite thing about sledding and tubing is that it can be as simple or complex as you want it to be.

Sledding can be just as easy as grabbing a sled and heading over to the neighborhood hill. Or you can get complex and carve out your own little luge track down the side of the mountain.

If you're looking for a way to enjoy all the thrills of sledding without as much work, find a tubing hill that has a surface lift back up to the top. While you'll have to pay to use their lift, it can make sledding with kids so much easier, and the kids will appreciate the longer runs, as well as the speed they can get on tubes.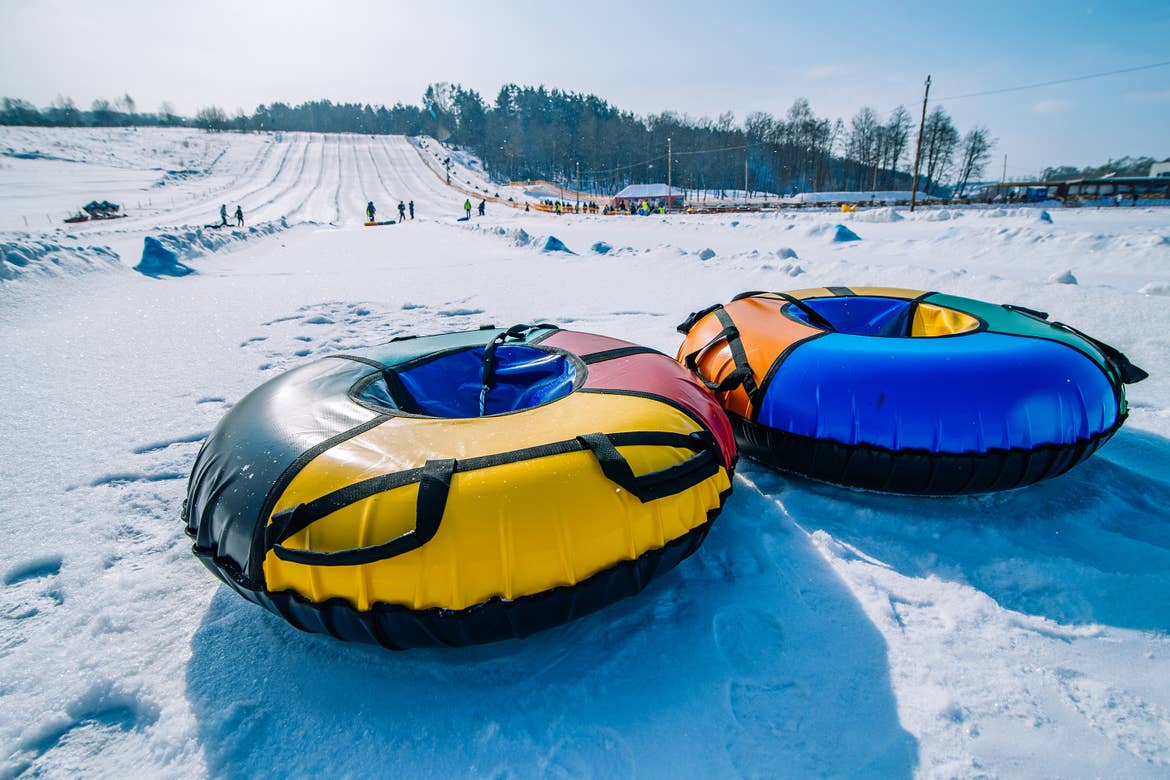 Skill Level:
Easy


Special Equipment:
Sled


Best Ages:
All ages


Cost:
Free, or tubing hill fees


Where to Go:
If you want to find a good sledding hill, ask the locals. Most areas have a handful of sledding hills that have the best snow and slope. (Hint: They're often at parks and schools.)


What to Wear Sledding or Tubing:
You'll want to wear full snow gear for sledding or tubing and make sure that it's waterproof as well. Snow boots, snow pants, gloves, a coat and a hat are all required!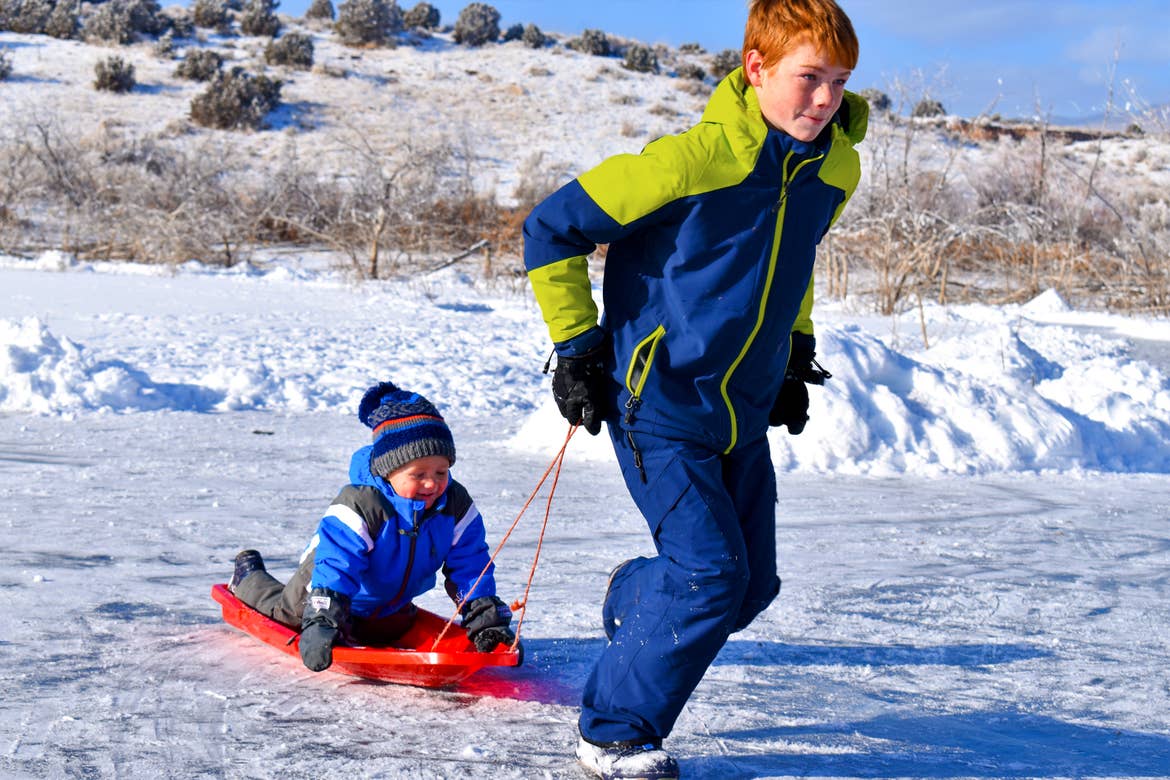 As you can see, there really is a winter sport that can fit every family out there. You can dive right in and fully embrace one this winter, or maybe try a few on your next winter getaway between days on the ski hill.

Thankfully, rentals can easily be found for all the equipment that you need, so pack your snow clothes and head to the mountains to enjoy some time outside as a family!


Our guest bloggers are compensated for their writing contributions and honest opinions.

All information is subject to change. This article is a curated guide and is neither sponsored nor considered an official endorsement. Please be sure to check information directly with any/all tours, guides or companies for the most up-to-date and direct details.