Jessica Averett
Jessica is an adventure-loving mom to five kids. She and her family have a serious case of wanderlust and are constantly exploring to find the best travel experiences for families. You can follow her writing and adventures at Bring The Kids, where she shares how to get outside and live an adventurous, travel-filled life with kids in tow.
Instagram
Facebook
Pinterest
Website
Nothing says winter quite like a snowy family vacation at a magical mountain resort.

For us, Lake Tahoe was an easy choice when deciding where to take a winter vacation.

With so many family-friendly winter activities in Lake Tahoe, it's the perfect destination with the best snow in the Sierra Nevadas and so many outdoor activities close by.

Since we'd be taking a family road trip from Utah with our 5 kids ages 3–13, we wanted to minimize our time in the car and maximize our time outside.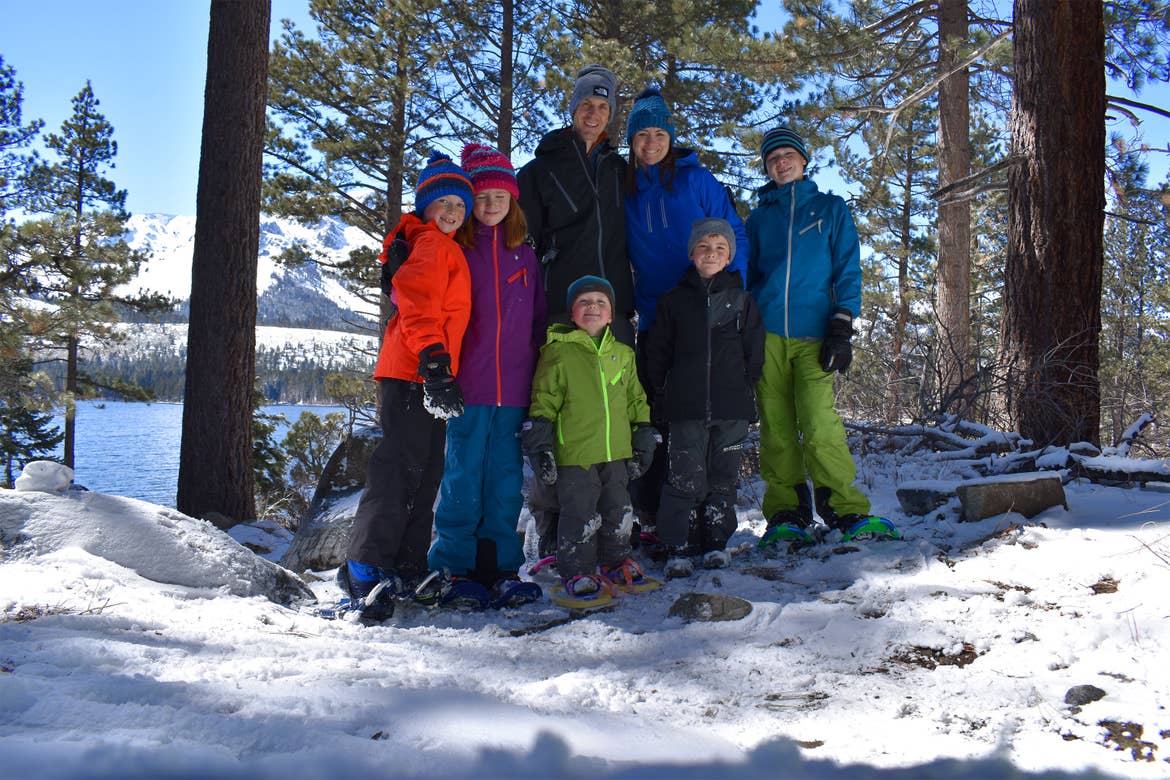 Hi! We're the Averett's — an adventure-loving family of 7.

Our family loves to ski, and our kids were so excited about staying right at Tahoe Ridge Resort, which had direct access to Heavenly Mountain.

That ended up being one of the highlights of our trip, and I can't imagine staying anywhere else.

If you're looking for the same kind of adventures we had, check out my guide to the best winter activities in Lake Tahoe, which includes a few tips, our stay at Tahoe Ridge Resort and more!


Best Winter Activities in Lake Tahoe
While we had visited Lake Tahoe once in the summer over 10 years ago, we were really unsure of what would be open in the winter, but we were hopeful we'd find good snow and plenty of places to enjoy it.

Loaded to the brim with snowshoes, skis and sleds, we came to Tahoe in search of the best winter activities, and we were amazed by what we found.

Here were our favorites…


1. Winter Hiking
There's no shortage of hiking trails in Lake Tahoe, so we took full advantage.

By looking at the All Trails app, we were able to figure out trail difficulty both in length and elevation gain.

Pro Tip: If you're planning to go hiking with kids in the winter, I recommend choosing trails that are relatively flat because steep slopes can be hard for kids to climb in the snow.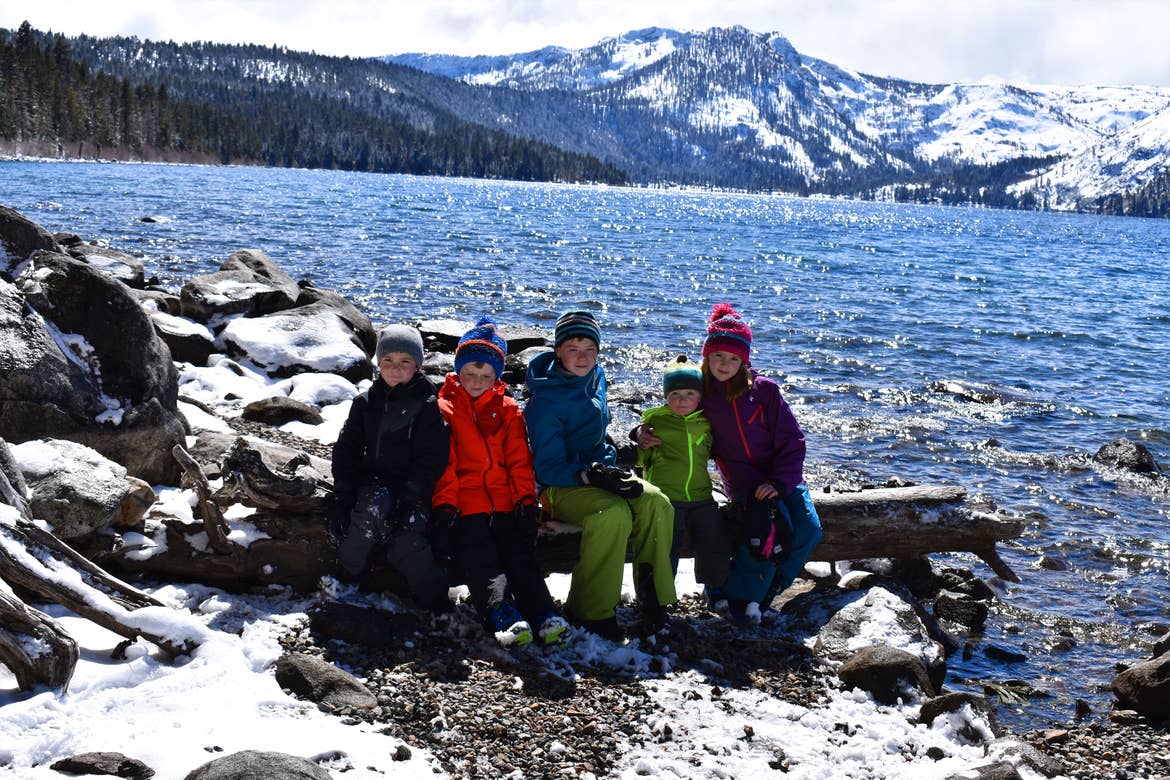 Fallen Leaf Lake, South Lake Tahoe


Winter Hiking Trails in Lake Tahoe
Here are some of our family's favorite places for winter hiking in Tahoe.


Tahoe Rim Trail
Located just outside of Tahoe Ridge Resort, we were able to access a great section of the Tahoe Rim Trail.

It was 1.25 miles each way (out and back), and we were able to hike through stunning forests and get fantastic views of Lake Tahoe.


Taylor Park to Fallen Leaf Lake
This hike can be done in boots when there's low snow, or with snowshoes when the snow is deeper. (We hiked this trail in snowshoes.)

At only 0.3 miles each way, this is a great hike for younger kids. It's mostly flat with a climb up at the start and another at the end to access Fallen Leaf Lake.

This was one of our family's favorite winter activities in Tahoe because we had the lake all to ourselves, and the kids were thrilled to throw rocks and snow into the icy water.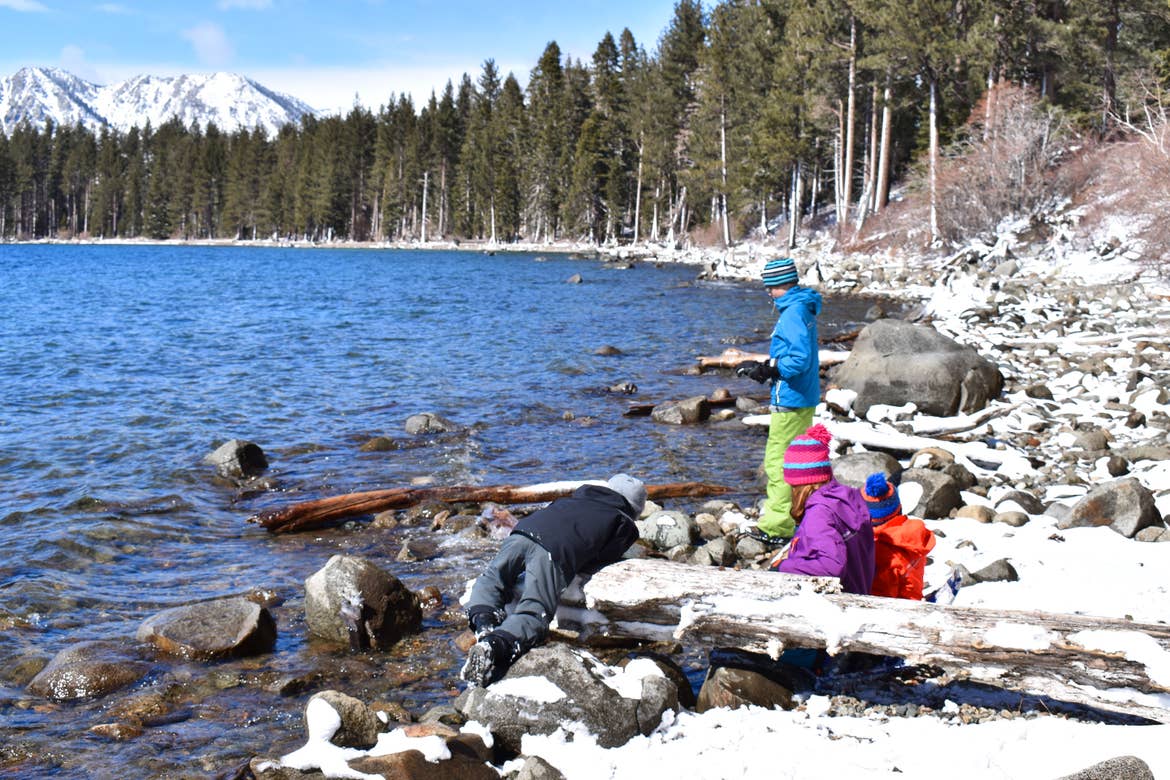 Fallen Leaf Lake, South Lake Tahoe


Bayview Trail to Cascade Lake
This trail is the perfect add-on to see Emerald Bay in winter. The trail up to the Cascade Lake Lookout is about 0.5 miles and is relatively flat.

The views of Cascade Lake are absolutely stunning.

Pro Tip: This area is very open and wide, so if you have younger kids, I recommend taking sleds and pulling them along.


2. Snowshoeing
While we absolutely love winter hiking with our kids, sometimes the snow is just too deep for them to hike through without constantly sinking down, so snowshoes are a necessity.

It can be a bit tricky for kids to learn to snowshoe and will make your hike slower, so only use snowshoes for kids when absolutely necessary.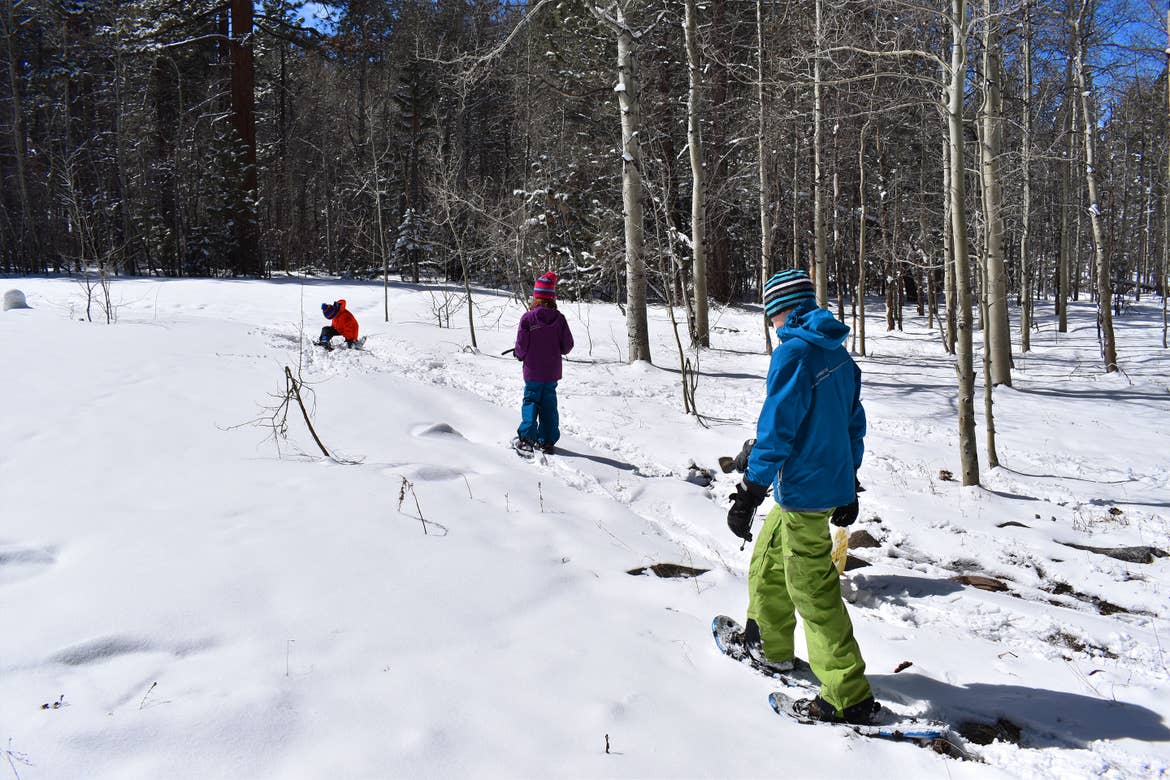 Tahoe Rim Trail from Tahoe Ridge Resort


Places to Snowshoe in Lake Tahoe
If you have kids who are young or who have never snowshoed before, I highly recommend giving them a chance to test out snowshoeing before you get to the trail.


Bijou Park in South Lake Tahoe
This spot is perfect for practicing with first-timers because it's a large park with lots of open spaces and it's really flat.


Hope Valley Sno-Park
This area is great for snowshoeing with kids who are ready to tackle a bit more mileage on snowshoes since this trail is 4 miles roundtrip.

The kids will love that the trail goes along a river, and minimal elevation change will make it even easier for them.

Just keep in mind a $5 parking pass must be purchased in advance.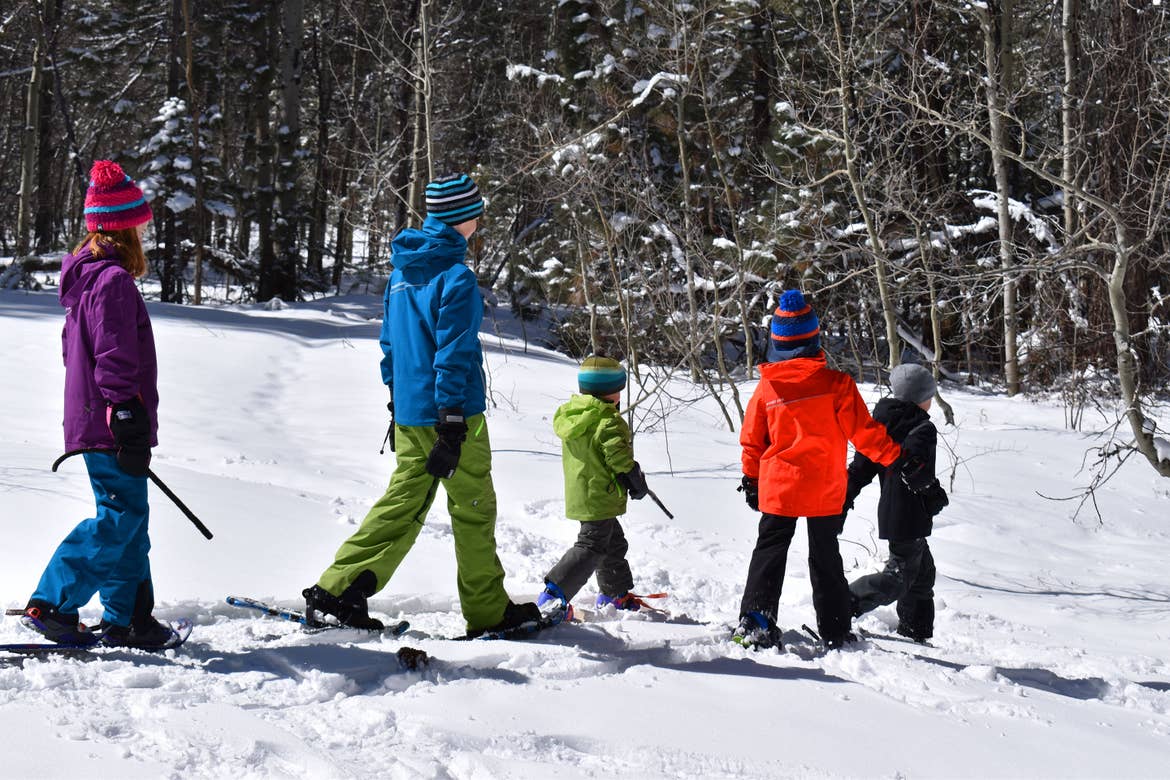 Tahoe Rim Trail from Tahoe Ridge Resort


Tahoe Rim Trail from Tahoe Ridge Resort
We decided to hike this trail in our boots, but as we got closer to the viewpoint, we were wishing we had brought our snowshoes.

Pro Tip: If you're a guest at Tahoe Ridge Resort, take advantage of the free guided snowshoe tours with Nate.

Even though the tours are open to ages 13 and up, our family got lucky enough to follow closely behind a group, and we all learned a lot from overhearing what he was telling them about the natural history of the area!


3. Sledding
Sledding is by far the easiest winter activity in Lake Tahoe and one of the most fun for kids.

If you aren't bringing sleds with you, you can buy one for about $20 at most stores. Tahoe Ridge Resort even has them for sale in its on-site Marketplace.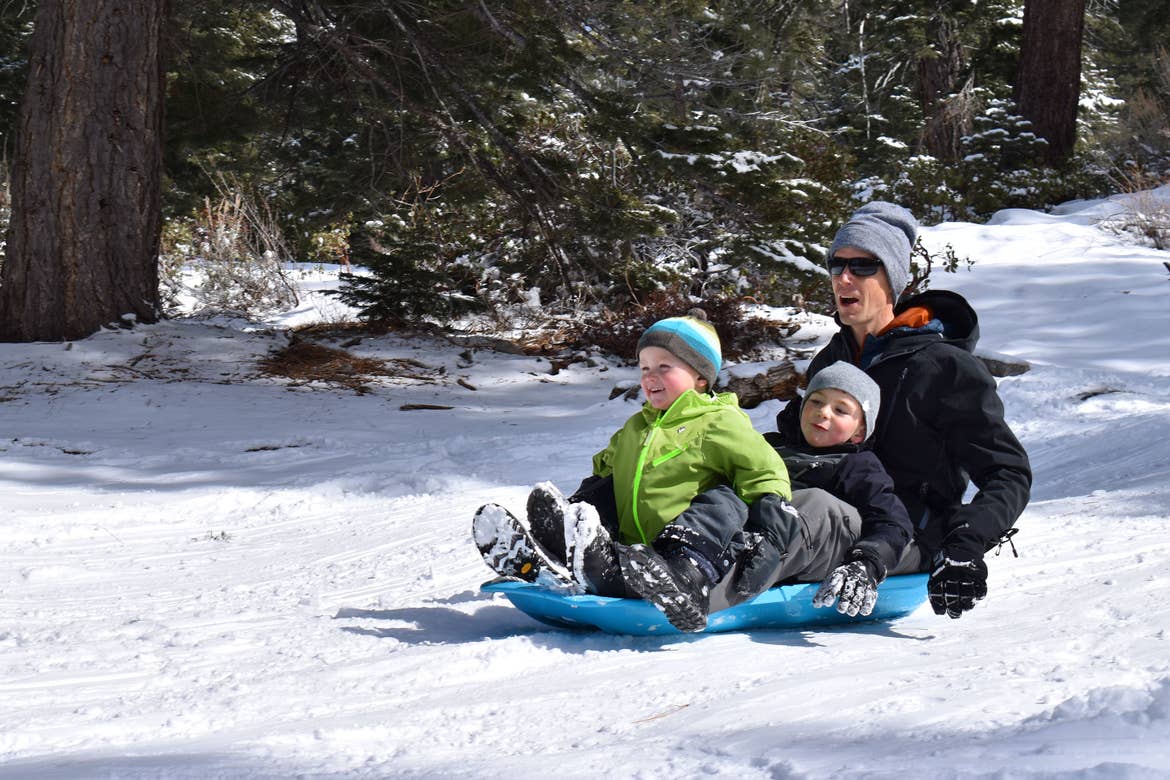 Sledding near Tahoe Ridge Resort


Places to Sled in Lake Tahoe
Here are some of our family's favorite places to zip down the snowy hills of Tahoe.


Tahoe Ridge Resort
Our favorite place to sled in Lake Tahoe was actually right from our resort.

At the south end of the resort, just behind the Naegle 10 building, there's a clearing in the trees that's great for sledding.

Our kids loved that it was long enough and steep enough to get some good speed.

And I loved that there was a good-sized clearing in the trees and that the hill flattened out at the bottom to slow the kids down.

While this isn't an official trail, if you're a guest of the resort, don't miss out on it!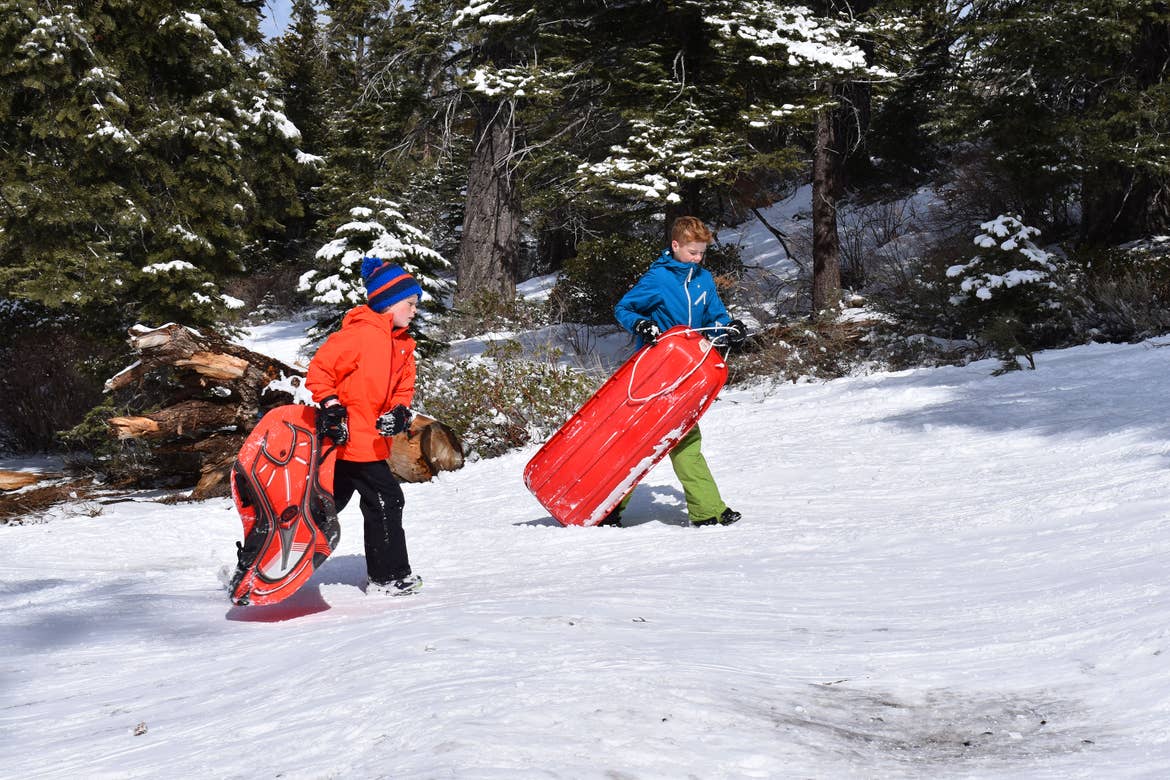 Taylor Park Sno-Park


Taylor Park Sno-Park
Our kids also loved sledding at Taylor Park Sno-park.

It had smaller hills that even our 3-year-old could ride the sled alone, but also higher hills that our 13-year-old thrill-seeker had a great time on.


Spooner Summit
If you're looking for a steeper hill where you can get some serious speed, head to Spooner Summit at the junction of Highway 28 and 50.

There's a big sledding hill on the west side of the road.


4. Skiing
The absolute best Lake Tahoe winter activity is skiing. Yes, I may be a bit biased since our family is already pretty ski-obsessed, but it was truly amazing there.

If you're staying at Tahoe Ridge Resort (which we highly recommend), this place was made for skiing.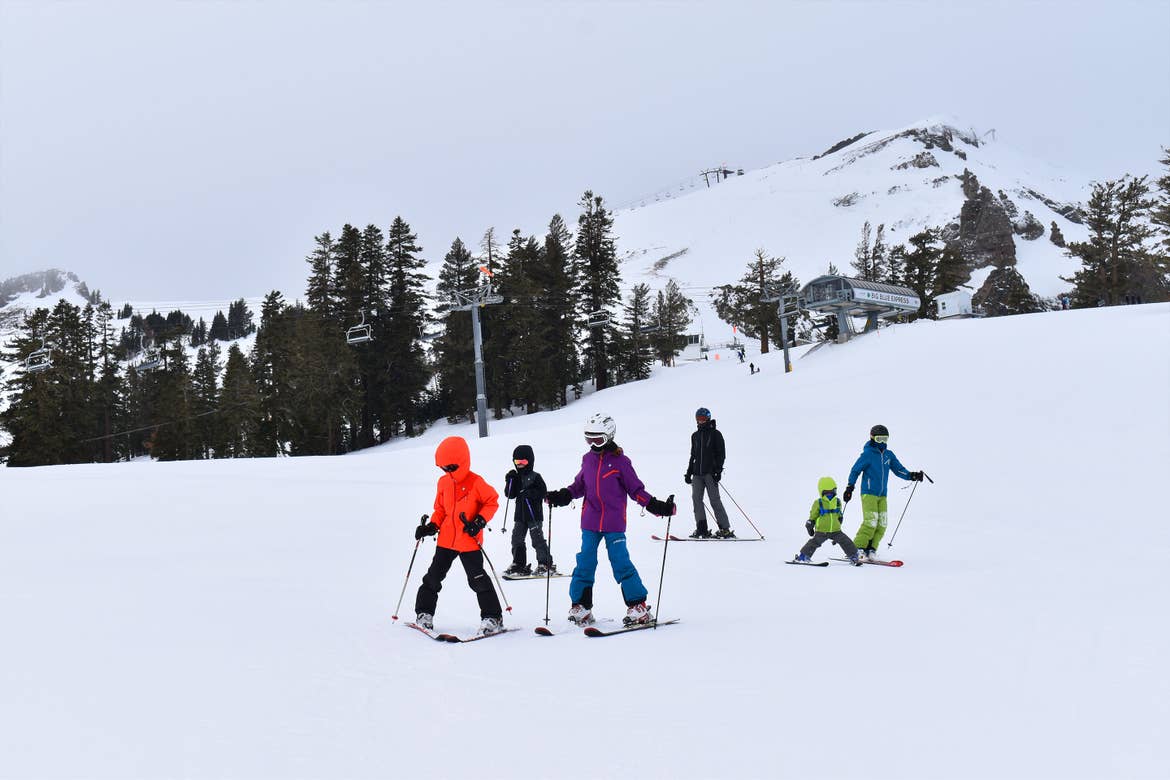 Skiing down Heavenly Mountain

You have direct access to Heavenly Ski Resort and the Stagecoach Lift, and the resort has a full ski shop where the team will help you and your family rent gear and get outfitted.

When it's ski time, a shuttle can pick you up outside your villa or you can ride the Skier Express gondola down to the resort — our kids loved this.

The Skier Express will take you to the Stagecoach lift, which gives you access to intermediate and advanced terrain.

If you're a beginner at skiing, you can take a short drive down to the Boulder Lift where you'll find a green run, or drive into South Lake Tahoe to ride the gondola up to the Tammarack learning area, which has lots of beginner terrain.


---
Check Out Even More Lake Tahoe Adventures
---
Where to Stay in Lake Tahoe
Here are some things we loved about our "home" at Tahoe Ridge Resort.


Location
As with most things, remember that location is EVERYTHING. Traveling with kids can be exhausting, so take as much of the work out of things as you can.

We chose to stay at Tahoe Ridge Resort because we knew we could be away from the crowds of South Lake Tahoe and still have easy access to all the outdoor activities we wanted RIGHT THERE.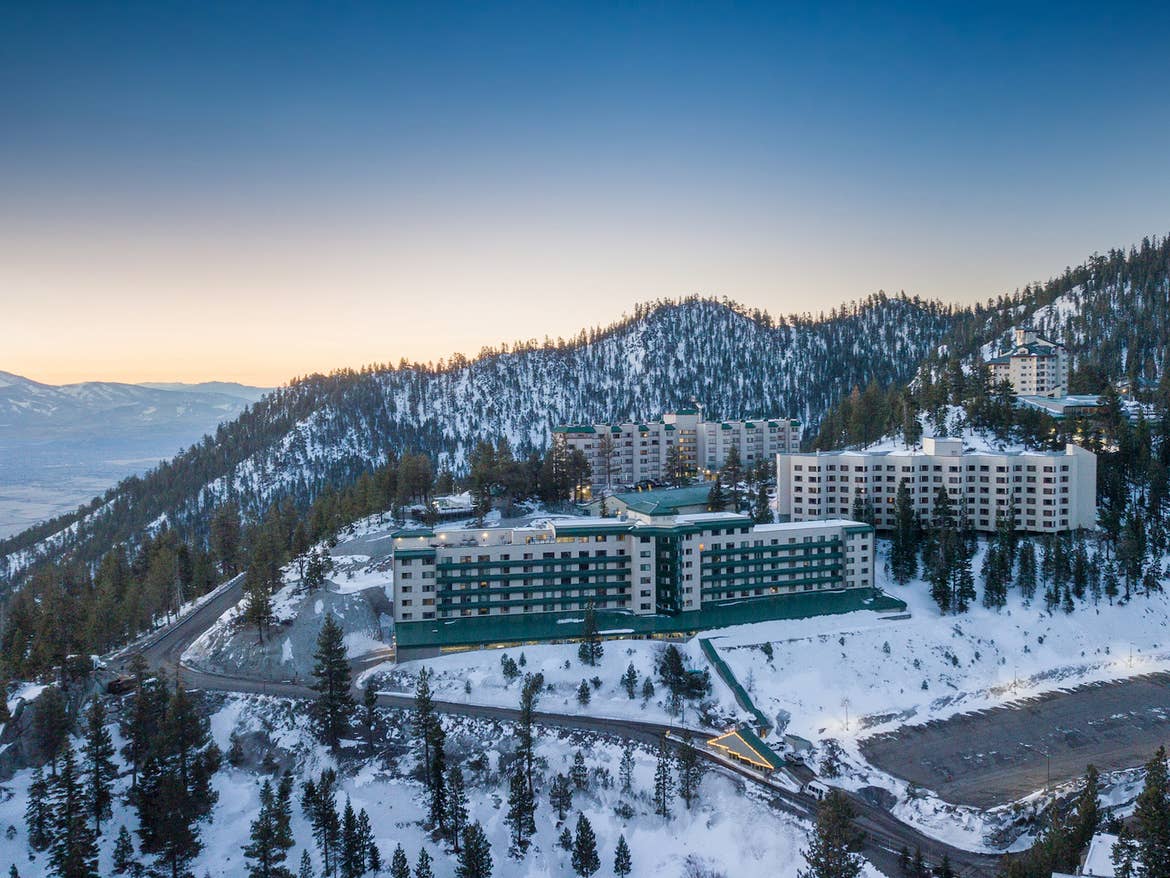 In terms of being the perfect location:
It's near Heavenly Ski Resort
It has amazing views of both the surrounding mountains and the valley below
It's about 10 minutes outside of the city of South Lake Tahoe
We could easily hike, snowshoe, sled and ski from the resort, so we never really felt like we had to leave to have fun (though we still did, because we love to explore)
It was only about 25 minutes to Taylor Sno-park and about 35 minutes to Emerald Bay State Park
Instead of loading up the car with all our gear and snow clothes each morning, we often just got dressed and went out the door.

We were able to easily come back to our villa for lunch and dinner and often some afternoon downtime, too!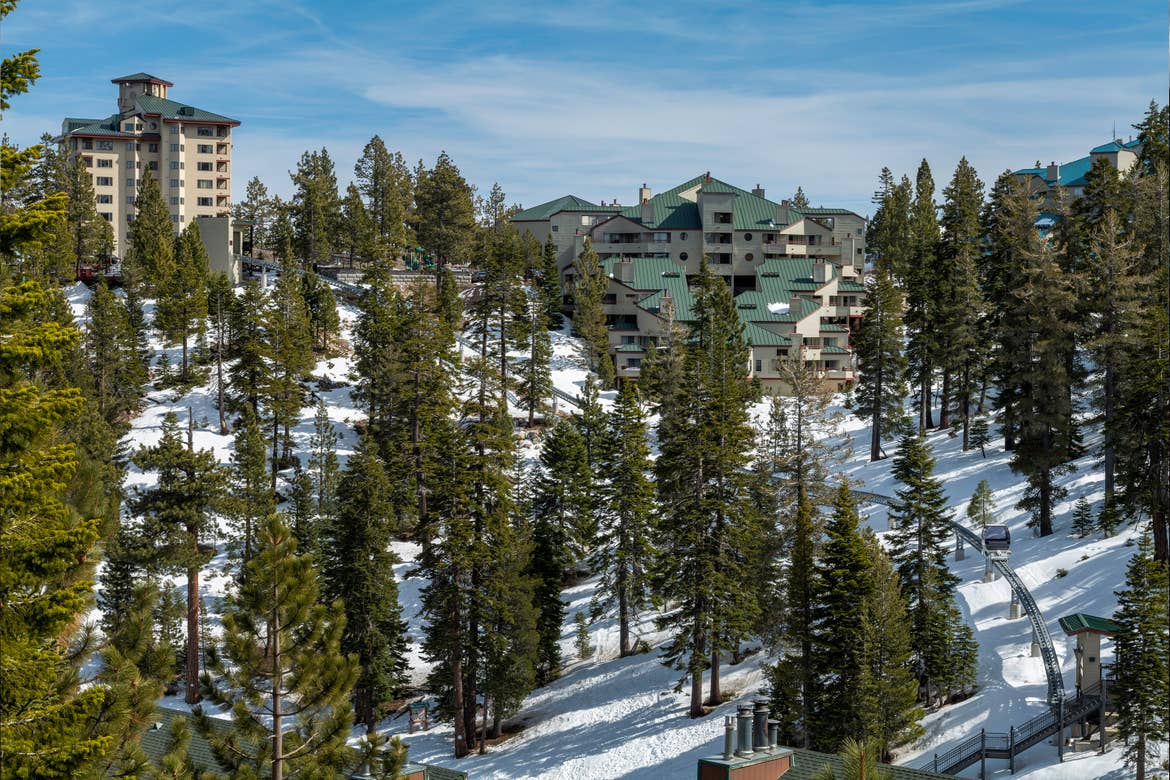 Pro Tip: Think about what you want to do on your winter trip to Tahoe and then stay as close to all those activities as possible.


Our Villa at Tahoe Ridge Resort
Our two-bedroom villa was the perfect fit for our family of 7 because it not only gave us separate bedrooms, but also a full kitchen and dining area for easy cooking on vacation and a large living room to play games and watch movies in.

With our large family, having plenty of space made our visit so much simpler and gave us the room we needed to spread out and relax.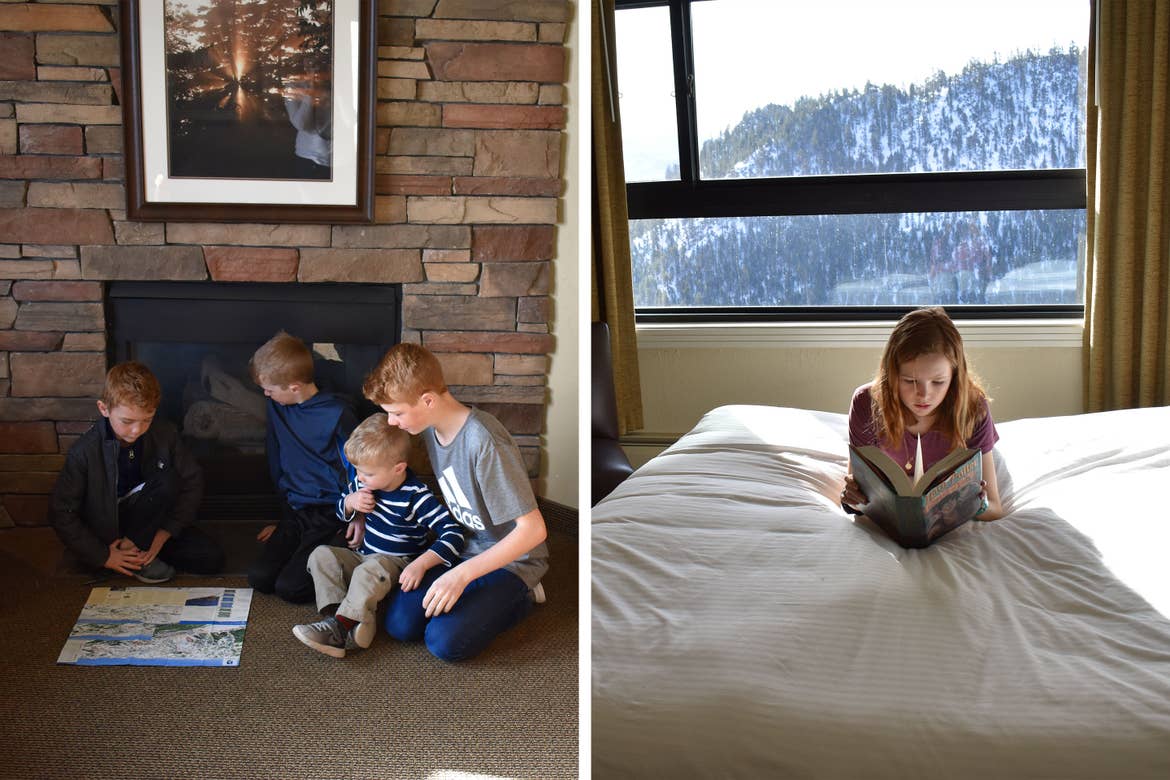 Our two-bedroom villa at Tahoe Ridge Resort

Having a full kitchen was also an amazing feature because being able to eat in instead of going out saved us lots of time and money on our trip.

Staying at a resort (rather than a hotel) always seems to make travel with kids so much easier.


Tennis Lessons
While we had some ideas on what to do here at the resort, we were most impressed with the things that we didn't plan to do.

The most impressive activity we did was the complementary kids' tennis lessons. The tennis pro, Adam, was incredible, and I couldn't believe how much our kids learned in just an hour with him.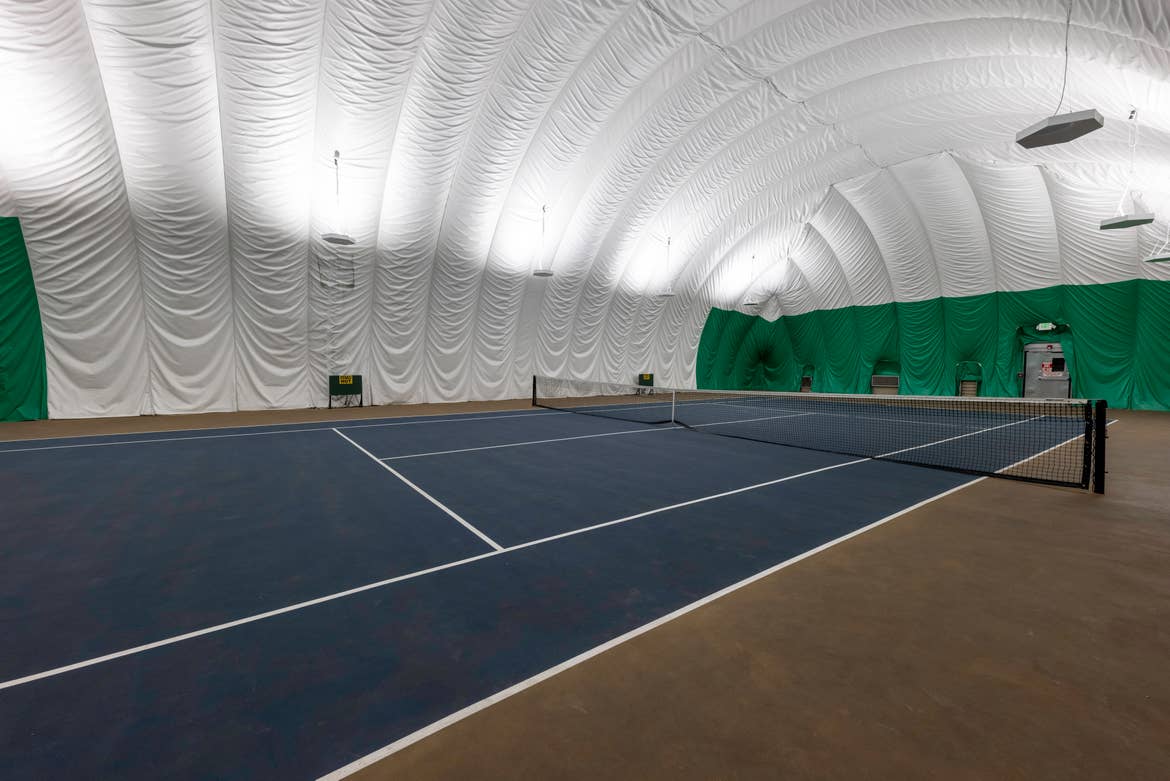 The indoor tennis court at Tahoe Ridge Resort

He's patient and a very skilled teacher, and he even included our 3-year-old in the lesson while still keeping our older kids engaged.


Game Room
Our kids were also obsessed with the game room in the Clubhouse and asked to visit almost every night for another round of family ping pong.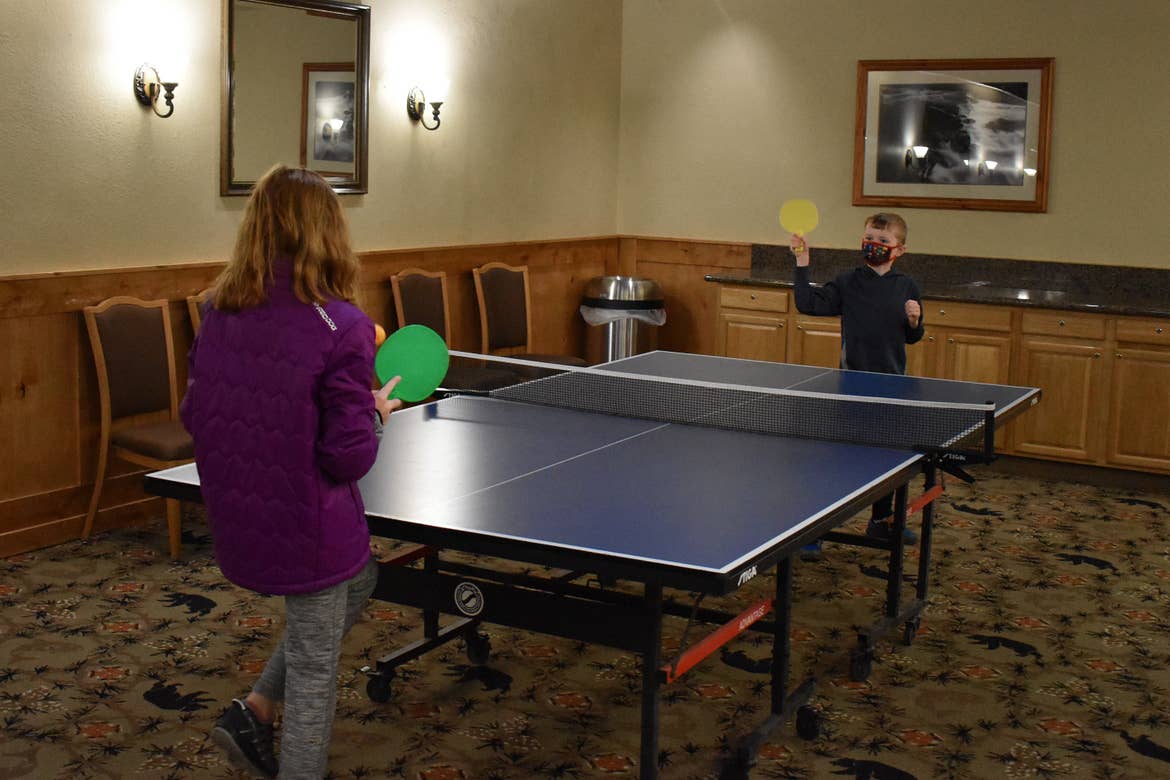 The Clubhouse game room at Tahoe Ridge Resort


The Ridge Club Bistro
After a long week, my husband and I were even able to get away for a dinner date at The Ridge Club Bistro, which was perfect because we never had to be more than a few minutes away if we needed to get back to the kids.


More Activities
Here are some more family-friendly resort activities we discovered at Tahoe Ridge Resort:
Nightly family movie screenings
Complimentary snowshoe tours (hiking tours in summer)
Full gym, indoor basketball and tennis, and racquetball courts
Outdoor playgrounds
Indoor and outdoor pools and hot tubs (closed during our visit for COVID-19 safety reasons)
Need help visualizing what your Tahoe trip could look like?
This family will show you how winter fun is done in this mountain destination.
Safe Travels Program
Traveling during COVID-19 always presents a new set of challenges.

Thankfully, we felt so incredibly safe during our time at Tahoe Ridge Resort and felt like they were prioritizing our health and safety the whole time.

From the second we drove into the resort, we immediately felt well taken care of. Some features of the resort's Safe Travels program we appreciated were:
Extra signage to remind people to social distance
Mask use recommended in all public spaces
Elevator use recommended to one family per elevator
Extra hand sanitizing stations throughout the resort
Enhanced cleaning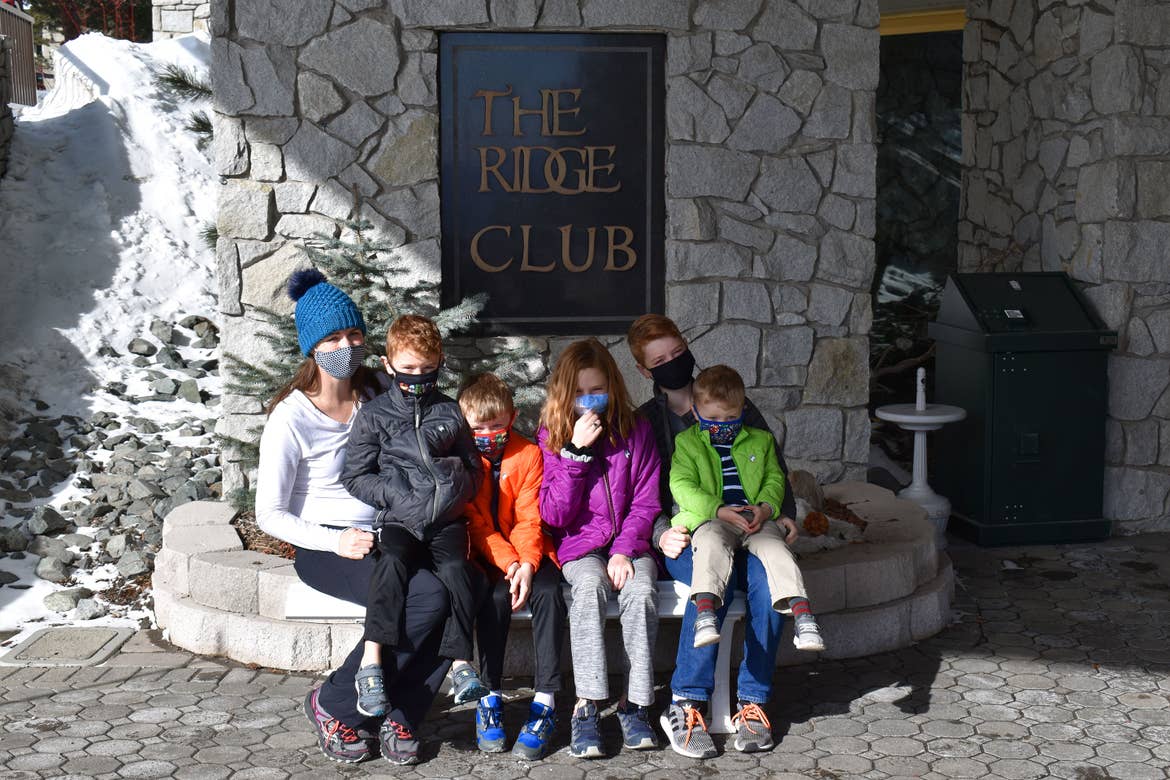 In just one week, our family fell completely in love with winter in Lake Tahoe.

Staying at Tahoe Ridge Resort simplified our entire stay by giving us easy access to all the winter activities in Lake Tahoe without having to travel far, and by having amenities that felt like home in our villa.

While the skiing was our absolute highlight, the kids will probably remember the tennis lessons and family ping pong tournaments the most because they made our trip extra unique and special.

Lake Tahoe is a great winter destination for families and Tahoe Ridge Resort allowed us all to truly relax on vacation.

We loved it so much that our kids are already begging to come back for even more summer fun!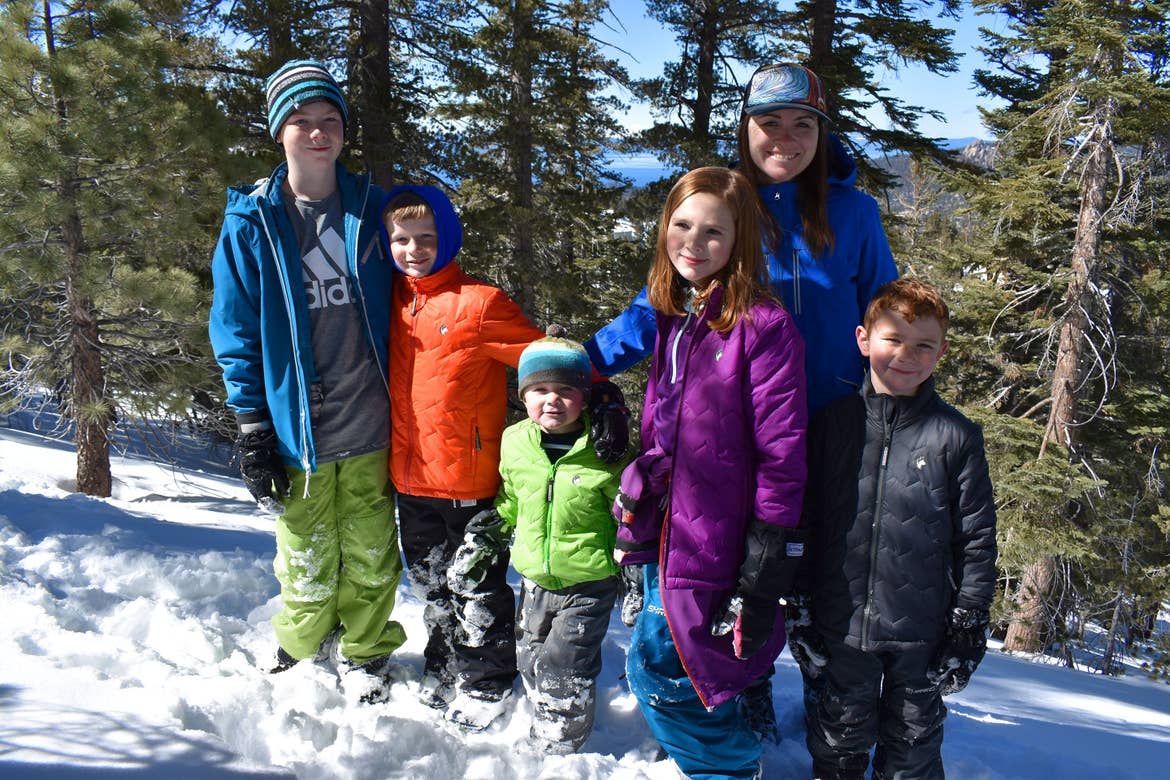 Warm Up to Winter Savings
The temps might be dropping, but our winter savings are just heating up! Save 25% on your next Holiday Inn Club Vacations® getaway when you book by January 31, 2022, and travel by March 10, 2022.

Book Now


Our guest bloggers are compensated for their writing contributions and honest opinions.

All information is subject to change. This article is a curated guide and is neither sponsored nor considered an official endorsement. Please be sure to check information directly with any/all tours, guides or companies for the most up-to-date and direct details.