Jessica Averett
Jessica Averett is an adventure-loving mom to five kids. She and her family have a serious case of wanderlust and are constantly exploring to find the best travel experiences for families. You can follow her writing and adventures at Bring The Kids, where she shares how to get outside and live an adventurous, travel-filled life with kids in tow.
Instagram
Facebook
Pinterest
Website
Sharing ski tips, especially for first-timers or beginners, is one of my favorite things to do as an adventurous mom of five. And spring is one of the best times to head to the mountains for a ski trip, especially if you plan on skiing with kids. Spring skiing (in late March or early April) means the weather is often incredible, the snow is good, and if you can manage a late spring ski trip, many of the crowds will be gone, too.

While there are definitely many advantages to skiing in the spring, you'll need to prepare for your family ski vacations during this season differently than you would for a mid-winter ski trip.


Should you take a family ski trip in the spring?
Many families love to plan late spring ski trips because they often work out well with school spring breaks that typically happen in late March and early April. While you'll see a few more families on the ski hill, you're less likely to see college crowds or groups of adults traveling together in the spring.

Personally, it's my favorite time to ski with kids, and we always try to carve out as many days of late spring skiing as possible.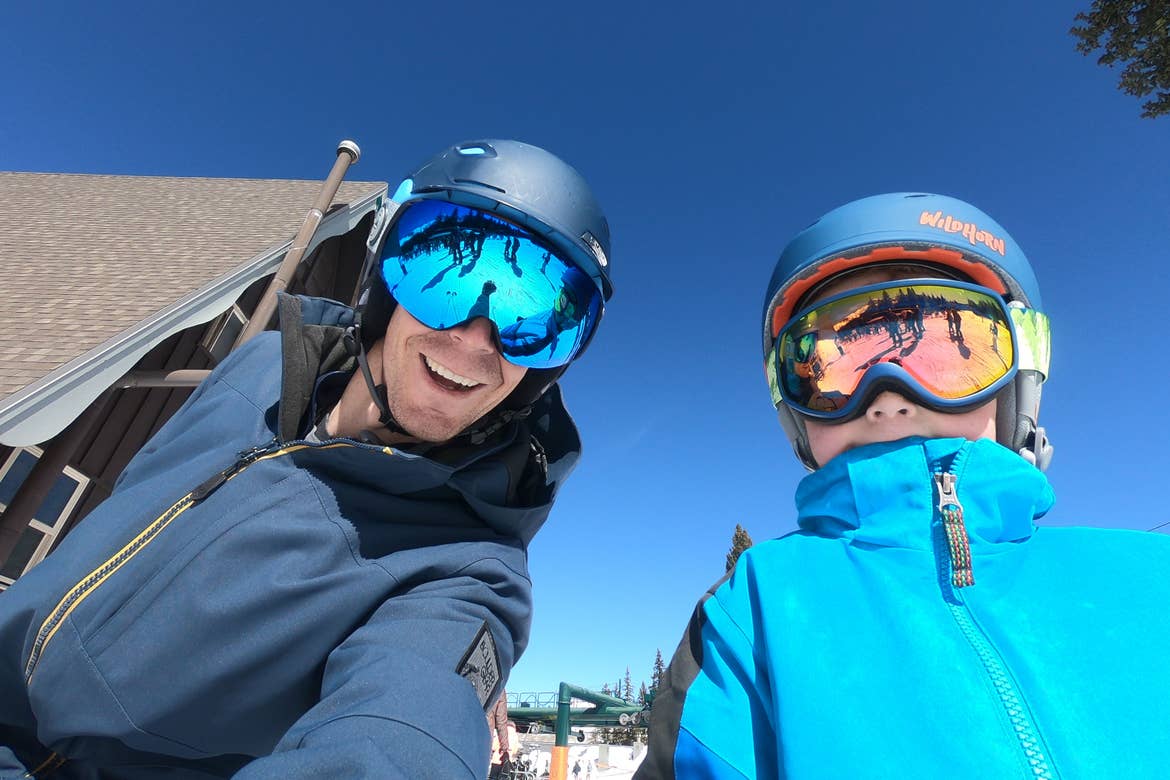 Late Spring Skiing Tips for Families
As an adventurous, ski-loving mom of five kids, here are my top 11 late spring ski tips to make your trip on the slopes a success.


1. Dress in layers
When you ski in late spring, plan for the weather to fluctuate a lot. It's not at all uncommon for the temperatures to be in the teens when the ski resort opens, but warm up into the 40s throughout the day (which feels very warm while skiing).

Plan on wearing your warmest layers in the morning, but as the day progresses, you'll likely want to shed a few of those so that you don't overheat. You can carry a backpack to stash all your extra layers in, find a resort locker, or even plan a trip back to the car to drop off extra ski clothing.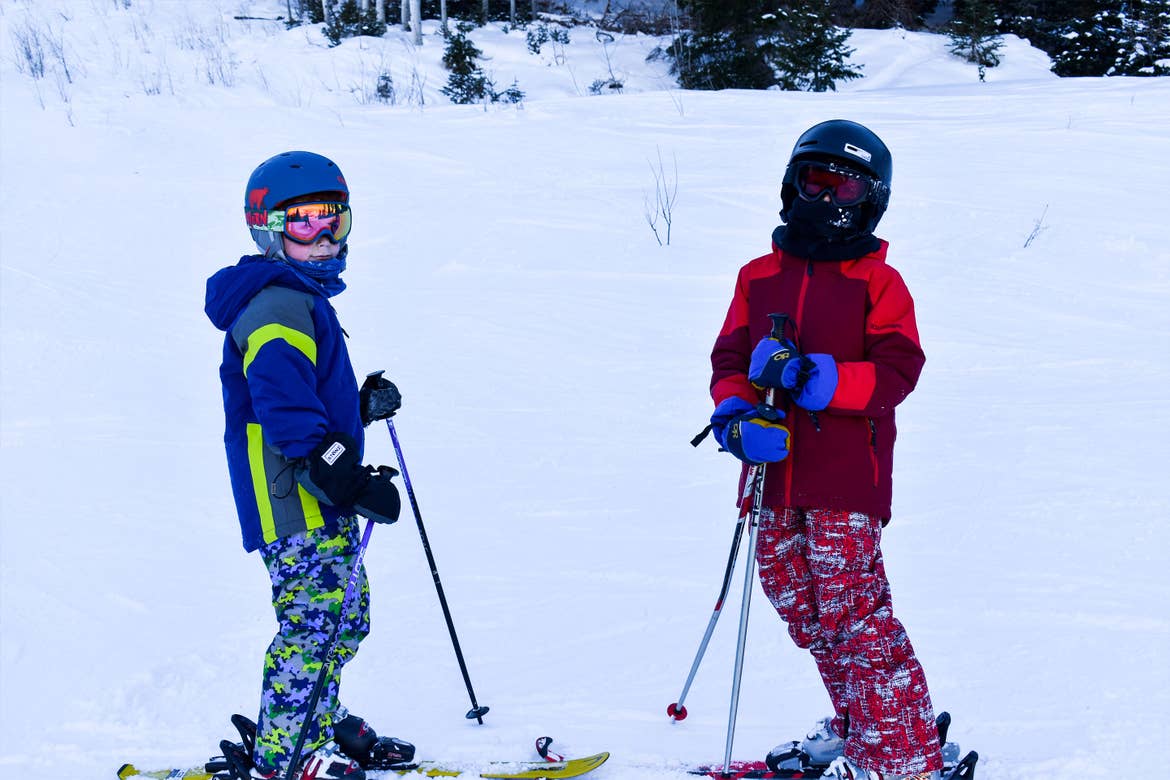 Remember that kids often aren't as aware that they are getting too hot on the ski hill. Having kids wear good merino wool or synthetic base layers is critical to helping regulate their temperature on a late spring ski trip. Check in with them every few runs to make sure they aren't too hot and don't forget to drink water!


2. Plan a tailgating lunch
As soon as spring hits, ski resort parking lots take on a festive, celebratory vibe. You'll see costumes worn, cars that are decorated and lots of music blaring.

Plan on joining in the fun by planning your own ski tailgating lunch. Bring a few folding camp chairs with you and hang out in the parking lot to enjoy your lunch. While you'll see a lot of ski tailgaters bringing full grills to set up, we've found that with kids it's often easiest to bring our warm food in a thermos.

Our favorite parking lot lunch is warm chili and breadsticks with oranges and brownies for dessert. We leave the brownies and breadsticks on the dashboard in the morning, so they are nice and warm when lunchtime rolls around. And we ALWAYS put the kids' food into cups, so they can easily put it in the cupholder of their camp chair to avoid spilling.

To make your ski lunch extra fun, let your kids help you create a playlist of their favorite high-energy songs the night before.


3. Start your day later
If you're planning a family ski trip, you'll be tempted to try to get as much time on the mountain as possible to justify the expense. Trying to hit "first chair" is a common early morning goal among ski crowds. However, when you're skiing in the late spring, I always recommend that families don't start skiing until after 10 a.m.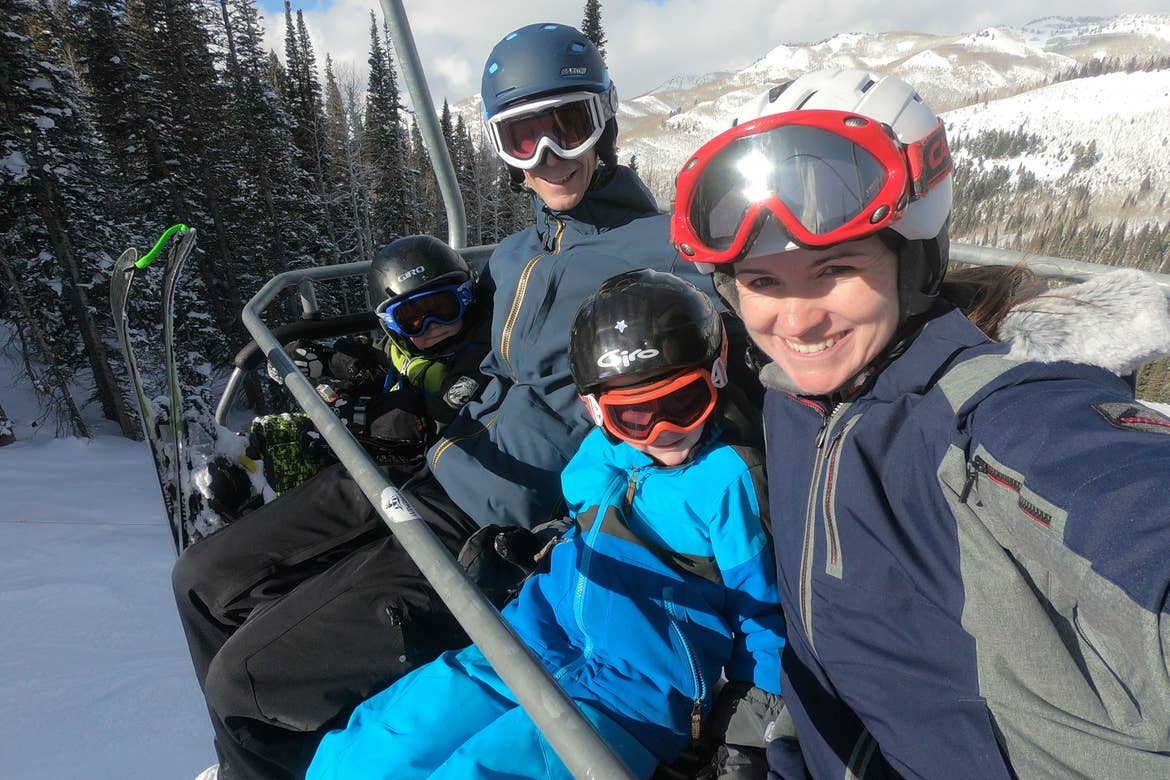 That's because, in the spring, most trails will be really icy in the early morning, but once the temperatures start warming up, the snow starts to soften. Skiing on icy runs can be especially difficult and frustrating for kids and is a really bad way to start the day. So once spring skiing conditions begin, plan on starting your ski day just a little later.


4. Be prepared to get wet
Skiing in the late spring often brings slushy ski conditions and lots of melting snow with it. If there has ever been a need to have waterproof ski gear (especially for kids), that time is NOW!

Snow pants and gloves will take most of the abuse here, and it's not uncommon for the kids' gloves and pants to be completely soaked after a day of skiing. If your kids don't have good waterproof ski gear, you'll want to make sure you bring extra gear for them, or that you have access to somewhere to dry their ski clothing really well overnight.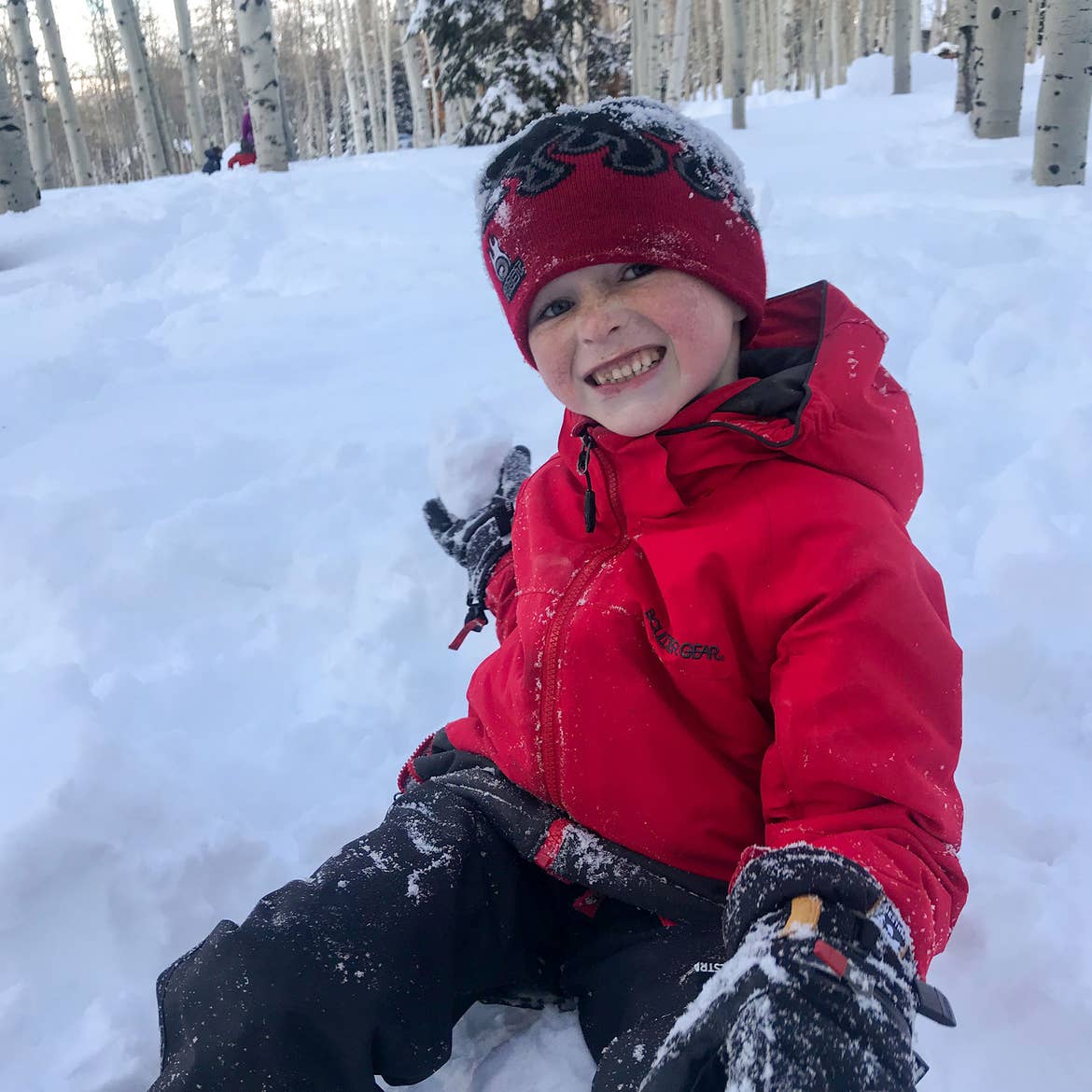 If your hotel room or resort villa has a dryer, set it to low. This can work wonders! And if the inside of gloves and mittens get really wet, try using a hairdryer.

Whatever you do, don't send your kids out the next day in wet clothing. They'll get cold so much faster, which usually ends up cutting everyone's ski day short.



5. Book ski school lessons in advance
It's no secret to family skiers "in the know" that spring is one of the best times to ski with kids, so ski lessons often fill up early … especially since skiing is such a popular spring break vacation choice with school schedules. So be sure to call the ski school to book a couple of days of lessons for your kids as soon as you decide on and book your vacation dates.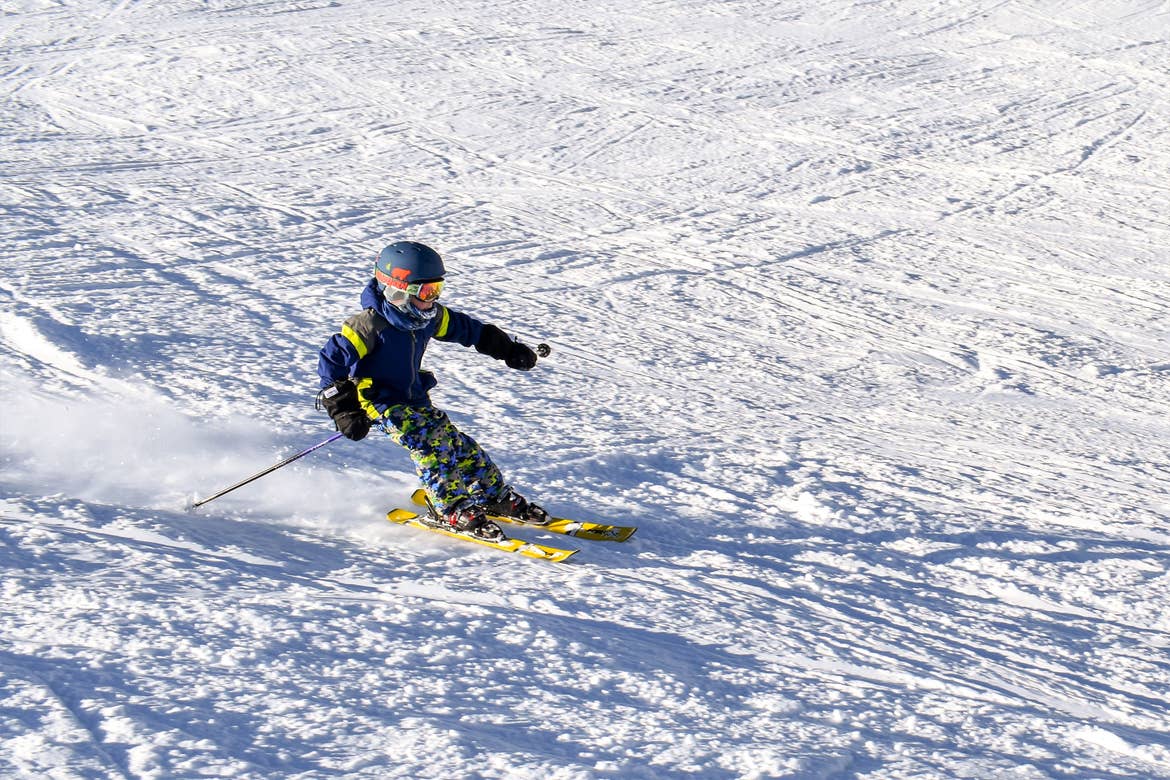 Even if your kids already have some ski experience, some time with a ski instructor is priceless and can help make the rest of your family ski vacation even better. Ski instructors are trained to focus on the little details of skiing that parents often overlook but can make a big difference in a child's skiing skills. Booking ski lessons well in advance will help you get the best selection of dates and lesson options possible.


6. Don't ski every day
I know that it's tempting to ski every day … after all, you are on a family SKI vacation. However, most kids (and parents), really can't handle skiing every day.

Skiing uses different muscles than most people are used to using every day, and it can quickly wear your body out even if you're used to working out on vacation. One of my top spring ski tips is to only ski two out of every three days, at most.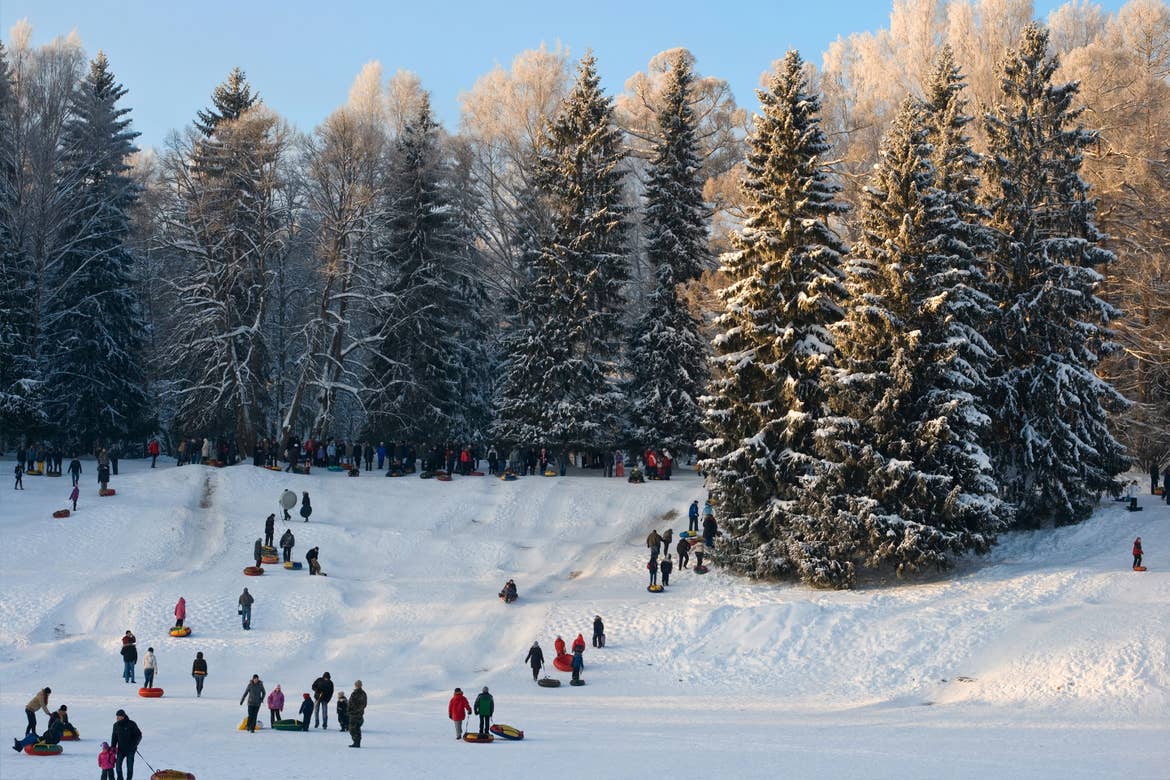 When you're not skiing, there are plenty of other ways to stay active on vacation that are likely close to your ski resort. Check out some fun things like sledding, ice skating, snowshoeing and, my new favorite, fat biking.


---
Looking for more spring break tips?
---
7. Lather up with sunscreen
One of the biggest risks you need to be aware of while skiing in the spring is sunburn. Not only is the sun getting higher overhead as we approach summer, but the sun's rays also bounce off the snow, leaving you vulnerable to sunburn from all angles.

Plan on putting sunscreen on the whole family in the morning and remember to reapply at lunch.


8. Protect your eyes
Along with the risk of sunburn, you need to remember to protect your eyes as well. During the day, the whole family should plan on wearing goggles while skiing, but while you're off the slopes, you'll want a pair of sunglasses as well.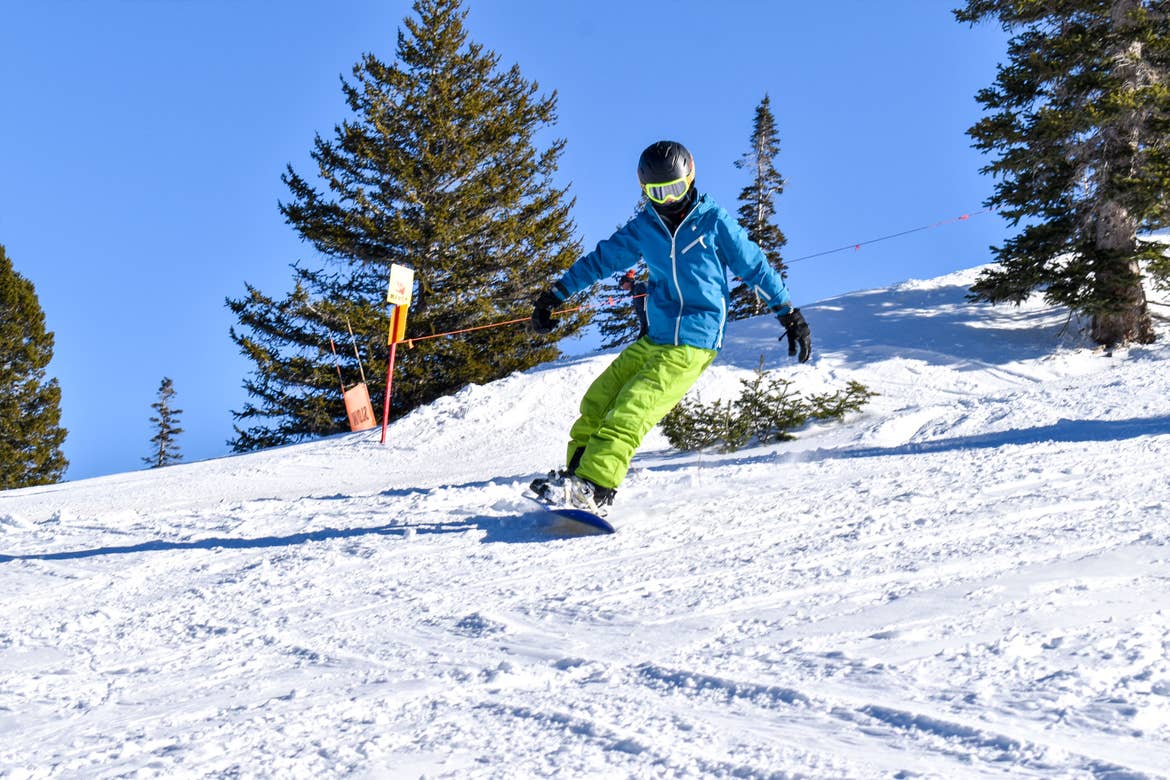 Late spring ski conditions can be blindingly bright with the sun reflecting off the snow, so keeping sunglasses handy to use during lunch and for hot cocoa breaks will keep everyone so much more comfortable.


9. Plan for any weather
Spring can be one of the most unpredictable times in the mountains, so you'll want to come prepared for just about anything. You could be peeling off your coat because it's warm or wishing you'd packed more if it gets cold again.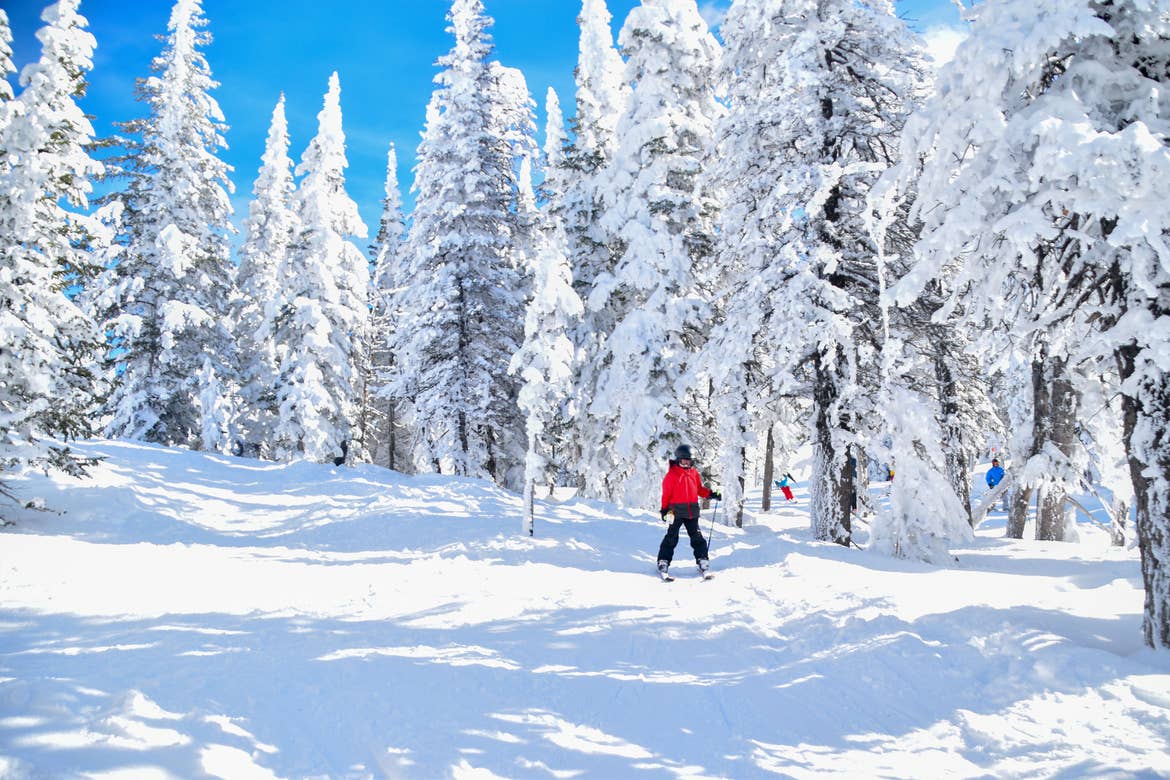 Most of the time, skiing in the late spring means great weather, but don't be surprised if a snowstorm rolls in and drops a few feet of fresh snow. If you're already planning on dressing in layers, you'll be in great shape! (See tip #1!)


10. Choose your destination wisely
If you're planning a late spring ski trip, the amount of snow that a ski resort gets early in the season can have a big impact on what conditions are like for your spring trip. While most resorts around Lake Tahoe and in the Rocky Mountains will usually have plenty of snow each year, even in mid-April, that's not always the case in other places.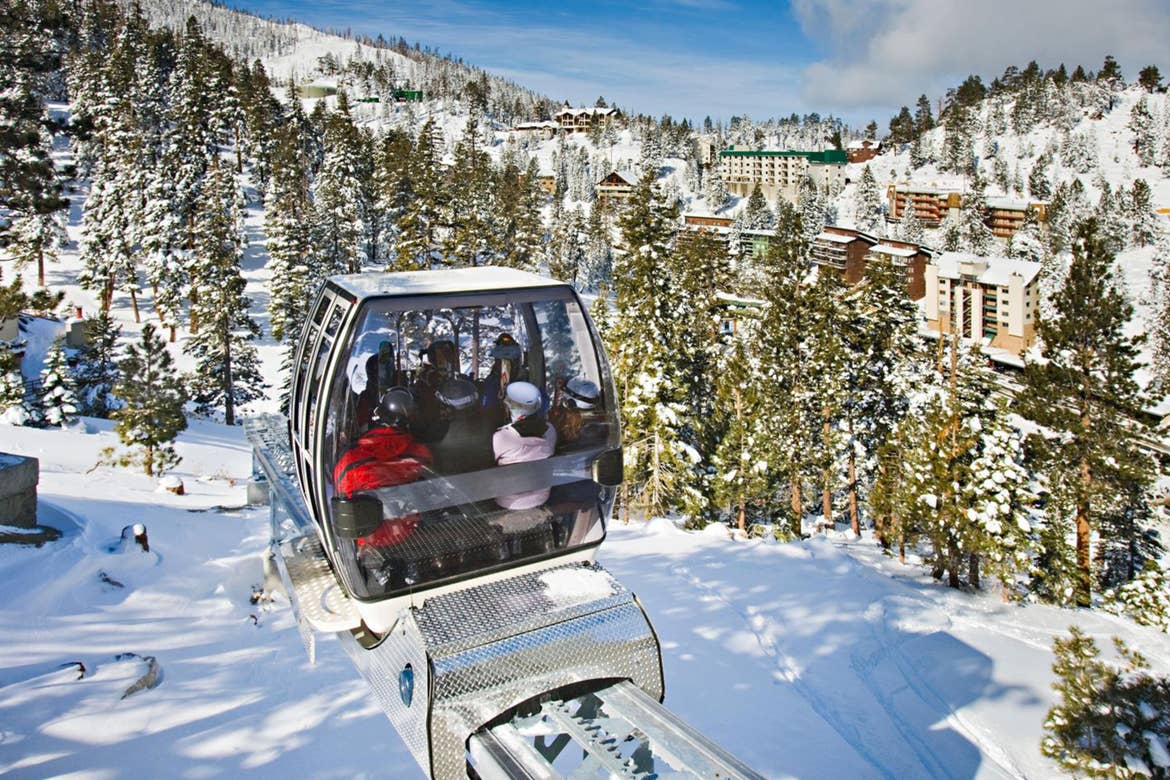 The ski in/ski out Skier Express gondola at Tahoe Ridge Resort connects directly to Heavenly Mountain Ski Resort. Photo courtesy of IHG®

If you're planning a late spring ski trip on the east coast or in the Midwest, check the snow conditions in mid to late February to see how much snow they've gotten. If the snow report is well below average, it may not be a good area to plan a late spring ski trip to, unless you like skiing around dirt patches and rocks sticking up.

If you're still searching for a place to stay, Holiday Inn Club Vacations has five resorts with great places to ski and snowboard nearby: Tahoe Ridge Resort and David Walley's Resort in the Lake Tahoe area, Mount Ascutney Resort in Vermont, Oak n' Spruce Resort in Massachusetts and Lake Geneva Resort in Wisconsin.


11. Wax your skis
If you're renting your gear, skip this tip. But if you're bringing your own gear, you absolutely need a fresh coat of wax if you're skiing in the spring, even though you may be fine without any wax for most of the year. Ski wax helps your skis glide, and most waxes work best within a certain temperature range.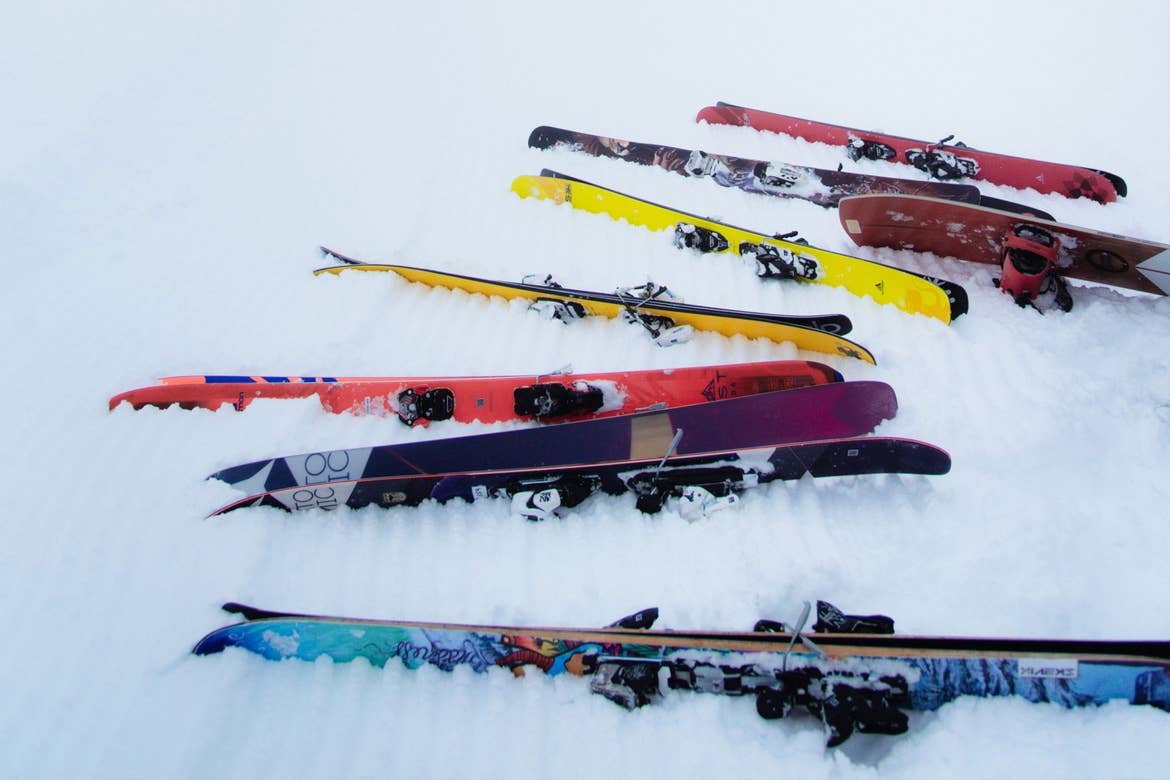 So, while a cold-weather wax will have your skis racing down the mountain in January, that same wax may have you sticking to the snow come March. Luckily, ski waxing can often be done in less than 15 minutes at a local ski shop, so if you're bringing your own gear, be sure to make a quick stop before heading up to the mountains.

I hope my late spring skiing tips help your family with your next adventure on the slopes! With a little extra planning and plenty of sunscreen, don't be surprised if you soon fall in love with skiing this time of year. The sunshine, celebratory atmosphere and warmer temperatures make spring the perfect time to ski with young kids and start a lifetime of family ski vacations.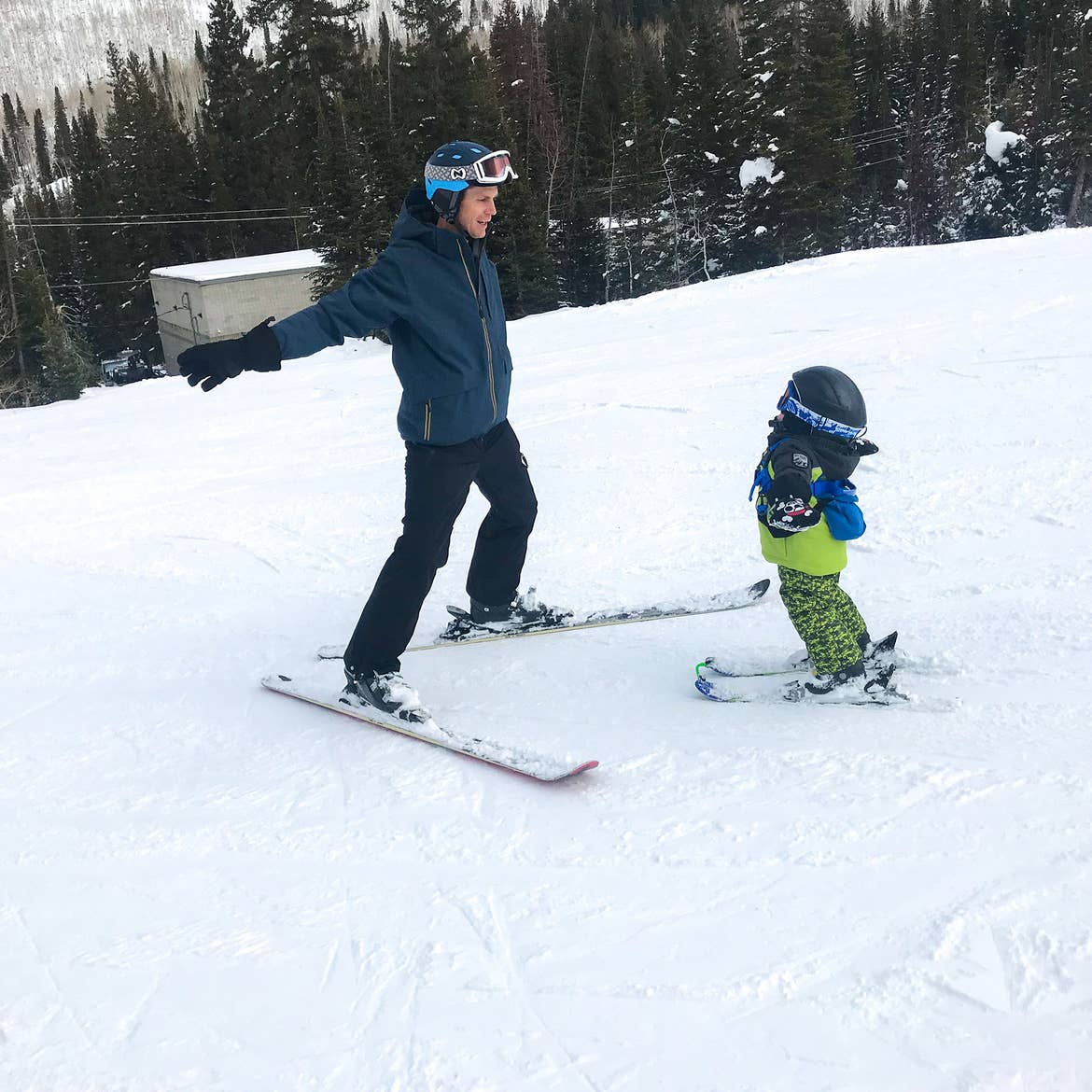 Our guest bloggers are compensated for their writing contributions and honest opinions.

All information is subject to change. This article is a curated guide and is neither sponsored nor considered an official endorsement. Please be sure to check information directly with any/all tours, guides or companies for the most up-to-date and direct details.