Felicia Wong, MD
Felicia lives in Southern California with her husband and two boys. She and her husband are both physicians dedicated to helping others, but they also value their time off making memories with their family and living intentionally. While her family takes many fun trips together (her parents included!), they appreciate and celebrate the small wonders in everyday life. Felicia loves sharing ideas to help families spend more time outside and make the most of every day.
Instagram
Website
Thinking about a family trip to Flint, Texas?

Our multigenerational family of 6 (with ages ranging from 6 to 73) recently traveled to this outdoor oasis and had a blast on our adventure-filled family vacation!

We spent 3.5 days soaking up all the fun in East Texas at Holiday Inn Club Vacations® Villages Resort located right on Lake Palestine.

We did everything from horseback riding through the woods and boating and fishing on the lake to cooling off in the pools, getting an adrenaline rush at the on-site waterpark and bonding over family games of mini golf and giant checkers.

For a deeper dive into our Texas family vacation, check out my full guide to Villages Resort in Flint, Texas, including the best things to do, planning tips, local activities and more.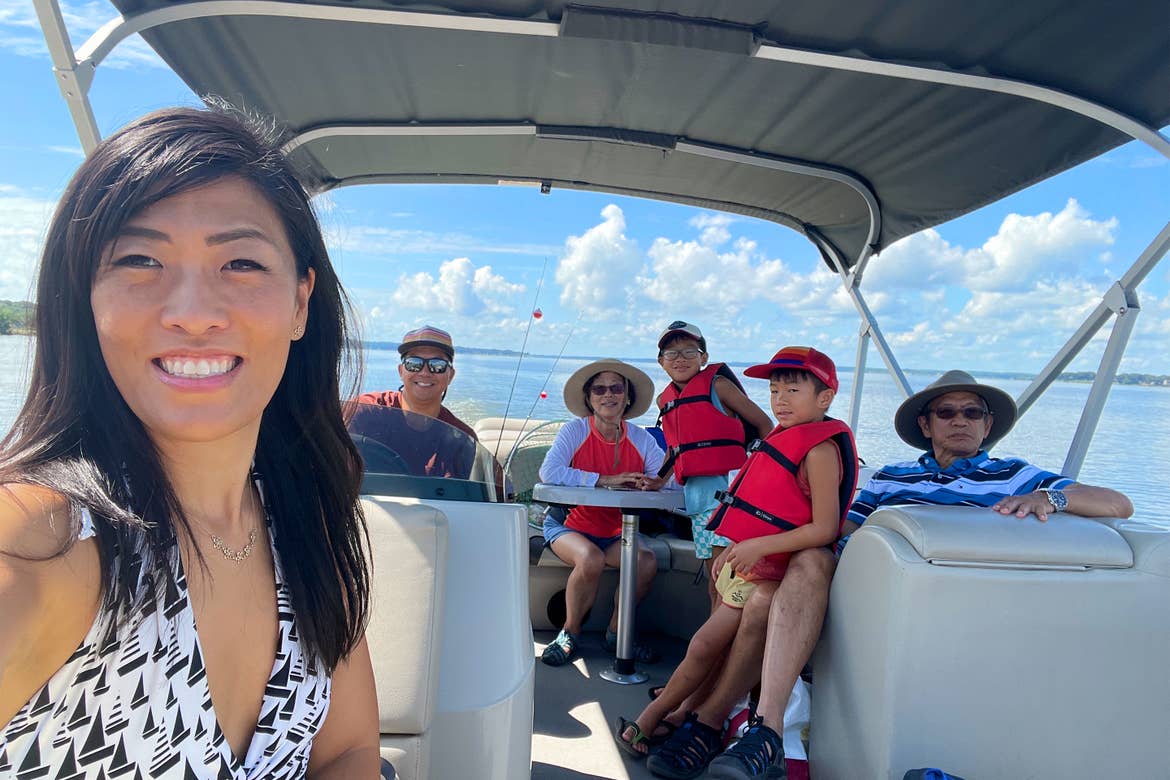 Meet the Wong family! Me (Felicia), my husband, Jason, our sons, Alex (8) and Brian (6), and Grandma and Grandpa.


Flying to Flint, Texas
Me, my husband, Jason, our two kids, Alex (8) and Brian (6), and my mom and dad all flew as a family from John Wayne Airport in Orange County, CA, to Tyler Regional Airport in East Texas through Dallas.

We arrived at both airports 90 minutes before our flights, with carry-on baggage so we didn't have to wait at the baggage claim.

We had made our car rental reservations ahead of time, and our minivan was ready for us when we arrived at Tyler Regional Airport.

Pro Tip: Planning your car rentals in advance is a good idea these days since there's a shortage of cars at many locations.

Driving from the airport to Villages Resort only took us about 20 minutes.

On our way there, we had to make a quick detour in Tyler to pick up some of that famous Texas BBQ for dinner.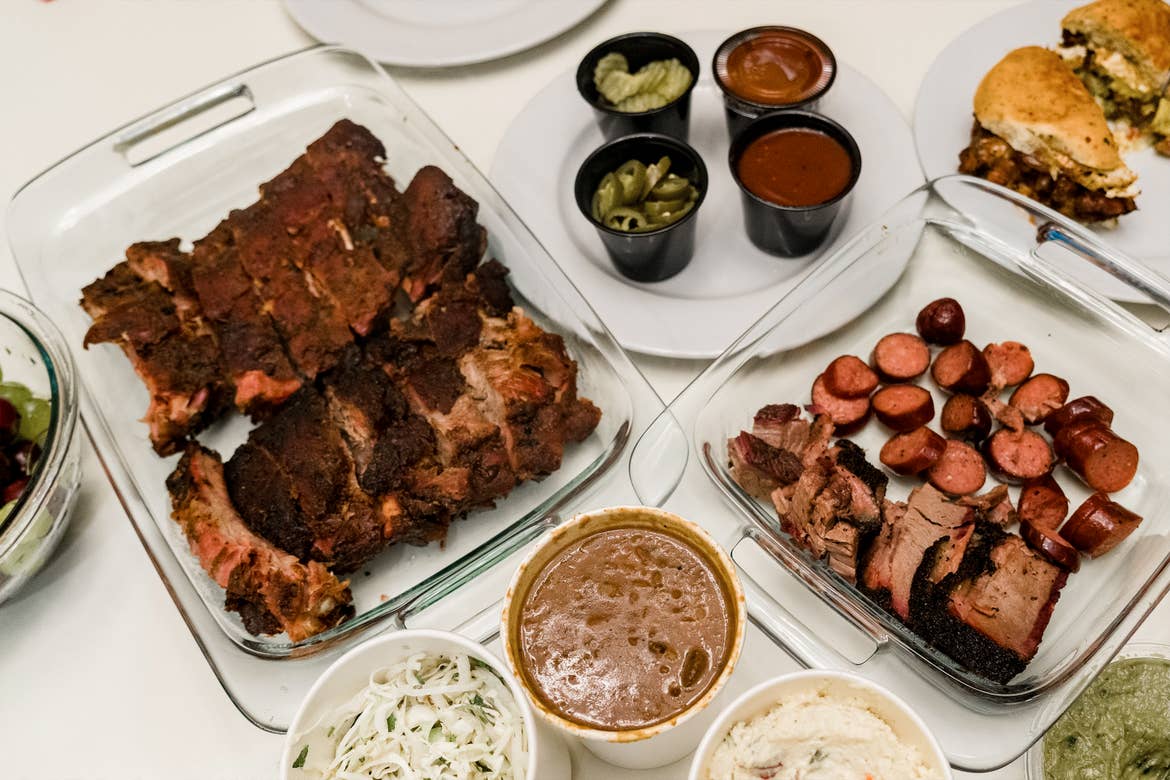 Our first stop before heading to the resort: Stanley's BBQ.


Arriving at Villages Resort
Once we arrived, we received a warm welcome, a map of the resort and an intro to the expansive property and its many available activities (both ones that were included and ones that we could reserve).

We stayed in the Presidential Beach Club section of the resort, which was close to the horse stables, the Beach Club pool area and the marina.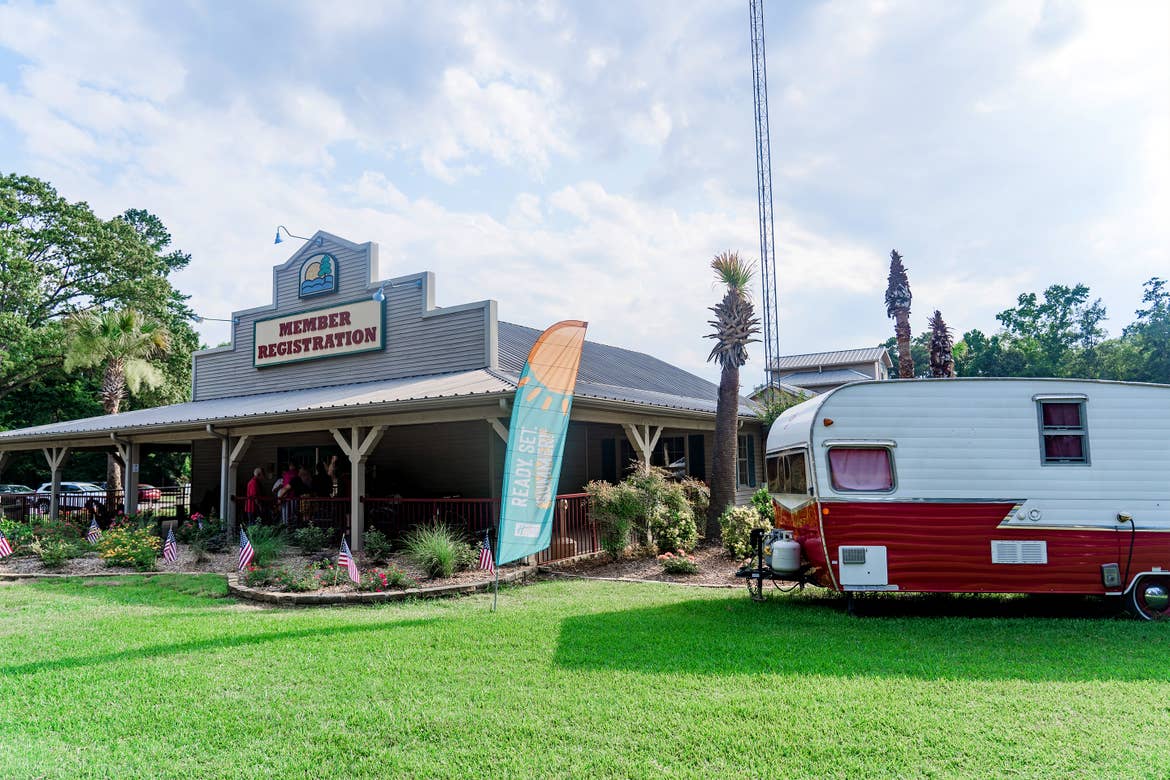 Getting ready to kick off our summer vacation at Villages Resort!


Best Things to Do at Villages Resort
We're an active family, so this vacation was perfect for us. There were so many things to do at Villages Resort for everyone from our two boys to Grandma and Grandpa.

We literally had our days full without even having to leave!


Boating on Lake Palestine
Since the resort is next to Lake Palestine, we made it a point to spend time on the water.

One morning, we rented a paddle boat for our family, and the grandparents came along on the rowboat.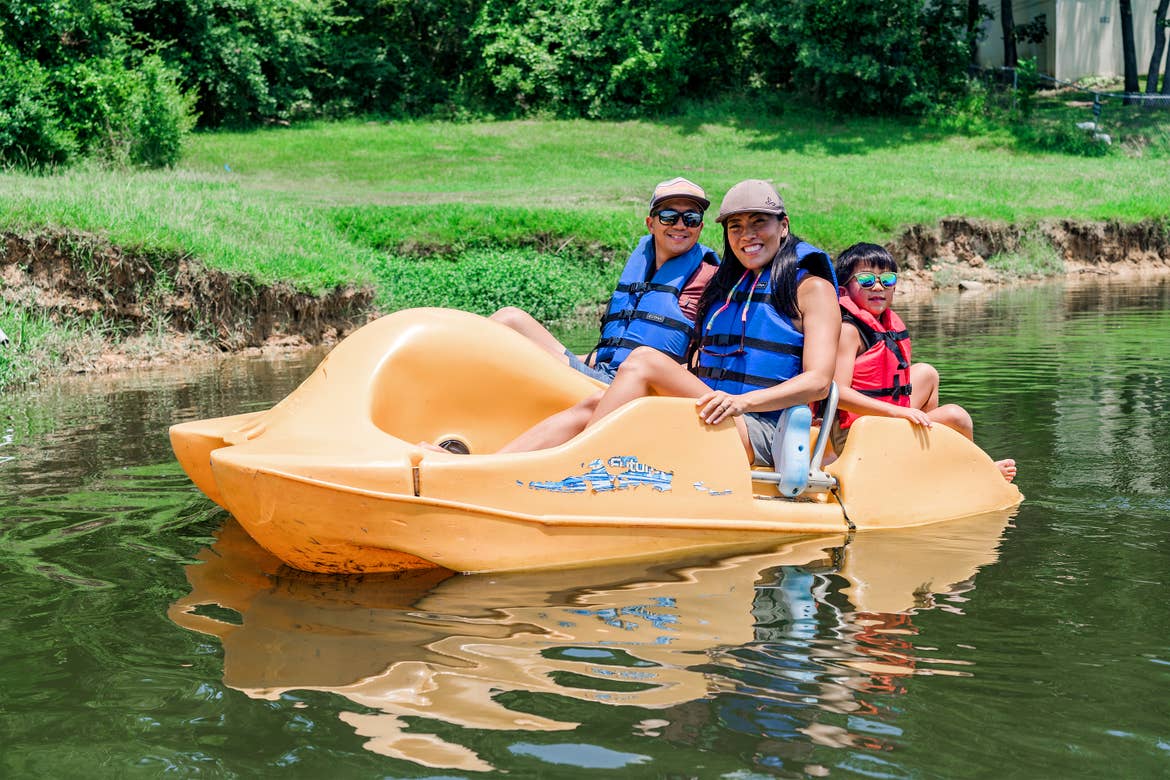 The paddleboats fit two adults (who pedal) and two kids (who enjoy the ride).

We cruised around the marina area and enjoyed being on the water. We even had the unique experience of seeing a heron catch a fish!

Another morning, we rented a pontoon boat for two hours. After a little boating orientation from the marina staff, we ventured out for a beautiful day on Lake Palestine.

Grandpa and our son Alex rented fishing poles from the marina and did some fishing, too.

It was so relaxing — the time flew by! Next time, we'll probably rent the boat for 4 hours to squeeze in more time on the water.

Pro Tip: Make sure you reserve your boat rentals in advance, so you can lock in your time on the lake in case they get booked up.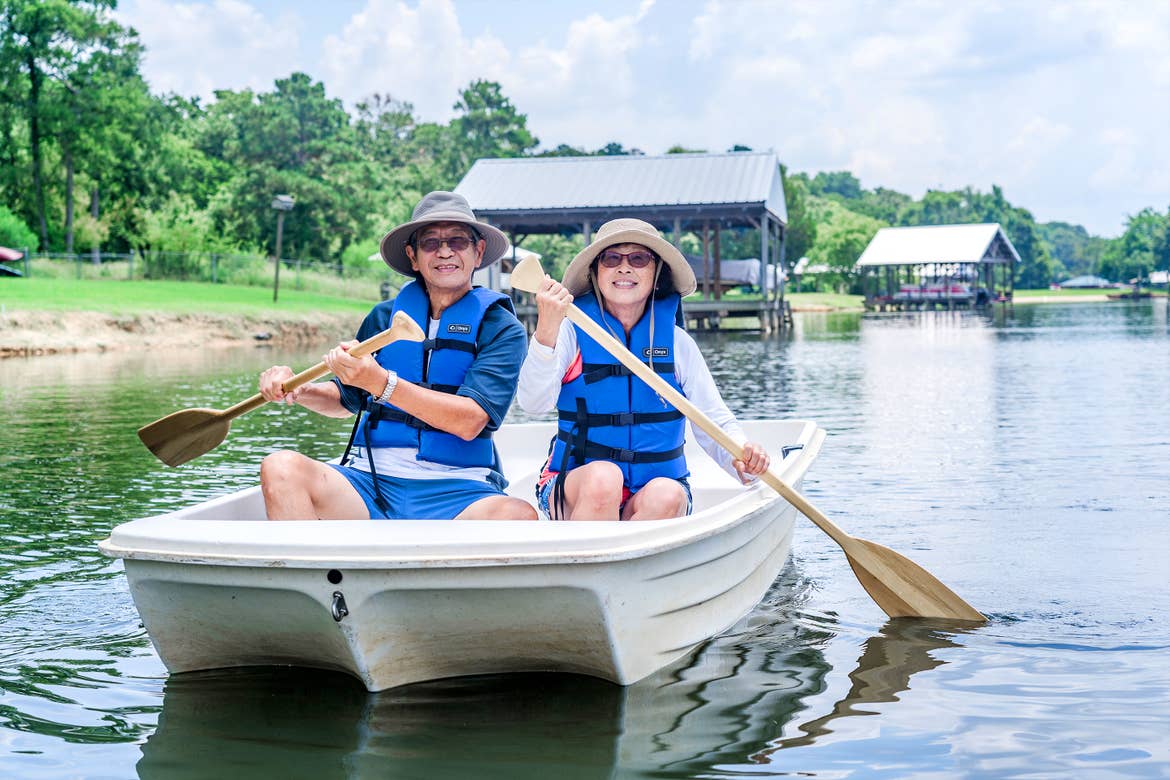 Fishing on the Dock
When we got back to the marina, we continued fishing on the nearby dock, and we caught catfish and bluegill!

We loved that you could rent fishing poles and buy bait at the marina.

Fun Fact: They also help you purchase a fishing license, which is $16 for all day, all water for non-Texas residents, and $11 for Texas residents. (Kids 17 and under don't need one.)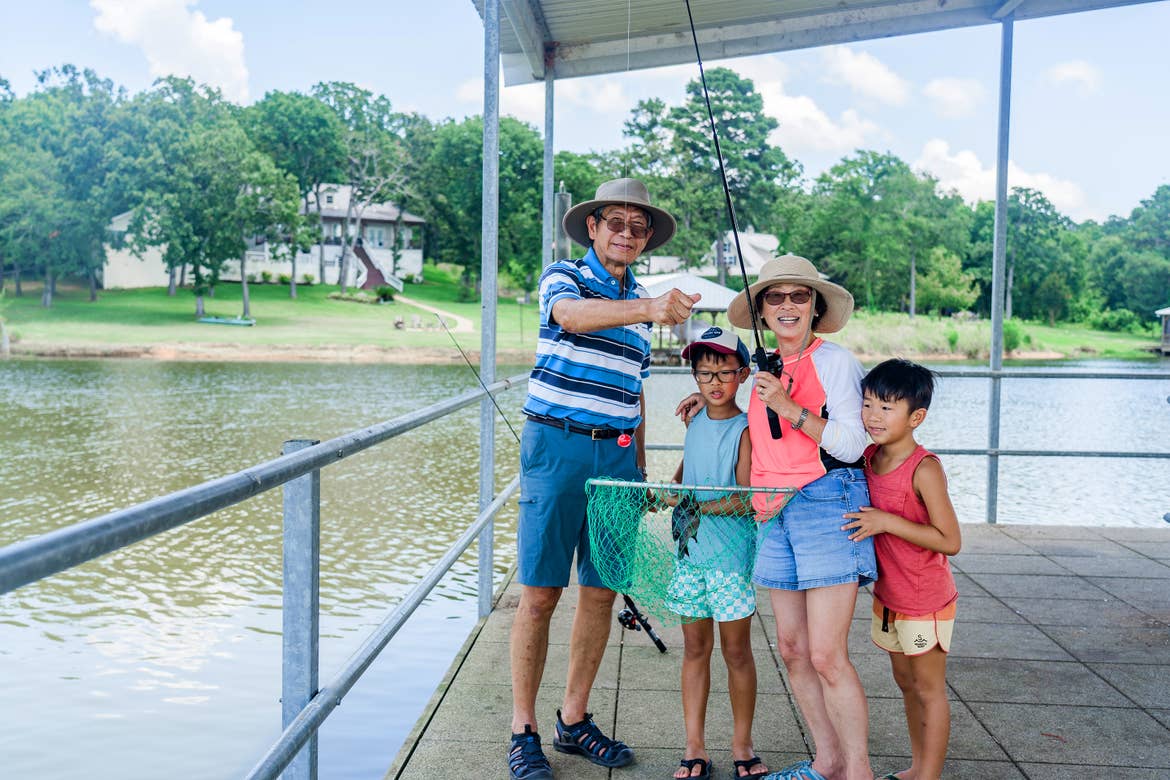 Harbour Grille
The marina also has a restaurant called Harbour Grille where we ate a couple of times. Its fish fry and tacos are so delicious! And the kids liked their mini corn dogs.


Horseback Riding
Horseback riding is available at the resort's stables for adults and kids ages 8 and up and 48 inches tall. Jason, myself and Alex had a great time riding on the trails.

We arrived at the stables where they set us up with helmets and gave us a quick intro to horseback riding.

This was Alex's first time, and they made him feel so comfortable!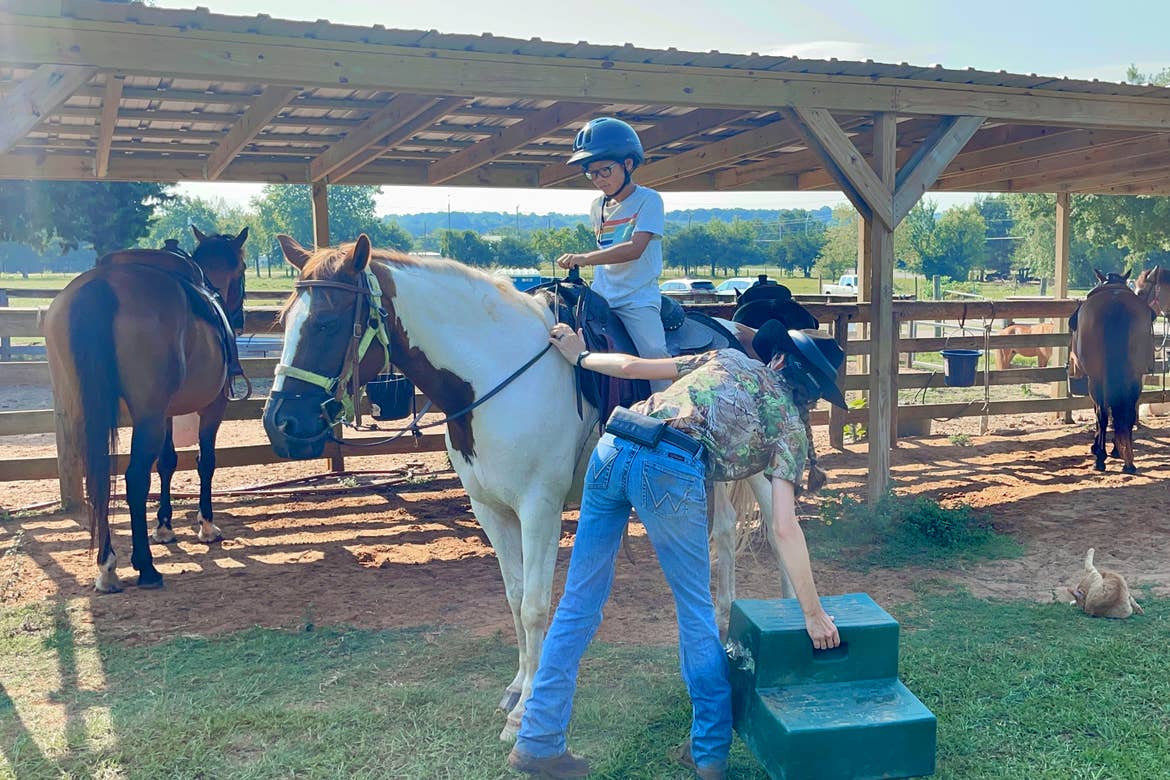 We proceeded to enjoy a very leisurely and scenic ride for the next 45 minutes through the woods to the lake and back.

Some helpful info about this activity:
Horseback riding costs about $40 (plus tax) per person, and there are 6 spaces per time slot.
The stable provides helmets and recommends closed-toed shoes and long pants.
Children must be 8 and up and over 48 inches tall.
All kids under 12 need a parent or guardian on the same ride (no double riders).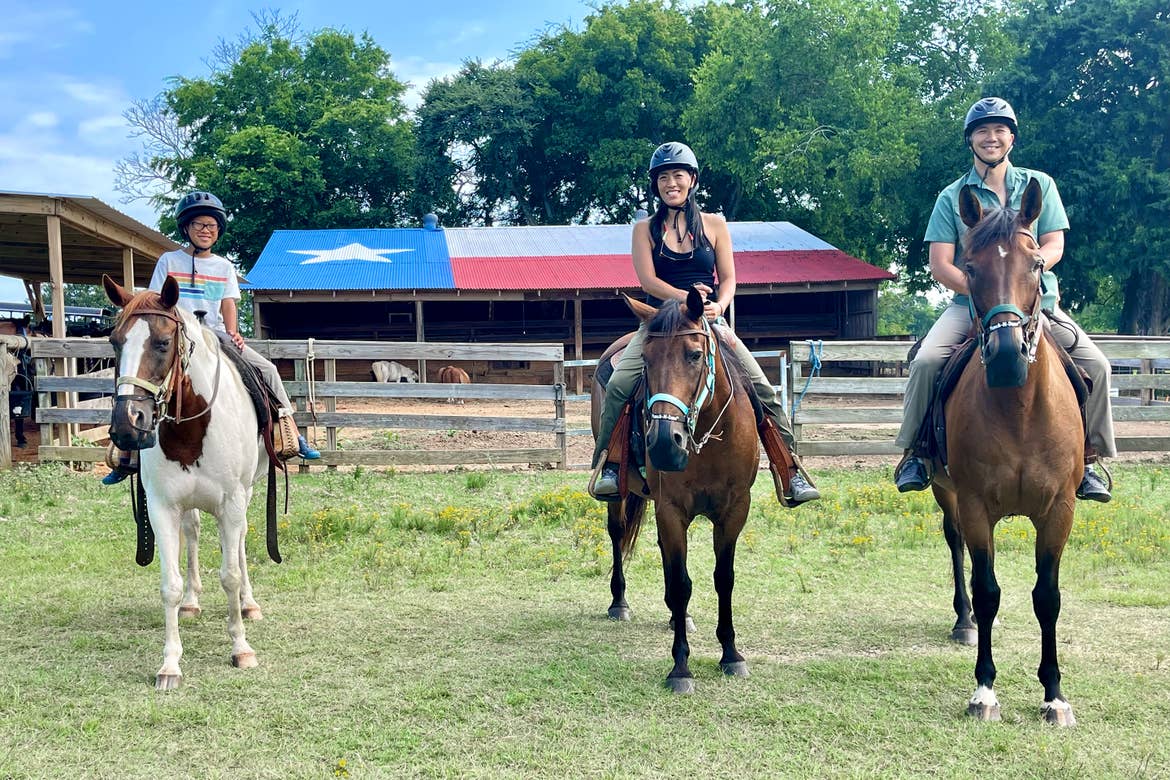 A successful and fun first horseback ride for Alex!


Pool Time!
There are four pools on property, but we spent our time at the Beach Club Pool.

It has a water feature that the kids had a blast playing and cooling off under, as well as plenty of poolside lounge chairs and tables where the grandparents relaxed in the shade.

This area also had a hot tub/spa, but children under 12 need an adult with them.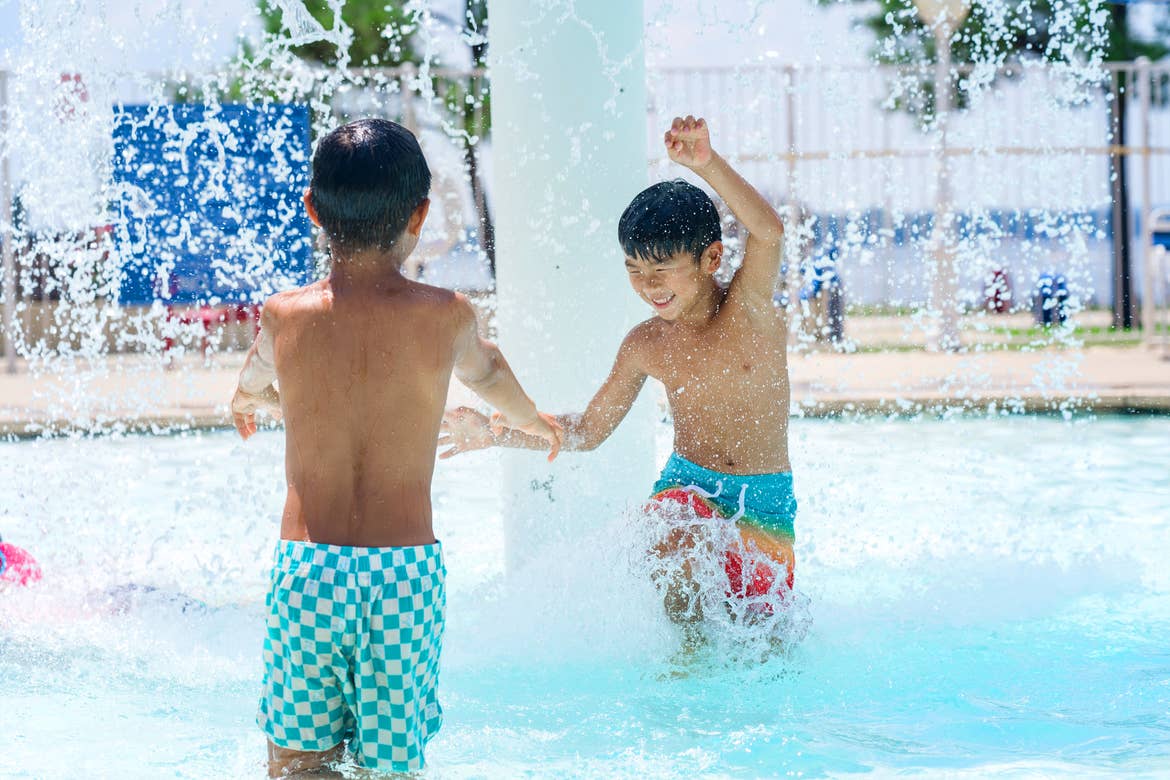 Splashing the day away at the Beach Club Pool


The Waterpark at the Villages
This was a huge hit with the kids. They absolutely loved The Waterpark at the Villages and literally spent the entire day playing there until closing time!

It features four waterslides, a lazy river, wave pool, water playground and picnic areas to rest both indoors and outside.

One thing that's unique about this waterpark is that it's indoors, so it's open year-round, too.

While there wasn't an actual place to eat at the waterpark other than a small snack stand, we were able to walk over to the Activity Outpost next door to order food and snacks from The Grill.

We picked up some pizza, mozzarella sticks and smoothies for dinner after all our waterpark fun.

Note: The Waterpark at the Villages is open to both guests staying at Villages Resort, as well as to the local public for a daily fee.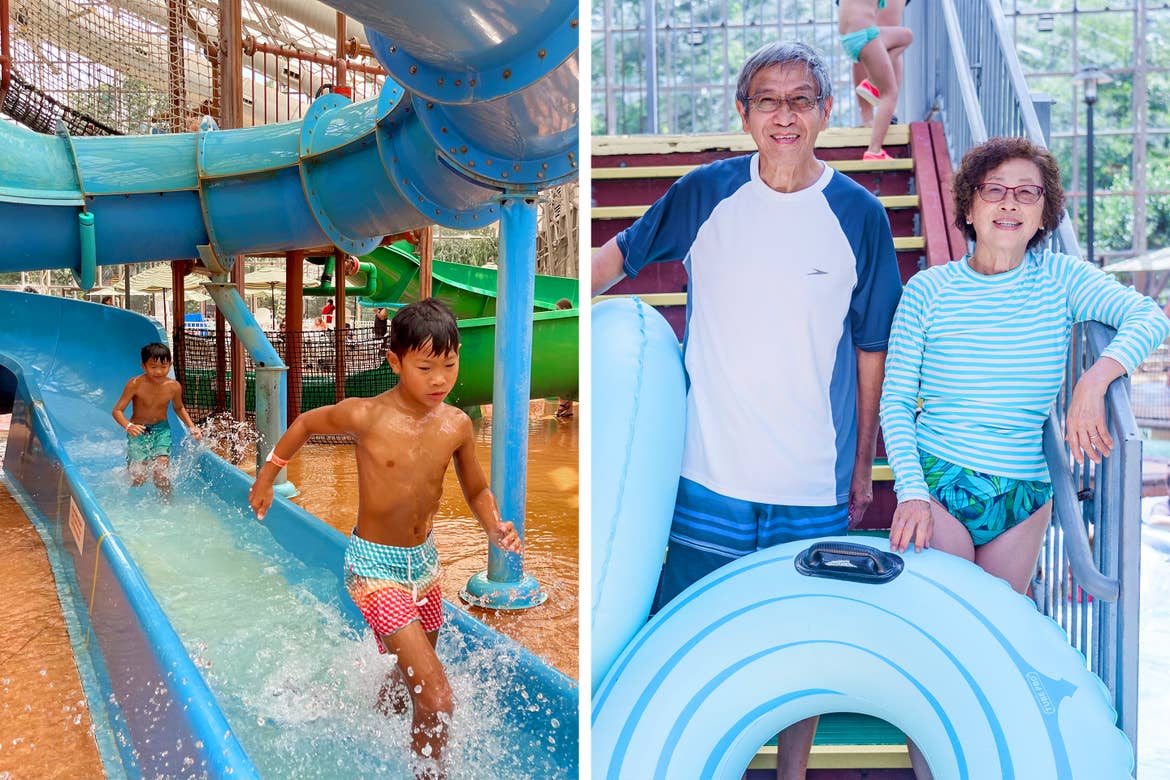 The Waterpark at the Villages isn't just for kids. Grandma and Grandpa had a blast, too!


Activity Outpost Games & Activities
There are so many more things to do at the Activity Outpost, too.

You can sign out equipment to play:
Mini golf
Ping pong
Basketball
Kickball
Shuffleboard
Cornhole
Volleyball
Soccer
Tennis
Pickleball
And more!
All you need is your pool and amenity pass (provided at check-in) to check out the complimentary recreational equipment.

Our family especially loved playing several rounds of mini golf during our stay.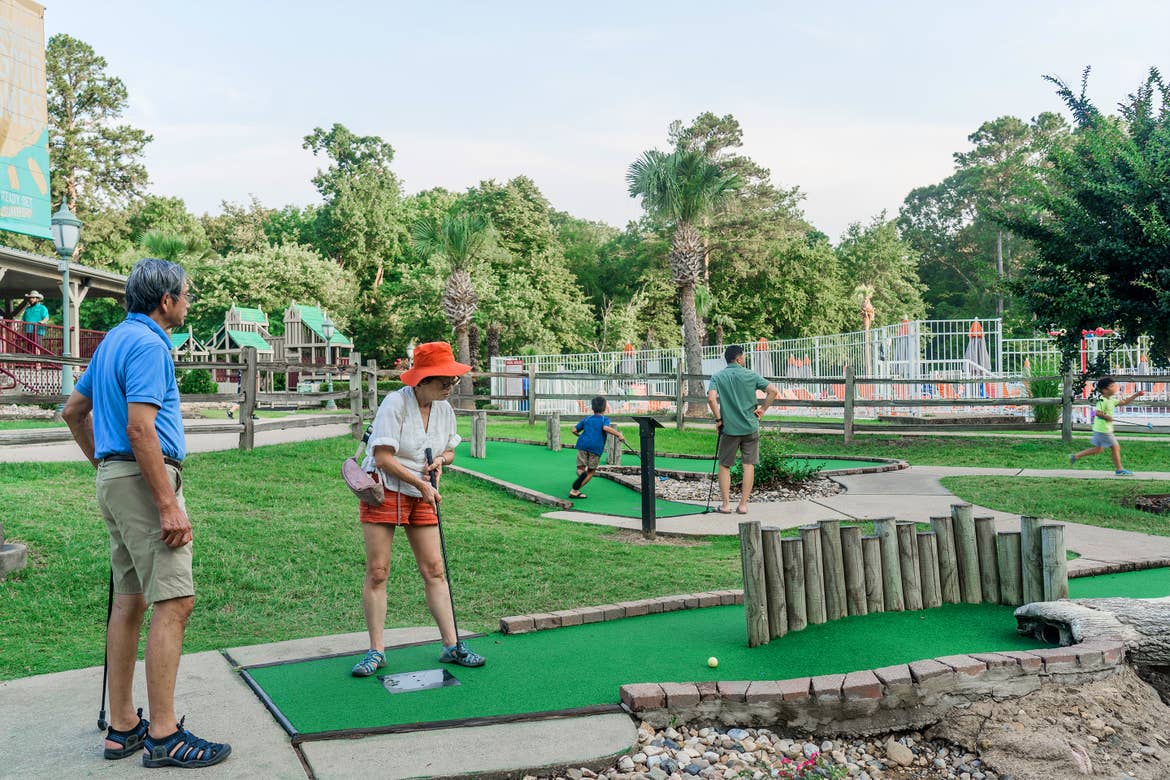 There's also a small arcade in the Activity Outpost with Guitar Hero®, air hockey and tons of other arcade games.

Pro Tip: Plan and book your activities at the Activity Outpost ahead of time as they might fill up.


Even More Family Fun
We didn't have much downtime, as our days were so packed doing all of the above, but there's still a lot more to do at Villages Resort, including:


Wagon rides pulled by a tractor on Saturdays and Sundays, which is fun for all ages! It's $5 per person, and children 24 inches and under are free.
Board game rentals, like Trouble, Sorry, Monopoly and Jenga
Special daily events, like live music and family-fun games
Extra special, summer-only activities, like outdoor movie nights, poolside games, tie-dying and more
Pro Tip: Our Flint, Texas, vacation was in early July, and there were daily thunderstorms, but they were brief (about 30 minutes) in the late afternoon.

It didn't interfere with our activities or plans, but just keep in mind some of the resort activities are weather permitting.

If it does end up being a rainy day, you can still head to the arcade, play board games and enjoy movie night in your villa.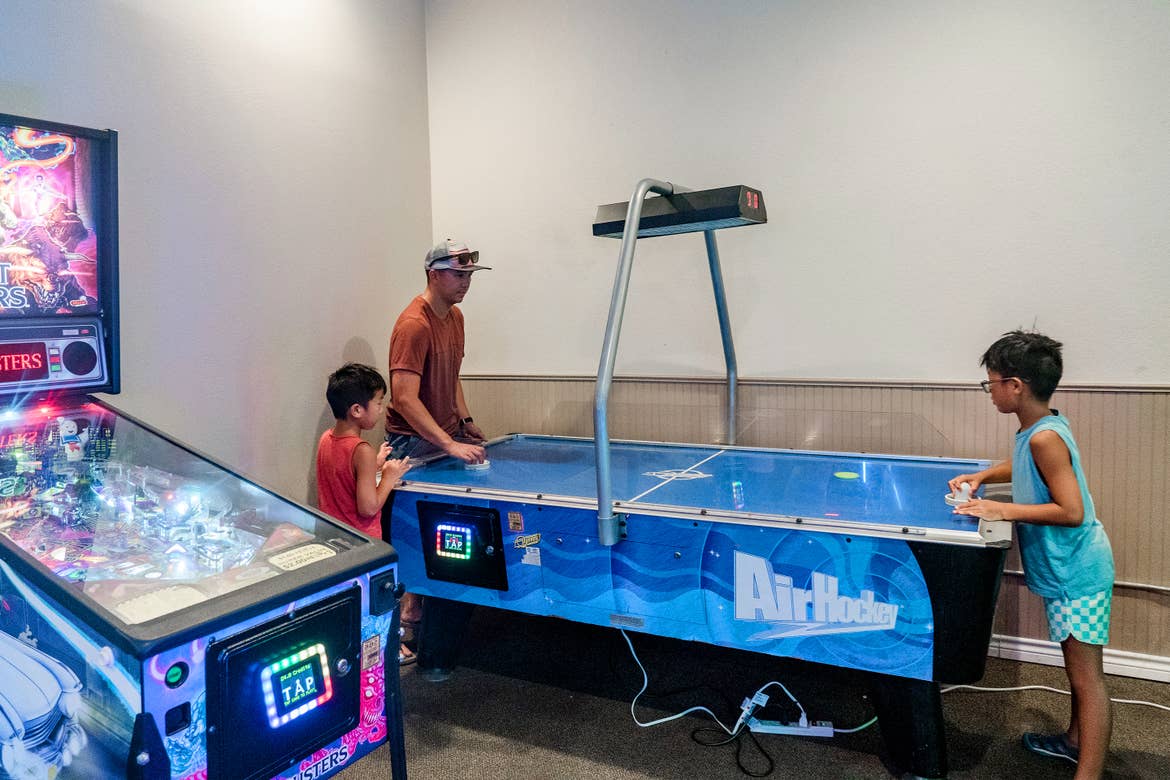 Playing a friendly game of air hockey at the Activity Outpost


Our Villas at Villages Resort
When traveling with kids and grandparents, it is really nice to have a couple of key things, like:
A kitchen for making meals at "home"
A washer and dryer
Multiple bathrooms
Our Presidential villas had it all!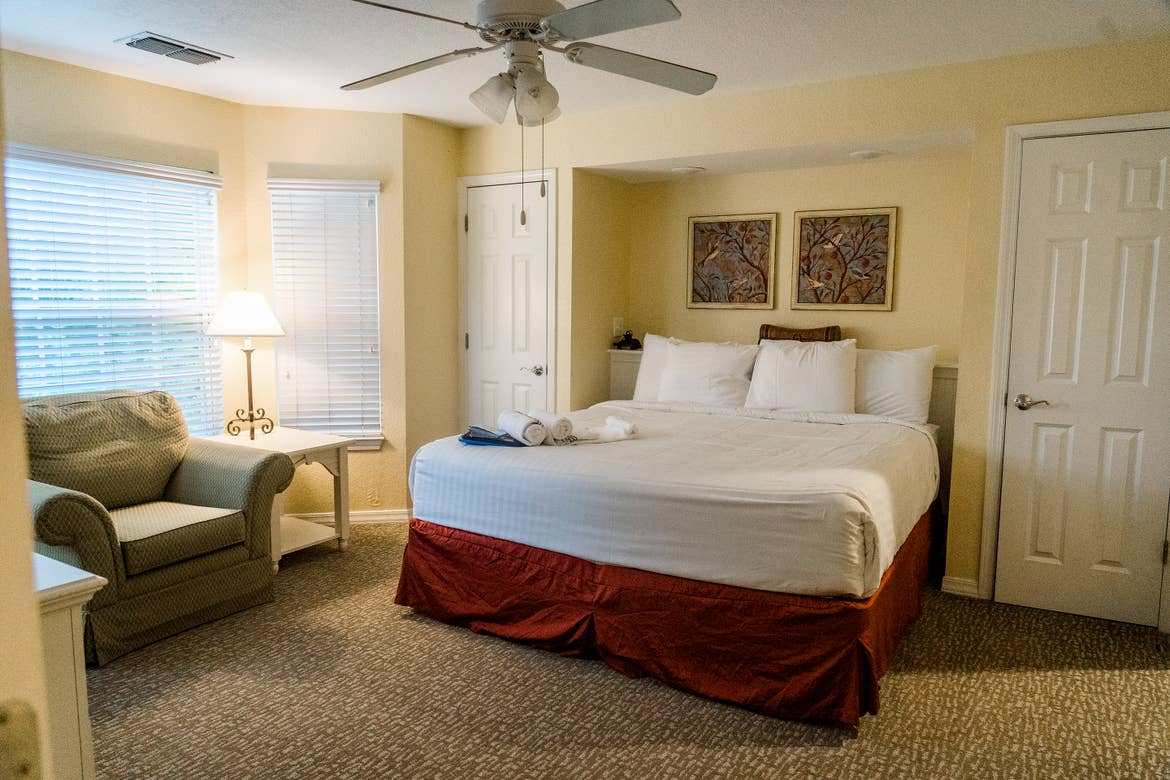 The master bedroom in the two-bedroom Presidential villa

Our family of four (my husband, me and our 2 boys) stayed in a two-bedroom villa that had a full kitchen, a kitchenette in the second bedroom, a living area, a patio and two full baths, while my parents stayed in a one-bedroom villa right next door.

Pro Tip: For groceries to store in your villa's kitchen, we recommend Brookshire's Food & Pharmacy.

It's a supermarket less than a 5-minute drive from the resort, and it has everything you'll need to cook your own meals in your villas!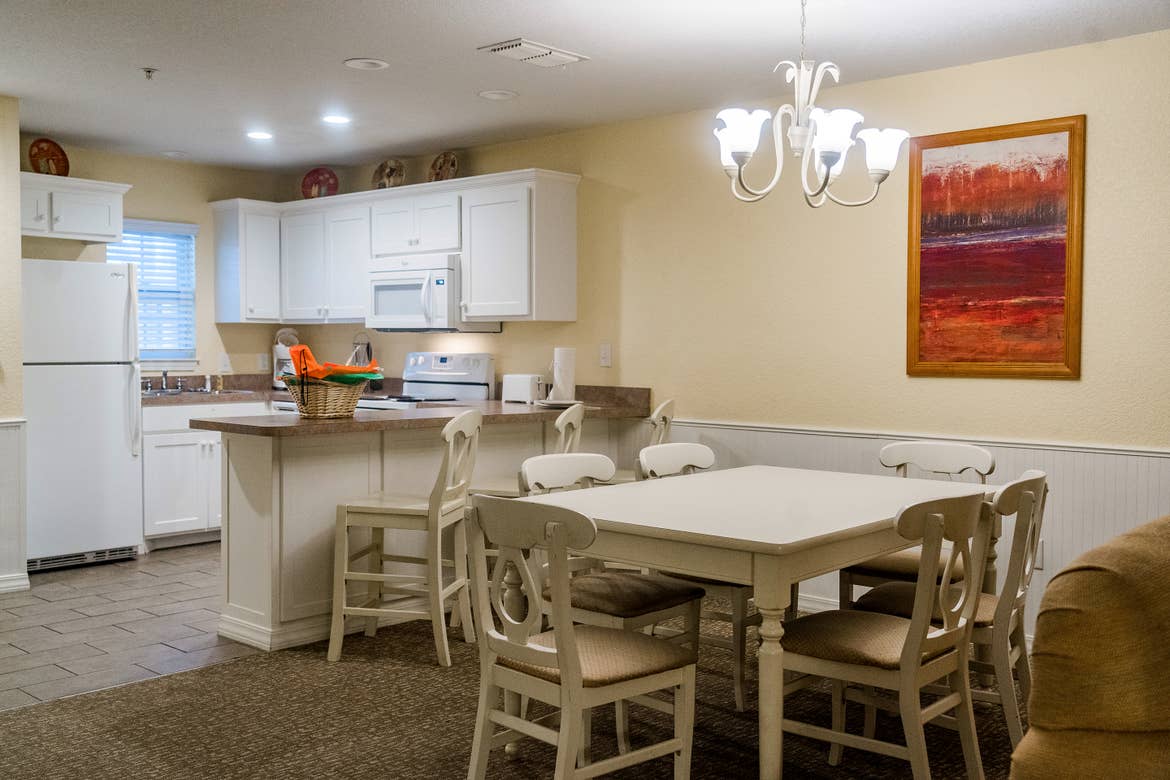 The full kitchen and dining area in the two-bedroom Presidential villa

There's also a gas station there, so you can fuel up your rental car and/or get ready for the drive home if you're doing a family road trip.


Local Activities & Restaurants in Flint, Texas
With only three full days in Flint and plenty to do on-property at Villages Resort, we didn't venture beyond the resort much.

However, we did get to do a couple local activities and restaurants we found.


Echo Springs Blueberry Farm
One morning, we drove over to a blueberry farm called Echo Springs in nearby Murchison.

They claim to have "Texas' Finest Blueberries," and we would have to agree … they were so juicy, sweet and flavorful!

It was a hot day, so we also cooled off with some ice cream afterward.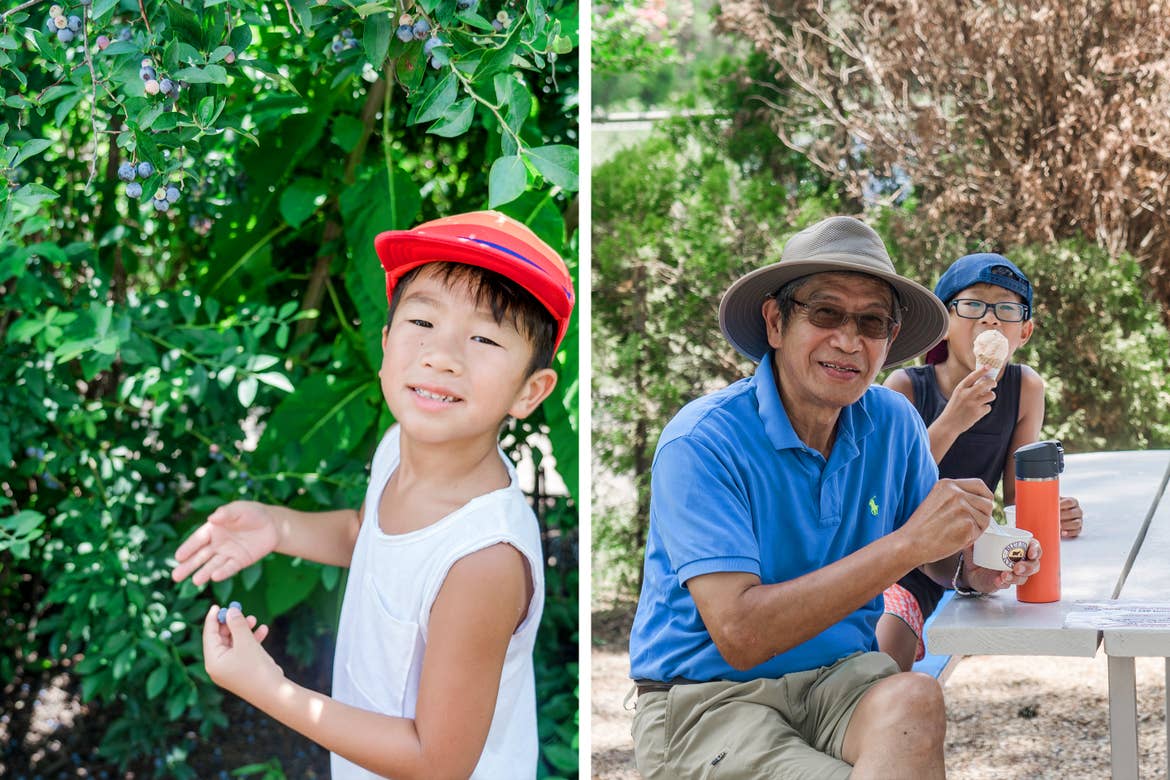 Good Food in Flint
Since we love trying local foods when we travel, we also tried Stanley's BBQ on our way to the resort on the first day and Kuzzin's Kitchen for a crab boil dinner on our last evening.

If we had more time, we would've done more local activities that were recommended to us, like:
Tyler State Park
Caldwell Zoo
Tyler Rose Garden
Discovery Science Place
Historic Aviation Memorial Museum
Wine tastings at local vineyards
There's always next time!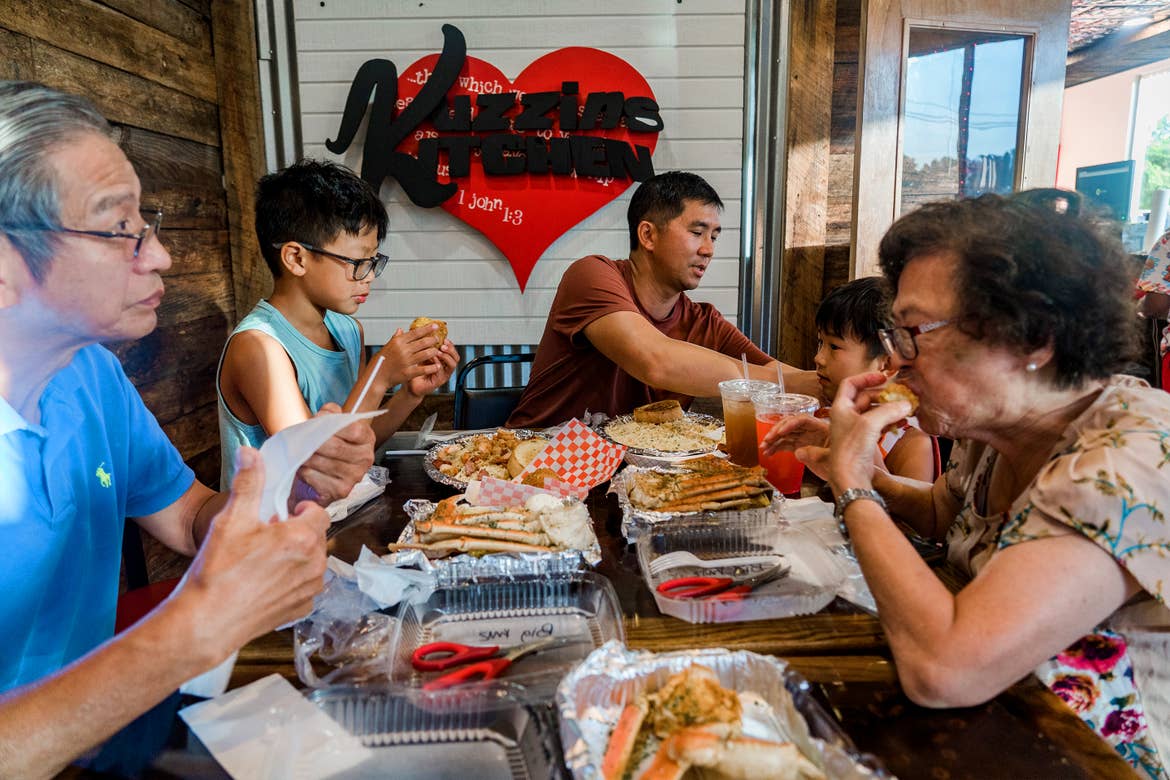 The Perfect Outdoor Oasis for Families
While we were staying at Villages Resort, we spoke with a few other friendly families and noticed there were many reunions occurring.

We asked the resort team, and they mentioned the majority of guests are out of state, though they also have some who come locally from Texas to enjoy the outdoor playground Lake Palestine offers.

If you're looking for more Texas getaway ideas, Holiday Inn Club Vacations® also has 6 more resorts in the state, which are all great for outdoor family adventures as well.

Personally, we had a blast and would highly recommend Villages Resort as an ideal place to stay for any family, especially if you're planning a multigenerational or multifamily vacation!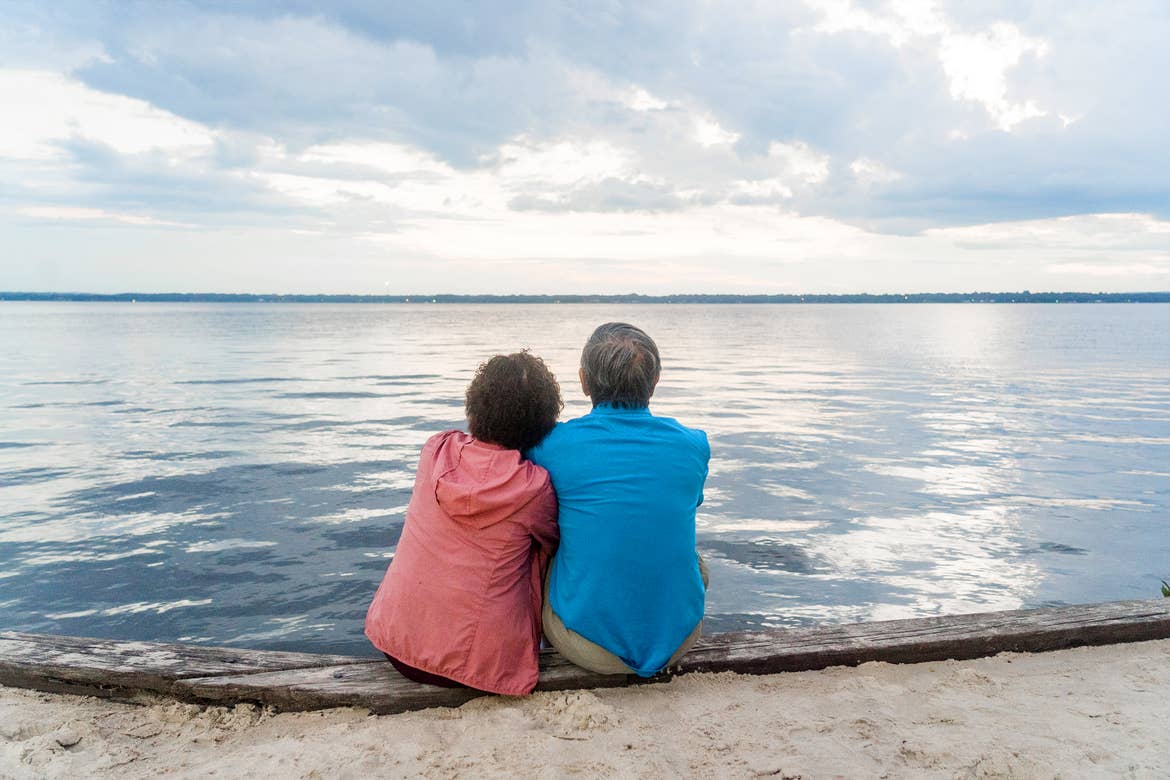 Our guest bloggers are compensated for their writing contributions and honest opinions.

All information is subject to change. This article is a curated guide and is neither sponsored nor considered an official endorsement. Please be sure to check information directly with any/all tours, guides or companies for the most up-to-date and direct details.