Rona Gindin
Rona is a travel writer who explores the world, yet she's most at home enjoying Orlando's natural, quirky and cultural attractions.
Website
There are so many amazing outdoor things to do in Orlando in the spring, from picking blueberries at a family-run farm to scooting through swampland at what seems like warp speed.

Thanks to the season's welcoming weather, visitors can enjoy wonderful open-air activities anytime—even in these times. (Masks, hand sanitizers and social distancing—check!)

With Orange Lake Resort or Orlando Breeze Resort as your home base, you're sure to have fun fun fun during your Orlando vacation, no matter what kinds of activities get your gang going.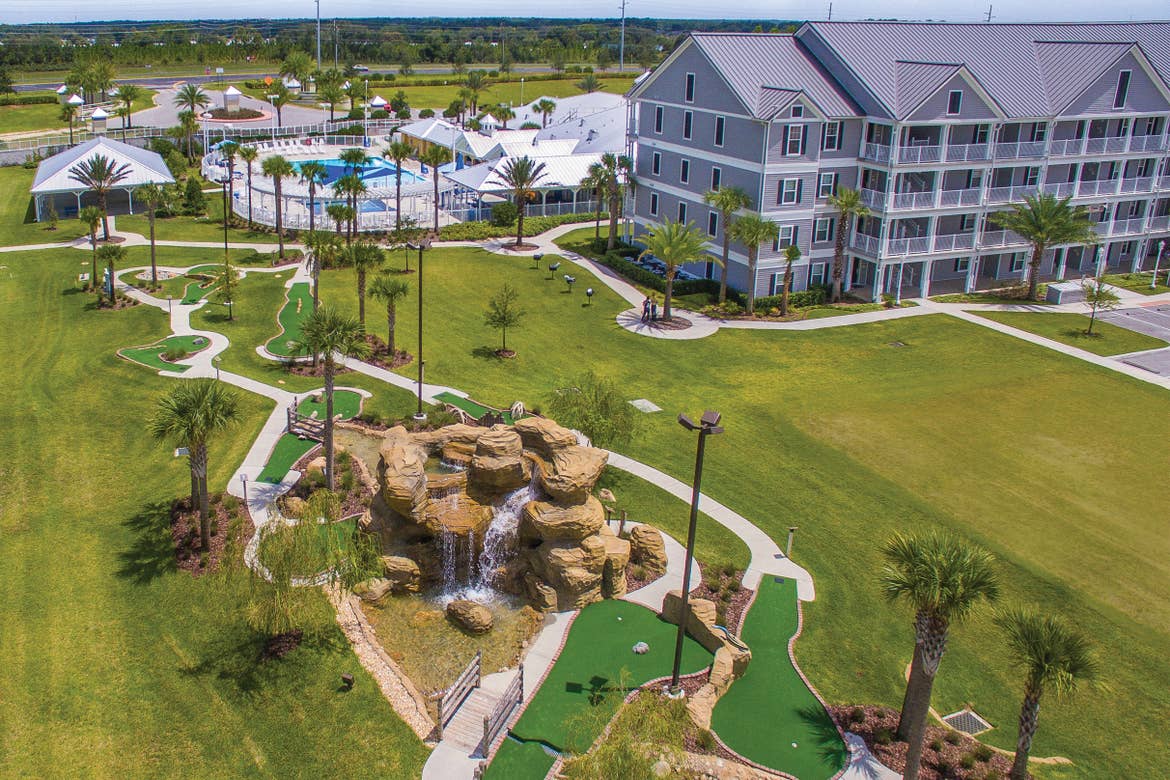 Orlando Breeze Resort is close to all the Central Florida springtime fun.

Head out to take part in the countless cultural, natural and even quirky experiences located in Central Florida's colorful communities. Then come back for spacious villas, mini golf, pool time and other super fun activities.

As a local travel expert, I already gave you a starter list of fresh-air Orlando activities and since then, I've discovered plenty more must-see destinations for families, couples and groups of friends.

Here's my list of the 10 best outdoor activities Central Florida has to offer this spring.


1. Pick Blueberries at a Local Farm
From fruit-picking to farmers markets, Orlando makes it easy to have fresh, natural foods on-hand for baking, cooking, snacking and eating.

In Florida, berries bloom in spring. That means you can head to a local grove and have a berry good time picking your own. Gobble them on the go or cook them into pancakes or pie back at the resort.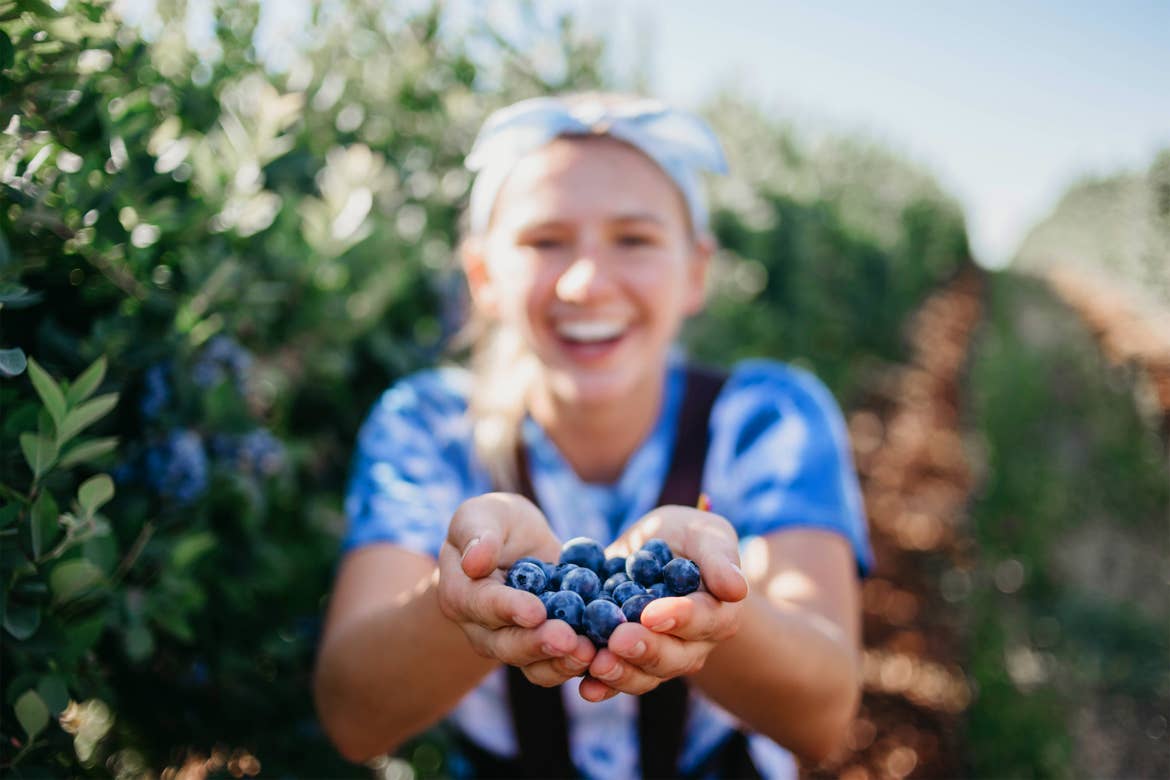 If it's oranges or tangerines you're after, pluck a basketful for healthy snacks all week long.


Where to Go Fruit-Picking in Orlando
Southern Hills Farm is a top favorite with locals and visitors alike. It has blueberry, strawberry and sunflower picking, often paired with live music, food trucks and refreshing beers or ciders on hand for the grown-ups.

Other favorite farms include:
Check ahead via websites and Facebook pages to make sure there's fruit left to find.


Central Florida Farmers Markets
Not keen on picking your own fruit? Let someone else do it!

Visit a farmers market in Celebration, Winter Garden or Winter Park. At each venue, vendors offer crates loaded with the season's best, harvested and ready to eat.

Pick up locally made crafts, condiments and baked goods from area artisans, too.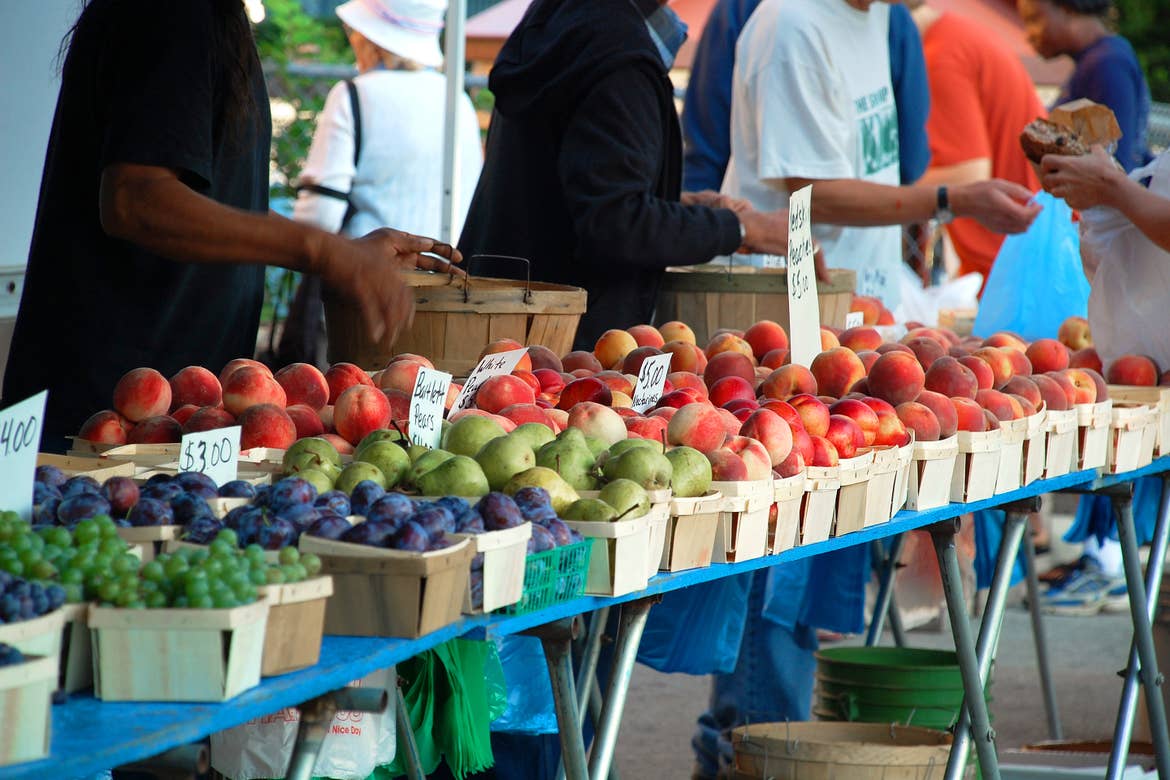 2. Go Boating
Don't know a mast from a motor? Orlando is filled with lakes and wetlands, plus a river here and there, and captains are on call to take you out on the water.

So sit back and see the sights while someone else does all the steering.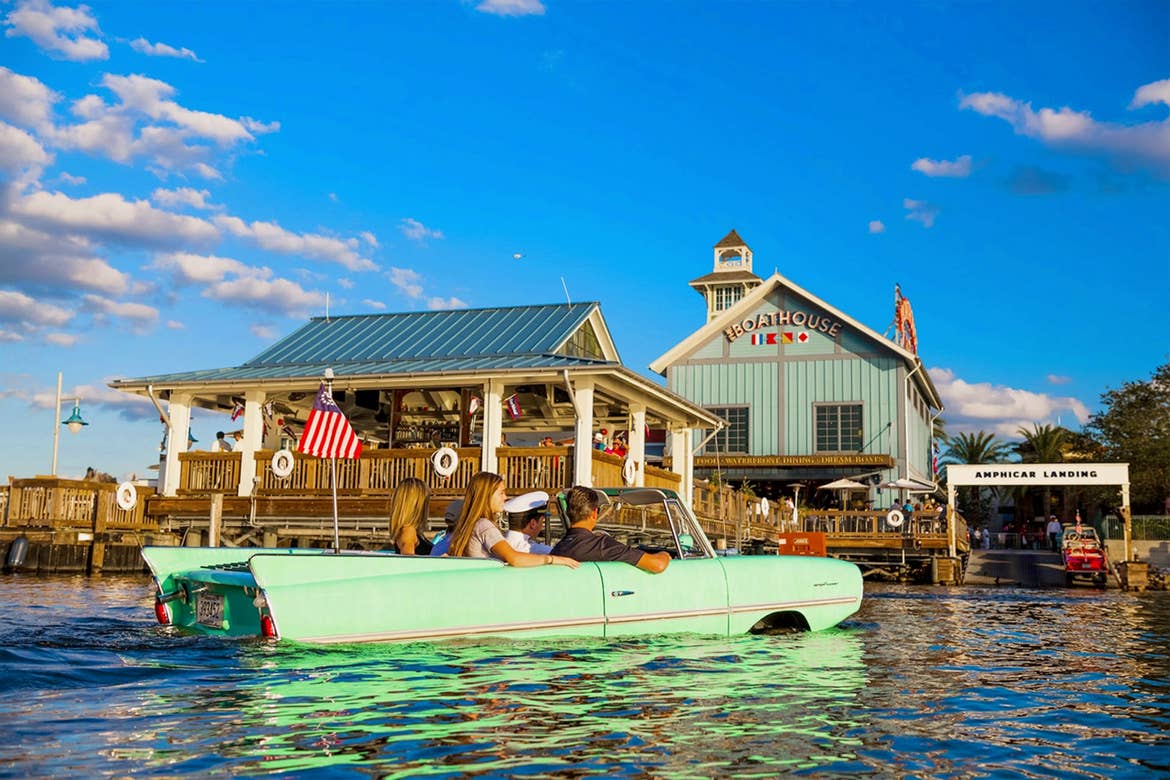 Photo courtesy of The BOATHOUSE® Orlando


Airboat Rides
Airboats have been part of Florida's rural life for a century, and they're big fun for a family tour. Settle into an open-air boat, put on headphones so you can hear the captain's insights (and block out the noise), and wait for the oversized fan that propels the ride to rev up.

Depending on the location, you might scoot over marsh, around lakes and by grazing cows. Alligator spotting is prime, and the birds are usually amazing, too.

Many outfits operate at the northern tip of the Everglades, and some offer private options for just your posse.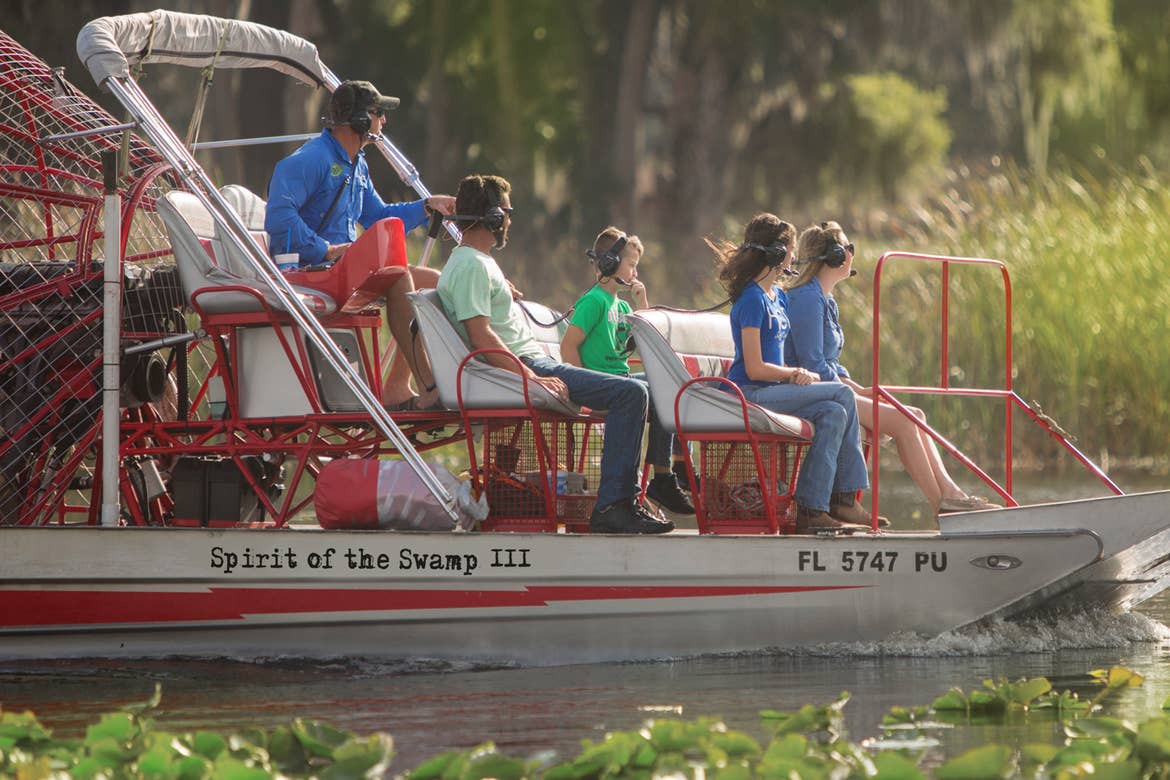 Photo courtesy of Spirit of the Swamp

Airboat operators near Orlando include:
Boat Tours
For a more leisurely boating experience, take a tour. Walk aboard an open-air vessel and a knowledgeable captain will guide you through a Central Florida chain of lakes.

During an hour or so cruise, your host will point out local birds (such as blue herons and hawk owls), lush canals and assorted interesting tidbits during the voyage. (And gators. Always be on the lookout for gators.)

On the Orlando and Scenic tours below, you'll also see celebrities' current and former homes.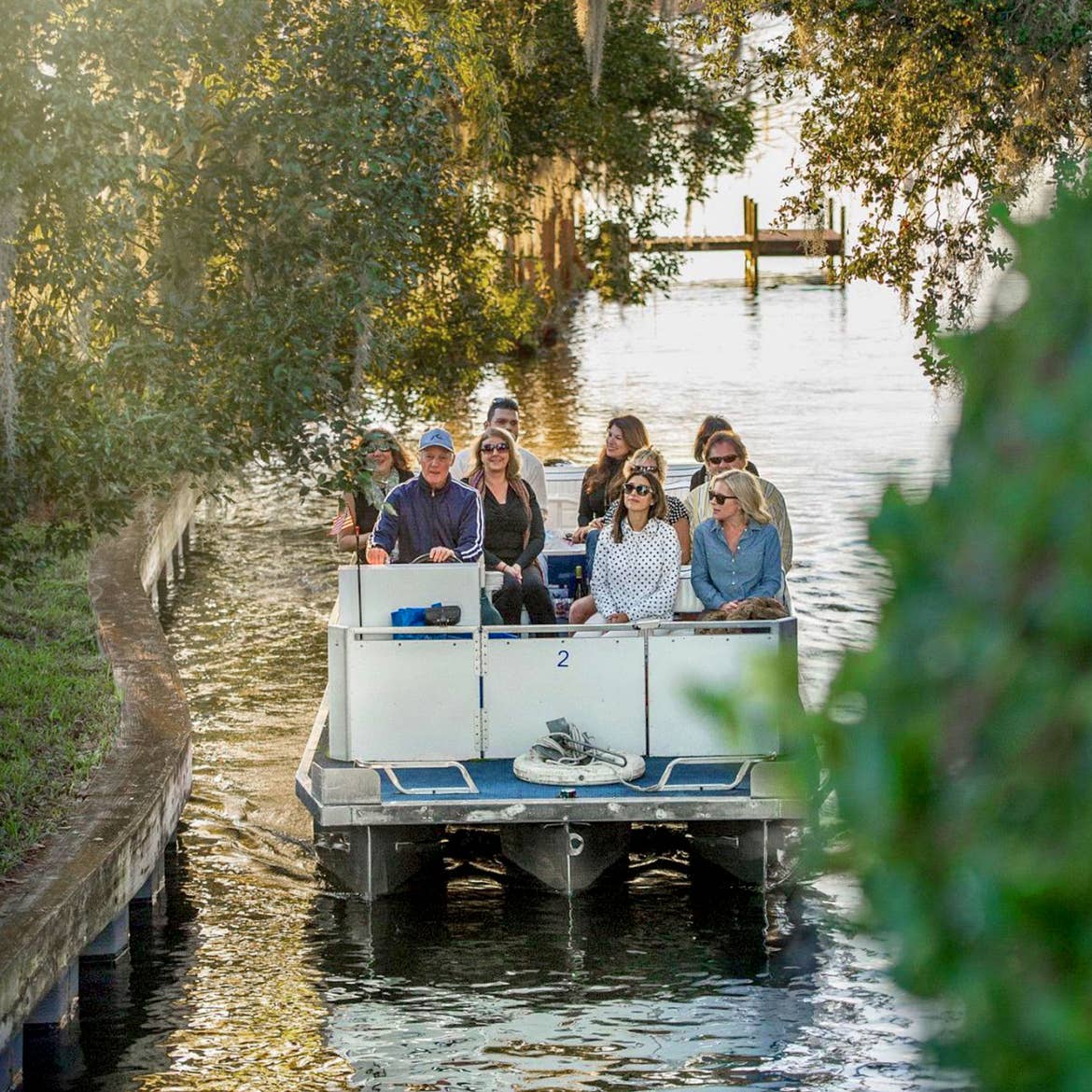 Photo courtesy of Visit Orlando

Options include:
3. Dine Outdoors
Spacious patios with spread-out seating make us safe and comfy these days, and plenty of Orlando food purveyors offer good options.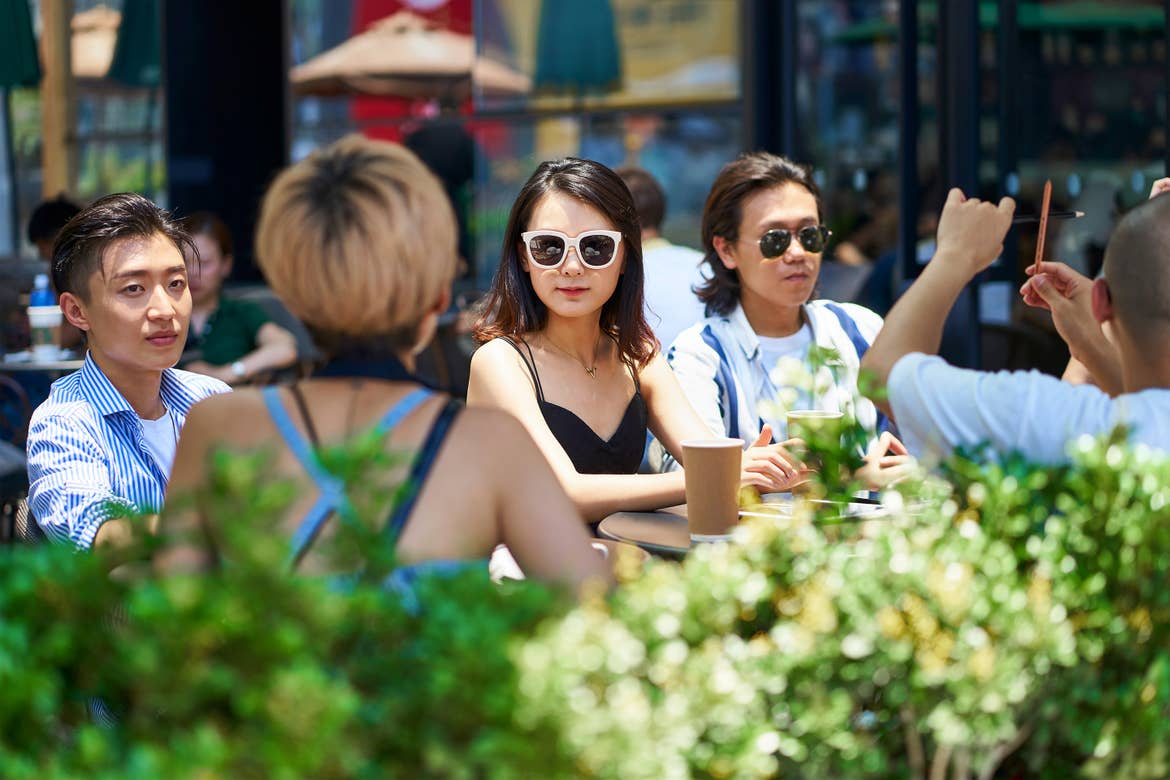 Outdoor Restaurants
Check out some of the best restaurants in Orlando with outdoor seating: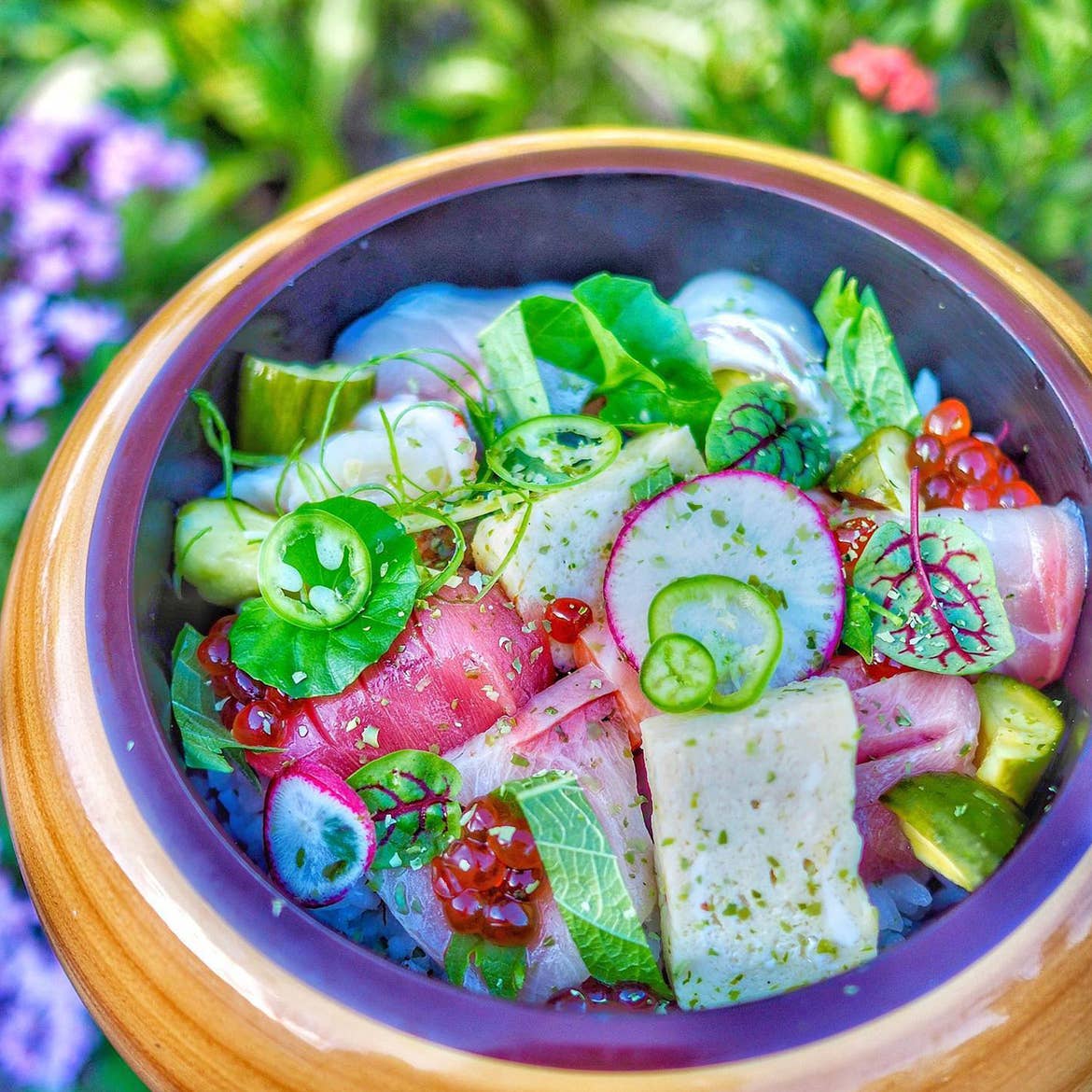 Photo courtesy of Kabooki Sushi

4. Watch a Live Performance Under the Stars
Orlando musicians have brought their sounds to eager audiences outdoors over the past year. (Because who hasn't missed live theater and concerts for the last year or so?)

Schedules are thinner during spring and summer, yet concerts are on calendars here and there this time of year.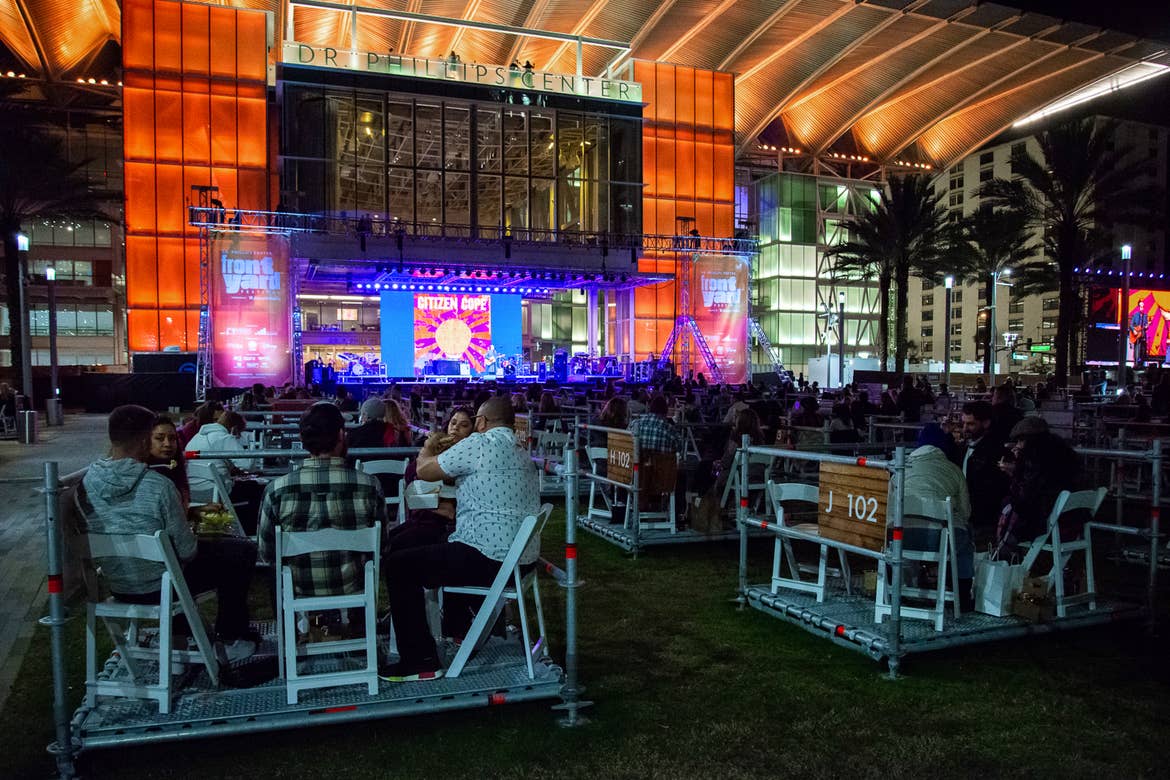 Photo courtesy of Dr. Phillips Center for the Performing Arts


Dr. Phillips Frontyard Festival
In downtown Orlando, the Dr. Phillips Center for the Performing Arts put up socially distanced pods of seats for attendees of its Frontyard Festival, which had at least one outdoor event every day for several months.

Among them were jazz, classical, Broadway, rock and soul concerts, plus family-friendly performances. Bonus: Local restaurants deliver meals and bar drinks right to your socially distanced pod.

As of June, it was announced that the festival will go on through mid-December 2021 and is being revamped with bigger shows, twice as many boxes, fresh restaurant menus and more.

If it ends, chances are you'll still find musical events held occasionally on the Seneff Arts Plaza, which is what the outdoor area is named.


Orlando Philharmonic Orchestra
The Orlando Philharmonic Orchestra bops around, with its musicians performing outdoors at the Dr. Phillips Center, outside The Plaza Live theater, and even in Winter Park's Central Park and the Exploria soccer stadium.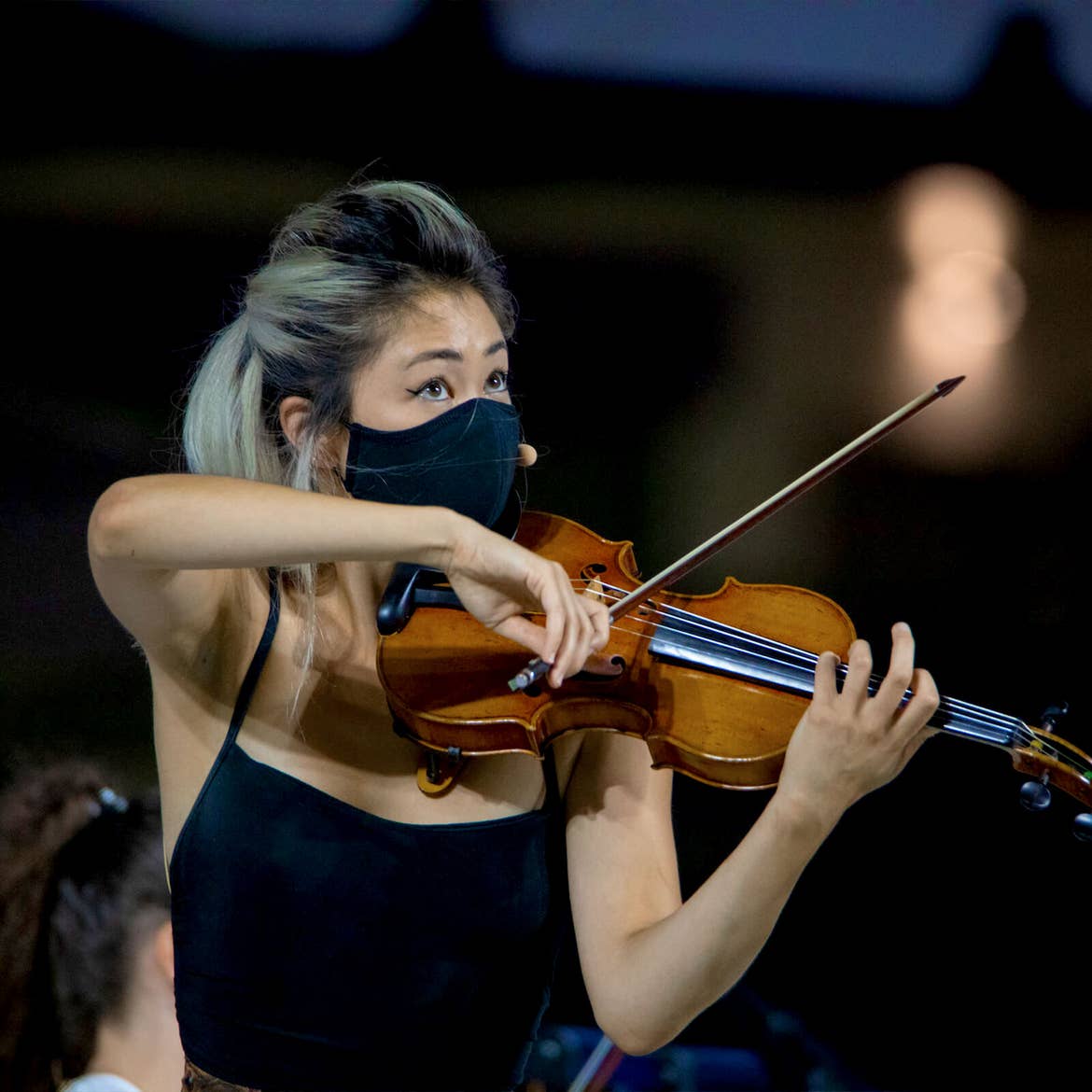 Photo courtesy of Orlando Philharmonic Orchestra


Outdoor Concerts
Camping World Stadium acts as an open-air arena for concerts occasionally, such as Mötley Crüe and Def Leppard, currently scheduled for a mega-show in late June.


Theater Performances
You'll find theater without walls in Orlando this spring, too. Orlando Shakes will present at least two plays outdoors in coming months.

At downtown Orlando's Lake Eola park, A Midsummer Night's Dream will be performed at the Walt Disney Amphitheater through April 17. Then Little Shop of Horrors will be performed there through much of May.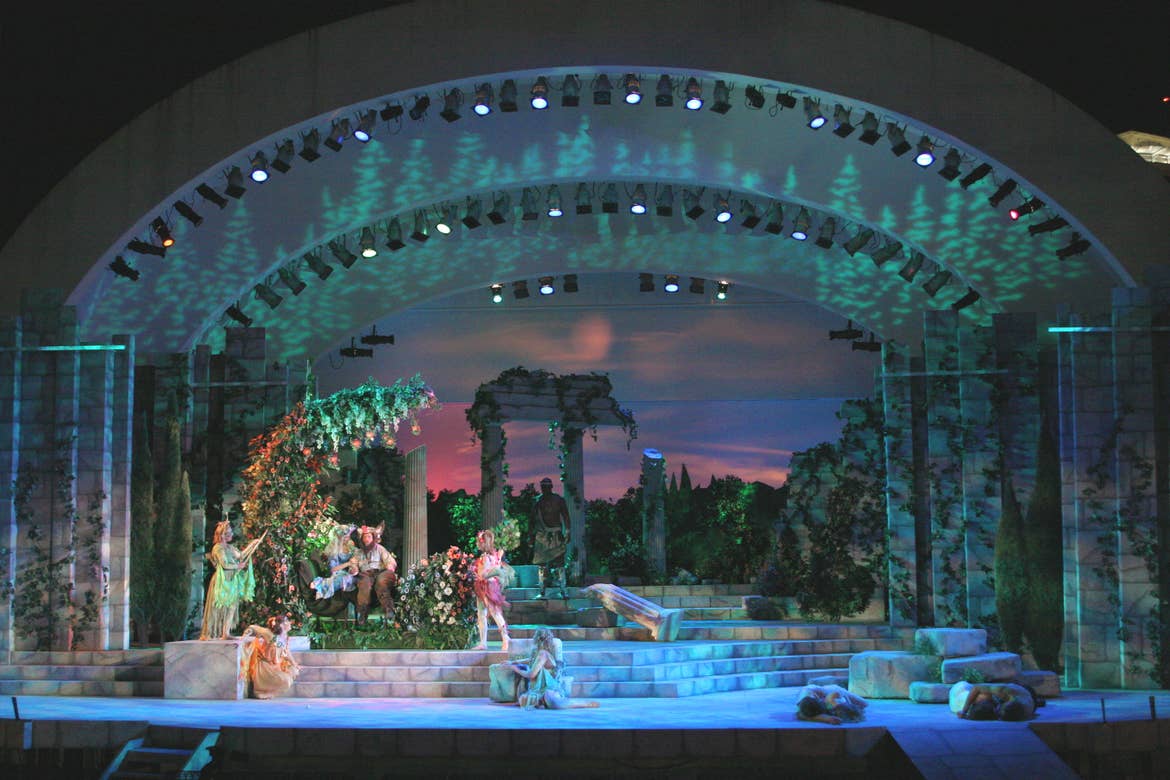 Photo courtesy of Orlando Shakes


5. See Swampland without Leaving Your Seat
If you're craving nature without a challenging hike or the company of strangers, hop in the car.

At the Lake Apopka Wildlife Drive, you'll meander through wetlands, spotting flittering birds and napping alligators—all from the comfort of your sedan or SUV.

Originally farmland around the northern edge of a large lake, the best part of this destination is the drive itself. It involves easily crawling at 10 miles per hour along one-way rural roads and watching wildlife through the windows, open or closed.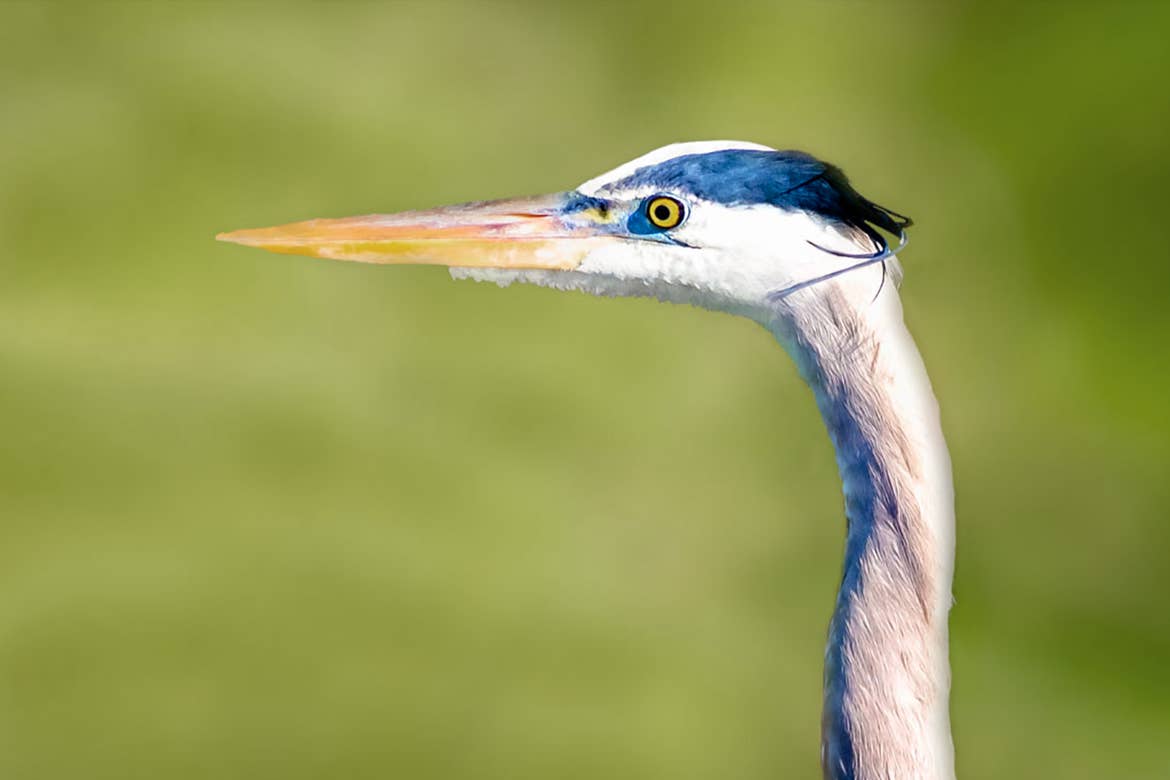 Photo courtesy of Michael Feldman

With luck, you'll spot swallow-tailed Kites, anhingas (snakebirds) and red-shouldered hawks, while hearing the music of songbirds; 360 bird species in all spend time within the 50,000-acre ecosystem.

You might also spot a bobcat, armadillo or otter, too.

Want to get out and take pictures? Designated areas invite parking along the way. To learn about what you're seeing, tune into an audio tour via your smartphone. It's all free.


6. Pop-up Entertainment
Look for the little guys providing entertainment, too. Creative types regularly conjure up pop-ups, which are temporary, and more modest, performances outdoors.

Through April 18, 2021, you can romp around prehistoric creatures at Harry P. Leu Gardens. Its Dinosaur Invasion involves 20 realistic-looking creatures, such as a 33-foot Daspletosaurus, living among the 50 acres of camellias, bamboo gardens and such.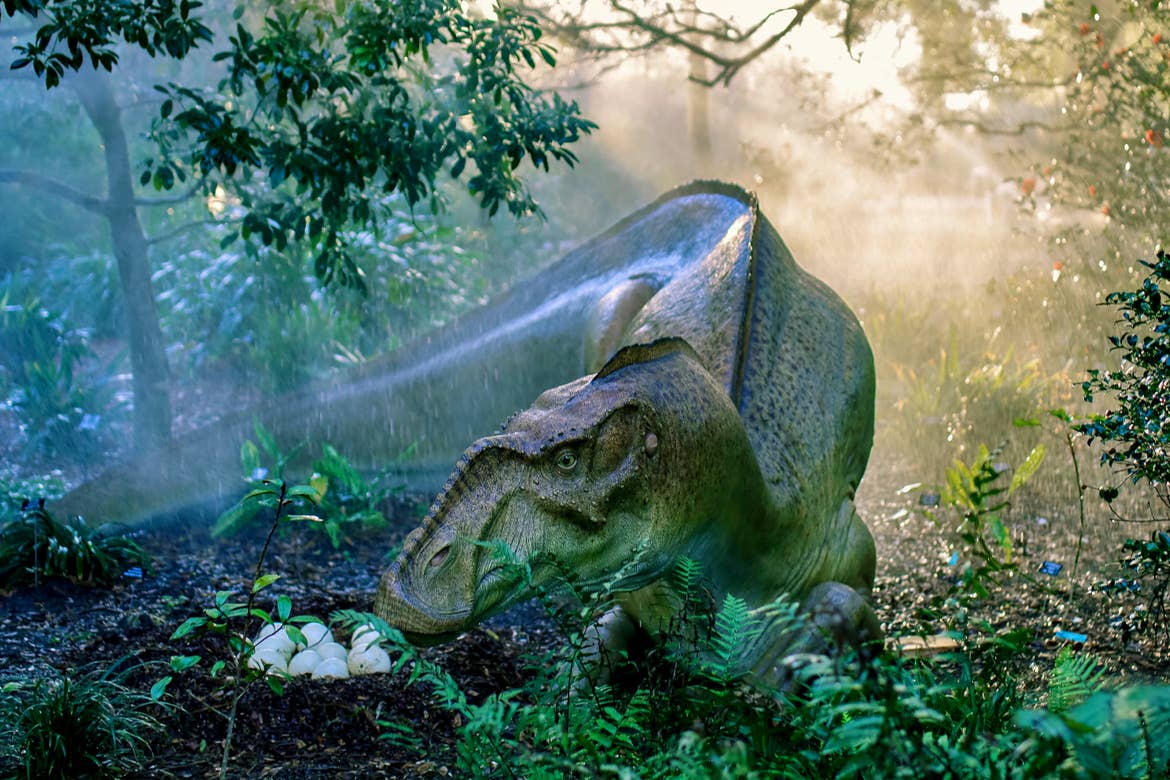 Photo courtesy of Harry P. Leu Gardens

The roster changes frequently. One time, it was highly entertaining drive-through Halloween experiences, and in winter, it was a production called Down the Rabbit Hole that led small groups through a botanical garden at night to see performers entertain within an Alice in Wonderland theme.

To see what's on the calendar during your stay at Orange Lake Resort, check these websites:

7. Unique Outdoor Dining Experiences
Yes, I know this is another list of food recommendations, but these are all about non-restaurant outdoor dining experiences. So when you're looking to add a little variety to your traditional restaurant rotation, check these out: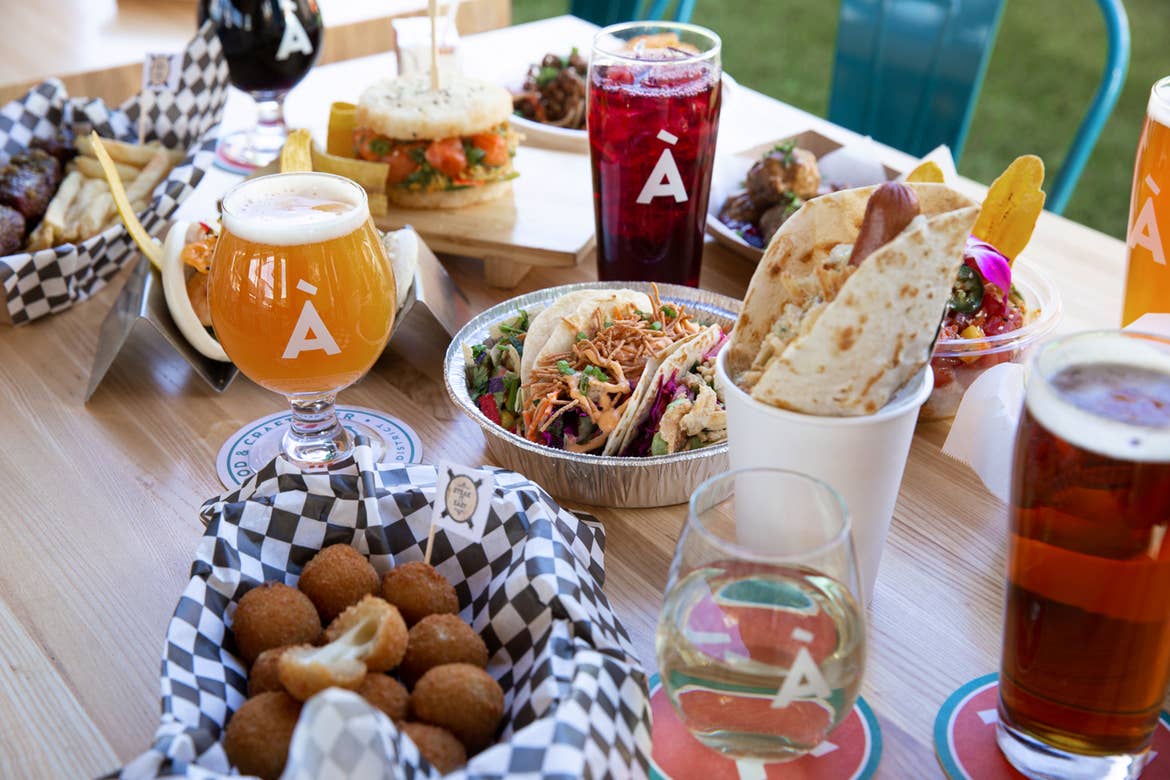 Photo courtesy of À La Cart


8. Take to the Streets for a Festival
Orlando loves a street party and usually has upbeat, themed events on weekends throughout the year. Some remain on the calendar for spring and summer 2021.

Look for two types: annual events held at theme parks (modified for social distancing in 2021) and festivals in Orlando's communities celebrating something—art, music, culture, religion, you name it.

All have announced efforts to encourage mask-wearing and social distancing.


Spring Theme Park Events
In theme parks, so far, it's a go for the Epcot® International Food & Wine Festival, located within Walt Disney World's Epcot Theme Park.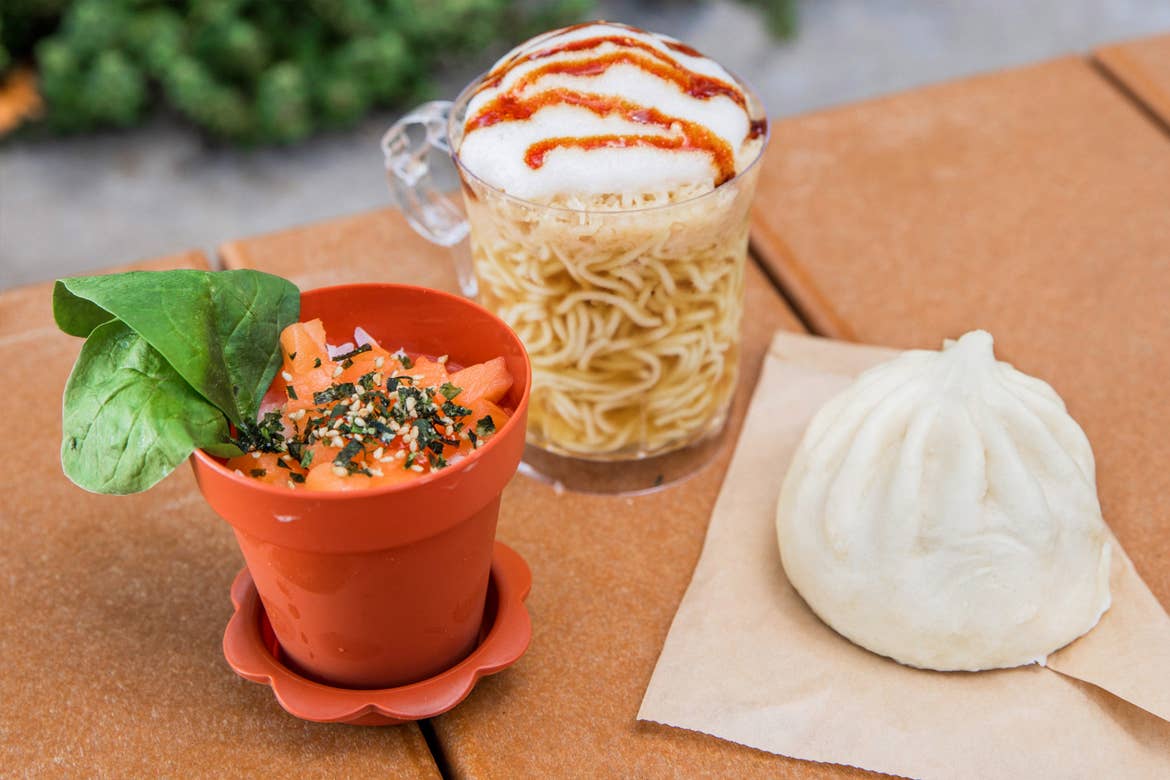 Photo courtesy of Walt Disney World Resort, taken by Olga Thompson

An abbreviated version of a multi-week event that takes place every autumn, this year's gathering will feature marketplaces selling small bites of foods from around the world, live music from some of the featured countries, and probably activities for children and adults.

SeaWorld® Orlando's Seven Seas Food Festival brings in extra foods with global flavors each weekend through May 9, 2021.

Fifty dishes, 75 craft beers, and 75 wine and craft cocktails are being offered Fridays, Saturdays and Sundays, with outdoor amphitheater concerts at Bayside Stadium regularly.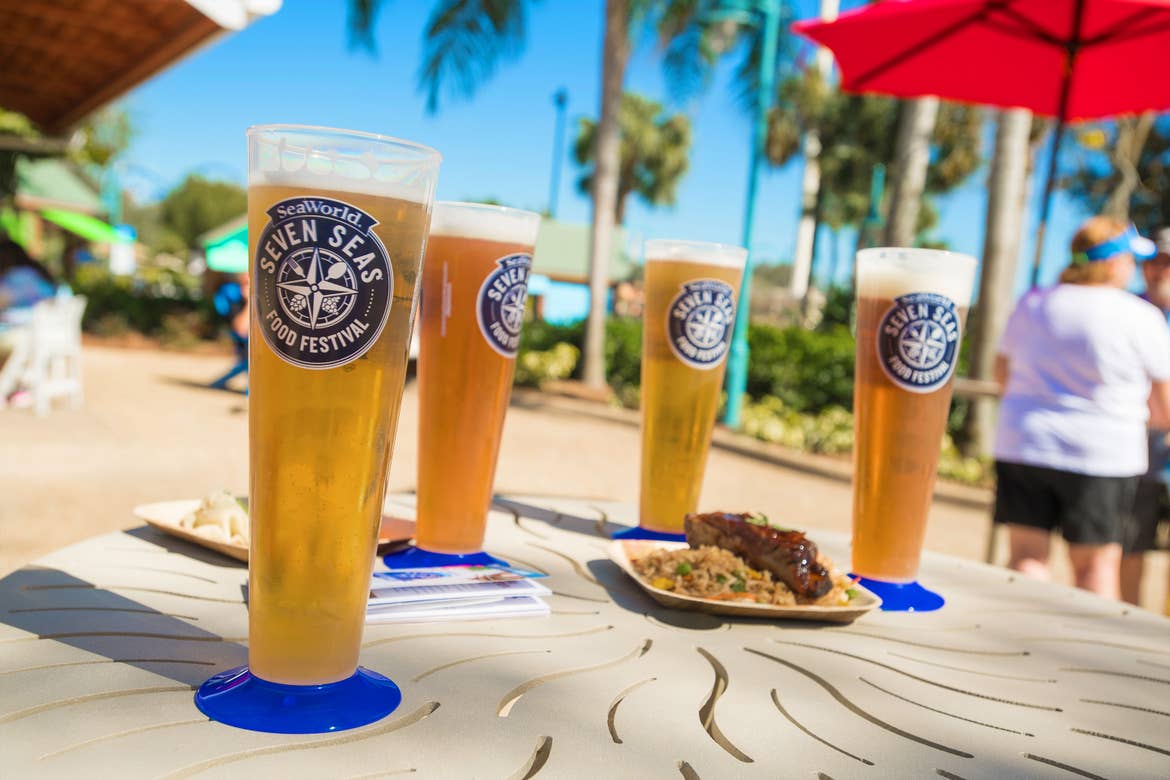 Photo courtesy of SeaWorld® Orlando


Special Orlando Events
Elsewhere in town, you'll have plenty more options. The Winter Park Sidewalk Art Festival (May 14-16, 2021) features a stellar line-up of painters, photographers, jewelry makers and others.

Moving into fall, you'll find events including Gay Days, the Puerto Rican Festival & Parade and a dragon boat festival.


9. See Outdoor Art Displays
Orlando's creativity is on display all over town, even far from the Imagineering that goes on in Mouseland.

Wall murals bring vibrant colors to city neighborhoods, and you can see them at your own pace. Just hop in the car.


Orlando Art Displays
Using this guide, you'll find an inspiring variety of hand-painted works, pretty, political and/or poignant. One suggests you eat more ice cream. Another recognizes victims of the Pulse nightclub tragedy.

The Diversity Mural (pictured) by Cherie Bosela of Luna Mosaic Arts is a mosaic of hearts from around the world; it's on the side of the Lamp Shade Fair building and has been accepted into the Society of Mosaic Arts.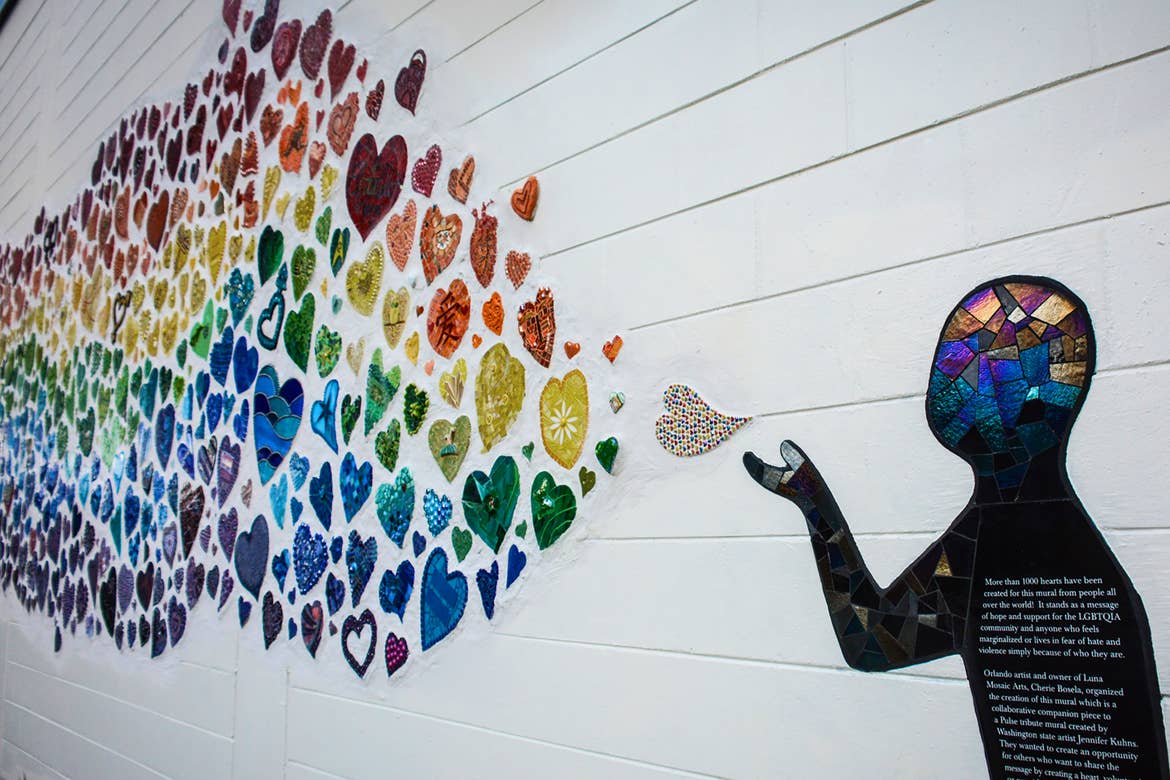 Photo courtesy of Luma Arts

Seek out murals about pineapples, peace, diversity and Orlando itself.

Some neighborhoods, including the Mills 50 District, add art in other clever ways. Scoot around to seek out one-of-a-kind paintings on utility boxes, dumpsters and other unlikely otherwise-eyesores located on city streets.


Kissimmee Art Displays
Closer to Orange Lake Resort, Kissimmee has its own array of outdoor artwork. Via Osceola Arts' ARTisNOW public murals project, you can see about a dozen bold paintings on what were plain concrete walls, most on Broadway.

Seek out the "Snowy Egret" at 108 Broadway and "The Wild Ones," of flowers, nearby at #120, for starters. You'll also find an owl with a tremendous wingspan and a Florida panther.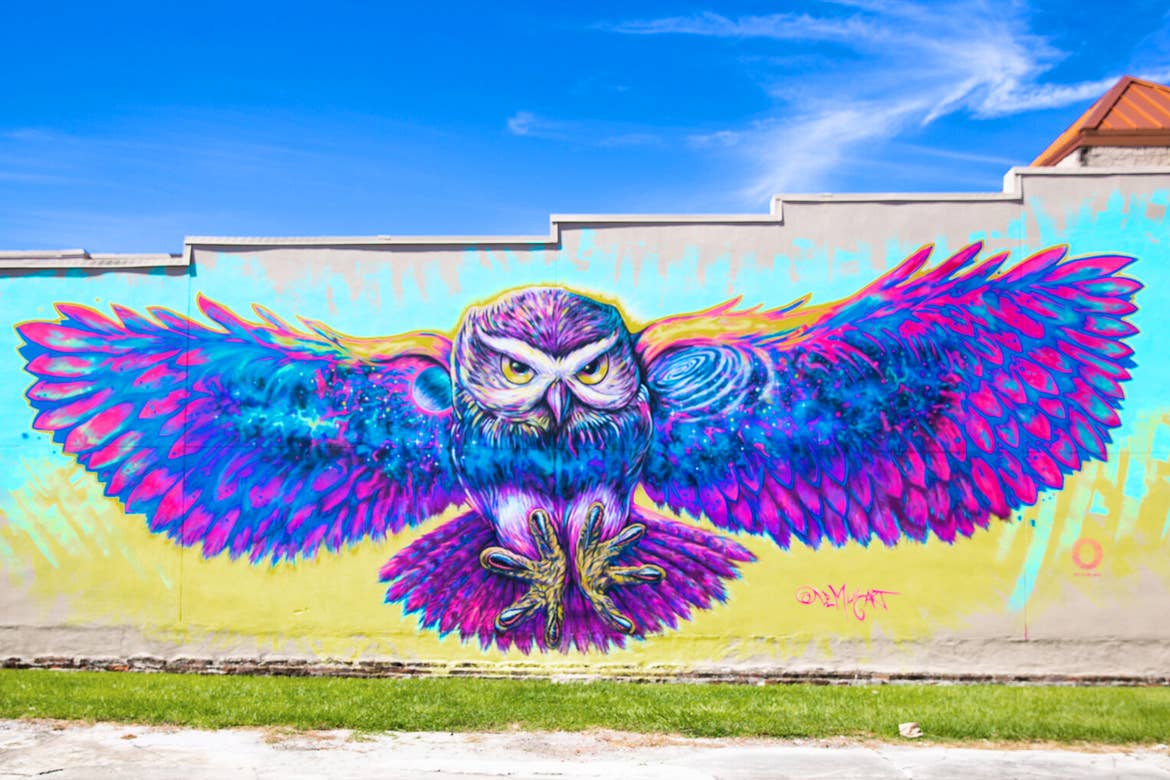 Photo courtesy of Lemonhearted.com


Outdoor Museums & Sculpture Gardens
Want museum-quality art? No problem.

The Mennello Museum of American Art specializes in the works of American artists, including painter Earl Cunningham.

Stay outside this Orlando museum and you can look, touch and even picnic among the artworks on display in the Sculpture Garden. The pieces change about once a year.

Currently, works of New York sculptor Alice Aycock are among the pieces in a series called Grounds for Exhibition.

Just north in Winter Park, the Albin Polasek Museum & Sculpture Gardens has a large lakefront lawn. Sculptures abound around the 3 acres; some of the 23 on display have been here since 1949. Pack a lunch and picnic as you tour.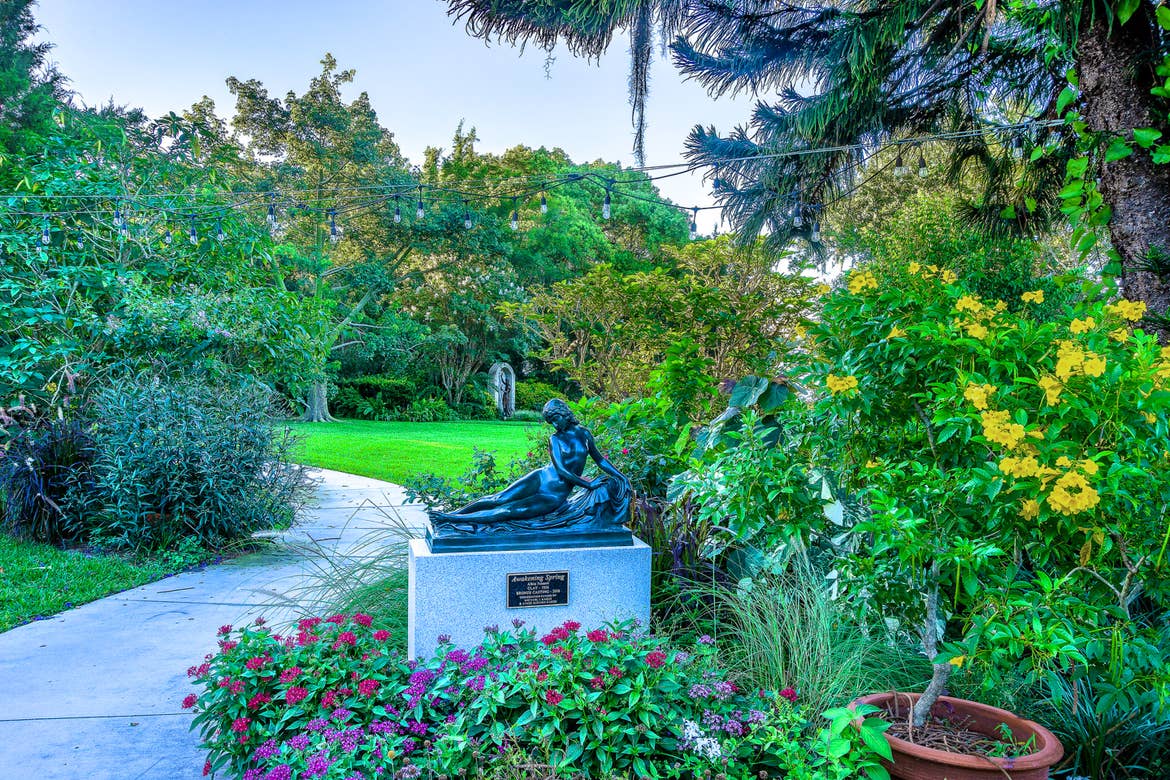 Albin Polasek Museum & Sculpture Gardens

Continue your sculpture hunt at Kissimmee Lakefront Park. Its Monument of States is a quirky 50-foot statue that's made of stones from around the country and the world.

Long-ago local Dr. Charles Bressler-Pettis built it in 1943 to demonstrate unity in response to World War II, and to attract tourists.

Scoot around downtown Orlando to find The Muse of Discovery, Monument in Right Feet Major and Take Flight, among others.

Newer sculptures, by Bill Starke, are on the exterior of the GEICO Garage at the Amway Center and depict people climbing on ladders. They're among the 300 pieces of art inside and out at the Amway Center.


10. Visit Orlando's Theme Parks & Waterparks
Orlando has long been known as the Theme Park Capital of the World, so if you're planning a fun and safe theme park vacation, you've come to the right place, at the right time.


Major Theme Parks
All of the area's major theme parks are open—and all strictly enforce mask-wearing and social distancing.

They also let fewer people in at a time than usual, some rides and restaurants will be closed, and characters will perform at a distance.

The upside is that you'll compete with fewer visitors for each attraction. Open as of press time: all four Disney World parks, both Universal Orlando parks, SeaWorld Orlando, Gatorland and Legoland Florida.

Of all the land-based parks, Gatorland is perhaps the most suited to those committed to remaining outdoors. Over its 110 acres, the alligator-themed mecca mostly involves strolling in the open air over wooden walkways to see alligators lounging and performing.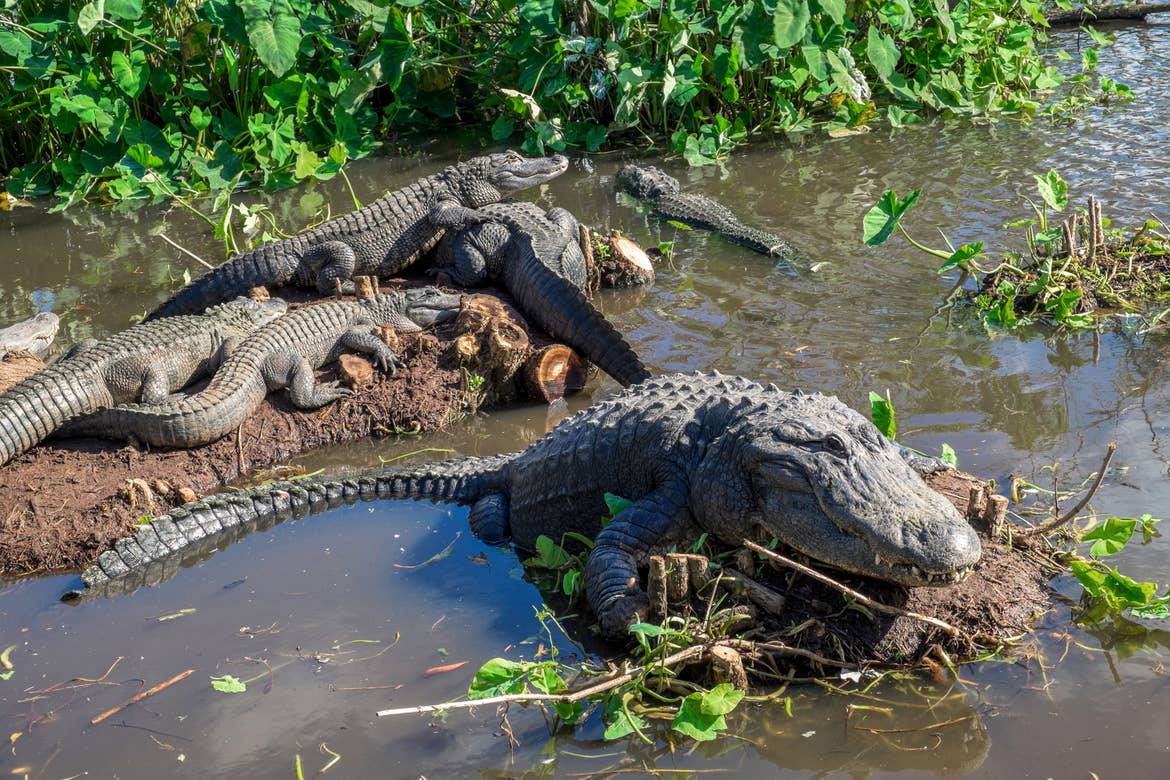 Photo courtesy of Gatorland

The petting zoo, splash pad and aviary are a little more touch-centric, but you can choose to skip them. Add-ons include a zip line, off-road adventure and behind-the-scenes tour.

For a standard visit, you'll rarely be indoors once you get through the gift shop at the entrance.


Waterparks
Waterparks are a thrilling way to cool off in the Florida sun, and you have several to choose from. Now that many are slowly starting to reopen after long closures, they're all taking serious precautions to keep guests safe, too.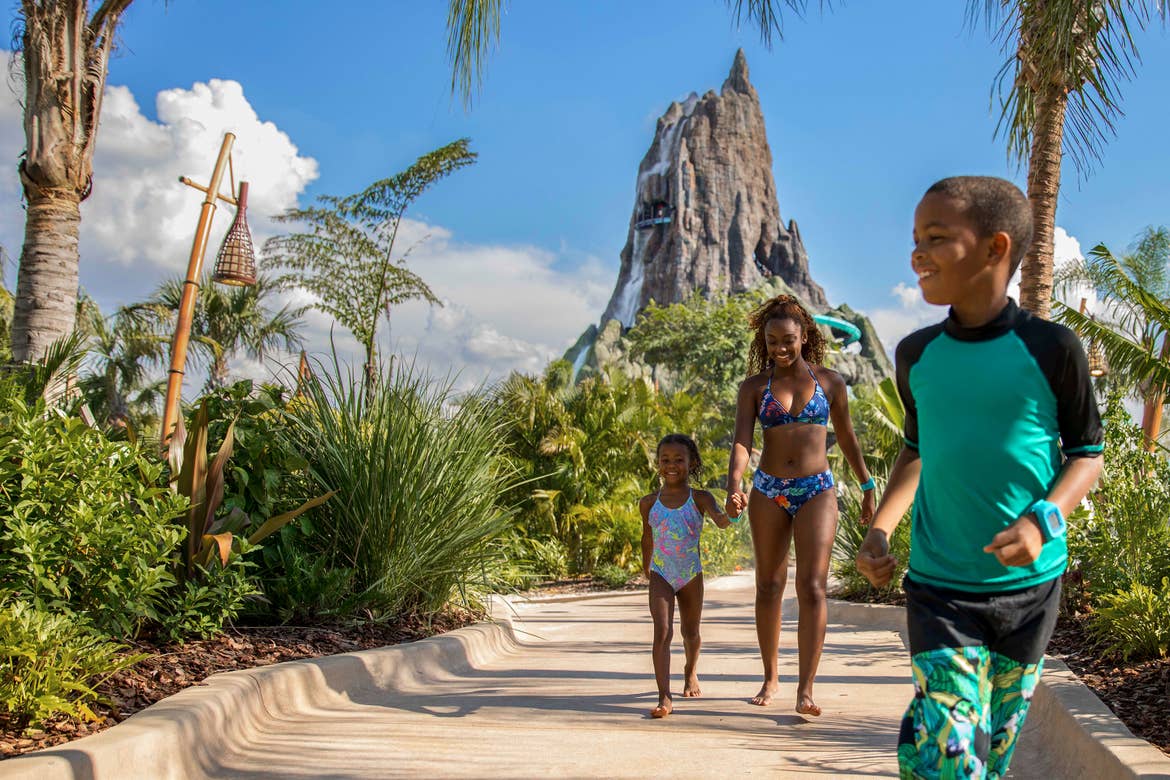 Photo courtesy of Universal Orlando® Resort

Your choices are:

Discovery Cove, by SeaWorld, is another type of waterpark altogether. It's more like an all-inclusive manmade Caribbean island.

In return for a hefty entrance fee, you'll receive an entire day in an outdoor, upscale resort-like area. That includes breakfast and lunch (you'll pick up your food indoors but eat outside), unlimited snacks, and access to snorkeling, swimming in heated waters, a lazy river and an aviary.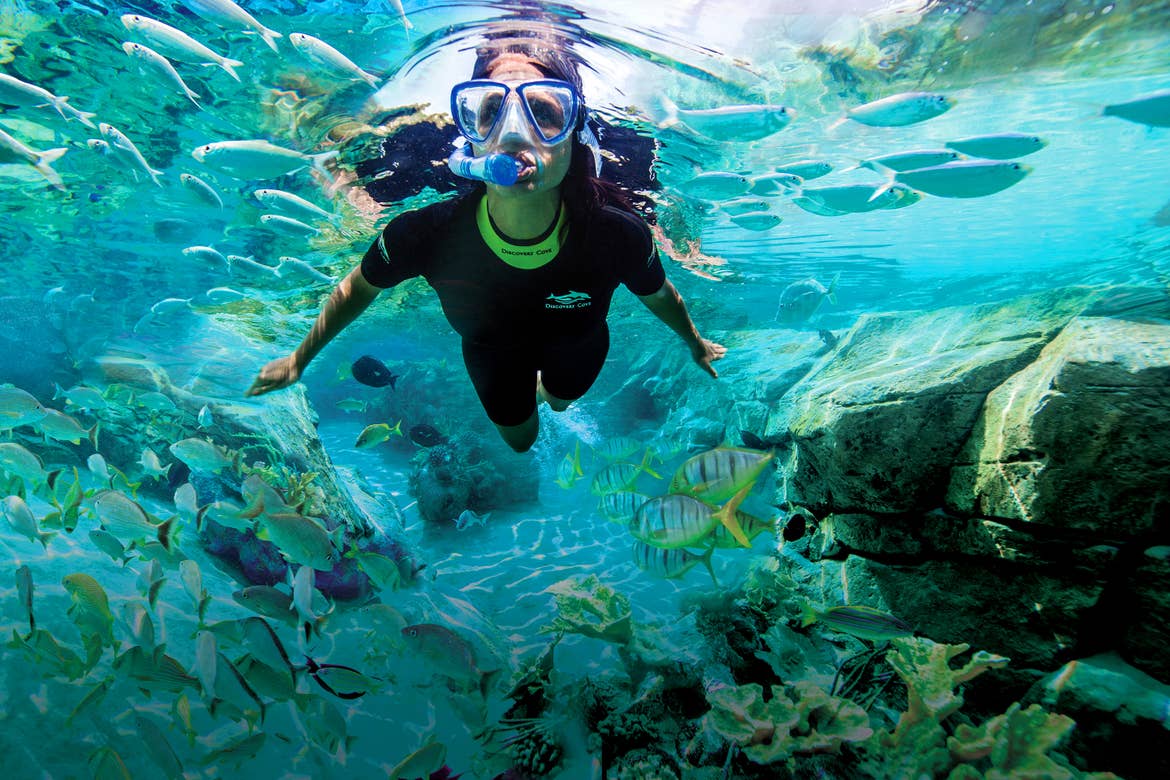 Photo courtesy of SeaWorld® Parks & Entertainment, Inc.

Towels, wetsuits and other amenities are all included. For extra fees, you can spend time with a dolphin, feed stingrays, learn about interesting animals, swim with sharks, mingle with flamingos and try SeaVenture, an easy take on diving that requires no experience.

Splurge on a private cabana for even more distance from other guests.


More Spring Fun at Orange Lake Resort
In water, on water, with music, around art, often delicious and always outside. There are all kinds of outdoor things to do in Orlando in the spring that will keep your clan entertained.

And Orange Lake Resort is the perfect home base for all your adventures, whether you visit for a weekend or a month. Book now and get ready to start smiling.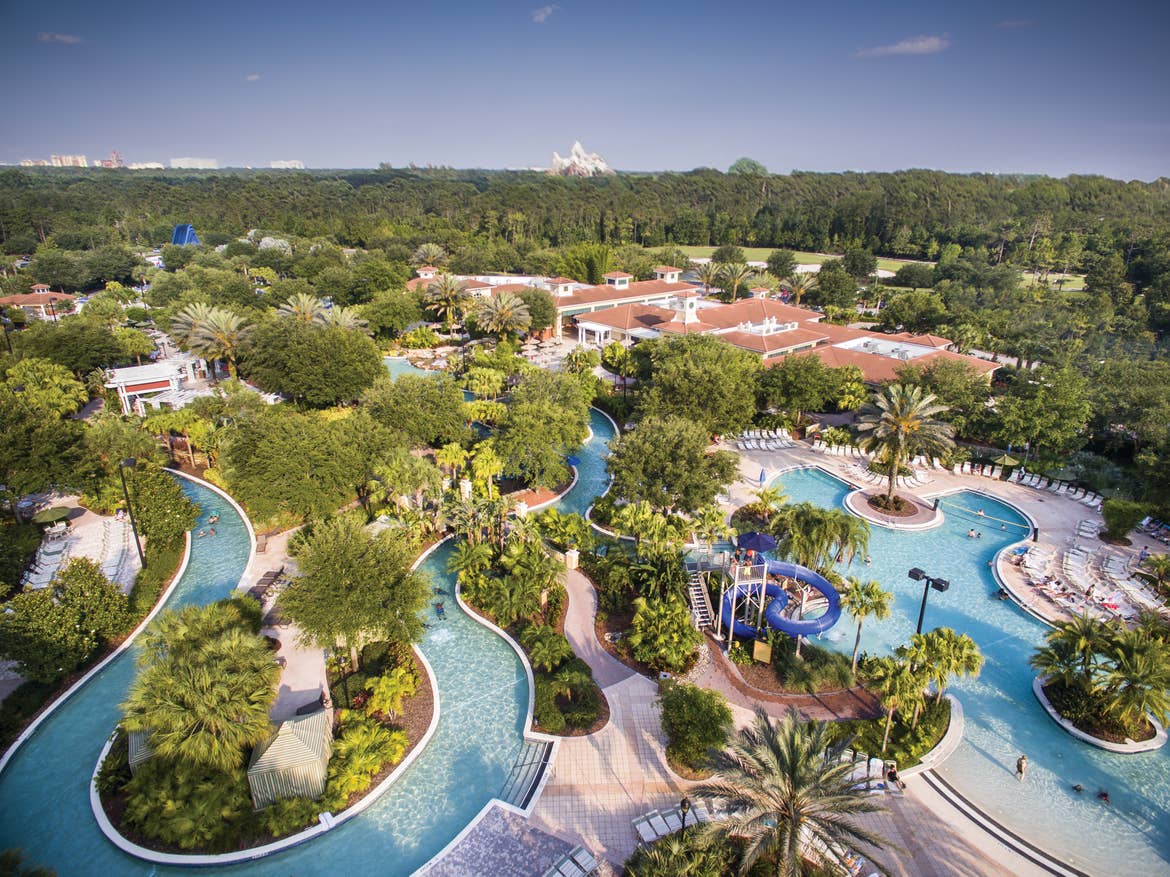 A lazy river, 7 pools, mini golf and more are all waiting for you at Orange Lake Resort.


Our guest bloggers are compensated for their writing contributions and honest opinions.

All information is subject to change. This article is a curated guide and is neither sponsored nor considered an official endorsement. Please be sure to check information directly with any/all tours, guides or companies for the most up-to-date and direct details.