Sara Perez
Sara is a Holiday Inn Club Vacations member, freelance writer, content creator, military spouse and mother to four active children! She loves traveling as a family and conquering the military lifestyle, alongside motherhood. Sara is a passionate mental health advocate and is constantly pushing herself to grow more. She also volunteers at a wrestling club in Bluffton, South Carolina, where her children attend.
Instagram
Facebook
Pinterest
Website
Having a spouse in the military (who leaves constantly) brings its own set of challenges and expectations when it comes to military family vacations.

As a military spouse myself, I'm here to let you in on some of my best tips for being able to take a true military family vacation.

Instead of going back to visit our hometown during my husband's "leave," we actually changed our mindset to taking genuine vacations and seeing new destinations.

This is a big deal because my husband and I didn't really take vacations as kids. So we're constantly working to ensure our children have a "normal" childhood … despite being military kids.

They didn't choose this lifestyle, so I feel it's our duty as their parents to truly help make it as easy as possible for them. And that includes making vacation memories together!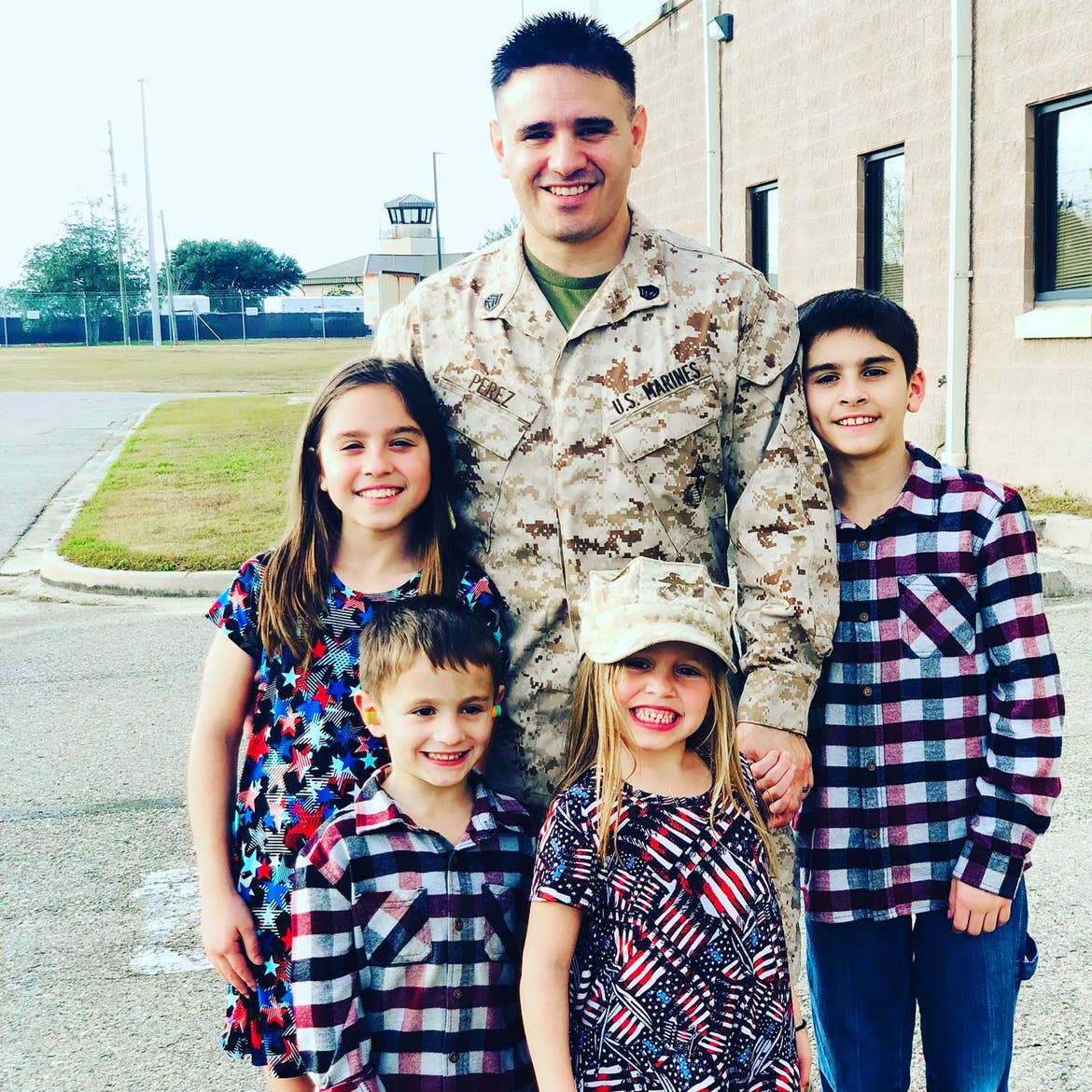 Below, I'm going to break down a few important things regarding a getaway with our fun and exciting parameters: military lifestyle (unknowns, deployments, solo parenting) and traveling with a large family (hotel accommodations), all while staying budget-friendly.


About Our Military Family
My name is Sara and my husband, Tommy, Jr., is an active-duty Gunnery Sergeant in the United States Marine Corps. He's been in the Marine Corps since 2005 and is going to retire at 20 years in.

We have four wild and crazy kiddos who NEVER give us a moment to be bored. They're Tommy III (aka "T" who's 12 years old), Sophia (10), Mila (8) and Jameson (7).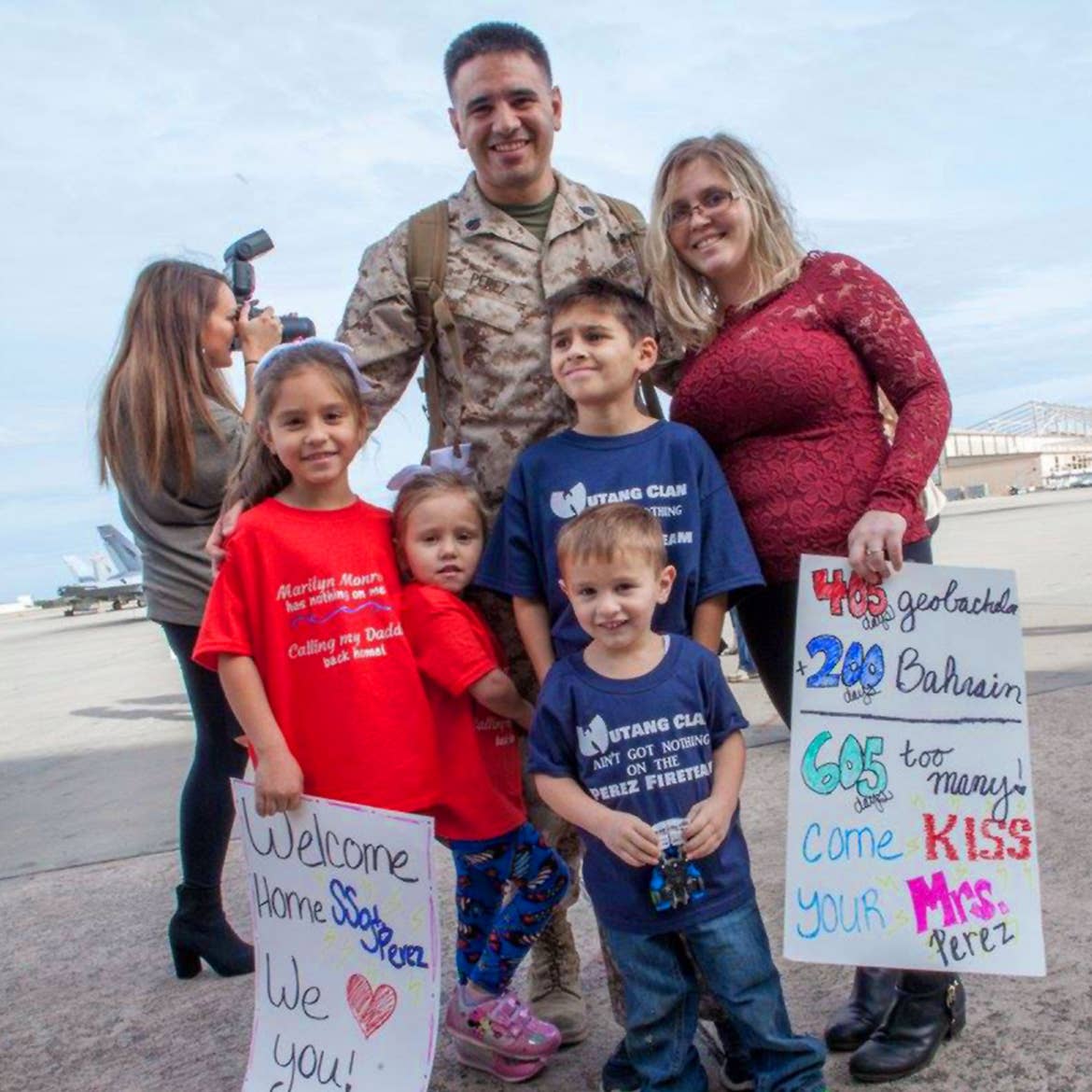 Reuniting after a 605-day deployment


The Typical Military Family Vacation
Military families tend to take leave (vacation) time to go to their hometowns and visit family members who are not their dependents. It's sometimes the only time active military members get to see extended family.

For example, for the first 10 years of our marriage, we traveled home to Spring, Texas, any time my husband was able to take leave. We always wanted to spend time with grandparents, aunts, uncles, etc.

However, 2017 came and we were coming off our longest ever separation (605 days, but who's counting?) and that changed our view and thought process entirely in terms of getting away for a "real" vacation, as just the six of us.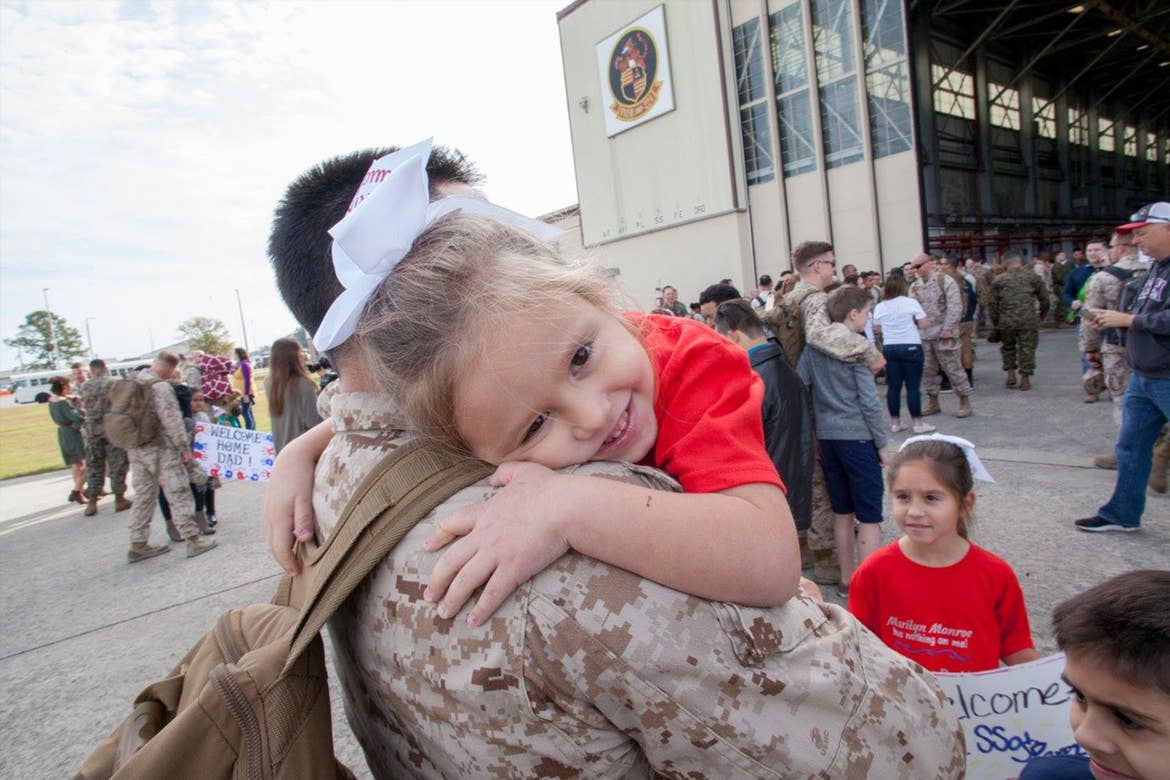 Tommy has held several primary and secondary military occupation specialties (or MOS), which is just a fancy name for jobs in the Marine Corps.

Due to his numerous MOS positions, he was home for 13 months this past year, which was the LONGEST since 2010. I know 2020 was hard for a lot of people, but I can't lie; I'm secretly a little happy that it kept our family together a bit longer.


5 Tips for Taking Military Family Vacations
I know my military families (and honestly all of you after 2020) are probably thinking, "Ya right! How do you vacation with 4 kids WHILE on a budget, PLUS sprinkle on some of that 'famous uncertainty' that the military (and COVID-19) throw at you?!"

I was skeptical, too. But let me tell you: Taking the time to vacation together is the best leap of faith I've taken (well, maybe second best after marrying my husband 13 years ago...).

Here are my top tips and advice for actually taking and making the most of your military family vacations:


1. Define what your goals are.
The first thing we do when it comes to planning our vacations is determine what our goal is. We have three options in our family: vacations, staycations and RELAXations.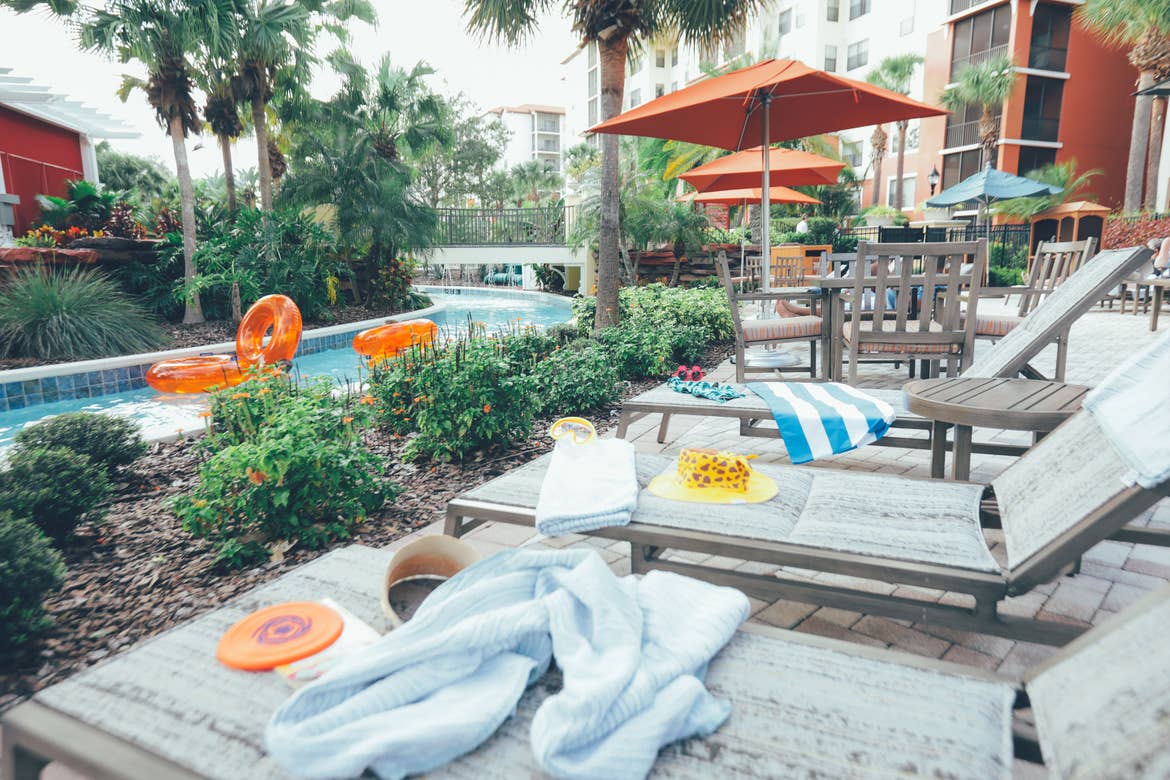 For our first VACATION as a family, we went all in and visited Walt Disney World® Theme Parks in 2017 while Tommy was on post-deployment leave.

Our second VACATION is where the true magic happened (and I'm not exaggerating). Tommy was due to deploy, and we wanted some fun and relaxation before he left, so we planned an amazing getaway at Orange Lake Resort (more on that below).

It's important as a family that we acknowledge the way separation can impact each and every one of us, especially the kids.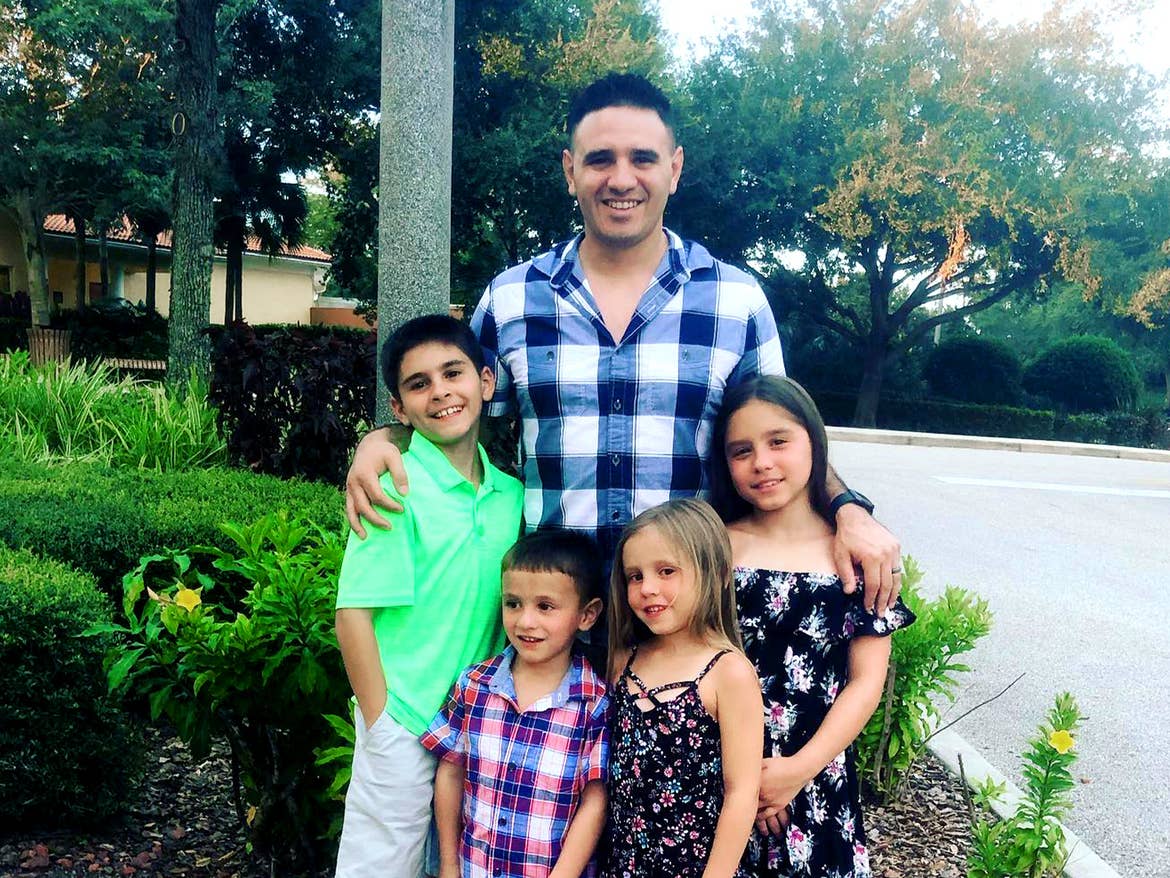 Having time dedicated to just our immediate family, and the memories and photos that come with that time, allows us to operate with a clear conscience and have those individual family moments we'll be missing out on so much during deployment.


2. Take advantage of pre- and post-deployment leave dates.
We use pre- and post-deployment leave as our vacation dates. They're not always set in stone. In fact, we've dealt with pre-deployment leave literally being canceled a couple days into it (which is unheard of).

But they're the more "favorable" options on making vacations happen.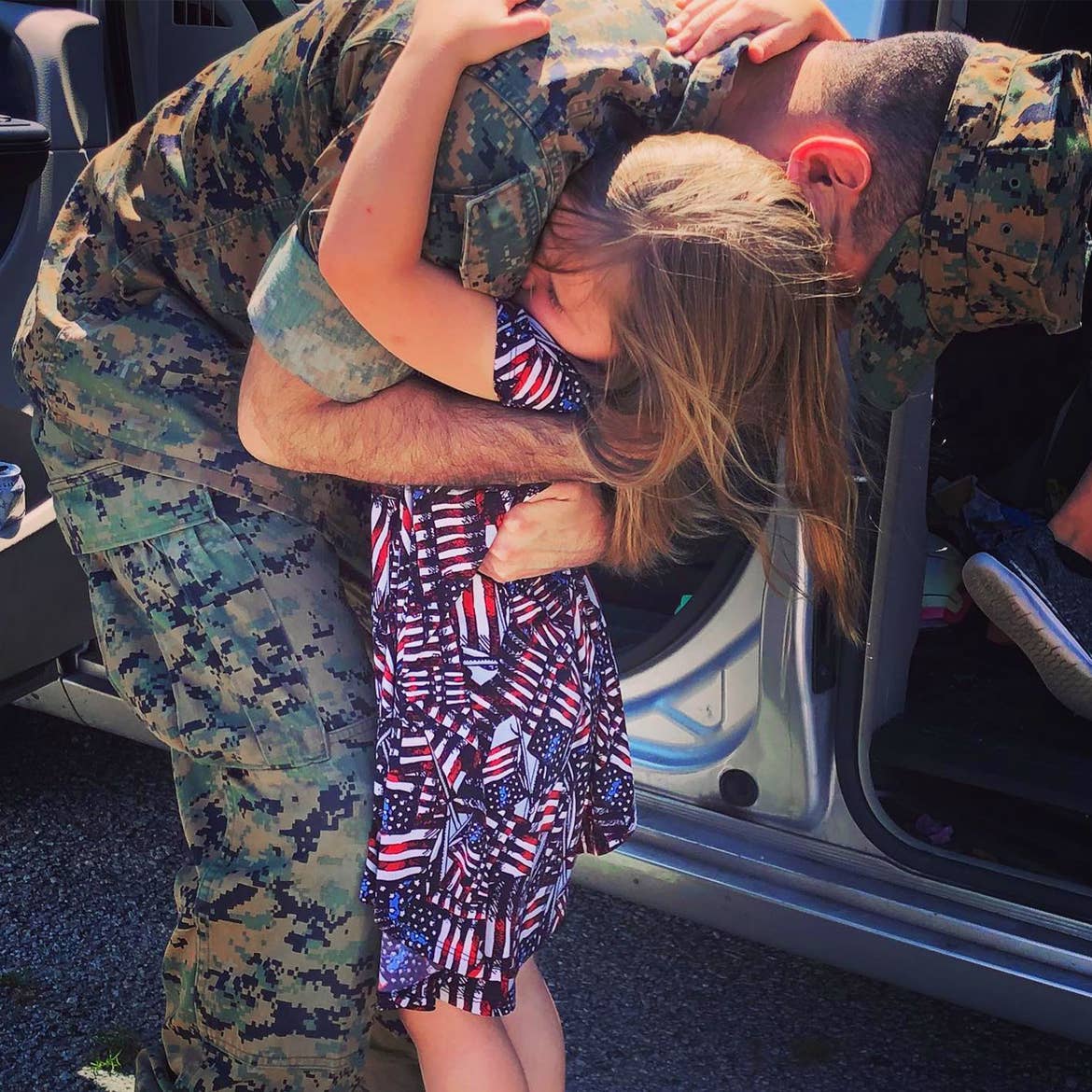 3. Take smaller "bonus vacations" both with your spouse and solo.
Since our kids are in sports and we're Club members with Holiday Inn Club Vacations®, we use their tournaments as "bonus vacations" where I'll book a day or two extra just to take advantage of the time we have together.

Even if your spouse is deployed, sometimes you just need a break and that's ok!

We actually just got back from South Beach Resort in Myrtle Beach, which ended up being a solo trip for me because Tommy was deployed with two weeks' notice.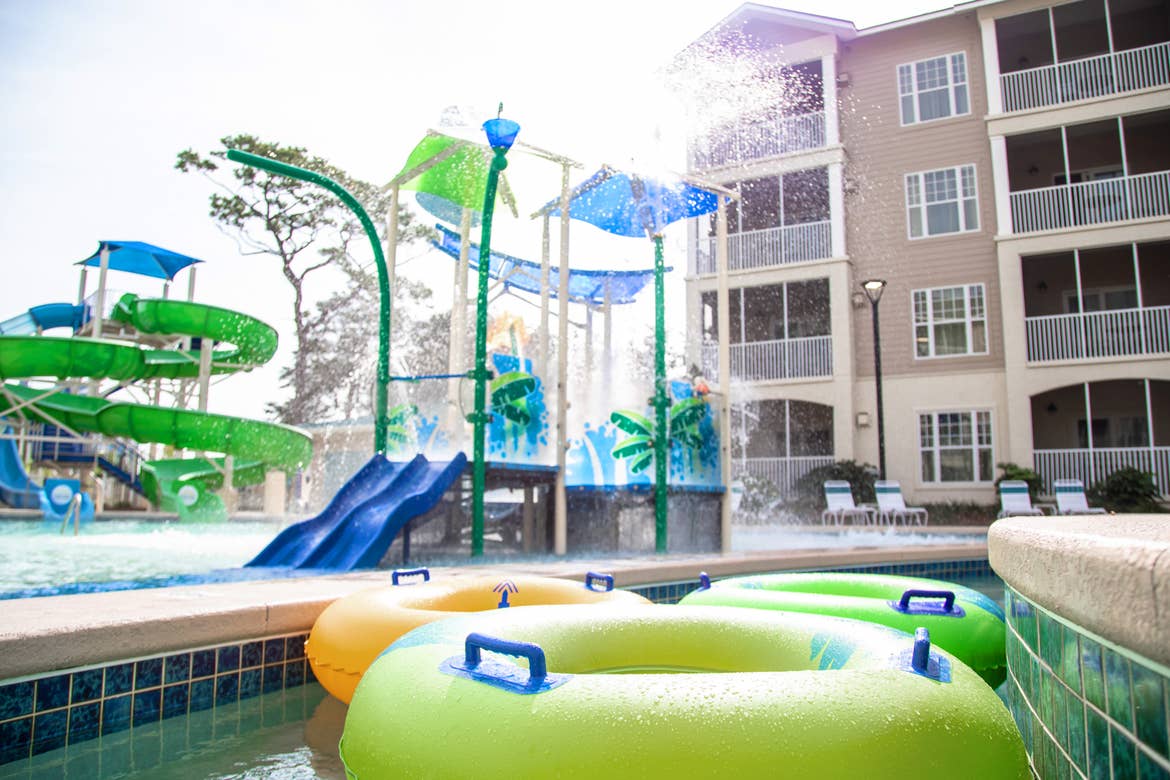 Splash Cove at South Beach Resort

We had a wrestling tournament and a dance competition and Bike Week were going on at the same time. Since we're Club members, we avoided the hotel room booking panic and stayed at South Beach Resort.

The kids loved having their own space and we got to wind down from the tournament with a calm, fun night at the pool. This Myrtle Beach vacation was the respite I needed after a day of juggling 20+ kids at a wrestling tournament for 12+ hours a day.


4. Choose big, spacious places to stay that feel like "home."
Having a large family always seems to pose issues when dealing with lodging. As I said earlier, our kids are in sports, and we travel a lot for them.

Since I'm a Club member, I may be biased, but Holiday Inn Club Vacations resorts have easily been our favorite in terms of lodging and comfort!

I love that there's a full-size kitchen where you can cook meals (hello, welcome to my budget-friendly life).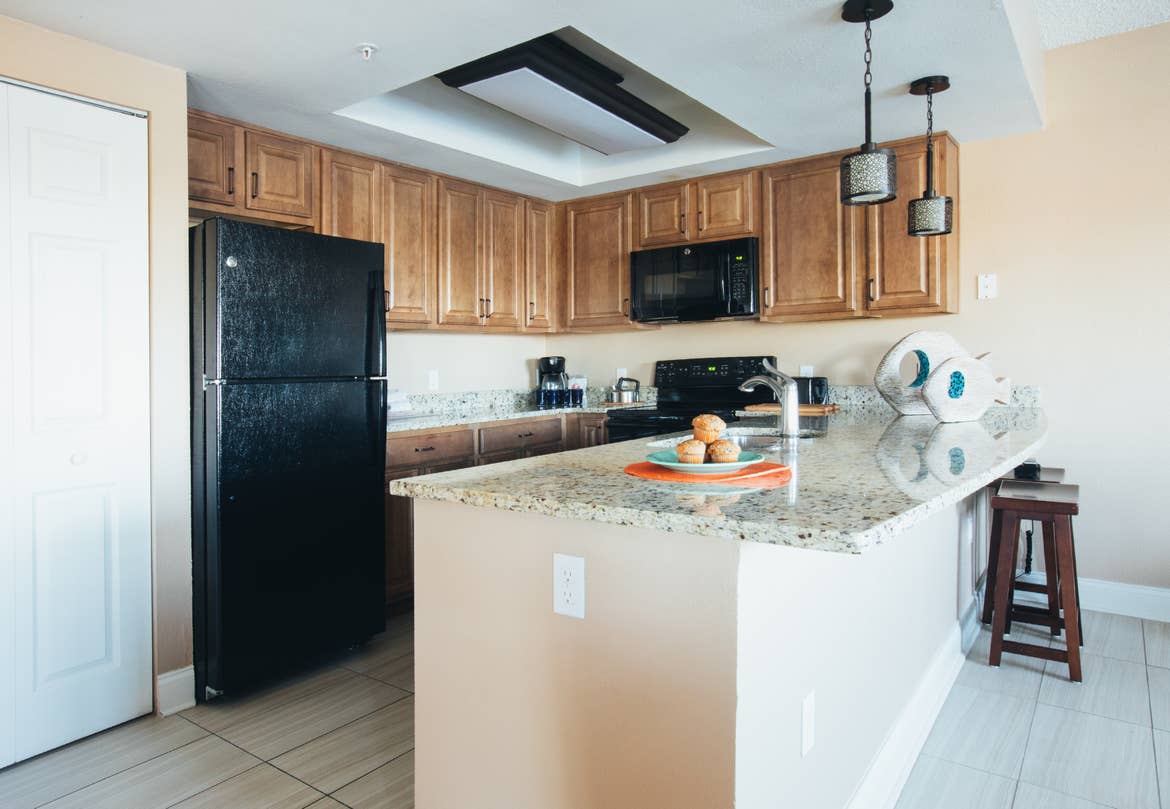 The full kitchen in a three-bedroom villa in West Village at Orange Lake Resort

They have an in-villa washer and dryer at most resorts (and if they're not in your villa, there are complimentary laundry rooms on-site). And listen, I'm not about to go home and spend the first day washing clothes, so I like to wash before we leave!

Not that the service wasn't already a huge benefit, but really large families (like ours) appreciate the space and amenities the villas offer!


5. Find a place that truly cares.
Before we became Club members, we had a family member gift us their timeshare at Orange Lake Resort in August 2019 for Tommy's pre-deployment leave.

Y'all, I had no idea how magnificent the Orange Lake Resort team would treat us when they learned about our special military vacation — and how quickly they would become family to us. They truly went above and beyond for us.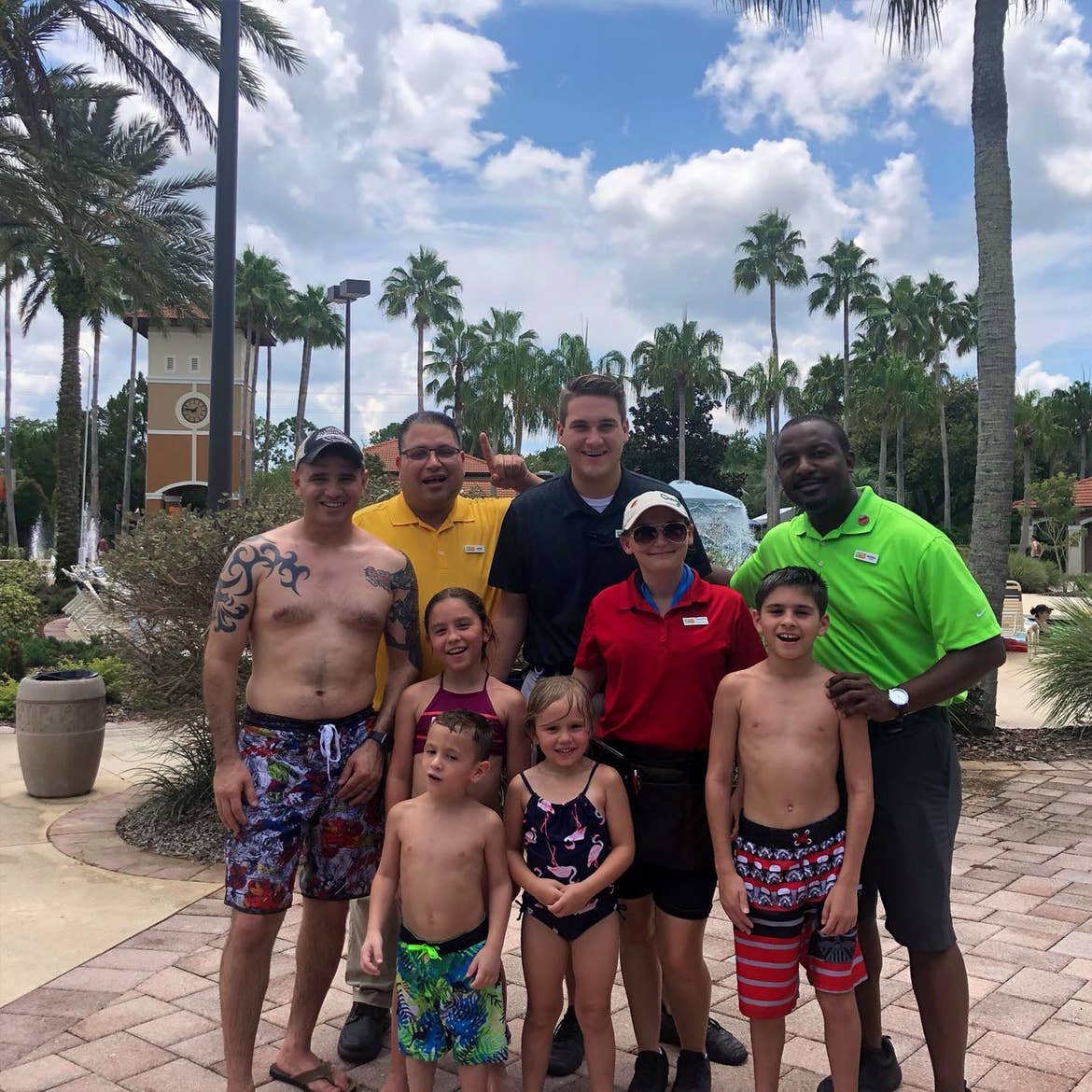 Resort Manager Darrell Jackson and team during our pre-deployment trip in 2019

First off, management was so good to work with and made it easy to help me pull off some surprises of my own.

(I'm talking Blue Bell Ice Cream already stocked in the freezer ... and, oh yes, Sprinkles Cupcakes waiting on the counter when we walked in.)

But I had no idea that was only the beginning. They saw what I was doing and ran with it. We were blown away by their accommodations and gratitude toward Tommy's service and our family. That in and of itself means a lot.


At the pool while relaxing in the cabanas, we even had some surprises show up, like:

Free passes for rock climbing, mini golf, floaty tubes, etc.
Free food
One team member specifically catering to our cabana only
Gift bags for the kids with different toys and goodies, as well as game cards for the arcade
Arts & crafts for the kids to use
Info about where the kids can make their own stuffed animals, similar to Build-A-Bear Workshop. Much to our surprise, this was actually in the same room where there's a station to write letters to our troops overseas.

Of course, my Fireteam was all about sending letters to dad's brothers and sisters in the Armed Forces.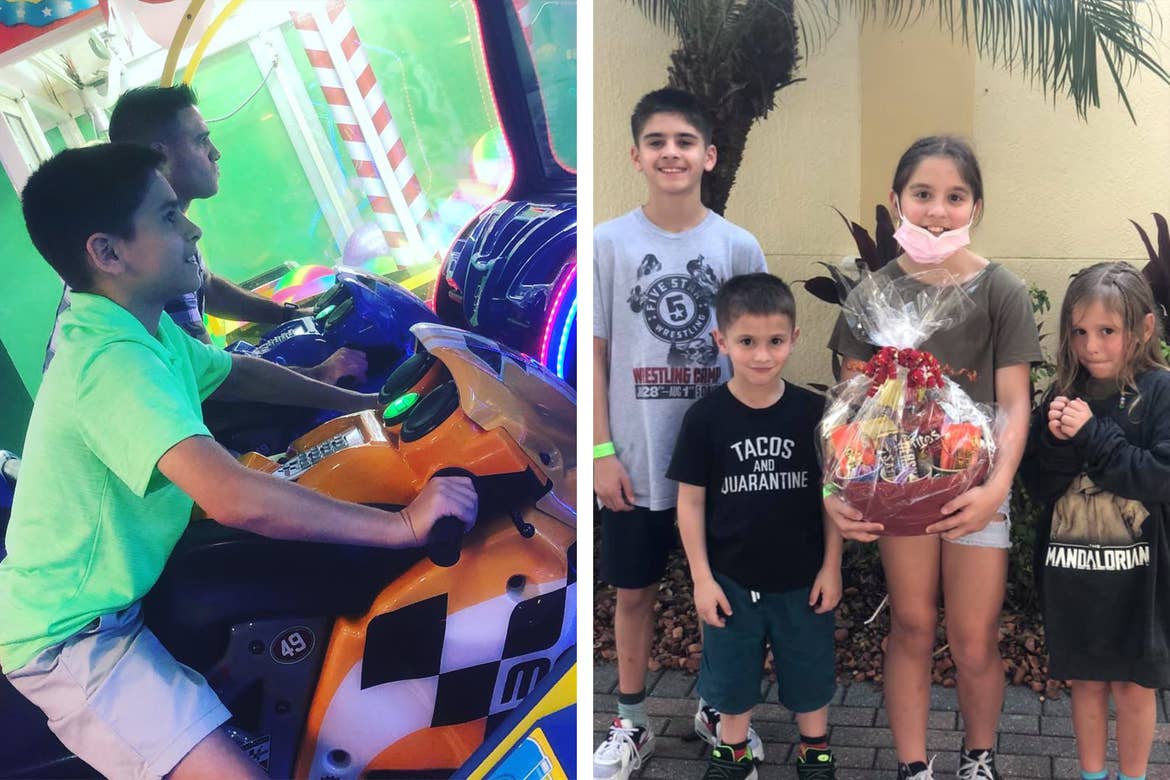 And then there was an announcement thanking Tommy for everyone to hear. It gave this mama goosebumps and made me so proud to be his wife.

You could tell they were genuinely grateful and wanted this to be the best send-off possible.


I can honestly say that Orange Lake Resort was so respectful of our need and desire to have genuine quality family time, and they never became pushy or sales-y with us. (Remember – we weren't members yet.)

I had heard all the horror stories about timeshare meetings, and since it's a timeshare resort, I was worried. But y'all, they literally made sure NO ONE did that to us.

(And guess what? That amazing vacation experience led to us ultimately becoming vacation owners with them!)
My mind was blown. We were wanting a RELAXation, and they made sure to give us the space to do that.


Club Membership for Military Families
My dad has owned a timeshare with Holiday Inn Club Vacations since 2012.

But on our Thanksgiving trip to Orange Lake Resort (yes, we went again for a much-needed vacation as some heavy things hit our household), we finally upgraded and added me directly to the deed.

And we've been loving our vacation ownership ever since!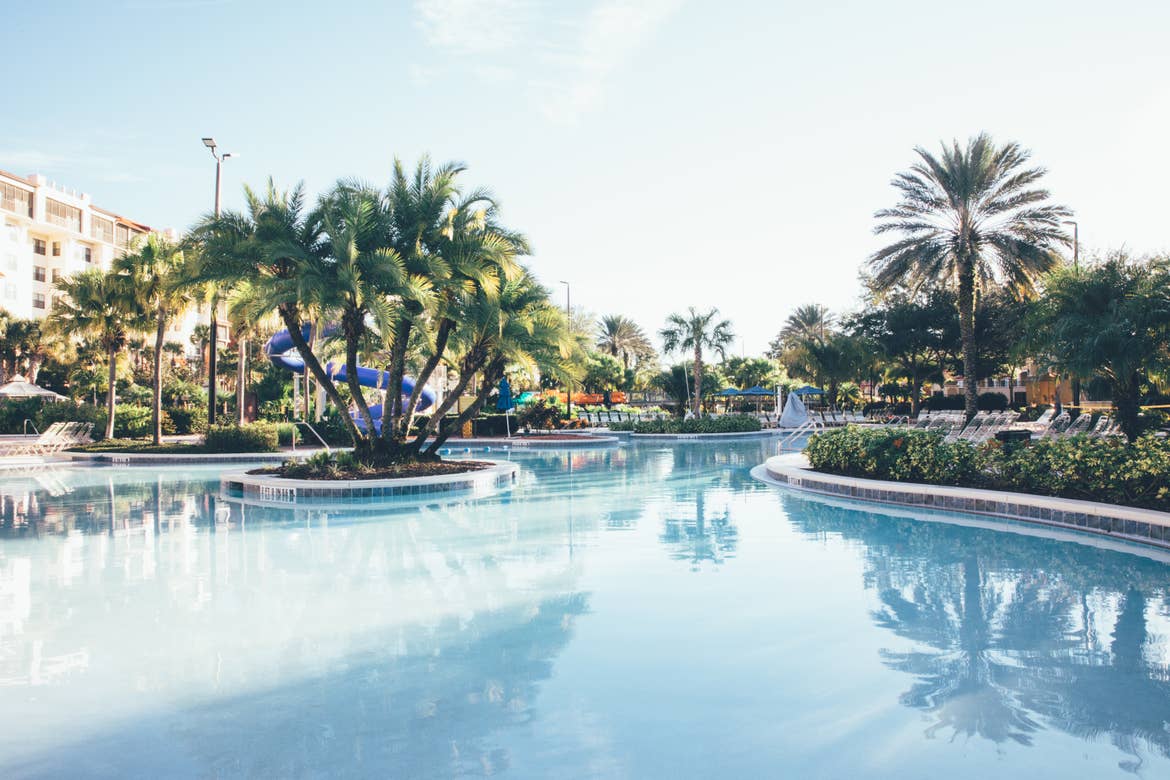 The zero-entry pool in River Island at Orange Lake Resort

If you're wondering if a timeshare is right for your family, here are some highlights from my experience:

My dad gets to explore internationally (through Holiday Inn Club Vacations' exchange partners), and I get to travel with our kids for sports frequently.
We have Points-based membership, which is HEAVEN for our large, budget-focused, military family!
It has been flexible and customizable to our crazily unpredictable life. I know if Tommy gets stationed on the west coast, I can easily go to the resorts in Arizona, Nevada, etc.
It gives me a "why not?" mentality when it comes to taking vacations versus a "why?" or "how?" mentality because it's already paid for and just waiting for me to use and take advantage of every year.
I can spend as little as I want when I go to the resorts because so much already comes with our membership in terms of amenities, large villas with kitchens and laundry, and the ability to shop at local grocery stores and have things delivered.
I feel confident knowing my family isn't going to miss out on any vacation memories.
Check out my member story for even more. Thank you for taking the time to read this, and I hope to see you around soon, maybe even at the resorts!

Wherever you decide to go, I hope your next military family vacation is life-changing and memory-filled.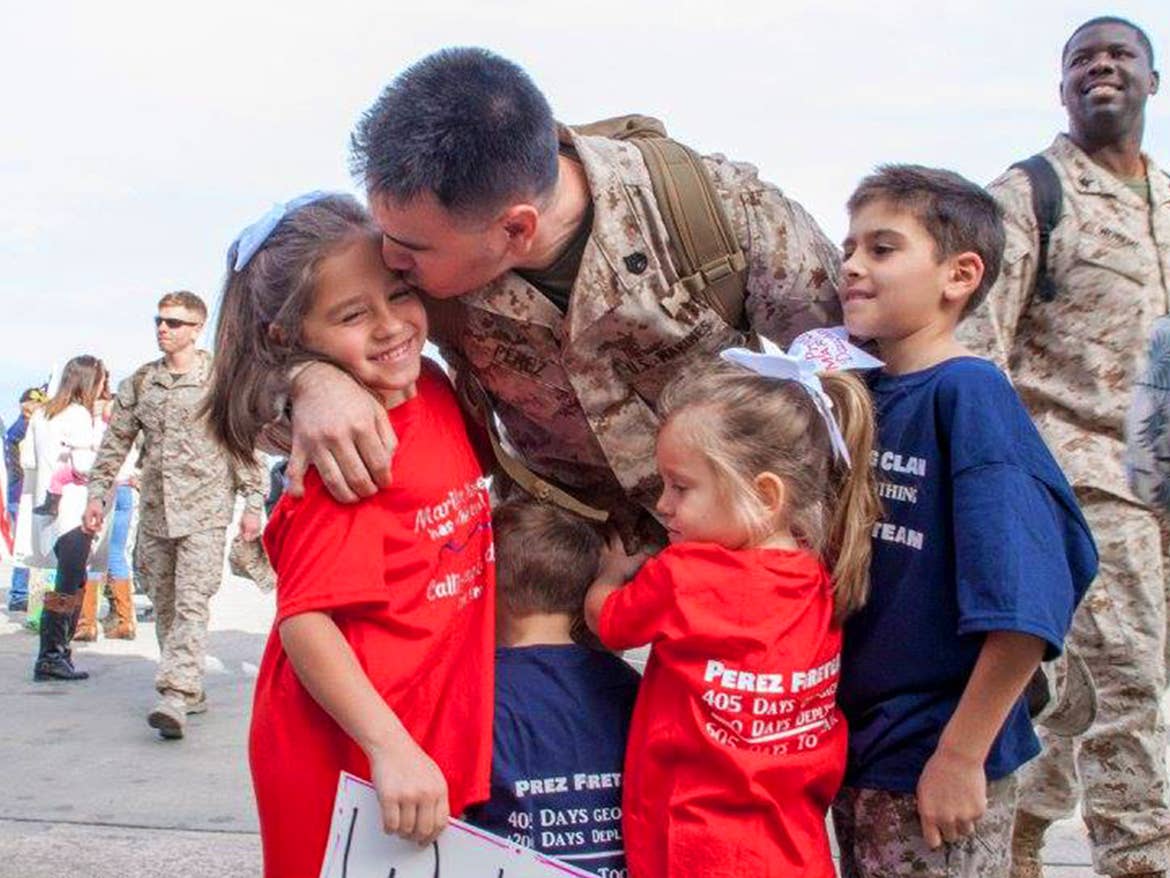 Curious about what vacation ownership could look like for your family? Learn more about membership with us, request a virtual tour or connect with one of our virtual consultants at (855) 605-8458.

Our guest bloggers are compensated for their writing contributions and honest opinions.

All information is subject to change. This article is a curated guide and is neither sponsored nor considered an official endorsement. Please be sure to check information directly with any/all tours, guides or companies for the most up-to-date and direct details.