Mia St Clair
Mia St Clair resides in Spokane, Washington, with her husband James and their three children, Grey, Roux, and Poppy. She is a stay-at-home mom, self-made photographer, content creator, and blogger. Since 2015, her Instagram account and blog have become a creative space for her to document and share her everyday moments as a modern mom raising three children. She is passionate about women supporting one another and championing a positive online community.
Instagram
Facebook
Pinterest
Website
After spending most of the year away from each other, my sisters and I were on the hunt for multi-family vacation ideas where we could reconnect, have lots of family adventures and enjoy some much-needed downtime.

With our whole crew of 14 (including nine cousins amongst our kiddos!), we knew it had to be somewhere special where we could all have fun together.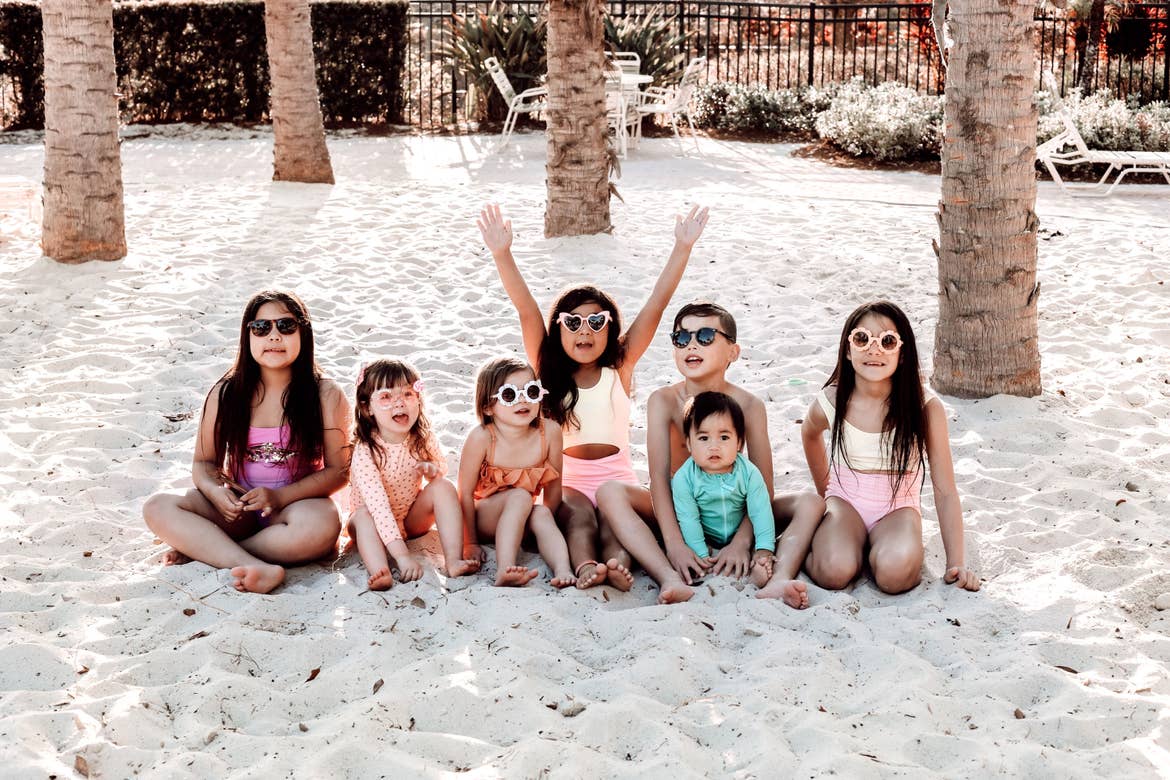 We did some research and all unanimously decided it was time to pack our bags and surprise our kids with a Walt Disney World® Theme Parks vacation in Orlando, FL!

And it was the BEST "cousins and sisters" trip.

If you're planning a big multi-family vacation in Orlando sometime soon, check out my top tips for traveling, going to Disney and deciding where to stay with your whole group.


About Me & My Family
Hi, friends! My name is Mia St Clair and my husband, James, and I reside in Spokane, Washington, with our three children: Grey (9), Roux (5) and Poppy Bleu (3).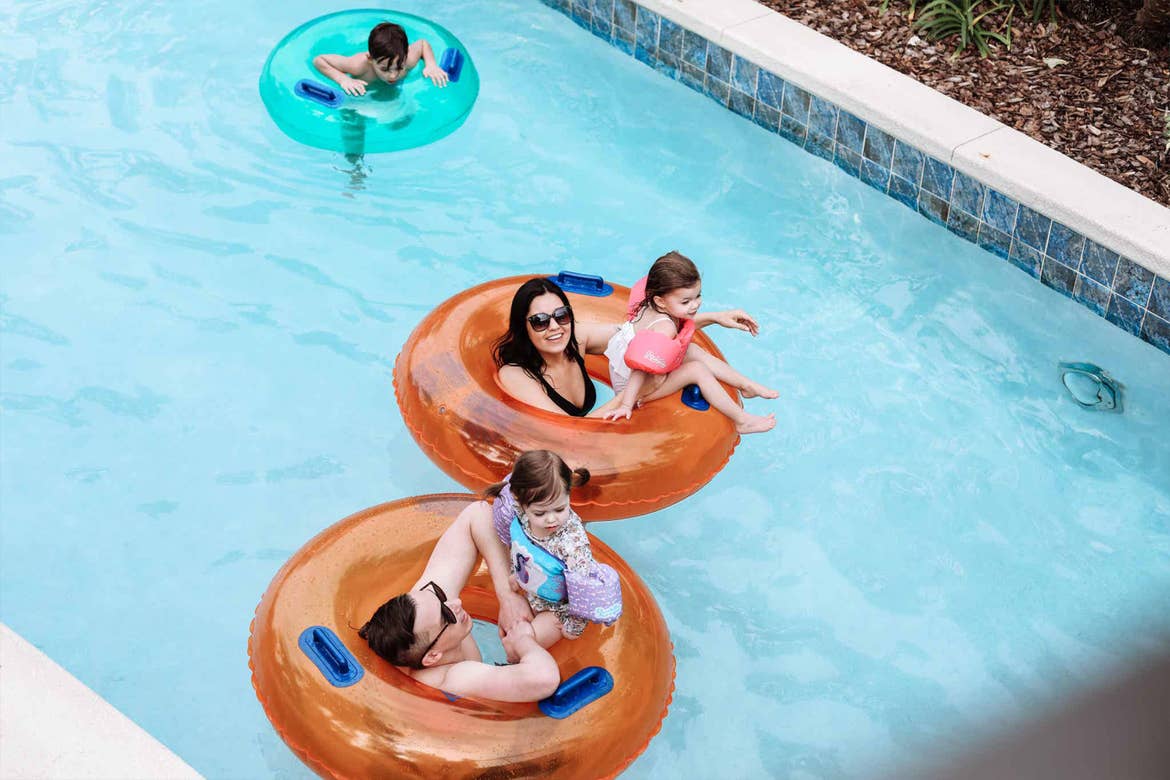 Mia's family cruising along the lazy river during their previous trip at Orange Lake Resort

Unfortunately, James was not able to travel with us for this trip. Since I knew we would need extra help, we decided to bring an amazing nanny.

There was going to be 14 of us in total (yes, 14!). The crew included me, my two sisters, my friend, all of our nine children combined and our nanny.

With so many of us, we knew we needed more than just a hotel with plenty of space to spread out. And we definitely needed to plan out our fun and safe Disney trip far in advance.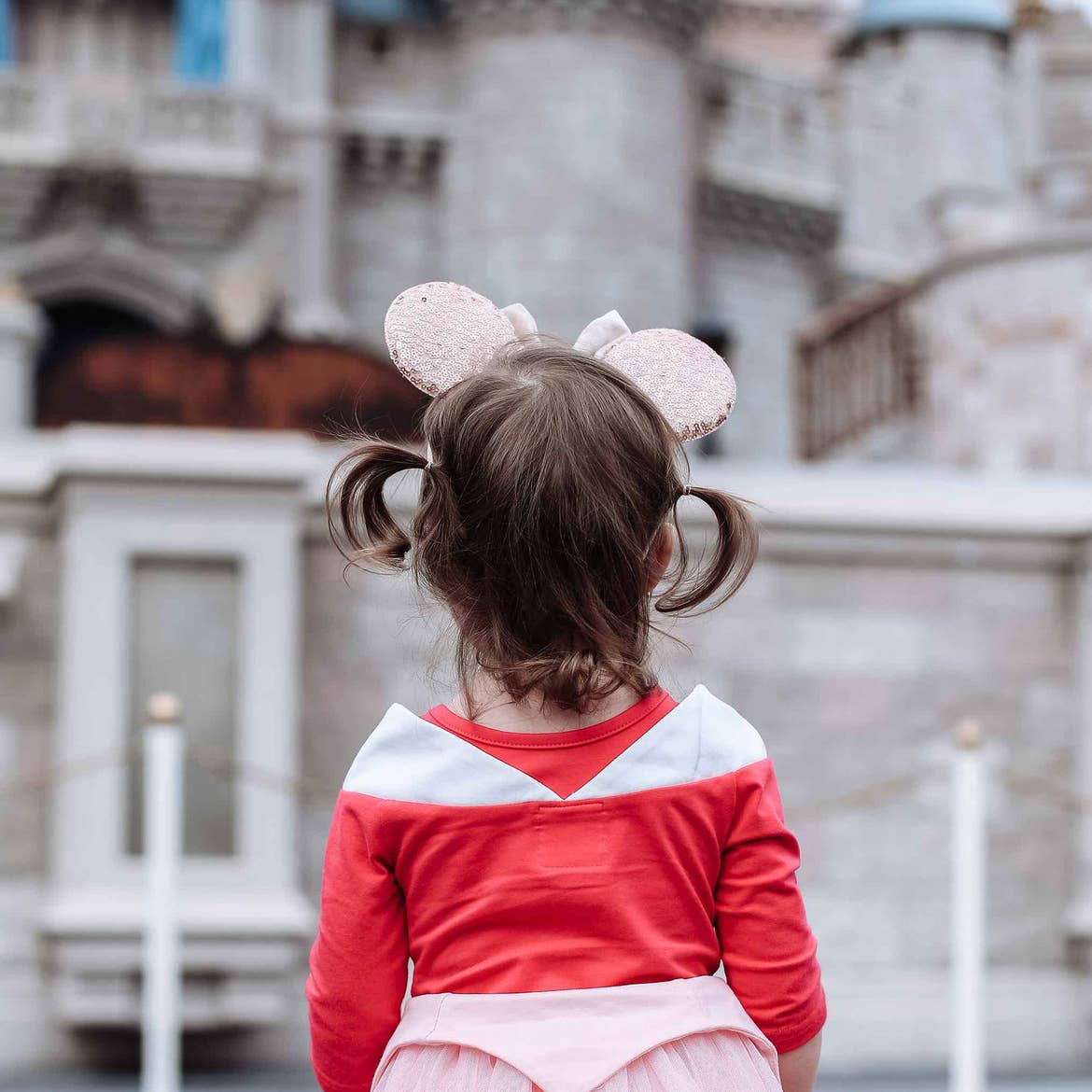 Poppy Bleu exploring Disney World magic (photo taken prior to COVID-19)


Tips for Flying Cross-Country with a Big Group
Our kids have been begging to travel to Orlando since our first visit, and with the new travel safety measures in place, we felt it was safe to fly.

If you're considering flying during COVID-19, here are my top tips for traveling cross-country with a big family.


1. Coordinate travel arrangements together ahead of time.
Since my sisters and their children were traveling from California, we scheduled flights with similar arrival and departure times.

I would highly recommend doing this if you have different families traveling from different locations.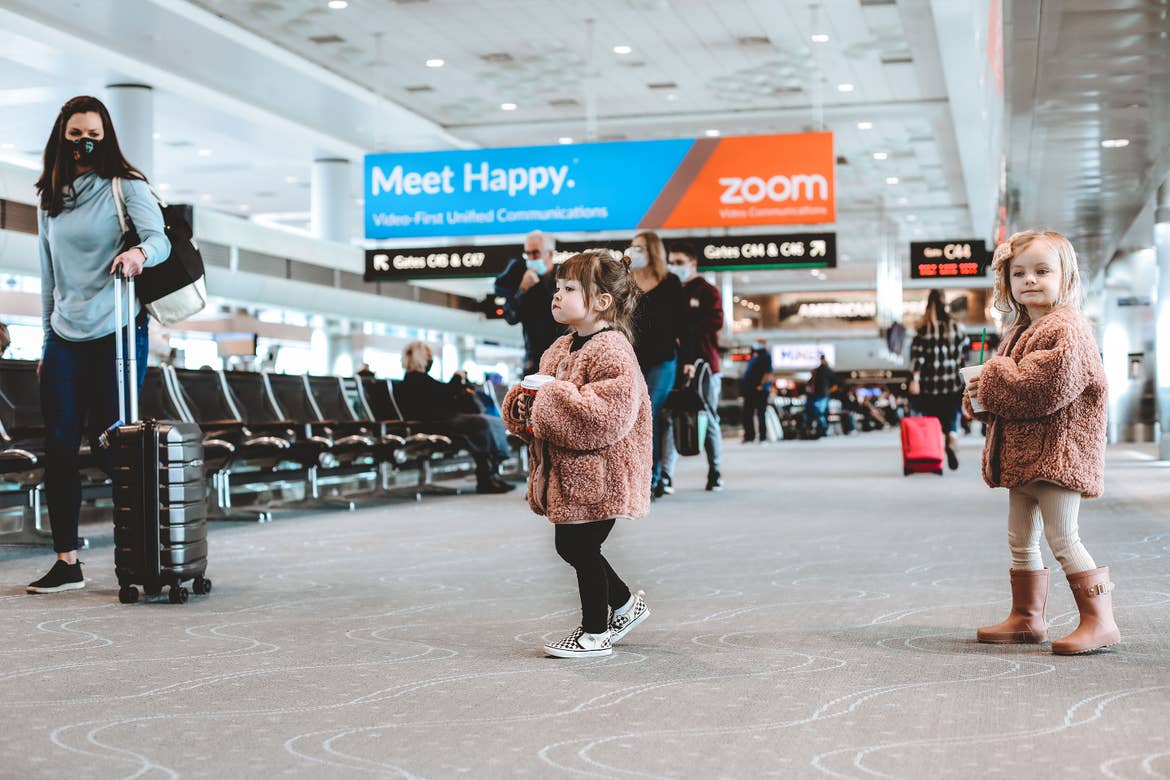 2. Get to the airport early!
Upon arriving to the airport, we had a smooth check-in process.

But it took us a little longer than normal to get through security, so I was thankful that we arrived 1.5 hours before our scheduled flight.


3. Pick an airline with free checked bags.
We typically fly with Southwest Airlines because its flight attendants are always so kind and gracious with our kiddos.

And with all the extra luggage that is required when traveling with small children, we love that they offer two free checked bags per ticket.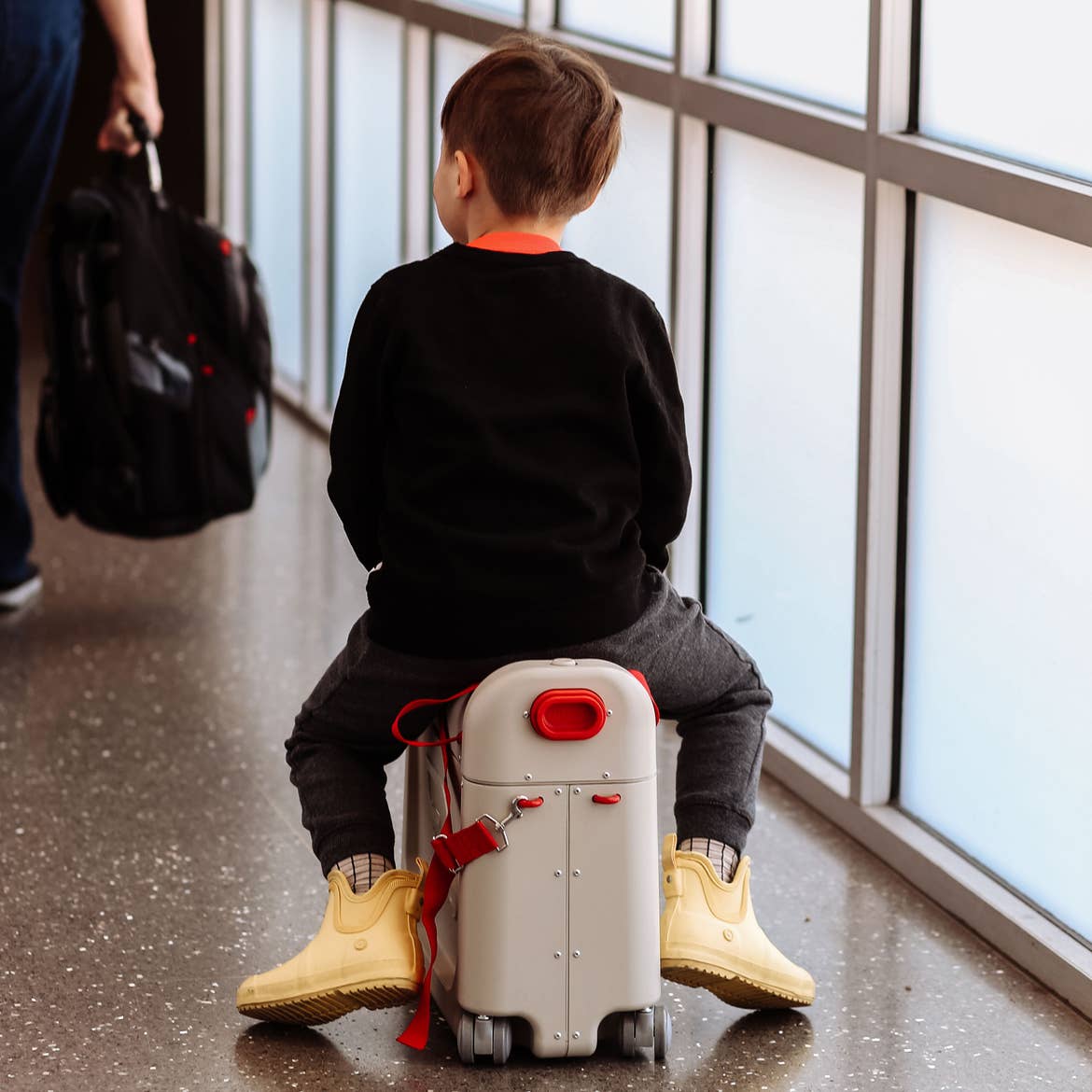 4. Sit in the back for extra space on the flight.
Even though most airlines are now booking at full capacity, we got lucky and had a few open seats near us.

If you're looking for more space for your family, head to the back of the plane; that's where you'll find all those extra seats if there are any available.


5. Look for ways to ease your travel with a big group.
With 14 people in our party, I thought two minivans would offer plenty of room. But between all of our luggage and strollers, it was a tight squeeze.

In the future, I would definitely consider renting a stroller on Disney World days (I have heard amazing things about Kingdom Strollers) to save on space in the rental.

I would've also rented car seats through our car rental company because after a long travel day, installing car seats is the last thing we wanted to do.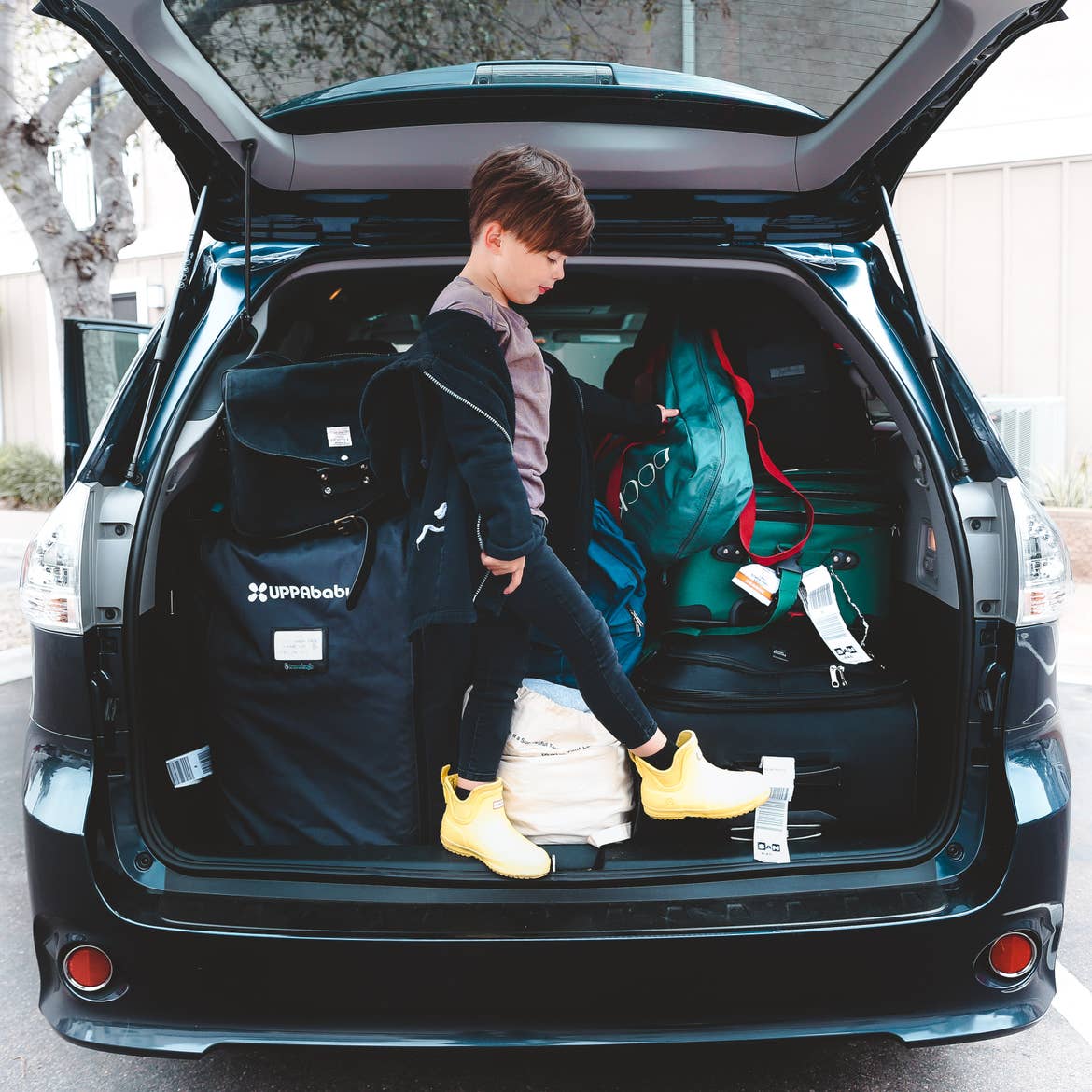 6. Plan to spend a couple of days at your resort to have fun and recharge.
We made reservations at Holiday Inn Club Vacations® at Orange Lake Resort for five nights and six days.

Since we arrived late on our first evening and flew out early on our last day, we planned to spend two days playing in the sun at the resort and two days exploring Disney World.

Planning a couple of days not going anywhere and taking time to sit back at the resort gave everyone a little break from the Disney parks.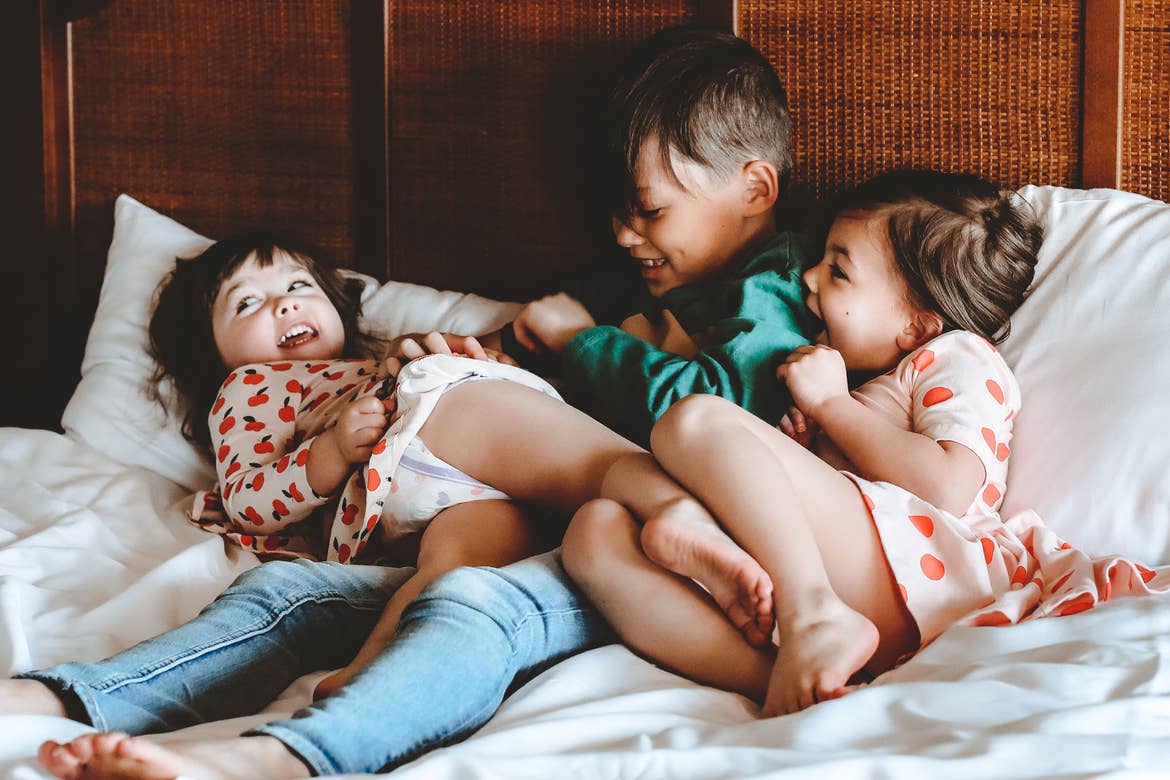 7. Talk about expectations with your family.
Prior to the trip, my sisters and I discussed the possibility that there would likely be various times when we might not all be together at all times of the day. And that was ok!

Traveling with nine kiddos of various ages and schedules is no joke, and I wanted to make sure everyone felt the freedom to move at their own pace.

If you are vacationing with extended family members, discuss expectations prior to your vacation to prevent any disappointment and/or hurt feelings.


Finding an Orlando Resort for Big Families
James and I had the privilege of visiting Orange Lake Resort with our three children last year, and it was one of the most memorable family vacations to date.

When we started planning the details of this trip, there was not even a question in mind about where we would be staying.

With Orange Lake Resort being one of the most accommodating family-friendly resorts in Orlando, as well as it being a short drive to the city's most popular amusement parks, there were so many reasons we knew it would be the perfect destination!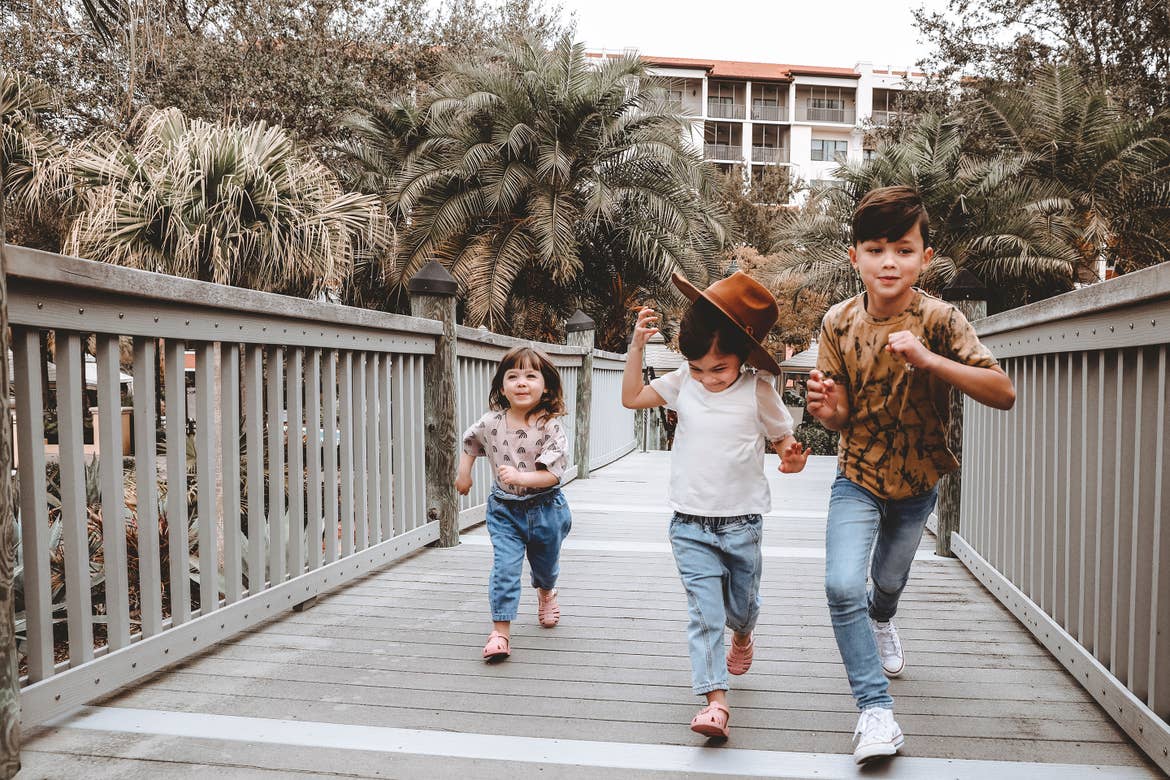 When we arrived at the resort, the kids and I were overwhelmed with excitement to be back at one of our favorite places, with some of our favorite people.

Based on our stay at Orange Lake Resort, here are my top tips for choosing the right hotel or resort in Orlando and making the space feel like "home" for your whole family.


1. Get a villa with a full kitchen to save time and money on meals.
One of the perks of staying at Orange Lake Resort is the fully equipped kitchens in each villa. With so many hungry tummies to feed, we knew that having a fully stocked kitchen was a must.

We were also traveling with three kiddos who have allergies, and it was so nice to be able to have their favorite (and safe) foods on hand.

Once we got in, our first stop was to the grocery store to pick up our online grocery order that we placed a few nights prior.

I would highly recommend doing this prior to your trip to save on time and get right into your vacation quicker.

We planned meals ahead of time, grabbed easy breakfast and lunch items (this was so helpful on Disney days) and got what we needed to cook dinners in our villa.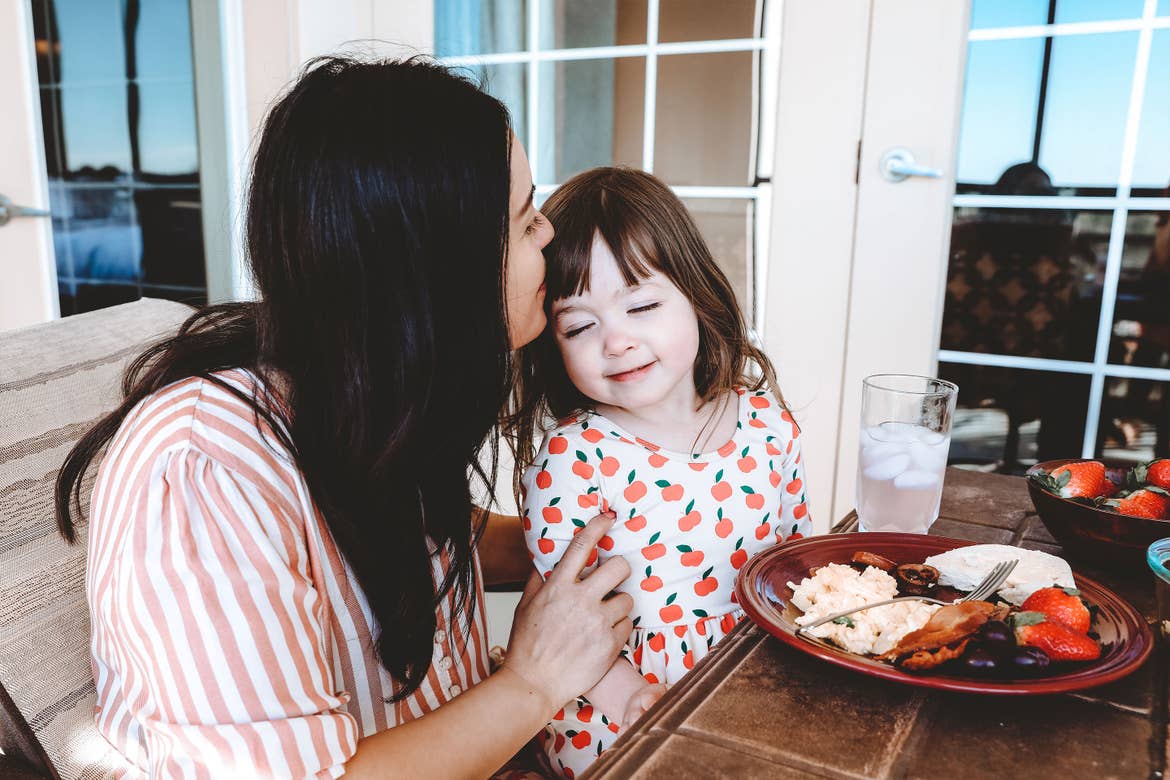 Each kitchen comes fully equipped with pots, pans, plates, silverware, Tupperware, etc., allowing you to create your favorite family recipes in the comfort of your "home."

And if you're the eating out type, the resort has eight different restaurants on-site, offering family favorites like pizza, pasta, burgers and salads!


2. Make sure you have plenty of space to spread out.
When it came to sleeping arrangements, we stayed in two villas in the same building: a two-bedroom Signature Collection villa and four-bedroom Signature Collection villa.

That way, we could all be close, but still have some separate spaces to retreat back to for naps or quiet time.

Not only are the villas spacious and inviting, but they also come fully equipped with everything you could ever need for a comfy stay.

I loved watching my nieces and nephew make themselves right at home upon entering, and overhearing my sweet niece say, "Whoa! Talk about the royal treatment!" Too cute!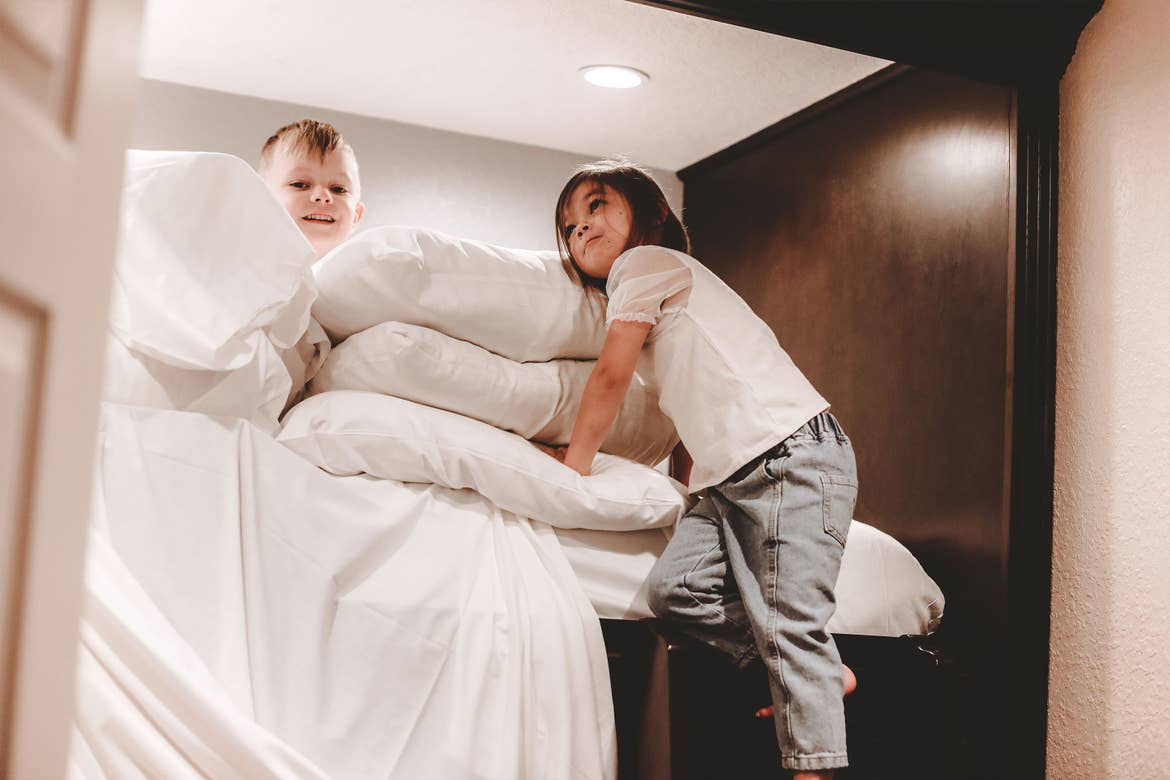 Looking back, we definitely could have all slept comfortably in the four-bedroom villa (it sleeps up to 16), but we loved having the extra space, especially in the evenings when the kiddos were winding down before bed.


3. Unpack your suitcases to feel more organized.
With all of the closet and storage space available in our villa, I found that unpacking our clothes and toiletries on our first night allowed me to feel a little more organized throughout the duration of our stay.

And there's nothing worse than trying to pick up a mess every time your little one needs to dig through their suitcase.


4. Choose a place with laundry machines.
I could go on and on about how amazing these villas are, but my favorite amenity has to be the private in-villa washer and dryer (every mama's dream).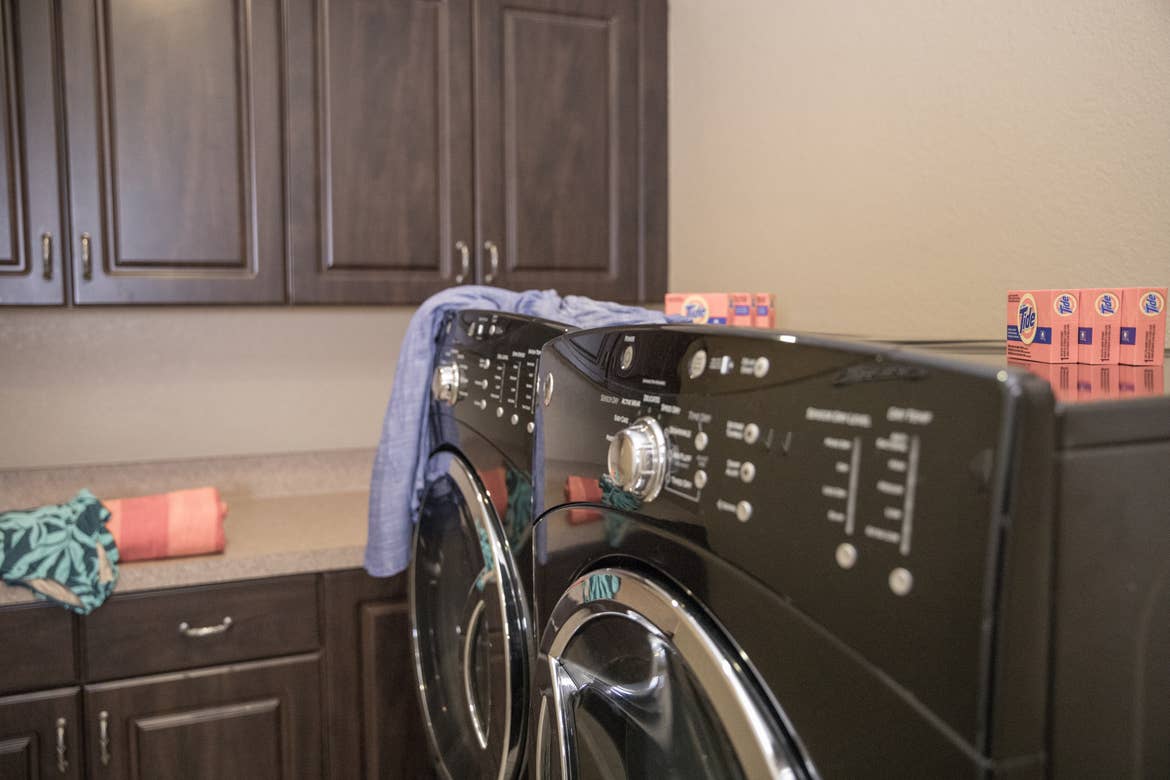 Packing (and unpacking) made easy with your own personal laundry room.

I love being able to rewash items like jammies, undergarments and jeans. It really helps save space and pack light for cross-country trips.

I also find that doing laundry on our last night makes unpacking when we are home so much easier!


5. Make sure your family feels comfortable and safe staying at your hotel/resort.
I've said it before and I'll say it again: Orange Lake Resort provides only the best for its visitors.

We were so impressed to learn about its new Safe Travels program that ensures higher safety standards.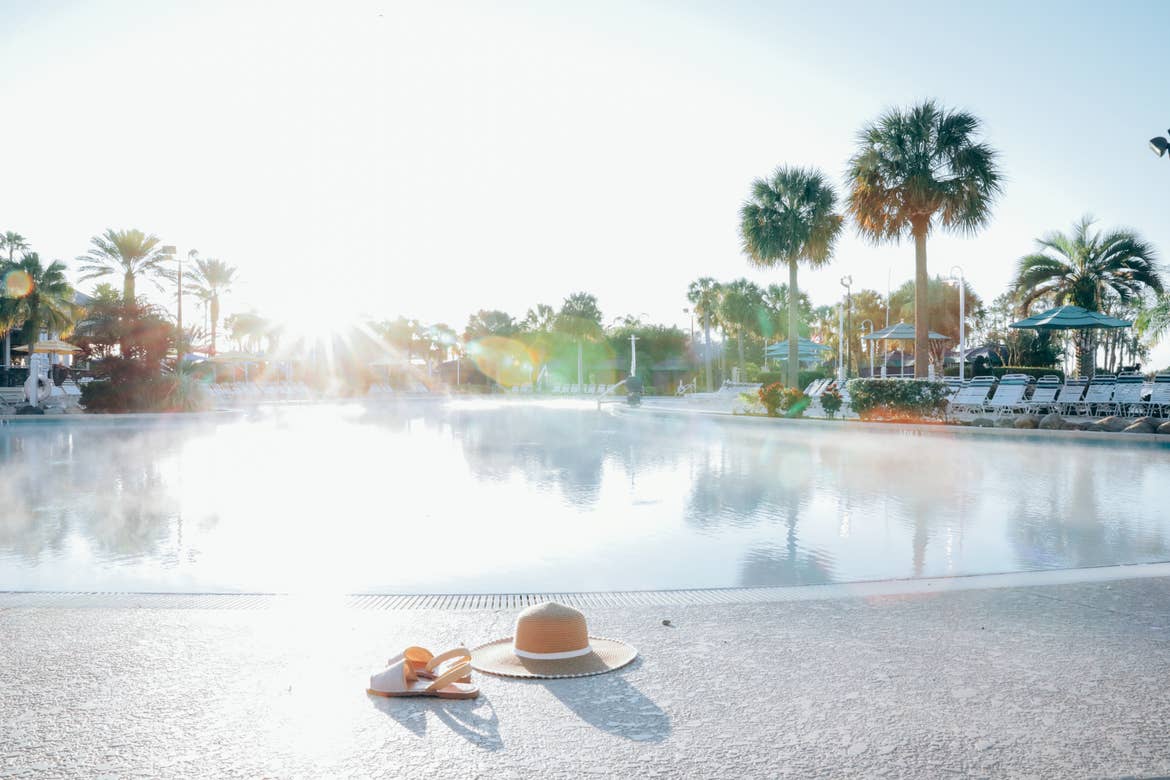 It includes a virtual check-in, floor markers, extra hand sanitizer stations throughout the resort, a villa door seal that confirms you are the first to walk in your villa, more space at the pools and much more.

We felt very safe and comfortable during our stay.


6. Take advantage of ALL the on-site activities and amenities!
I mentioned this before, but I can't stress how important it is to have some downtime for everyone at the resort.

Our little fishies were so ready to enjoy all the entertainment and activities that Orange Lake Resort offers for littles across its four villages.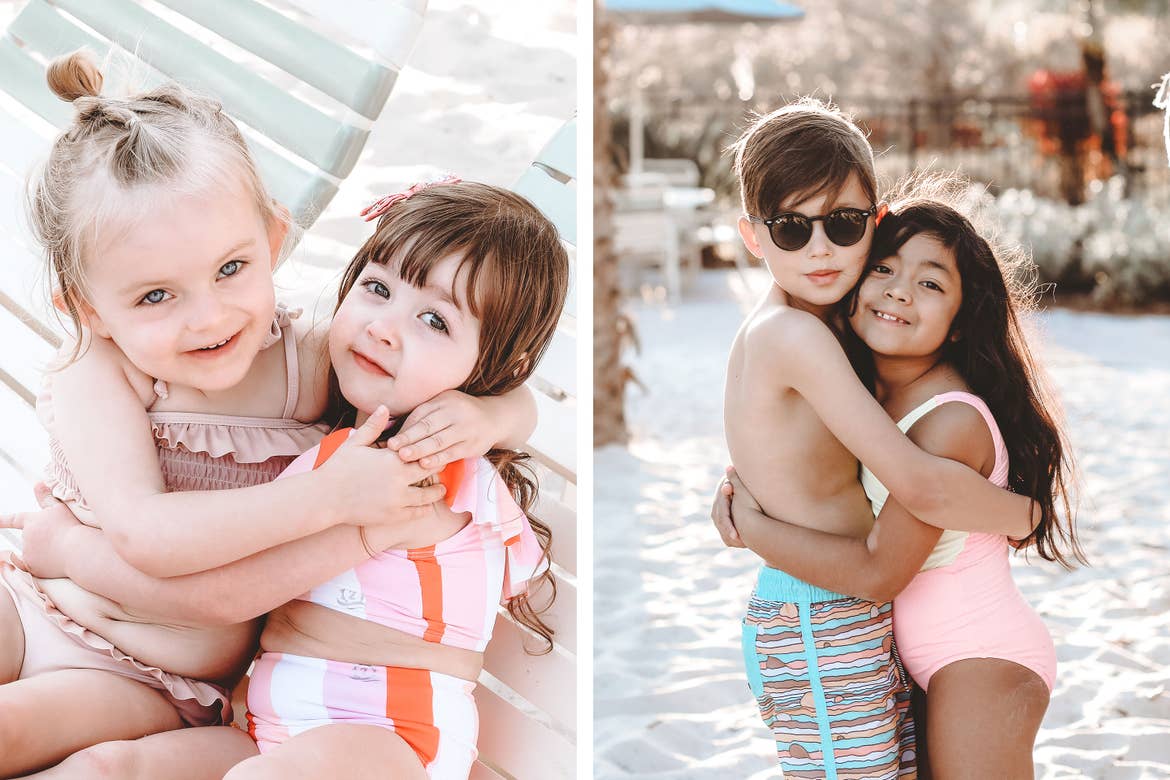 But more on that later because pro tip: Hit up Disney World first! And then break up your park days with rest, relaxation, sun and splashing around the pool.

Your feet will thank you and there's just nothing better than go, go, going at Disney World and then coming back to your resort to (ahhhhhh) unwind.


Tips for Going to Disney with Your Multi-Family Vacation Group
Since the reopening of Disney World last summer, we have been SO excited and anxious to visit the parks.

Like many others, we wondered if the theme park would still be just as magical with all of the new changes in place, and I am happy to report that YES, the magic is still alive at Disney.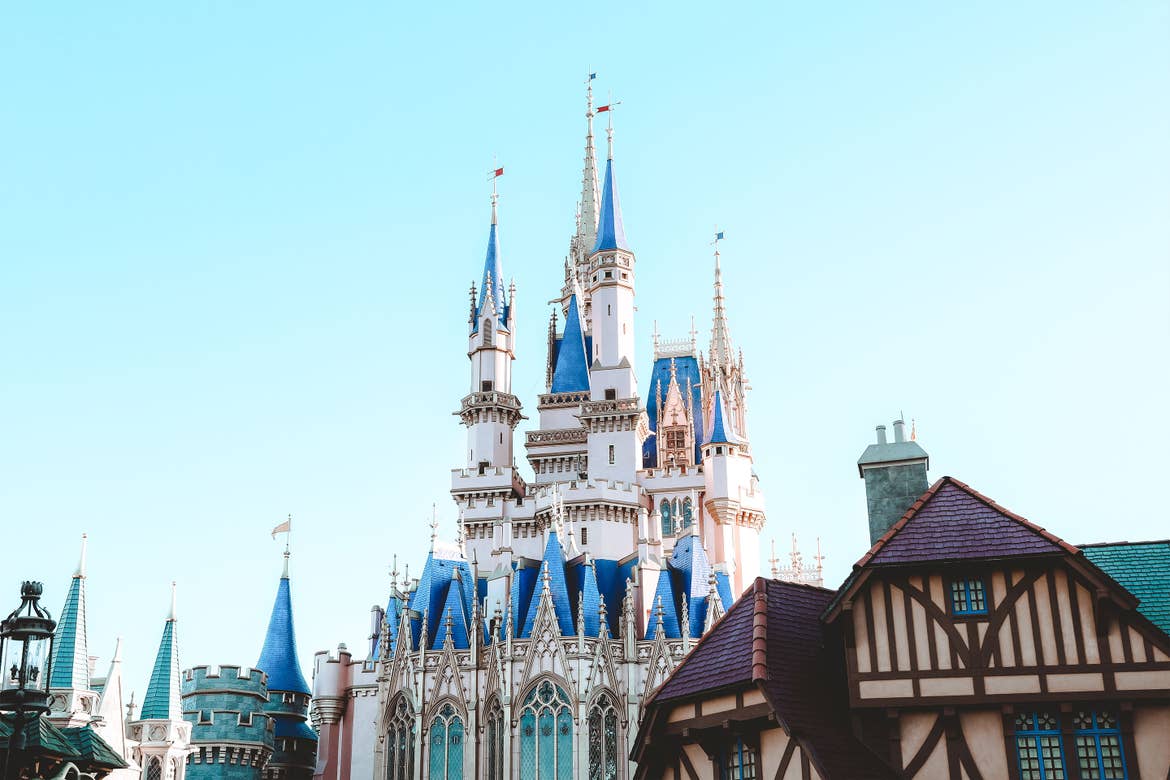 At the end of the day, our visit to Disney World felt just as magical (if not more) than any other visit before, and we were so glad we made it happen!

Here are some multi-family vacation tips for planning your Disney trip.


1. Research the park's safety measures.
Disney has made a lot of changes, safety-wise.

Just to call out a few, masks are required throughout the parks (except when eating or drinking), they still have decreased capacity overall, they check your temperature before entering, and they have contact-less payment and mobile ordering options for food.

After learning about these new safety measures, as well as hearing the many positive reviews from those who have visited, we knew we were ready to take our kiddos back to the Happiest Place on Earth.

It's important to do your own research and decide as a group if your family is ready, too.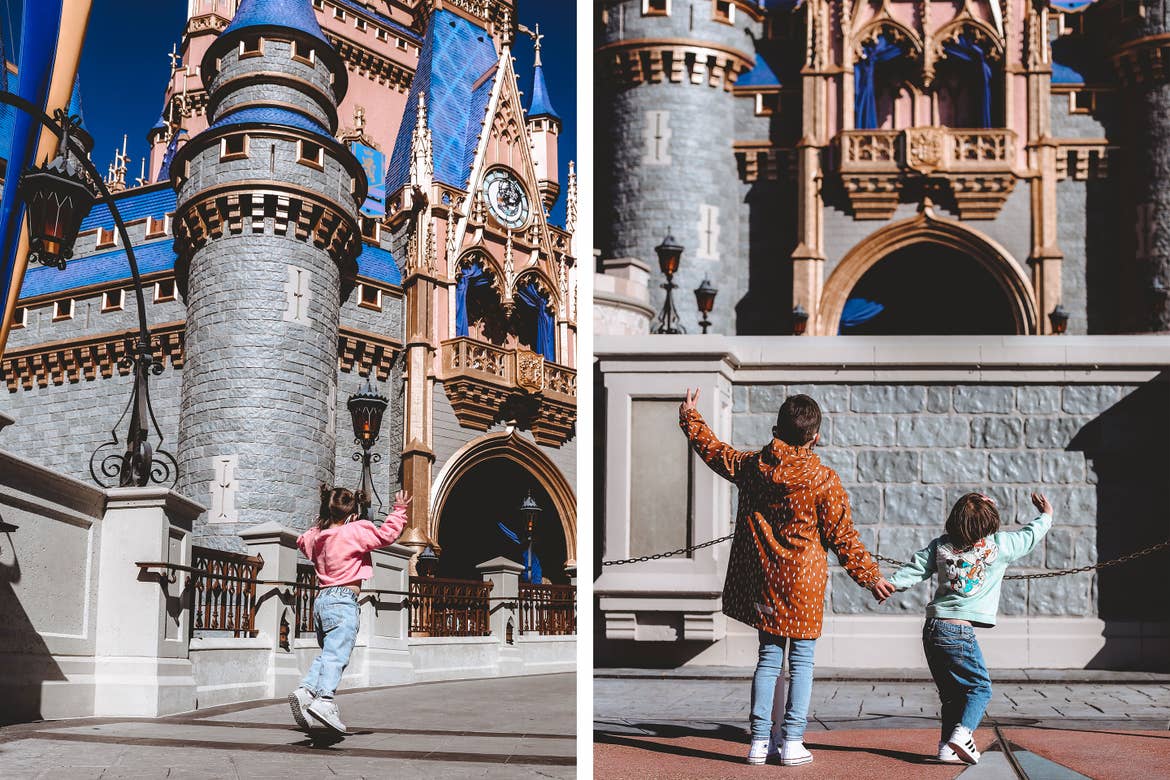 2. Research what's open and currently available.
With all the new safety changes, many experiences you would typically enjoy might be on hold for the time-being.

I will be honest, I was a little heartbroken when I learned that character meet-and-greets, FastPass+ and fireworks were temporarily paused.

But from the moment we entered the park to our final goodbye, we could see the magic in our mouseketeers' eyes.

With the crowd levels being lower than normal, we were able to walk around the park comfortably, soak in all Disney's beauty and ride all of our favorite rides (some even more than once.

There were frequent surprise visits from characters throughout the day, the kids loved snacking on their favorite treats, and you could feel the excitement in the air!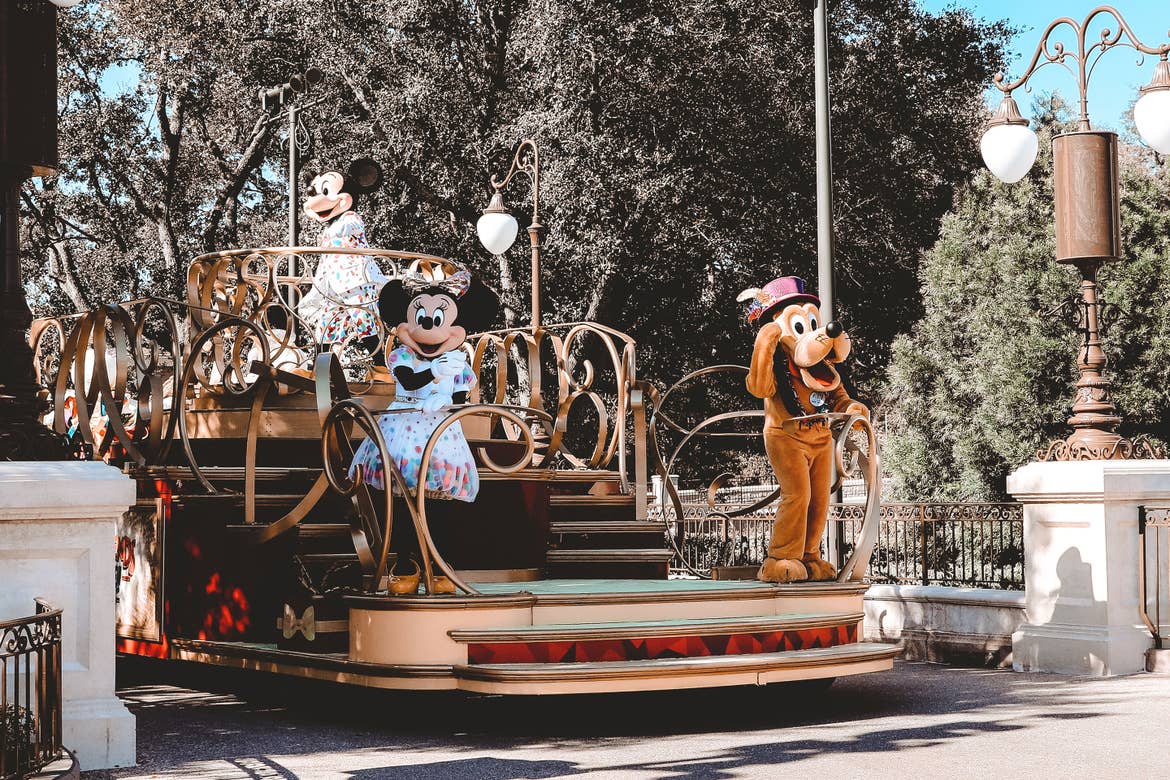 3. Decide which parks you want to visit with your group ahead of time.
As much as we would have loved to visit all four parks again, we decided to visit Magic Kingdom® and Hollywood Studios® Theme Parks.

Right now, Magic Kingdom still offers all of the classic attractions—It's a Small World, Peter Pan, Dumbo, Thunder Mountain, Splash Mountain, etc.

And Hollywood Studios was already a favorite after our Star Wars fans experienced Galaxy's Edge for the first time last year. If you haven't had a chance to visit, it is a must-see!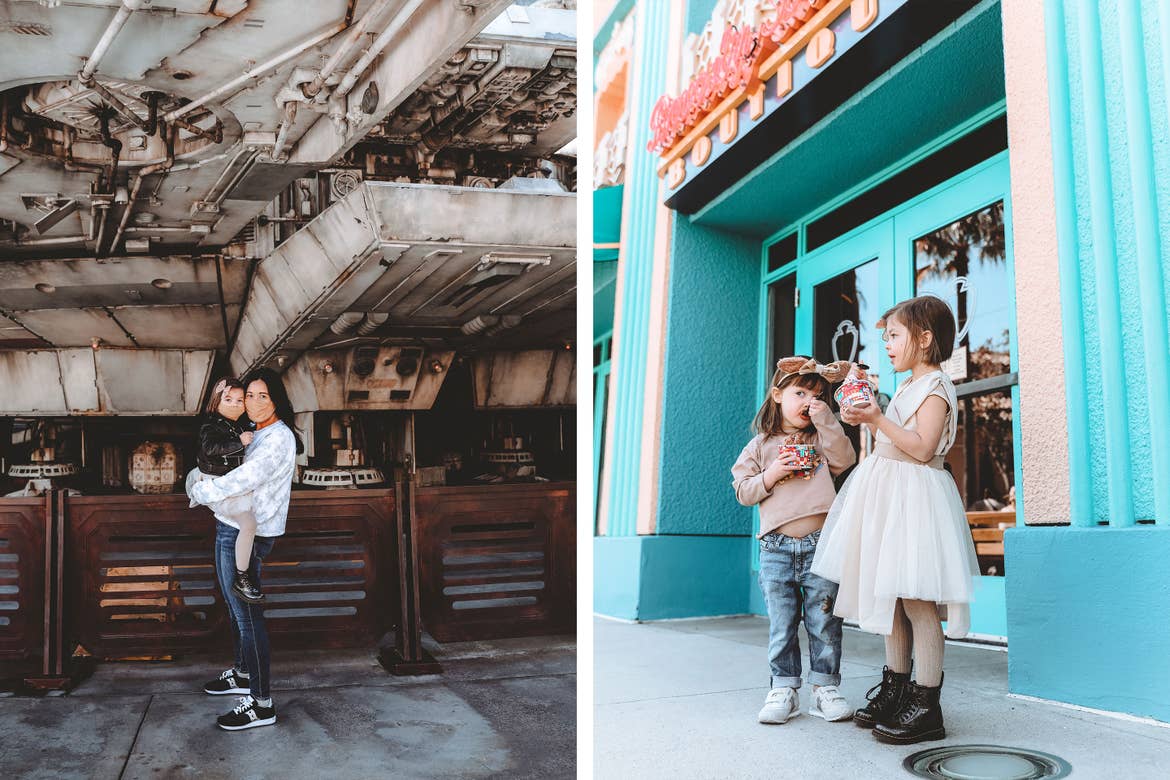 4. Make your reservations at least a month in advance.
We purchased tickets and made reservations a few weeks prior to our scheduled trip, but, since Disney increased park capacity to 35%, I would recommend making reservations much sooner.


Unwinding at the Resort After Disney World
After all those big Disney World adventures, I can't tell you how nice it was to relax at the resort, watch the kids splash the day away and lounge on the lazy river.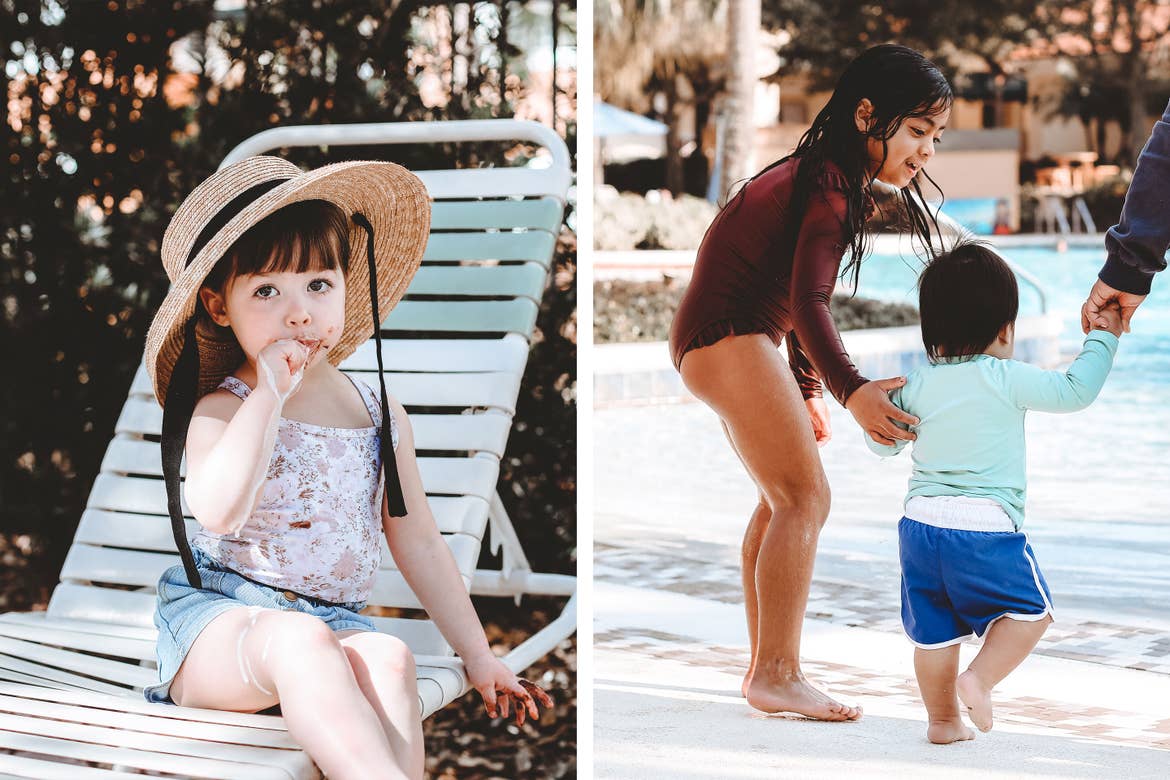 Last year, we spent most of our time in River Island and because of its close proximity to pools, waterslides, restaurants, shops, etc., we planned to do the same during our recent visit.

Here are some of the highlights from our time at River Island:
Splashing around in the zero-entry pool (perfect for beginner swimmers)
Building sandcastles
Relaxing in the 1,200-foot lazy river
Watching Grey and his cousins go down the waterslide too many times to count

Pro tip: If you have younger swimmers who are not tall enough to ride the slides in River Island, make sure to visit the waterslide in North Village.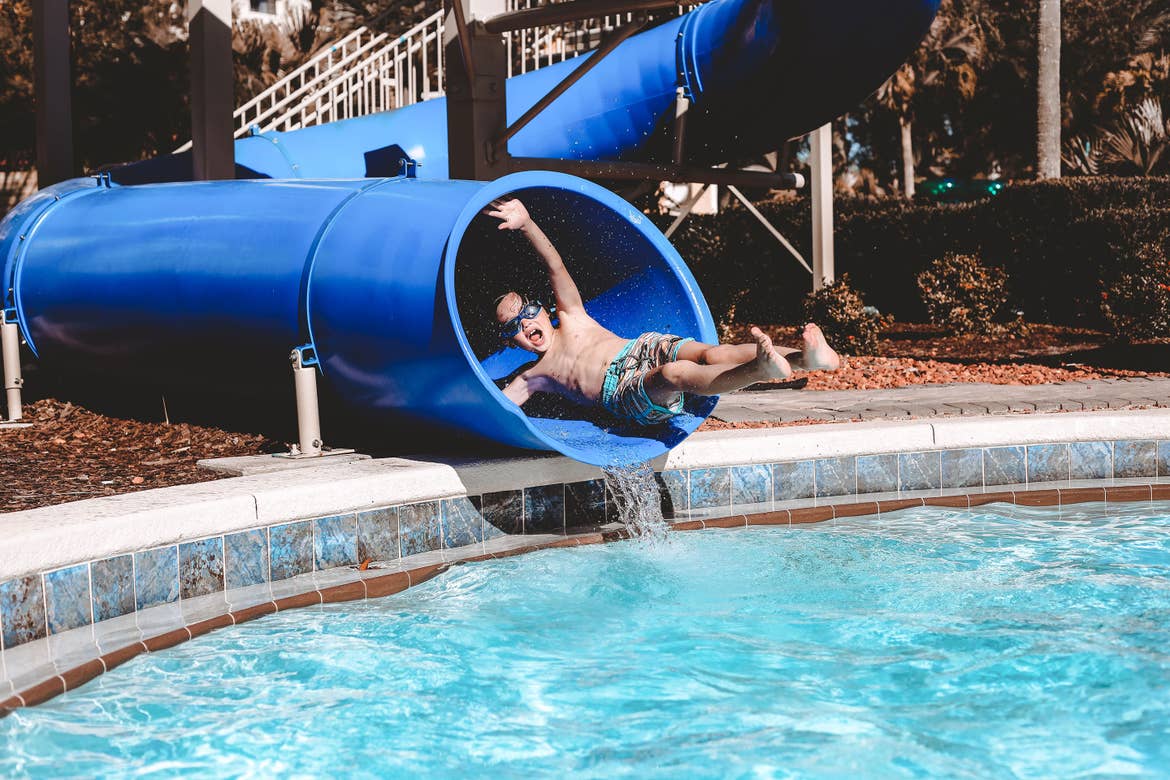 Playing a round of mini golf
Grabbing coffee and ice cream sandwiches at Currents Café
Letting the kids monkey around on the playground

Since the resort's main rock-climbing wall was not open during our visit, the kids had a blast on the smaller rock-climbing wall that was attached to the play structure.
Visiting the arcade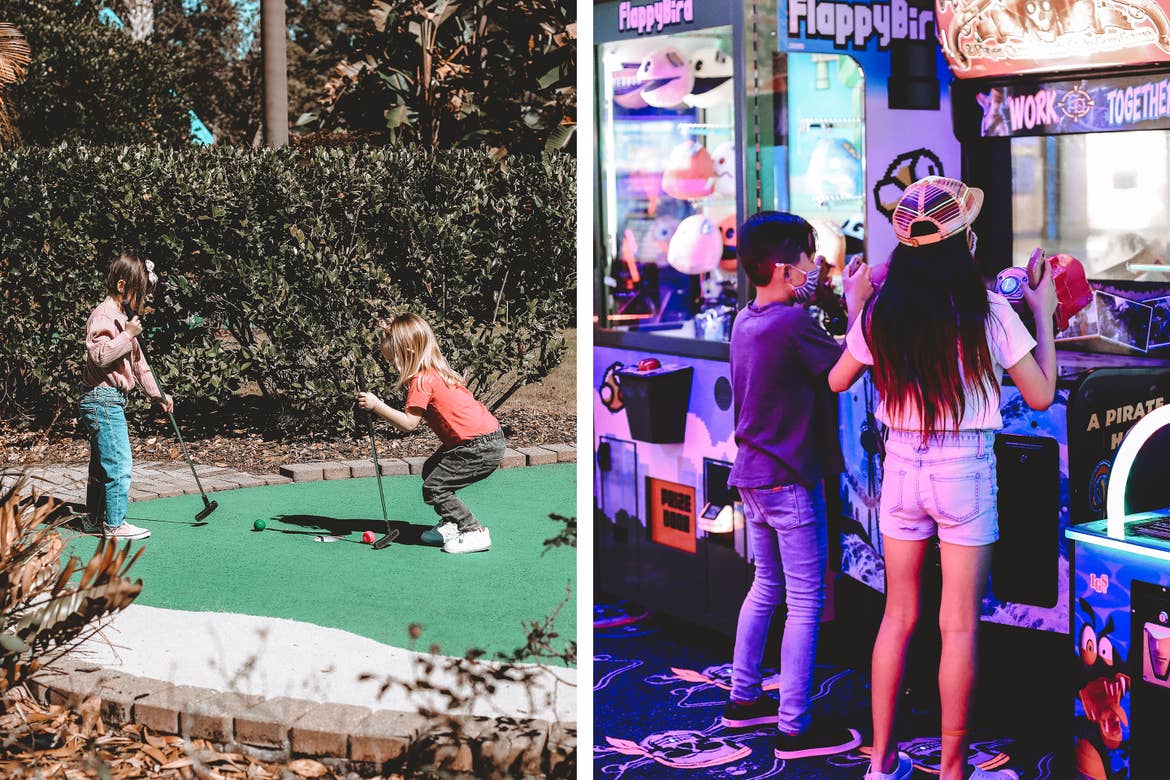 Our evenings were spent doing exactly what we needed after a long day of fun in the sun: relaxing in our cozy villa!

Of course, our little ones brought the fun indoors: building forts, jumping on beds, playing hide and seek, taking bubble baths and having pillow fights.

From the moment our kiddos woke until they went to bed at night, they played hard. And we loved every minute of it!


Saying Goodbye to Orlando
After spending an incredible week creating new and exciting memories with cousins and aunties, it was so hard to say goodbye (cue the tears!).

Our only regret was not staying longer. We would have loved to explore the resort for a few more days, and I am still kicking myself for not extending our trip.

We are hoping to make this an annual spring Disney vacation and will definitely plan to stay longer next time.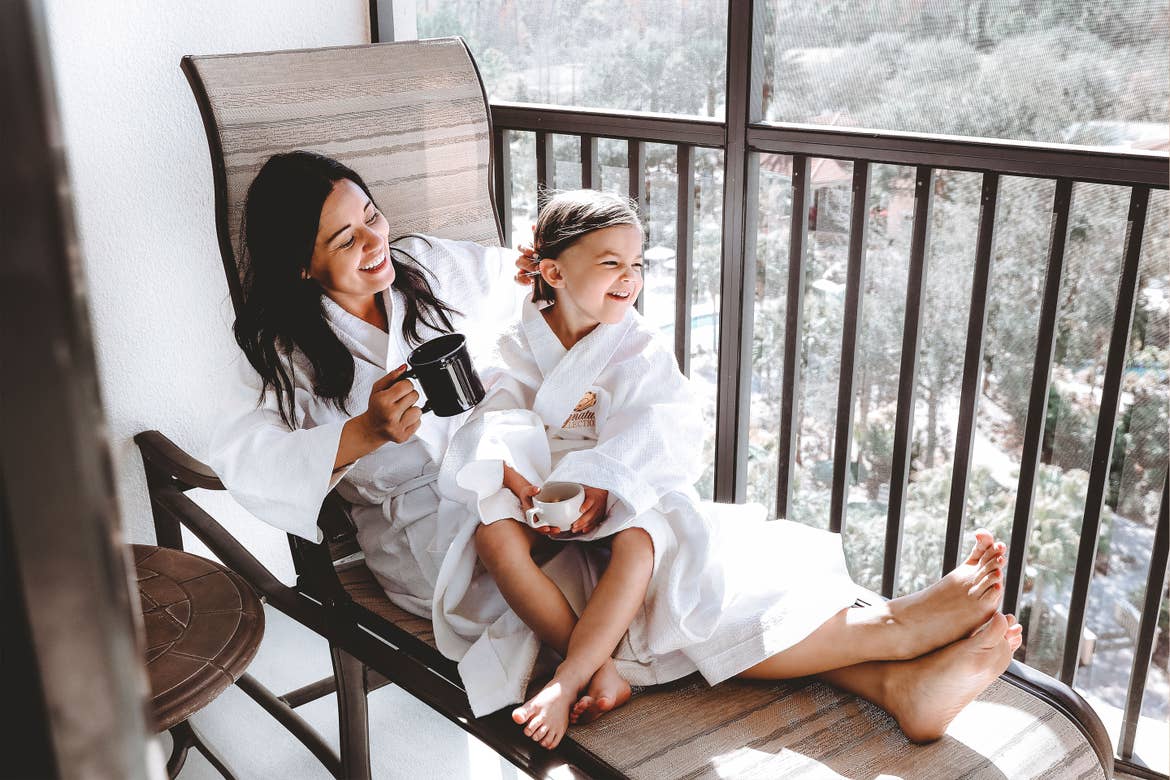 Mia and Roux enjoying quality mommy-daughter time on the villa patio

If my multi-family vacation ideas and tips convinced you to visit Orlando and stay at Orange Lake Resort, buckle up because you're in for a real treat!

Our children have not stopped talking about our most recent visit, and we are all counting down the days until we are back again.


Our guest bloggers are compensated for their writing contributions and honest opinions.

All information is subject to change. This article is a curated guide and is neither sponsored nor considered an official endorsement. Please be sure to check information directly with any/all tours, guides or companies for the most up-to-date and direct details.