Chris Johnston
Chris is a kindergarten teacher specializing in teaching and mainstreaming students with special needs in her general ed classroom. She lives in Central Florida with her husband, Josh, and their two awesome daughters, Kyndall and Kyler. Chris is a proud breast cancer survivor, a UF grad and HUGE Gators fan. She especially loves planning and taking national parks trips with her family (and collecting national park passport stamps, photos and memories along the way).
We recently checked off our 12th national park visit as a family when we explored what all the Everglades have to offer.

One of the best parts? We stayed at Sunset Cove Resort in Marco Island as our Southwest Florida vacation home base, which gave us the best of both worlds on our spring break.

Both worlds meaning: We were just about an hour from all the gator, airboat and other Everglades National Park adventures — while ALSO enjoying the pools, beach, food and entertainment of Marco Island.

This mom felt like she CRUSHED IT! (Best mom feeling in the world, right?!)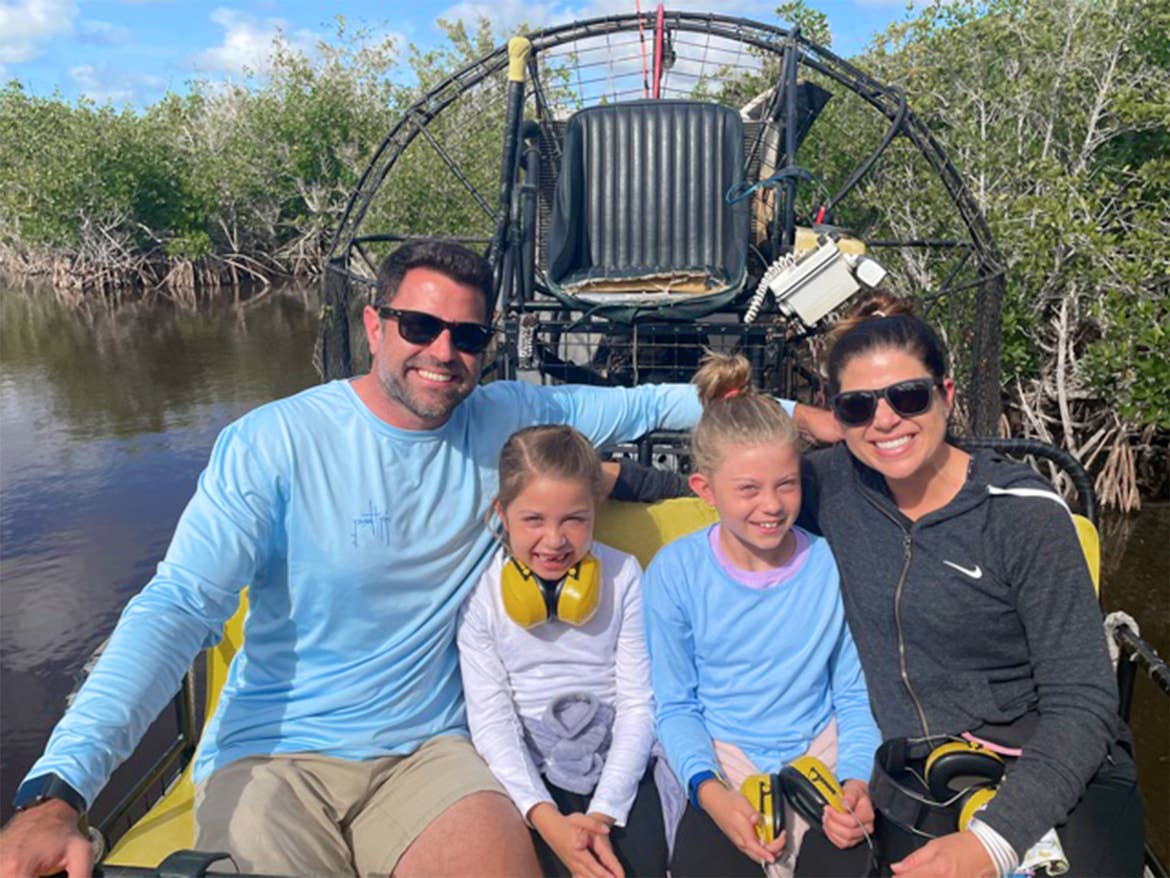 Hi, we're the Johnstons! Chris (mom), Josh (dad), Kyndall (10) and Kyler (8).

Plus, the resort was clean, so conveniently located near everything, had the most helpful staff and was SUPER spacious.

If you're wondering what all this beach town has to offer, here are the top 7 things to do in Marco Island, and at Sunset Cove Resort, based on our recent family vacation.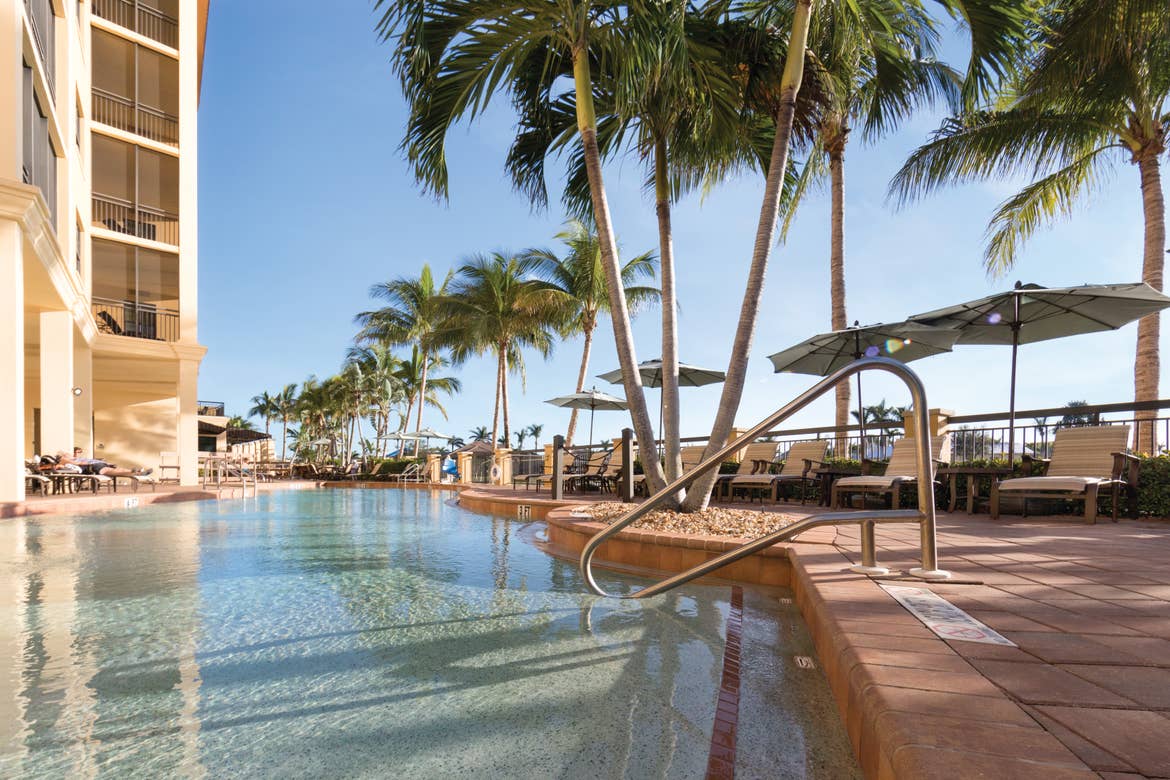 Sunset Cove was the perfect beach retreat for our perfect family vacation.


1. Go shelling and build sandcastles at Marco Island's beaches.
Sunset Cove Resort offered a shuttle to two separate beaches and we enjoyed both during our spring break Marco Island getaway.


Tigertail Beach
The first day we tried out Tigertail Beach (a 5-minute shuttle ride), famous for its incredible shelling. The white sands were absolutely gorgeous, and the walk was awesome.

Pro tip: Plan for a long walk, as it's about a ¼-mile trek from where the shuttle drops you off just to get to the shoreline.

There's a shortcut through a lagoon, but you'll need to wade through waist-deep water to get to the beach, and the resort really doesn't recommend going this way.

Instead, we chose to walk about a ¼ mile around this area and the extra exercise was wonderful with the beautiful views.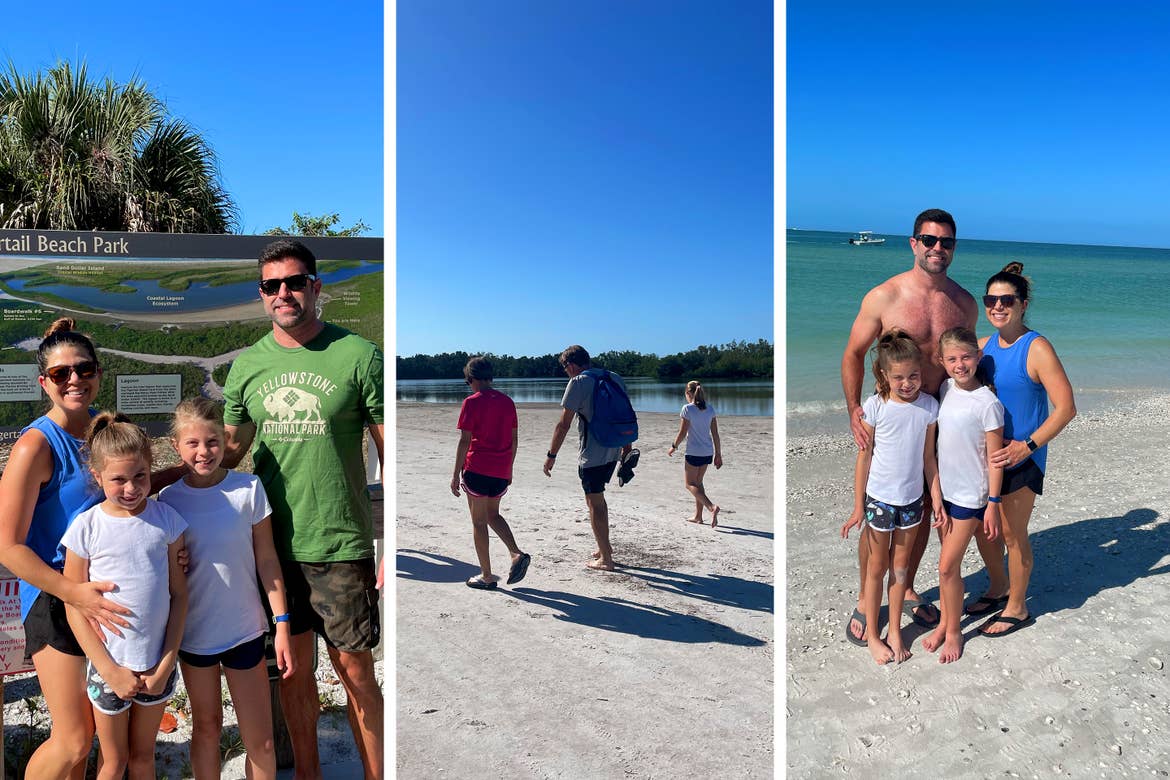 Enjoying a beautiful, sunny, sandy day at Tigertail Beach


South Beach Access
The next beach day for us, we tried out the South Beach Access (an 8-minute shuttle ride).

We enjoyed this beach very much for building sandcastles, relaxing in our chairs and playing football in the white sands. It was busy, but we had plenty of space.

We never waited more than 5 minutes for the shuttle the entire week we visited either.

Pro tip 1: Sunset Cove Resort offered beach chairs and beach umbrellas on a first-come, first-serve basis. Since we only traveled from Orlando, we had our own, but it was nice to know they weren't needed.

Pro tip 2: It's also important to note that we didn't see any public restrooms in the South Beach area, so definitely keep that in mind.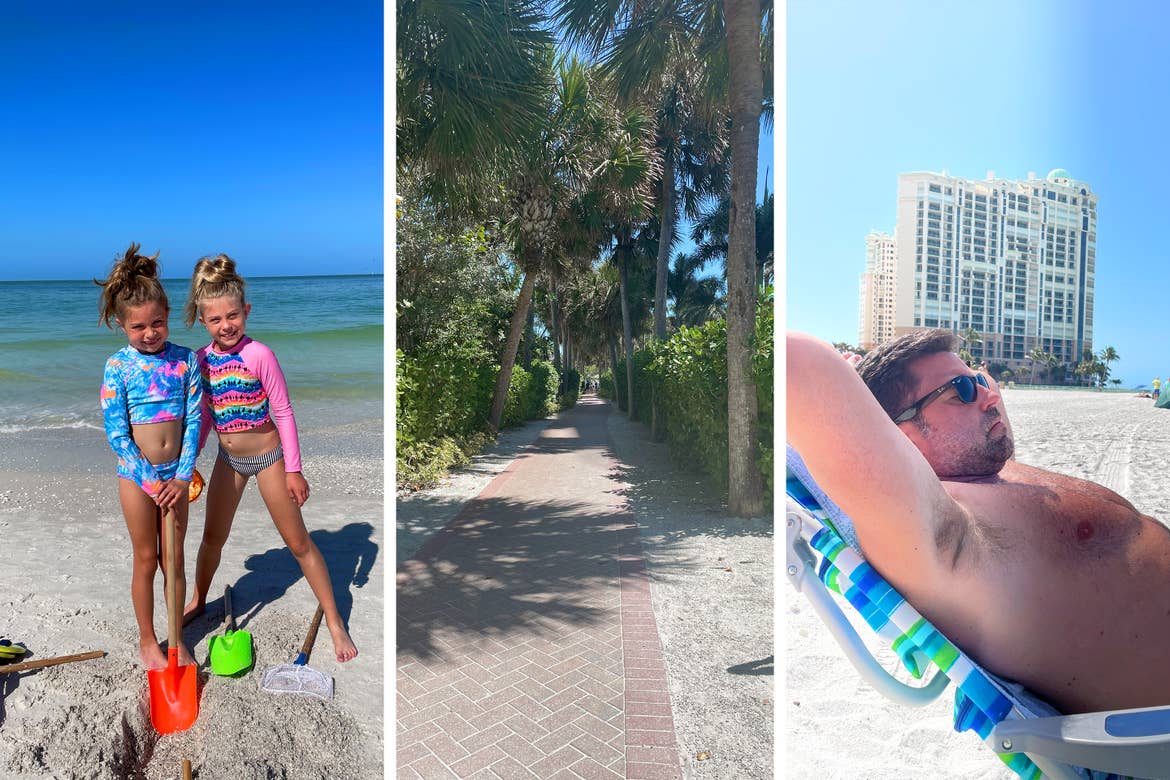 Another successful beach day at the South Beach Access


2. Spend quality family time at Veteran's Park.
Next to Sunset Cove Resort is a wonderful, well-maintained field called Veteran's Park.

We were so fortunate to enjoy a FREE concert from the comfort of our balcony the evening we arrived in Marco Island!

A cover band was playing Journey, which I was LOVING as a child of the 80s.

We also went here multiple times throughout the week for:
Family soccer games
Kite-flying
Electric scooter riding
Even breakfast at the farmer's market where local vendors showed off their talents
It was truly such a neat place, and we were so thankful for all the memories we made there.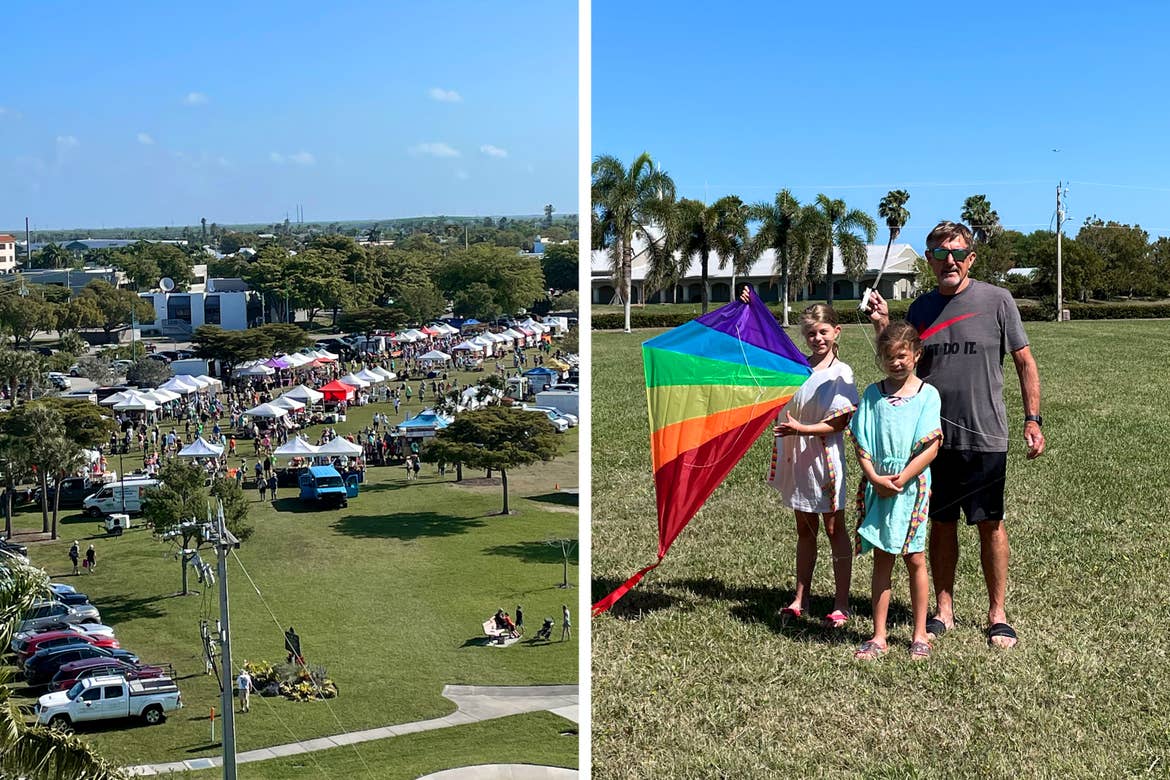 Our villa had a great view of Veteran's Park and everything going on there.


3. Enjoy pools, game rooms & great views at Sunset Cove Resort.
The pool was a great spot for our family and, while it was certainly a hotspot at the resort, we never had trouble finding chairs to relax in each day.

And we brought our own drinks and snacks to enjoy poolside, too.

We also LOVED the family game room and spent time there every evening. We played epic games of ping pong, foosball and air hockey.

All the supplies we needed were available for check-out at the front desk. It was a BLAST!

We really enjoyed the views from our villa, too! We had Veteran's Park on one side and a glorious waterfront canal view on the other.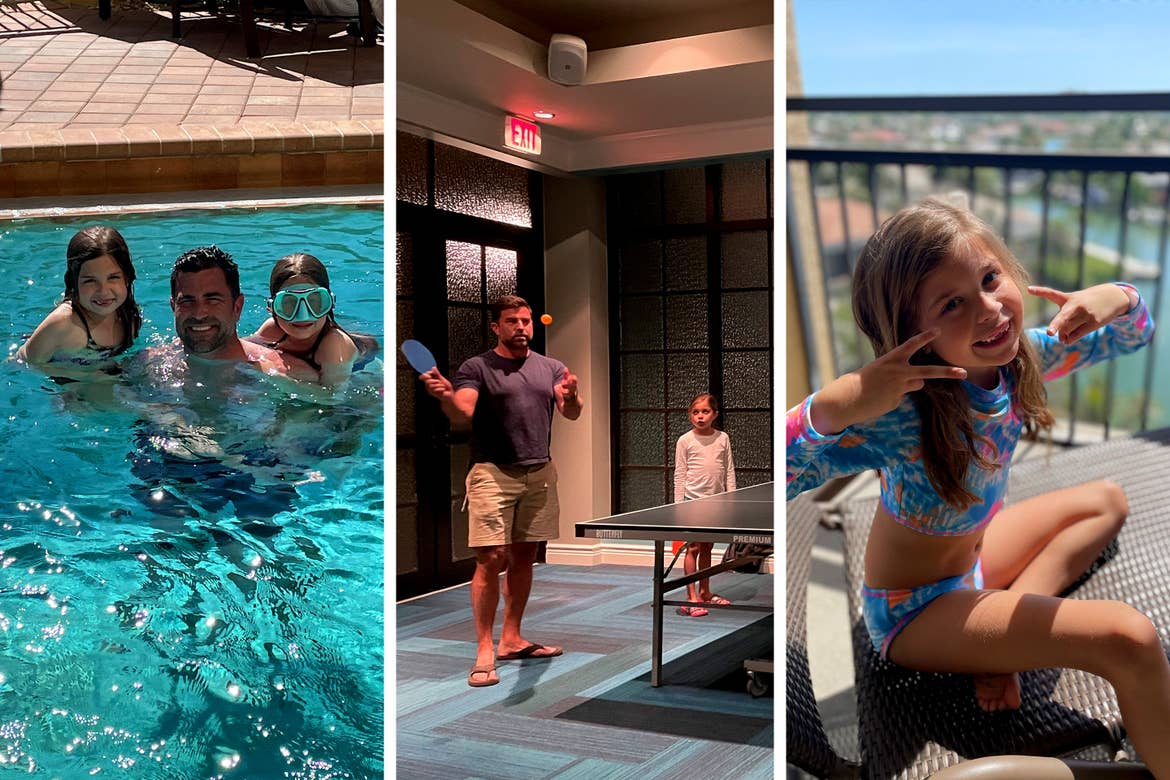 Pools, ping pong and peace signs at Sunset Cove Resort


4. Check out the local restaurant scene.
Marco Island offered us many different good eats throughout our stay. Our Sunset Cove Resort concierge had some fantastic recommendations to help guide us.

Our favorites on the island were:
Dolphin Tiki for the grouper sandwich
Snook Inn for the blackened fish
DaVinci's for anything and everything
We had some meals out at the restaurants and also grabbed some to bring back to the resort as our villa's full kitchen offered us plenty of space (and a fridge for yummy leftovers).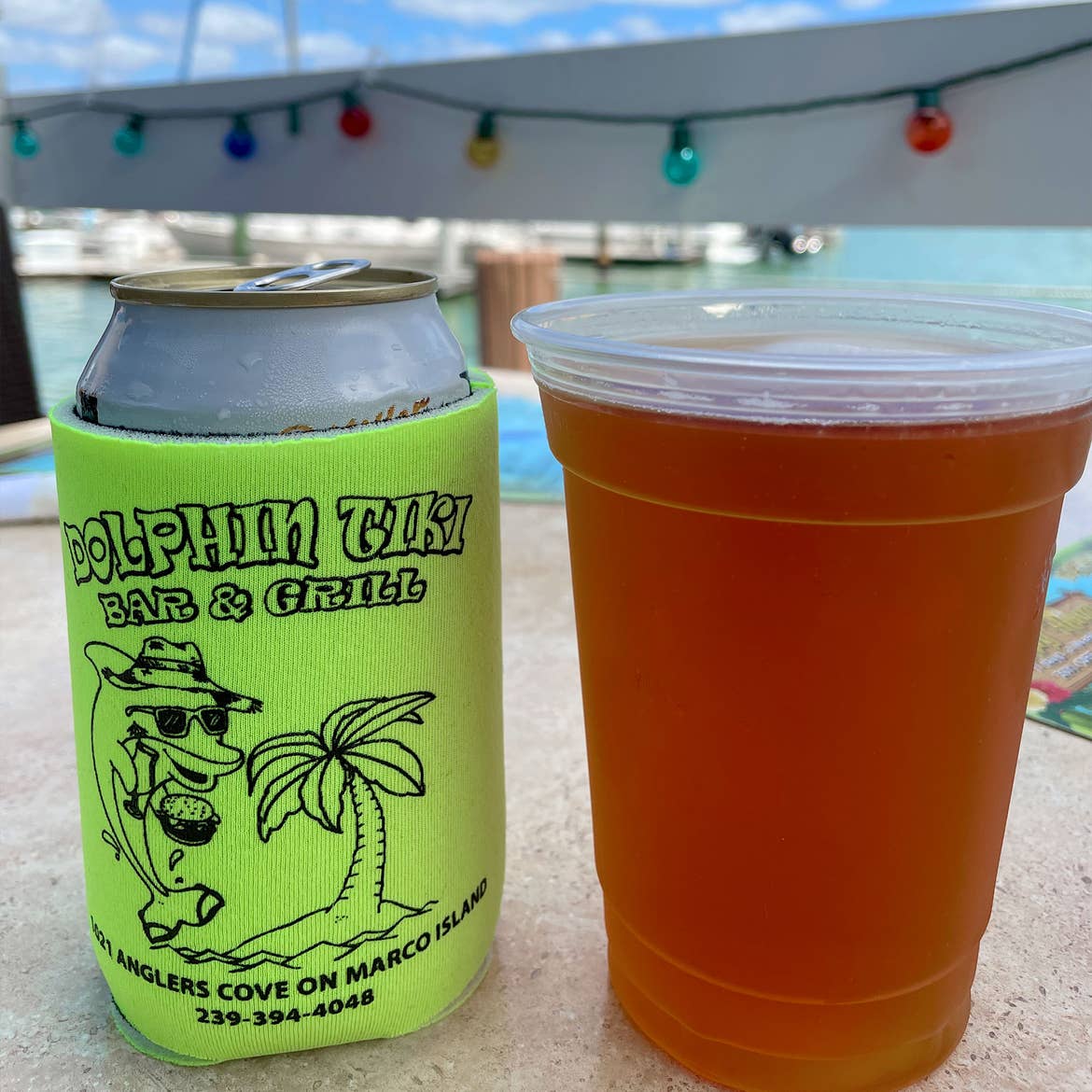 ---
Before your beach vacation, be sure to check out these stories, too:
---
5. Get in some exercise at City of Marco Island Racquet Club.
All six of us ventured over for a FREE afternoon of tennis on the well-maintained clay courts at the City of Marco Island Racquet Club.

We're a major tennis family, so we loved having this nearby!

The pickleball courts were booming, and our party of six squeezed onto two separate tennis courts. It was a fun way to get some exercise on vacation.

It was only a short 7-minute drive from the resort. From 4–6 p.m., the courts are free on a first-come, first-serve basis.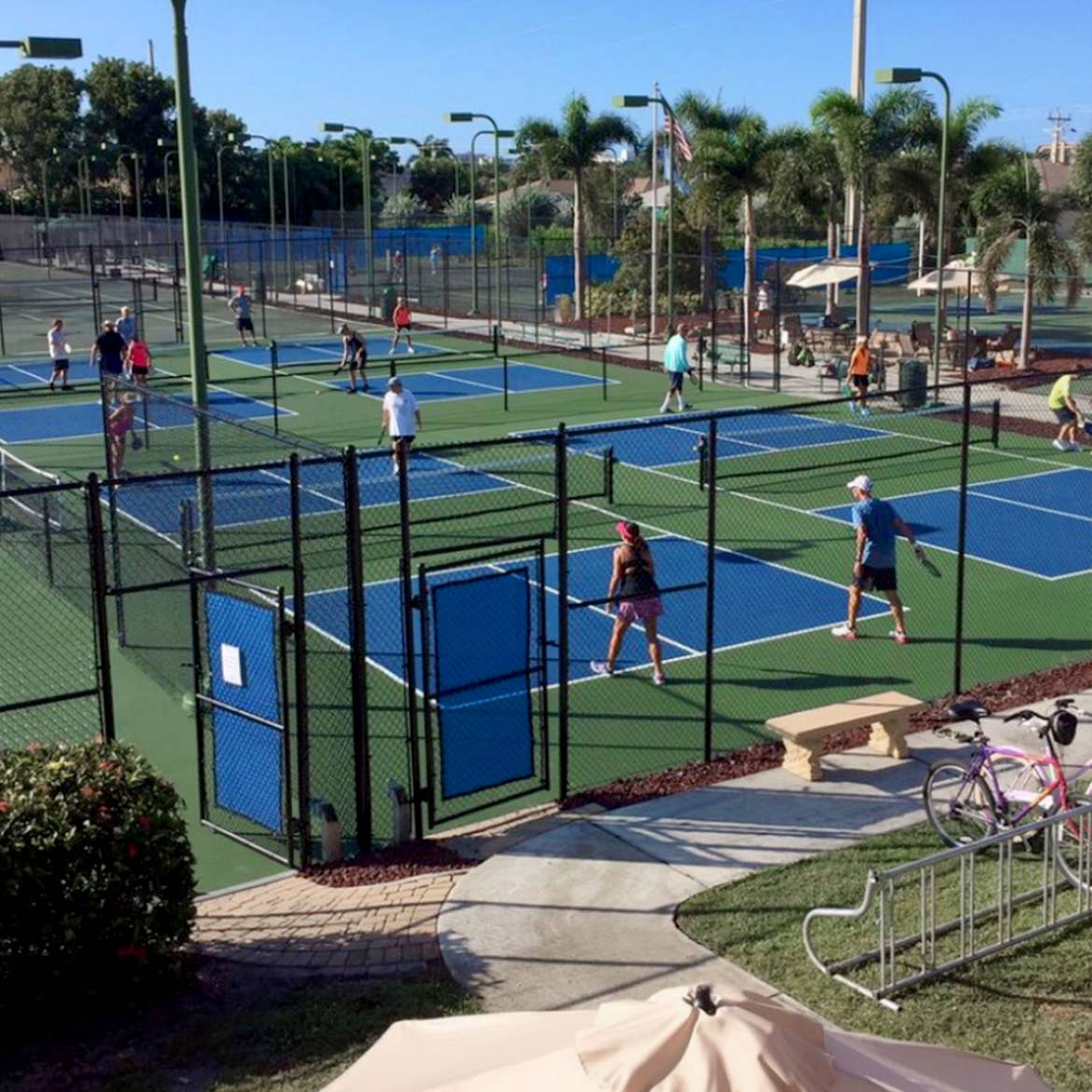 Photo courtesy of Pickleball Communities Florida


6. Play a round of golf.
My husband and my dad enjoyed a morning of golf at the nearby Lely Resort in Naples.

It was about a 30-minute drive from our Marco Island resort, and they reported that the course was in great shape.

I enjoyed some 1:1 time with my girls while they hit the links, which was an awesome way to balance making sure everyone got to do what they wanted during this multi-gen family vacation.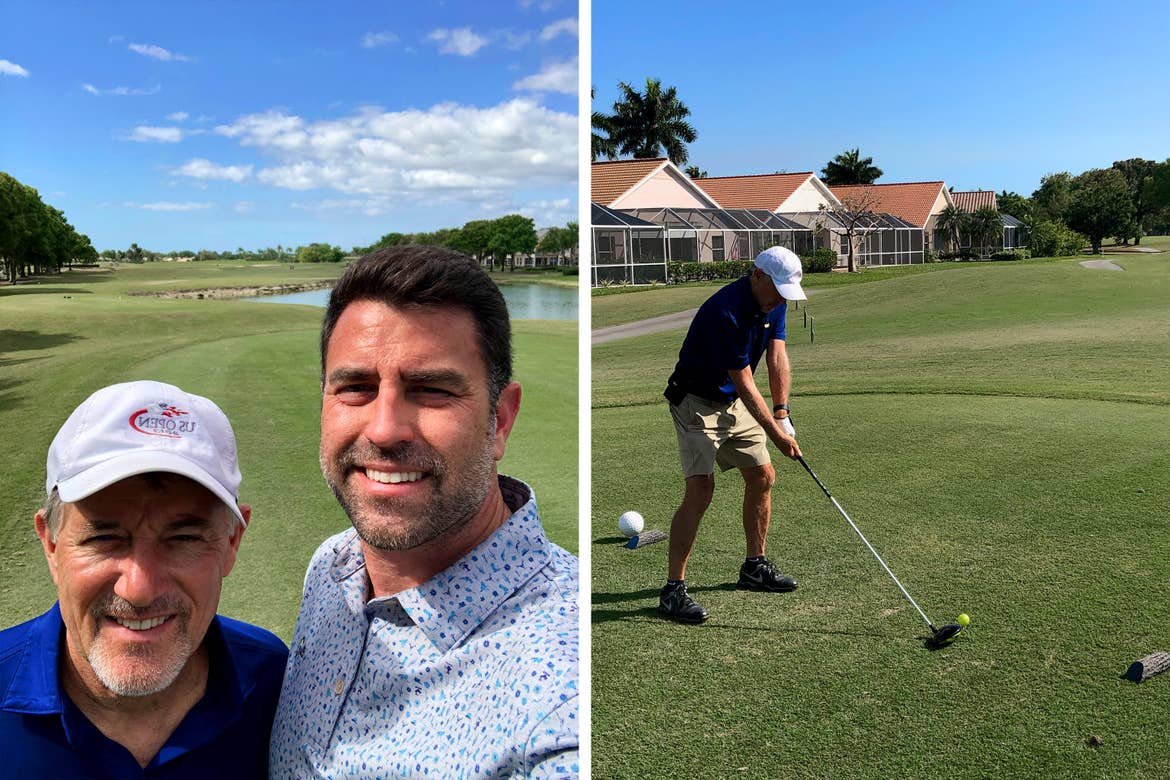 My husband and dad hitting the links in nearby Naples


7. Head to Everglades National Park for wildlife and adventure.
Our family has a national park travel tradition, so we actually planned this trip around visiting the Florida Everglades.

It was just over an hour to get from Marco Island to two different areas in the Everglades: Shark Valley and Gulf Coast.

There were so many incredible things to do in the Everglades, but here were some of our highlights:
Spending time learning from Park Rangers at both the Shark Valley and Gulf Coast visitor centers
Seeing gators, birds and even a crocodile(!!) during a tram tour
Cruising through Everglades City on an airboat, which was by far the BEST experience
Enjoying a lovely lunch at a quirky, waterfront café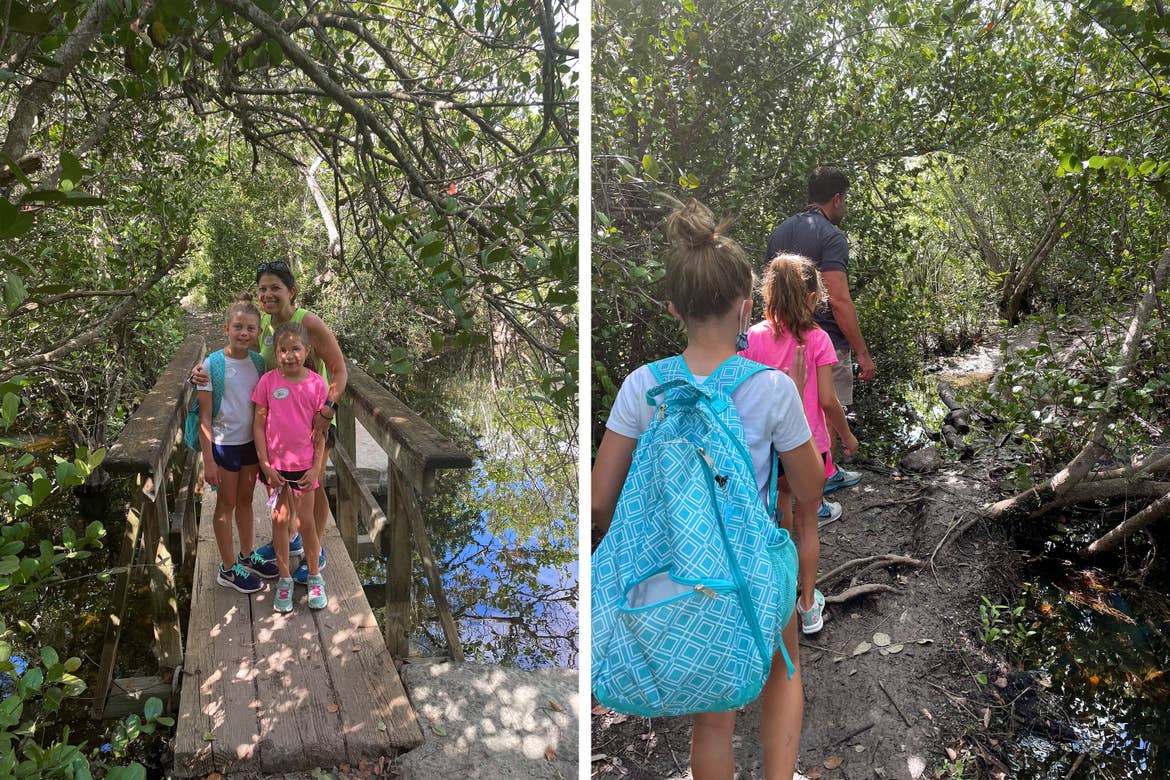 An observation point during our ranger-guided tram tour in Shark Valley

Marco Island was the perfect "home base" for these activities, so definitely consider staying there if you want to enjoy a relaxing beach getaway and see some true Florida wildlife.


More About Sunset Cove Resort
Our party of six (including Nana and Papa) all fit comfortably in the three-bedroom, three-bathroom corner villa for five nights at Sunset Cove in the heart of Marco Island.

(I honestly don't know who loved having their own bedrooms and bathrooms more — mom and dad, grandma and grandpa or our two girls!)

And I cannot say enough good things about the Sunset Cove Resort team, especially its amazing concierge, Angie!

Angie initiated our communication with a "pre-arrival" email to me a month before our travel.

It was SO HELPFUL to have her contact info because we had a few questions, and she made our beach packing and prep a million times easier.

I also asked her opinion on the best things to do in Marco Island and what she recommended was amazing.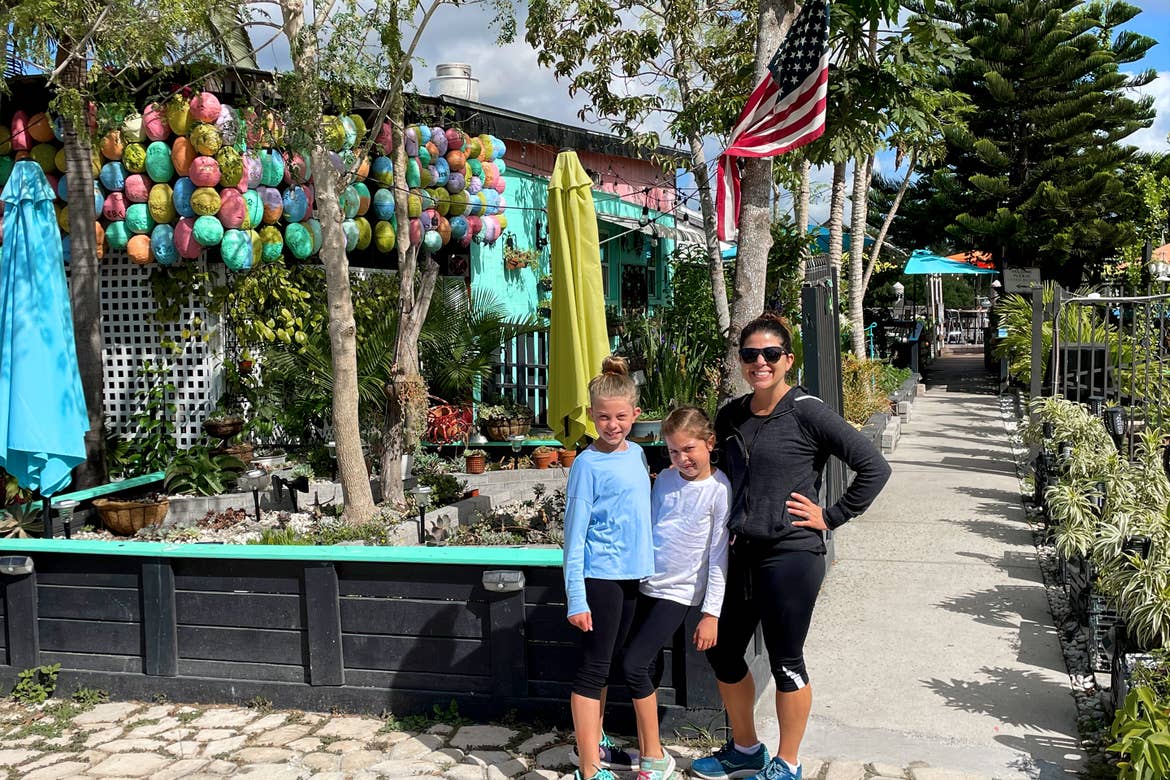 We had the BEST lunch at Camellia Street Grill, a Sunset Cove concierge suggestion.

You could tell she felt us out before providing the recommendations — and she was SPOT ON!

All the team members at the resort were SO FRIENDLY every time we were in the lobby, too. They all sparked genuine conversations with us, like "What are you guys up to today?"

If you're looking for even more things to do in Marco Island, I highly suggest staying at Sunset Cove Resort and asking its concierge team for suggestions based on your vacation style.

We were incredibly impressed by our first time in Marco Island and at Sunset Cove Resort. It was a beautiful, relaxing and FUN beach getaway, and our whole family can't wait to come back to this little piece of paradise!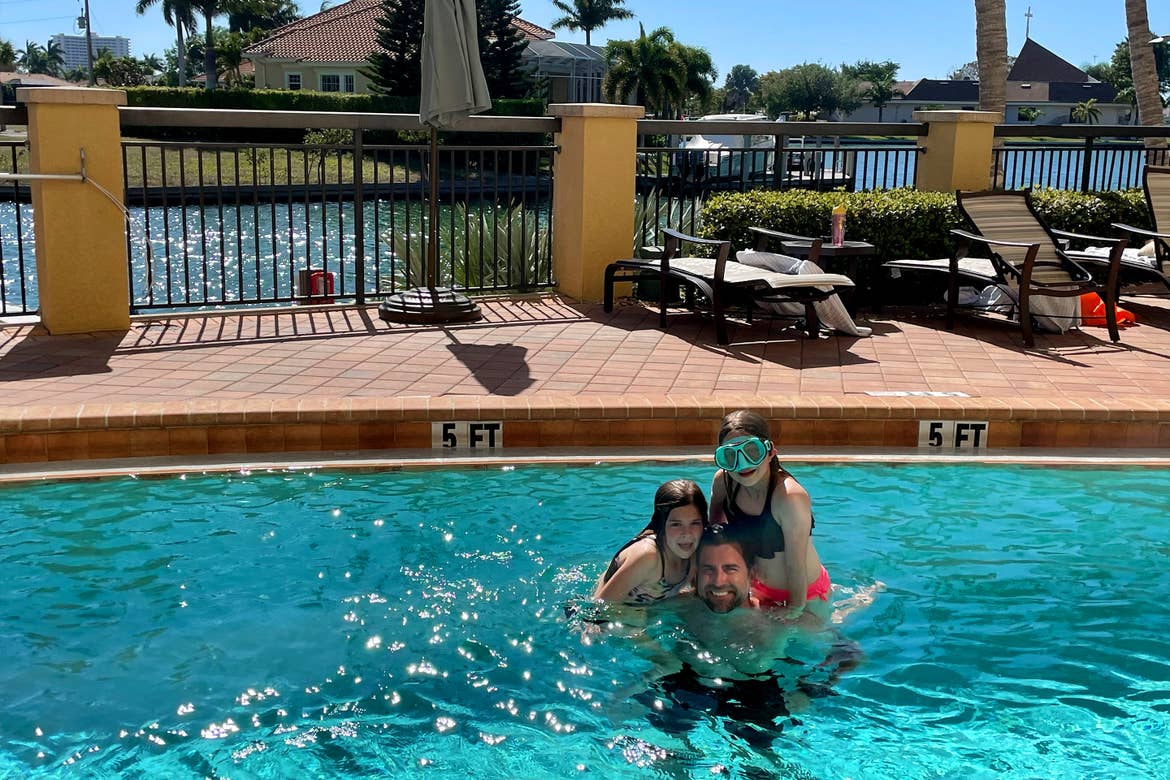 Our guest bloggers are compensated for their writing contributions and honest opinions.

All information is subject to change. This article is a curated guide and is neither sponsored nor considered an official endorsement. Please be sure to check information directly with any/all tours, guides or companies for the most up-to-date and direct details.