Tori Ferrante
Tori is a writer and editor for the Checking In travel blog. She's a wine lover, dog mother and adventure seeker who revels in finding those little-known, hidden gem spots. Her travel niche includes super budget-friendly, couples weekend getaways, and her absolute favorite vacations are the ones where she gets to explore new places with her husband, Brooks, and her fur son, Deagon.
Foodies, Disney-lovers, locals, travelers and theme park enthusiasts — this one's for you!

Our Blog & Social Media team recently visited the 2021 Epcot® International Food & Wine Festival, and we're recapping all our favorite foods, drinks, activities and much more below. (Thank you for the invite, Disney Parks & Resorts!)

And with not only one but TWO resorts in Central Florida, we're also sharing what TWO first-timers had to say about staying at Orange Lake and Orlando Breeze resorts. (Both are just a hop, a skip and a jump away from Walt Disney World® Theme Parks!)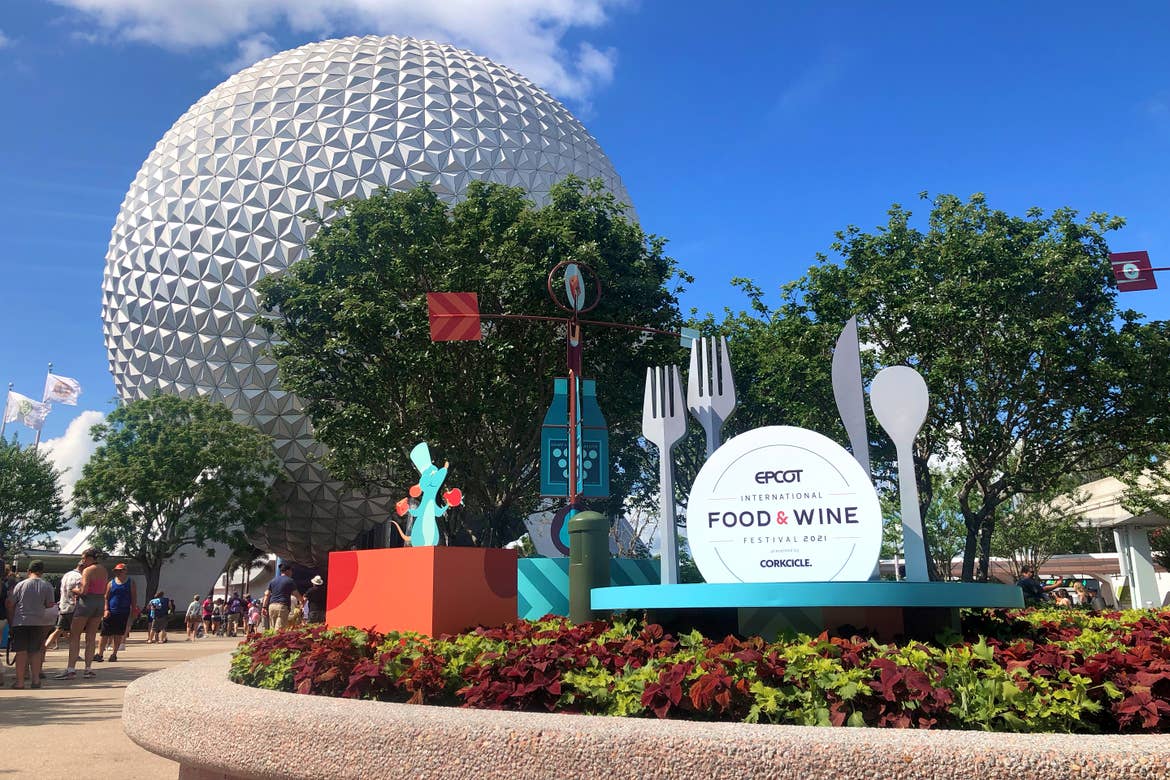 But before we get to allllll that, let's start with a question you might be asking yourself right now…
Should You Go to the Epcot International Food & Wine Festival?
There's so much to do at Walt Disney World® Resort with four theme parks, two waterparks, Disney Springs and more. (And we know our lazy river and those sparkling resort pools are also calling your name.)

So, is the seasonal Epcot International Food & Wine Festival worth your vacation time?

Short answer: Absolutely, yes, 100%!

With 129 festival days from Jul. 15–Nov. 20 (the longest one yet), prepare to fill your theme park day (and your stomach!) with 20 global marketplaces worth of deliciousness.

Oh, and let's not forget: The park's famous firework shows are officially back, so you'll also get to see the night skies light up during Epcot Forever.

As with any theme park, your decision to go to Disney World right now might be based on if you feel safe, comfortable and ready for crowds, indoor rides and lines.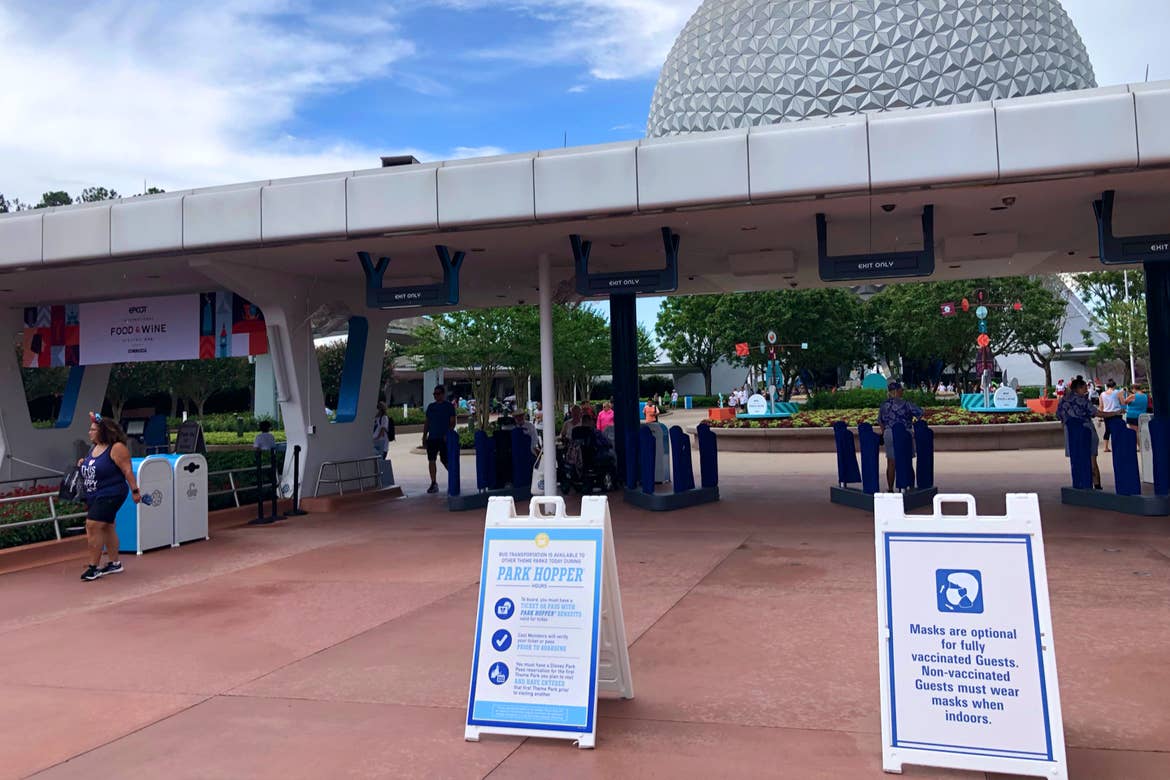 Since this photo was taken, Walt Disney World has returned to requiring masks indoors for all guests, including fully vaccinated visitors.

Our team noticed the following safety measures:
No more masks for fully vaccinated guests outdoors. All guests must wear masks indoors based on recent updates.
No more temperature checks
Easy contactless payment options
Super easy entry to the park with expedited security measures and ticket scanners that allow you to walk right in
Editor's Note: Walt Disney World mask and safety policies are subject to change. (They've even changed since our Food & Wine Festival visit.) Be sure to check the park's website for the most updated info.

Just remember to make a park reservation the day you're planning to visit. That's still required for each person, in addition to valid ticket admission.
As my very first time at Food & Wine, I can confidently say I was in my foodie happy place. And based on their responses below, I think I can say the same for Jennifer, Kelly, Nicole and Erin. 😉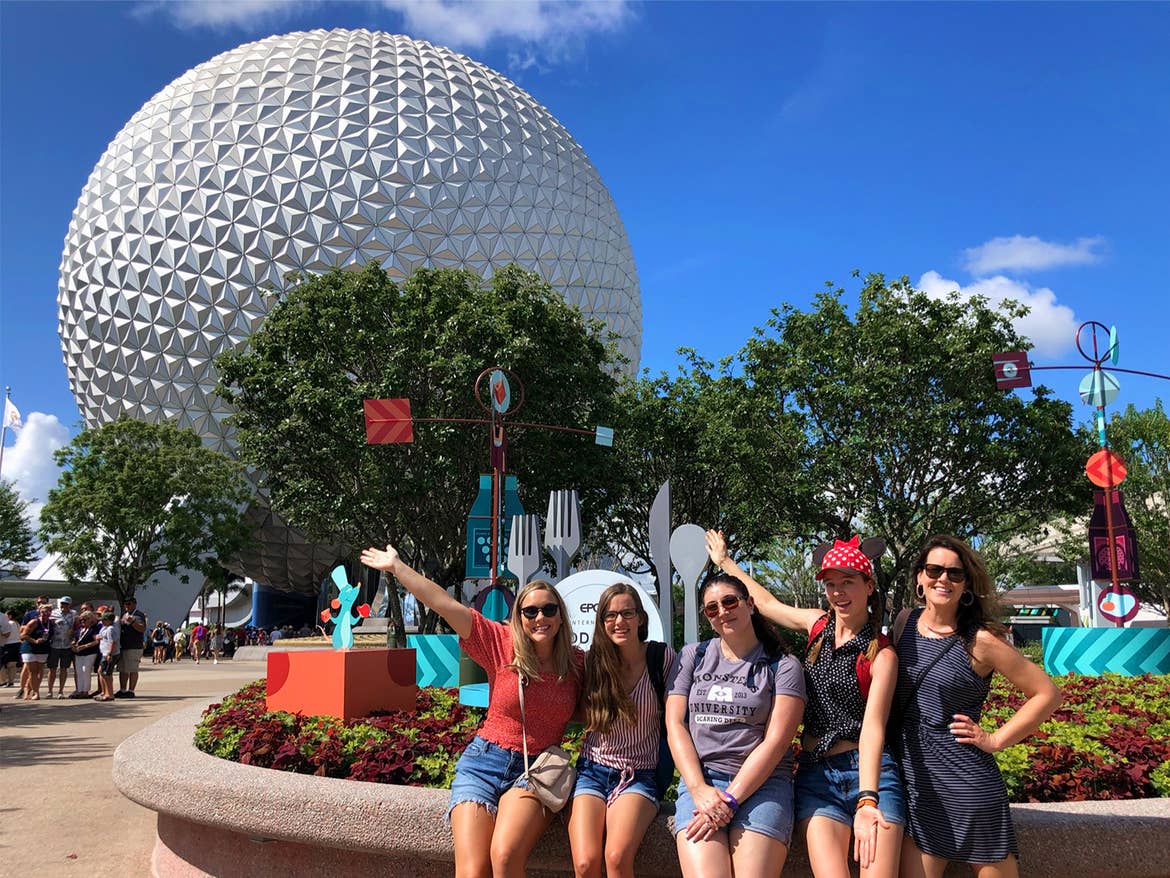 The gang's all 'ear!' Kelly, Erin, Tori (me), Nicole and Jennifer about to kick off off our trip around the "world."

Pro Tip 1: Check out our neat "Highlight" on Instagram if you want an up-close and personal look at our Food & Wine Festival day.

Pro Tip 2: Grab something to eat right. now. No doubt, your mouth will be watering by the end of this blog post. 😋
Our Favorite Food & Wine Festival Foods
Here's a little taste of the best Epcot International Food & Wine Festival snacks and dishes we had … but honestly? You'll need to try them for yourself to truly experience the magical things we ate.

(Note: Most of the sections below are in order of appearance if you're starting by Mexico.)


NEW: Brew-Wing's Chicken Wings (EPCOT Experience)
Kelly (Social Media & Influencer Manager): I really loved the Mango-Habanero Wings from Brew-Wing. Perfect to pair with my craft beer flight!

Tori (Head Blog Editor): Wings and craft beer are one of my all-time favorite combos. I had the Teriyaki-Sesame Wings, and they were just the right mix of sweet, savory, crispy and saucy. I would go back to the festival right now JUST for these wings.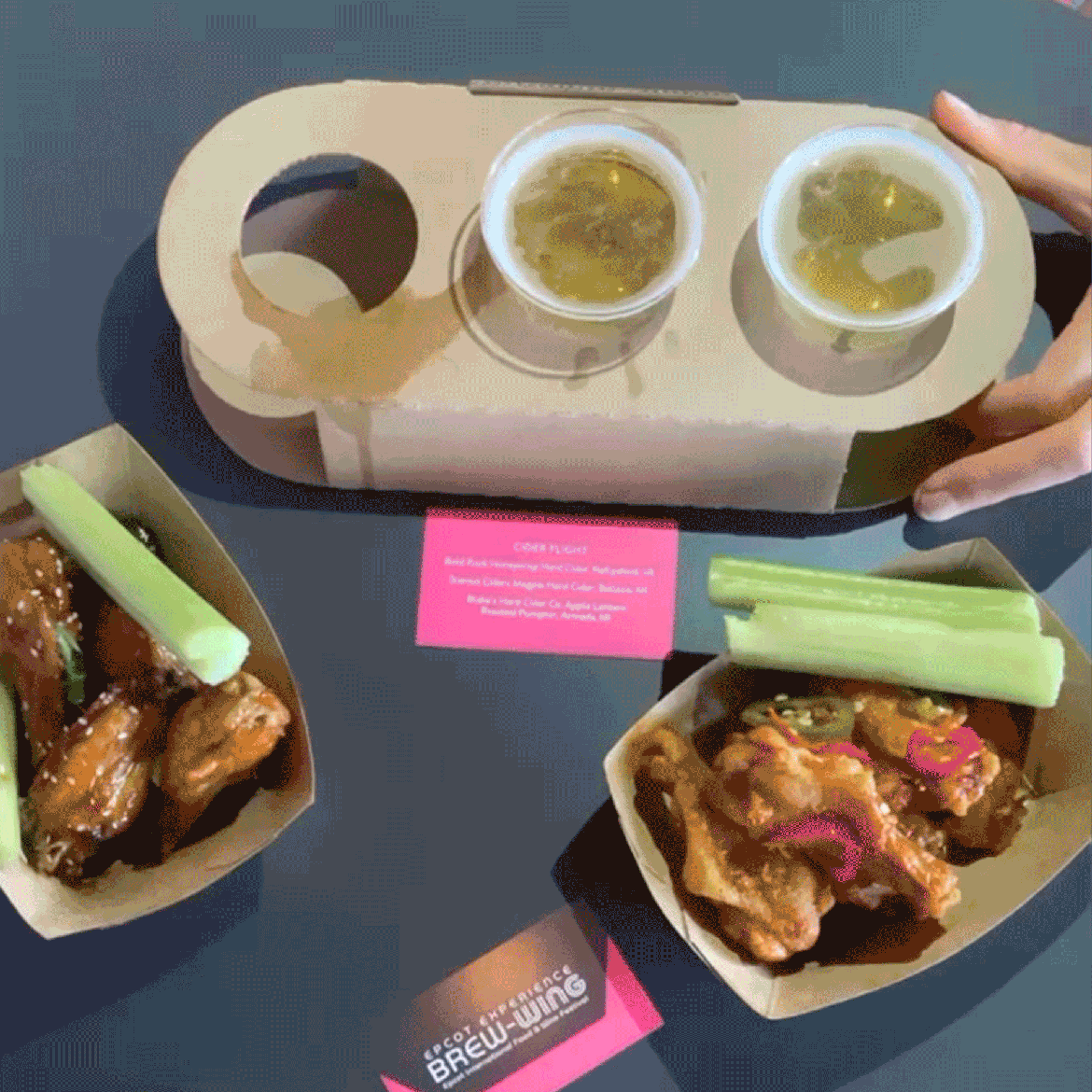 NEW: Teriyaki Sesame Wings (left), Mango Habanero Wings (right) and the Cider Flight from Brew-Wing at the Epcot Experience in the Odyssey Pavilion in Future World


Pan-Fried Chicken Dumplings with House-Made Sweet and Spicy Sauce (China)
Erin (Social Media Specialist): This is the first thing I tried all day, and it was delicious! You just can't beat fried dumplings (and that sauce).

While I personally love super spicy food, this wasn't too over the top for all the non-spicy palates out there. It had the perfect amount of extra flavor to complement the chicken … my mouth is watering now just thinking about it.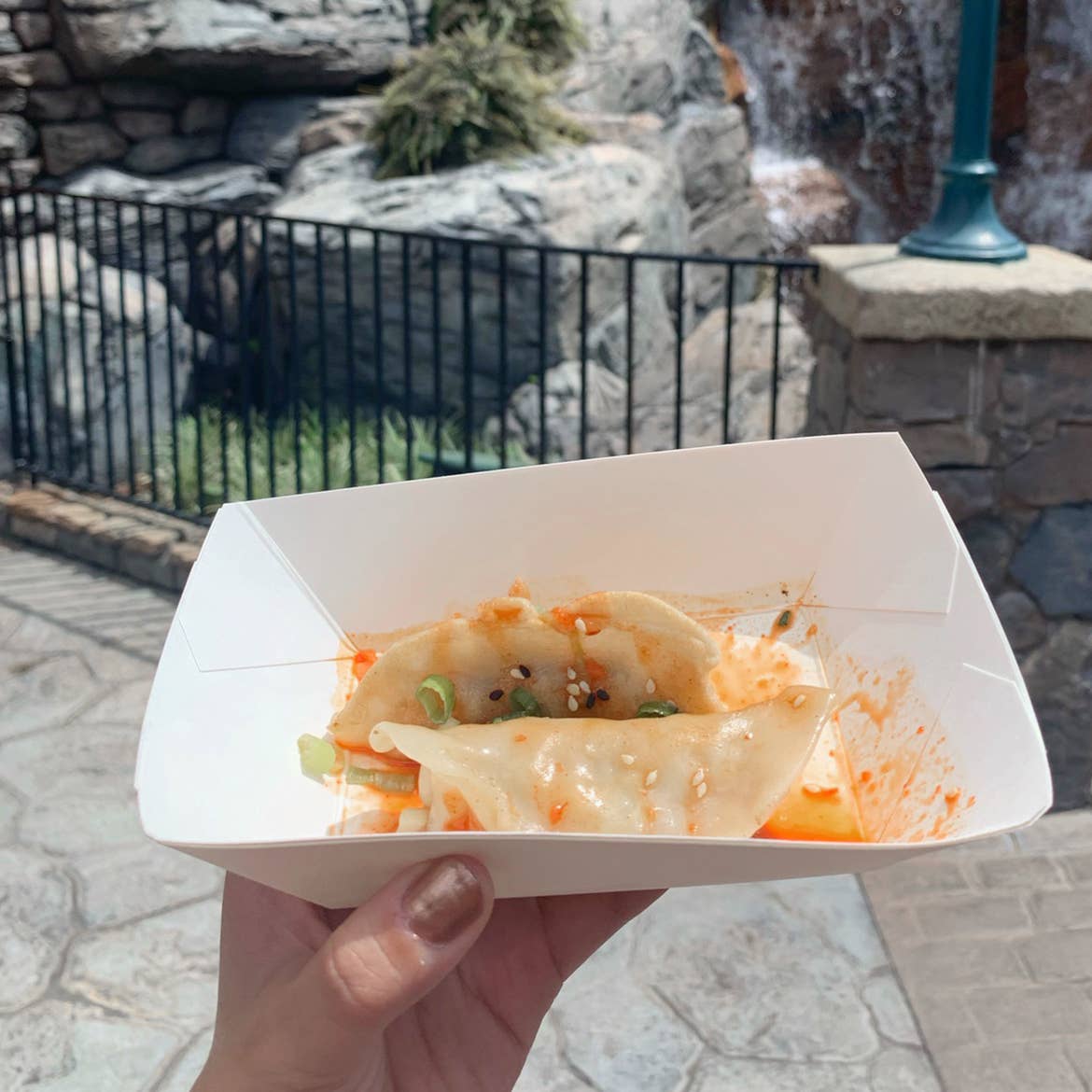 Pan-Fried Chicken Dumplings with House-Made Sweet and Spicy Sauce from China


NEW: Tempura Shrimp Sando (Japan)
Kelly: This was my favorite festival food. It was so yummy and had so much flavor! I'm a big sushi lover — but I also love a good sandwich — and you're getting the best of both with this dish. 😋

It was also bigger than I expected, which made it pretty filling — it actually held my appetite for a few hours. Would highly recommend grabbing this tasty treat as you make your way through the World Showcase!


NEW: Spicy Hako Sushi (Japan)
Jennifer (Senior Director of Creative & Blog Editor-In-Chief): You have to be discerning at the Epcot International Food & Wine Festival because if you're not picky with your choices, you'll quickly become too full for all the yummy goodness.

This was my "trying something new" item and it did NOT disappoint.

The spicy tuna had a great kick, and the salmon, red tempura crunch and volcano sauce all mixed together to create a great flavor. And it was a super refreshing halfway-around-World-Showcase snack.


NEW: Griddled Cheese with Pistachio and Honey (Greece)
Tori: This was a literal block of melted cheese with a sweet, nutty glaze. It's heavy, especially if you've been eating allllll day, but the gooey goodness is so worth it.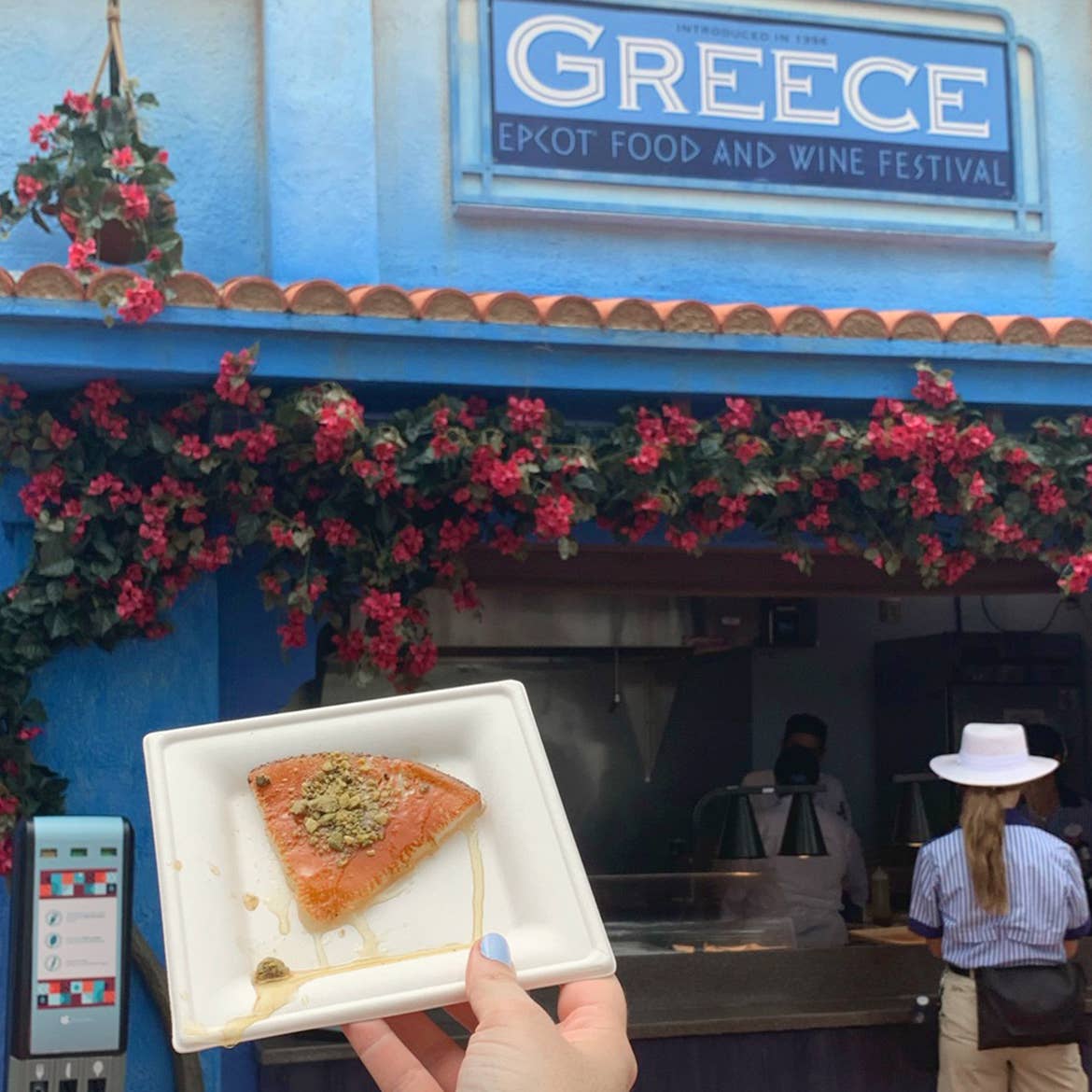 NEW: Griddled Cheese with Pistachio and Honey from Greece


Croissant aux Escargots (France)
Jennifer: This is the perfect blend of an old favorite and "something new."

As a former Disney Parks Cast Member, I've been going to Epcot International Food & Wine Festival for 10 years now, and I ALWAYS get the escargot in France because:
I love butter, bread and snails (yes, really!) and
The bread part is almost always different each year, so I look forward to trying it. Think toasted baguettes, mini bread bowls, etc.
This year, that delicious escargot was served up on a warm, fresh croissant with garlic and parsley. Yum!


Roasted Lamb Chop with Sweet Potato Purée, Bush Berry Pea Salad and Pistachio-Pomegranate Gremolata (Australia)
Tori: Ok, so this was probably my top, top, top favorite food from the festival. I honestly don't know how or why these flavors work together, but they absolutely do.

The lamb was juicy and savory, while the potato-y, fruity, nutty flavors melded together with it perfectly.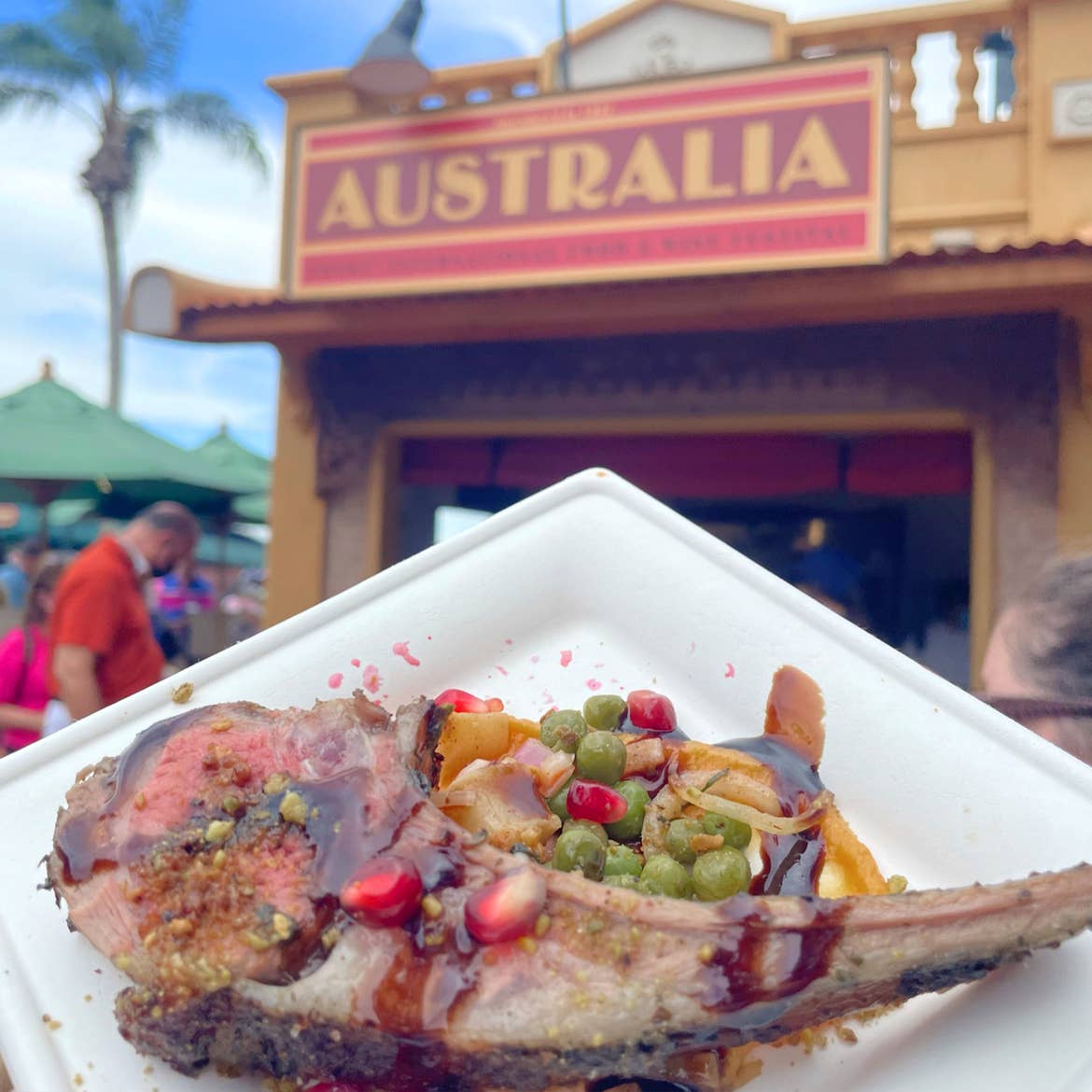 Roasted Lamb Chop with Sweet Potato Purée, Bush Berry Pea Salad and Pistachio-Pomegranate Gremolata from Australia
Our Favorite Food & Wine Festival Desserts
If you're more of a sweet than savory person (hello, that's me), then this is the section for you!


Shimmering Strawberry Soft-Serve in a Waffle Cone (Shimmering Sips Hosted by CORKCICLE®)
Nicole (Digital Media Designer): As an ice cream connoisseur, it should come as no surprise that this was the ice cream I didn't know I needed, but the one I deserved as a Chicagoan who endured three days under the Florida sun.

The sprinkles sparkled in the sun and added a great texture to the soft-serve. It's VERY Instagrammable if you can resist eating it long enough…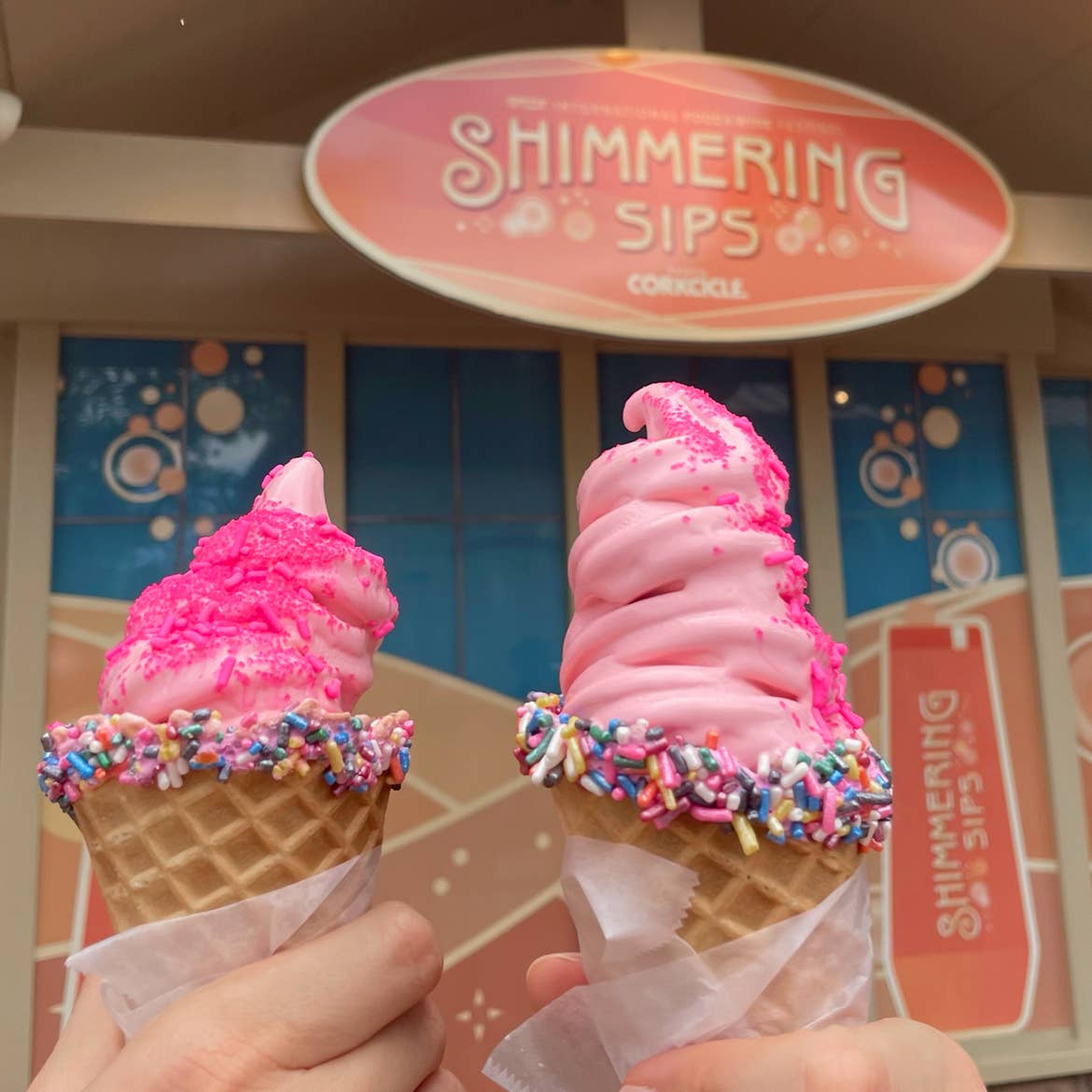 Shimmering Strawberry Soft-Serve in a Waffle Cone from Shimmering Sips Hosted by CORKCICLE


Passionfruit Cheesecake with Toasted Macadamia Nuts (Hawaii)
Nicole: A very close second-favorite dish for me was this cheesecake. I had been eyeballing it since I heard it was one of the dishes included in Emile's Fromage Montage scavenger hunt and it did not disappoint.

It was like eating a cloud from heaven with light sweetness and crunchy texture. As our last dish before claiming our prize, I'd be so bold to say it tasted like victory!

Tori: I gotta say, Nicole is spot on with this one. It was DELICIOUS, but what was even better was the prize we got after completing the scavenger hunt. 😉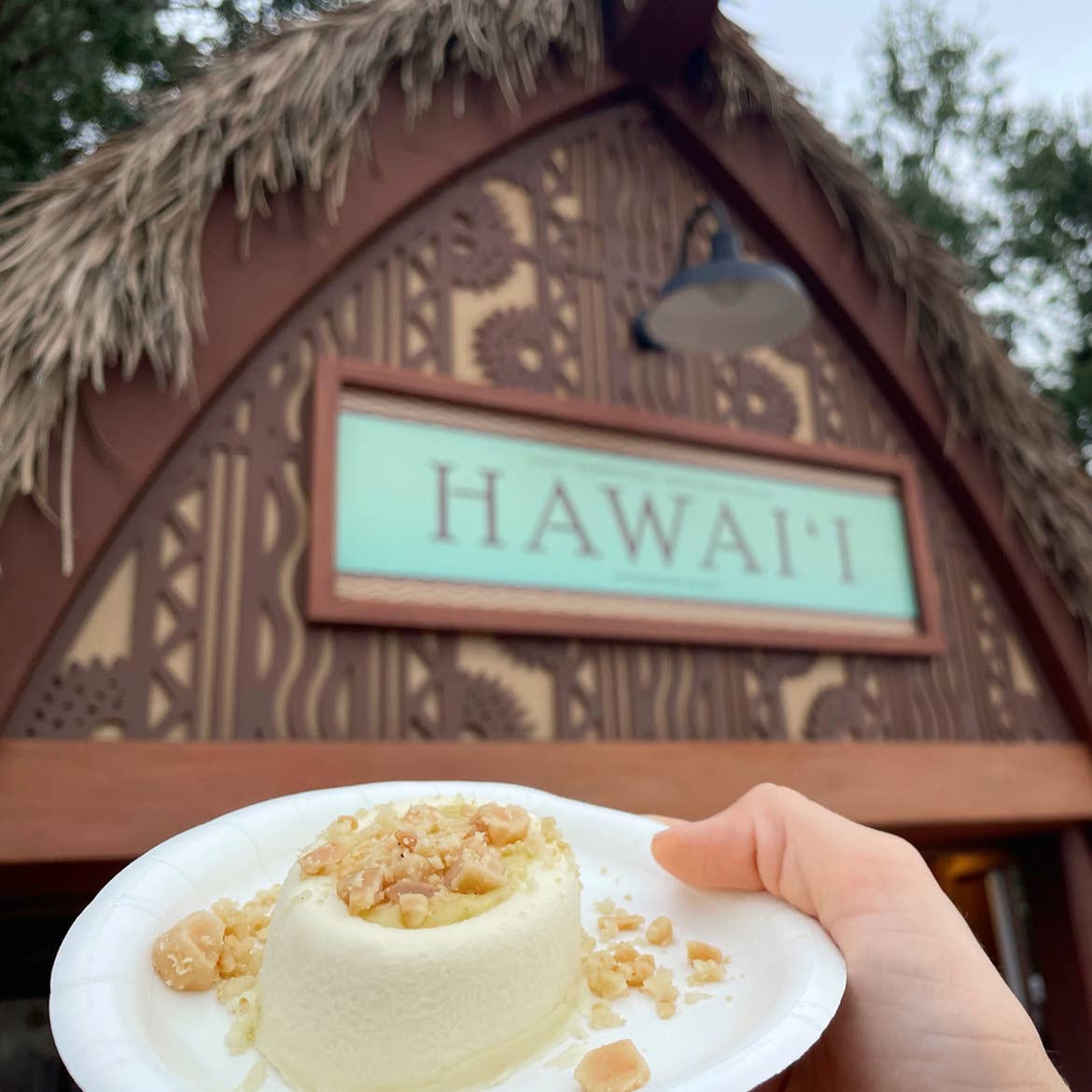 Passionfruit Cheesecake with Toasted Macadamia Nuts from Hawaii


Mickey Mouse Ice Cream Bar (Future World)
Erin: You can still get all the fan-favorites that aren't part of the festival, so I had to get a Mickey Ice Cream Bar while I was there!

Nicole: Can you really say you went to Disney World without eating a Mickey Bar? The short answer: Not in my book! It's just as much of an icon as the 'Big Cheese' himself.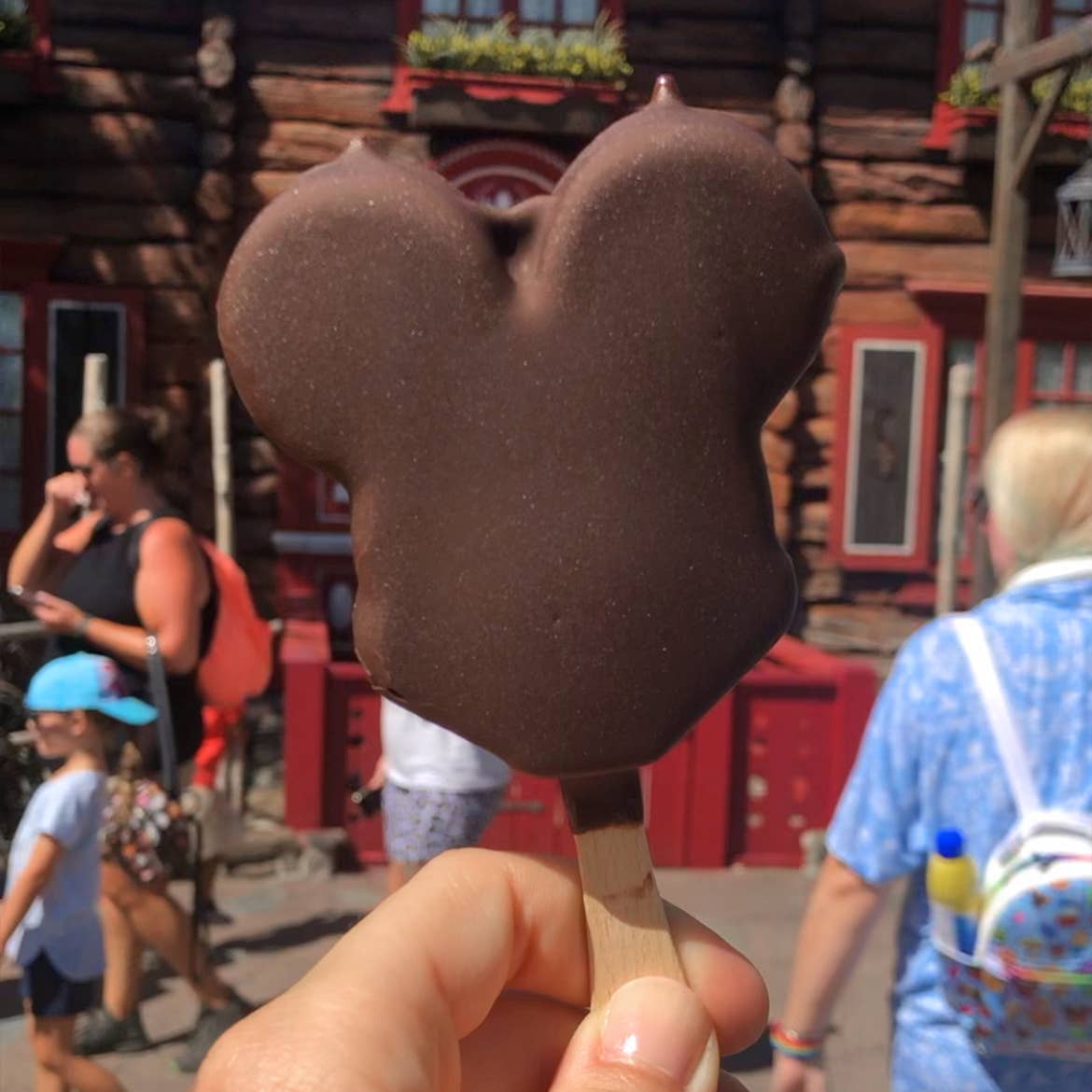 A classic Mickey Mouse Ice Cream Bar from Future World
Our Favorite Food & Wine Festival Drinks
From mimosa flights to local craft beer to yummy non-alcoholic drinks, be sure to come to Epcot thirsty for more than just food (and to hydrate, hydrate, hydrate ALL day!).

Here are some of the delicious festival drinks we loved most…


NEW: Craft Beer Flights (Brew-Wing, Epcot Experience)
Kelly: The beer flight in Brew-Wing was the perfect way to cool off in the afternoon. It's right inside the Epcot Experience building, so you can get a little snack and learn all about what new features are underway at the park!

Tori: I'm a bigggg craft beer gal and the Apple Lantern Roasted Pumpkin Cider was ON POINT. I got the cider flight, and it was by far the best one out of the three I tried.

I love a good pumpkin beer, especially in the fall season, so grab this if you're planning to visit in the next few months!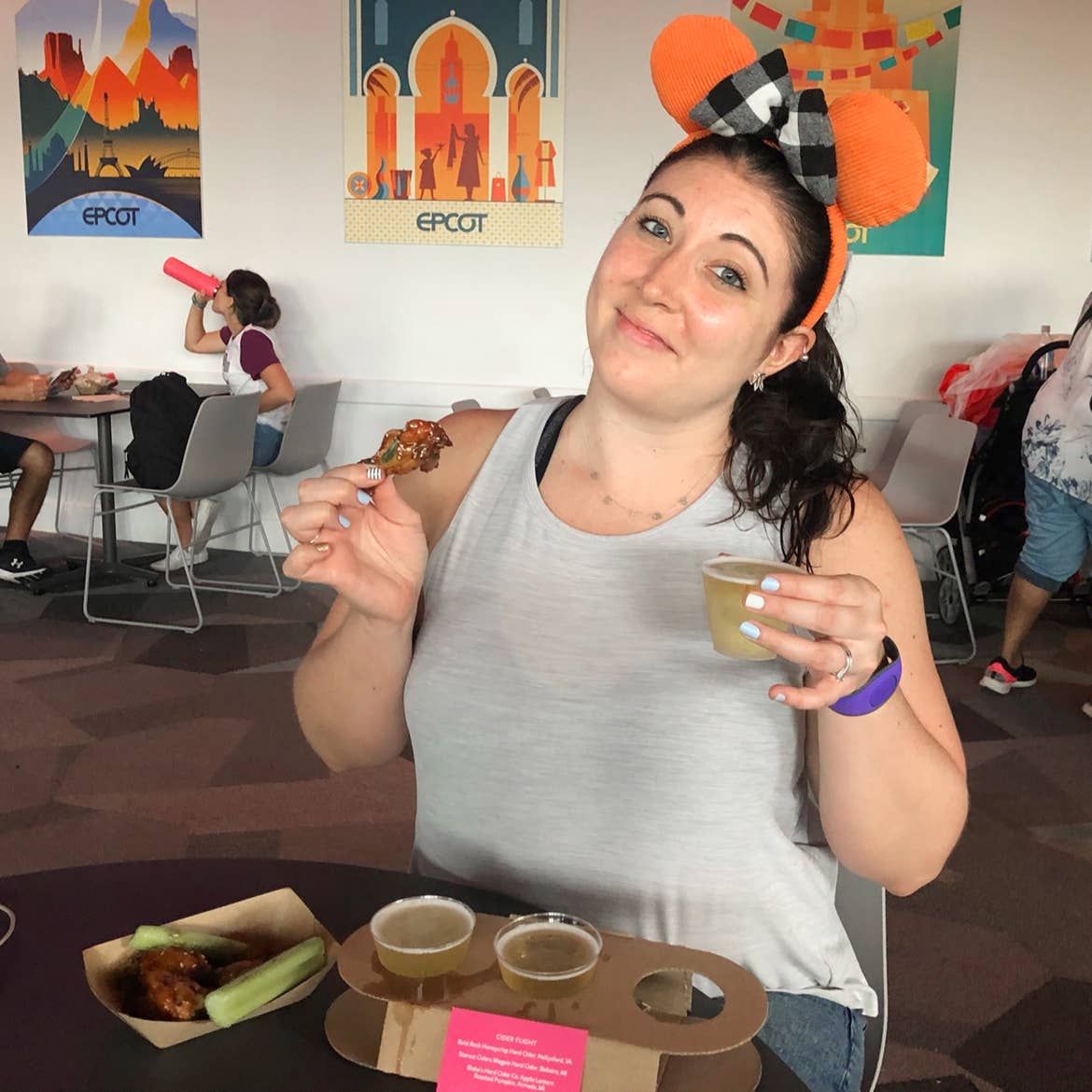 NEW: Teriyaki Sesame Wings and Cider Flight from Brew-Wing at the Epcot Experience in the Odyssey Pavilion in Future World


Mango Bubble Milk Tea (China)
Kelly: My favorite festival drink was definitely the Mango Bubble Milk Tea from China.

Tori: If you're into boba tea, you'll LOVE this flavor. It has just the right amount of fruity sweetness that makes it super refreshing, and I've always loved the chewiness of the tapioca bobas.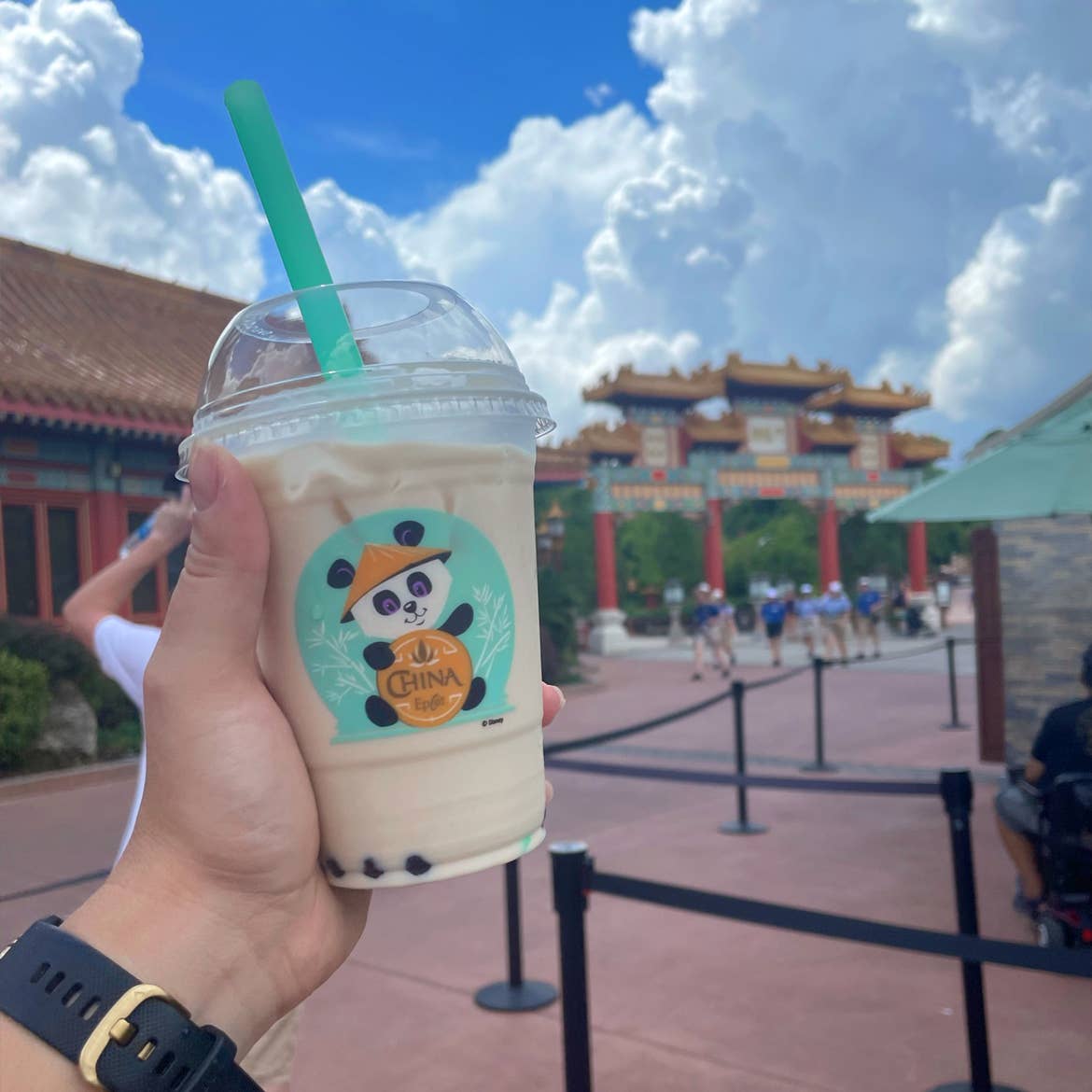 Mango Bubble Milk Tea from China


Schöfferhofer Hefeweizen Grapefruit Beer (Germany)
Jennifer: I'm not a big beer drinker, but the moment my feet hit (Epcot's) Germany, I need a Schöfferhofer Hefeweizen Grapefruit beer. It's like a Pavlov's dog response.

Fun Fact: This beer was so popular that it went from a limited-time Food & Wine Festival offering to being served in Germany year-round.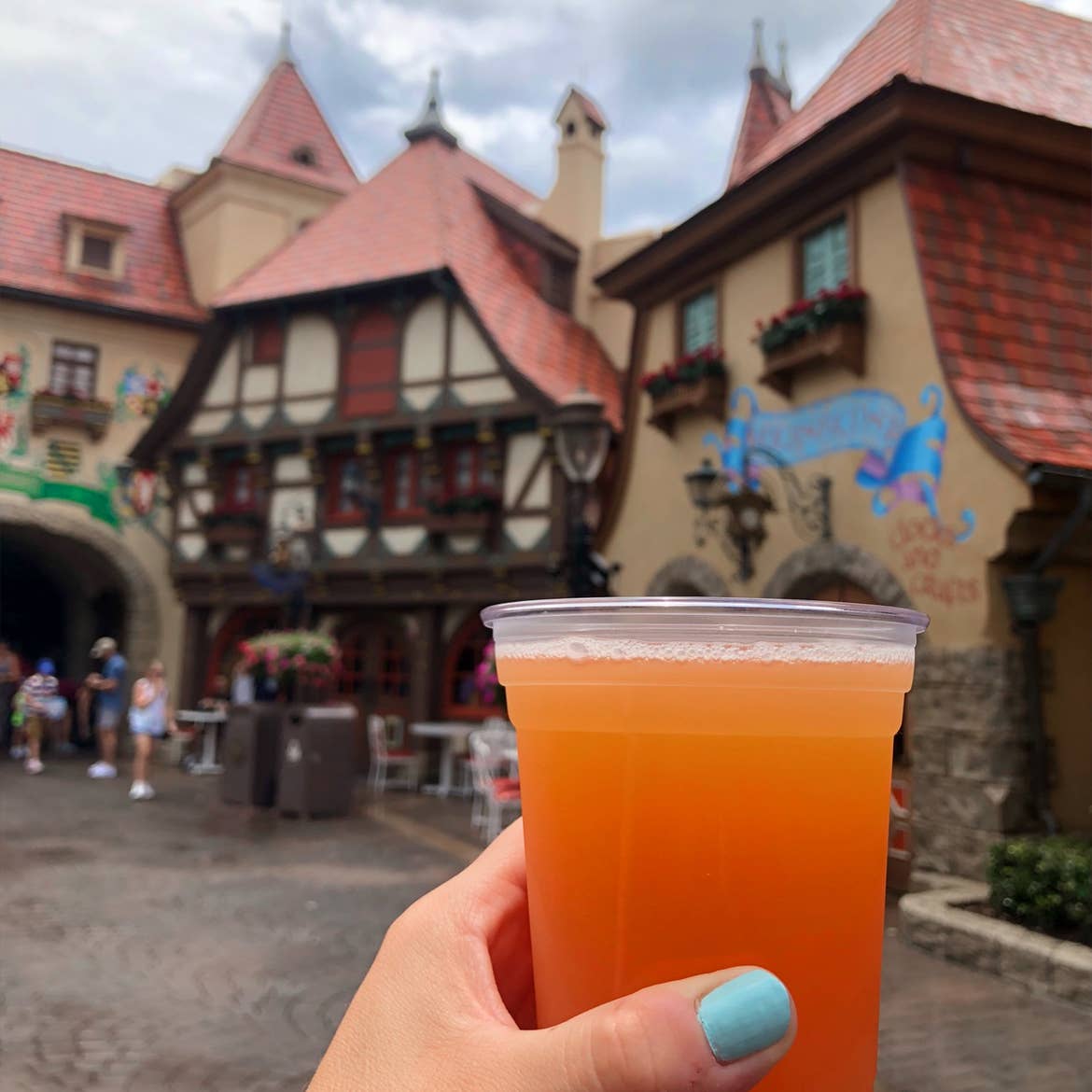 Schöfferhofer Hefeweizen Grapefruit Beer from Germany

I had also been looking forward to trying this year's festival offering — Schöfferhofer's Wild Cherry Hefeweizen.

But in true Florida summer fashion, we found out the outdoor festival pavilions stop serving when that Orlando rain hits hard, so next time!

(Let us know on Instagram if you've been lucky enough to sip that one in the meantime!)


Evian Sparkling Cucumber and Mint Water (France)
Erin: I tried the Evian Sparkling Cucumber and Mint Water with magnesium and zinc, and I thought it was a tasty treat to cool off in the middle of a hot Florida day.

It's also a great drink for anyone looking for a non-alcoholic option at the festival!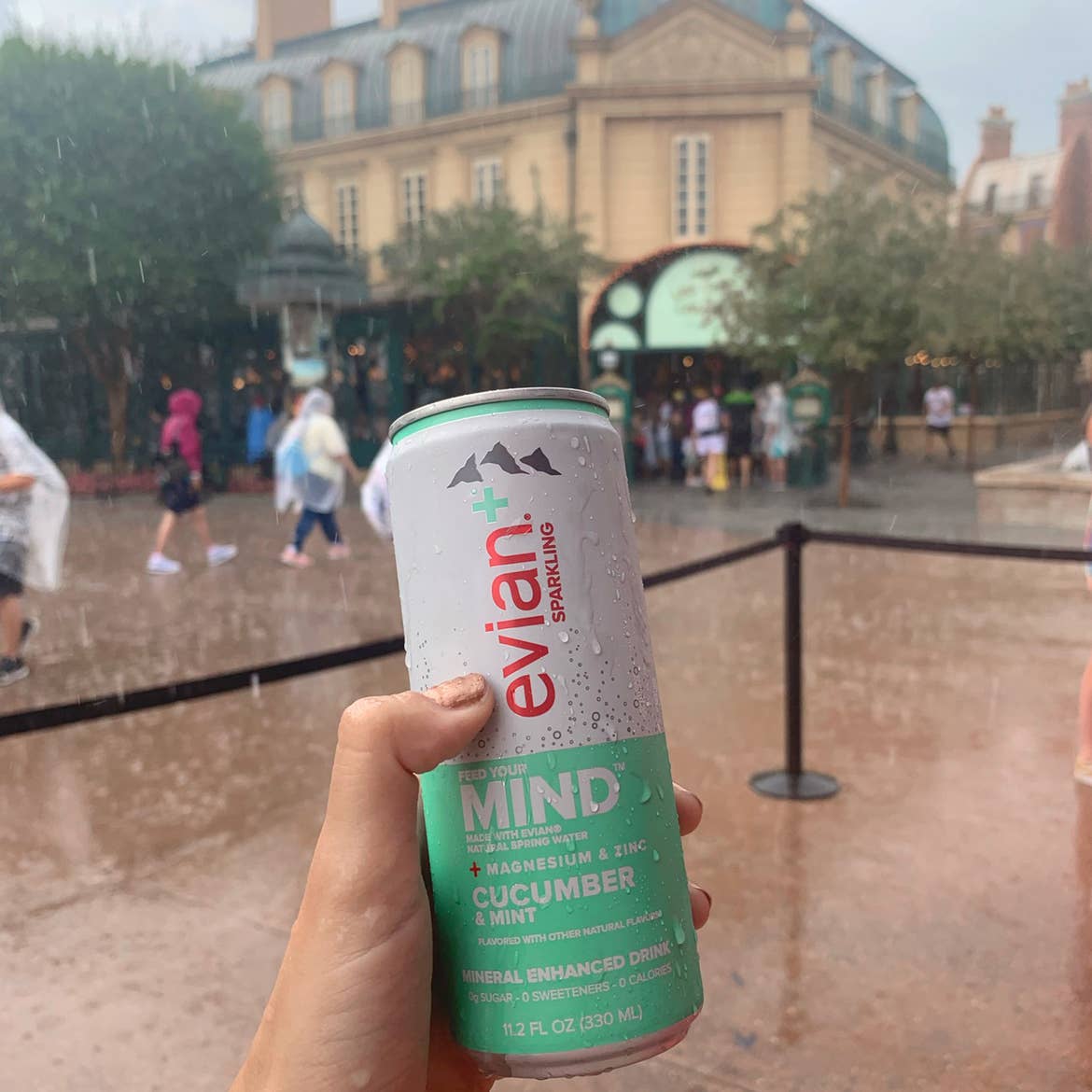 Evian Sparkling Cucumber and Mint Water from France


Non-Alcoholic Frozen Apple Pie (Canada)
Nicole: Conveniently located at the end of our 'World Tour,' I really enjoyed this refreshing Frozen Apple Pie. And what I mean by 'I really enjoyed it' is that I drank my friend's drink to the last drop.

I normally don't enjoy sweeter drinks, but it hit the spot and felt nostalgic for a former Apple Juicebox fan.


---
Need More Travel Tips for the Theme Park Capital?
---
Food & Wine Festival Scavenger Hunts
Who doesn't love a good scavenger hunt?! These were a great way for us to have fun bonding as a work family, while getting excited for the sweet (sur)prizes we'd get for completing them.


Remy's Ratatouille Hide and Squeak
In this scavenger hunt, you'll try to find statuettes of Chef Remy hidden all throughout the World Showcase countries and global marketplaces.

Each statuette features him with a different ingredient. The goal is to match the ingredient's sticker to which country or pavilion you found him holding it.

If you don't find or match them all, you can still return your map for a special prize.

To play, all you need to do is buy your $9.99 map with stickers and off you go!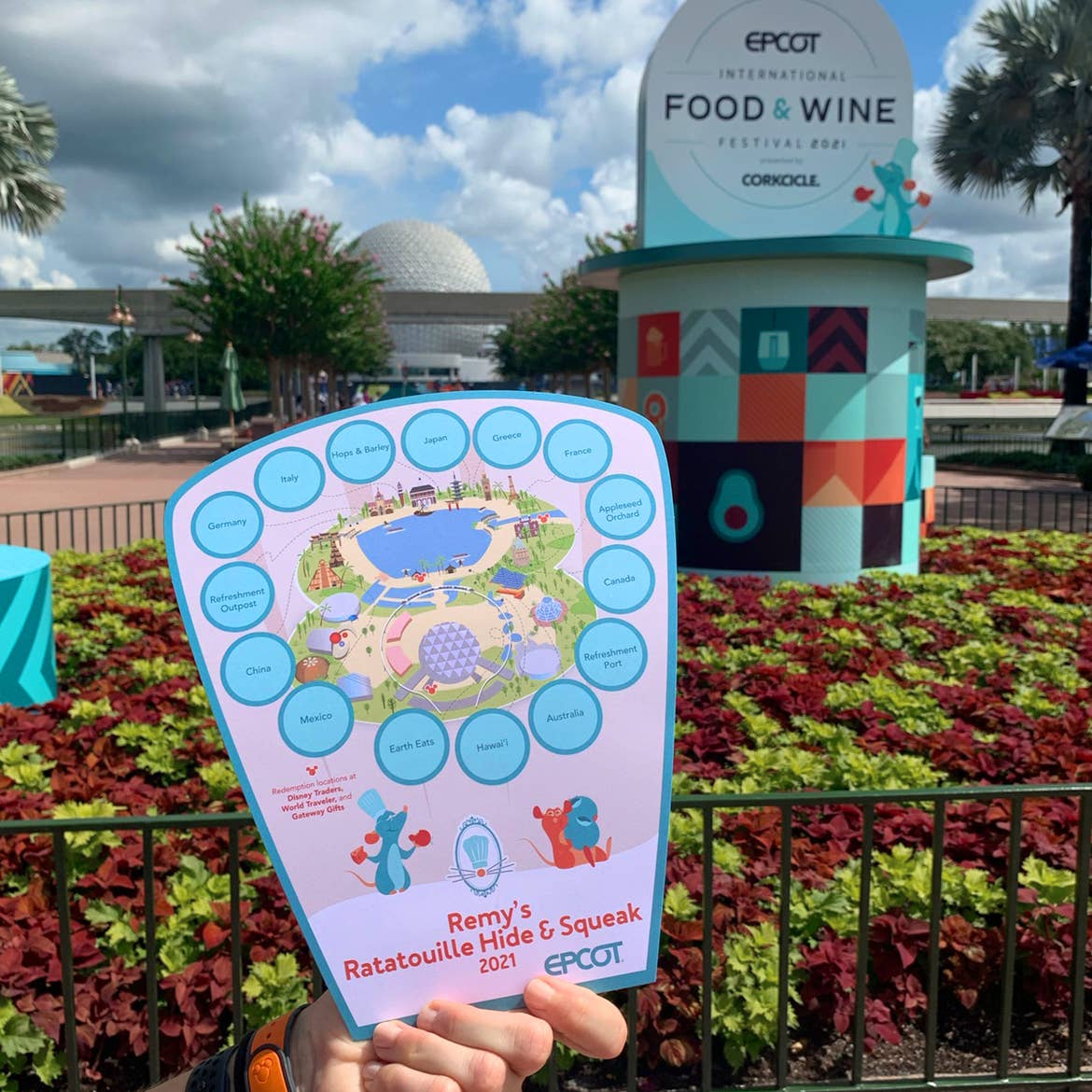 You can buy your map at Port of Entry, Pin Traders or World Traveler (located at International Gateway).

Here's what our team had to say about it…

Kelly: This was such a cute game and a fun way to give people something 'to do' while walking around the World Showcase. Sometimes it was pretty challenging to find Remy, which was surprising, but made it even more fun!

Nicole: As my first festival scavenger hunt, nothing was more fun than working as a team to find our favorite celebrity chef, Remy!

Even though we didn't manage to find him around all the countries, Jennifer was excited to claim her prize and challenge us all to do it again next time. Challenge accepted.

Jennifer: It's true. I was SO excited about this cute scavenger hunt. I'd never done the Kim Possible one of days past and thought it was just so fun and adorable. I'd highly recommend it to anyone, but especially parents.

Mom & Dad: If you want to truly enjoy World Showcase fun, treats and excitement that the festival pavilions have to offer, definitely get this for your kiddos.

The countries are amazing but … can often be considered "omg boring" to younger ones. Hunting for 15 hidden Remy statuettes is bound to keep them engaged, happy and busy (wink wink).

Erin: One of my favorite parts of the festival was looking for Remy in every country! It was the perfect balance of easy finds and harder searches throughout the day. And the prize was so cute!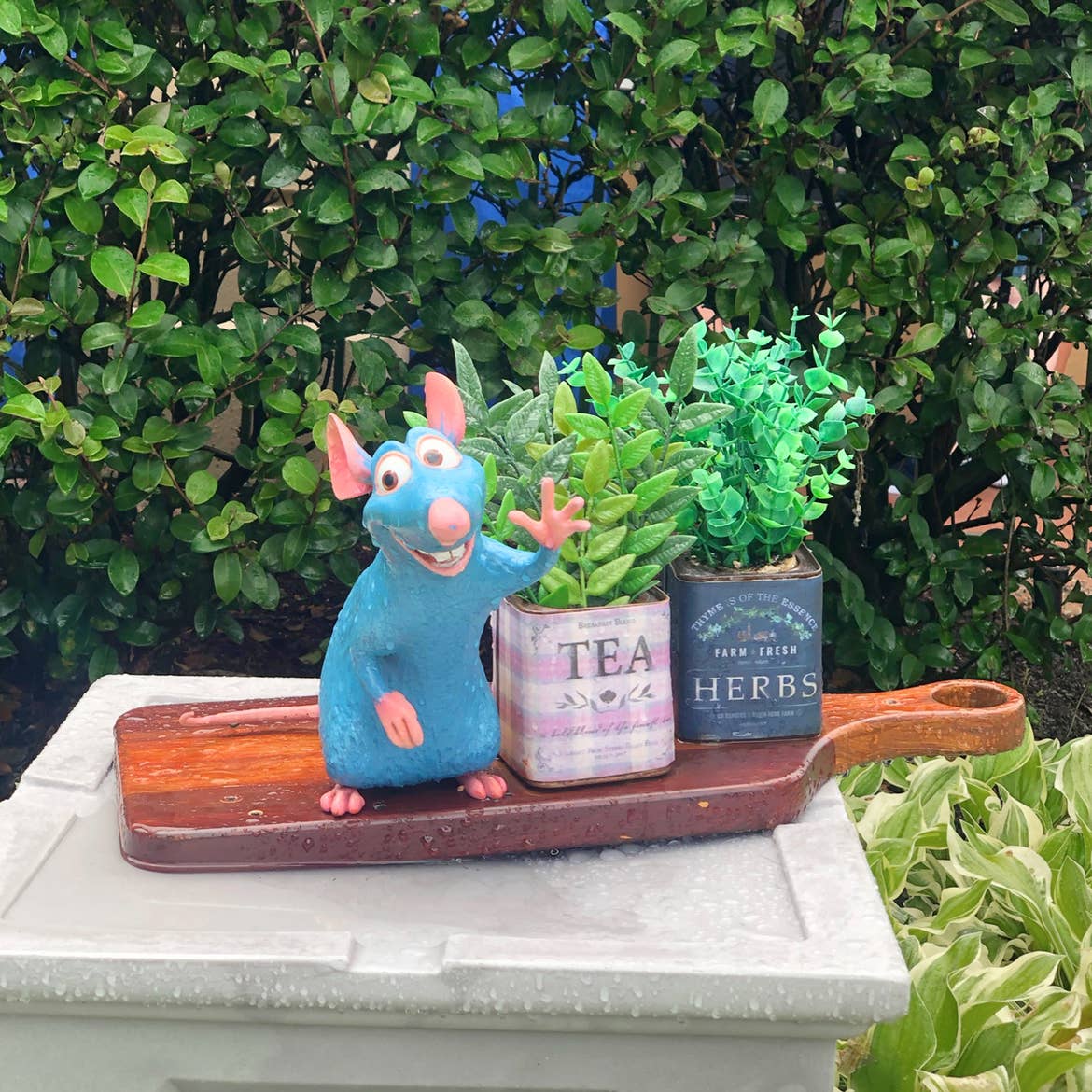 We won't give away where Remy's hiding, but here's a little sneak peek at what you're looking for.


Emile's Fromage Montage
If cheese is your main squeeze, this scavenger hunt will hit the spot. Grab any 5 cheese dishes from select Global Marketplaces listed in your Festival Passport and collect a stamp for each.

Once you've got all 5, head to Shimmering Sips (hosted by CORKCICLE®) and voila collect your prize.

More on Emile's Fromage Montage…

Nicole: My fiancée and I are BIG fans of the Ratatouille movie. So much so that I decided to bring my little Emile Funko Pop to the festival.

Not only do I highly recommend doing Remy's scavenger hunt, but every foodie should also participate in this one to unleash your inner Emile.

(Hint: Make sure you leave a little extra room in your belly after you finish the hunt.)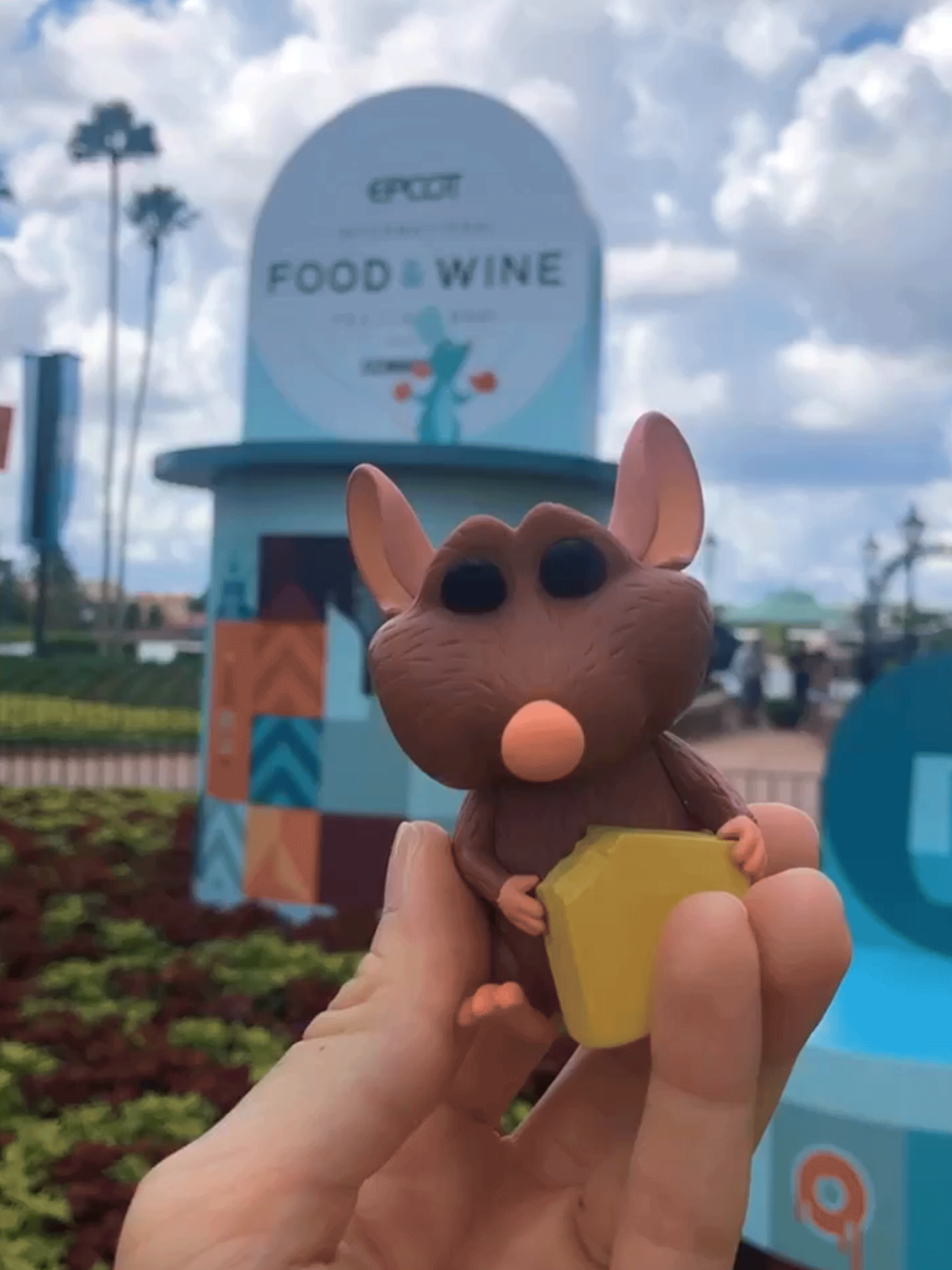 Our Favorite Food & Wine Festival Souvenirs
With collections like Belle Be Our Guest and Remy Shake Things Up, there are a lot of ways to remember all the festivities after you leave the park. Here's what we wanted to take home with us…


Sweet as Pie Minnie Mouse Ceramic Pie Dish (Apple Orchard Collection)
Nicole: If I had more room in my suitcase, I would have gotten the 'Sweet as Pie' Minnie Mouse ceramic pie dish from the festival's Apple Orchard collection.

With the number of baking recipes we've learned over the past year and a half, I'm 1000% confident they would taste better in this adorable dish.


Sweet as Pie Minnie Mouse Ceramic Pie Dish, part of the Apple Orchard Collection


Minnie Mouse Ears
Kelly: All the CORKCICLE souvenirs looked awesome and definitely a unique memento to take home from this year's festival. I, of course, had to grab my first pair of ears as my souvenir for the day!

Erin: In my previous Disney World trips, I somehow never acquired a classic pair of ears, so that was my first purchase of the day. I also really loved all the CORKCICLE merch!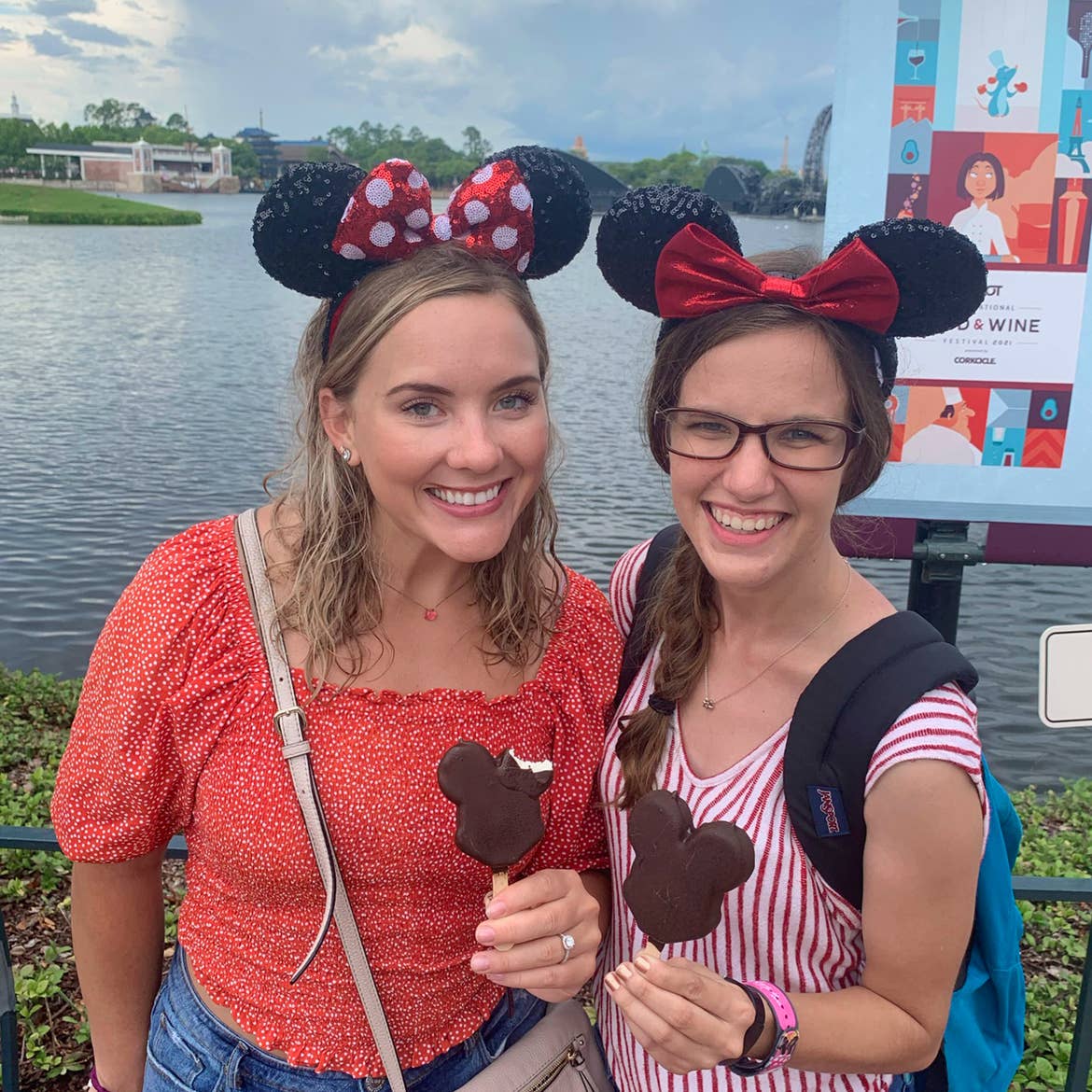 A Disney World day isn't complete without Minnie Ears and Mickey Bars!


Her Universe Remy Tank Top and Joggers (Remy Shake Things Up Collection)
Jenn: I adore the movie Ratatouille, and I often listen to it in the background when I'm cooking.

So naturally, my favorite limited-edition festival souvenir was the Her Universe Remy tank top and matching joggers.

They're part of the "Remy Shake Things Up Collection" and were located at the festival merch shop between America and Greece.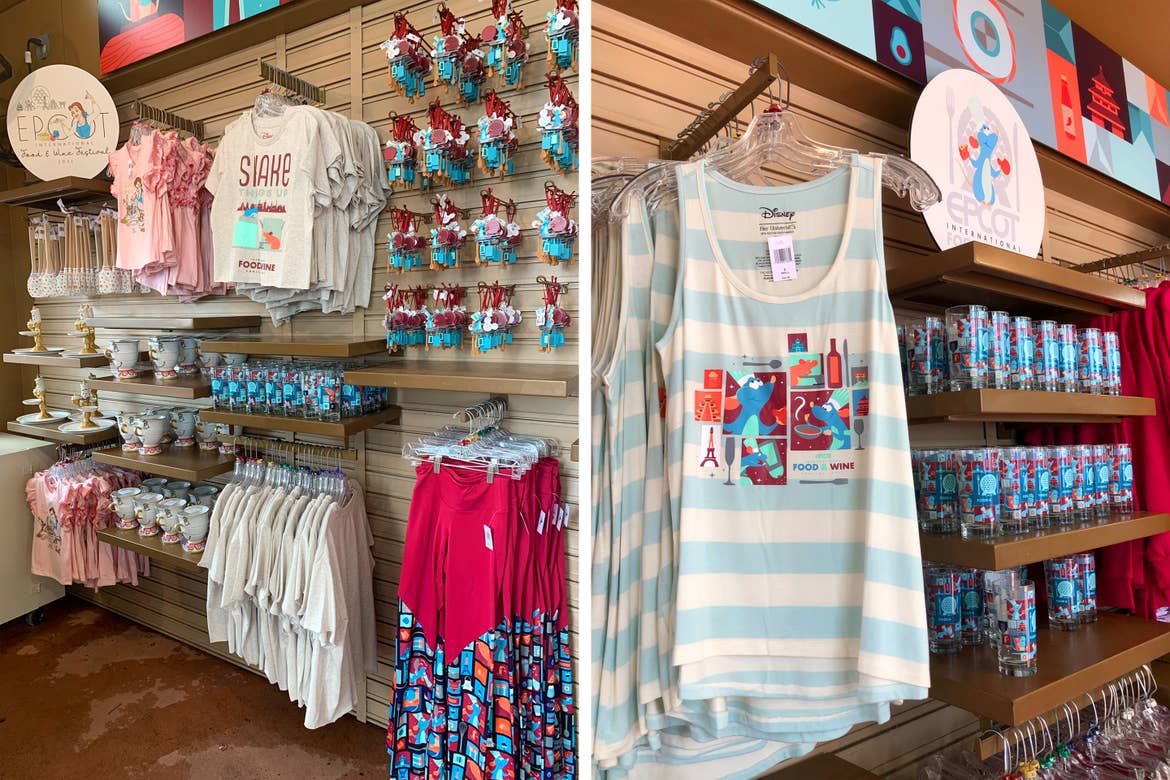 Remy Shake Things Up Collection apparel and souvenirs
Our Favorite Entertainment at Epcot
There's truly so many things to do both at Epcot and at the Food & Wine Festival. Below, we're breaking down a few of our favorite forms of entertainment from our recent trip (as if there wasn't enough already!).


Epcot Forever Fireworks Show
Nicole: Fireworks are back with a BANG! Definitely bring your family and friends to the World Showcase Lagoon at night (weather permitting) to watch this spectacular firework show.

The glittering display of fireworks and laser effects celebrate the 'one little spark' of imagination that inspired everything we love about Epcot, and it's played to the music of Epcot attractions from the past and present.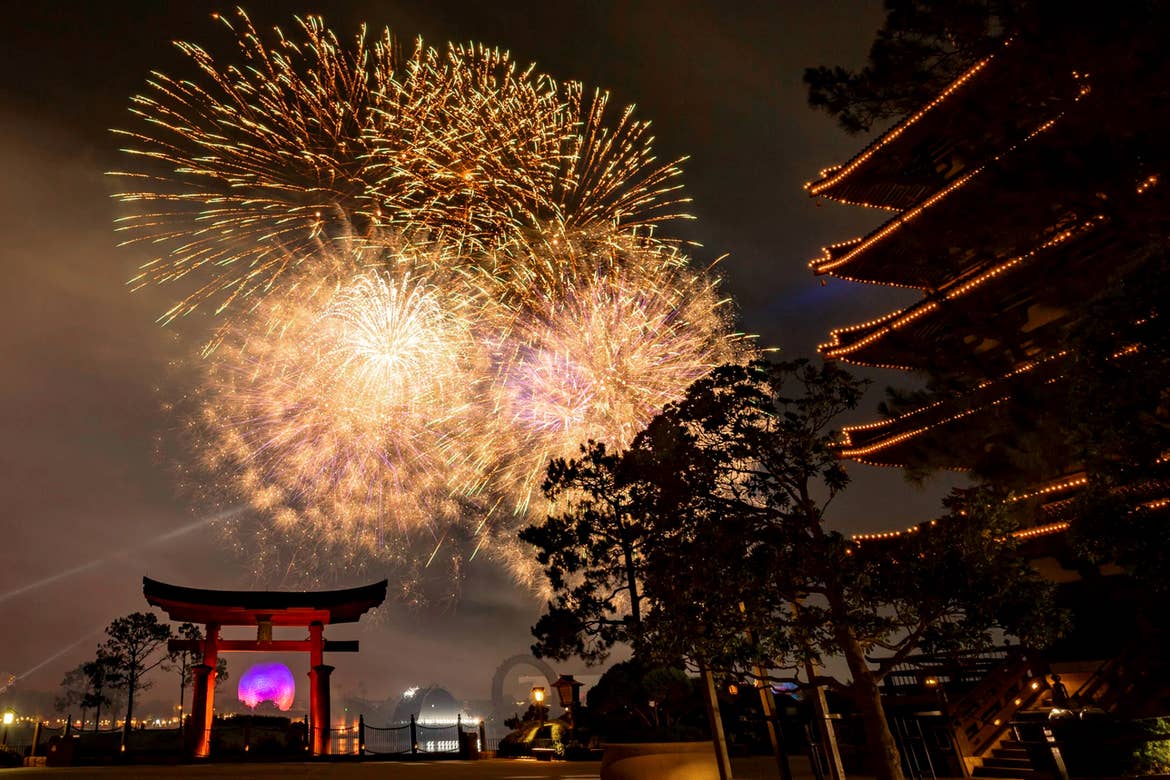 The Epcot Forever fireworks show is hosted every night (weather permitting and showtimes may vary, so be sure to check the daily schedule). Photo courtesy of Walt Disney World/Matt Stroshane


Walt Disney Imagineering Presents the Epcot Experience (Odyssey Events Pavilion, Future World)
Nicole: I really enjoyed the Epcot Experience, which shows you the park's upcoming transformations, attractions and experiences.

In case you couldn't tell, I am a huge Disney nerd. I love when the past, present and future of Disney Parks are embraced in innovative and exciting ways.

At Epcot Experience, you can get just a taste of Epcot's evolution — with plans for new shows, layouts and attractions, like Remy's Ratatouille Adventure opening on Oct. 1!

I love this visual representation of how Disney World keeps moving forward.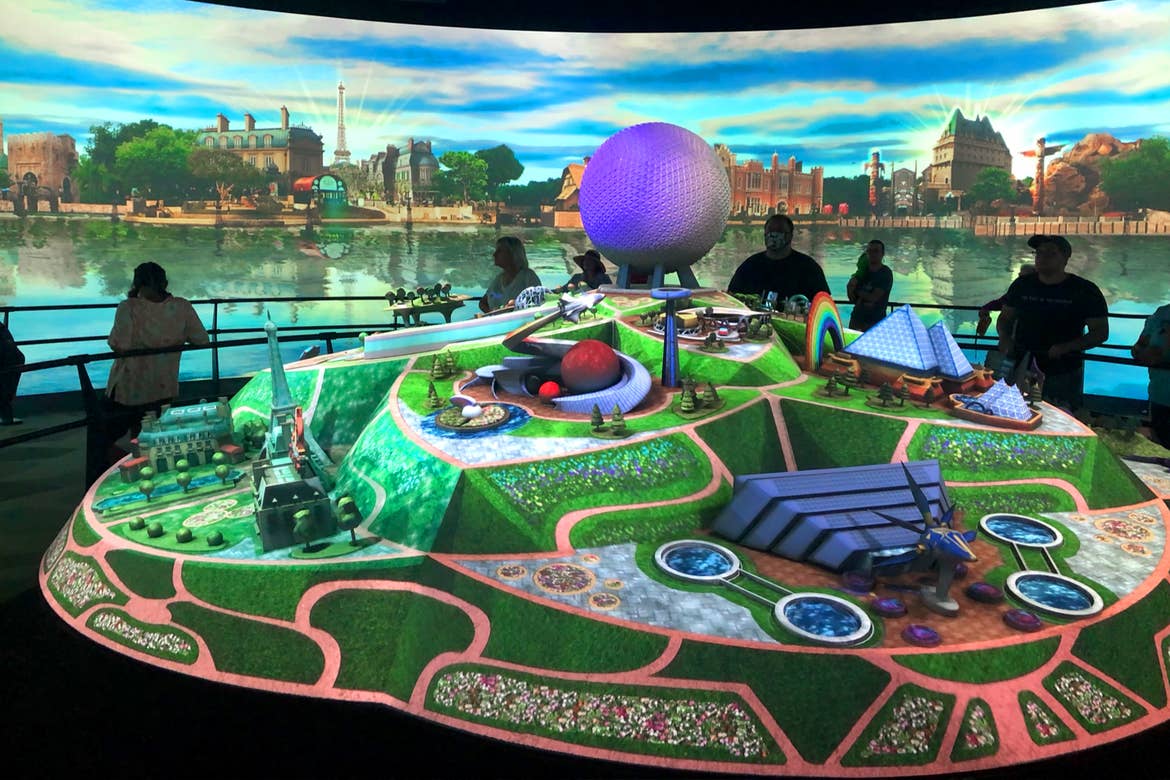 Walt Disney Imagineering Presents the Epcot Experience at the Odyssey Events Pavilion in Future World

Tori: I'll admit — I wasn't expecting to be amazed by the Epcot Experience. But as soon as I walked in the room, my heart skipped a beat because I knew they were about to tease Guardians of the Galaxy: Cosmic Rewind.

Marvel is my JAM, so seeing the way they teased this new roller coaster was VERY exciting for me.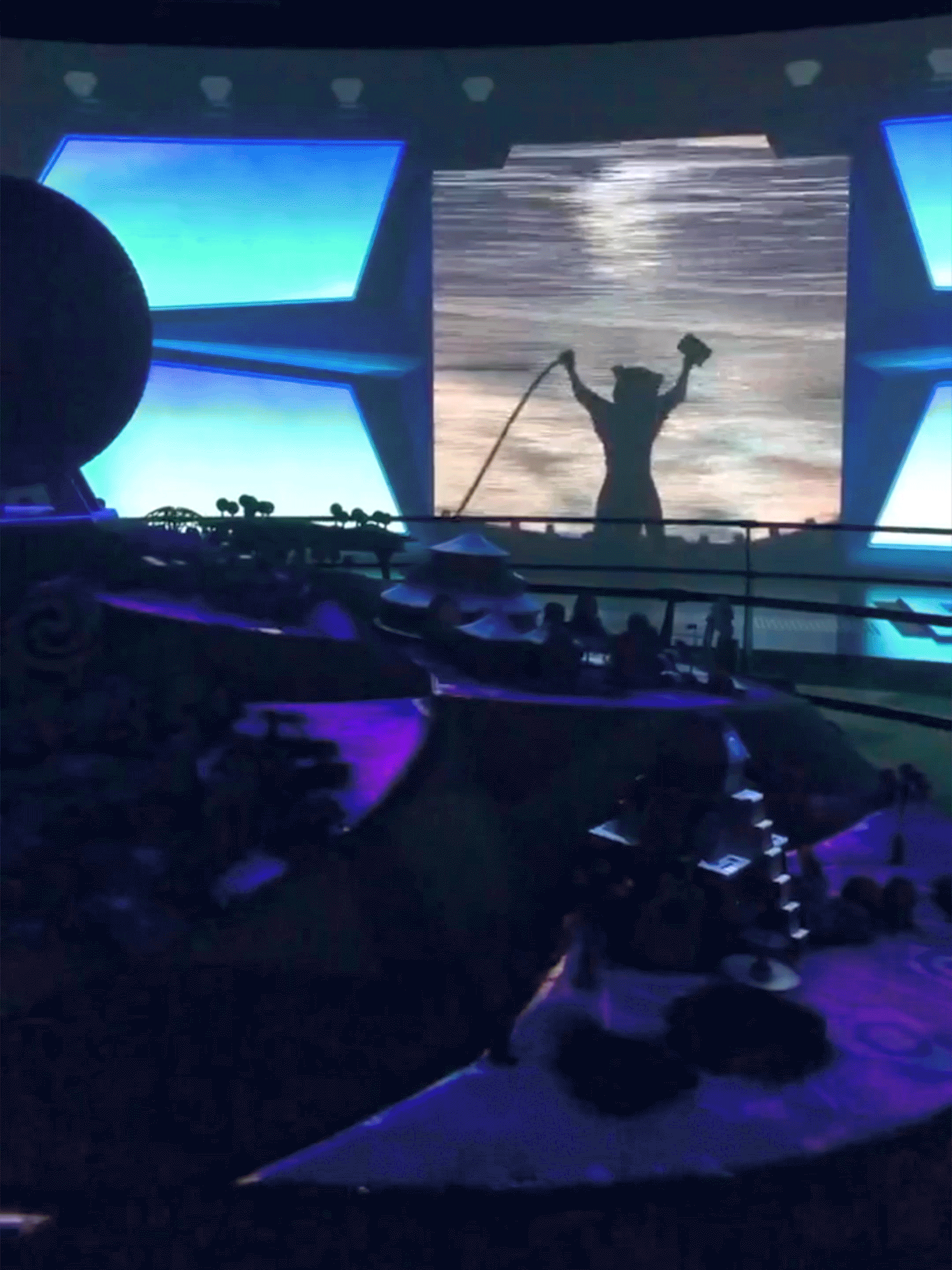 The Guardians of the Galaxy: Cosmic Rewind teaser at the Epcot Experience at the Odyssey Events Pavilion in Future World

Erin: It was incredibly neat to see what was coming to Epcot, but beyond that, it was just an amazing production. I kept thinking about how impressive the artists who created this experience are!


Voices of Liberty (America Gardens Theater)
Erin: As a former a cappella nerd in college, I loved getting to listen to Voices of Liberty!

Nicole: I have and always will be obsessed with the Voices of Liberty a capella performers. Their crystal-clear vocals and INCREDIBLE range bring the Disney Classic Songbook to life in a way that feels like you're hearing it for the first time.

And even when the festival ends, you must hear their patriotic performances in period apparel (say that three times fast) at the America Pavilion.

The rotunda's dome is acoustically perfect, and it amplifies and purifies their sound. I have yet to make it through the 'Battle Hymn of the Republic' without crying — it's so hauntingly beautiful.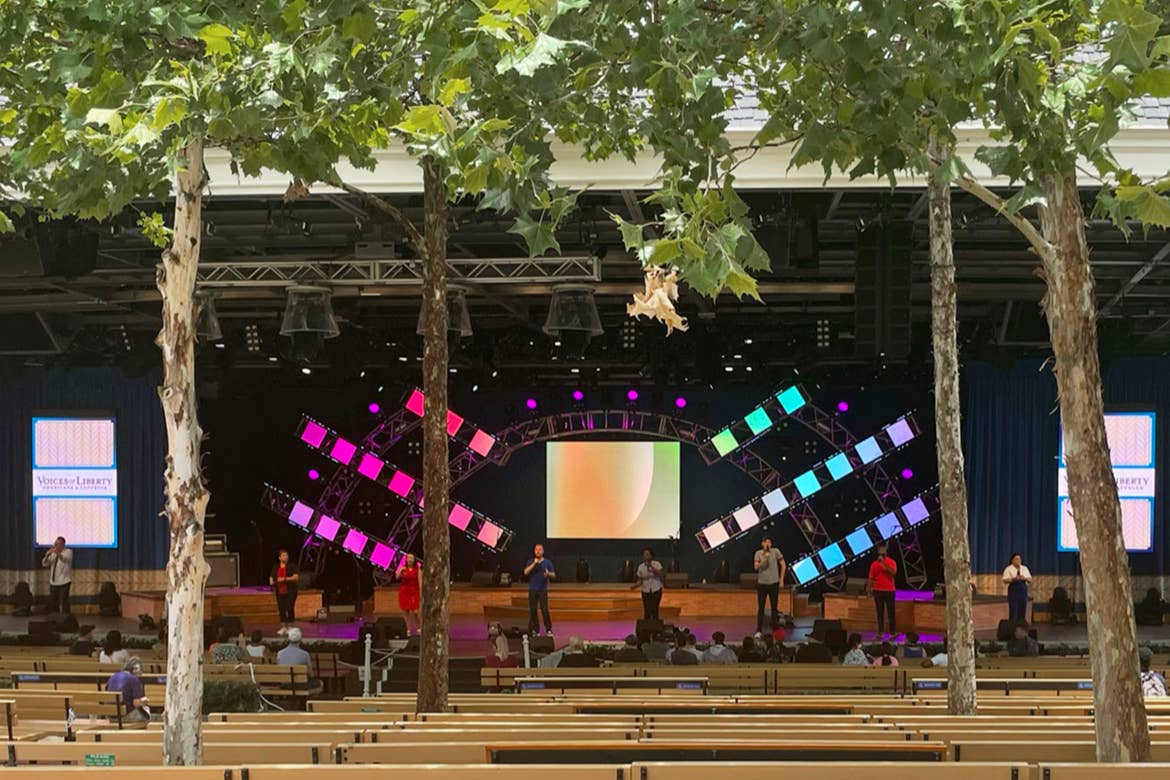 Voices of Liberty at America Gardens Theater
Our Favorite Epcot Photo Spots
Another way to remember your Epcot trip around the world? Snap some gorgeous photos!

We had a ton of fun showing everything we loved about the festival to our followers on Instagram and Facebook.

Here are some places we've deemed the most Insta-worthy...


Epcot Entrance
Kelly: The new entrance into Epcot is really photo-worthy. Grabbing a picture in front of the ball and the new fountain is a must-do!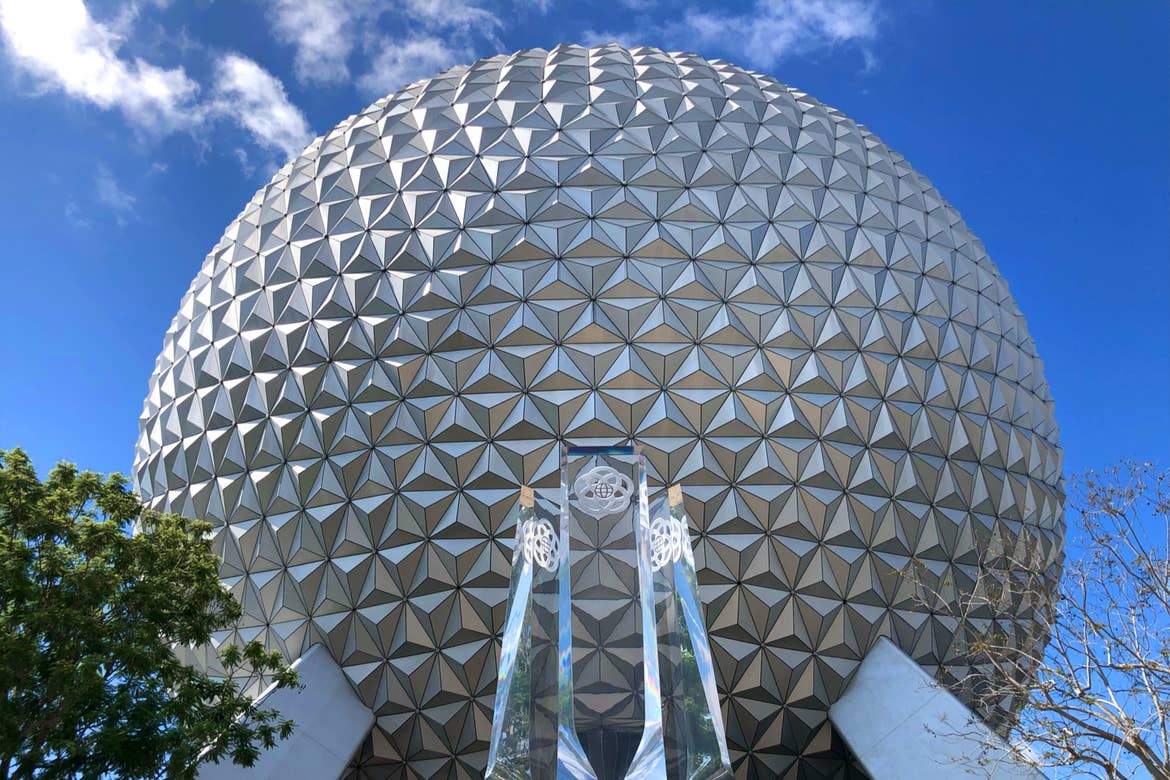 The Spaceship Earth geosphere at the Epcot Entrance


World Showcase Entrance
Jennifer: Call me basic, but I don't believe any Epcot International Food & Wine Festival visit is complete without a group photo at the entrance to World Showcase. I love looking back on these memories, and who I was lucky enough to be with, year after year.

Whether you start by heading left into Mexico or make your way right toward Canada, you can't go wrong by first taking a photo with the festival signage before you start tasting and sipping around the "world."


Royal Sommerhus (Norway)
Nicole: After the first lap around the festival, we happened to find ourselves in the Norway Pavilion. The red details of the Royal Sommerhus just looked so pretty, and sometimes feature Elsa and Anna.


Japan Pavilion
Nicole: This is another beautiful location I could spend a long time photographing. With so many ornate architectural details and the lush, calming garden, it also makes a great rest stop if you need to kick up your feet for a moment.

And a Cast Member is stationed there, so they can snap a photo of you in front of the pavilion's Torii Gate AND Spaceship Earth's Geosphere!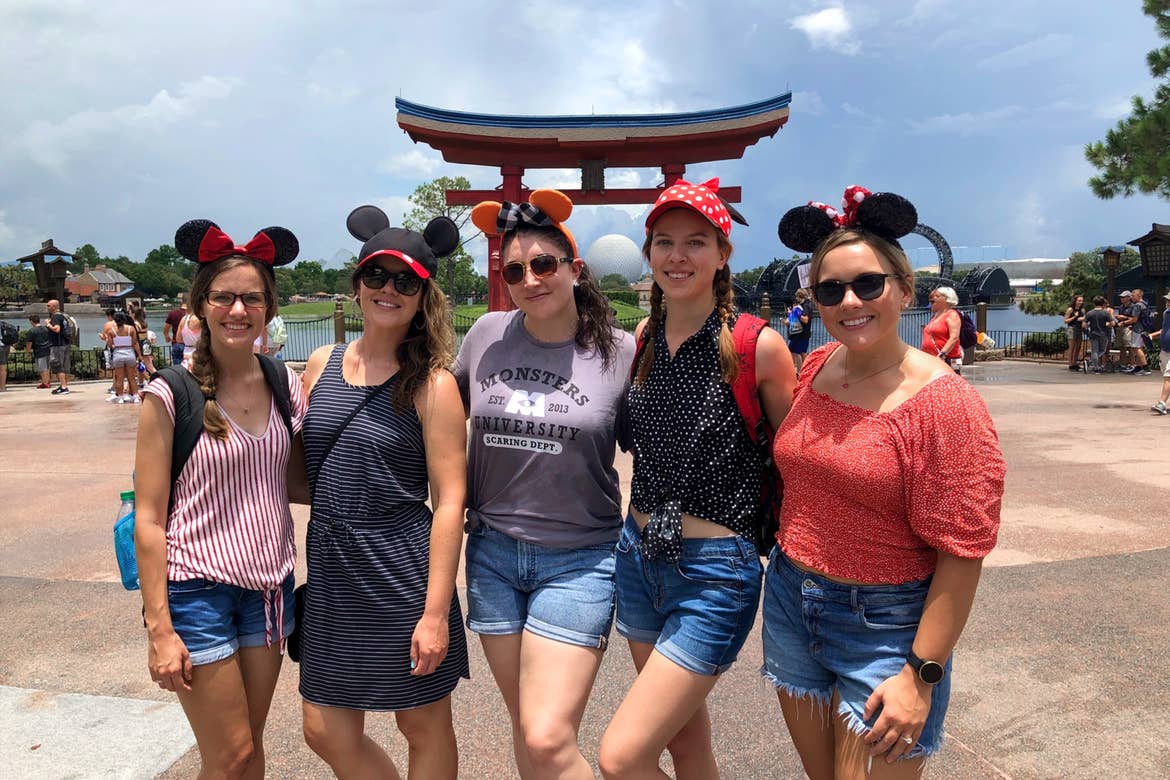 Torii Gate in the Japan Pavilion
Our Favorite Epcot Rides
Everyone's got an opinion on what the best rides at Epcot are. Soarin' and Test Track might be big-time fan favorites, but if you want to work up an appetite with a little thrill, check out our go-to's.


Gran Fiesta Tour Starring the Three Caballeros (Mexico)
Jennifer: There's no better feeling than walking into dark, cold air-conditioning during a hot Florida day.

In the Mexico Pavilion, you can escape the heat and give your feet a rest during this classic, colorful, festive "dark" ride.

I just never get tired of taking this boat cruise spin through Mexico and waving to Donald Duck. Be sure to look out for him a la pint-sized piñata Donald.


Frozen Ever After (Norway)
Erin: My standing favorite ride at Epcot is Soarin' Around the World, but I loved riding Frozen Ever After for the first time! From the queue to the final moments of the ride, it was pure magic. 😍

Tori: I LOVE FROZEN EVER AFTER. Everything about it makes me want to sing and dance my heart out. I channel my inner Olaf and all my cares meltttt away to the point where it's just me and pure happiness.

And Sven's goofy appearances throughout the ride remind me of my pup, which also makes my heart very happy.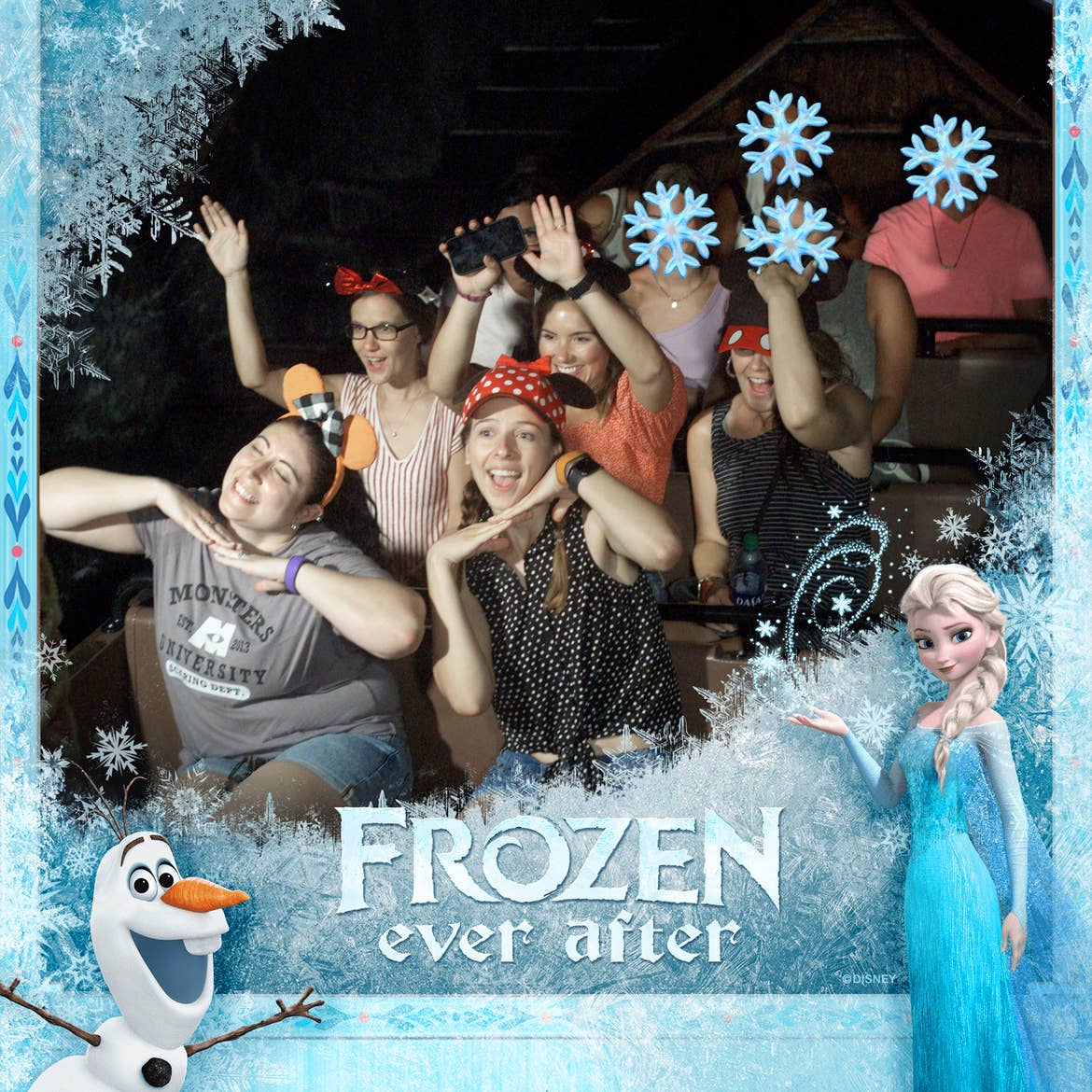 Letting it gooooo on Frozen Ever After in Norway


Living with the Land (The Land building)
Kelly: Living with the Land is my all-time favorite ride at Epcot! It's always so cool to ride and learn about the sustainability efforts in the parks.

Pro tip: Plan that vacation time and book your Orlando stay because 2021 and 2022 are both BIG years for Epcot attractions.

Oct. 1 is the grand opening of Remy's Ratatouille Adventure in France as part of Walt Disney World Resort's 50th Anniversary celebration.

And next year? Get ready to welcome a brand-new roller coaster — Guardians of the Galaxy: Cosmic Rewind — located by Mission Space.
And Lastly, Our Favorite Place to Stay in Orlando
If you need a place to rest after all that festival fun, Disney World is located near two of our Holiday Inn Club Vacations® resorts. (So close, in fact, that Disney's Animal Kingdom® Theme Park is right in Orange Lake's backyard.)

Since Nicole and Erin usually work remotely, they actually got to experience both Orlando Breeze Resort and Orange Lake Resort while they were in town for the festival.

Now, they might be biased, but here's what these first-timers loved most about our two Orlando resorts…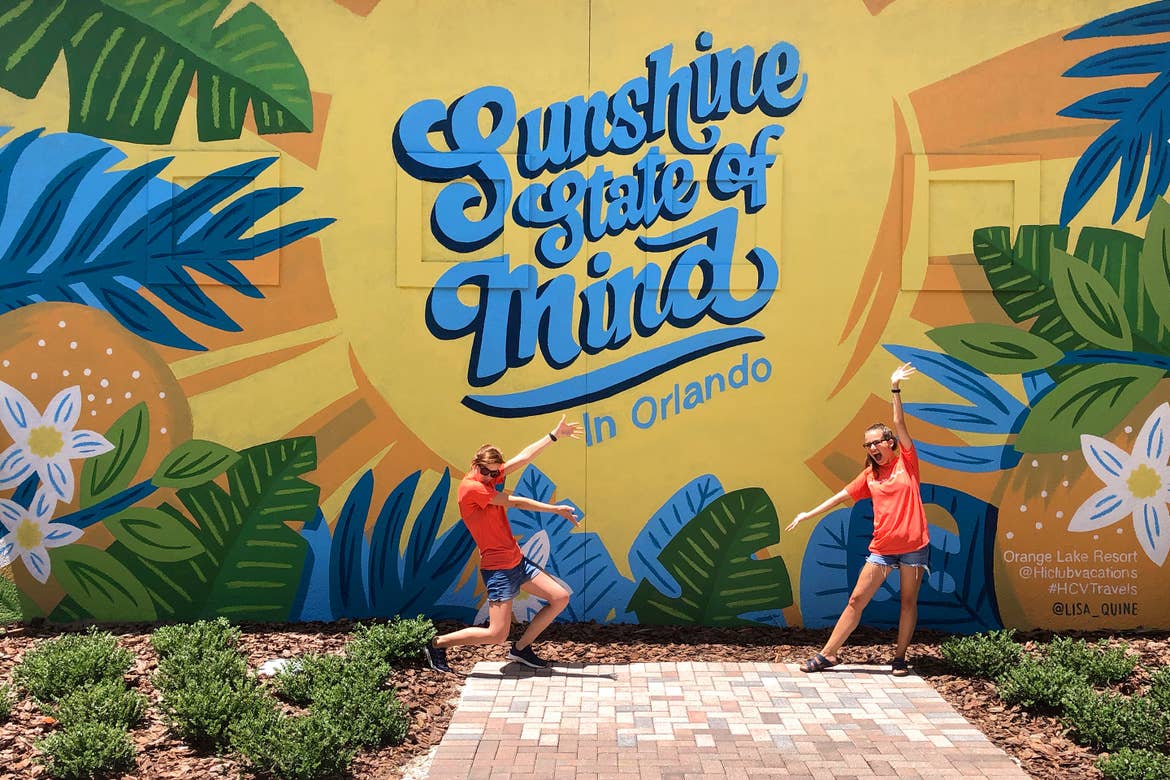 Another Insta-worthy photo-op spot: Our brand-new mural at Orange Lake Resort

Erin: Orange Lake Resort was only a short drive away from the theme parks — it only took 20 minutes to get to Epcot!

And the resort was HUGE — you could easily take a full day to explore it all, and the lazy river at River Island is a refreshing way to cool off in the summer!

My one-bedroom villa was more than spacious, too, and it gave me a comfy place to come back to at the end of a long theme park day.

Nicole: I really enjoyed kicking off my trip in a spacious two-bedroom villa at Orlando Breeze Resort.

It's the perfect balance for anyone who wants to visit Disney World but isn't opposed to taking day trips and having a quiet, relaxing time at the resort afterward.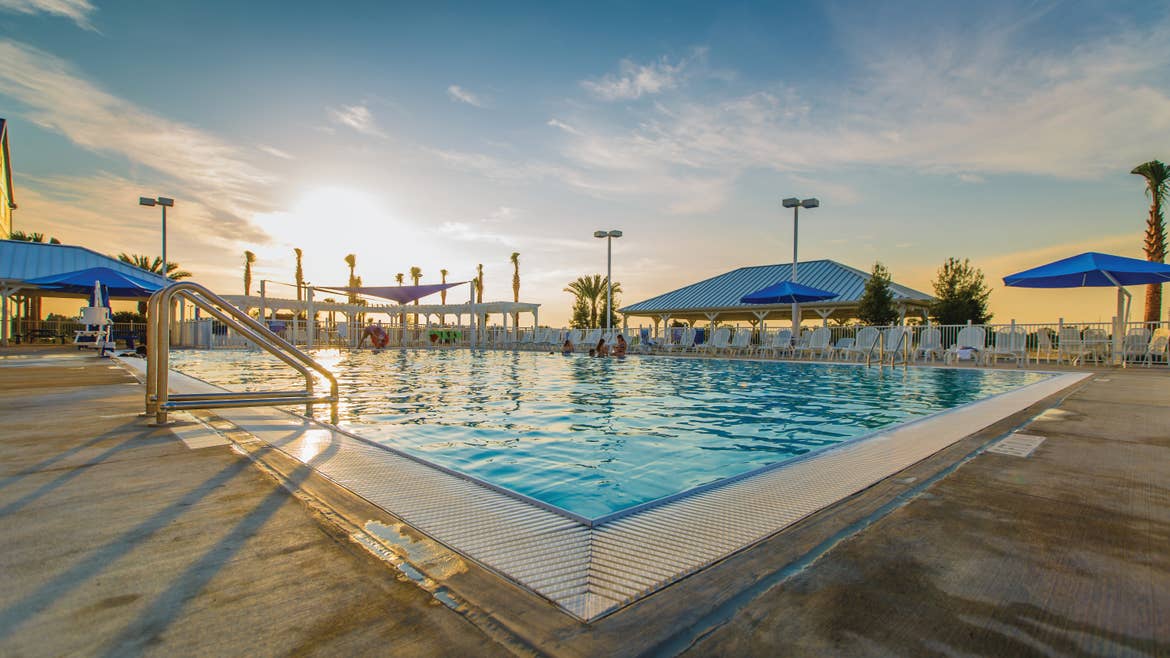 The serene, pristine Main Pool at Orlando Breeze Resort

And as for Orange Lake Resort, our team told us it was huge, but I had no idea just how huge it was!

With a multitude of amenities in each village (which is great if you're looking for things to do at the resort between theme park visits), you'll never run short on making new memories.
Picture Yourself in This Villa
Take a peek at Orange Lake Resort's accommodations, which have plenty of room to spread out, full kitchens, washers and dryers for laundry and so much more…
If you're heading to Epcot International Food & Wine Festival this year, we hope your Disney World day is très magnifique!

We'd love to hear all about your favorites, too. Head to our Facebook and Instagram, and send us a message so we can swap faves and daydream about all the delicious dishes we'll need to try next time. 😋

And as Mickey Mouse would say, we hope to "see ya real soon" at our resorts!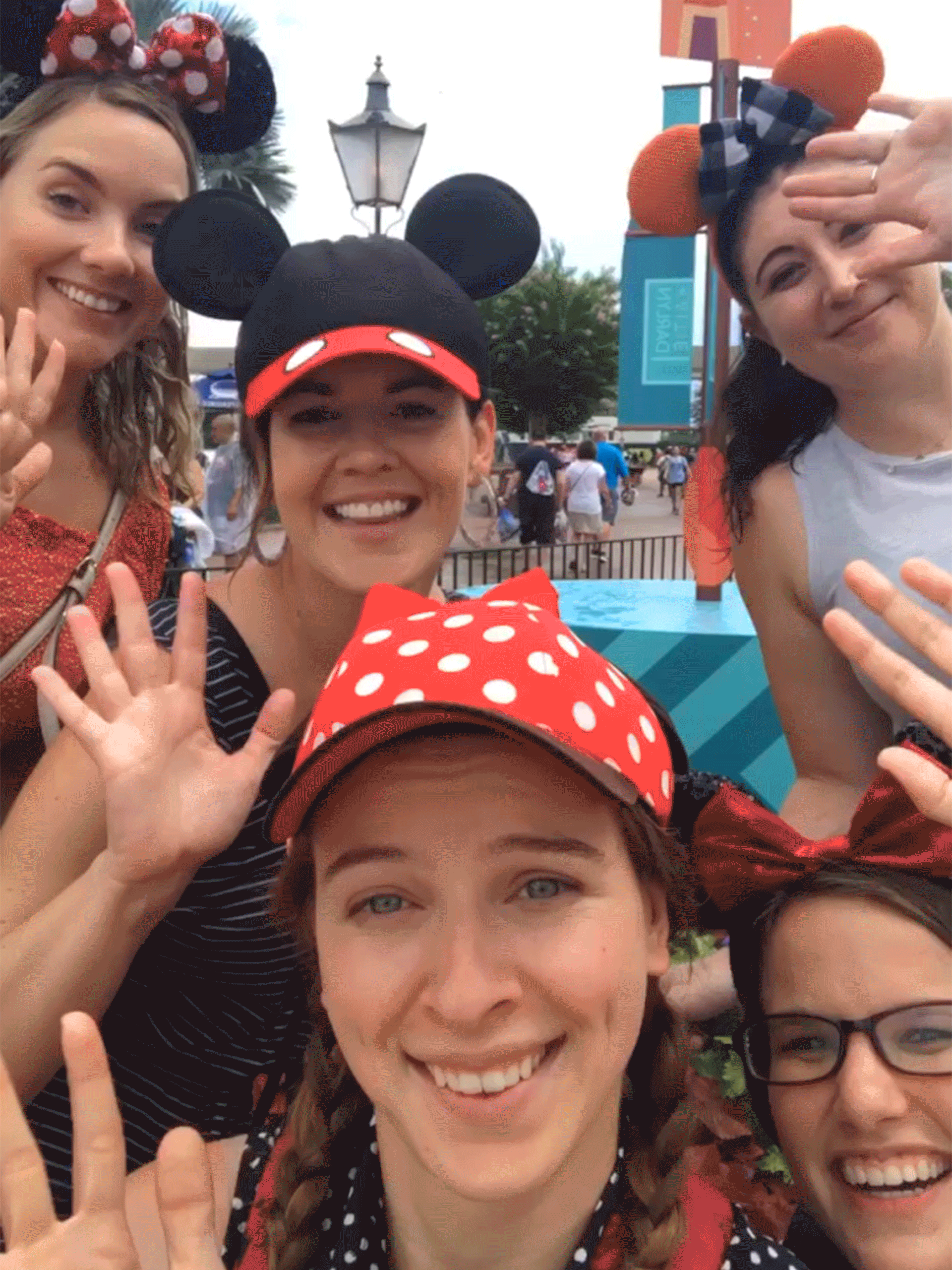 Our Blog & Social Media team were provided a gift card stipend and complimentary admission to Epcot International Food & Wine Festival in exchange for their honest opinions and reviews. Huge thank you to the Disney Parks & Resorts team for this invitation!

All information is subject to change. This article is a curated guide and is neither sponsored nor considered an official endorsement. Please be sure to check information directly with any/all tours, guides or companies for the most up-to-date and direct details.