Jennifer C. Harmon
Jenn is the Editor-in-Chief of the Checking In travel blog. She loves coffee, wine, writing, traveling, working with all of our amazing guest bloggers, and getting to tell our guests', owners' and team members' vacation stories. Jenn and her husband, Anthony, have mastered the art of the long weekend couples' getaway (sans kids). And while it's too hard to pick just one type of "favorite vacation," her three-way tie would be: a snowboarding trip, going to Hawaii or sailing with Disney Cruise Line.
I know no one wishes for rain during their vacation, but honestly? I love a good rainy day in Florida.

If you're wondering what there is to do in Orlando when it rains, I can tell you there are so many fun things to do indoors — and yes, even outside with some Mickey Mouse ponchos on.

And you'll often find less crowds and ample places to take AC breaks from the hot summer temperatures.

The best part? It's Florida! The rain hardly ever lasts all day. Blink and you might find blue skies where there were angry black clouds just minutes before.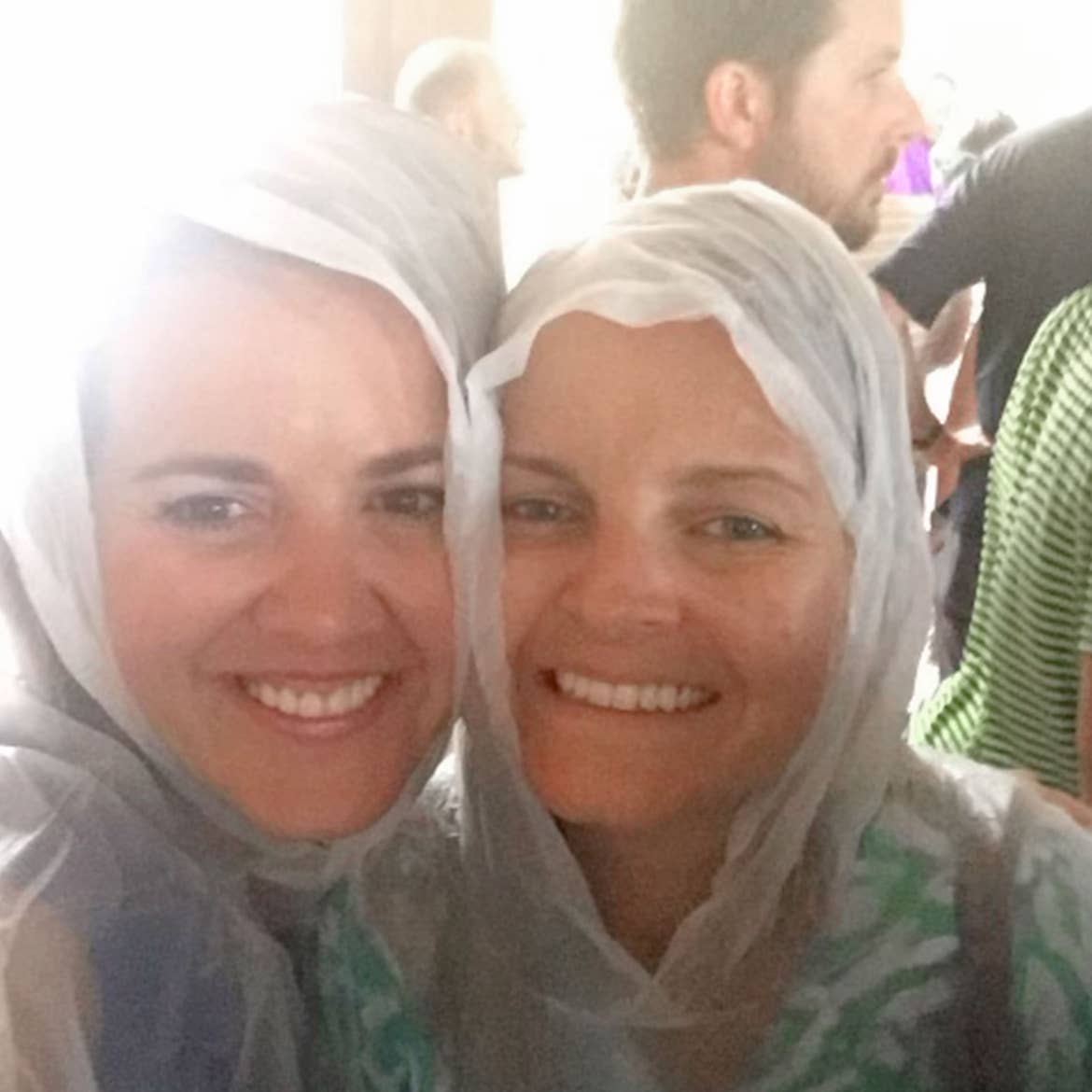 It wouldn't be a Disney World trip without your typical Florida rain shower! (And ponchos!)

With summer just around the corner, we did a poll on our Facebook and Instagram pages.

Here's what some of our Club members, social followers and team members said was their top favorite things to do in Orlando when it rains ... until the sunshine and rainbows come back out.


1. Have Family Fun at These Indoor Orlando Attractions
My rainy-day indoor favorites when friends and family visit are the Crayola Experience, the American Girl store at Florida Mall, the really nice AMC dine-in movie theater and the luxury bowling alley, Splitsville, at Disney Springs. – Jennifer H.
Ripley's Believe It or Not and Madame Tussaud's Wax Museum. Both were very cool! There was also an aquarium there as well as plenty more to do indoors at ICON Park. – @jennahfahh
The Museum of Illusions in ICON Park was a super funky, unique place to explore indoors and take some really cool photos! (Definitely keep your phone charged for this one.) - Tori F.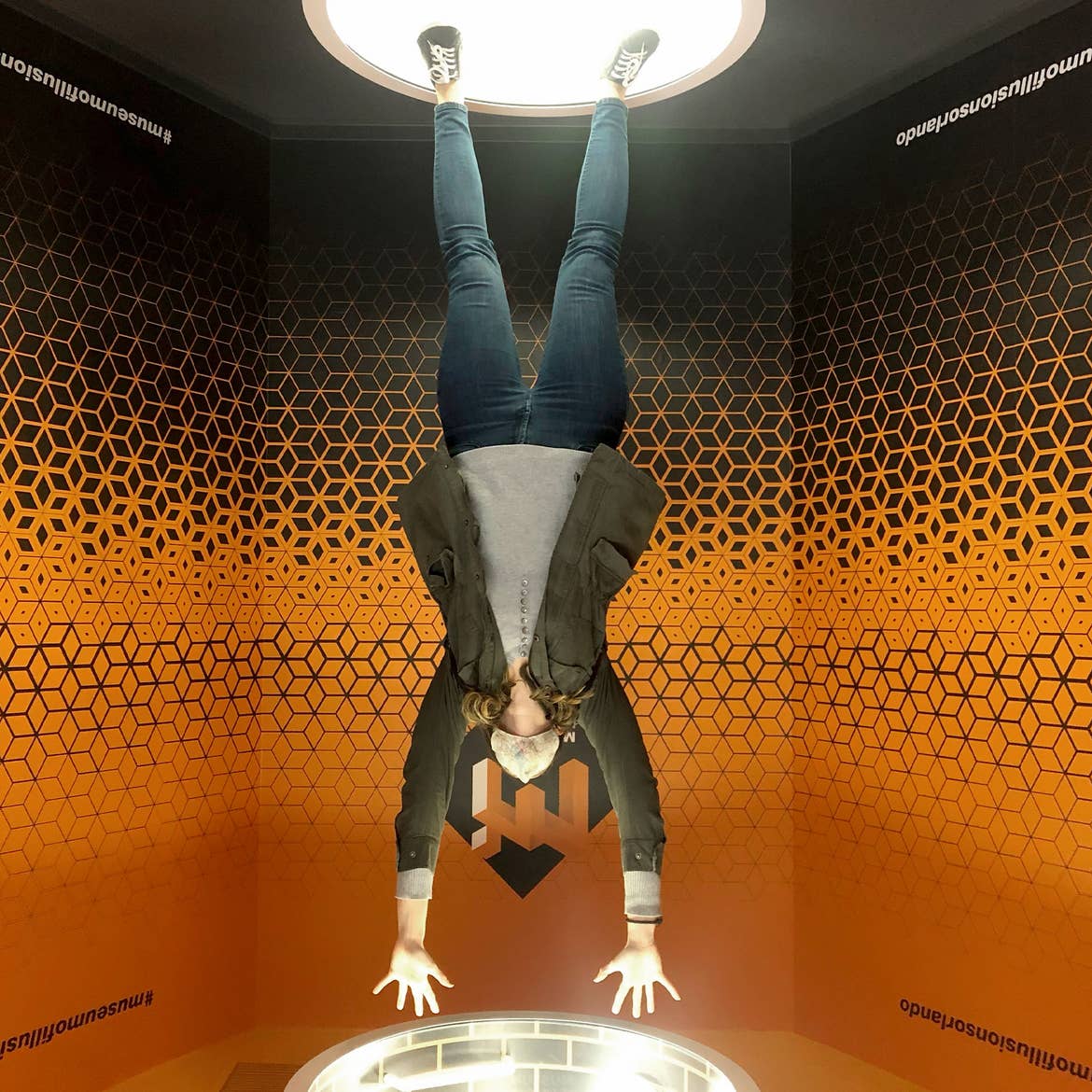 Check out the Museum of Illusions in ICON Park for a fun way to flip your rainy day on its head.


SEA LIFE Orlando Aquarium is great. It's amazing to see so many amazing, different species of fish and sea animals. Our kids love going there and never get tired of it. And, at least as a parent, I felt like I exposed my kids to something somewhat educational during our vacations. – Jennifer B.
Crayola Experience is good for kids! – Mo V.
Dezerland [the indoor park and auto museum]! There's so much to do there! We loved the glow-in-the-dark mini golf and all the cars on display! Plus, there are so many cool little shops. It's a must if you are in the area! – Crystal N.
I really love taking the opportunity to go to a museum, like the Orlando Science Center or the Orange County History Center, to see what new exhibits they have going on. The Science Center is super fun for keeping kiddos occupied on rainy days. – Tori F.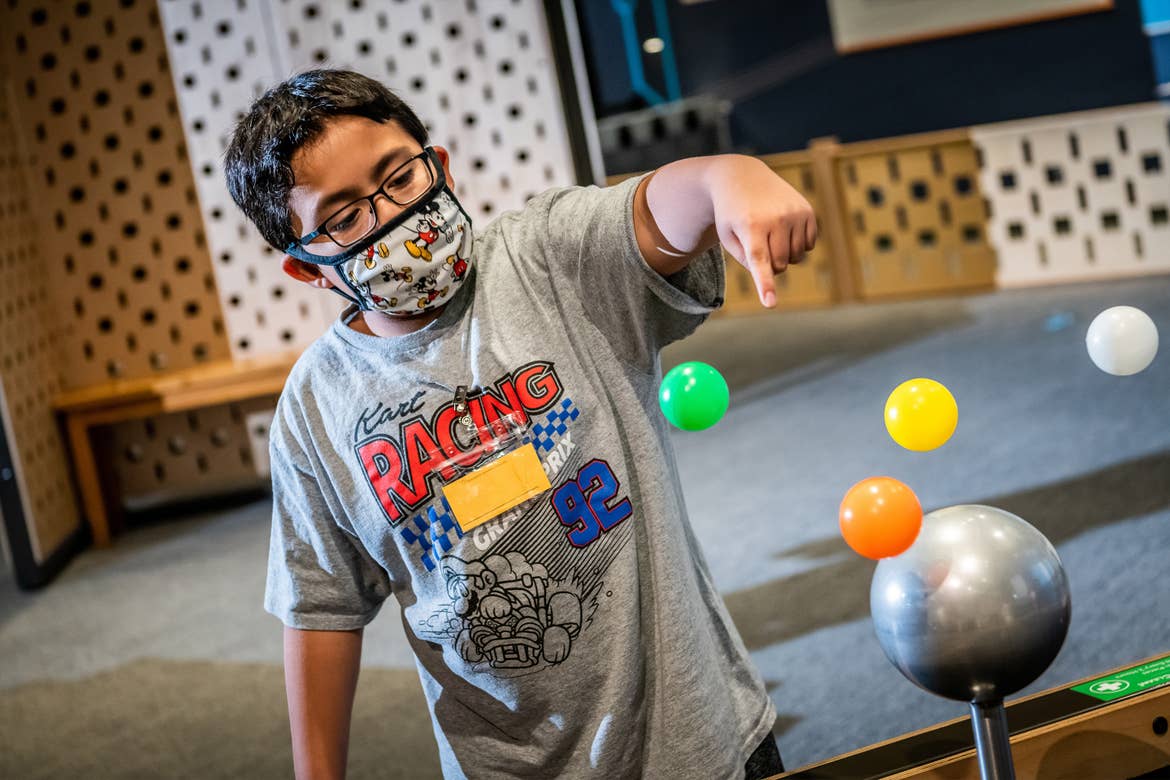 Orlando Science Center has four floors of interesting exhibits that everyone, from curious kiddos to seasoned explorers, will love. Photo credit: Roberto Gonzalez Photography, courtesy of Orlando Science Center
Top Golf! – Kori G.
It's always neat to check out the Orlando Museum of Art, or the Mennello Museum, which is pretty awesome, too! The Loch Haven Park neighborhood also has the Orlando Science Center (if you have a bunch of kiddos). Other art destinations: Maitland Art Center, Cornell Fine Arts Museum at Rollins and the Morse Museum. – Tom M.
If you have children, Andretti Indoor Karting & Games. Hours of fun and plenty of choices. – Lizzie M.
If you've got kids, definitely head to one of the indoor trampoline parks! It's so fun to jump around and get energy out. – Tori F.
2. Head to Disney Springs
We love Disney Springs shopping when rain gets in the way! – Patrick L.
Splitsville bowling at Disney Springs! – @danielle_clayton3
Sipping a frozé (frozen rosé) while people-watching from the upstairs section of Wine Bar George is a great way to sit and take cover from the rain. (It's great when it's sunny, too!) – Jennifer H.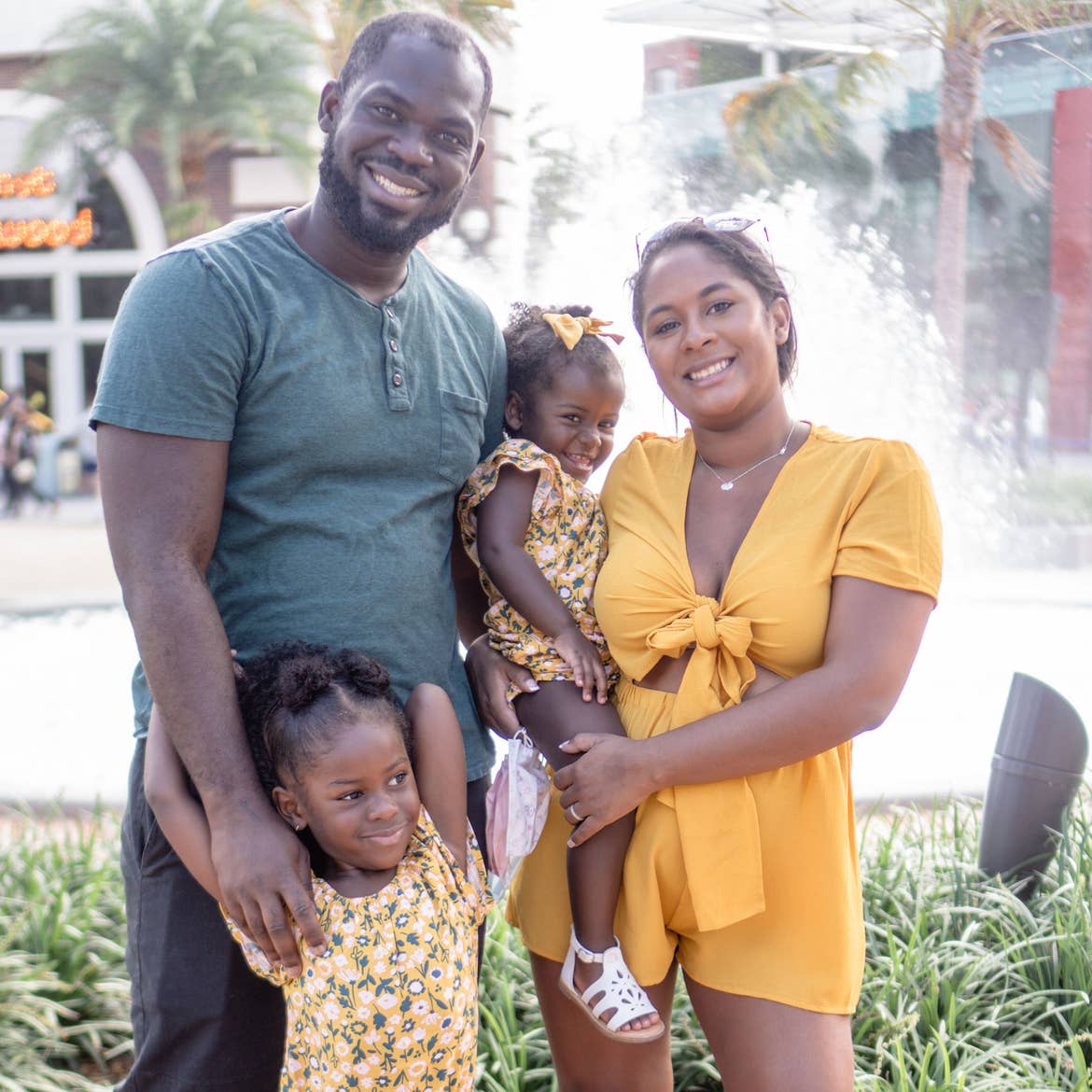 Kimberly of @mommyhoodjoy and her family at Disney Springs


3. Stay Dry at the Movies
If it's raining hard, go see a movie at the AMC Theater at Disney Springs. It's right by the parking garage. If it's still raining after the movie, right next door is bowling. – David H.
The movie theater at Orlando Breeze! Nothing like popcorn and watching a movie with the kiddos! – Kari C.
Movie nights at the Enzian. – Sarah C.
If I'm feeling fancy, I love going to Winter Park Village for a movie at the Regal (they have a bar and those ultra-comfy reclining seats!), followed by a burger at The Hangry Bison and shopping. – Tori F.
4. Mix Up Your Rainy-Day Activities
If you're in Orlando for a day or week (or permanently), be sure to save this list so you have plenty of activities on-hand to mix it up on those unpredictable rainy days.
Shopping at Mall of Millenia or outlets, SEA LIFE Orlando Aquarium or Madame Tussauds at ICON Park, Disney Springs, Ice Bar on I-Drive, I-Drive Nascar Indoor Kart Racing, Escape Rooms, Chocolate Kingdom and Ripley's Believe It or Not! ... just to name a few. – Sarah C.
Pre-pandemic, we always went to the resort's inside amenities or to Disney Springs or Ripley's Believe It or Not! The rain showers never last all day. – Cindy O.
We love SEA LIFE Orlando Aquarium, Madame Tussauds and the Florida Mall on a rainy day!!! I actually look forward to one rainy day, so I have an excuse to go to the mall. – Jessica L.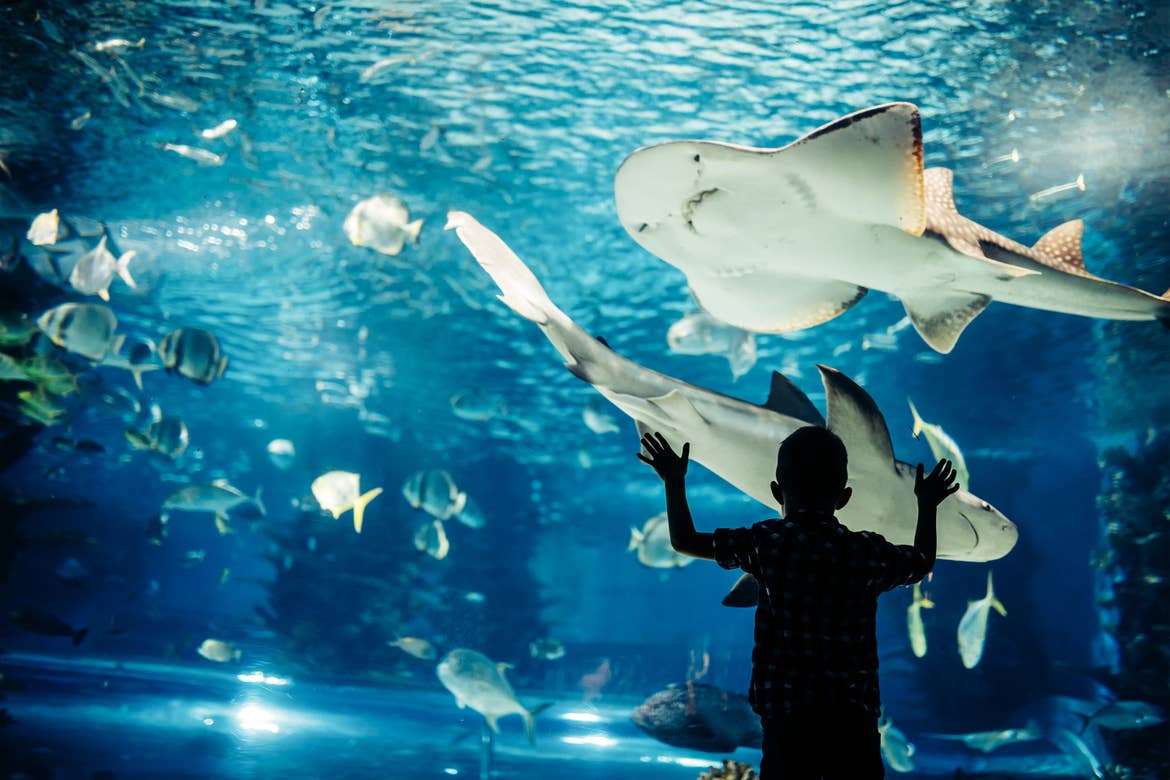 Aquariums are super fun for rainy days! Or there's always malls and shopping centers! – Lexy F.
We love the dinner shows like Medieval Times or the Pirates Dinner Adventure Show. We also go to The Old Town Portrait Gallery inside Old Town Kissimmee and get fun family photos in costumes, like pirates for the Pirate Dinner Adventure Show or roaring 20s gangster/mob photos. Fun things like that. And while you're there, you can do some shopping in Old Town. – Jessica K.
We visited gift shops and went to an amazing Chinese buffet on rainy days. Also, grocery shopping for themed dinners is fun, too! – @mariamerklin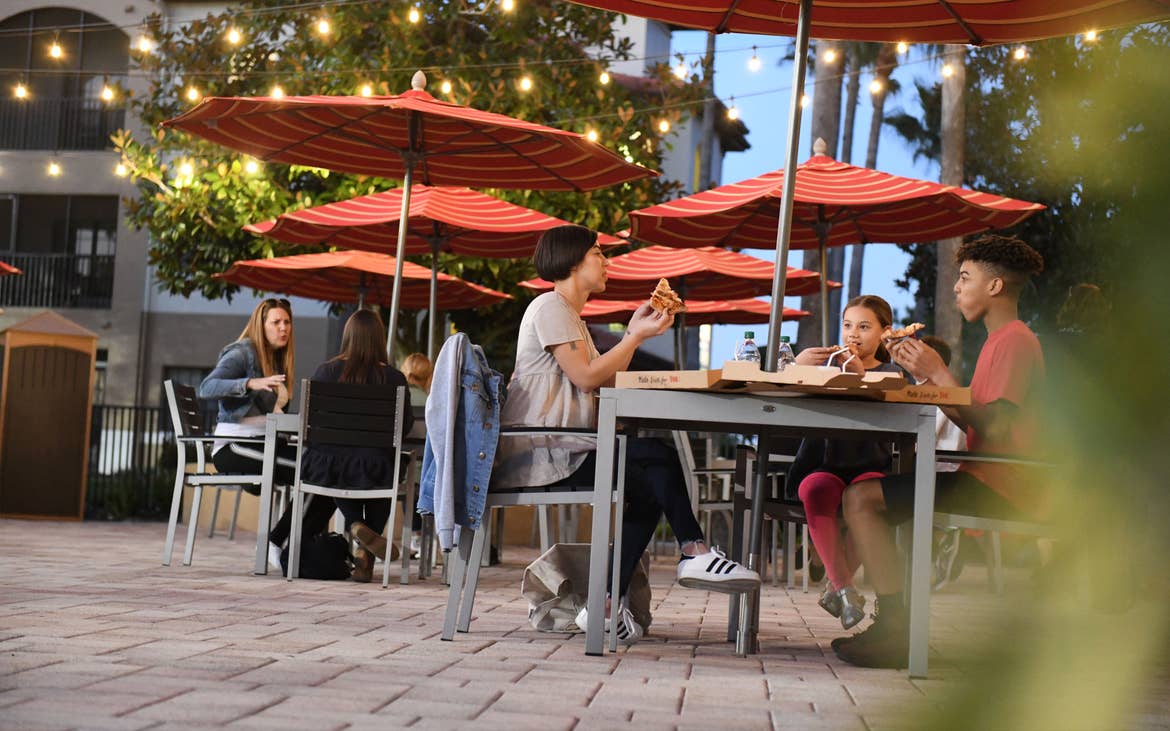 Clarissa of @clarissalaskey and her kids grabbing a bite from Paisan Pizzeria in the North Village at Orange Lake Resort


Love sitting on the patio at Orange Lake Resort with a glass of wine or cup of coffee! Unless my crew is hungry, then we head over for Paisan Pizzeria, Miller's Ale House or Longhorn Steak House! Great options so close to our "home away from home!" Only 99 glorious days till we head out to check out a new resort for us, Apple Mountain, for 3 days and then back to Orange Lake for 10!! – @alauren0107
The malls were really nice last time we were in Orlando. We also do the daily activities at the resort! Some cool ones in the past that were our favorites were making s'mores and root beer floats! – @the_high_maintenance_runner
Arcade room at River Island is fun or a movie at the Disney Springs AMC Theater! – @smartin71567
5. Go Shopping in Orlando
Shopping! If it's a washout day, the possibilities are endless: Orlando International Premium Outlets, Orlando Vineland Outlets, the Florida Mall and more. And then there is always eating!!! Yum. – Melissa L.
Florida Mall, of course! There are always things you didn't know you couldn't live without. And filling up the bedroom with all the treasured bags makes my stay at Orange Lake Resort even more fun. Getting it to fit in the suitcase is a whole different story … wink. – Eva-Lotta H.
Going shopping!!! Ross, Marshalls, TJ Maxx, Aldi, Trader Joe's… – Myrtelina V.
Bass Pro Shop – Kathy B.
Outlets! Perfect time to get some shopping in. – @j_ryers
6. Spend Some Quality Family Time in Your Villa
Order some pizza on-site, play board games and use the time to plan out the rest of your sunny vacation days ahead. – Natalie J.
Nothing beats the 8th floor at River Island on rainy days with a cup of coffee and a lounge chair. Whether it's raining at breakfast, lunch or dinner, something about being that high up during the rain allows you to feel a sense of calm. – @pineapple_dreamer333
Over 30 years or so, we've seen many rainy days. Game time inside the villa with family and friends. Uno. Uno Flip! Backwards Forwards/Reverse. Good food and drinks. Kid-friendly. – Darlene E.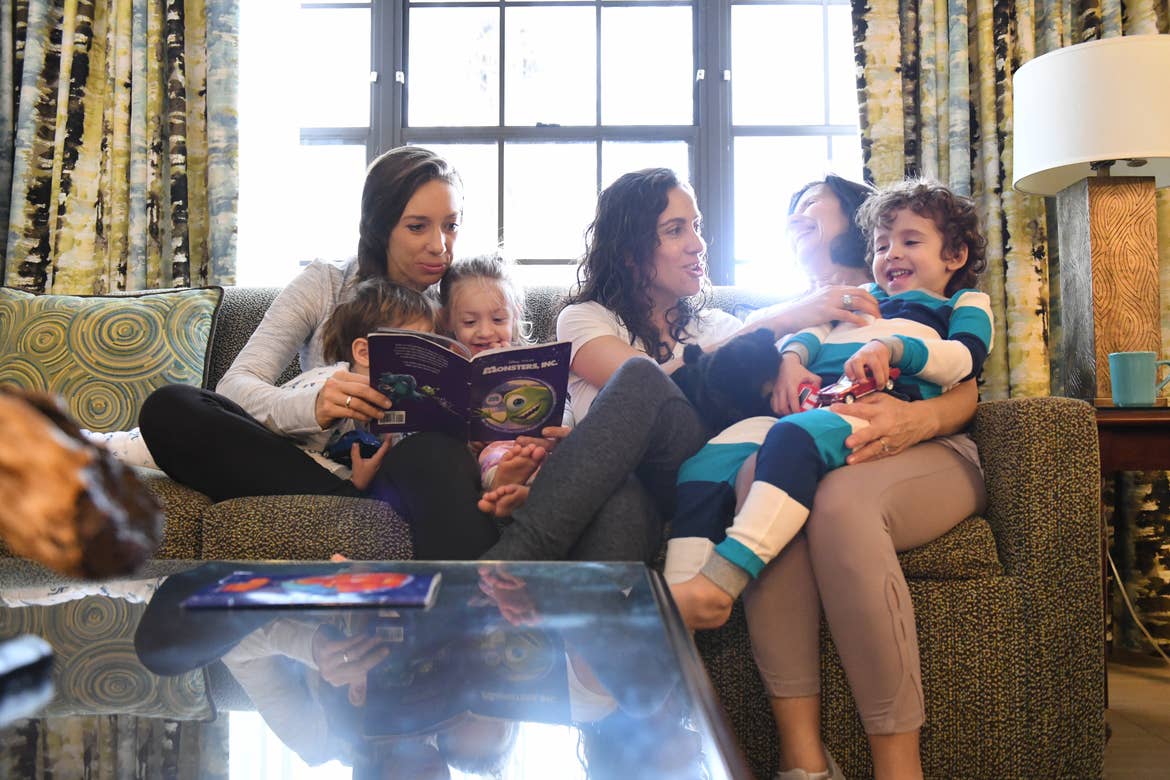 Raff of @raffinee and her family getting in some story time (& fun time!) in their North Village villa at Orange Lake Resort


Make a good asopao de camarones, tostones and sangria for a great group of friends and family. – Mrytelina V.
Stay in, drink coffee on the patio and watch movies and the rain. – Jolynn M.
Playing cards on the screened-in porch! – @christiepiv
When we get rain while visiting Orange Lake Resort, we either go shopping or we make coffee and play cards on the patio. There is never a shortage of things to do while enjoying our time in Orlando. – @tinamarie1214
Staying in and playing board games – @mariaconsuelo.arellano
We like to spend time together on our patio playing cards/games and ordering food from Paisan Pizzeria!! – @cflynn30
We love just hanging in the villa relaxing, listening to rain on the porch or hanging out in a cabana (if there's no lightning). – @sarahbodington
Rainy days and puzzles or a quick scavenger hunt in the villa ... bake some brownies for the prize! But be quick about it because when in Florida, just wait a few minutes and the weather will change. – @cavemama96
Sitting on the patio and watching the rain pass. OR if we know it's just rain, dancing and playing in the rain. – @aghiloni
Wellllllll, the in-room jacuzzi tubs always do the trick until the rain passes. – @soflofoodie
Movie day at the resort with pizza and popcorn! (And then a trip to the ice cream shop when the rain lets up!). – @jennifer.e.matthews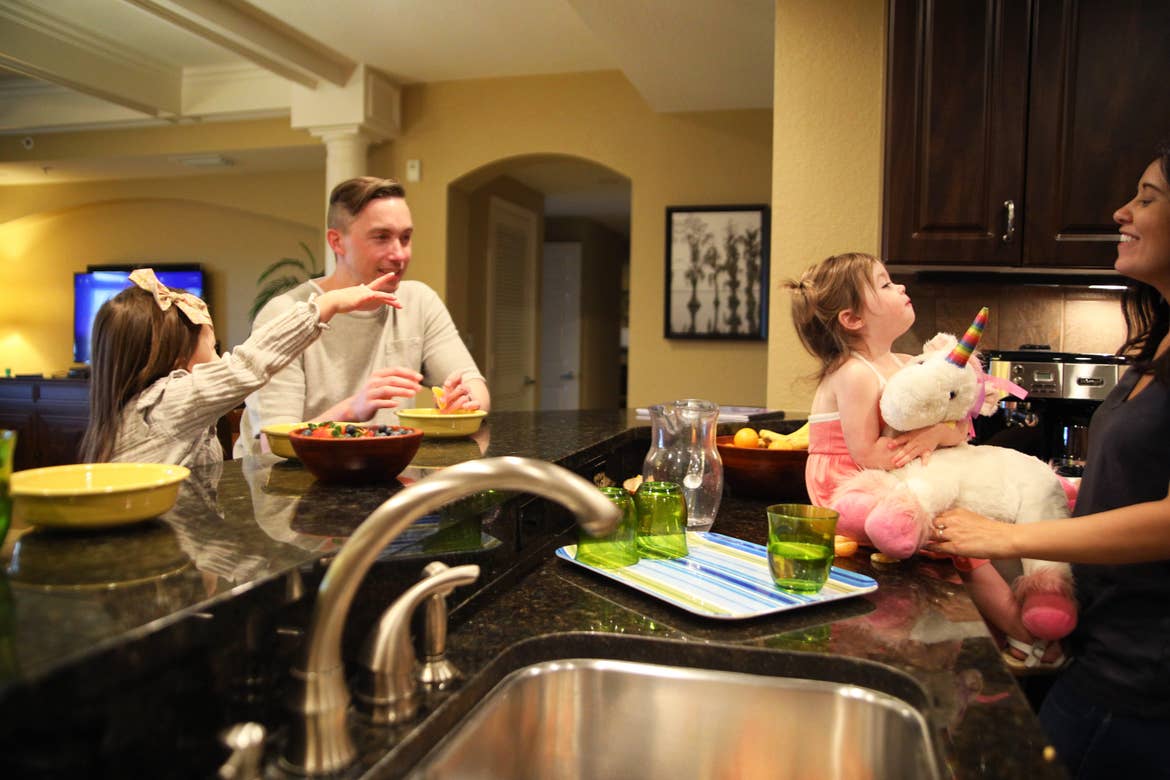 Mia of @greyslittlecloset and her family taking a snack break in their River Island villa kitchen at Orange Lake Resort


7. Dig into Delicious Central Florida Dining
If it were to rain, we would enjoy a good meal at Rock & Brews and probably shop if we were to stay in the area. We always have the option to drive since [Holiday Inn Club Vacations®] is centrally located. – Patti S.
We like to enjoy the varied restaurant choices at Orange Lake Resort, and it's easy because that's where we always stay while visiting Orlando. – @cirruscapo
Go to Juicy Crab on International Drive and Texas Roadhouse. – Myrtelina V.
Go to Maggiano's on International Drive for lunch. – Joe D.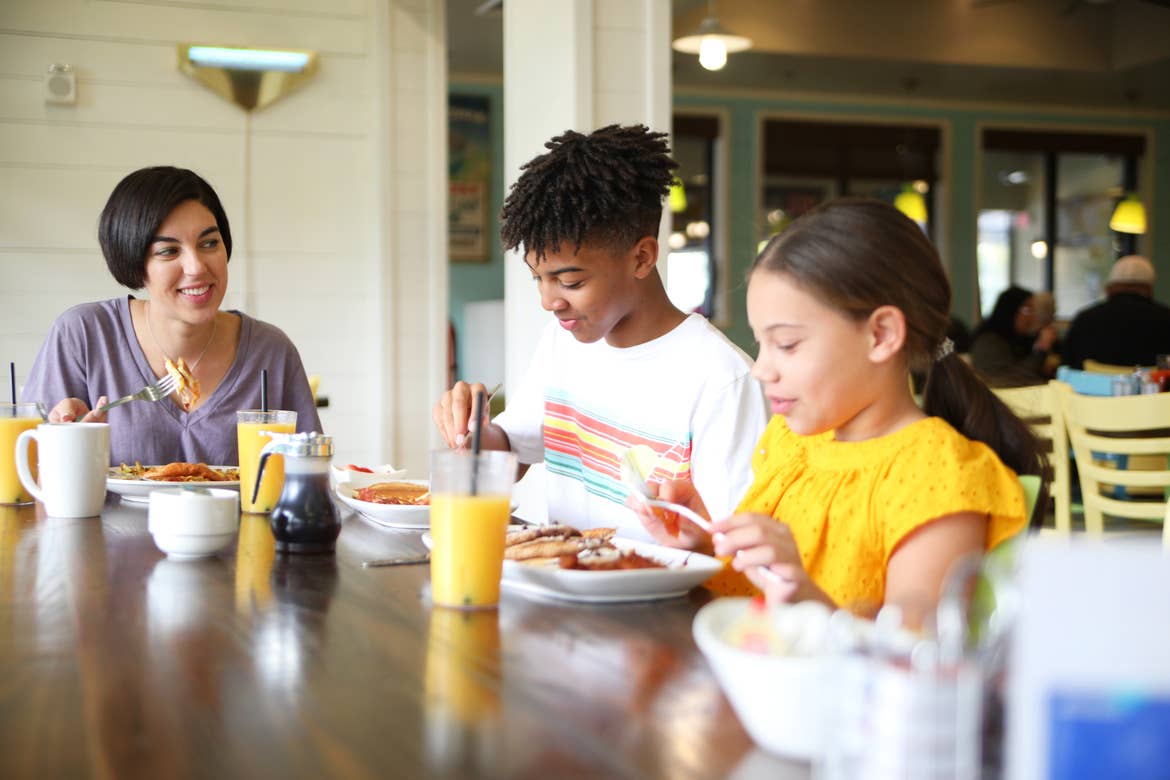 Clarissa of @clarissalaskey and her kids fueling up at Breezes in the West Village at Orange Lake Resort


8. Say Cheers with Vacay Drinks
Lakeridge Winery is worth a visit. A little tasting and stocking up on wines. – Lizze M.
A pub crawl at Orange Lake Resort! We use the shuttle buses to get to each one! – Connie D.
I love going to Orlando breweries and sipping on a beer while watching the rain. It makes me feel like I'm going out and doing something, but still relaxing and enjoying an easygoing day. – Tori F.
We decide who the designated driver will be, then go to a few wineries and then stop for happy hour and appetizers at a local restaurant. Then back to the resort to play Mexican train dominoes or watch a movie. – Lyn-ne Ann
Using the shuttle on-site to take us to all the bars on Orange Lake property! This is always so fun to get to know the employees. – April S.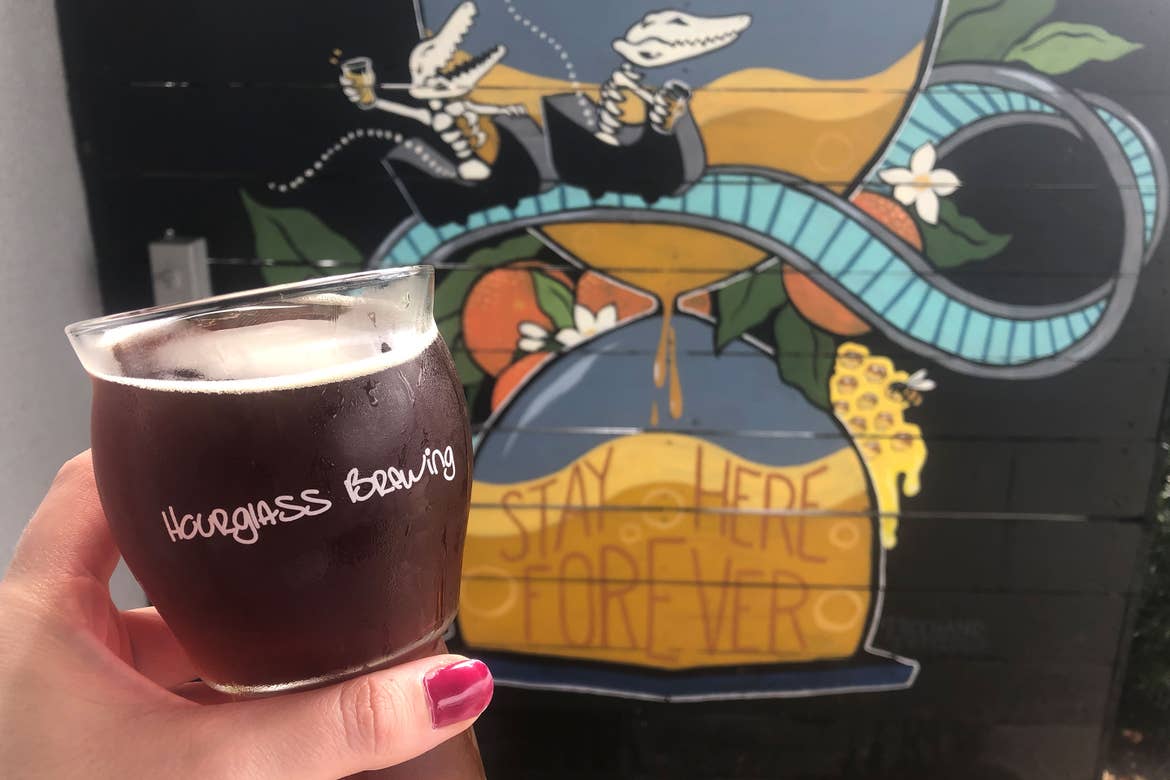 Cheers to rainy days at Hourglass Brewing Co.


9. Hit Up Orlando Theme Parks
I love visiting the parks when it's raining. Rode Slinky Dog Dash [at Disney's Hollywood Studios® Theme Park] for the first time while it was raining. – Robert B.
Unpopular opinion maybe?, but I LOVE going to Walt Disney World® Theme Parks when it rains! As long as you pack a poncho and breathable flip-flops, it's often less crowded, has shorter lines and in typical Florida fashion ... the rain usually ends at some point. And then you've got a cooler, sunnier rest of your day! (Note: A few rides do shut down in the rain, like Mine Train and Test Track, if that's not "worth it" to you.) – Jennifer H.
We've done Blizzard Beach if it's a light rain. No crowds and still plenty warm out to enjoy. – Patty C.
We came to Disney World in September and stopped in a candy store while it rained. – @amy_harris84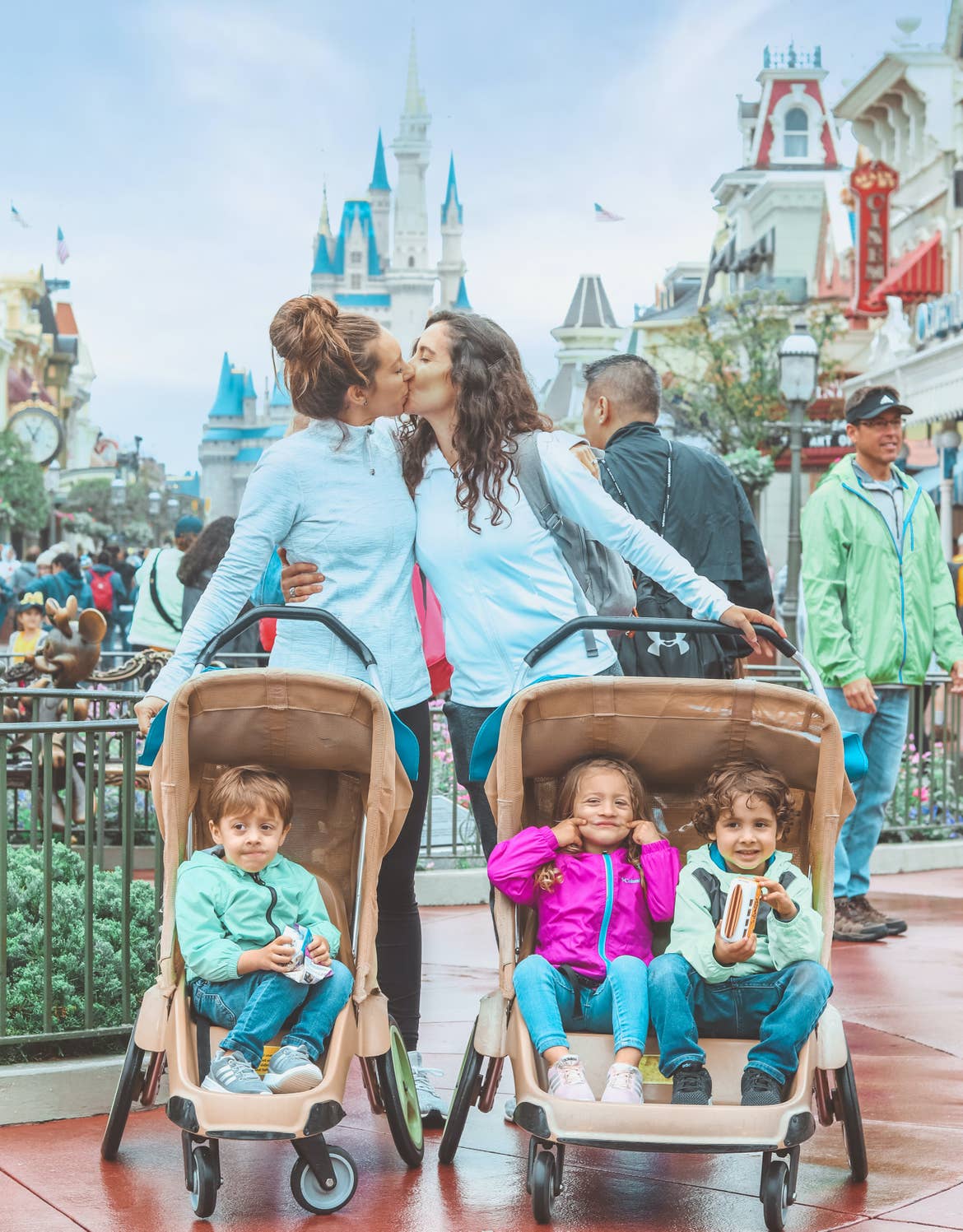 Raff of @raffinee and her family enjoying their cloudy day at Walt Disney World® Theme Parks


10. Kick Back at Our Resorts
We will be first-timers at your resort next year and are so excited, it all looks amazing. If we get a rainy day, the grandkids and I will definitely be hitting the arcades and exploring all the indoor activities. (Who needs a rainy day? We'll do that anyway, ha!) –  Anne G.
If there's no lightning, sitting by the pool. Eating at the restaurants by the pool, listening to music or the video game room. – @lizhaaktravel
We love to go to the arcade at Orange Lake, hang out in our villa or go to the main building for activities. We love the arts and crafts and keepsakes we can take home with us! – Michelle B.
We love to kick it in retro mode and play video games at the resort arcade, which usually turns into an air hockey tournament or family racing cars event! – @soho.gypsy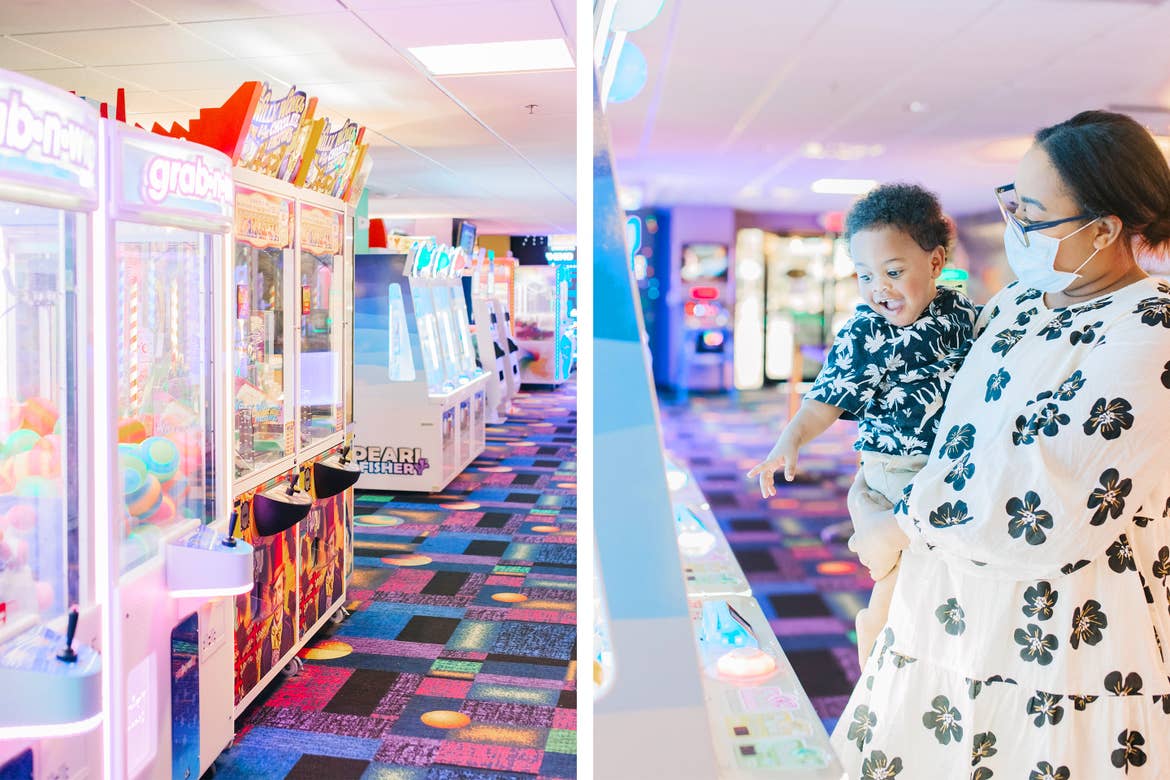 Bianca of @biancadottin and her son exploring the lights and sounds of Water's Edge Arcade in the West Village at Orange Lake Resort


Whenever it rained when I was at Orange Lake, I used to love to hit the arcades, and I never felt bad about missing out on the sunshine! If not, I'd love to go back to the villa and sit on the balcony and listen to the rain come down on the golf course. – @keithblake710
We hit the arcades at Orange Lake. – Kayla B.
The wonderful staff and the atmosphere at BREEZES!!!!! – @tim_lake33
On our first day on-property at Orange Lake Resort two years ago, it rained. We did the lazy river anyway. You're in the water and wet already anyway, right?! – @jennbailey2003
11. Have a Blast at the Kennedy Space Center™ (KSC) Visitor Complex
Take a rainy-day visit to Kennedy Space Center; there's always something new there. – Melanie T.
We love Kennedy Space Center when rain gets in the way! – Ryan S.
It was super overcast during our couples' getaway in Cape Canaveral, but the cooler weather was great for exploring KSC. You have to walk outdoors to get to the different exhibits, so be sure to pack a poncho! And definitely spend some time at Space Shuttle Atlantis; it's AMAZING. – Tori F.
We visited KSC on our family vacation, and the most fantastic area was where we got to design our satellites. The kids colored in their satellite of choice (coloring sheets and crayons provided) and then took them over to a small white box to scan it in. After the photo noise clicks, their satellite came to life on a big screen. It was so fun! – Angelica of @toddlinacrossamerica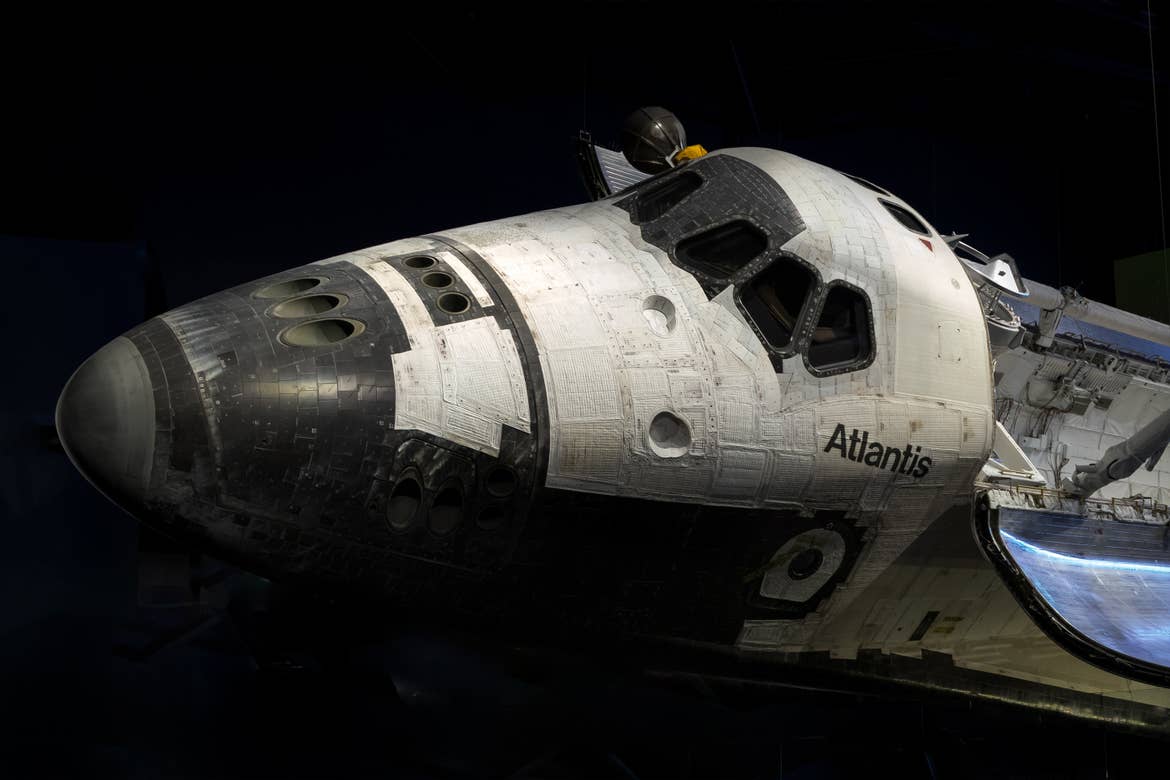 No sun? No problem. Just head to KSC to get an up-close look at the sun... and moon... and stars...
Whether you live here or you're visiting for a fun vacation, if you find yourself wondering what there is to do in Orlando when it rains, we hope this list gave you some ideas and inspiration!

And if the rain clears up, definitely be sure to head outside for some of Central Florida's best outdoor activities.



Any submitted recommendations may have been edited for grammatical reasons.

All information is subject to change. This article is a curated guide and is neither sponsored nor considered an official endorsement. Please be sure to check information directly with any/all tours, guides or companies for the most up-to-date and direct details.