Kelly Nelson
Kelly is the social media manager at Holiday Inn Club Vacations. She's got a passion for travel and viral videos, two things that help make her job so fun. When she's not scouring the internet for the latest Instagram trends, she's probably out for a run, headed to the beach or basically doing anything else outdoors. She's an Orlando local and can probably recommend some of the best foodie or coffee spots in the Downtown Orlando area. Her absolute favorite vacation spot is Asheville, NC, and since it's where her fiancé proposed, it certainly has a special place in her heart.
One of the biggest benefits of living in Orlando is being able to visit the theme parks whenever I want.

But there's one theme park I have seriously been neglecting over the years … until now!

I recently had the chance to go to SeaWorld Orlando® with my fiancé, James, and we had an amazing time.

I'm so excited to share all about our favorite rollercoasters, exhibits, attractions and more that made this trip to SeaWorld Orlando one to remember.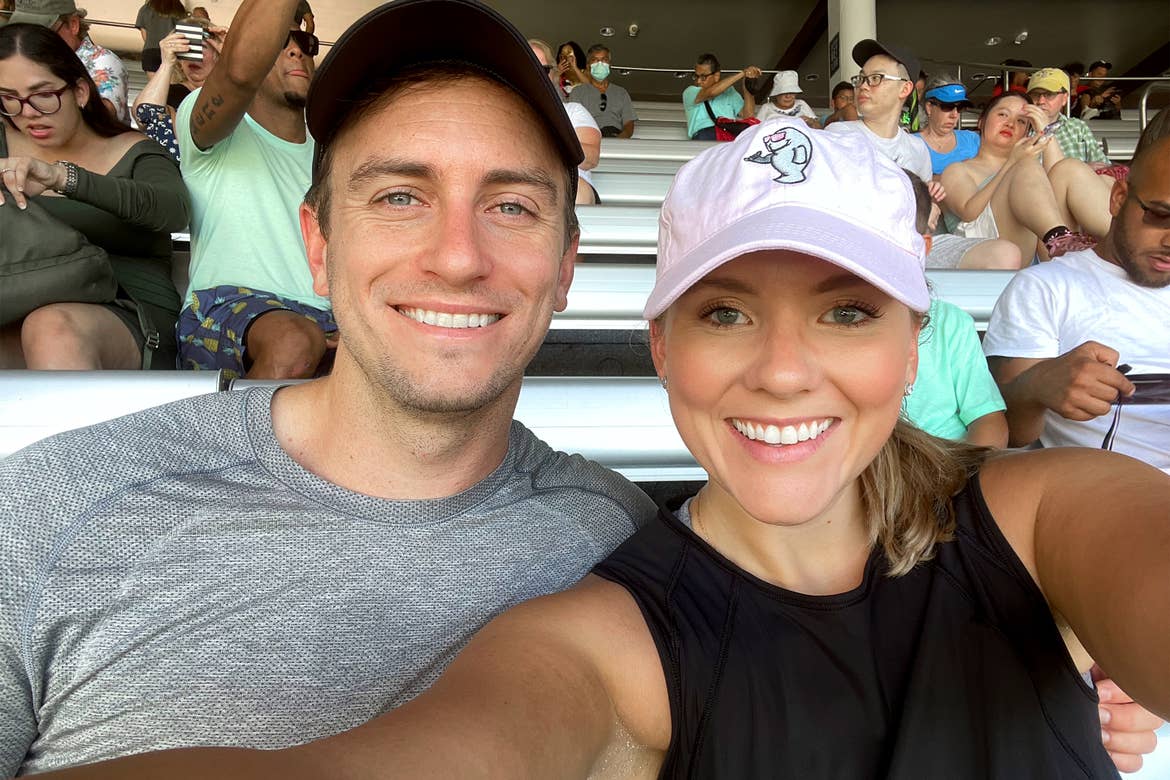 Hi, I'm Kelly, and this is my fiancé, James.

As the Social Media Manager at Holiday Inn Club Vacations®, one of my favorite perks of my job is getting to share all about the fun things to do in Orlando, which also happens to be where our flagship Orange Lake Resort is.

If you've ever been to Orlando, you know there's a long list of ways to have fun in the Florida sun, and I'm here to tell you why SeaWorld Orlando should be at the top of it!


Why Should You Visit SeaWorld Orlando?
Some major Orlando theme parks are all about thrill rides, while others are mainly focused on exhibits or shows.

SeaWorld Orlando is one of the only theme parks that I feel truly has it all. There's such a wide variety of things to do for people of all ages and interests!

In fact, we were there pretty much from the opening of the park until close just because there was so much to cover.




If you're someone who loves thrill rides but doesn't love spending their entire day on them or waiting in lines, trust me — this is the perfect theme park for you.

My favorite thing about this park was being able to go on a ride and then walk around some of the exhibits for a bit to stretch my legs before getting on another ride.

And when we got tired of walking around, we were able to go to one of the educational presentations, which would be a nice 20–30-minute break for our legs.


What is SeaWorld Orlando Like Right Now?
We did a little research beforehand and found that SeaWorld Orlando was no longer enforcing masks in the park, both inside and outdoors, for fully vaccinated guests. However, we packed ours just in case we needed them.

Editor's Note: Since this trip took place, SeaWorld Orlando has updated its safety policies. Be sure to visit its website for the most up-to-date info.

Throughout the park, you can see they still have social distancing markers for the lines and crowded areas.

I will say that there were some areas with more crowds, so if that's something you're not comfortable with right now, I would just make sure you're prepared to take your own social distancing precautions while there.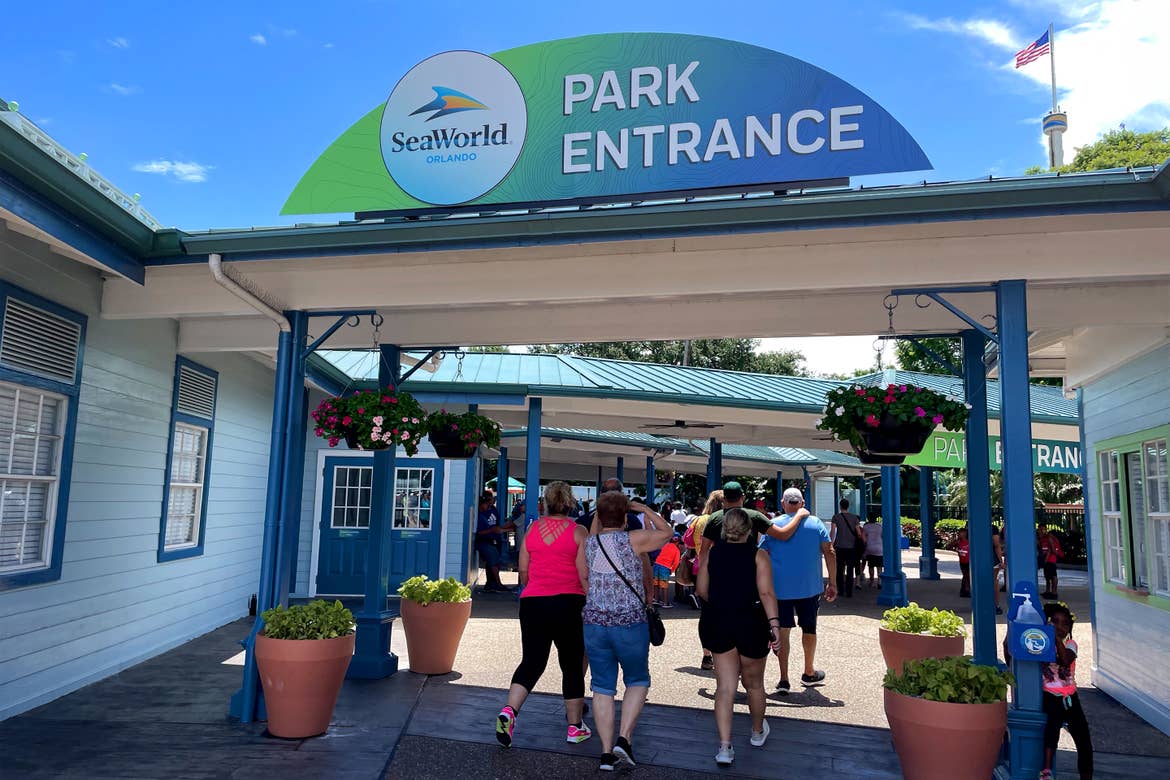 Overall, though, we were pleasantly surprised at how respectful other people were of our space from the moment we arrived, as well as seeing most people in the park still keeping their distance.

SeaWorld Photo Spot: When you first arrive, be sure to snap some pics at SeaWorld's best photo spots, which are right at the front of the park!

The SeaWorld Lighthouse is iconic and there's a beautiful underwater mural for you to grab a pic in front of, too.

(Since taking Insta-worthy pictures is a big part of my job, I'll be sharing even more SeaWorld photo spots throughout this story, so you can easily find them, snap, post and treasure your trip.)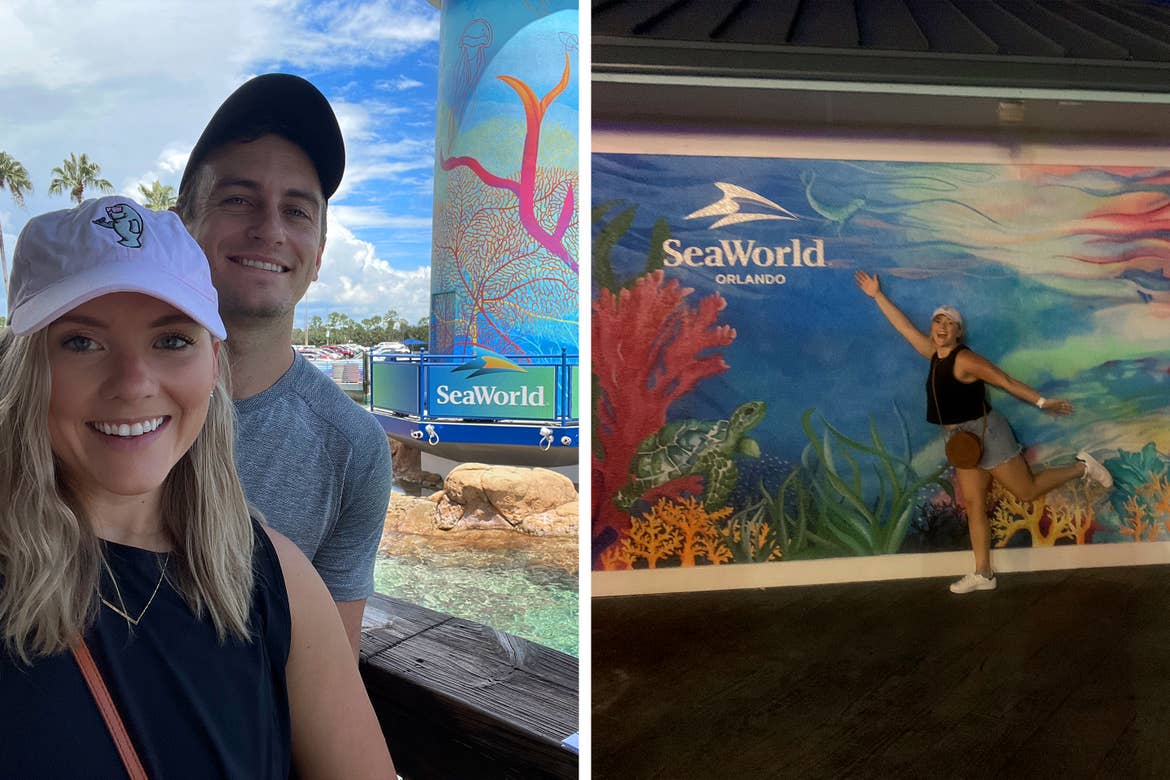 Our Favorite SeaWorld Orlando Attractions
Obviously one of the coolest things about SeaWorld Orlando is seeing aquatic animals from all around the world that you normally couldn't get so close to.

This was by far my favorite thing about this theme park visit — I love going to places and being able to learn new things while I'm there.

These are a few of our favorite attractions where we were able to do just that.


The Aquarium
This was my absolute favorite thing to do at SeaWorld Orlando. The Aquarium was huge and there were all different aquatic animals to see.

Plus, anywhere with air conditioning in the middle of a Florida summer? Sign me up!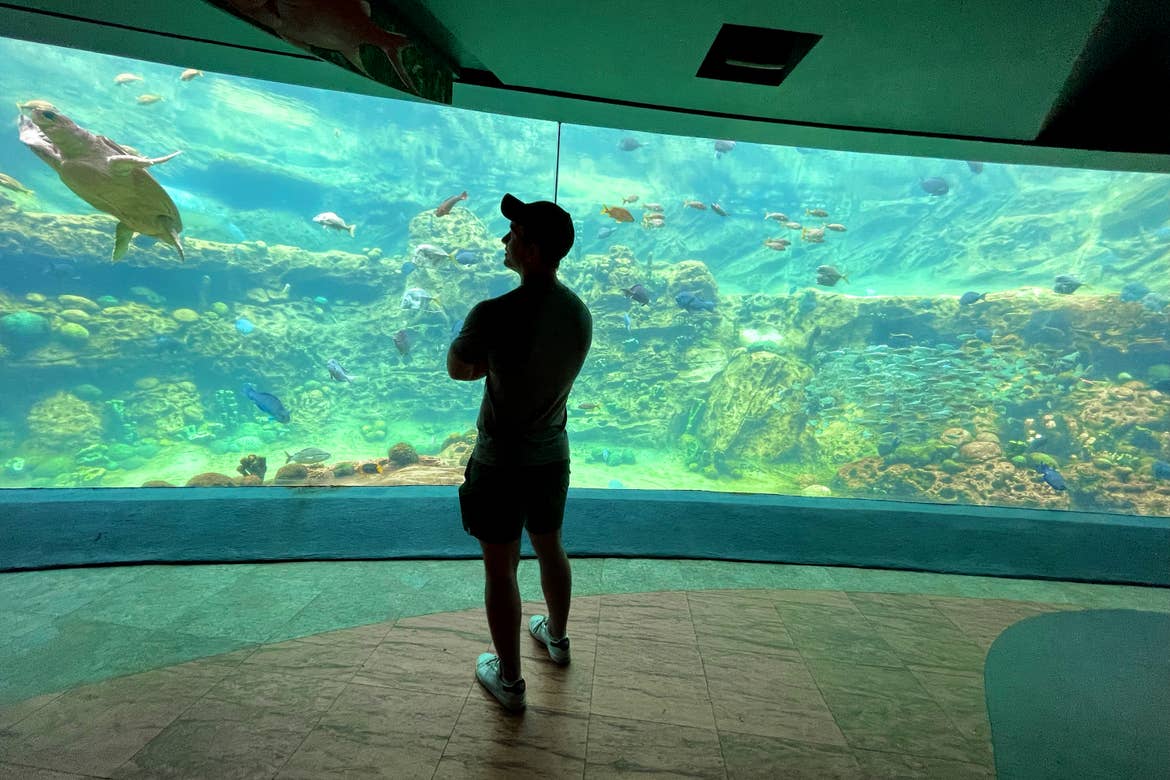 Shark Encounter
This area was recently renovated, and this attraction was so cool and well done!

Not only can you walk through it and learn all about different kinds of sharks, but you can also see them up close at the end as you ride a conveyer belt through an aquarium to the exit!

How cool is that?!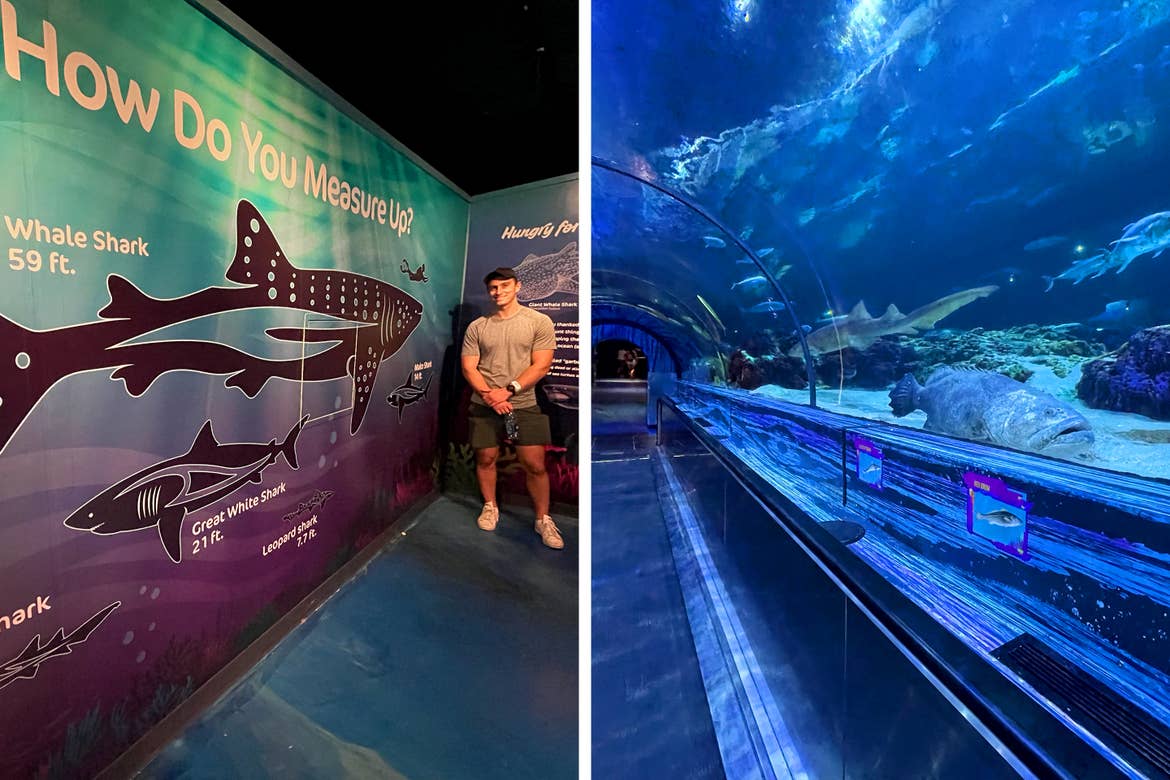 SeaWorld Photo Spot: Right at the exit, there's a huge "Guy Harvey" shark mural for you to grab a picture in front of!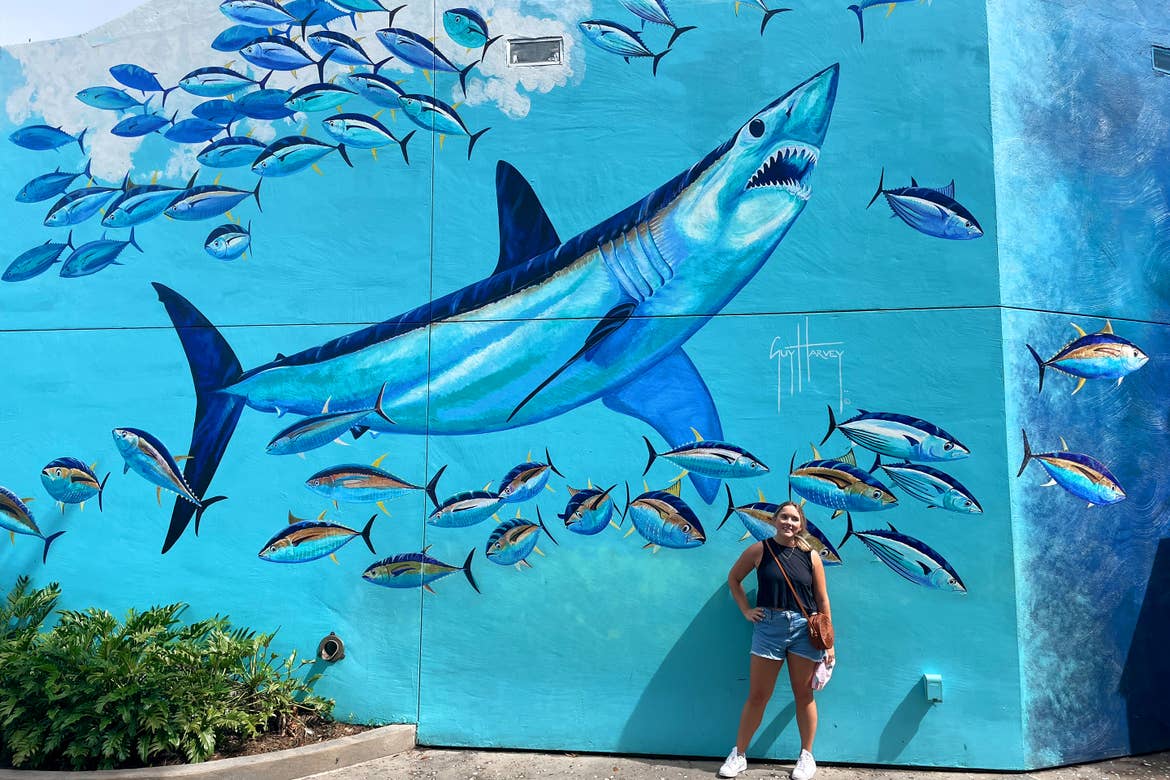 Meeting Manatees
While you're walking all around the park, be on the lookout for the different animal areas you can stroll through.

I particularly loved seeing the manatees, and I was hoping they would notice my hat! 😉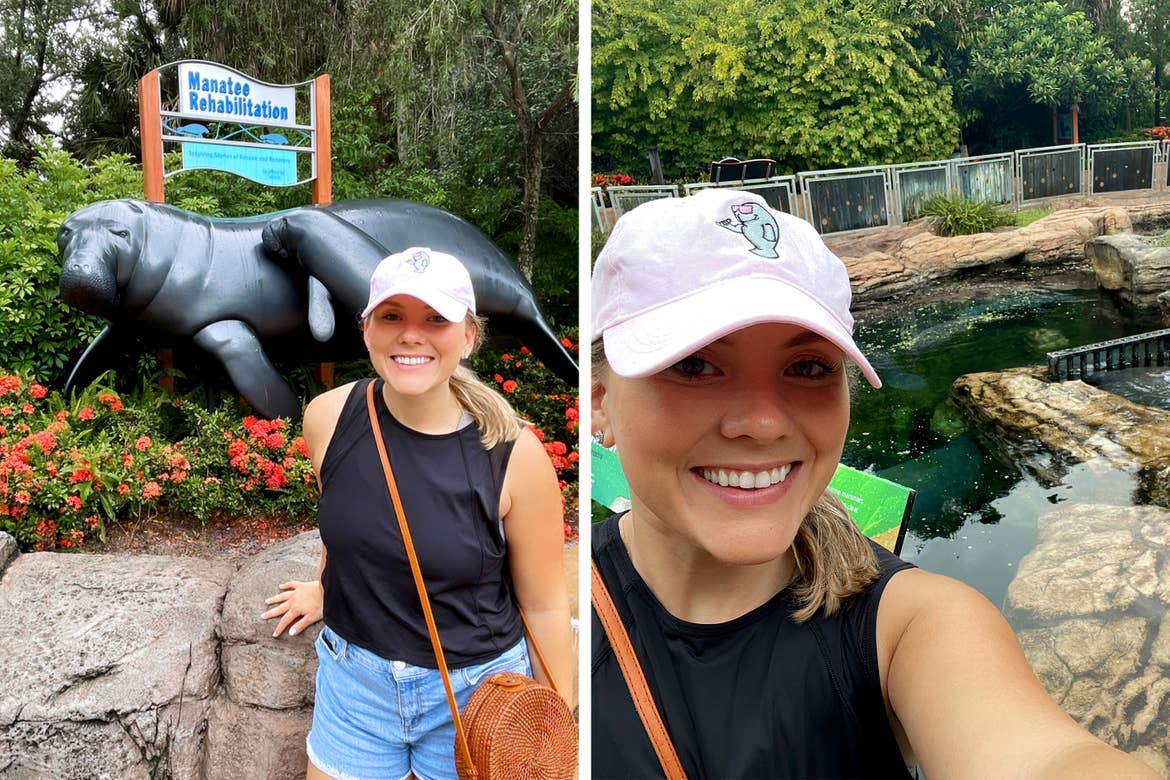 Seeing Dolphins
We also saw dolphins in a few different areas — at the educational presentation, "Dolphin Adventures," and at the Dolphin Nursery, where we were able to get a much closer look.

James even got to throw a toy to one of them!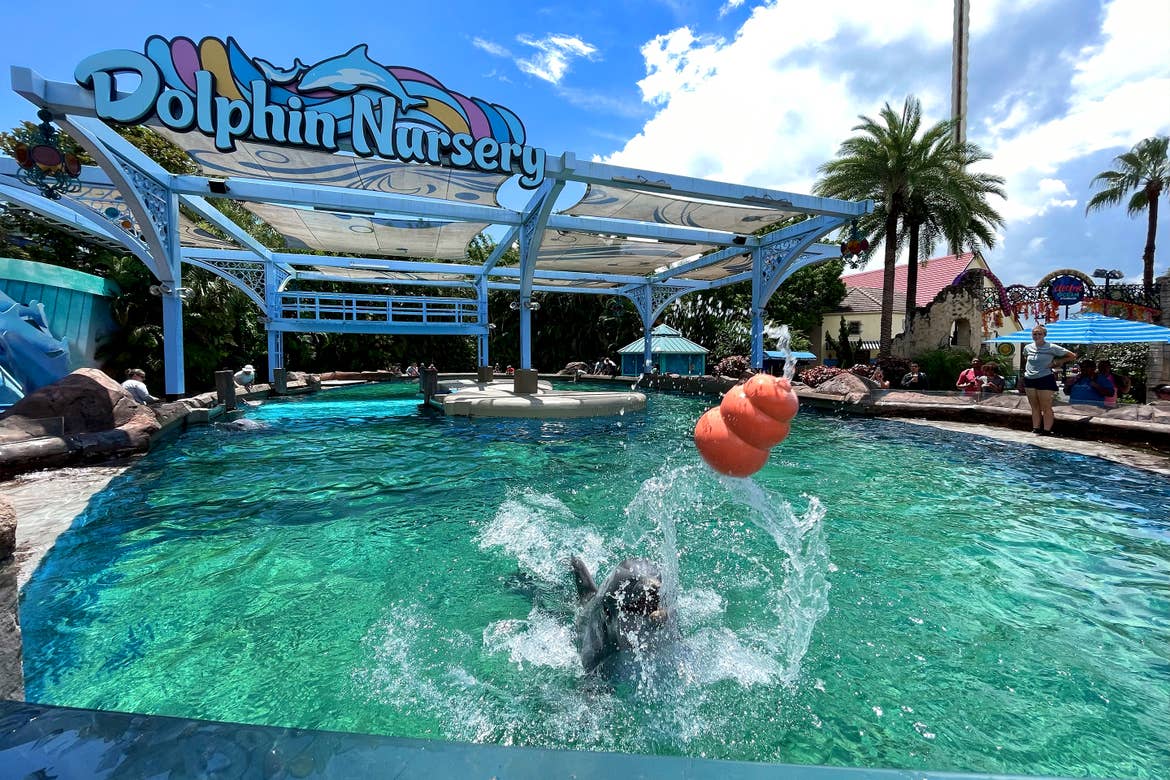 Orca Encounter
Orca Encounter is probably the most well-known educational presentation at SeaWorld Orlando — they really are such beautiful creatures!

This presentation was a great mix of entertainment and education where I got to learn all about the whales.

Next time, we'll definitely have to sit in the Soak Zone so we can get splashed!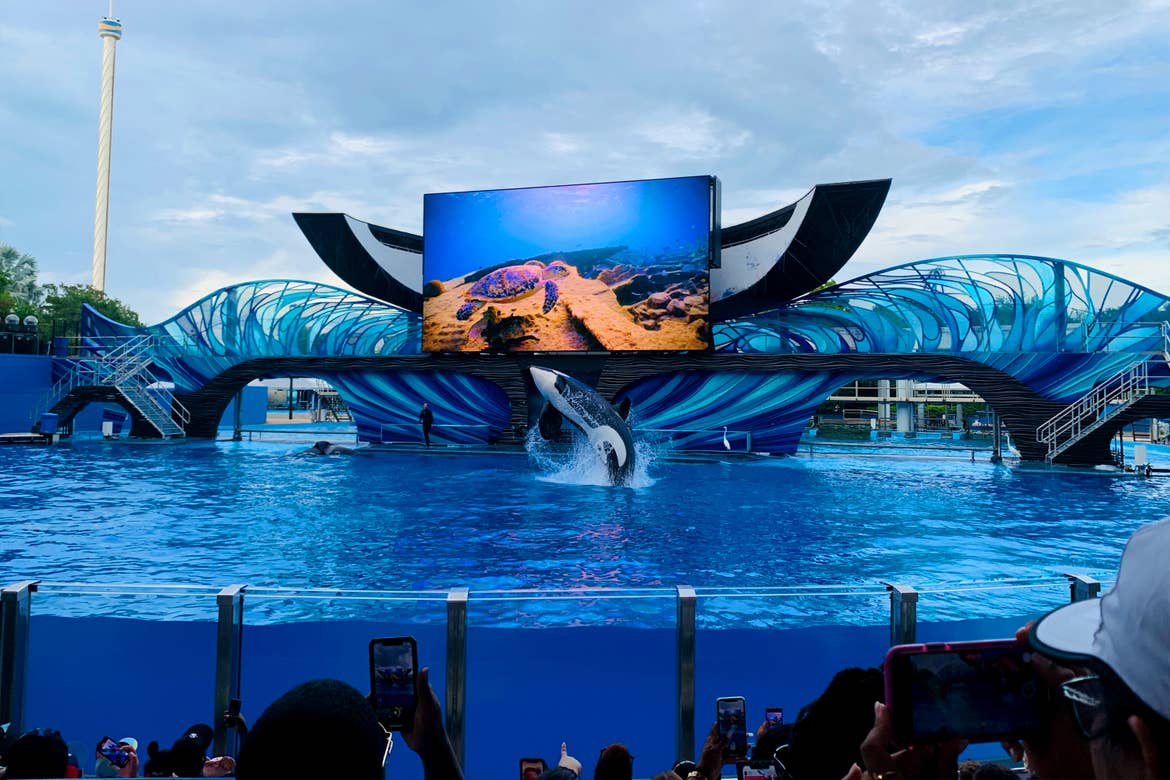 Petting the Stingrays
This was an amazing experience! I've never been so close to stingrays before, let alone had the opportunity to touch one.

There's a team member around to help talk anyone through it if they're feeling nervous, and to just tell you more about these animals and how they care for them.


A Walk Down Sesame Street Land™
I can't say I watch Sesame Street very often these days, but we, of course, had to walk through the new Sesame Street Land just to see it!

This was such a fun section and is great for family theme park trips with young children.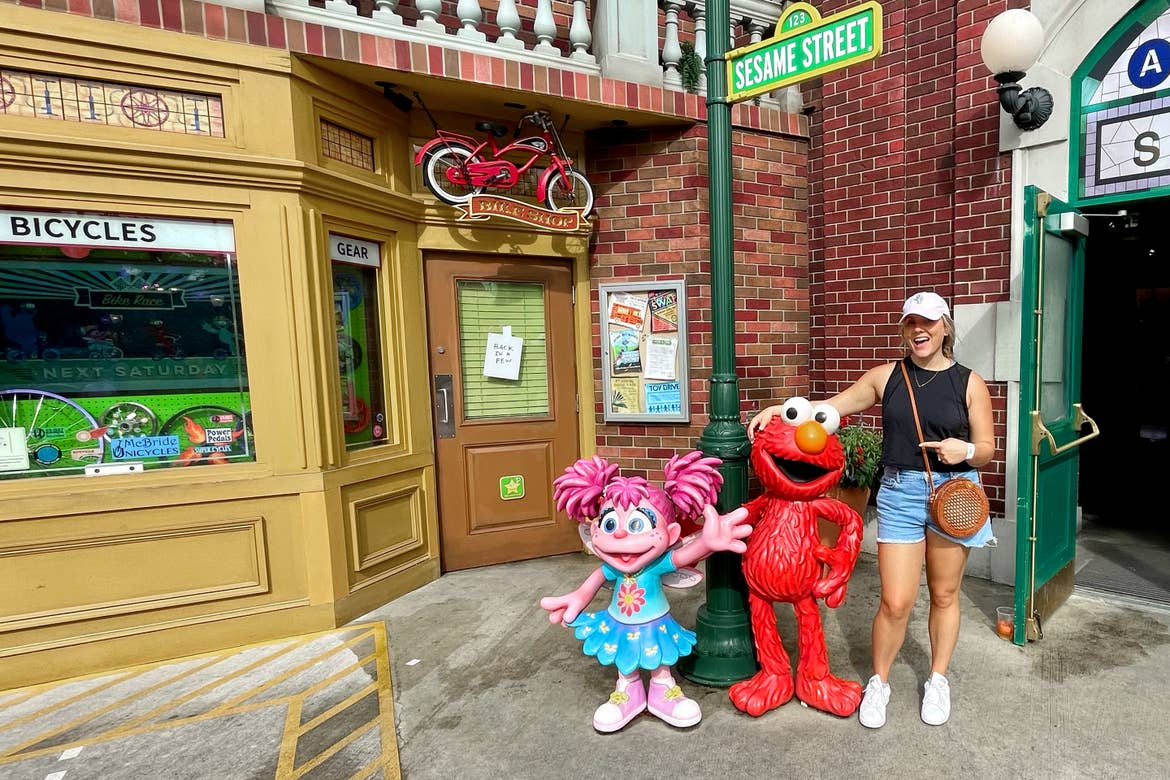 SeaWorld Photo Spot: Don't forget to grab a pic with Elmo as you're walking down Sesame Street!


SeaWorld Orlando Roller Coasters
Like I mentioned before, SeaWorld Orlando has some epic roller coasters and water rides for anyone who's looking for more thrills during their visit.

We were able to hit a few while we were there, and it was awesome that most of the rides only had around a 10–20-minute wait.


Manta
SeaWorld Orlando's Manta is the park's newest roller coaster, and it's pretty unique because you lay on your stomach — it's a ride that's truly unlike anything I've ever been on!

I totally get the hype and why so many people go crazy for it. This ride had the longest wait at about 60 minutes.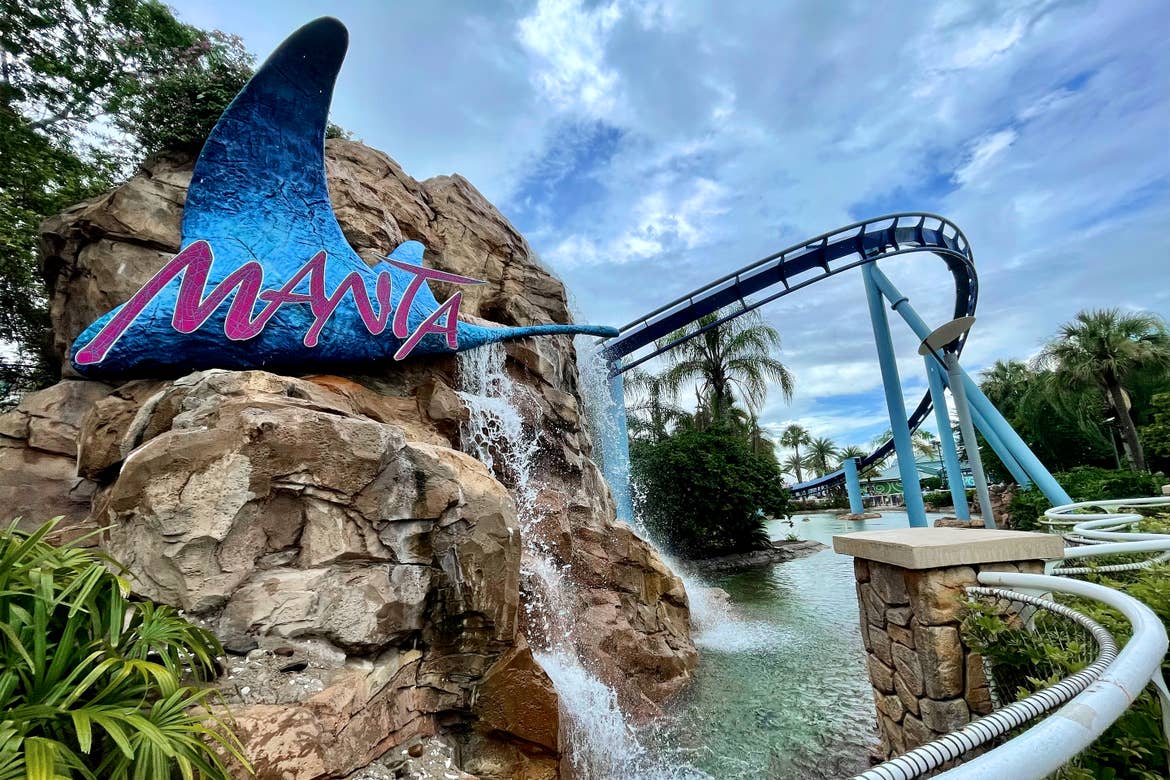 Kraken & Mako
We also rode Kraken and Mako, which were really fun, more standard, shorter roller coaster rides.

These are great options for anyone who isn't a huge roller coaster person or even for younger kids who are just starting to ride them.

The waits for both of these were only about 20 minutes — not bad at all!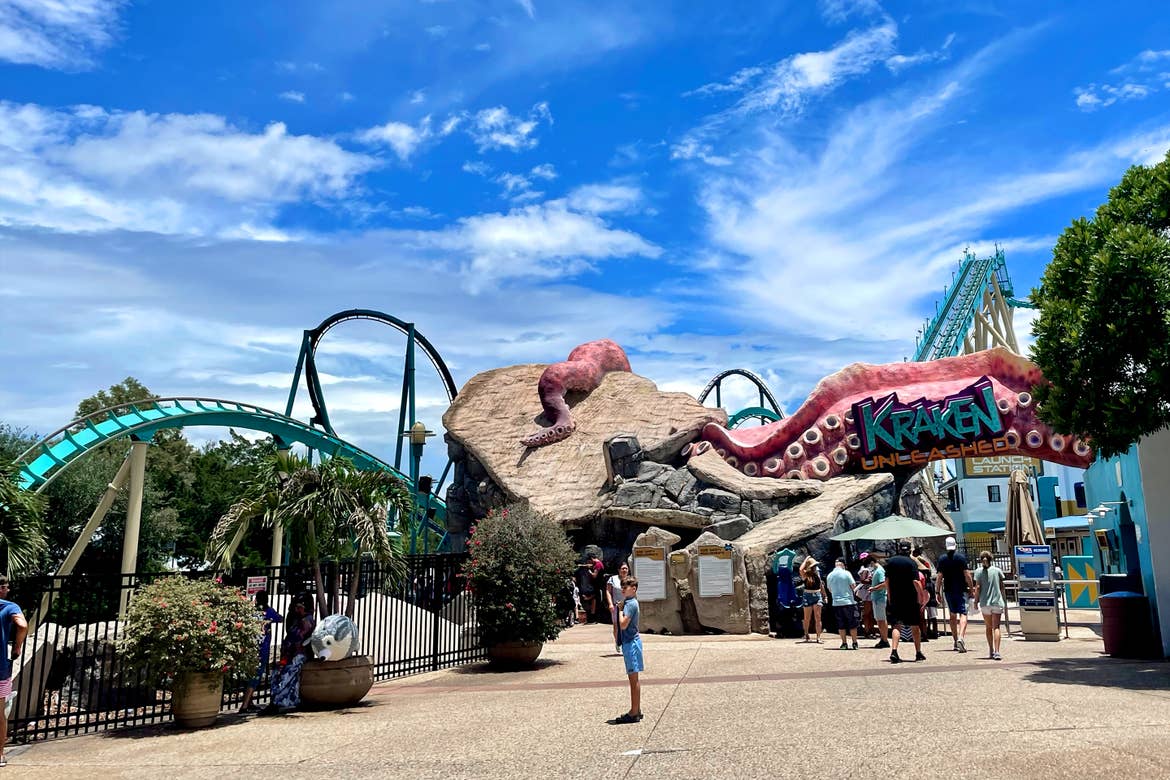 SeaWorld Orlando Water Rides
When you're in Florida in the middle of summer — water rides are a must!

We hit up the park's two main water rides, Journey to Atlantis and Infinity Falls (its river rapids ride). Such a nice way to cool off during the day!

Pro Tip: If it ends up raining during your visit — like typical Florida weather is known to do — wait it out! Usually, it'll pass, but if it doesn't, enjoy it!

Rainy Orlando days tend to be great theme park days, too, with fewer crowds. And you're already wet, so why not take advantage of all those fun water rides?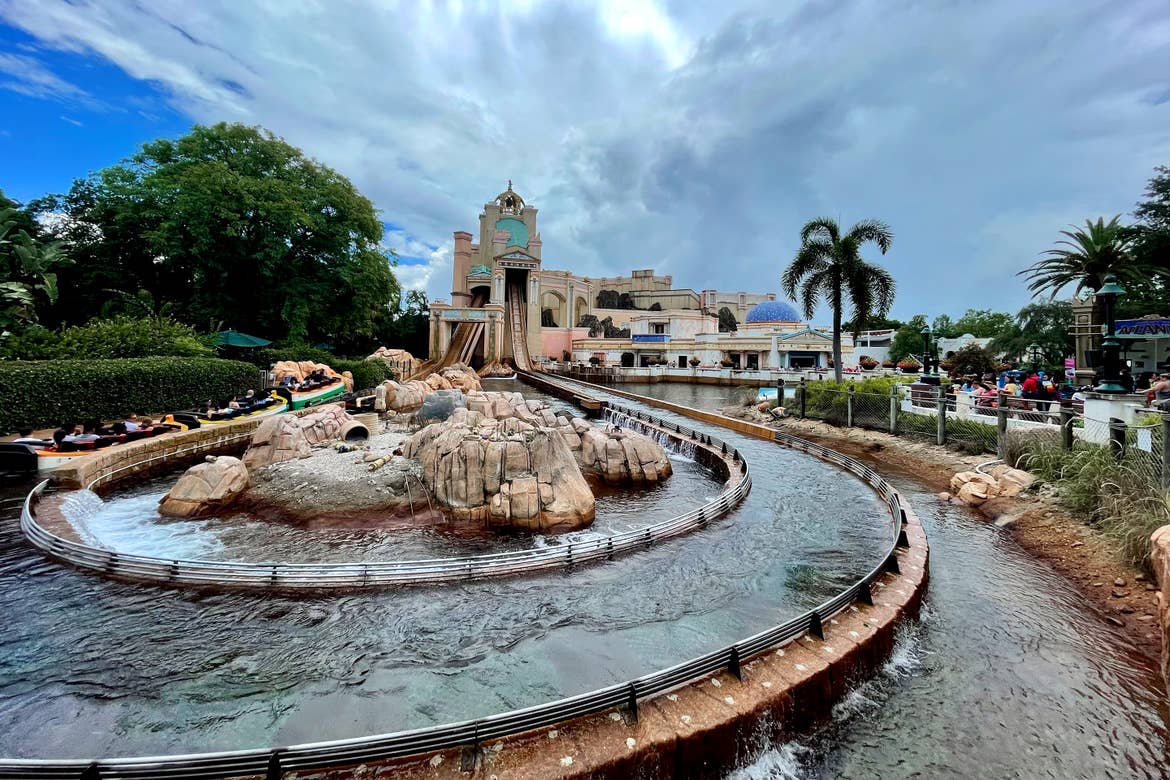 Dining at SeaWorld Orlando
One other thing we loved doing during the day was eating (because theme parking all day can work up quite the appetite).

We ended up purchasing the All Day Dining pass — a great deal for anyone who's planning to go for an entire day.

For $44.95 per person (plus tax), you can get food and/or a drink every hour just about anywhere in the park.

Needless to say, we definitely took advantage of this deal (as you can see, James certainly enjoyed it!).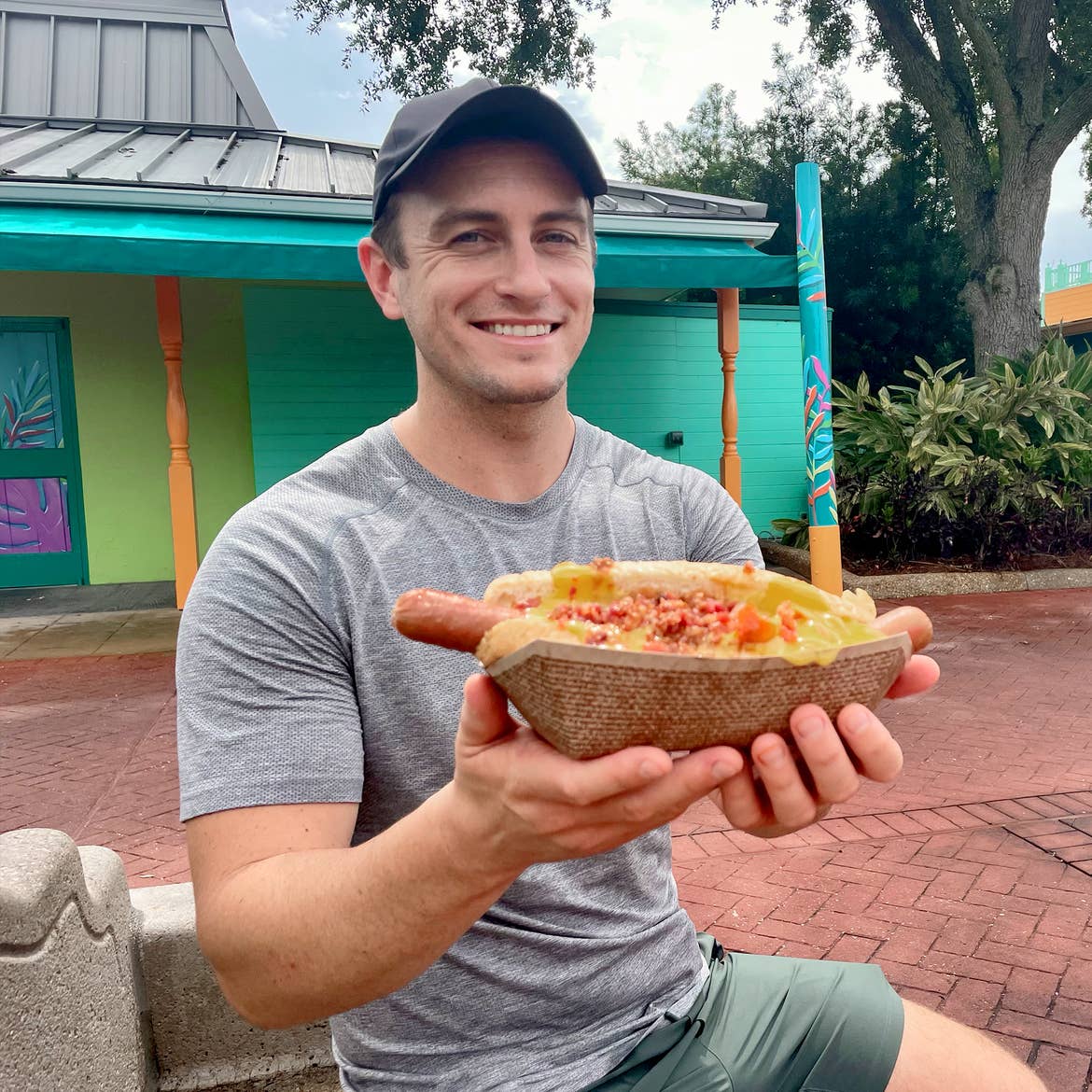 James and the Giant Hot Dog from Captain Pete's Island Hot Dogs


Sharks Underwater Grill and Bar
One of the coolest restaurants we stopped in was Sharks Underwater Grill and Bar, which was just outside of Shark Encounter.

It had an amazing bar area, where there's actually a small fish tank INSIDE the bar!

There's also a massive aquarium area in the restaurant, so you can see real sharks and fish swimming around while you eat.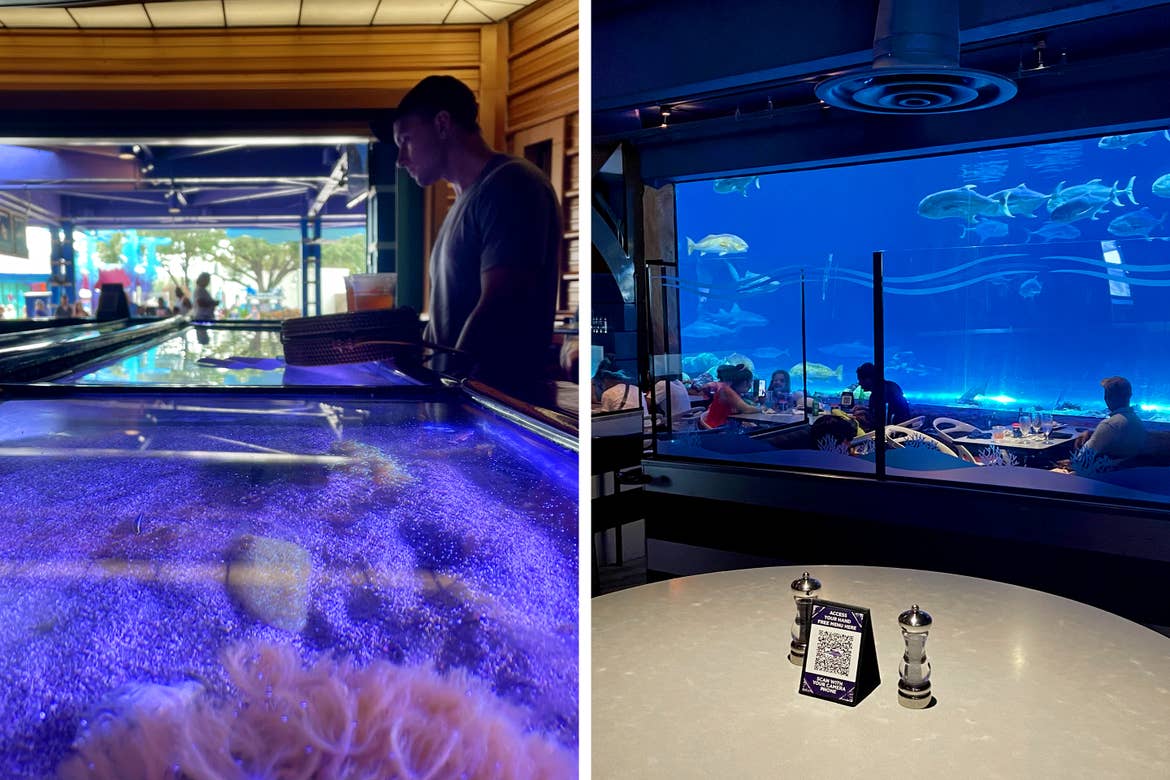 Lakeside Grill
For dinner, the weather was perfect to sit outside, so we grabbed a bite at Lakeside Grill. This waterfront restaurant had delicious food and beautiful views — the perfect way to end our day.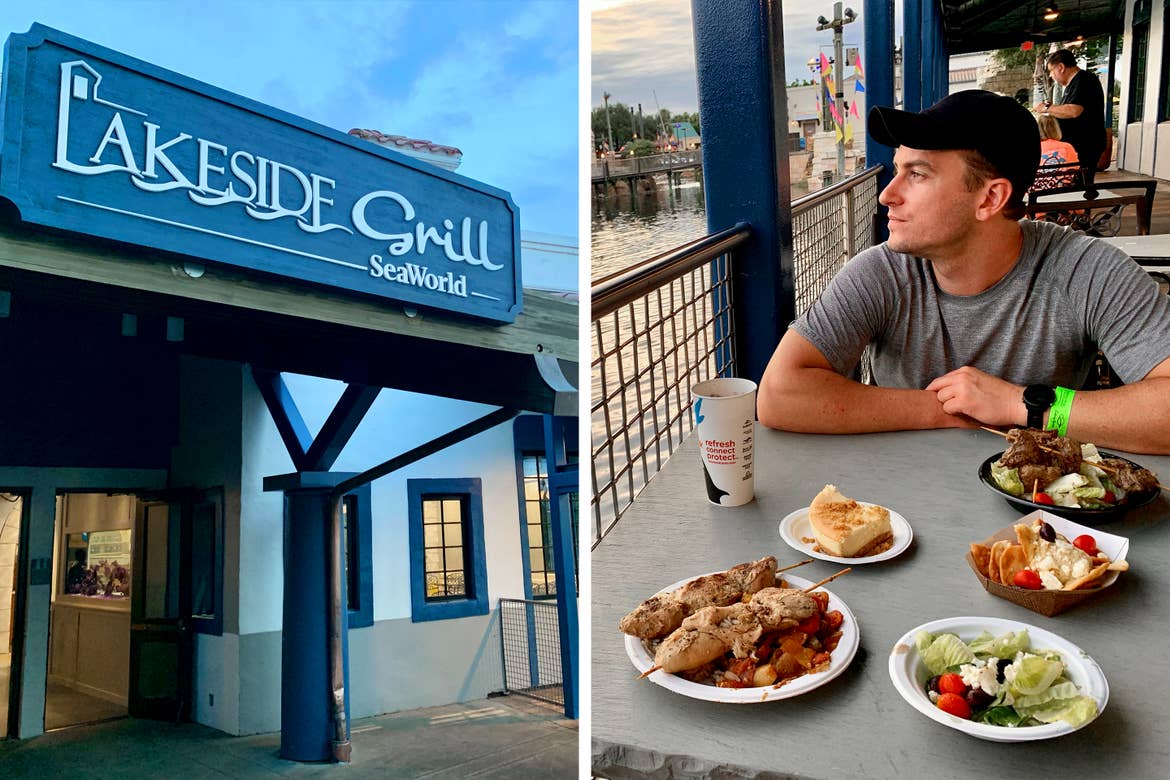 Shopping at SeaWorld Orlando
We also walked through some of the different shops just to browse and see the souvenirs they had. James helped me pick out some adorable stuffed animals for my nieces and nephews!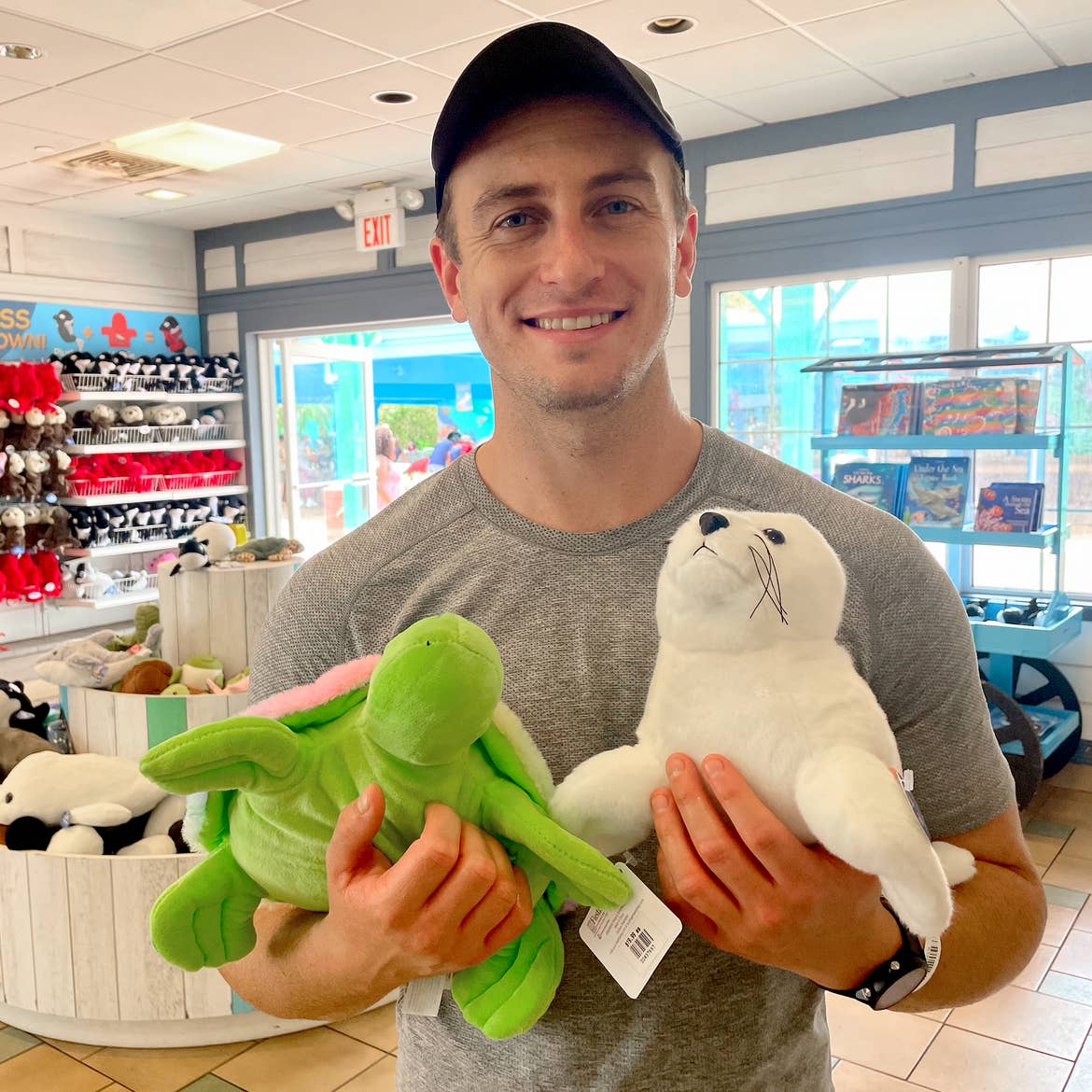 Couldn't leave without the cutest souvenirs from Coconut Bay Traders


Where to Stay Near SeaWorld Orlando
I'm lucky enough to live where most people vacation, but if you're someone who's just visiting Orlando, I couldn't recommend Orange Lake Resort and Orlando Breeze Resort enough.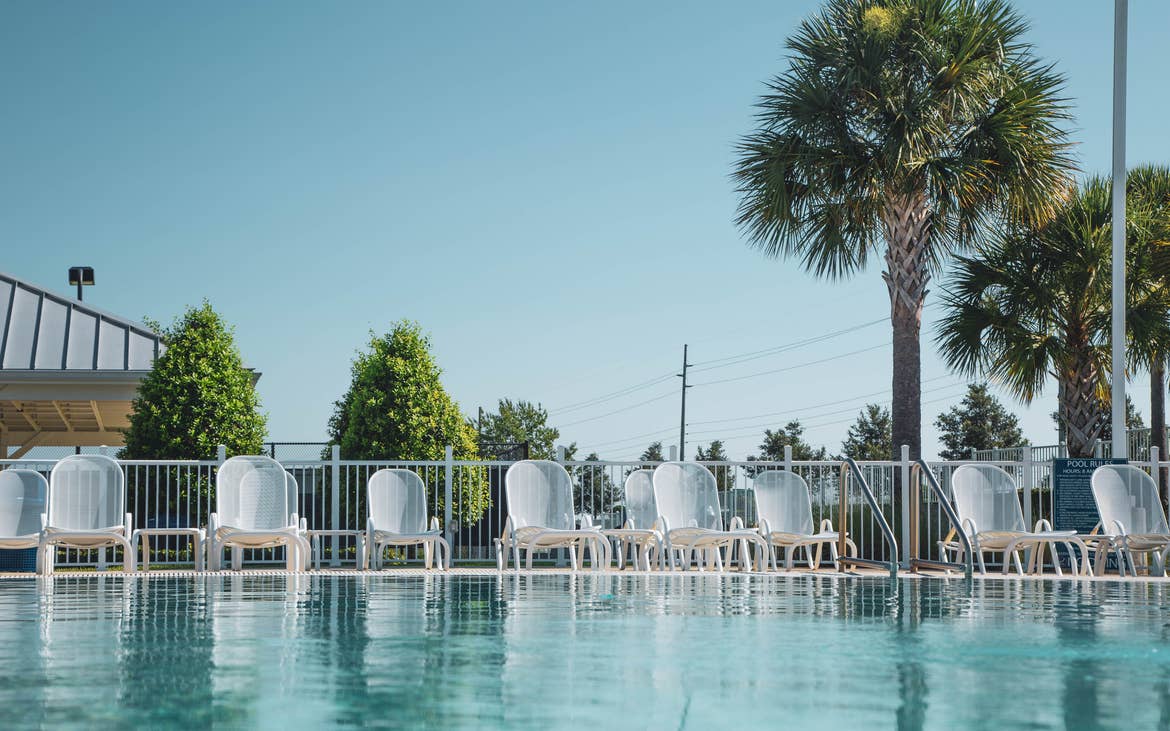 Hit up the pools at Orlando Breeze Resort and soak up the sun after your theme park day.

Both are just a short drive to SeaWorld Orlando, and there's plenty to do right on property for the days you're not at the park (as well as tons of nearby outdoor activities you can do aside from theme parks).



The cabanas in North Village at Orange Lake Resort make a great spot to kick up your feet after your underwater adventures.

It helps to live so close, but if you're someone who will just be visiting Orlando for a short time, I would highly consider making it a priority to hit up this theme park!

Overall, we had an awesome time at SeaWorld Orlando, and I can't wait to go back!

There are a few things we didn't get to do, but those are just things I can add to my list next time we visit.

Who knows, maybe we'll end up buying Annual Passes. 😉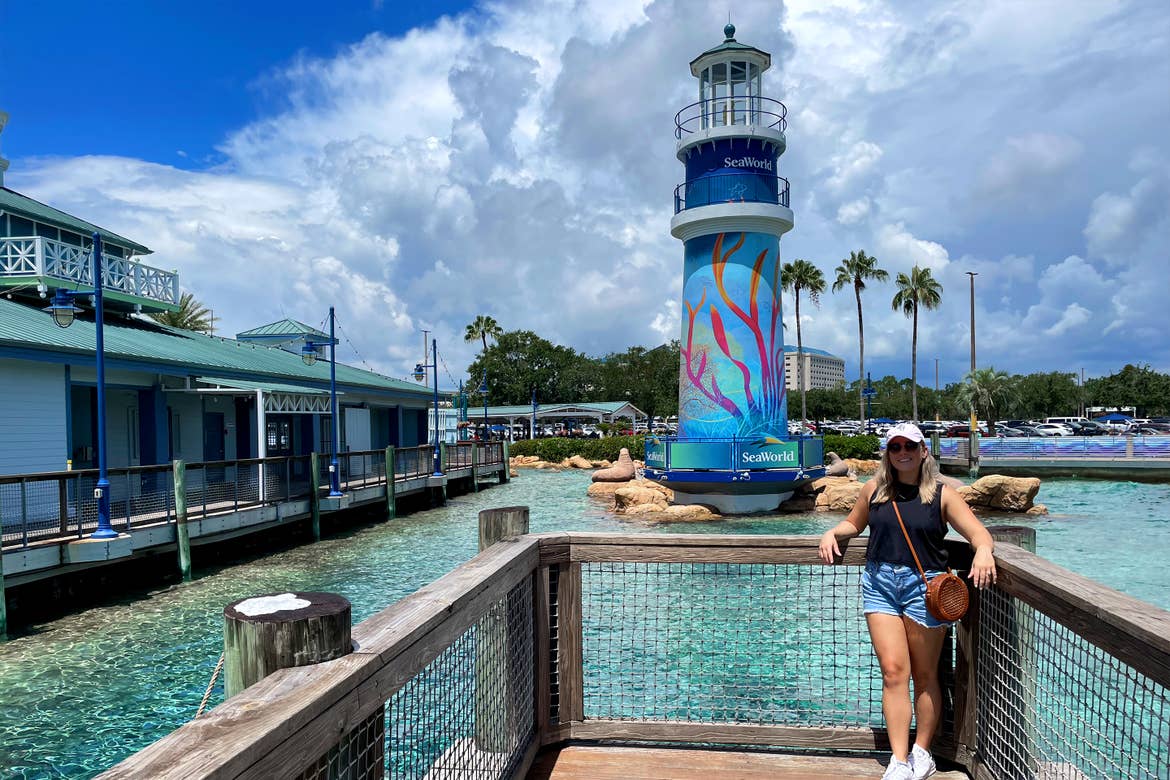 All information is subject to change. This article is a curated guide and is neither sponsored nor considered an official endorsement. Please be sure to check information directly with any/all tours, guides or companies for the most up-to-date and direct details.