Tori Ferrante
Tori is a writer and editor for the Checking In travel blog. She's a wine lover, dog mother and adventure seeker who revels in finding those little-known, hidden gem spots. Her travel niche includes super budget-friendly, couples weekend getaways, and her absolute favorite vacations are the ones where she gets to explore new places with her husband, Brooks, and her fur son, Deagon.
Orlando may be known as the Theme Park Capital of the World, but when it comes to microbreweries, it also tops the list of best cities for some pretty great barley pops.

And if you're looking for the best breweries in Orlando for families, you've struck pilsner-colored GOLD!

My husband, Brooks, and I have been to most of Central Florida's breweries, and I can certainly guide you to the best local spots where you can kick back with your favorite craft beer, play games with the kids and spend quality family time together.

So, whether you're here for a fun family Disney vacation, visiting friends or family in the area, looking for your new favorite watering hole—or perhaps a hoppy way to celebrate St. Patrick's Day?—check out our list of the best family-friendly breweries in Orlando.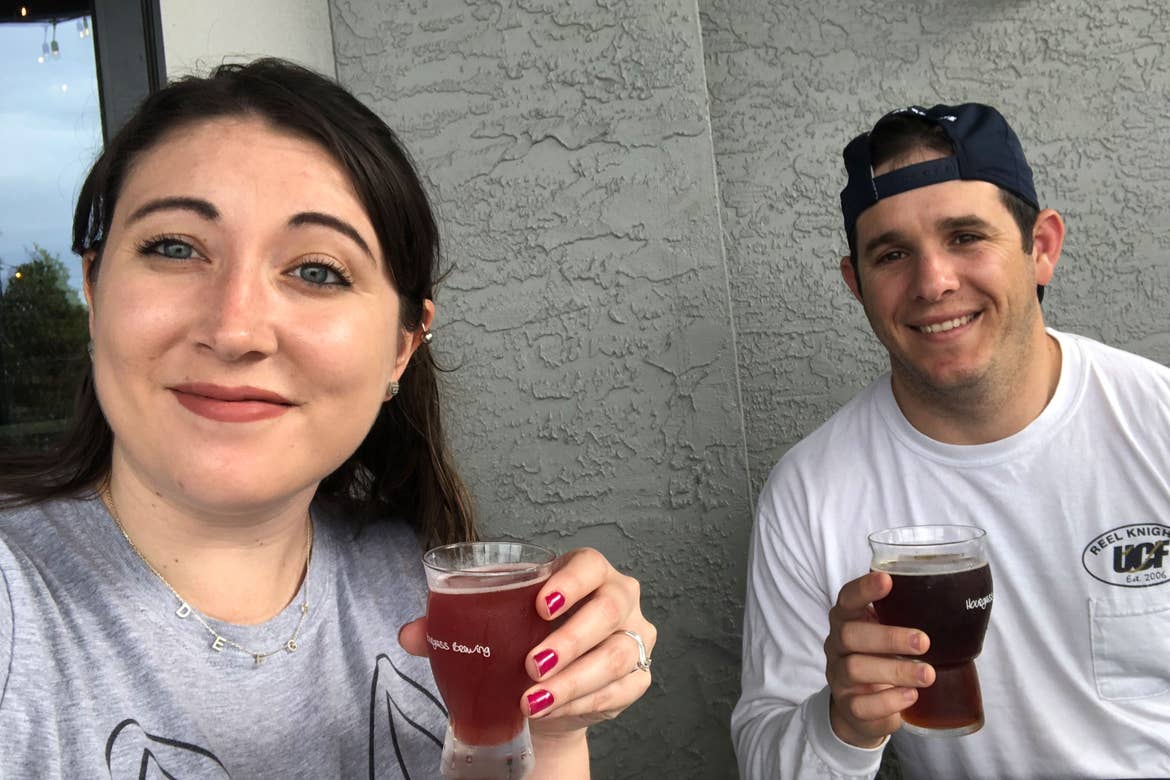 Our Brewery Ranking System
Brooks is a huge craft beer nerd; he's even got a beer blog where he rates all the different ones he's tried. As his editor-in-chief, I get to try them all, too (wife win!).

Our ranking system for each brewery includes a few factors. Everyone likes different things, so while you may be looking for Orlando breweries with kid-friendly things to do nearby, someone else may be searching for a place with a wide variety of beer styles.

So, we take into account:
Location
Family-Friendly Atmosphere
Beer
Food & Service
Now, this certainly doesn't cover everything, but it gives you a pretty good idea of where you want to spend your time (and money).


Top 7 Family-Friendly Breweries in Orlando
While you really can't go wrong with any of these Orlando breweries, I've ranked them in order based on my own experiences and how family-friendly they are.


7. À La Cart
Let me preface by saying: À La Cart is NOT a brewery—but it IS a really unique spot to drink craft beer and hang out with your family.

It's more like a "social dining experience," and I absolutely love it, so I couldn't not include it here.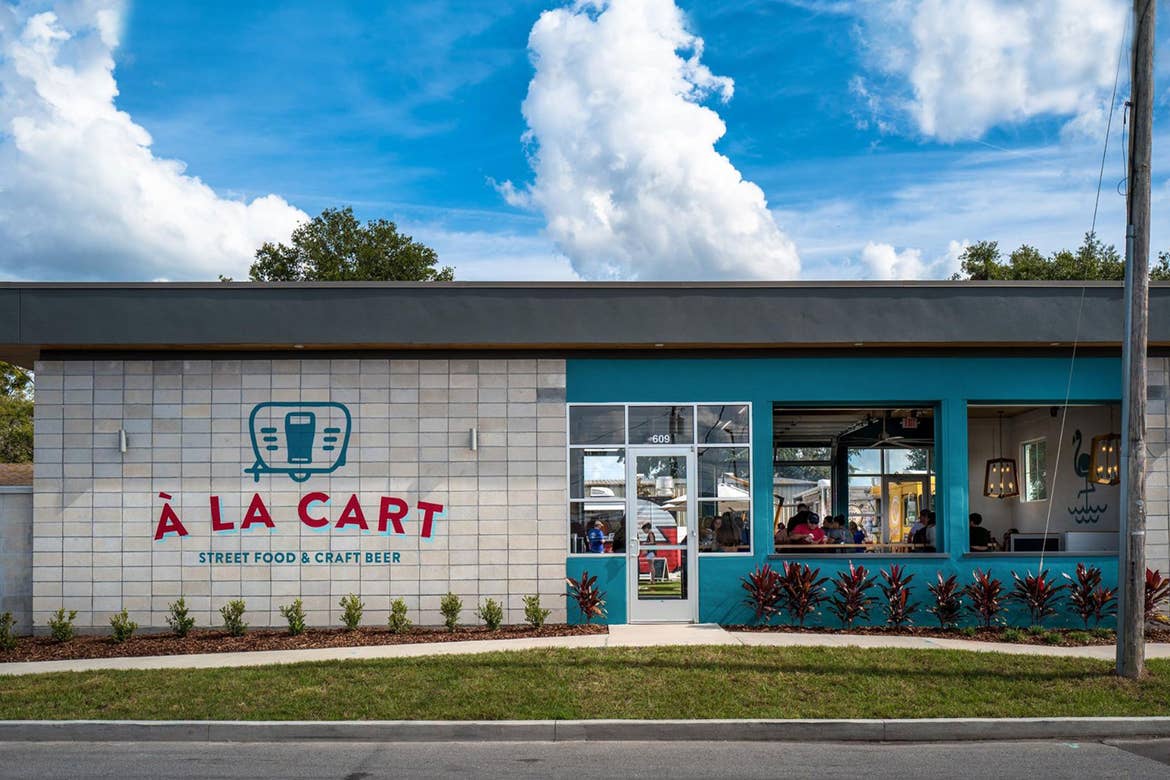 Photo courtesy of À La Cart


Location
À La Cart is tucked away on a side street off of Colonial Drive, almost right in the middle of a bunch of major neighborhoods: College Park, Baldwin Park and Downtown Orlando.

It's right near a big shopping plaza and tons of low-key places to eat. We especially love the authentic Southeast Asian restaurants in Little Vietnam.


Family-Friendly Atmosphere
This spot pretty much combines a food truck park with craft beer. They offer a unique selection of beers from a variety of breweries, along with street food from local food trucks.

À La Cart has both indoor and outdoor seating, but I will advise that it can get busy and crowded here since the space isn't that big.

I would recommend visiting during the weekday or earlier on the weekends to get a good spot with your whole crew.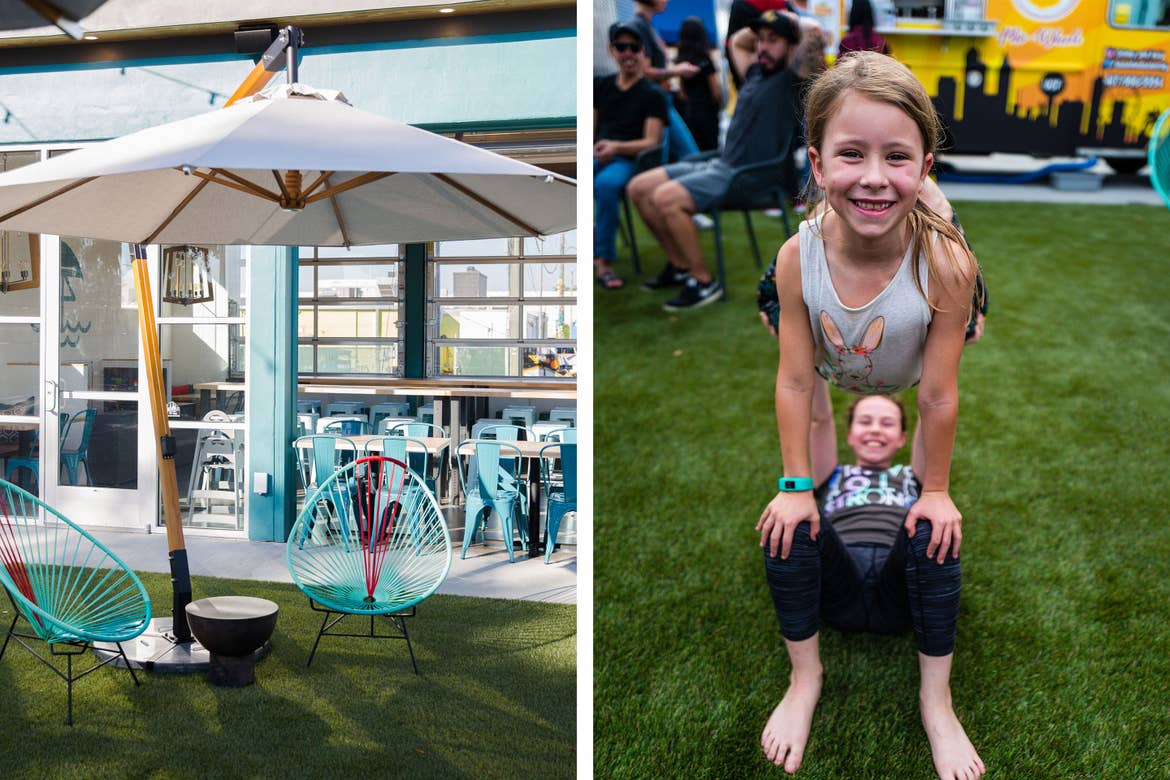 Photos courtesy of À La Cart


Beer
They have a lot of different beer, both on tap and in bottles. Some of it's local, but most of it's from out of Orlando.

They typically only have one or two of each style, but if you're looking to try something unique and different, check out the beers they have here.


Food & Service
I'm sure the food truck offerings are great, BUT my favorite Vietnamese place, Pho Vinh, is a two-minute walk away. So, we always eat there first and then head over to À La Cart for dessert and beer.

I recently had the Dulce Pecado food truck, which basically offers ice cream/waffle concoctions, and I didn't regret it one bit.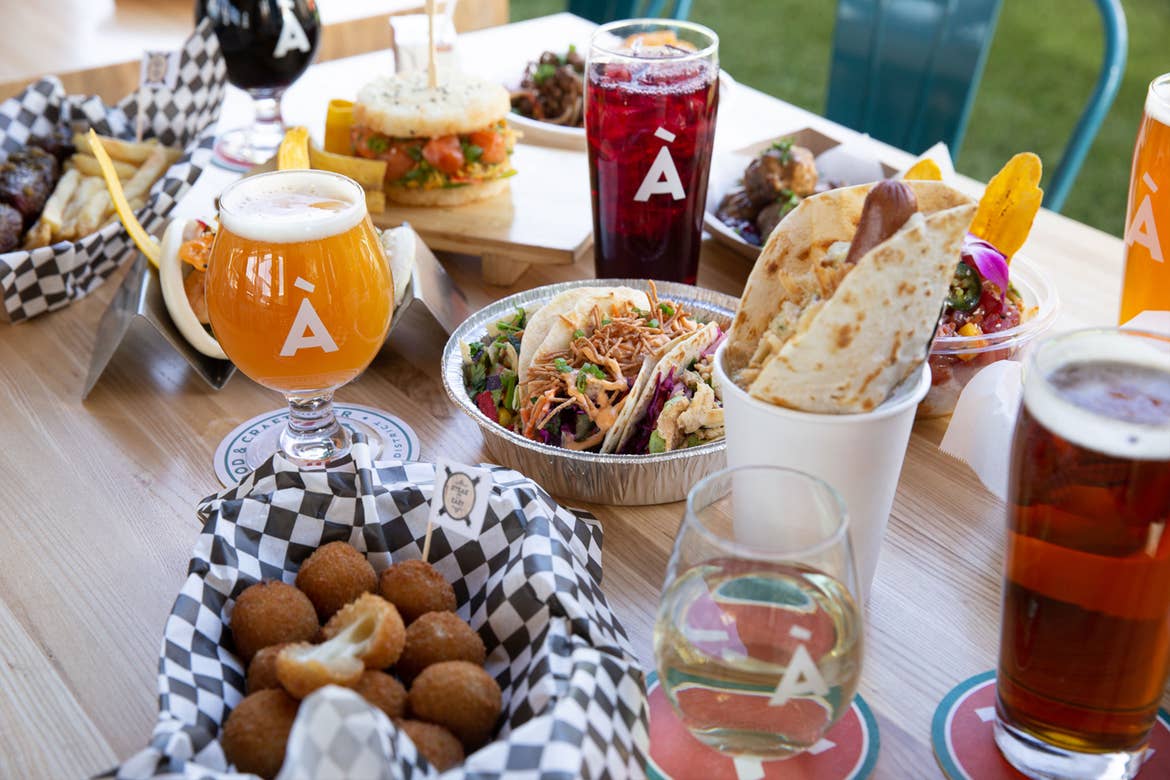 Photo courtesy of À La Cart


Rating
Location: 8
Family-Friendly Atmosphere: 8
Beer: 6
Food & Service: 7
Total (out of 40): 29
6. Hourglass Brewing
Hourglass Brewing has two locations: one in Longwood and one in the brand-new Hourglass District of Orlando.

We've been to both and honestly? They're both pretty great.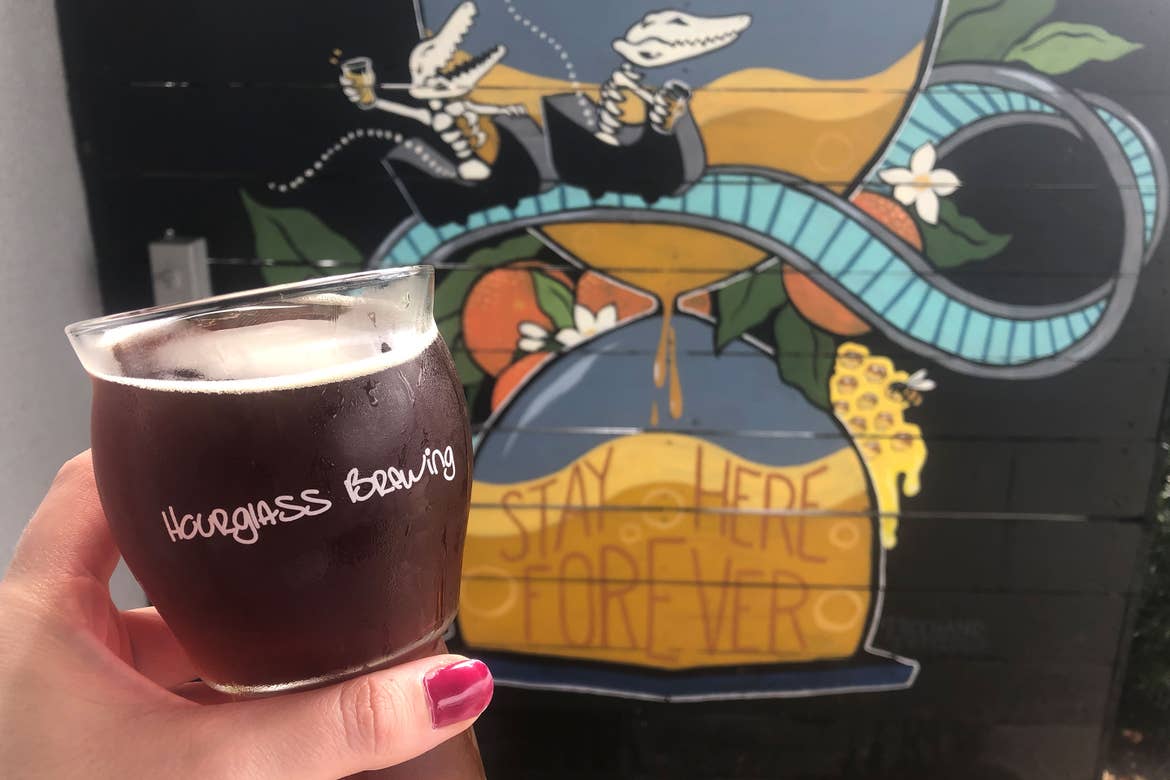 Location
Depending on where you're staying in Orlando, the Hourglass District location (off Curry Ford) is definitely more central to everything.

We prefer that one just because it's closer to our house (and it's right across the street from an awesome little Irish pub called Claddagh Cottage).

Longwood is a little out there and more north of Orlando, but it's near some major roads that are easy to get to (unlike a lot of other Central Florida breweries).


Family-Friendly Atmosphere
Both locations give off hip, cool vibes and have lots of space to spread out with your family.

I like the Hourglass District location a lot because it's got plenty of outdoor seating and lawn chairs. And they have a little booth nook inside with a big table for a larger party.

The Longwood location is definitely bigger inside, but since it's in a plaza, they don't really have much space for outdoor seating.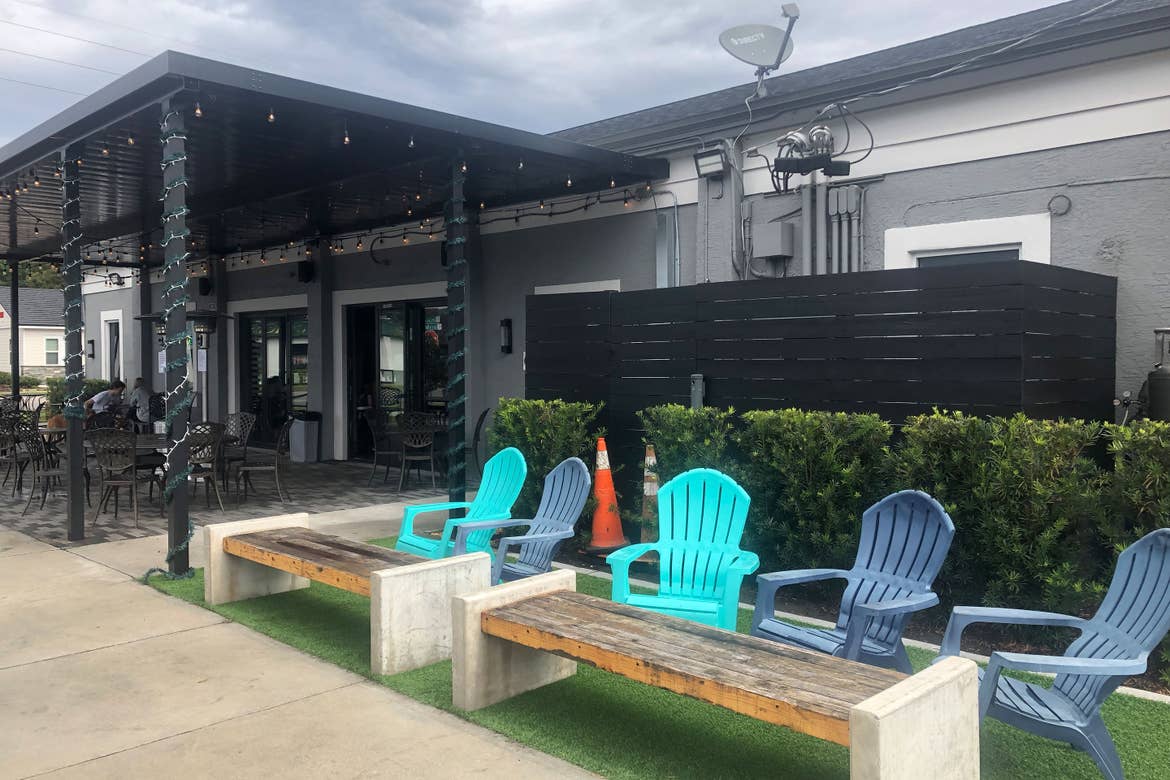 Beer
The main reason Hourglass Brewing makes this list? The BEER.

They've got some of the best variety and best-tasting craft beer around. Just the sheer amount of brewing they do is astonishing.

And if you like sours, they have a whole separate brewery in Longwood called Sourglass, a couple doors down from the main brewery.

They have a ton of rotating taps, but their flagship "Brown Beer, Brown Beer, What Do You See?" is really good. The last time we went, Brooks really liked the Gone Mild English Ale, and I LOVED the 2 Million Bees and Cinnamon Roll Bear.

Pro tip: One of the best ways to try beers at new breweries is to get a flight. While you can usually ask to sample a beer before you buy it, flights allow you to try several (without bugging the bartender for more samples).

It's also worth noting some breweries are not doing samples due to COVID-19. So, again, when in doubt, go with a flight!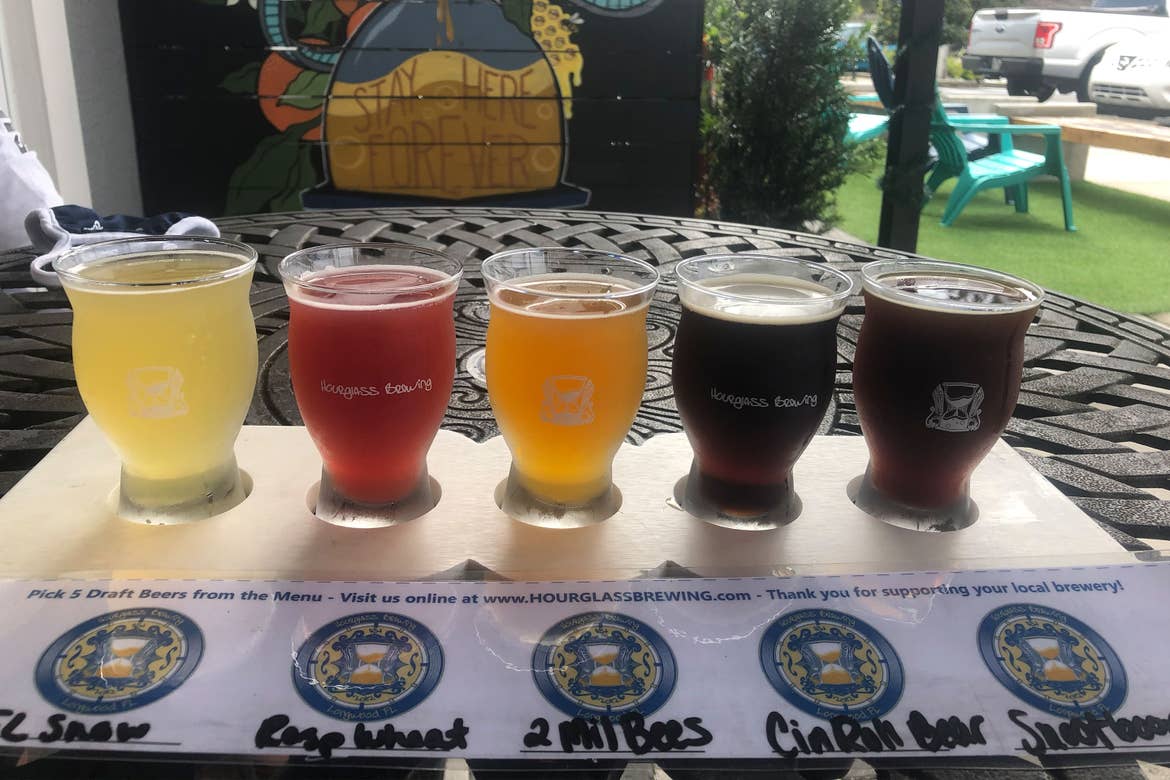 Food & Service
Service is pretty good; the bartenders are quick to notice when your beer is low, which is always great.

If you find yourself in the Longwood location and craving some downright delicious wings, order from Papa Bees a couple doors down.


Rating
Locations: 7
Family-Friendly Atmosphere: 8
Beer: 9
Food & Service: 7
Total (out of 40): 31
5. Ivanhoe Park Brewing Company
Ivanhoe Park Brewing is a great brewery with a cool space and good service, but the main reason this family-friendly Orlando brewery made the list is because it has a prime location.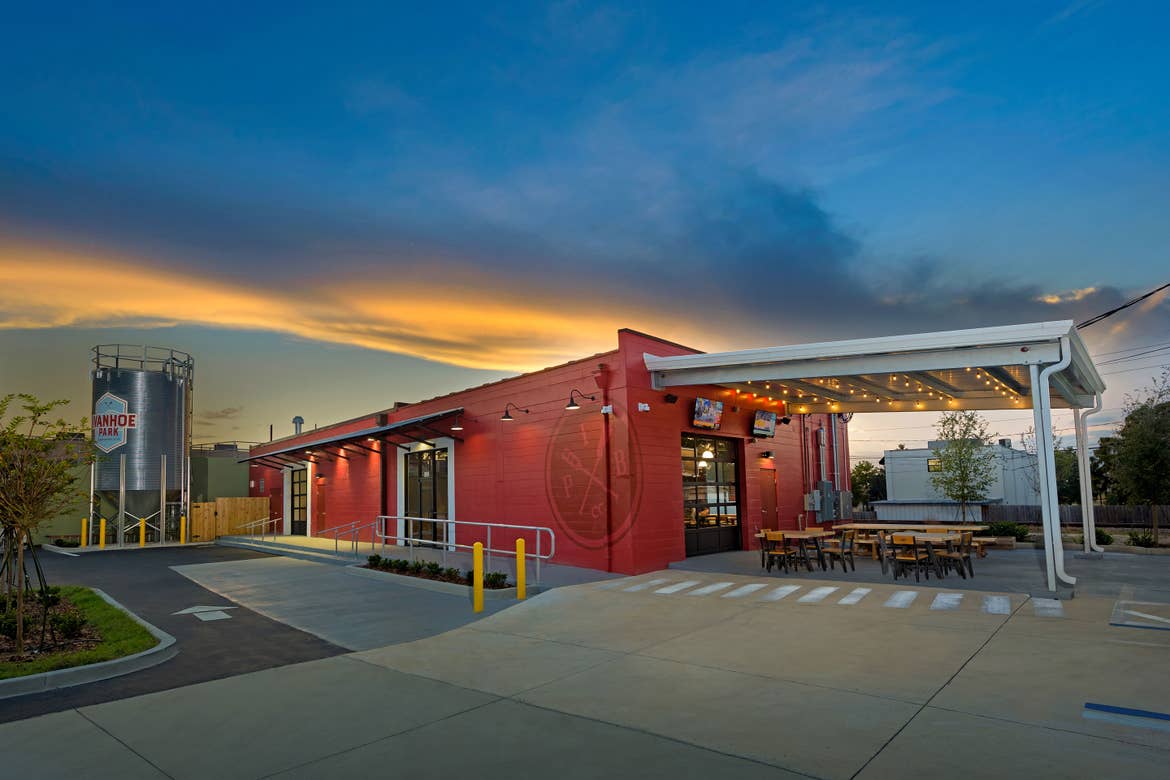 Photo courtesy of Ivanhoe Park Brewing Co.


Location
Ivanhoe Park Brewing is located in Ivanhoe Village, where you can literally spend an entire day with your family exploring the area and add the brewery as just one stop on your itinerary.

Right nearby, you've got the Orlando Repertory Theatre, Orlando Science Center and Orlando Museum of Art—all of which I would highly recommend visiting. (For little ones and teenagers, the Orlando Science Center is a MUST!)

If you've got a babysitter (or someone to take the kids to the science center—hello, grandma and grandpa 😉), be sure to head to The Imperial at Washburn Imports around the corner. It's a super unique cocktail bar inside a high-end, exotic furniture store.


Family-Friendly Atmosphere
The space is pretty cool with a nice ambiance, and they do have outdoor seating where you can spread out a bit.


Beer
The beer here is good, and they have some solid flagships. I specifically like the Joyland (American IPA) and the Bungalow (Belgian Witbier).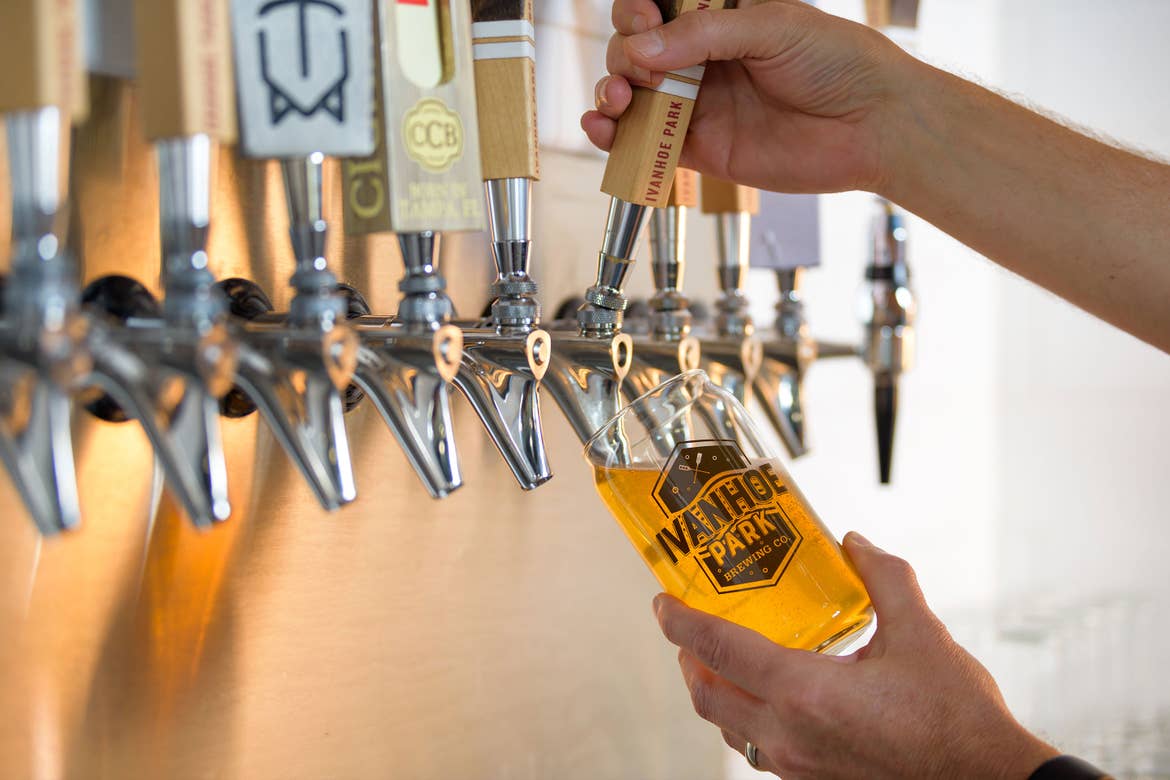 Photo courtesy of Ivanhoe Park Brewing Co.


Food & Service
The bartenders at Ivanhoe Park Brewing are really friendly and knowledgeable.

And there are so many incredible places you can drive to and eat nearby. Some of our personal favorites are Santiago's Bodega, Firebirds and Hawkers.

There's also another good brewery, Ten10 Brewing Company, right around the corner.


Rating
Location: 10
Family-Friendly Atmosphere: 7
Beer: 7
Food & Service: 7
Total (out of 40): 31
4. Tactical Brewing Co.
Tactical Brewing is owned and operated by veterans, and from the minute you walk in the door, you can tell that they love two things in this world: 1.) our country and 2.) GREAT craft beer.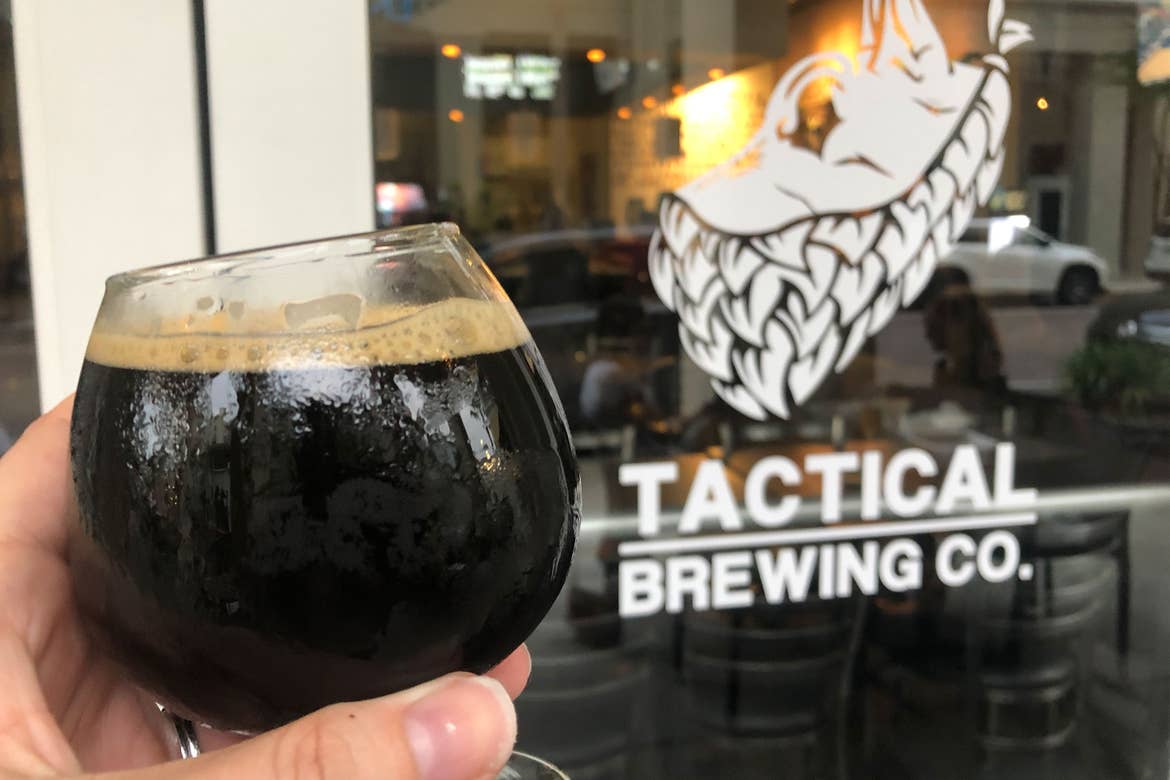 Location
Tactical is located right in the heart of Baldwin Park, where you can also spend a day just exploring the area.

Baldwin Park is amazing for outdoor family adventures in Central Florida, where you can bike, walk, kayak, picnic and watch the kids run around on the playgrounds.

Other places nearby? Leu Gardens, where you can stroll through gorgeous greenery. The Winter Park Scenic Boat Tour, where you can cruise around Lake Osceola and learn about the area. And ax throwing, where you can have a blast seeing who can get the highest score.


Family-Friendly Atmosphere
Since they're located in a strip of shops and restaurants, they don't have a ton of space compared to other Orlando breweries, but they do have both indoor and outdoor seating.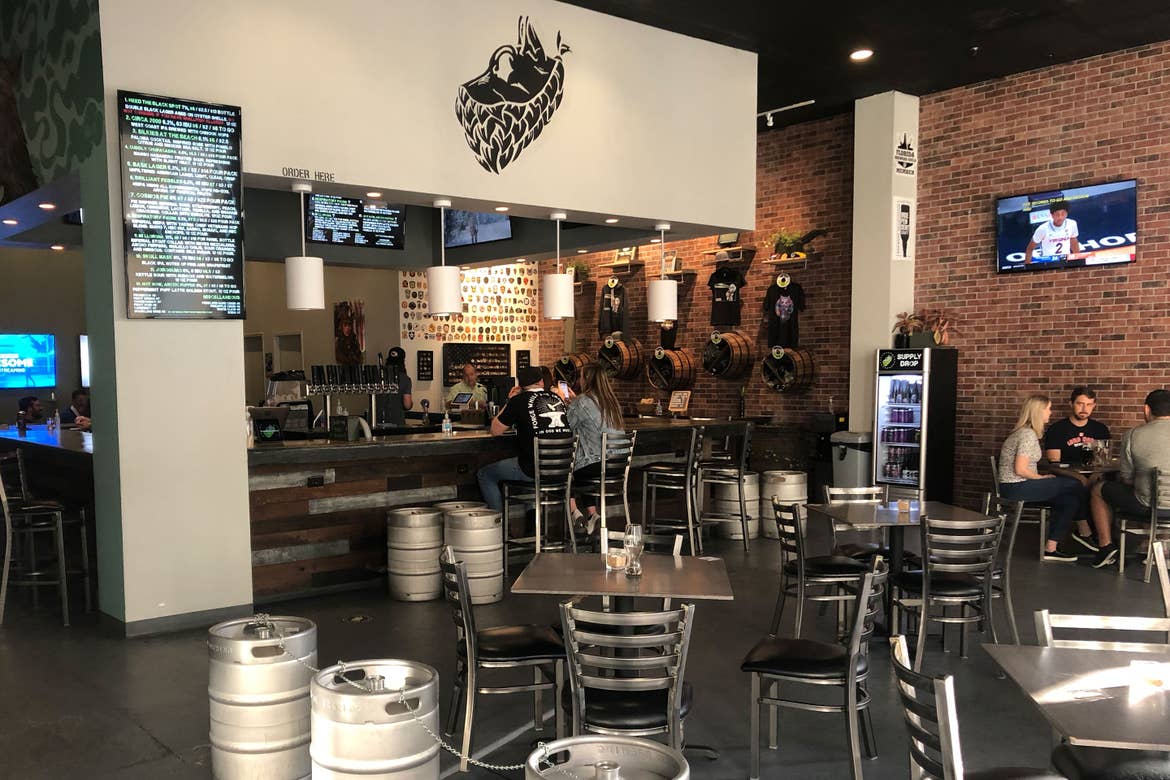 Beer
Tactical Brewing has such a good selection of expertly crafted beers (many are usually on the stronger side above 7% ABV). I LOVE that they rotate in some super unique, sweeter selections and that they're always experimenting with new flavors.

They used to have a strong carrot cake IPA that was one of my favorite beers of all time. That one's no longer there, but they still have other options like the "Not Now, Arctic Puffin," which is a peppermint puff latte golden stout. (A+ on that one.)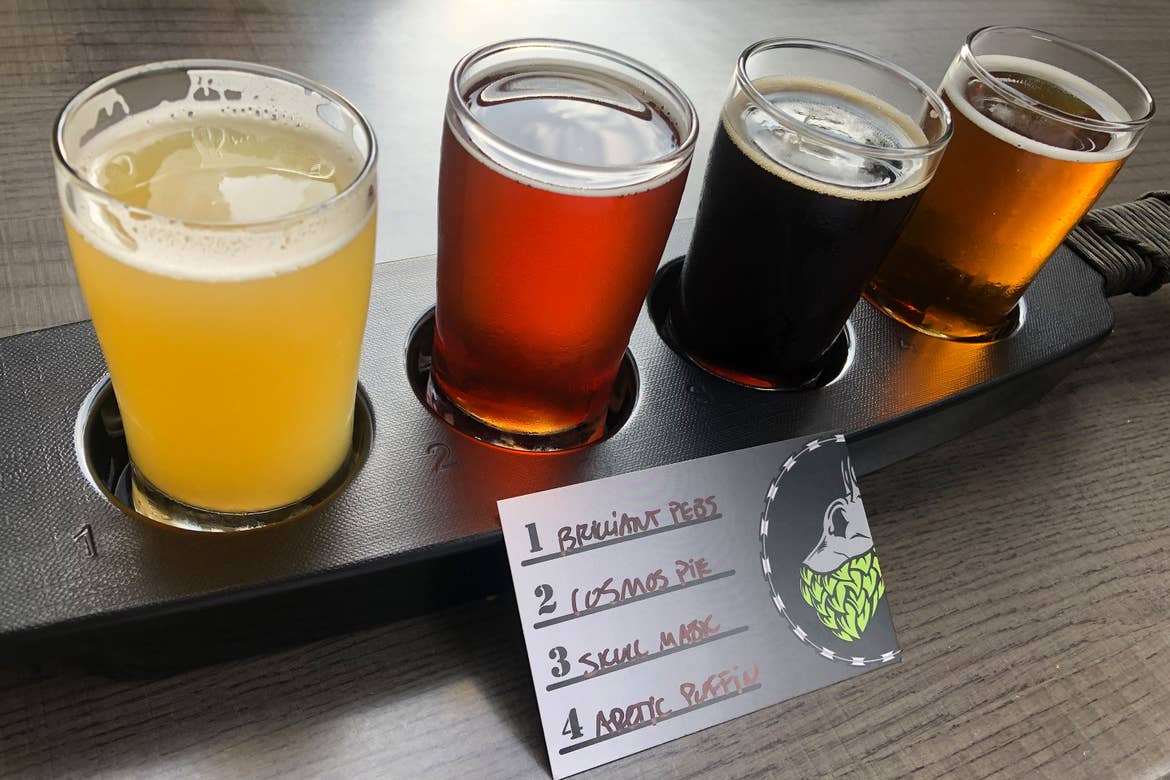 Food & Service
The service is pretty good here and, since the bar area can fill up fast, I like how they have a designated spot where you can order your beer.

There are also plenty of places to grab food within walking distance. Gator's Dockside is our typical go-to (we're big on wings), but they also have high-end options, pizza, sushi, a Five Guys and more.

Got a sweet tooth? Tactical Brewing is literally right down the street from the best cookies you'll ever have in your entire life—and I'm NOT exaggerating.

You'll find them at Gideon's Bakehouse in East End Market, just a five-minute drive away.


Rating
Location: 10
Family-Friendly Atmosphere: 7
Beer: 9
Food & Service: 7
Total (out of 40): 33
Another Pro Tip: Most breweries usually offer board games, and some have video games, but with COVID-19, they may not have them out right now.

I would highly recommend bringing fun family board games to play while you sip on your brews. When we visit with our nieces, we like to bring Candy Land, kids' Monopoly, Apples to Apples, Heads Up, Connect 4 or Jenga.


3. Rockpit Brewing
Rockpit Brewing is actually my top favorite brewery in Orlando because it has nearly everything you could ever hope for in a craft beer spot: good food, great service and downright delicious beer.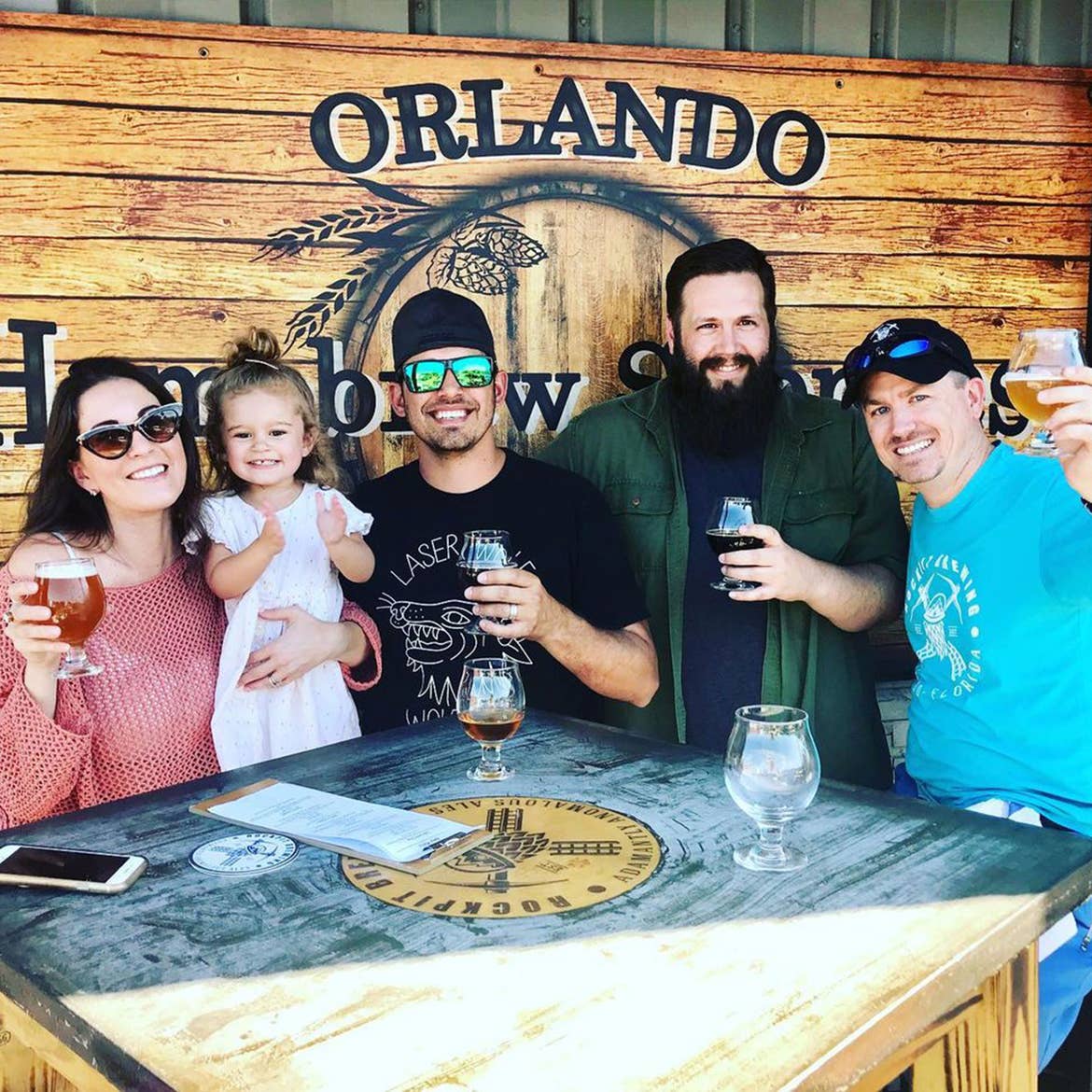 Photo Courtesy of @maltymaiden, Rockpit Brewing Co.


Location
Rockpit is located in the south downtown (SoDo) district.

It's not exactly in walking distance of a ton of places (and the traffic can get bad in this area), but luckily, you don't really need to leave the brewery to have a good time here (more on that below).

Since they're right off the outskirts of downtown Orlando, if you're looking for things to do downtown, definitely stop at Rockpit on your way in or out.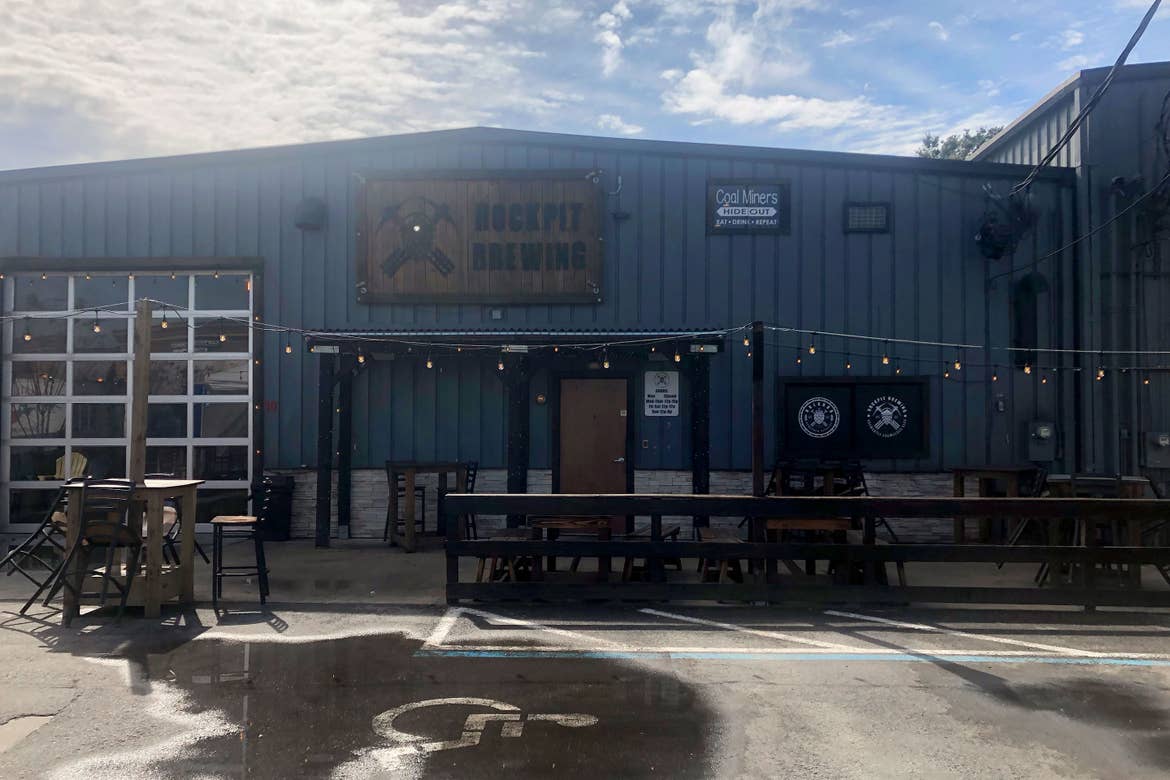 Family-Friendly Atmosphere
I would describe Rockpit's atmosphere as rustic, friendly and lively. I see lots of families with kids come to Rockpit for the ambiance, food, great service and awesome beer.

They also have live music, bingo, trivia nights and special events each month.

Oh, and this is where Brooks and I first tried our hand at ax throwing. They partnered up with a mobile ax-throwing business that comes by on some weekends.

So, you really don't have to leave the brewery to be entertained.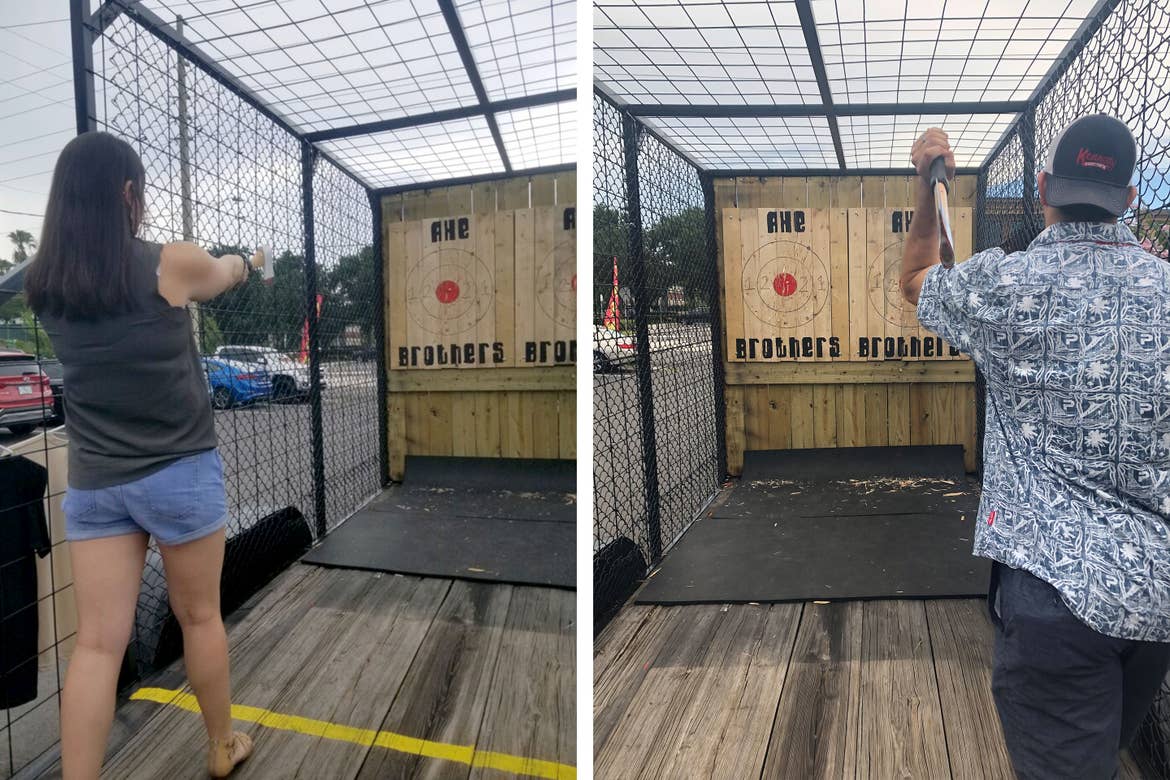 Rockpit has both indoor and outdoor seating, although outdoor is limited. They have large tables that accommodate bigger parties, and they're even expanding to allow for more space, which is great.

My favorite thing to do here is sit outside on the patio with my hubby and my dog listening to live music and drinking a wheat ale.


Beer
I LOVE the beer here. They have a few flagships, but they're always trying new things and rotating taps.

And they're not afraid to experiment with unique combos. I love the Blackstrap Con Leche (sweet milk stout), and they usually have some type of fruity wheat beer that catches my eye.

I was majorly pleasantly surprised when they started dipping into hard seltzers, too. They absolutely knocked it out of the park with the Strawberry Lemonade Rock Hard Water.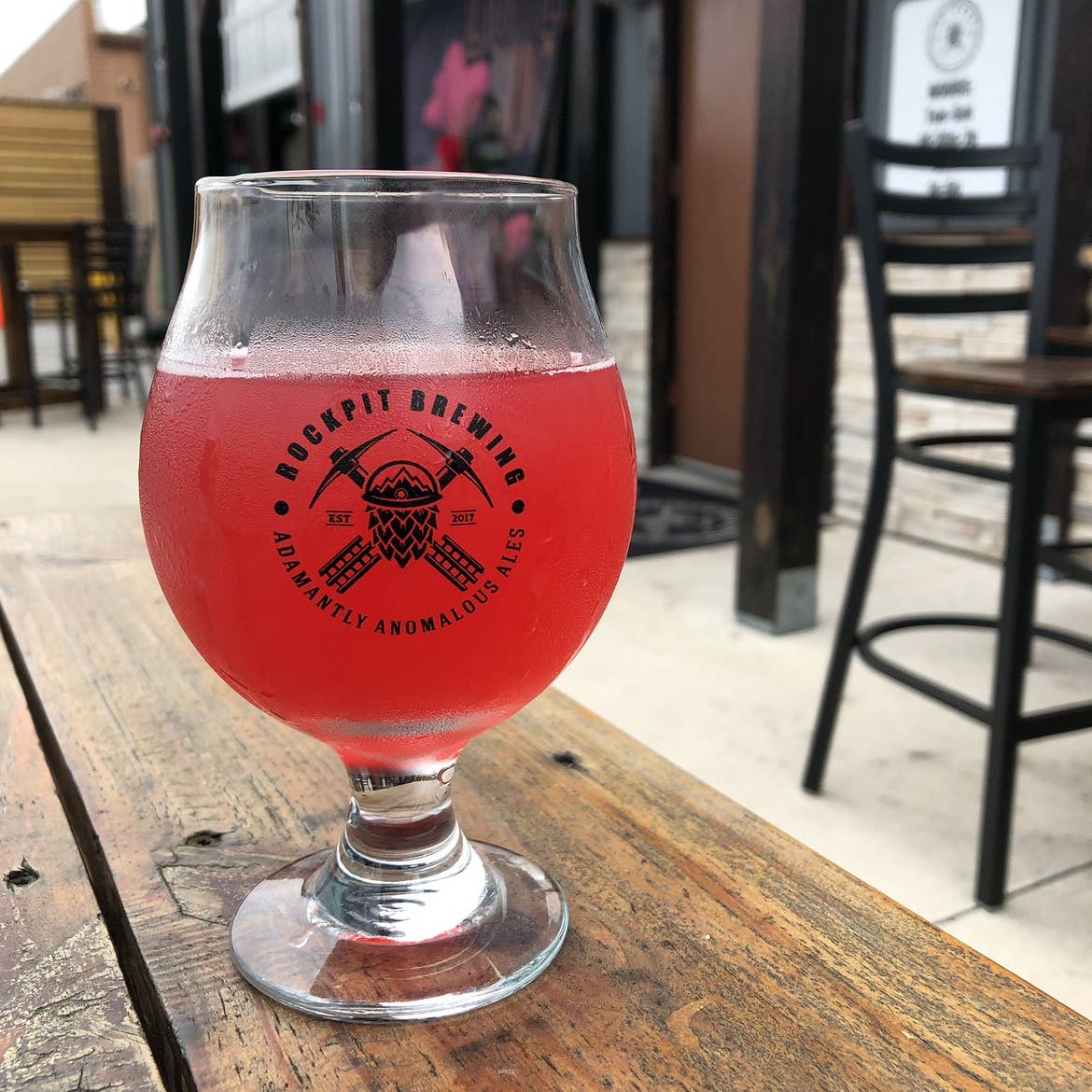 Food & Service
When people ask me what my top FAVORITE Orlando brewery is, I say Rockpit hands-down.

For a number of reasons, but the main one is the people. All the servers are REALLY nice, and the owners are very cool, genuine, awesome people.

For food, they have a great relationship with Cecil's BBQ right next door, so you can actually order food from your bartender or server (yes, you also get five-star service here), and it gets delivered right to your table at Rockpit.

They also recently partnered with a food truck, Fleur D'Elise French Quarter Cuisine, which serves bar bites, burgers and classic New Orleans cuisine.


Rating
Location: 7
Family-Friendly Atmosphere: 10
Beer: 10
Food & Service: 10
Total (out of 40): 37
2. Persimmon Hollow Brewing Co.
If you have family members who aren't beer lovers, definitely check out Persimmon Hollow. They have a little bit of everything for everyone in the family.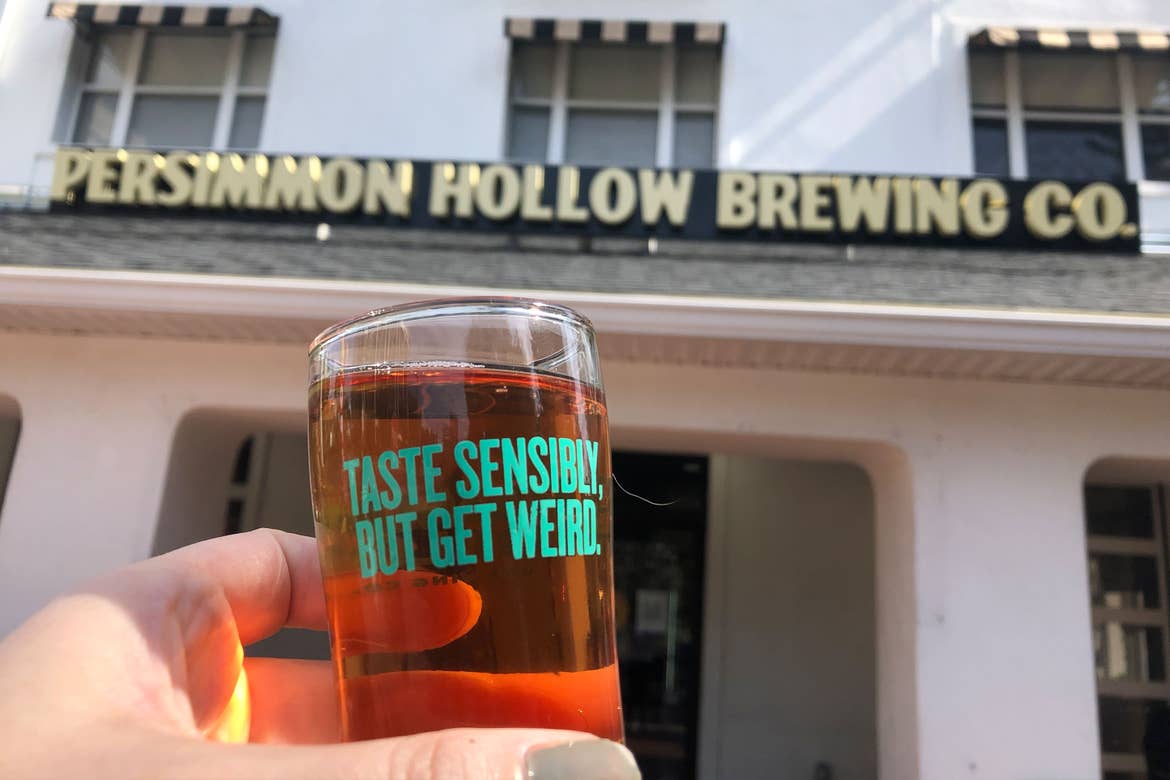 Location
Persimmon Hollow has been around for a bit in nearby Deland, but they JUST opened a brand-new location right smack dab in downtown Orlando.

We've been to both, but here I'll be focusing on the one in Orlando (even though the Deland one is GREAT, too).

Persimmon Hollow is located right off Lake Eola, so while it is technically downtown, it's not in the middle of all the action, which I personally like.

It's easily in walking distance to so many different places: restaurants, bars, art galleries, the history museum, etc.

If you're looking for romantic date ideas in downtown Orlando, I'd recommend going for a swan boat ride on Lake Eola, heading to Persimmon Hollow for craft beer and live music, grabbing a delicious dinner at Kres Chophouse and enjoying a hilarious improv show at SAK Comedy Club.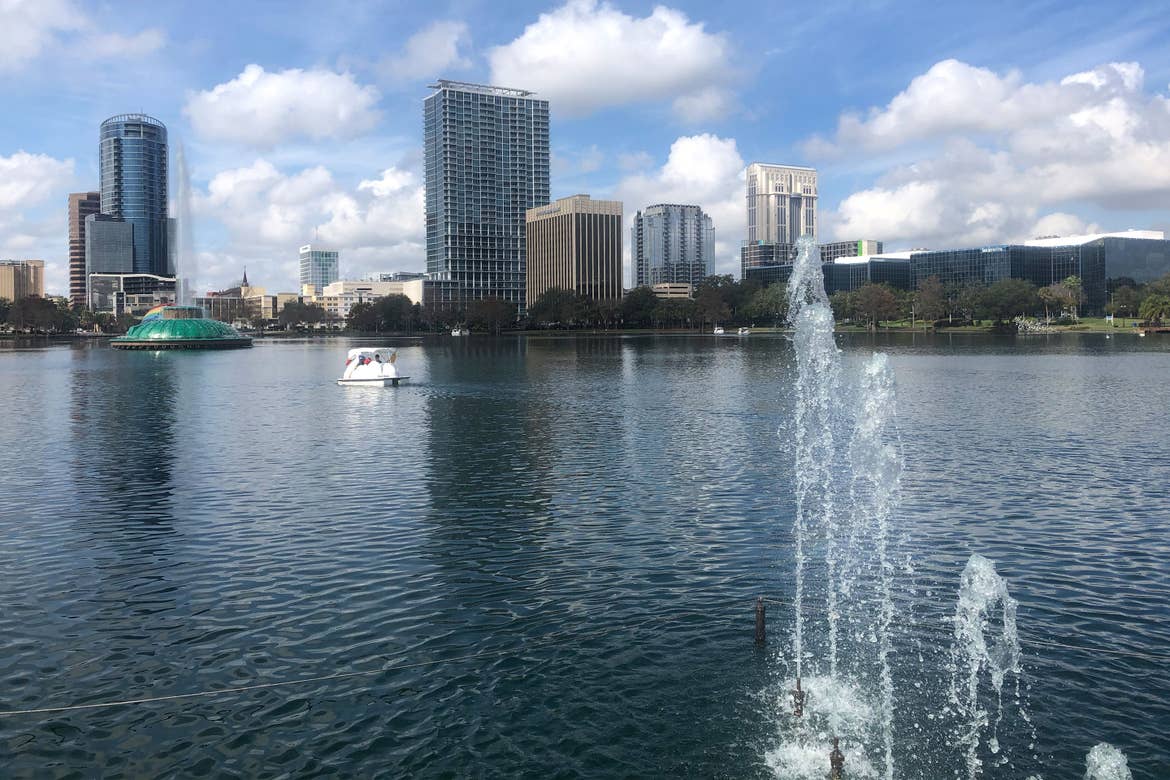 Family-Friendly Atmosphere
When we first walked up, there were big lawn chairs filled with parents watching their kids dance to the live music on the patio.

The music was great, and there were tons of seating, both indoor and out.


Beer
The beer is really good. I especially liked the Gypsy Hiker and the Raspberry Lake Time Lager (and I'm not usually a lager person).


Food & Service
Like I said, Persimmon Hollow has a little bit of everything. The beer is good, but the variety of offerings? Even better.

They have craft coffees (try the cold brew), they have delicious food (try the flatbreads) and they have flavored mimosas (definitely try the Blueberry Mint). The menu is so extensive, and everything we had was really really good.

Our service was great, too. It's restaurant-style, so you also have a server here.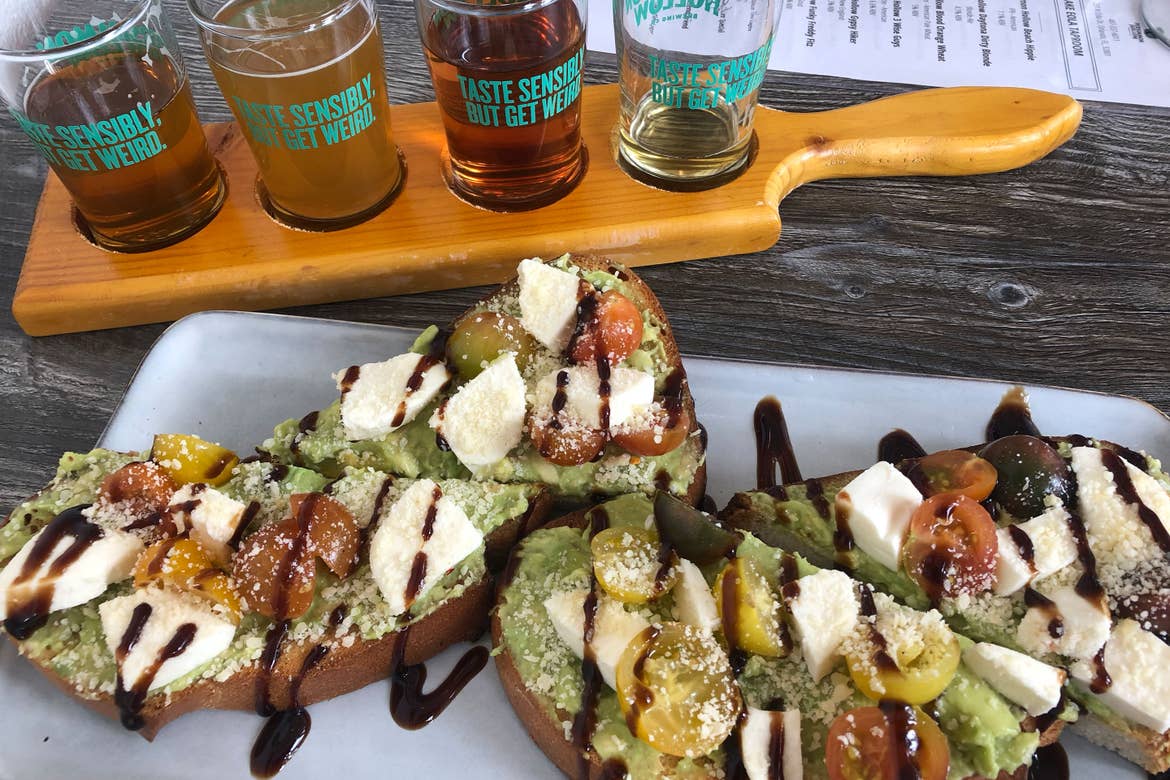 Rating
Location: 10
Family-Friendly Atmosphere: 10
Beer: 8
Food & Service: 9
Total (out of 40): 37
1. Crooked Can Brewing Co.
If you're looking for the best brewery in Orlando for families, look no further than Crooked Can. It's the holy grail of breweries.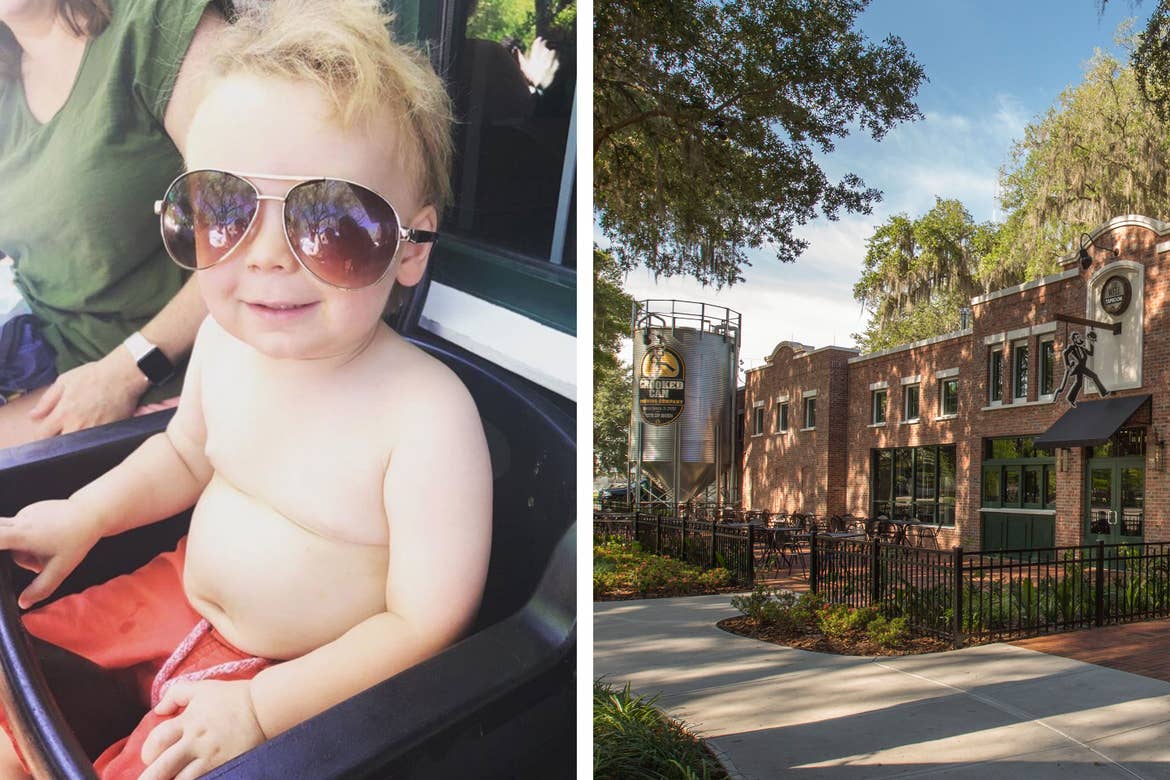 Photos courtesy of @sparkle_pirate and Crooked Can Brewing Co.


Location
Crooked Can is set up right inside Plant Street Market, which is essentially like a big, indoor farmer's market with lots of local vendors that sell things like coffee, tea, honey, meat and more.

Aside from Plant Street itself, the brewery is right near downtown Winter Garden, which is a really cool place for families to explore.

They've got tons of spots to grab food and a little interactive fountain and splash pad for the kids to cool off on those hot Florida days (before you cool off with a cold one 😉).

Not to mention, Crooked Can is only 31 minutes from Disney's Magic Kingdom® Theme Park. So, if you're here for a family Disney trip, you're really close to good times and great beer.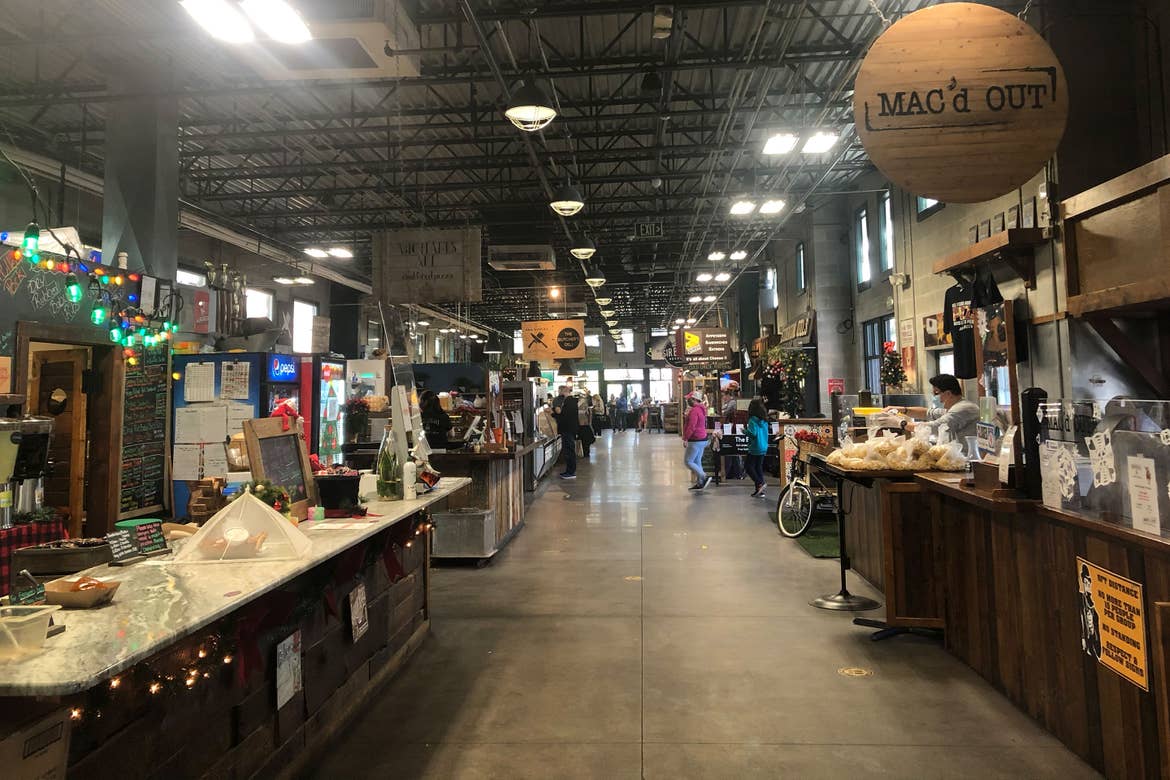 Family-Friendly Atmosphere
Crooked Can has plenty of indoor and outdoor seating, and it's (usually) even got a patch of grass for little ones to run around and play. I say "usually" because right now, they filled the area with tables (I assume because of COVID-19).

They also have live music on weekends, which makes great dance parties for the kiddos.

Despite having massive amounts of outdoor seating, it's a super popular spot, so it can get crowded quickly. I would recommend going as soon as they open to get a table for your family.

The good thing is that they do have an outdoor service window, so you don't have to wait in line inside to get your beer.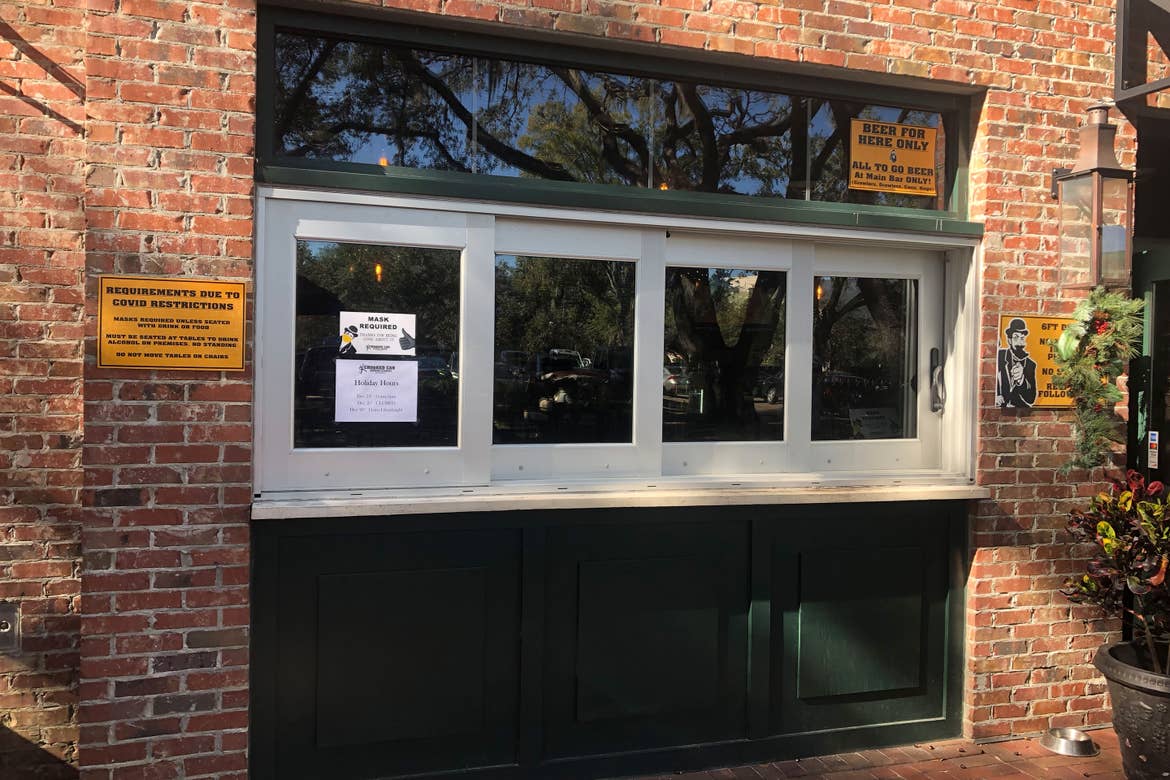 Beer
You really can't go wrong with any of the beer offerings here. They're all pretty good and they have enough variety for any palate.

I personally really like the High Stepper (American IPA) and the Cloud Chaser (one of the best hefeweizens I've ever had).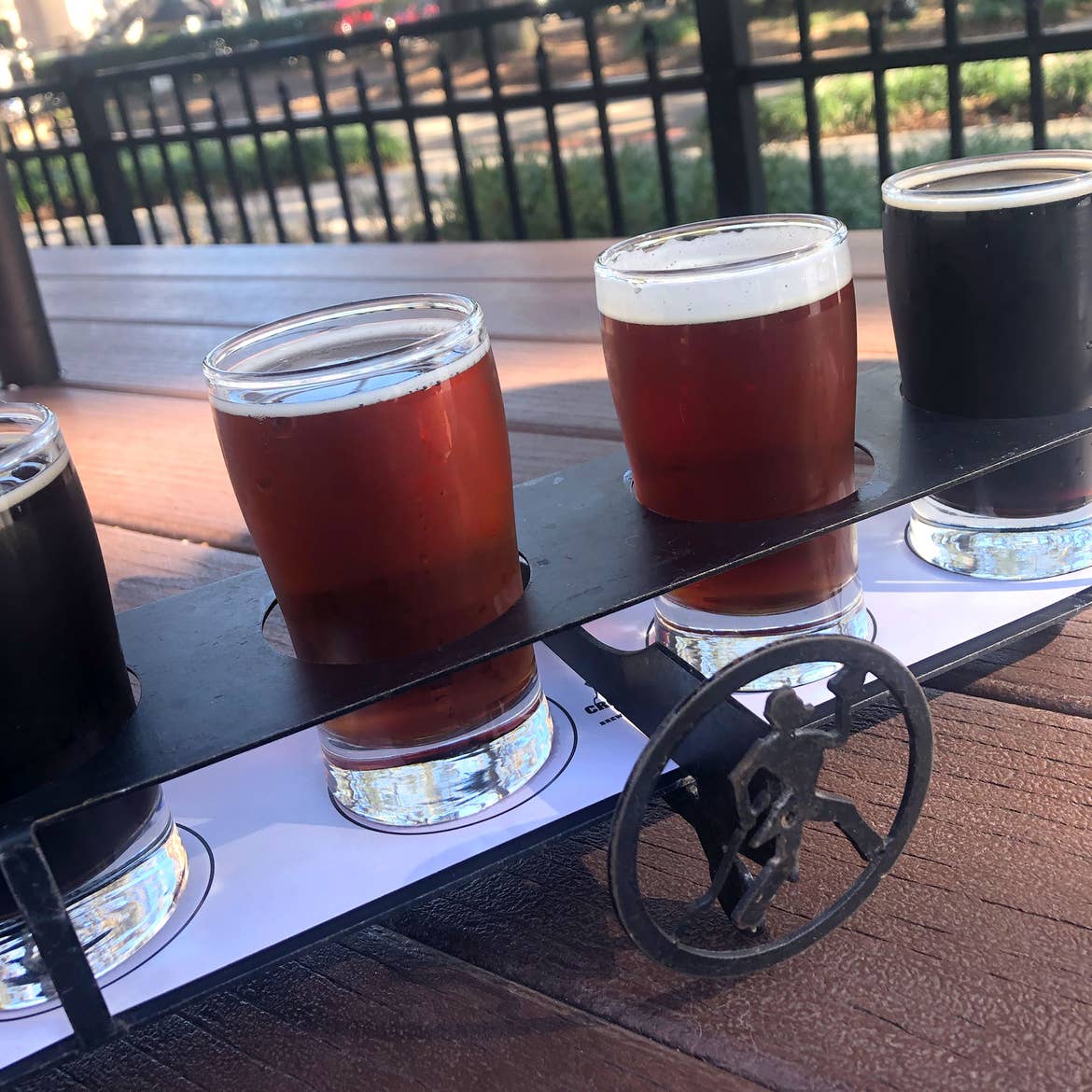 Food & Service
Every time we visit Crooked Can, we try a different place to eat and we're never disappointed. Some of our favorites are MAC'd Out, Michael's Ali and Fat Mike's Hot Chicken.

And while the food is awesome, you might've noticed a slight pattern with my craft beer pairings: dessert.

I always walk over to David Ramirez Chocolates and grab a sample pack of macaroons (the birthday cake is my fave).

The service is also good, but you might have to wait in line for a little while since it's such a popular brewery.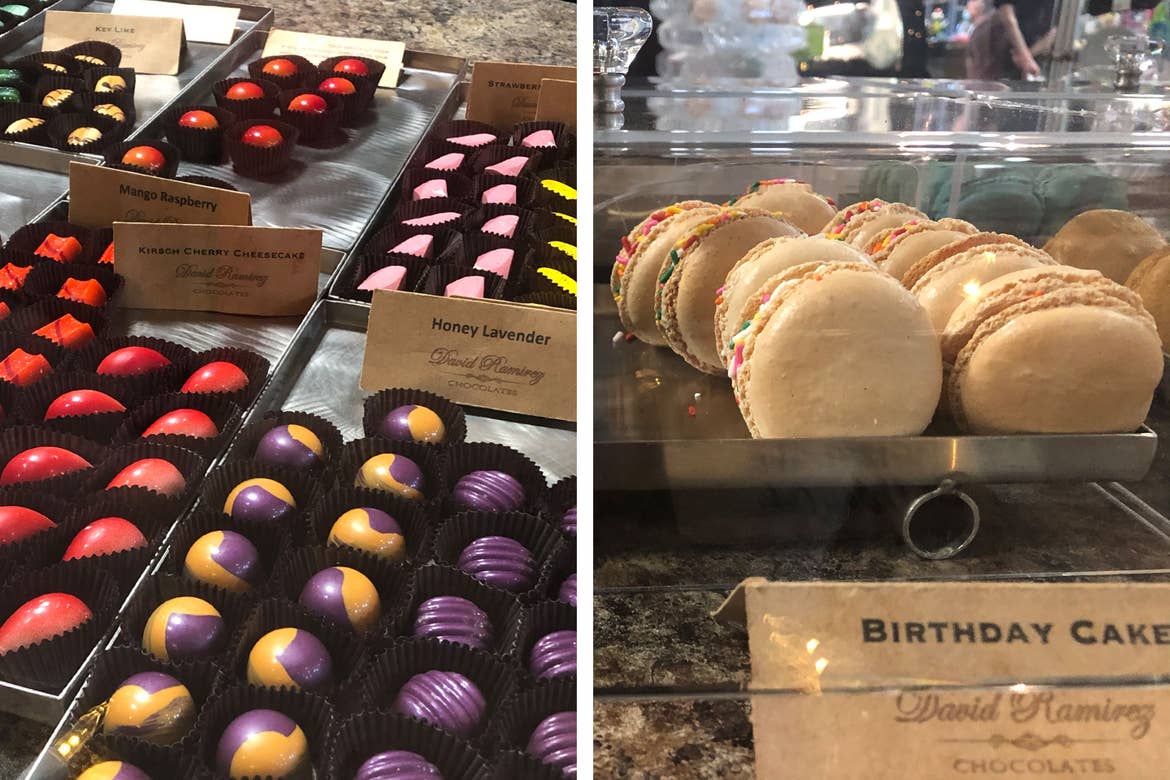 Rating
Location: 10
Family-Friendly Atmosphere: 10
Beer: 10
Food & Service: 9
Total (out of 40): 39
Staying Safe at Orlando Breweries
I didn't touch on this above, but I did want to mention that a lot of the breweries listed here have great safety measures in place, too.

We haven't been to all of them since COVID-19 started, but Tactical, Crooked Can, Rockpit, Hourglass and Persimmon Hollow all had safety guidelines last time we went.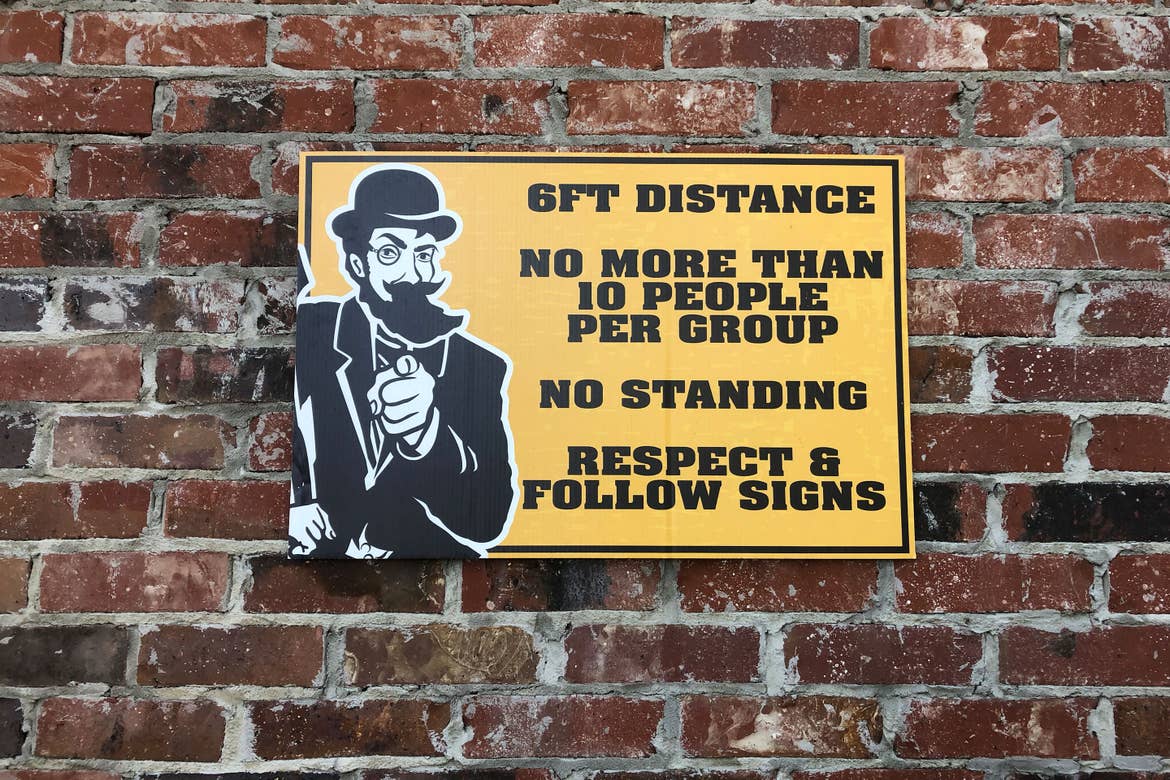 Safety signage at Crooked Can Brewing Co.

Plenty of space to spread out, masks being required outside your table and hand sanitizer available everywhere. It's great to see everyone staying safe while supporting the local places we love to visit.

Ready to grab a brew with your crew? If you're staying with us at Orange Lake Resort, you definitely don't have to go far for a cold beer or fruity vacation cocktail.

Head over to the Breezes Restaurant and Bar in West Village for (reduced capacity) indoor and outdoor seating and live entertainment every night.

There's plenty of room in front of the bar for kids to play and run around, and even some activities offered between Breezes and the Water's Edge Bar by the pool. (Check your Activities Guide for more info.)

There are also drinks to be had at Water's Edge Bar, Leeward Bar, Windward Pool Bar and Paisan Pizzeria.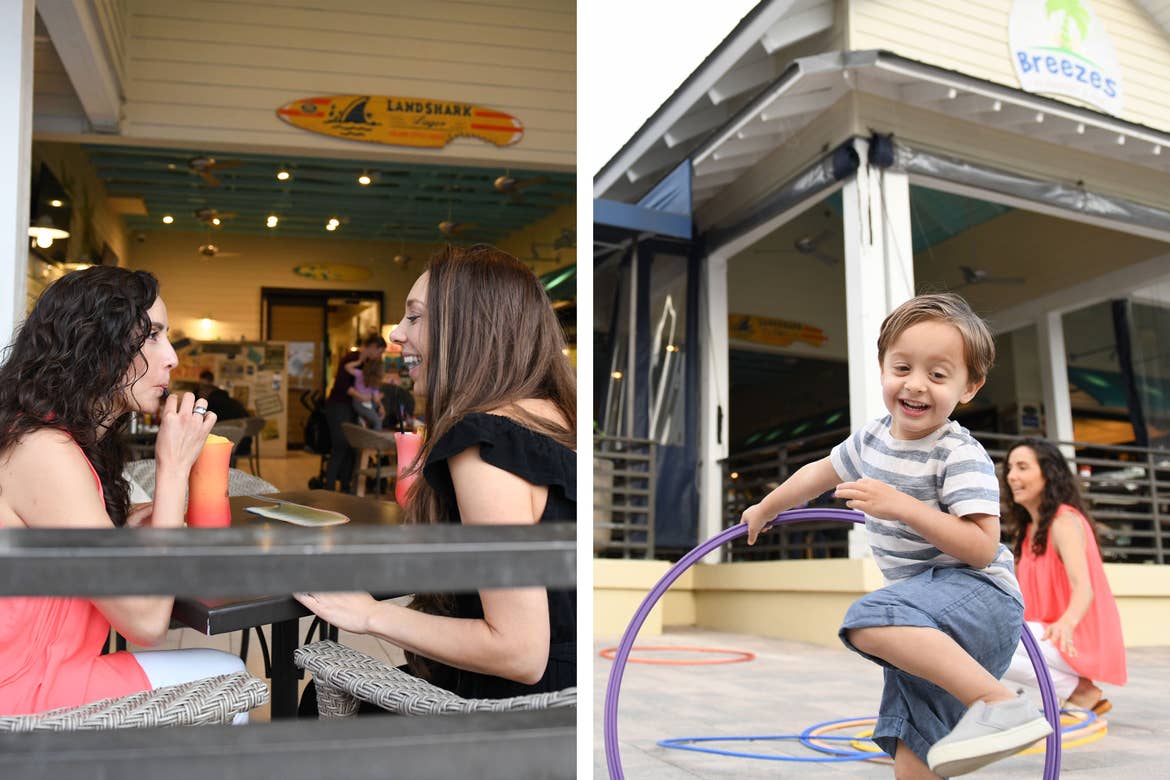 I hope this list of the best breweries in Orlando for families helps you get a feel for the epic craft beer scene in this hoppin' city!

Here, there's no shortage of microbreweries, theme park fun and spots to explore. And nothing beats exploring new places with the ones you love. I'll cheers to that!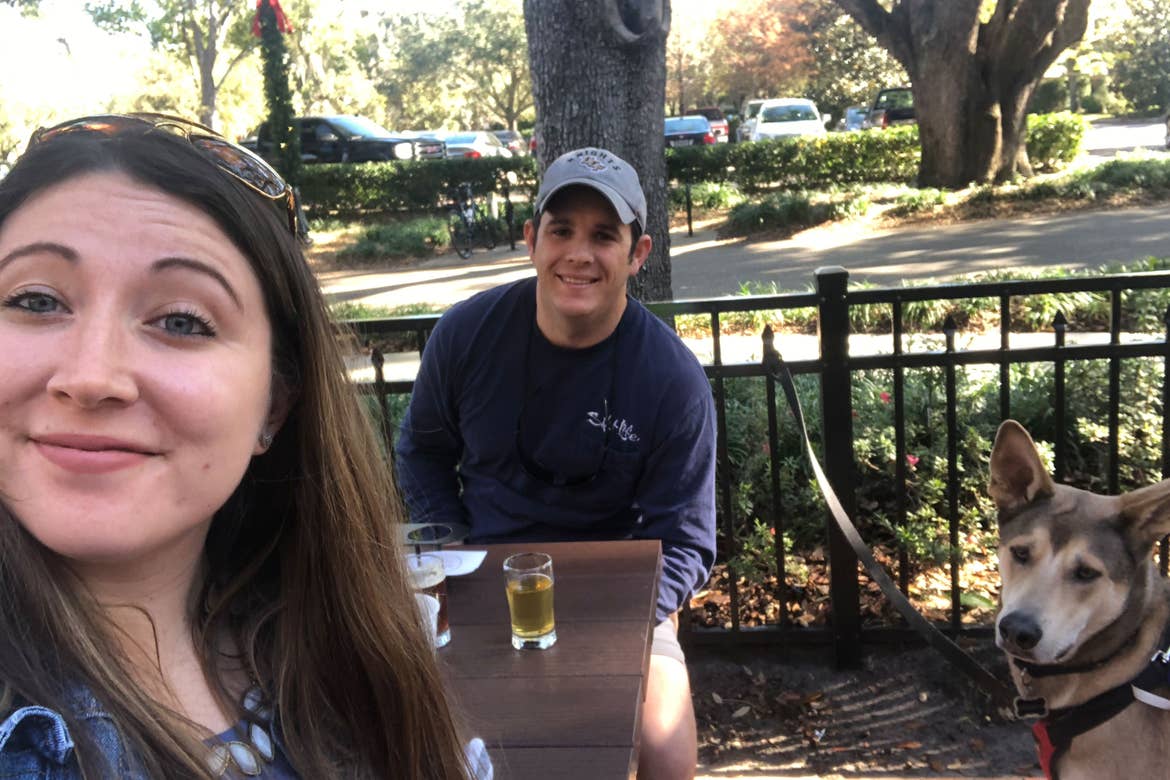 All information is subject to change. This article is a curated guide and is neither sponsored nor considered an official endorsement. Please be sure to check information directly with any/all tours, guides or companies for the most up-to-date and direct details.