Angie Orth
Angie is the creator of AngieAway, a travel and lifestyle blog and digital media brand. She's also the producer and cohost of The Jet Sisters, a video series focusing on millennial travel. Prior to leaving her public relations job in New York in 2010 to travel around the world, Angie was chosen out of 30,000 as a finalist for Australia's Best Job in the World campaign. Angie has written for and been profiled by outlets including The Today Show, the New York Post, Cosmopolitan, Buzzfeed, Redbook, AFAR and Glamour. In addition, AngieAway.com was named one of Southern Living's "30 Best Blogs to Follow."
Instagram
Website
Vegas is back, baby! And better than ever.

I've visited Las Vegas at least half a dozen times in the past 20 years — as a teen with my family, for conventions and for my Britney Spears-themed bachelorette party…

But this was my husband Rick's first visit ever and my first romantic couples' trip.

I wanted to plan the perfect itinerary so he could really get a feel for everything that makes Las Vegas a one-of-a-kind destination.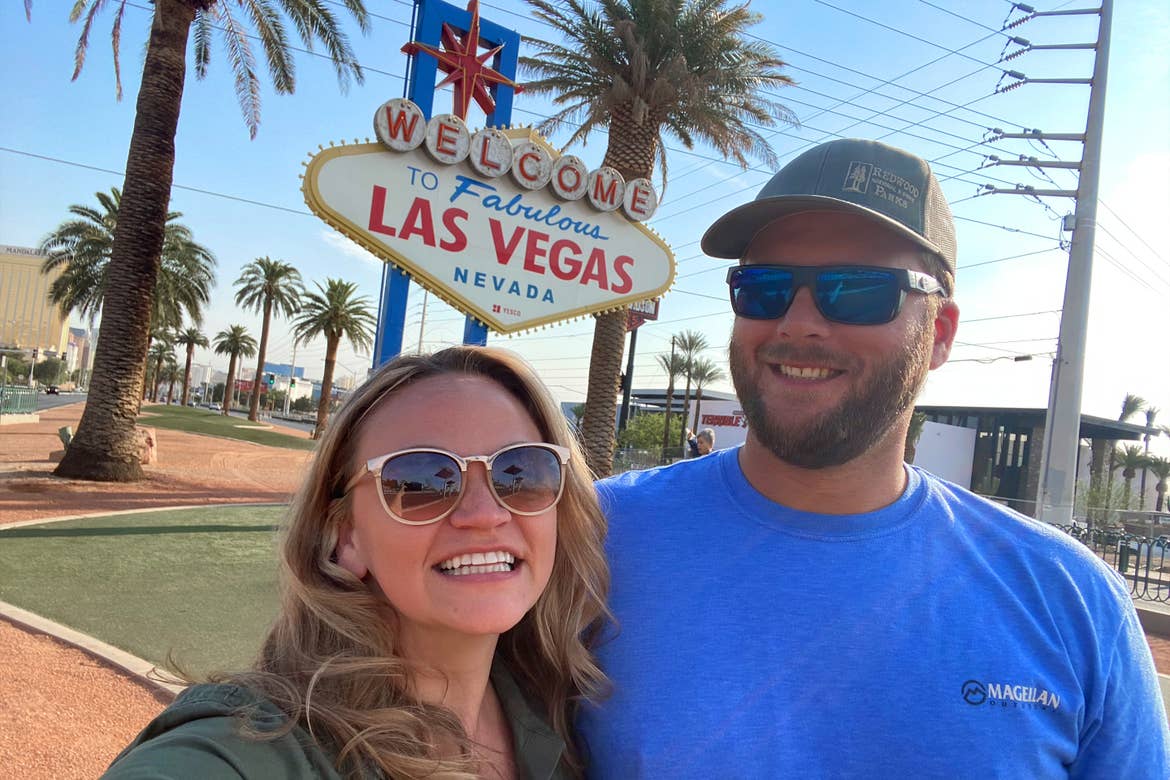 The thing is, there's so much to do in Vegas right now, it can be a real challenge to choose the best way to fill your days (and nights, let's be honest).

Especially now that more and more is reopening and all those classic, very unique-to-Vegas things, like live shows, attractions, casinos and buffets, are coming back, you might be ready (and eager!) to end your summer with a little glitz and glam.

Whether it's your first visit or your 10th, here are some iconic things to do in Vegas right now based on our most recent vacation in June (and some of my past trips).


1. Head to the High Roller.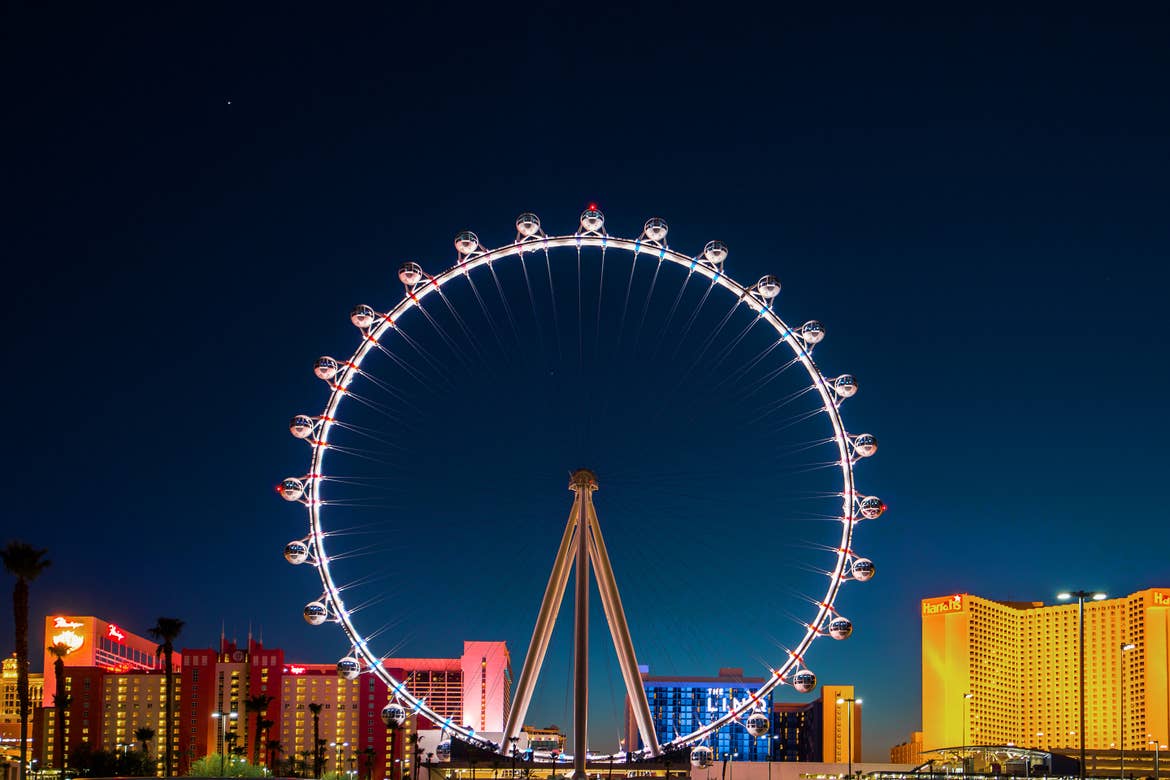 There are two excellent ways to get the lay of the land on the Las Vegas Strip, where 150,000 hotel rooms, countless pool parties, performances, five-star restaurants and glittering casinos draw millions of visitors each year.

The first is the High Roller, where you'll get a birds' eye view of the whole Strip. I love going up to the peak of 550 feet around sunset as the neon lights come to life and a pink glow settles across the valley.

It's a 30-minute experience, and it really gives you an idea of how over-the-top this stretch of desert oasis really is.

The High Roller is only a 5-minute walk from Holiday Inn Club Vacations® Desert Club Resort, which was our home base for this trip (more on that below). You can actually see it from the resort and enjoy that view the whole time.


2. Ride around on the double-decker Big Bus Tour.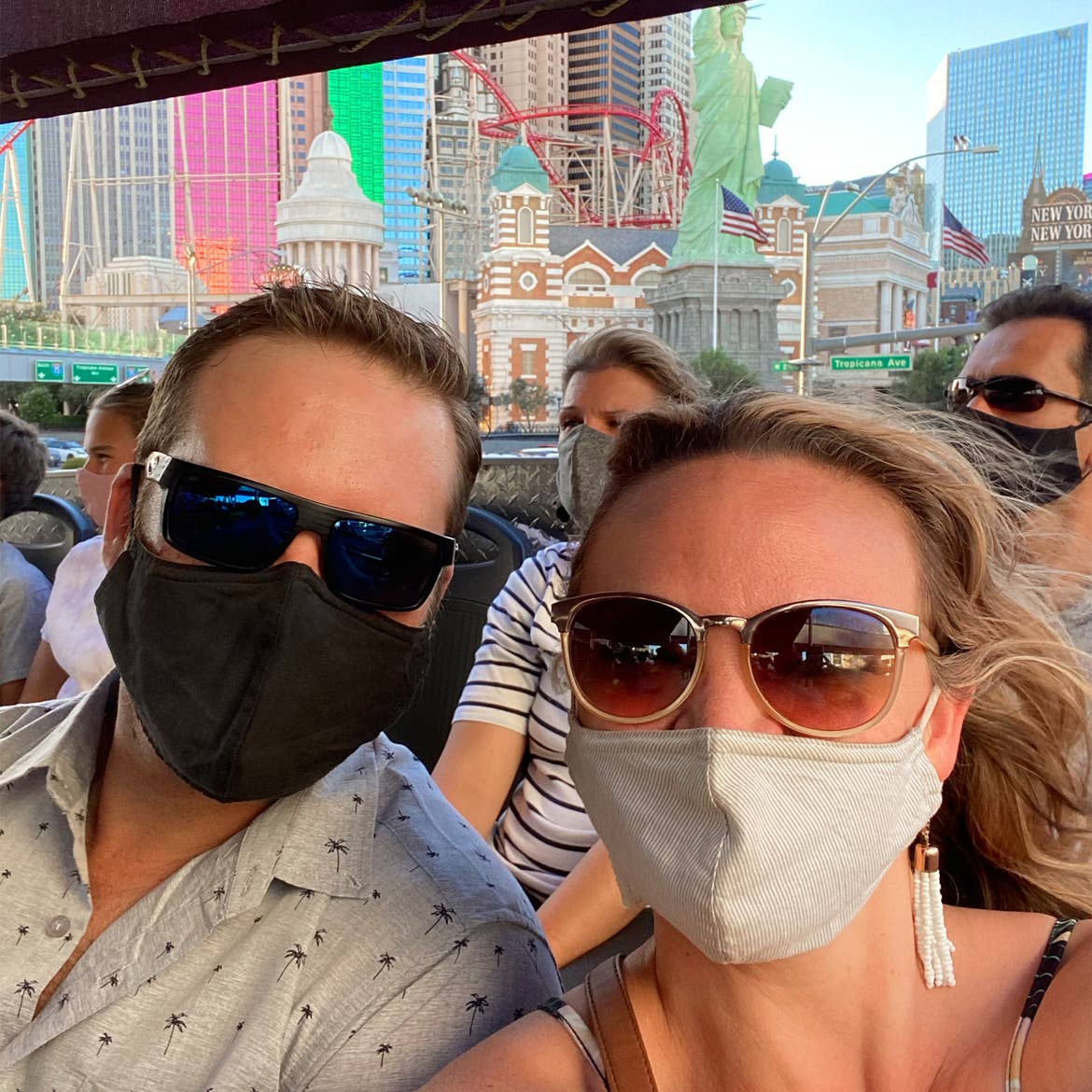 The second way to get a feel for everything is by hopping on the nighttime panoramic Big Bus tour around the Strip and Downtown Vegas.

You sit up top on the double-decker bus as a guide shares tales of Vegas past and present.

A stop at the Fremont Street Experience is included, too, so it's a great way to pack a lot into one adventure.


3. See an iconic show.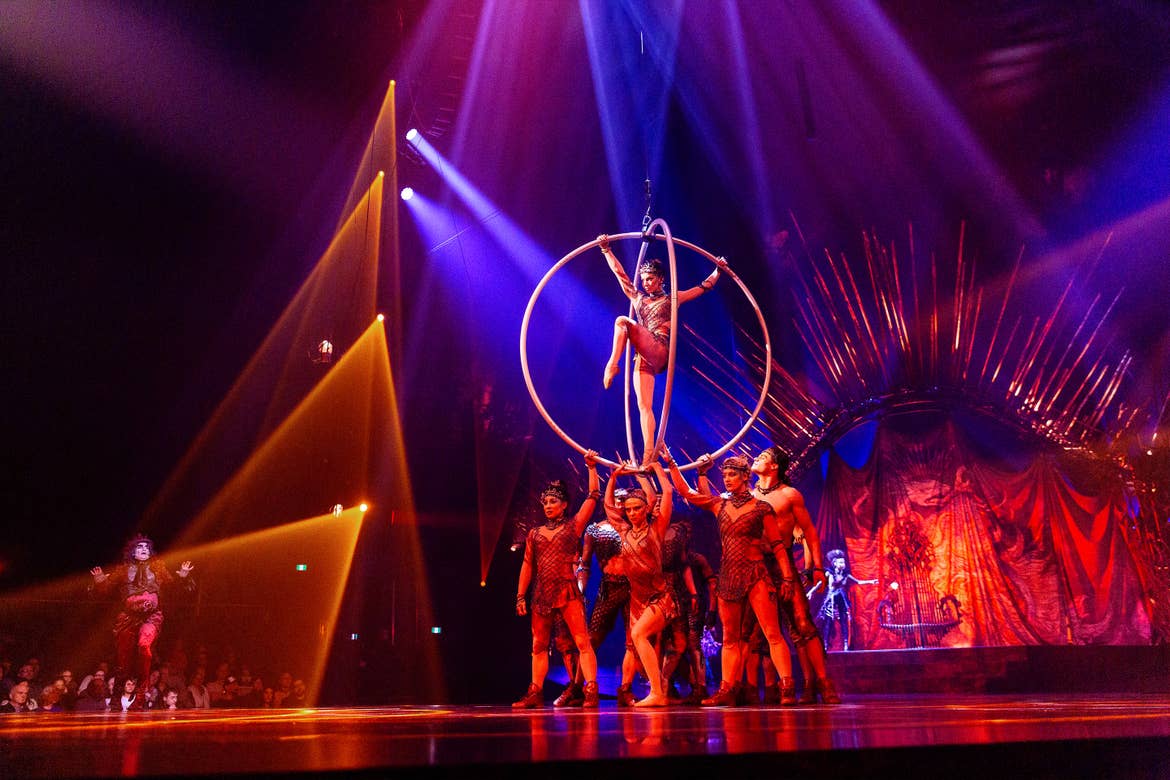 Photo courtesy of ©2019 Cirque du Soleil, taken by M-A Lemire

Vegas shows are legendary for their scope and variety, and they're coming back bigger and better than ever in 2021.

This year alone, Gwen Stefani, J. Lo, Celine Dion and Carrie Underwood are beginning or continuing residencies at venues all along the Strip.

Several of the Cirque du Soleil® shows are ramping up again, too! It really doesn't get more visually beautiful than O™ at the Bellagio or entertaining as ONE, the Michael Jackson show.

And if you've never been to a classic Vegas magic show, prepare to be amazed! David Copperfield and Criss Angel are some of the most well-known magicians with standing shows you have to see to believe.

In addition to residencies and signature performances, there's almost always a touring act or concert in town, like the Jonas Brothers kicking off their previously canceled tour this August.

The hardest part is choosing from a hundred options that'll "wow" you.

Pro Tip: BUY TICKETS EARLY! We tried to see a show on our recent visit, but there were no tickets available!

I've been to many Vegas shows in the past — Cirque du Soleil, magic shows, concerts, residencies — but I really wanted to see more now that Vegas is reopening. Next time!


4. Go to a real Vegas buffet.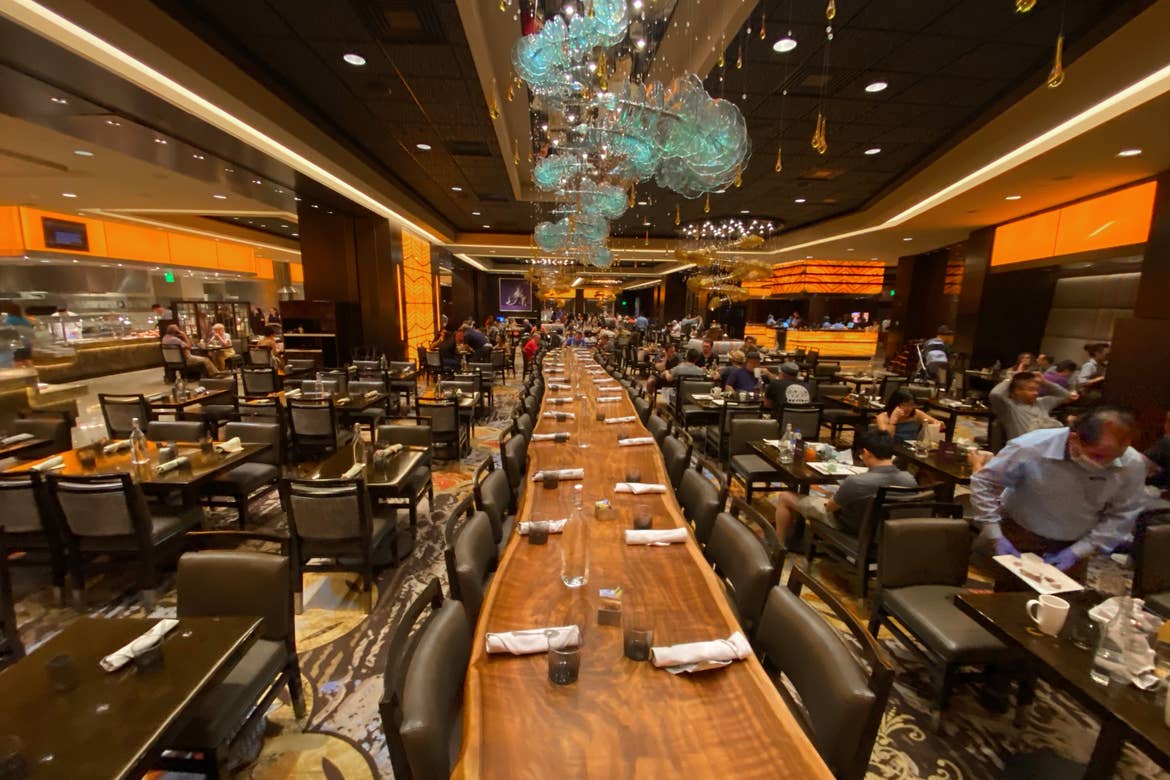 The Wicked Spoon buffet

There was concern that the world-famous Vegas buffets might not survive the pandemic, but I'm here to tell you — they're roaring back!

There are a handful open now with more choices than ever before. And they're wildly affordable considering how much gourmet food you can sample.

Pro Tip: As with everything in Vegas this summer, it's smart to make reservations, even for buffets.

Our first stop on this trip was Wicked Spoon's breakfast buffet that had what seemed like a mile of options, from eggs Benedict to birria tacos to berry bread pudding.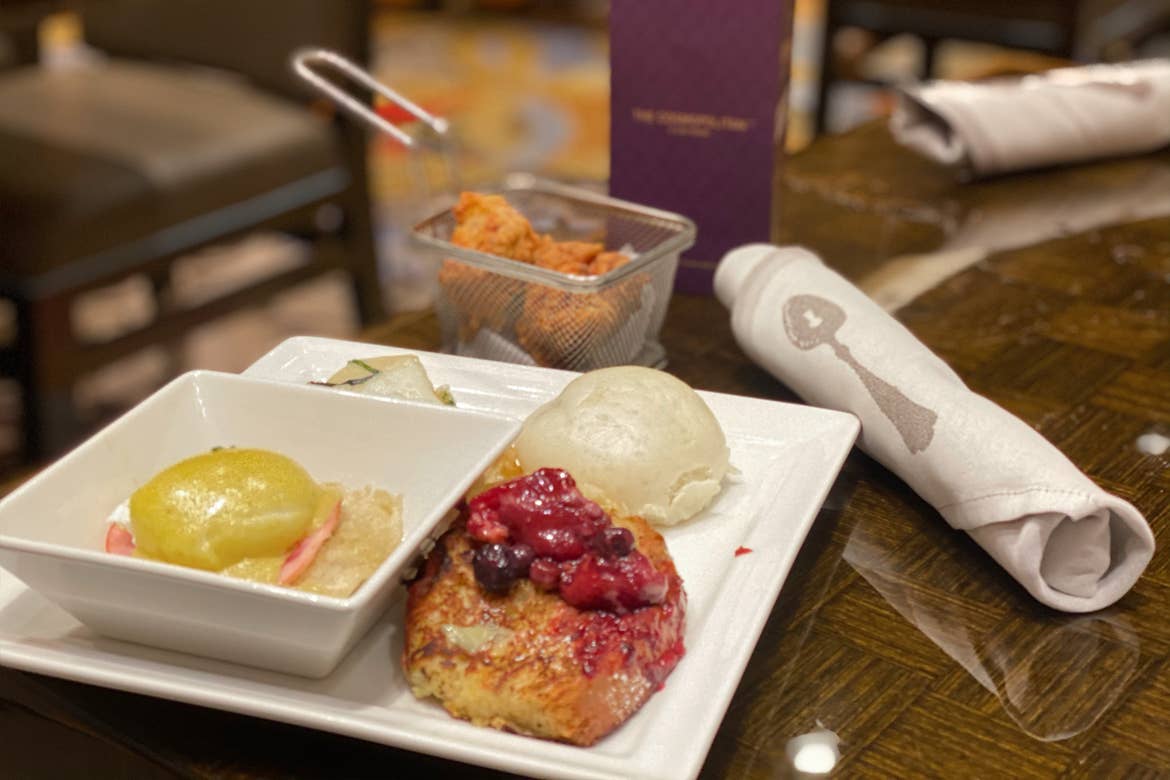 You can add an all-you-can-drink mimosa option if you're feeling like starting your day with some sparkle. When in Vegas!

Here are some of the Vegas buffets that'll be open in summer 2021:
Caesar's Palace Bacchanal
Cosmopolitan's Wicked Spoon
Circus Circus
The Buffet at Wynn
MGM Grand Buffet
5. Shopping along the Strip and beyond.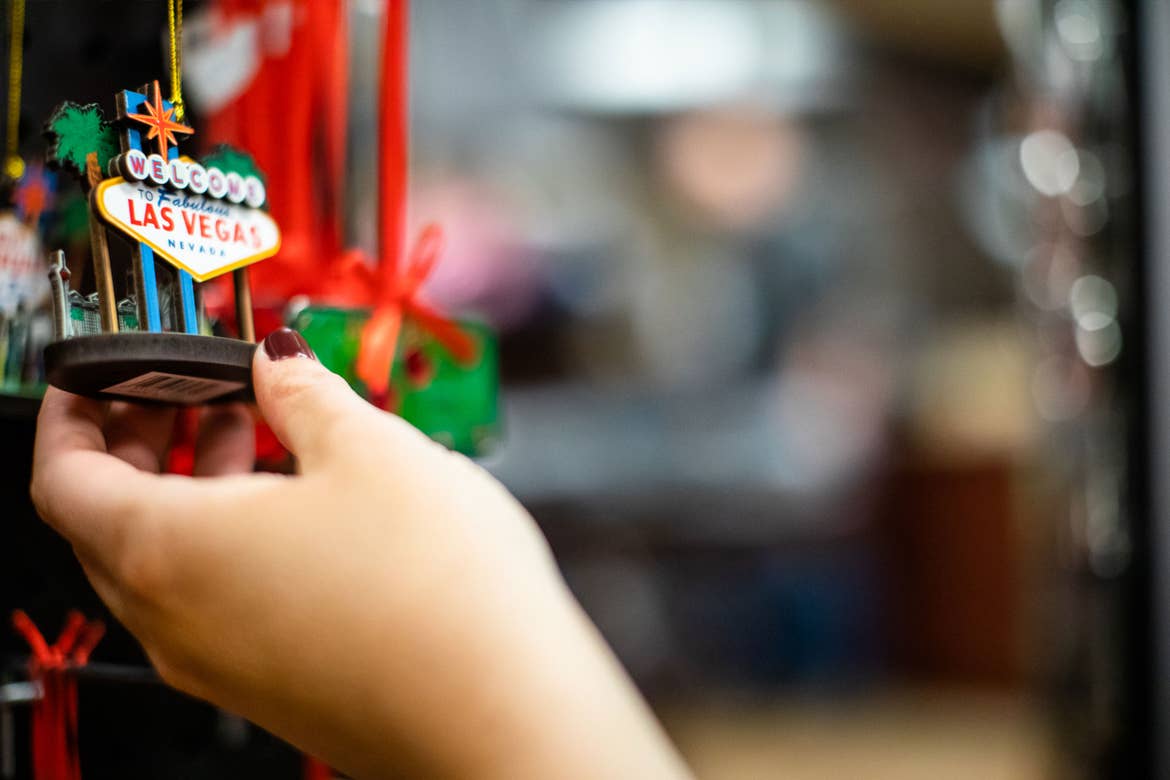 With so much to do and see (and eat!) in Las Vegas, you might overlook the fact that the shopping here is on par with every major city you could think of.

I still look back on the satin platform shoes I bought at the Fashion Show Mall on my first visit to Las Vegas in 1999 and marvel.

I'd never seen anything so glamorous back home in Jacksonville, Florida, and I certainly turned some heads when I got back to high school with my flashy new kicks.

From the Forum Shoppes at Caesar's Palace to the luxury Shops at Crystals to the Grand Canal Shops at the Venetian, there's a store for every budget.

I can't think of a better way to use those casino winnings! Or just window shop — that's always fun, too.

The complimentary shuttle at Desert Club Resort actually takes guests to various stops along the Strip and Downtown, in addition to the Las Vegas North Outlets, so it's easy to get around with your new swag.


6. Try your hand at casinos and gaming.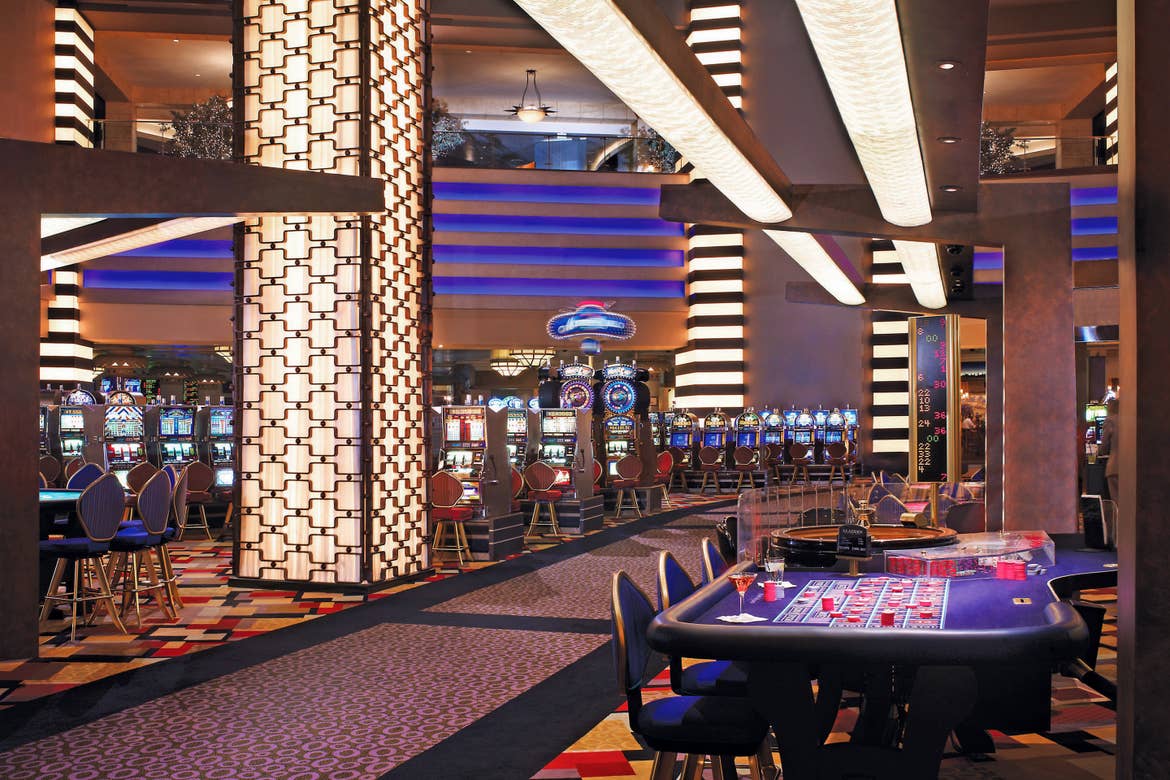 Vegas and gambling have gone hand-in-hand since the earliest days of this old Western outpost.

If you've got a great poker face, that won't come as a surprise. You probably have a favorite game, lucky numbers and everything!

Not a gambler? Not to worry. You don't have to be a high roller to have fun in the casinos.

Rick and I discovered roulette a few years ago, and now it's our favorite way to make friends and spend a few late-night hours.

With a little luck, you can stretch your money for hours of excitement. Maybe you'll win or maybe you'll lose, but that's not really the point. It's just so much fun!

Plus, drinks are free when you're gambling (don't forget to tip the server), and most of the casinos offer beginner lessons and tutorials so you can learn in a risk-free environment.

Pro Tip: All Vegas casinos are air-conditioned, so they're a great way to take a break from the heat of the day, too.
---
Planning a Vegas vacation? Check out these stories:
---
7. Enjoy drinks, nightlife and dancing!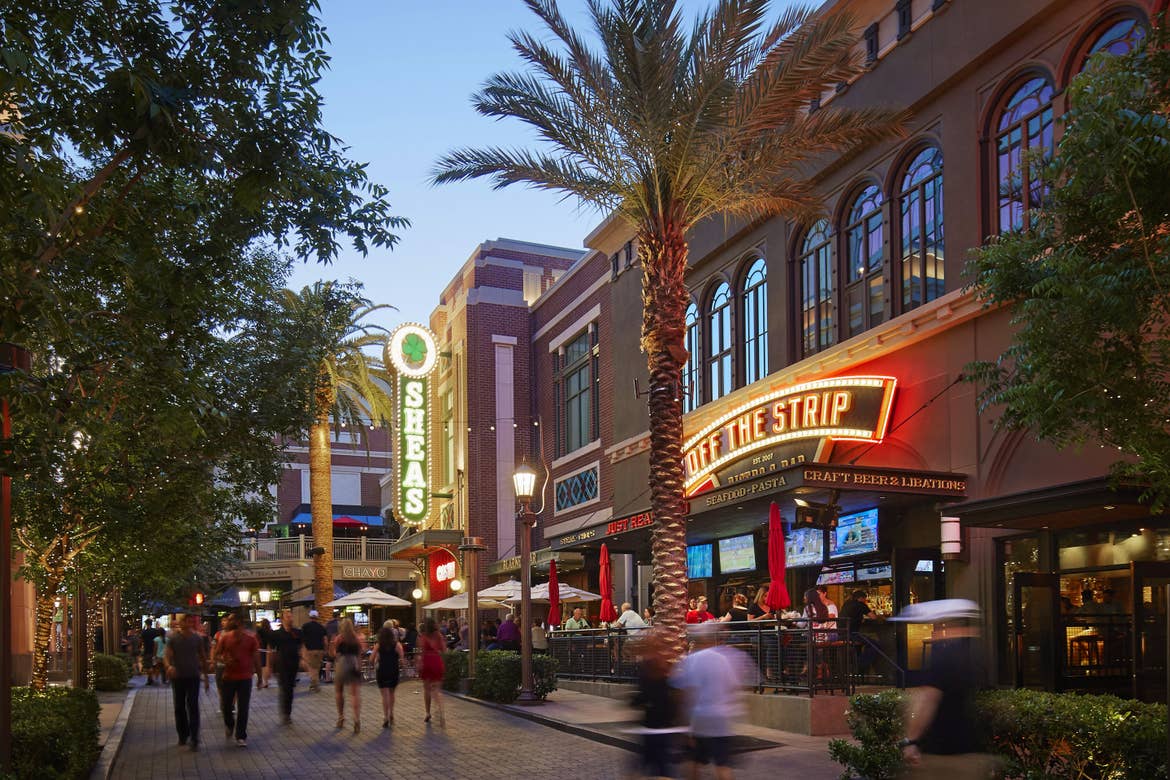 Photo courtesy of © 2020 Caesars License Company, LLC

Vegas nightlife is every bit as extravagant as portrayed on TV. If you want to wear sequins, see celebrities and athletes and dance until the sun comes up, this is the place to do it.

Over the years, I've crisscrossed the Strip in search of the best dance party in Vegas, and I can't pick just one spot!

I do recommend Drai's Beachclub and Nightclub for its proximity to Desert Club Resort. It's about a 5–10-minute walk to the Cromwell Hotel, so no need to call an Uber!

While you can drink free in the casinos if you're gambling, be sure to visit some of Las Vegas' famous bars and lounges, like The Chandelier, The Golden Tiki and Skybar.


8. Fly high, hit the gas and experience Vegas thrills.
If rolling the dice isn't enough thrill for you, maybe you could use a little adrenaline!


Ziplining
For a fun thrill that's not too scary for most kids, fly 12 stories above the Strip on the Fly LINQ zipline, one of the wildest ways to experience Las Vegas.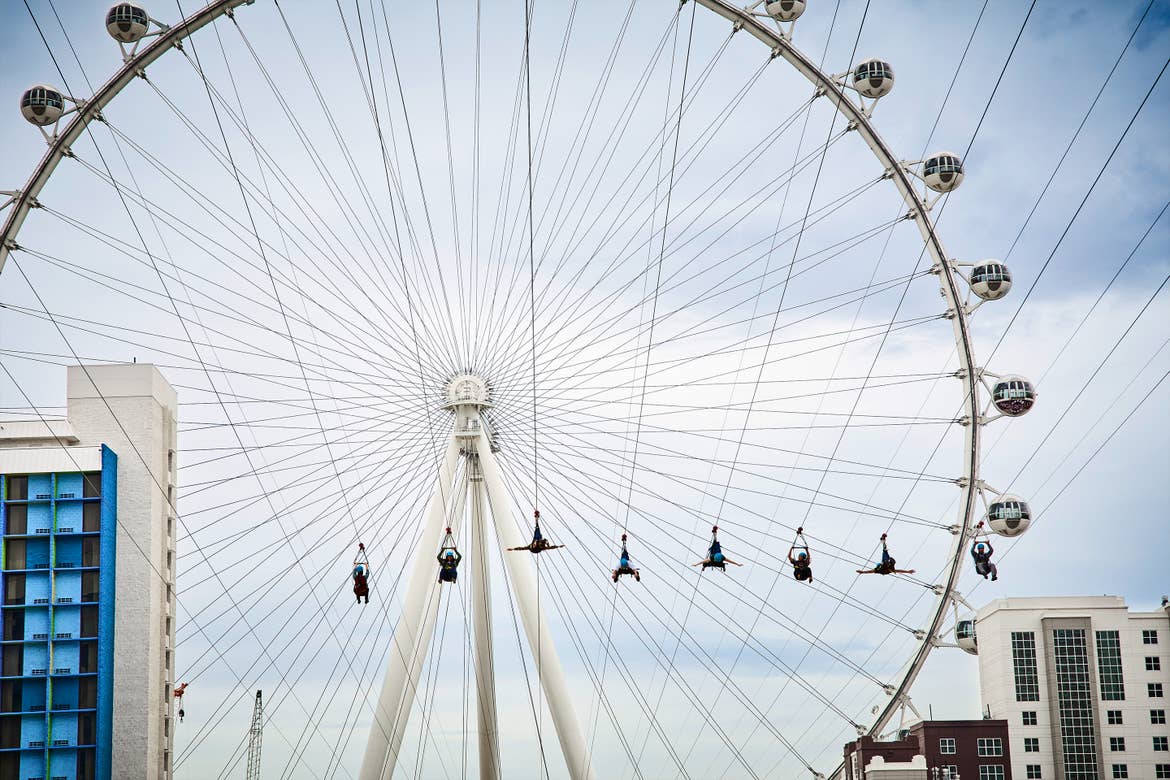 Photo courtesy of © 2020 Caesars License Company, LLC


The Big Apple Coaster
If you've got speed enthusiasts in your party, buy a ticket for The Big Apple Coaster, New York, New York's famous roller coaster.

It winds through the casino floor before taking riders outside for a topsy turvy experience. Definitely a unique way to see the Strip!


Luxury Sports Cars
For a once-in-a-lifetime adventure, go all out on a luxury car from All Star Cars and zoom around the desert. You can choose from a selection of speedy Corvettes, Ferraris, Lamborghinis and Bentleys.

We rented a Corvette Stingray to ride in style as we explored sites off the Strip, and it was one of my favorite Vegas adventures of all time.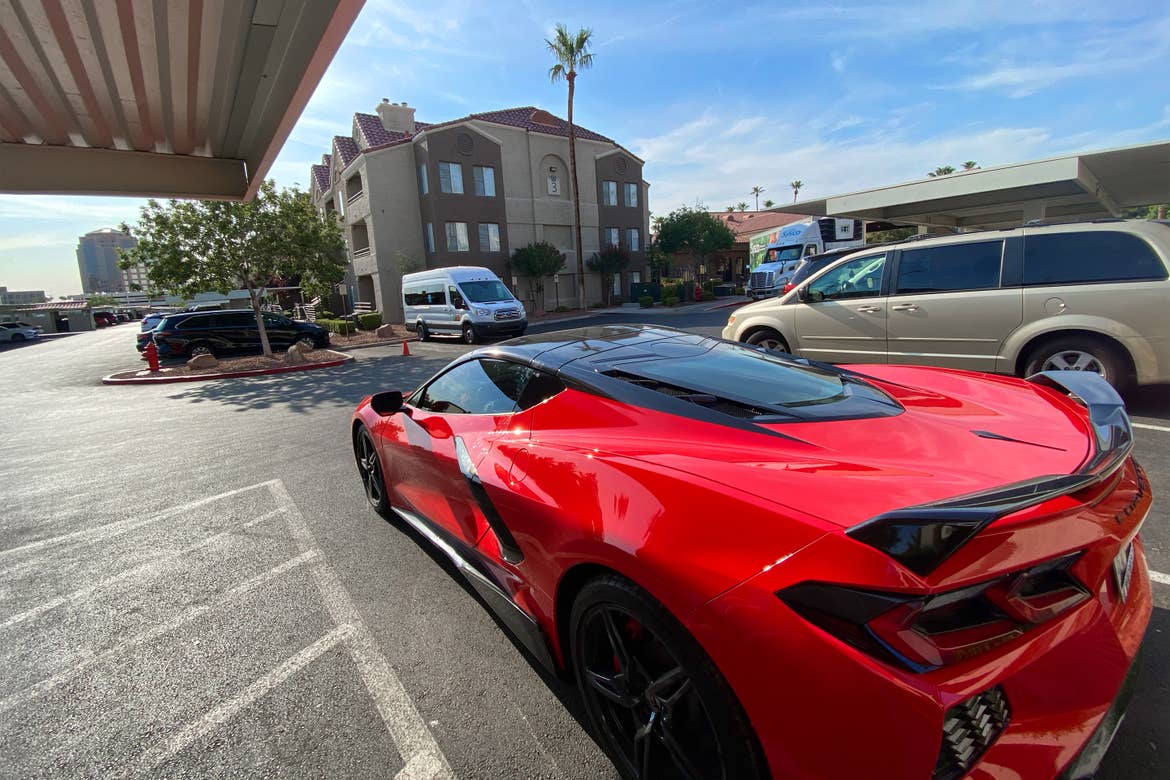 It takes 10 minutes max to go from the bright lights of the casinos to the red rocks and long stretches of colorful desert, so it's a much easier trip than I ever expected.

There are multiple state parks less than an hour from the Strip, so we picked Valley of Fire and looped from the Hoover Dam through the Lake Mead Recreation Area through the Valley of Fire and back to the Strip.

It was an all-day adventure, but we really took our time and meandered. You could squeeze it into half a day if that's all the time you have to spare.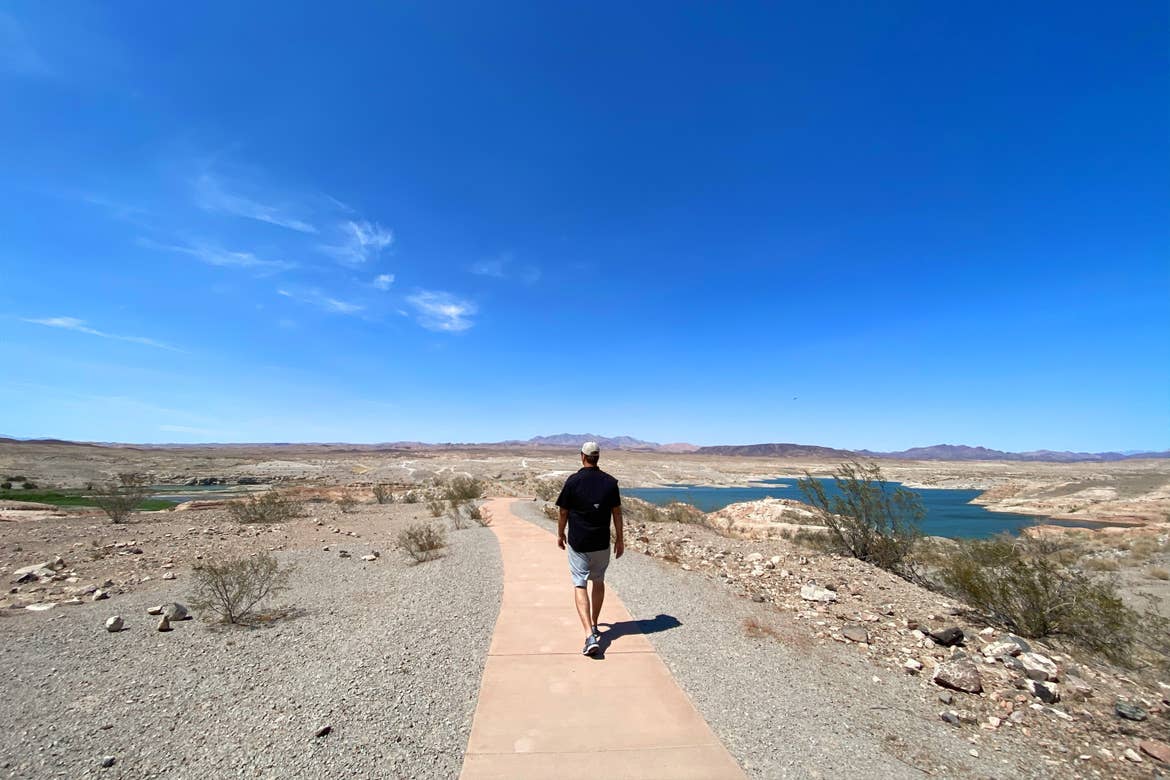 Lake Mead National Recreation Area


Stratosphere
If you really want to take the plunge, you can jump off the tallest building in Vegas! At the Stratosphere, you'll harness up and jump from the 108th floor in the world's tallest controlled descent facility.

I couldn't bring myself to try it on our last trip, but maybe next time!


9. Take advantage of free Vegas attractions.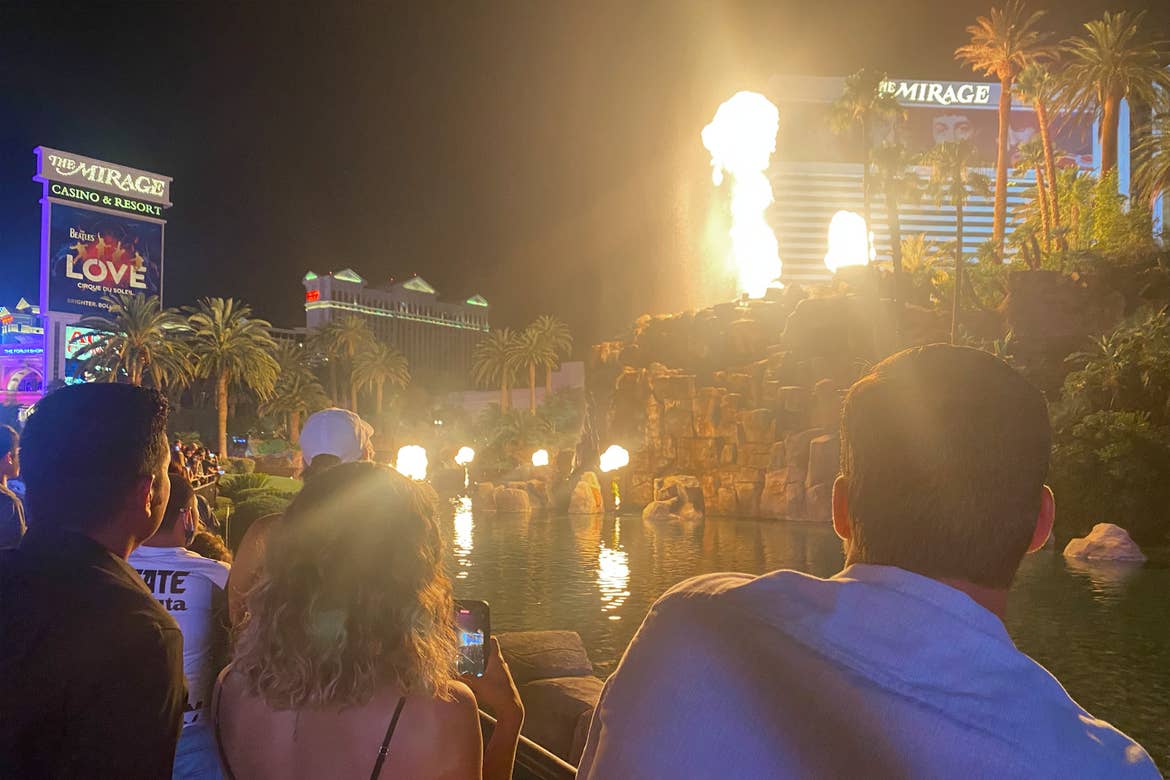 The "active" volcano at The Mirage

There are so many things to do in Vegas right now that don't cost a thing.

Check out the 8-acre lake in front of the Bellagio for the world-famous fountain show. Every 15 minutes, the fountains come to life for a stunning new water and light show set to music.

You'll feel like you're in Ocean's Eleven when Sinatra starts playing.

And did you know there's an "active" volcano in Las Vegas? The Mirage's famous volcano is fun to watch as you wander along the Strip at night. Hourly shows begin after sunset.

The Fremont Street Experience is a short drive north of the Strip (and you can hop on the complimentary Desert Club shuttle to get there)!

It's a unique corridor of vintage and sparkling new casinos, shops, live entertainment, a super cool zip line and a light show like you've never seen. And it's all free.


10. Check out the unique and brand-new Area 15 attraction.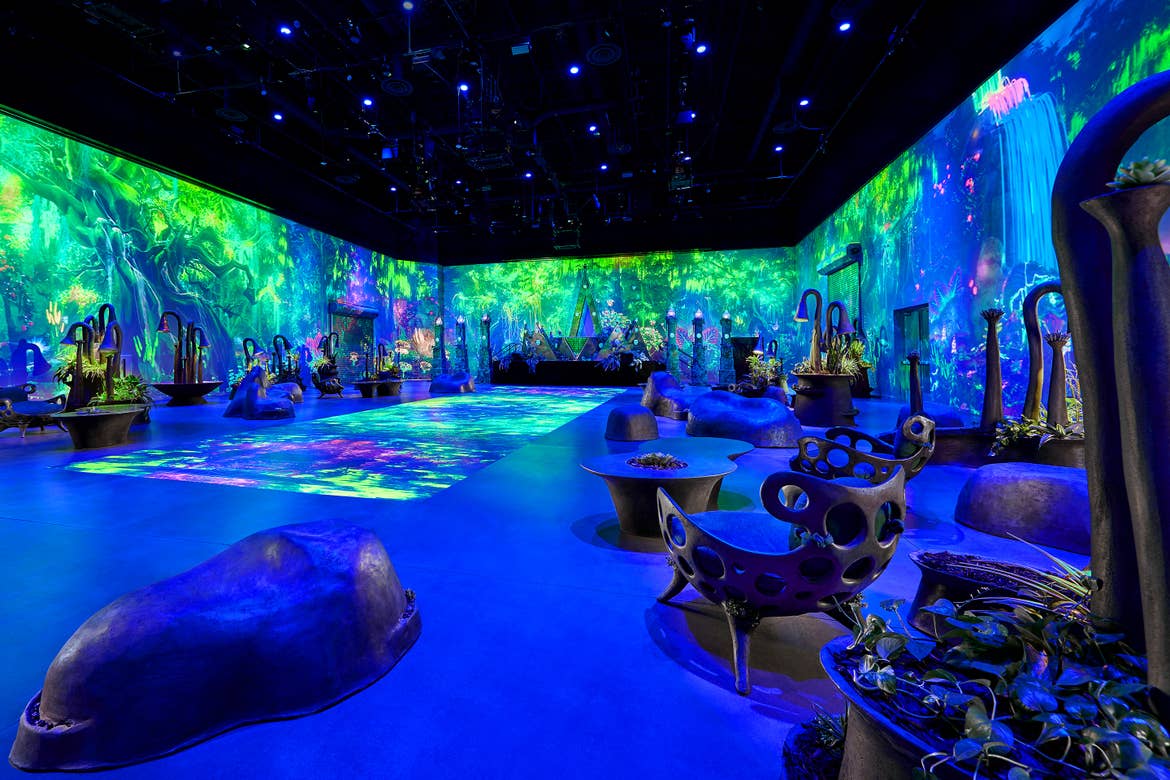 Photo courtesy of Area 51, © ROTO IMAGES

It only took me half a dozen visits to explore beyond the 4-mile area of the Strip — but I'm so glad I finally did it!

And the next few activities I'm sharing will all be things you can do when you want to venture off the Strip, starting with Area 15.

Area 15 is the newest attraction in Las Vegas, and it's really become the talk of the town this summer.

The crown jewel is Meow Wolf's Omega Mart, a massive escape-room-meets-art-installation-meets-social-commentary … honestly, it's hard to describe without giving away spoilers, but it's well worth a visit.

Factor in an hour or two if you just want to zip through or several hours if you really want to dive into the mysteries and clues within.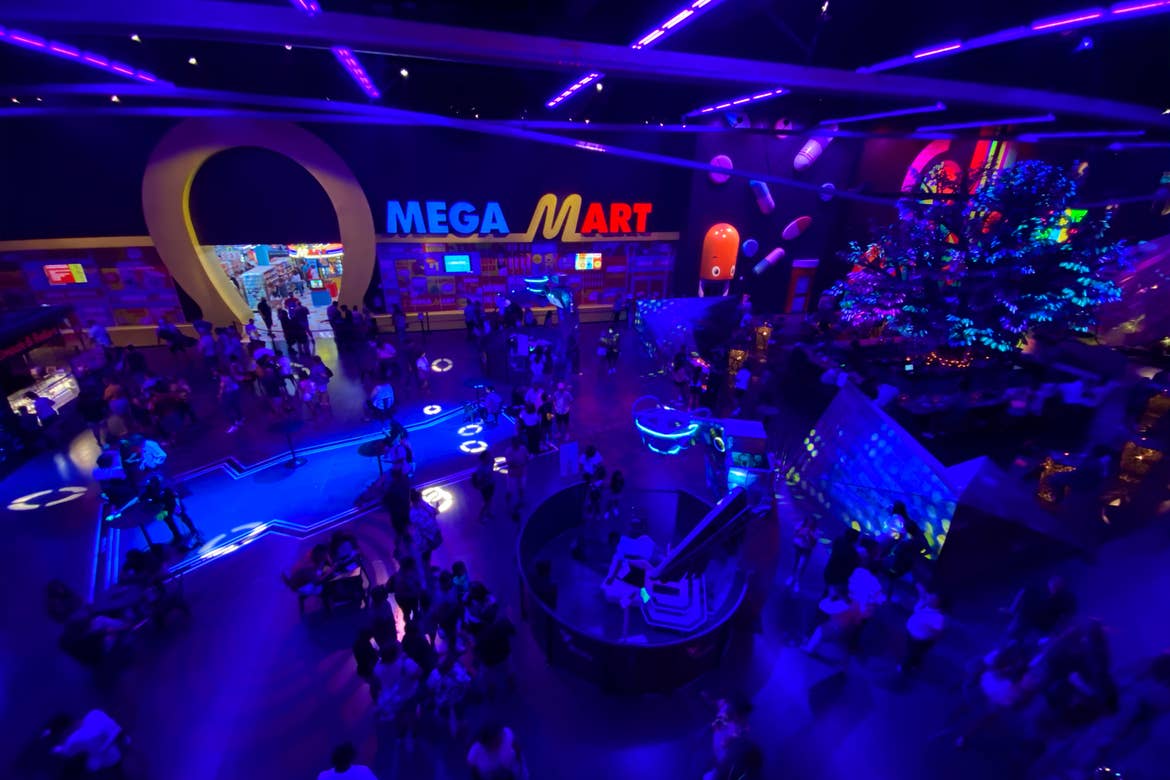 Also at Area 15, you can do axe throwing, a super cool indoor driving range experience, arcade, gourmet food options, a hang-gliding adventure, virtual reality and an interactive Van Gogh exhibit.

It's really something, and again, it's a great indoor activity for the summertime.

Area 15 is not far off the Strip, so it's easily accessible via rideshare. Be sure to reserve your tickets in advance and keep in mind, each experience within Area 15 requires its own reservation.


11. Take a day trip to the Hoover Dam.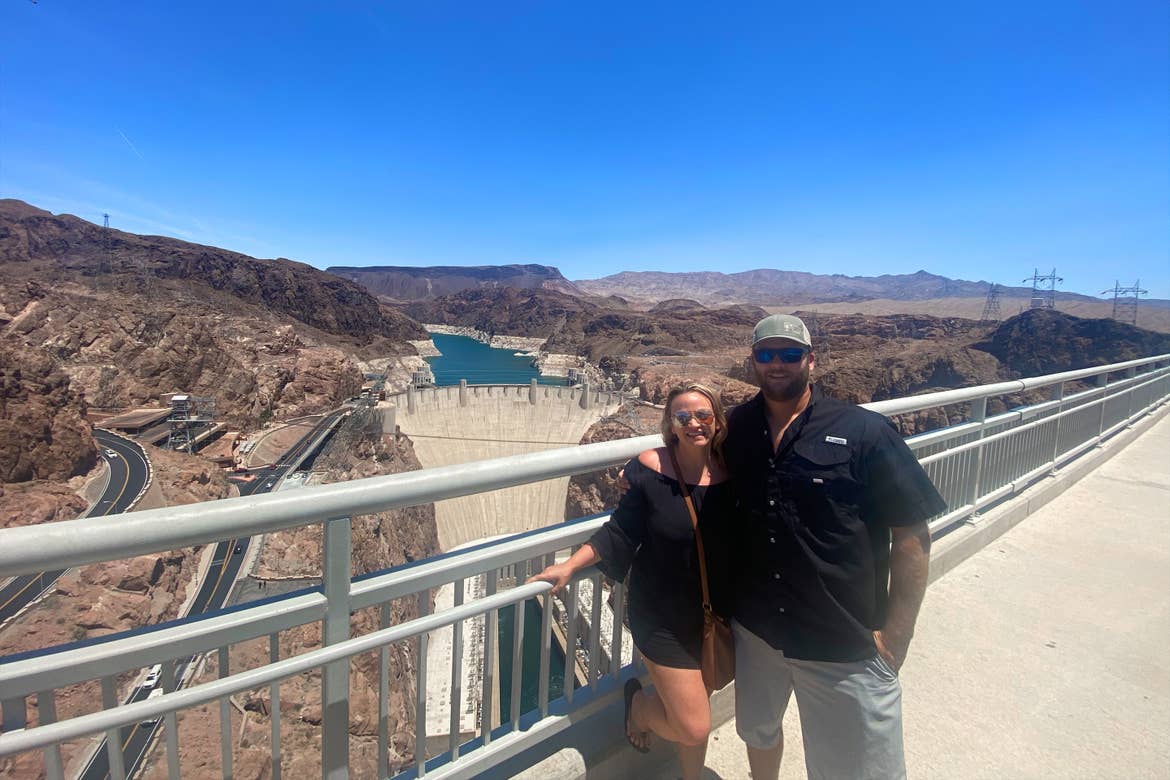 Rick and I watched National Lampoon's Vegas Vacation to prepare for our adventure, so we couldn't wait to get to the Hoover Dam.

Fortunately, there's way more to it than "dam" jokes, though depending on who you're with, those never quite go away.

There are guided tours you can book leaving from Las Vegas that'll take you to the dam, or you can rent a car and explore at your leisure.

While tours weren't operating at the time of our visit, the Hoover Dam's visitor center and cafe are open.

We took the short walk up to the bridge overlooking the dam first. There's a handicap-accessible ramp or stairs to the pedestrian overlook, along with various signs along the way highlighting the bridge's construction history.

After we took in the view from above, we made our way down to the Hoover Dam's visitor center and did a self-guided tour.

Once you park in the garage, you're free to walk across the top of the dam, which takes you from Nevada to Arizona in a matter of moments. You even change time zones!


12. Take a hike or drive through Valley of Fire State Park.


What an incredible day trip just outside Las Vegas!

If you want to experience the true desert wilderness with sand, colorful rock formations and tumbleweed as far as the eye can see, make time for hiking the trails in Valley of Fire State Park.

While it was too hot for us to hike during our visit, the road through the park was as scenic as it gets!

We stopped at every overlook to walk around and take photos of the red sandstone formations and gray and tan limestone. Keep an eye out for ancient, petrified trees and 2,000-year-old petroglyphs.

You could easily spend a full day in this state park exploring every nook, cranny and trail, but if you don't have the time, an hour or two breezing through by (luxury sports) car is still worth it.

I said "wow" about 1,000 times in the short loop through this state park. Such a gem!


Where to Stay in Las Vegas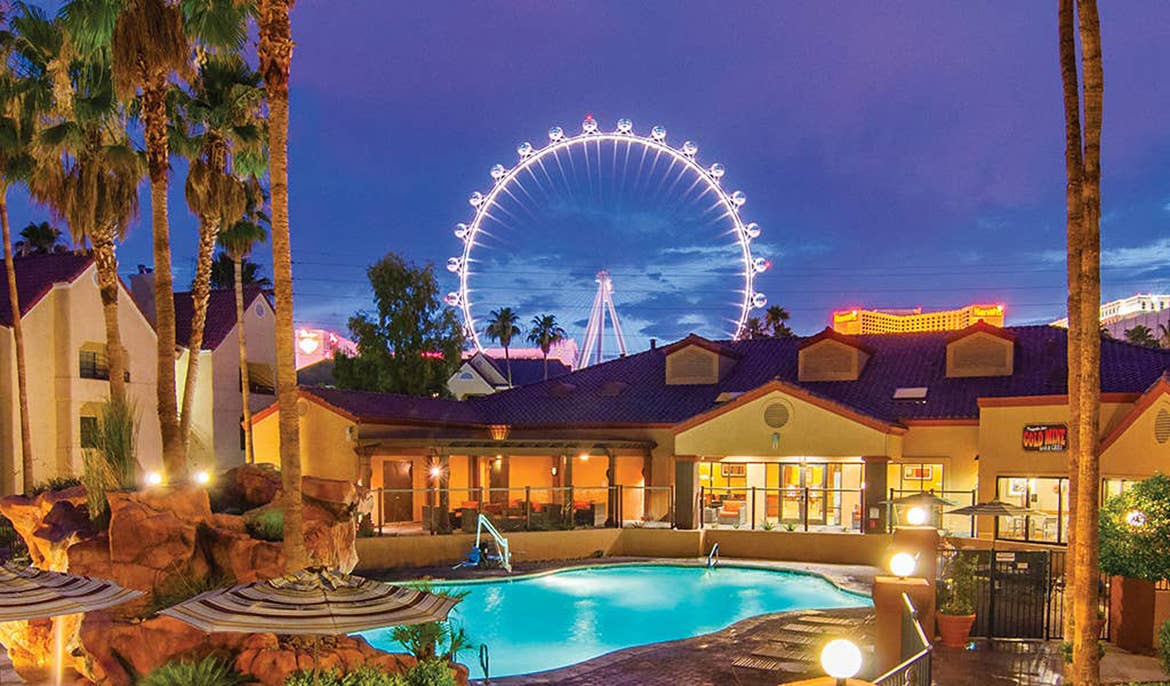 Our "home base" at Desert Club Resort

I felt so at home in Las Vegas this visit, and while I chalk a lot of that up to it being my 6th or 7th time, it also had a lot to do with staying at Desert Club Resort.

This wasn't our first time visiting a Holiday Inn Club Vacations property. Last year, we did a relaxing friends' vacation at Orange Lake Resort in Orlando.

One thing we loved about both — cooling off in the pools and having a roomy home base to come back to after a day in the sun.

At Desert Club, we stayed in a one-bedroom Signature Collection villa with a full kitchen, living room, walk-in closet, balcony, dining room, enormous bedroom and washer and dryer.

(There's also a fireplace, but we're saving that for our next visit, say, in the winter.)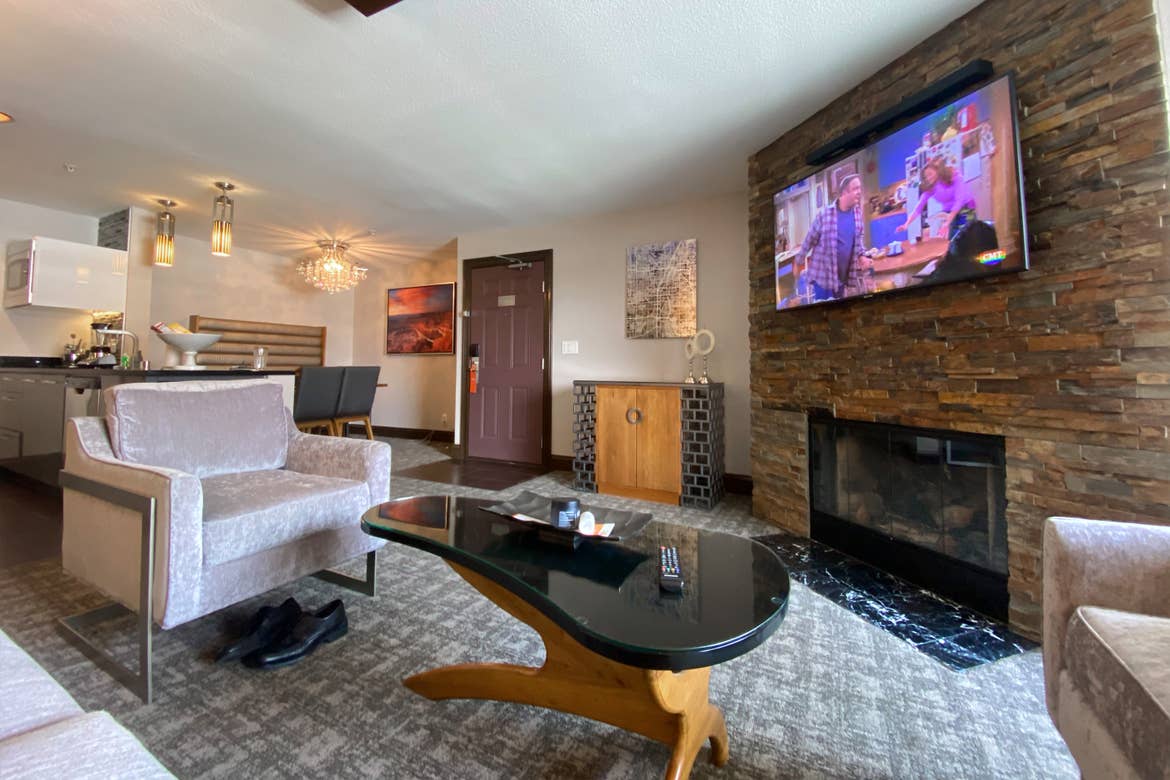 A one-bedroom Signature Collection villa at Desert Club Resort

It had everything we needed to focus on our fun Vegas itinerary, especially since it was just a block off Las Vegas Boulevard.

We also got plenty of use out of the resort's pools — a true oasis to cool off in between our shenanigans on the Strip.

It was so nice to have the space to unpack, a casual breakfast before exploring and ample free parking — all with the High Roller, the world's largest Ferris wheel, right within view just a block away.
Check Out Your Vegas Oasis
Vegas has so many classic, world-class attractions, shows, hotels, sights and more — there's truly no other place like it.

Watch these friends explore the city and unwind from all the excitement at Desert Club Resort to get a feel for what's waiting for you in the Entertainment Capital of the World.
Tips for Visiting Las Vegas Right Now
Here are some of my top tips for your upcoming Las Vegas vacation:


1. Take advantage of shuttles and transportation — especially in the summer.
At Desert Club Resort, you're conveniently situated a 5–10-minute walk from the Las Vegas Monorail, so take advantage!

While many of the Strip's most popular attractions are relatively compact and walkable, in 100+ degrees you might appreciate air-conditioned public transportation more than ever.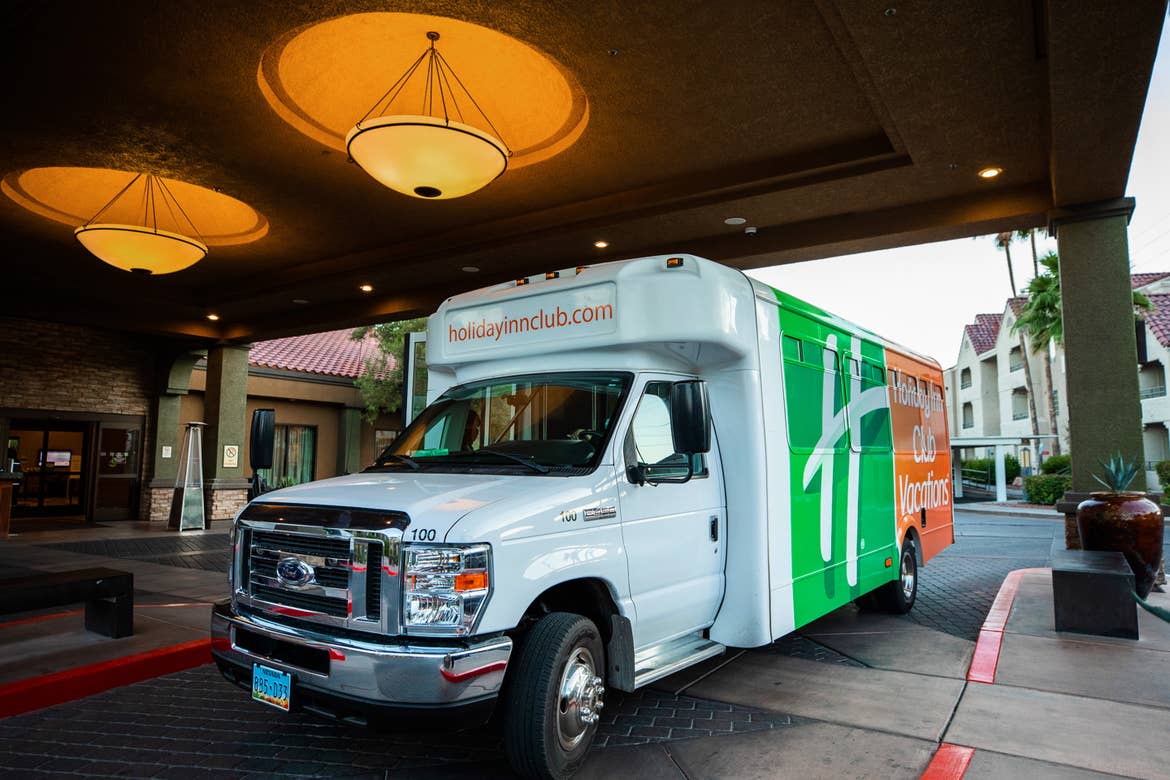 2. Make reservations for everything you want to do.
I usually like to play it by ear when I travel, but Vegas right now is different from how it was last year and I think this summer is going to be a whole new ballgame across the U.S.

Capacity restrictions are significantly reduced, but with so much pent-up travel demand, I'm predicting the busiest summer ever on the Strip.

If there's a restaurant or experience you have your heart set on, reserve it ASAP.


3. Pencil in relaxation time.
Be sure to schedule time to relax and enjoy the resort's amenities! Desert Club Resort has five refreshing pools — heaven on a hot Nevada day.

Plus, if you're taking a late-summer vacation, there are currently free summer-only activities like Movies Under the Stars, poolside games, tie-dying and ice cream parties.

If you're doing a family trip with kids, it's a great way to spend downtime during the day before heading out to see the sparkly sights or a show in the evening.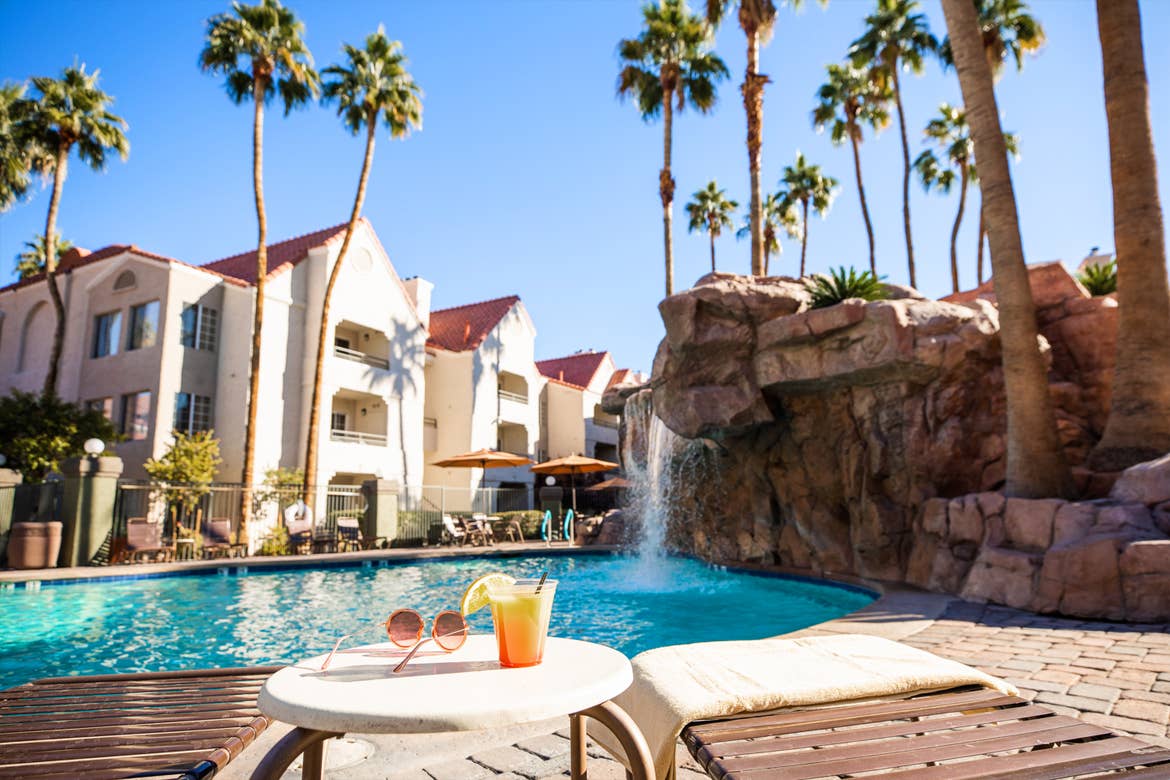 No matter what you're into, Las Vegas probably has it, and realistically, they probably have the best of whatever "it" is. From shopping to dining to nightlife to outdoor activities to thrills — there are so many things to do in Vegas right now.

This city is one of the rare destinations where no matter how many times you visit, you'll always find something new to entertain you.

And after his first visit, I'm happy to report Rick is just as big a fan of Las Vegas as I am. We'll be back!
Our guest bloggers are compensated for their writing contributions and honest opinions.

All information is subject to change. This article is a curated guide and is neither sponsored nor considered an official endorsement. Please be sure to check information directly with any/all tours, guides or companies for the most up-to-date and direct details.