Eliana Tardio
Eliana is a well-known inclusion advocate and activist worldwide. She started her career in 2004 with the birth of her first child, Emir, who was diagnosed with Down syndrome in utero. Three years later, her daughter Ayelen was born and diagnosed with the same condition. Inspired by them she started a blog back in 2007, that is nowadays one of the most popular of its kind and brings more than one million followers from all over the world on its associated social media platforms.
Instagram
Twitter
Facebook
Pinterest
Website
A couple of weeks ago my family had the privilege of enjoying a vacation at Orange Lake Resort in Orlando, Florida, for 5 nights!

Our "villa" was large enough to host our extended family, so we brought our little nieces and tías (aunts) to join the celebration.

What were we celebrating?

We were excited to experience our family's first vacation at Orange Lake Resort, and very importantly, we were also celebrating our first family vacation after getting vaccinated.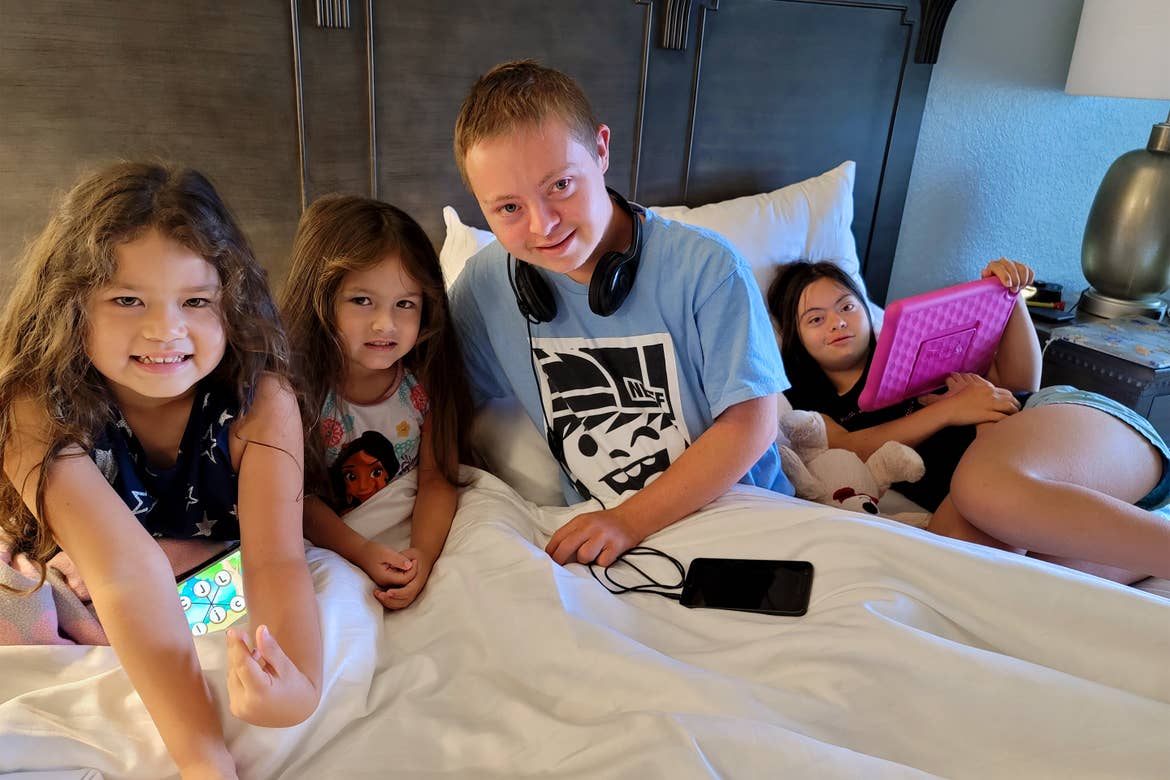 My nieces, Zuri (5) and Amira (3), and my children, Emir (17) and Yaya (14)

My kids, Emir and Yaya were craving water, sun and quality time with our extended family, and that's when Orange Lake Resort came to my mind.

We didn't want a hotel — we needed the cozy, comfy, convenient feeling only a resort like Orange Lake can provide.

Read on for the full recap of our summer vacation at Orange Lake Resort, including the resort activities we loved, our villa's best features and so much more.

Se habla español? Click here to skip down to read this story in Spanish!


The Check-In Process at Orange Lake Resort
We shared social media posts and Instagram stories on-the-go, and some of my followers had asked me about safety.

It's natural to have some concerns about traveling after being isolated for over a year, and it's important to be sure your loved ones are safe when you decide to take your first post-pandemic family vacation.

That said, the check-in and overall process at Orange Lake Resort was great! For our first trip back "out there," we really appreciated the assurances we felt with having the that the Holiday Inn Club Vacations® Safe Travels program in place.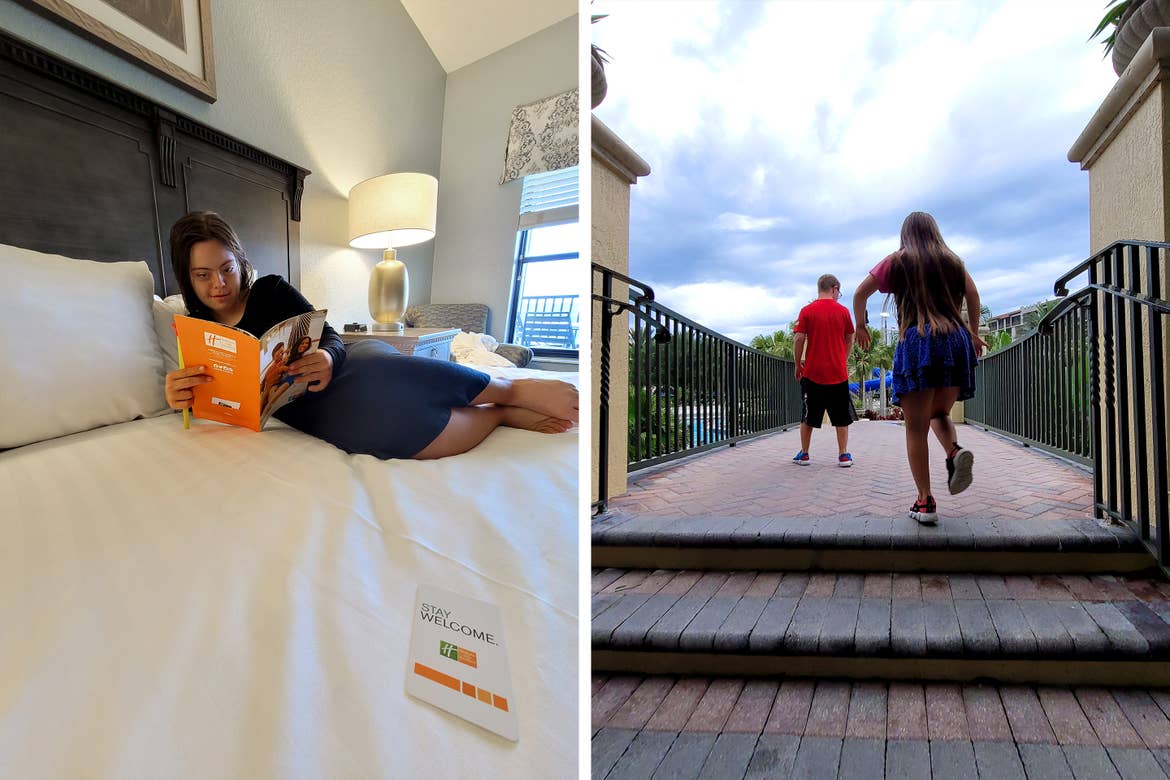 All checked in and ready to start our vacation!


Our First Impressions of Orange Lake Resort
After check-in, we were surprised to find out that Orange Lake Resort is a giant hidden paradise.

It has four villages, or areas: River Island, North Village, West Village and East Village. And they all have different pools and activities.

We drove our car to our villa's building in River Island, and we were delighted to pass by different amenities, restaurants and open areas where you can walk, relax and have lots of fun.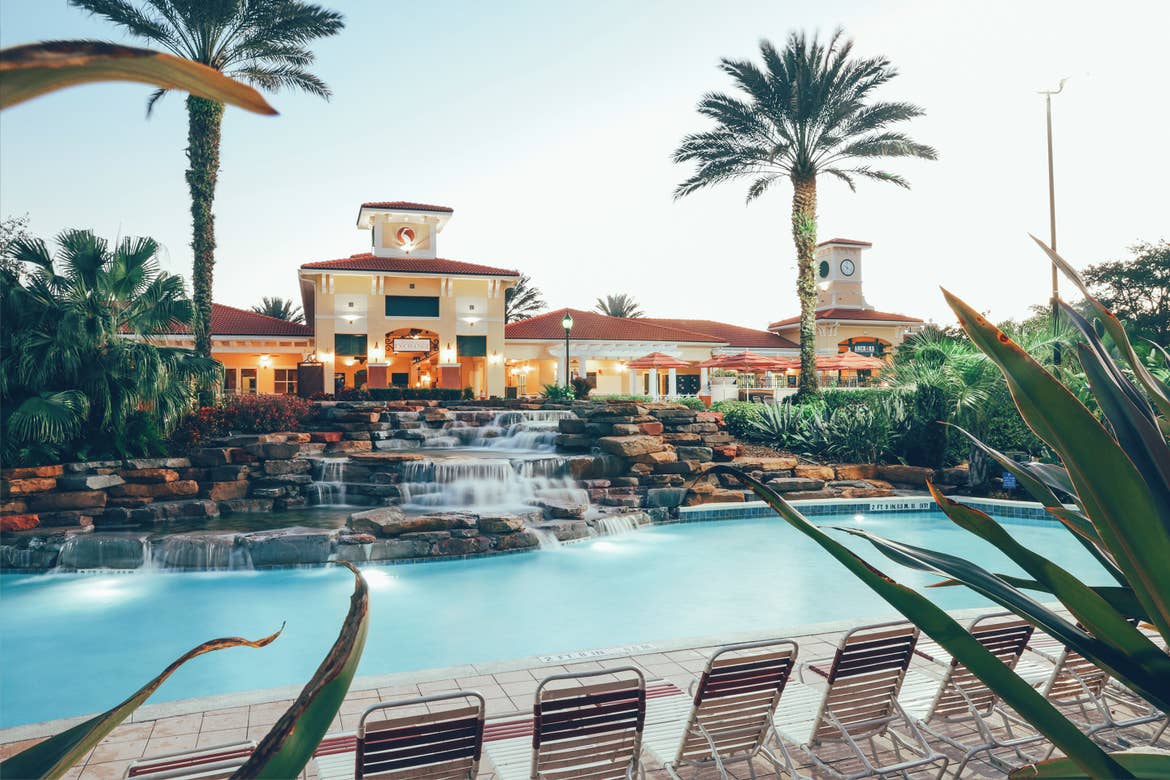 The 1,200-foot lazy river in River Island

We were welcomed by the manager, along with another team member to help us with our luggage. Both of them were very kind and warm.


Our Villa at Orange Lake Resort
Our villa was located on the 8th floor, and when the door opened, we were all like, "WOW, are you serious? This looks like a house."

Equipped with everything we needed (and more), the two-bedroom villa holds up to eight guests comfortably, has two full bathrooms, a beautiful balcony, a full kitchen with all needed appliances, and even a washer and dryer.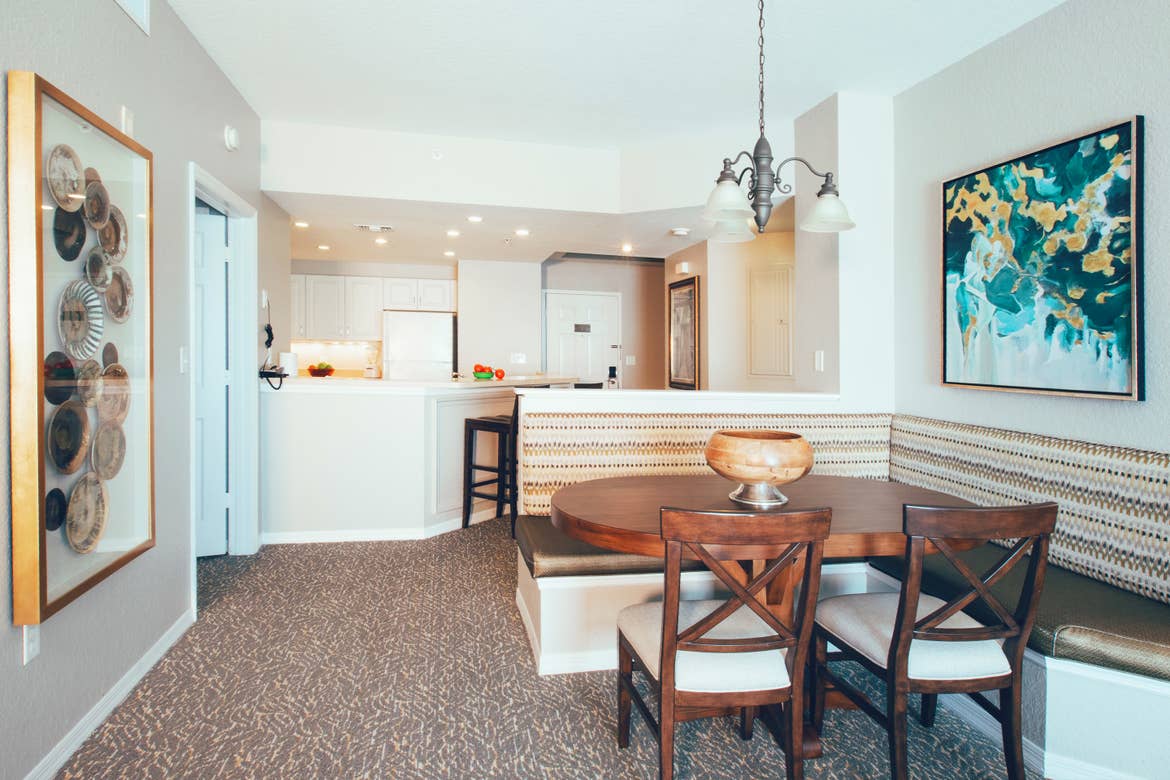 The kitchen area in a two-bedroom villa in River Island

I was already sold with the place, but having the kitchen was the cherry at the top.

Every time I go on vacation with family, I pack a bag with some utensils and essentials in case they're not available.

Well, I'm happy to report we didn't even need that bag. We had everything we needed in our villa kitchen, including pots, utensils, a coffee maker and toaster.

And it even had a small pantry we filled with products we bought from the grocery store less than two miles from the resort.

I always try to keep our diet clean and healthy, so it's extremely important to me to have this option available to do my best with our sugar and gluten-free family diet.

But because we were on vacation, sometimes we took a break from it and decided to enjoy our time guilt-free, and for that, our hosts surprised us with a welcome basket full of goodies for the kids and adults.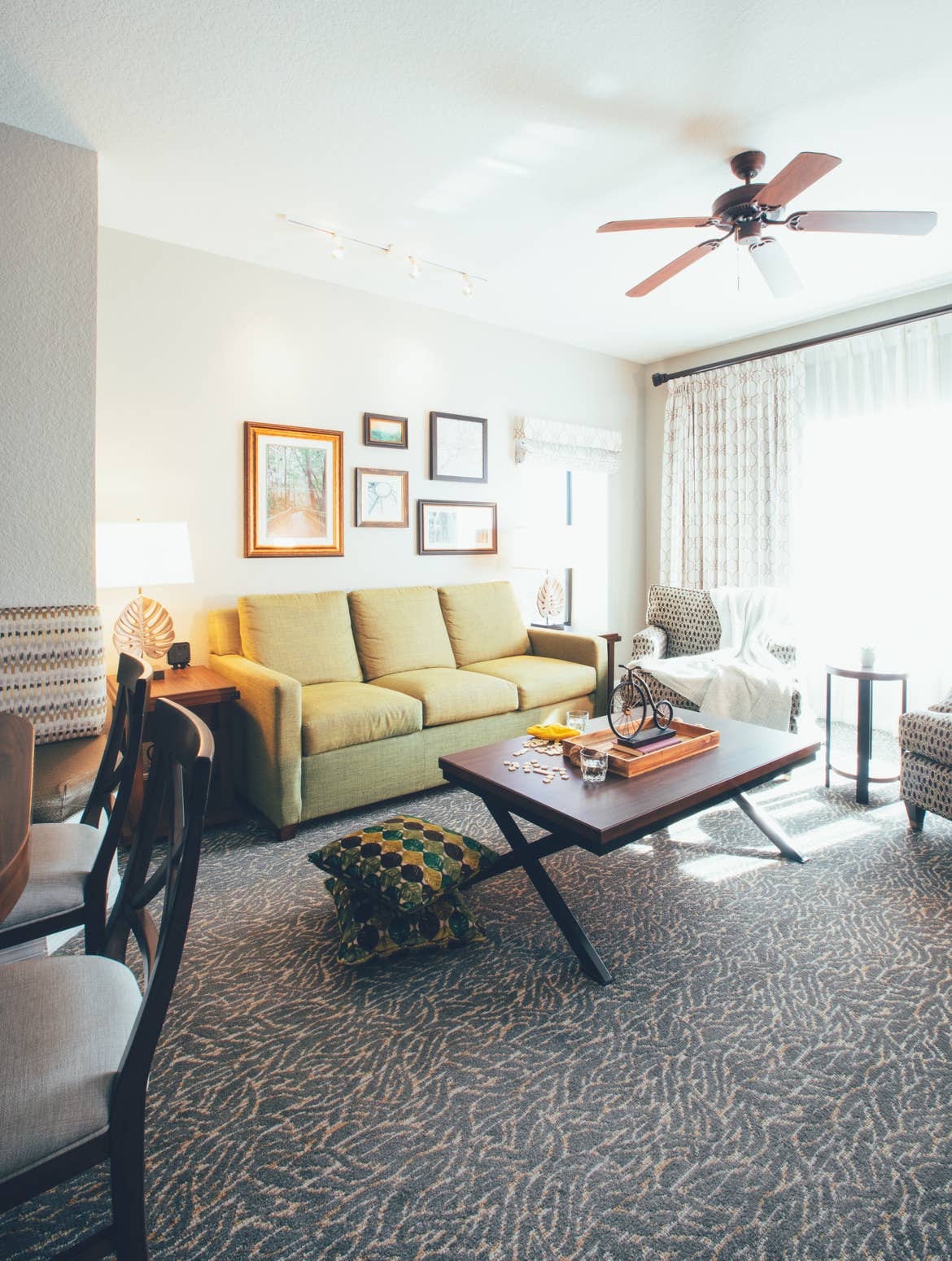 The living area in a two-bedroom villa in River Island

Cookies, chips, snacks and a delicious bottle of white wine, which we enjoyed on our balcony while admiring the view of the pool area and tropical surroundings.

We did early check-in, so by the time we had taken a rest after our three-hour road trip from Fort Myers, and had our snacks and a glass of wine, we decided the best plan was to try the lazy river, relax and let the fun begin!


---
Planning your next great Orlando escape?
---
Lazy River & Pool Time in River Island
As a party of eight, with kids of all ages, sometimes it's really hard to find entertainment that satisfies everyone while keeping everyone together at the same time.

Well, let me tell you, this is not something to worry about if you're taking a multi-family vacation at Orange Lake Resort.

The River Island lazy river and pool area has entertainment for people of all ages and abilities.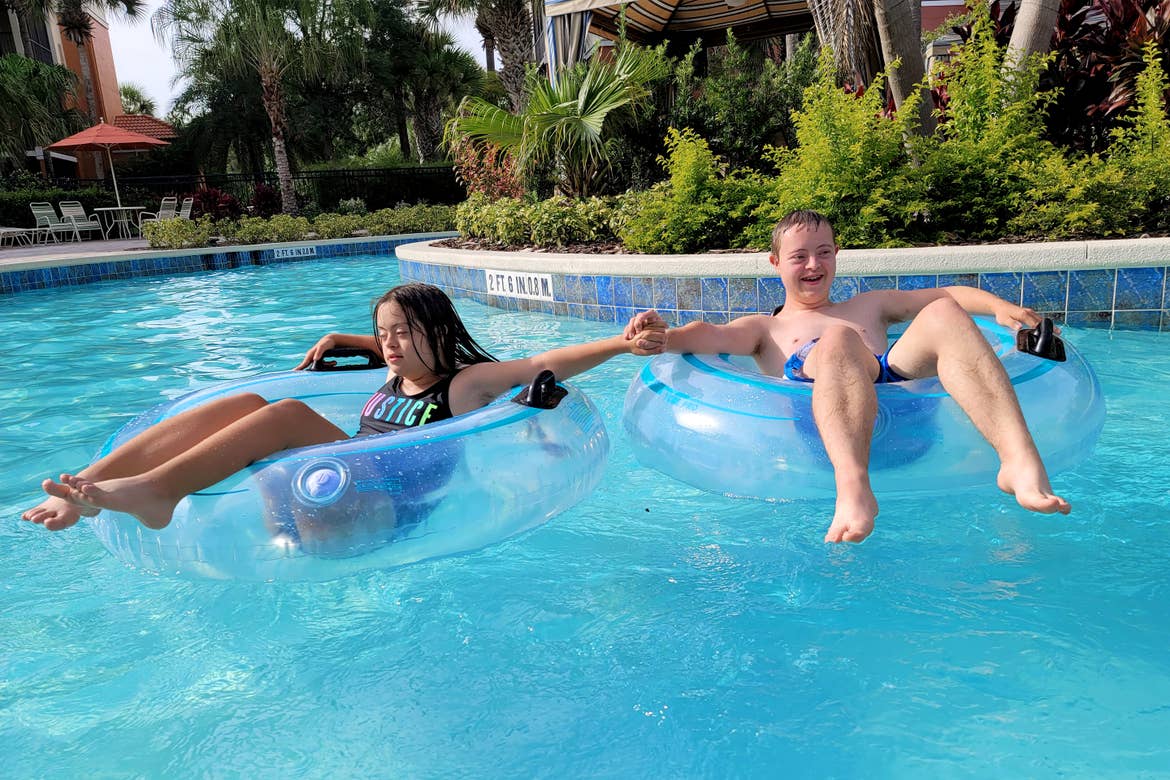 Lazy river family fun in River Island!

The lazy river is perfect for everyone, and there's a waterslide for those who are more adventurous and want to add a little extra adrenaline to the excitement.

For those who want to stay out of the water, the hammock area is beautiful and relaxing. It's a sandy space with tons of palms and shade. Perfect for lying down, taking a little nap or reading a book.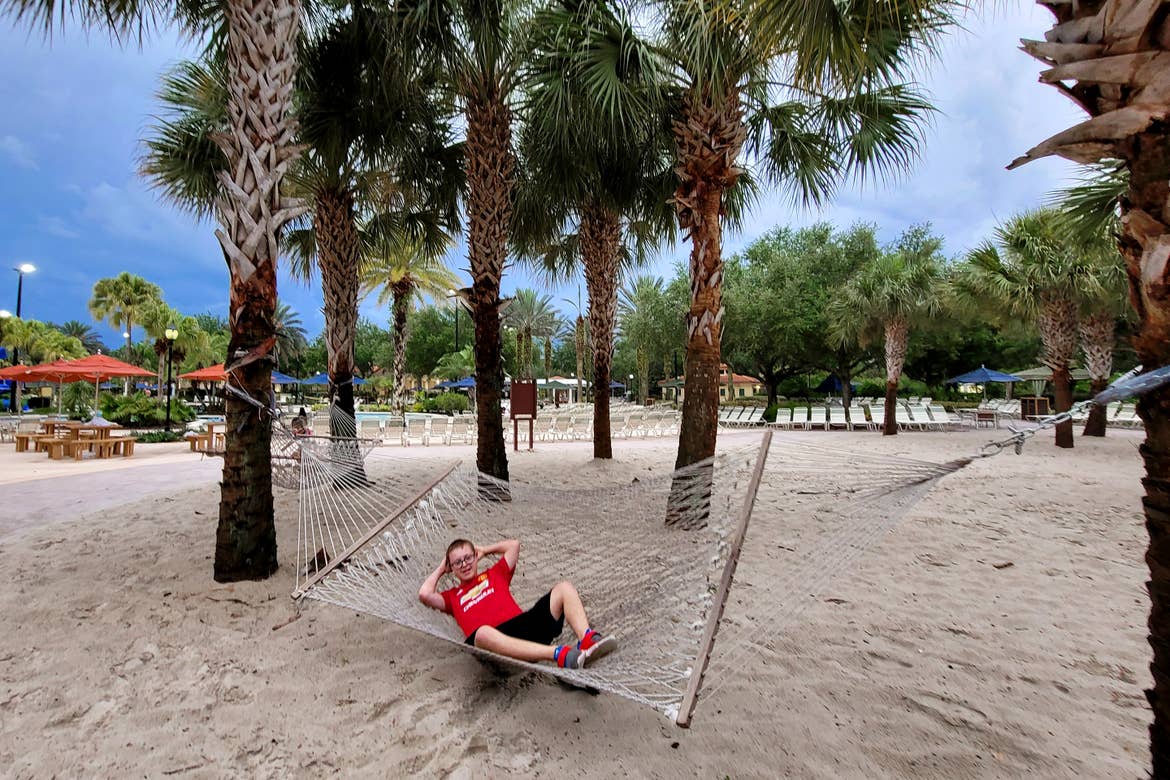 Enjoying this little piece of paradise on the hammocks in River Island

If you want to add a cocktail, there's a conveniently located bar with a wide variety of drinks and snacks to share and enjoy.

And this was just our first day. The discovery continued during the following days as again, the place is huge and beautiful.


More Pool Time at Splash Lagoon in North Village
Next, we visited Splash Lagoon in North Village, which is designed for kids. Again, we were surprised to find something for everyone, especially my nieces, Zuri and Amira.

Some of us chose to lie down on the pool chairs under an umbrella, while the kids played in the water fountain and kiddie pool area.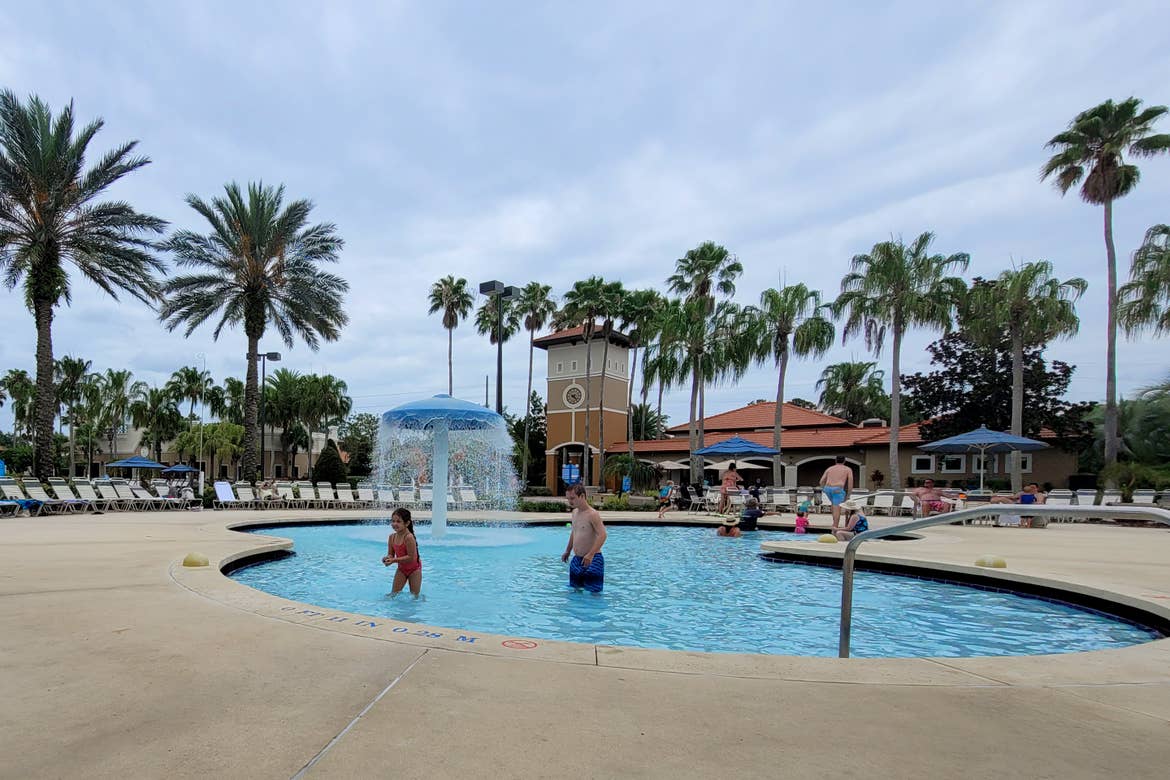 The North Village pool area is perfect for splashing the day away with little ones.

We wanted to take full advantage of the sun in this rainy season, so we decided to have lunch at the pool.

We had a delicious family pizza and drinks from Paisan Pizzeria. Honestly, I was surprised by the affordable prices, and again, the convenience and efficient service.

We ate our pizza around the pool and had a second round of fun until the rain came.

By that time, we were ready to go back to our villa, take a shower, put on comfy clothes, and prepare a fresh, nutritious meal for dinner.


More Things We Loved About Orange Lake Resort
During the rest of our stay, we enjoyed the walking paths all over the resort. There's a beautiful path around the pool in River Island, full of plants and trees, and a wooden bridge that crosses the lazy river.

We had ice cream and coffee at Starbucks (located at Currents Café in River Island), and we tried food from the restaurants conveniently located in the area.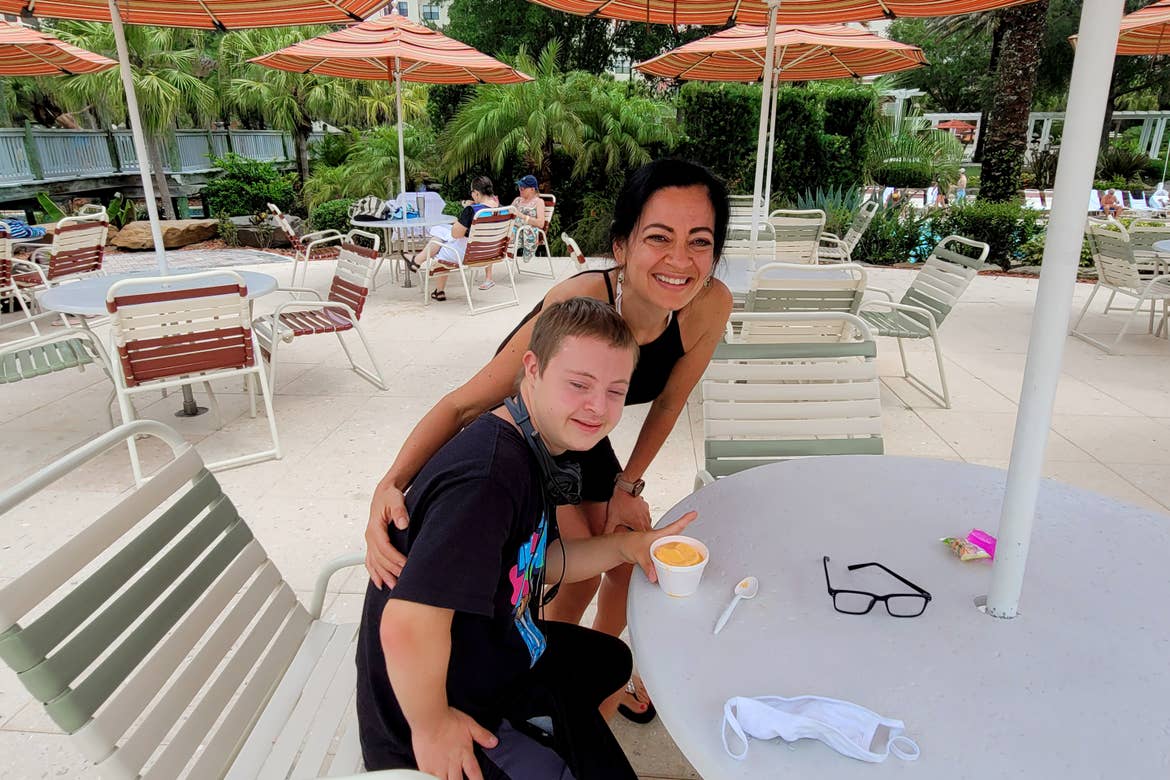 We got to do even more resort activities, such as the rock-climbing wall, mini golf and the arcade. And there are henna tattoos and other fun activities for the kids, too.

The resort has plenty of fresh air, you have freedom to explore, and the resort staff gives off a positive vibe. They greet you with a smile every time they see you.


Feeling Grateful After This Incredible Vacation
With all this, I can only be grateful for our family's first Orange Lake Resort vacation. Another chapter to add to our family memories.

It was a vacation that filled us with an incredible feeling of joy and gratitude in the process of moving back to a little normalcy after a stressful time that has affected everyone in many ways.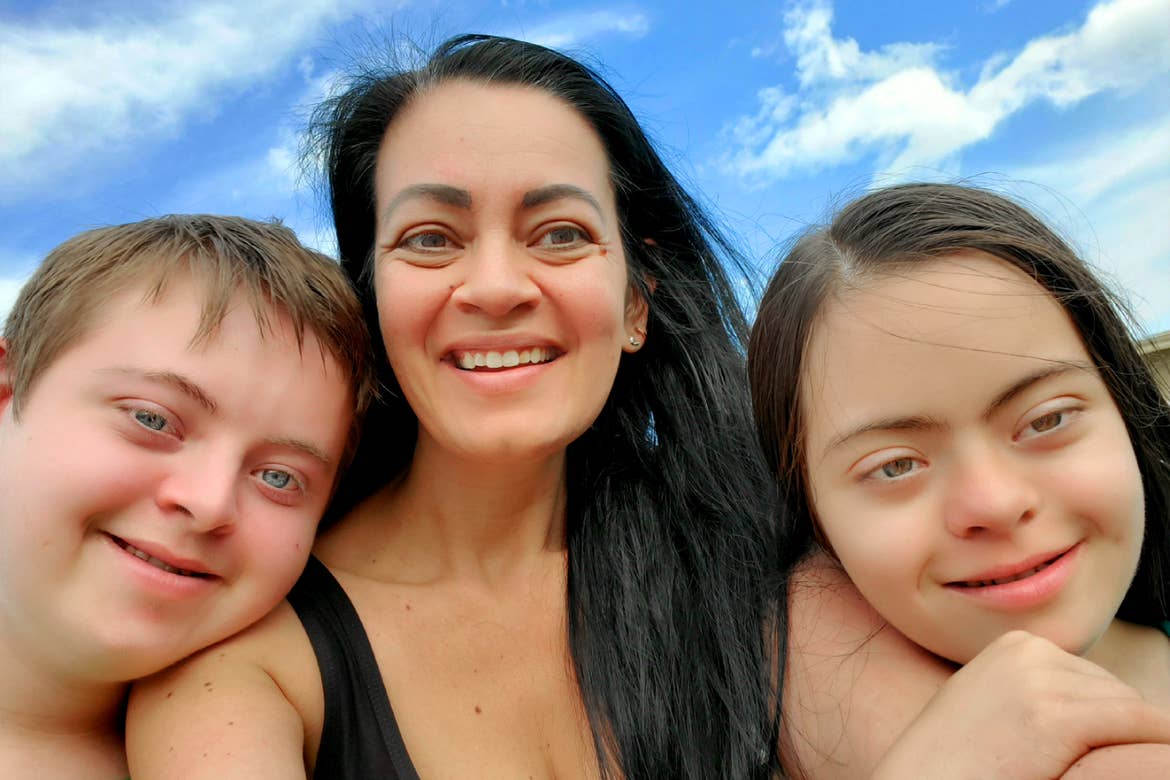 We came back home reenergized, happy and hopeful. The magical effect a vacation like that has on people is undeniable.

I hope everyone has the opportunity to enjoy a similar experience.

And believe me, if you're looking for the perfect getaway for your family, an Orange Lake Resort vacation is what you need.
Picture Your Own Orange Lake Resort Vacation
Wondering what you'd be doing right now if you were at Orange Lake? See how the family in this video takes full advantage of all the resort has to offer, from their roomy villa to those sparkly, blue pools and plenty more in between.
La Primera Vacación de Nuestra Familia en Orange Lake Resort
Hace un par de semanas, mi familia tuvo el privilegio de disfrutar de unas vacaciones en Orange Lake Resort en Orlando, Florida, ¡durante 5 noches!

Nuestra "villa" era lo suficientemente grande como para albergar a nuestra familia extendida, así que trajimos a nuestras sobrinitas y tías para que se unieran a la celebración.

¿Qué estábamos celebrando?

Primero, estábamos emocionados de experimentar las primeras vacaciones de nuestra familia en Orange Lake Resort y, lo que es más importante, también estábamos celebrando nuestras primeras vacaciones familiares después de vacunarnos.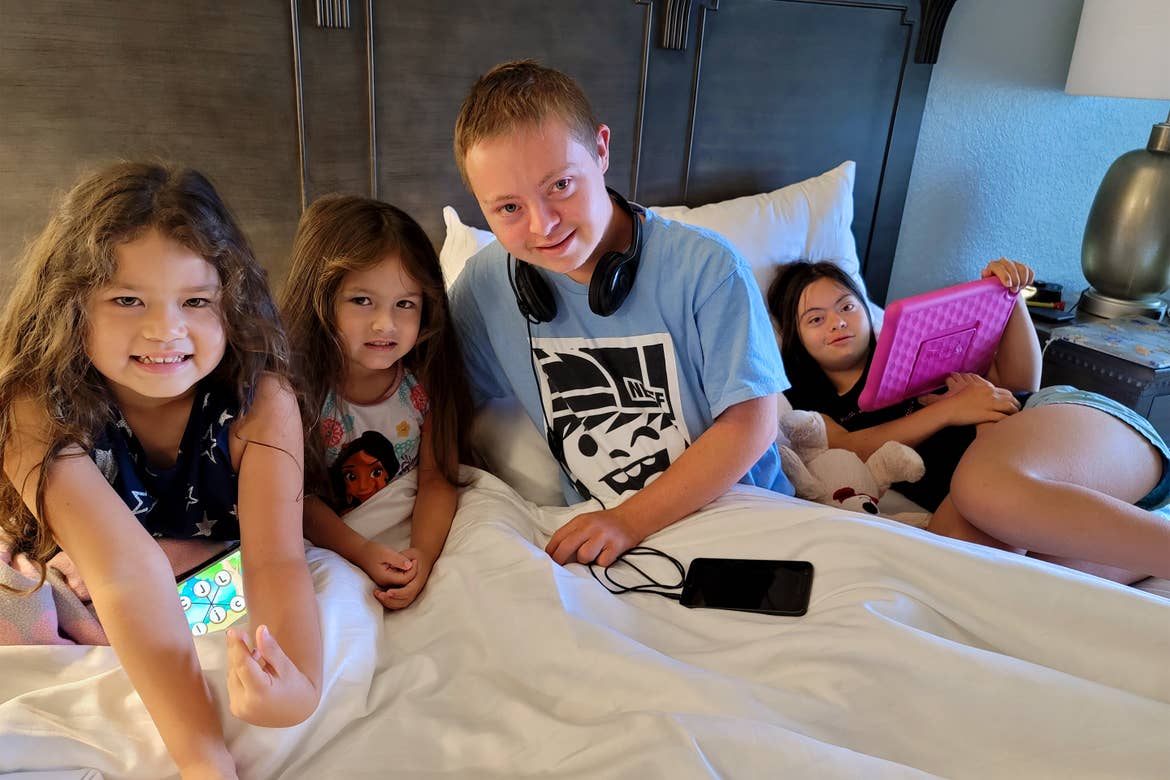 Mis dos sobrinas, Zuri (5) y Amira (3), y mis hijos Emir (17) y Yaya (14)

Los niños ansiaban agua, sol y tiempo de calidad con nuestra familia extendida, y fue entonces cuando se me vino a la mente Orange Lake Resort.

No queríamos un hotel — necesitábamos el sentimiento acogedor, confortable, y conveniente que solo un resort como Orange Lake puede ofrecer.

Sigue leyendo para conocer el resumen completo de nuestras vacaciones de verano en Orange Lake Resort, incluidas las actividades del resort que nos encantaron, las mejores características de nuestra villa y mucho más.


El proceso de check-in o registro en Orange Lake Resort
Compartimos publicaciones en las redes sociales e historias de Instagram sobre la marcha, y algunos de nuestros seguidores me preguntaron sobre la seguridad.

Es natural tener algunas preocupaciones relacionadas a viajar después de haber estar aislados por más de un año, y es importante estar seguros de que nuestros seres amados están a salvo cuando decidimos tomar nuestra primera vacación después de la pandemia.

Dicho esto, el registro y proceso en general en el Orange Lake Resort ¡fue fabuloso! Para nuestro primer viaje de vuelta al mundo "allá afuera," realmente apreciamos lo protegidos que nos sentimos teniendo el programa Safe Travels, o viajes seguros, del Holiday Inn Club Vacations®.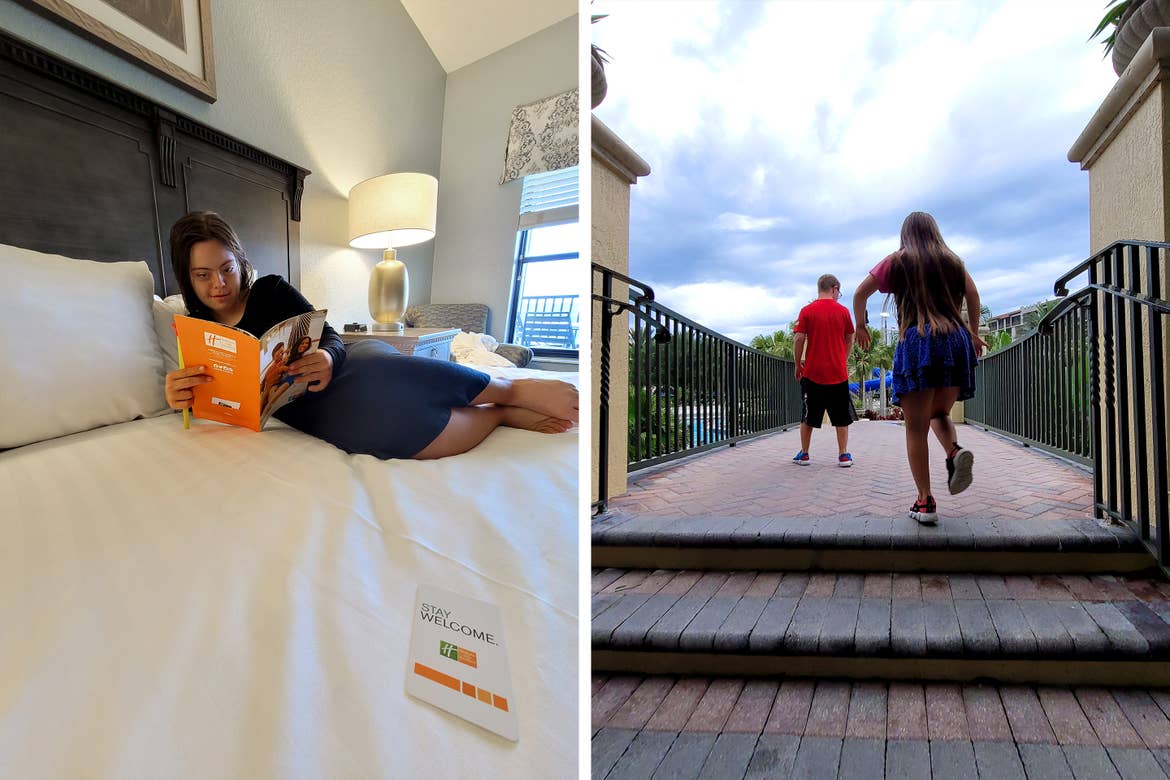 ¡Todos hicimos checkin y estamos listos para empezar nuestras vacaciones!


Nuestras primeras impresiones de Orange Lake Resort
Después del check-in o registro, nos sorprendió descubrir que Orange Lake Resort es un paraíso escondido gigante.

Tiene cuatro pueblos o áreas: River Island, North Village, West Village y East Village. Y todos tienen diferentes piscinas y actividades.

Condujimos nuestro automóvil hasta el edificio de nuestra villa en […], y estuvimos encantados de pasar por diferentes servicios, restaurantes y áreas abiertas donde uno puede caminar, relajarse y divertirse un montón.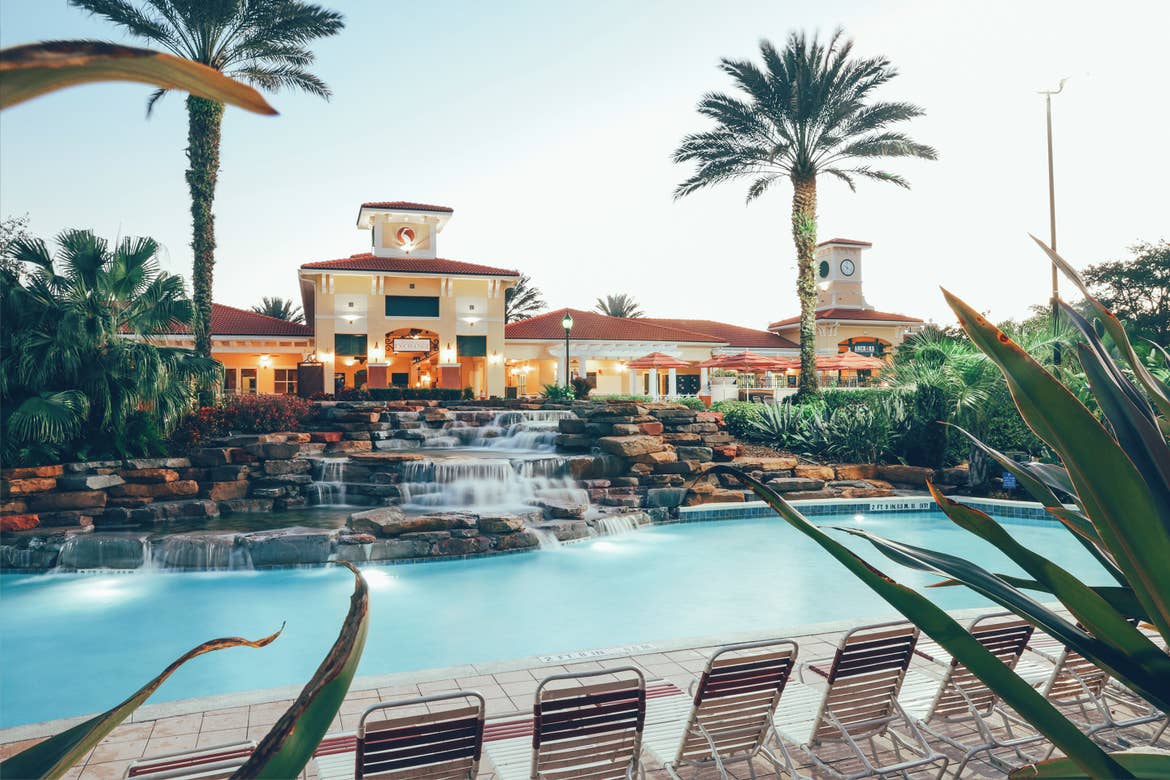 El rio artificial de 1,200 pies en Isla Del Río (River Island)

Cuando llegamos a la villa, fuimos recibidos por el gerente, junto con otro miembro del equipo para ayudarnos con nuestro equipaje. Ambos fueron muy amables y cálidos.


Nuestra villa en Orange Lake Resort
Nuestra villa estaba ubicada en el octavo piso, y cuando se abrió la puerta, todos pensamos, "WOW, ¿en serio? Pero si esto parece una casa ".

Equipada con todo lo que necesitábamos (y más), la villa de dos dormitorios tiene capacidad para alojar cómodamente a ocho personas, tiene dos baños completos, un hermoso balcón, una cocina completa con todos los electrodomésticos necesarios e incluso una lavadora y secadora.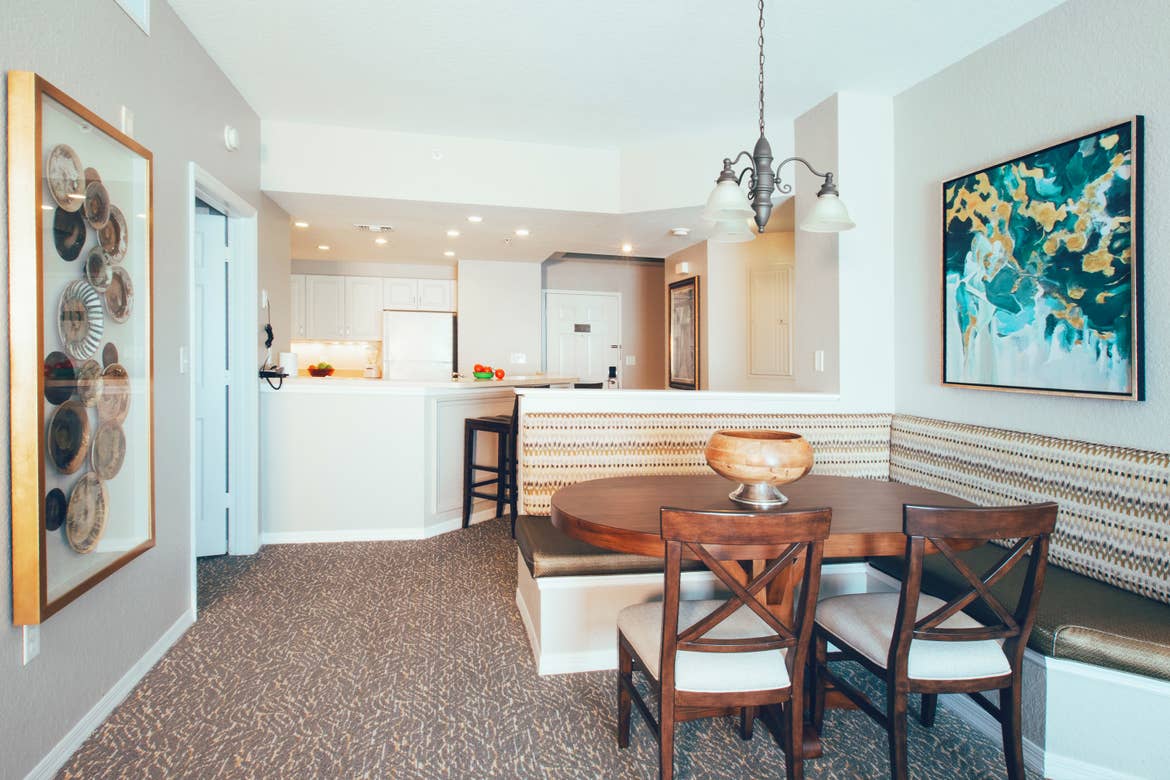 El area de la cocina en una villa de dos habitaciones en Isla Del Río (River Island)

Ya con el lugar estábamos más que felices, pero la cocina fue la cereza del pastel porque tener acceso a cocinar nuestros propios alimentos es muy importante para nosotros.

Cada vez que nos vamos de vacaciones en familia, preparo una bolsa con algunos utensilios y elementos esenciales en caso de que no estén disponibles.

Bueno, estamos felices de compartir que ni siquiera necesitamos esa bolsa. Teníamos todo lo que necesitábamos en nuestra cocina en la villa, incluidas ollas, cubiertos, cafetera y tostadora.

E incluso tenían una pequeña despensa que llenamos con productos que compramos en la tienda de comestibles a menos de dos millas del resort.

Siempre trato de mantener nuestra dieta limpia y saludable, por lo que es extremadamente importante para mí tener esta opción disponible para hacer lo mejor que pueda con nuestra dieta familiar sin azúcar y sin gluten.

Pero en vacaciones a veces nos tomamos un descanso, por lo que decidimos disfrutar sin culpas de la canasta de bienvenida llena de golosinas para niños y adultos con la que nos esperaron nuestros anfitriones.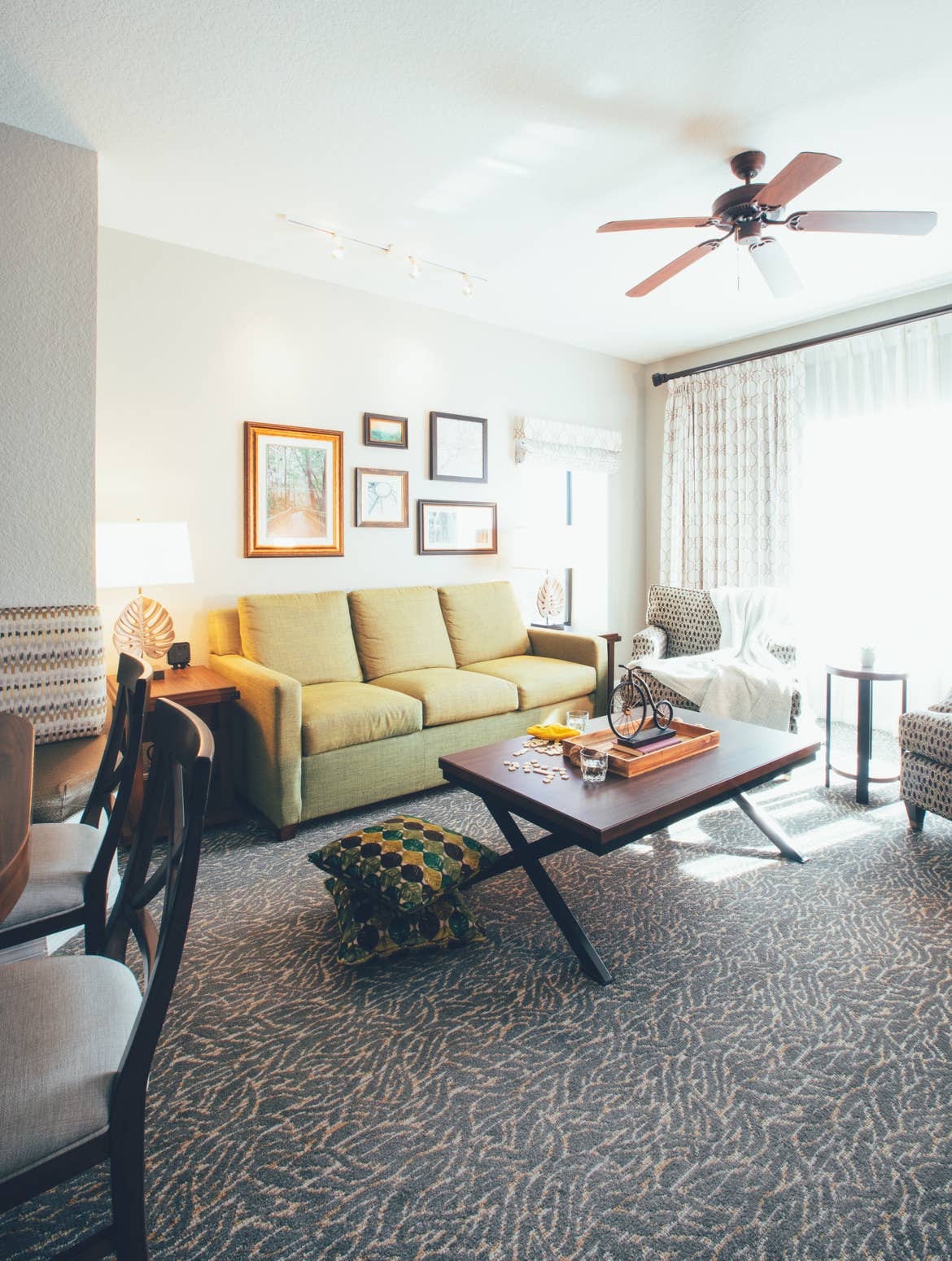 El area de la salón en una villa de dos habitaciones en Isla Del Río (River Island)

Galletas, papas fritas, bocadillos y una deliciosa botella de vino blanco, que disfrutamos en nuestro balcón mientras admiramos la vista del área de la alberca y el entorno tropical.

Llegamos y nos registramos temprano, así que cuando descansamos después de nuestro viaje de tres horas desde Fort Myers y disfrutamos de nuestros bocadillos junto a una copa de vino para los adultos, decidimos que el mejor plan era probar el río lento, relajarnos y ¡Que comience la fiesta!


---
¿Está planeando su próxima gran escapada a Orlando?
---
El Río lento o Lazy River y tiempo en la piscina en River Island
Con un grupo de ocho personas con niños de todas las edades, a veces es muy difícil encontrar entretenimiento que haga felices a todos mientras los mantiene juntos.

Bueno, déjame decirte, esto no es algo de lo que preocuparte si estás tomando unas vacaciones multifamiliares en Orange Lake Resort.

El río lento de River Island y el área de la piscina tienen diversión para personas de todas las edades y todas las capacidades.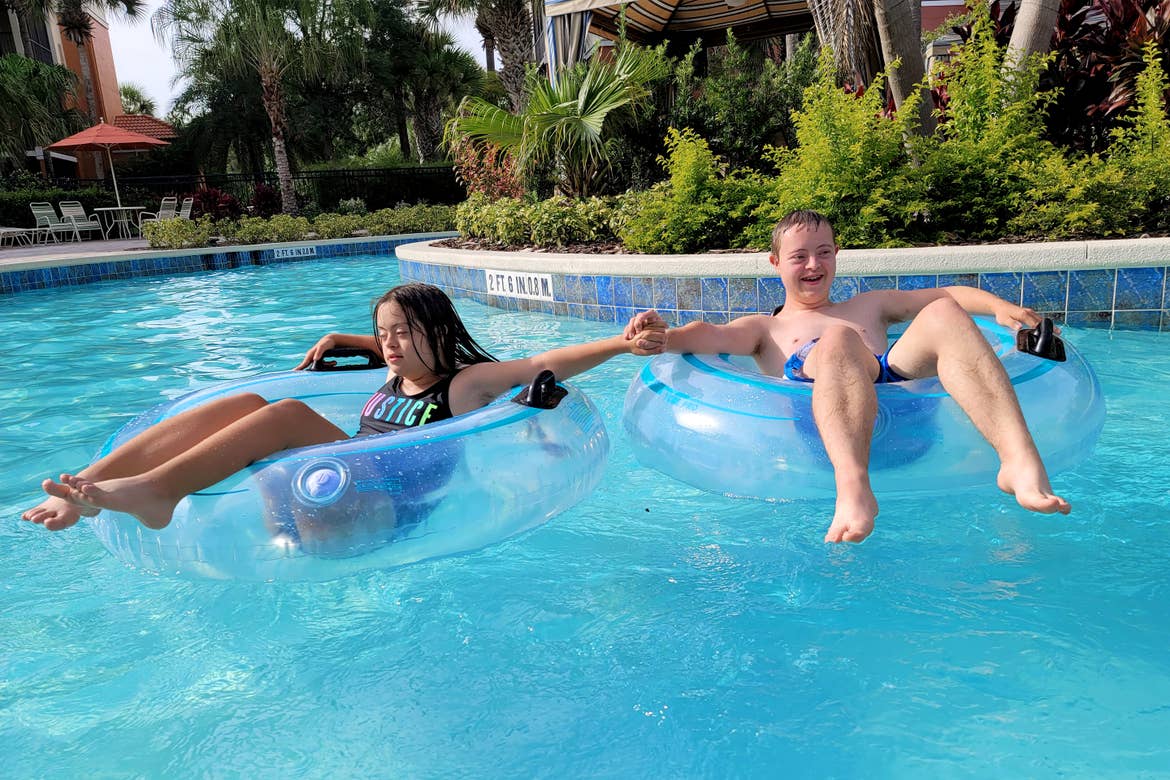 ¡Diversión familiar en el río artificial en Isla Del Río (River Island)!

El río lento es perfecto para todos, y hay un tobogán de agua para aquellos que son más aventureros y quieren agregar un poco de adrenalina adicional a la experiencia.

Para aquellos que quieran mantenerse fuera del agua, la zona de hamacas es hermosa y relajante. Es un espacio arenoso con toneladas de palmeras y sombra. Perfecto para acostarse, tomar una siesta o leer un libro.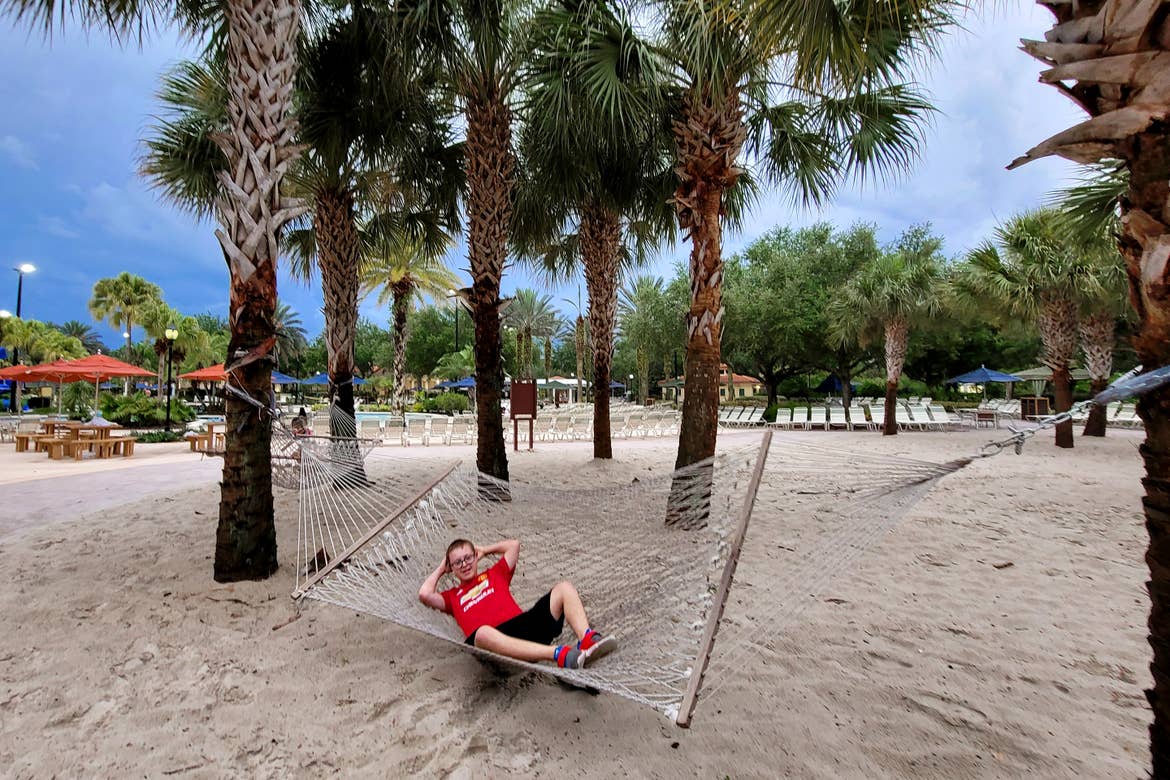 Disfrutando de este pequeño paraíso en una hamaca en Isla Del Río (River Island).

Si deseas agregar un cóctel, hay un bar convenientemente ubicado con una amplia variedad de bebidas y bocadillos para compartir y disfrutar.

Y este fue solo nuestro primer día. El descubrimiento continuó durante los días siguientes ya que, nuevamente, el lugar es enorme y hermoso.


Tiempo en la piscina en Splash Lagoon en North Village
Visitamos el área de Splash Lagoon en North Village, que está diseñada para niños, y nuevamente, nos sorprendió encontrar algo para todos.

Algunos de nosotros optamos por acostarnos en las sillas de la piscina bajo una sombrilla, mientras los pequeños jugaban en la fuente de agua y en el área de la piscina para niños.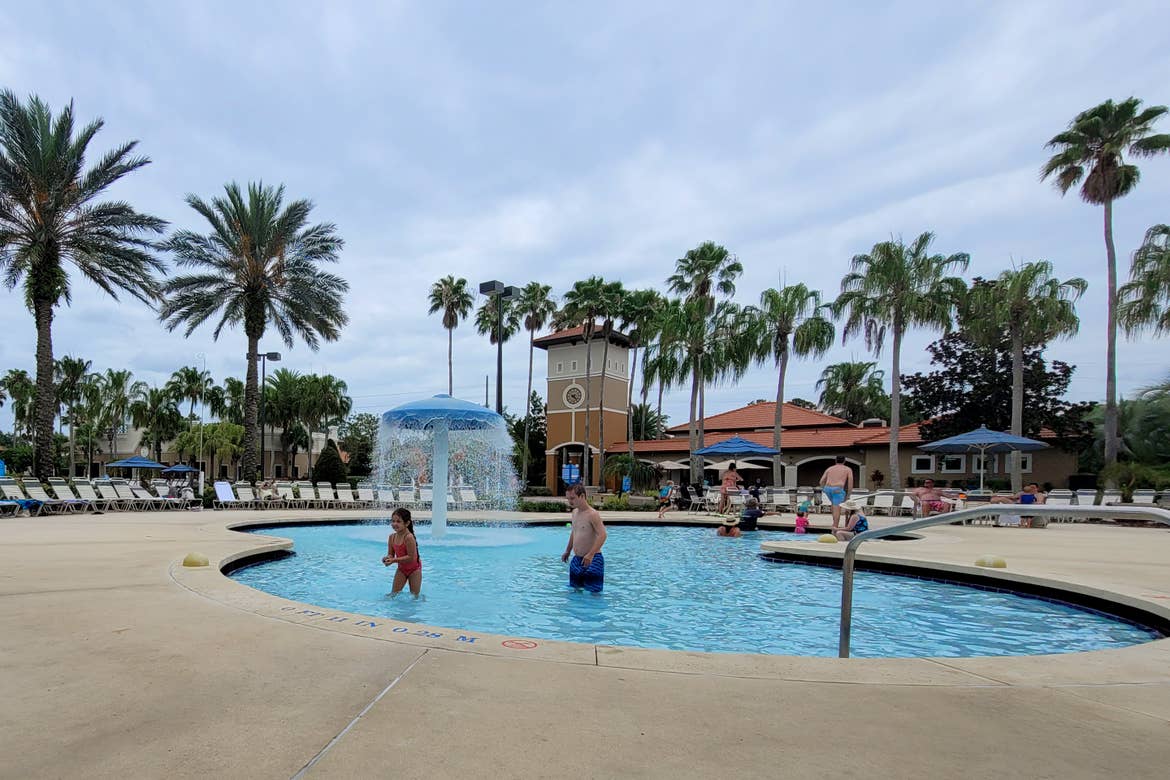 El área de la piscina en la villa del norte es perfecta para salpicar el día con los pequeños.

Queríamos aprovechar al máximo el sol en esta temporada de lluvias, así que decidimos almorzar en la piscina.

Compartimos una deliciosa pizza familiar y bebidas de Paisan Pizzeria. Honestamente, me sorprendió lo asequible de los precios y, nuevamente, la conveniencia y el servicio eficiente.

Comimos nuestra pizza alrededor de la piscina y tuvimos una segunda ronda de diversión hasta que llegó la lluvia.

En ese momento, estábamos listos para regresar a nuestra cabaña, darnos una ducha, ponernos ropa cómoda y preparar una comida fresca y nutritiva para la cena.


Más cosas que nos encantaron de Orange Lake Resort
Durante el resto de nuestra estancia, disfrutamos de los senderos para caminar por todo el complejo. Hay un hermoso camino alrededor de la piscina, lleno de plantas y árboles, y un puente de madera que cruza el río lento.

Tomamos helado y café en Starbucks (ubicado en Currents Café en River Island), y probamos comida de los restaurantes convenientemente ubicados en el área.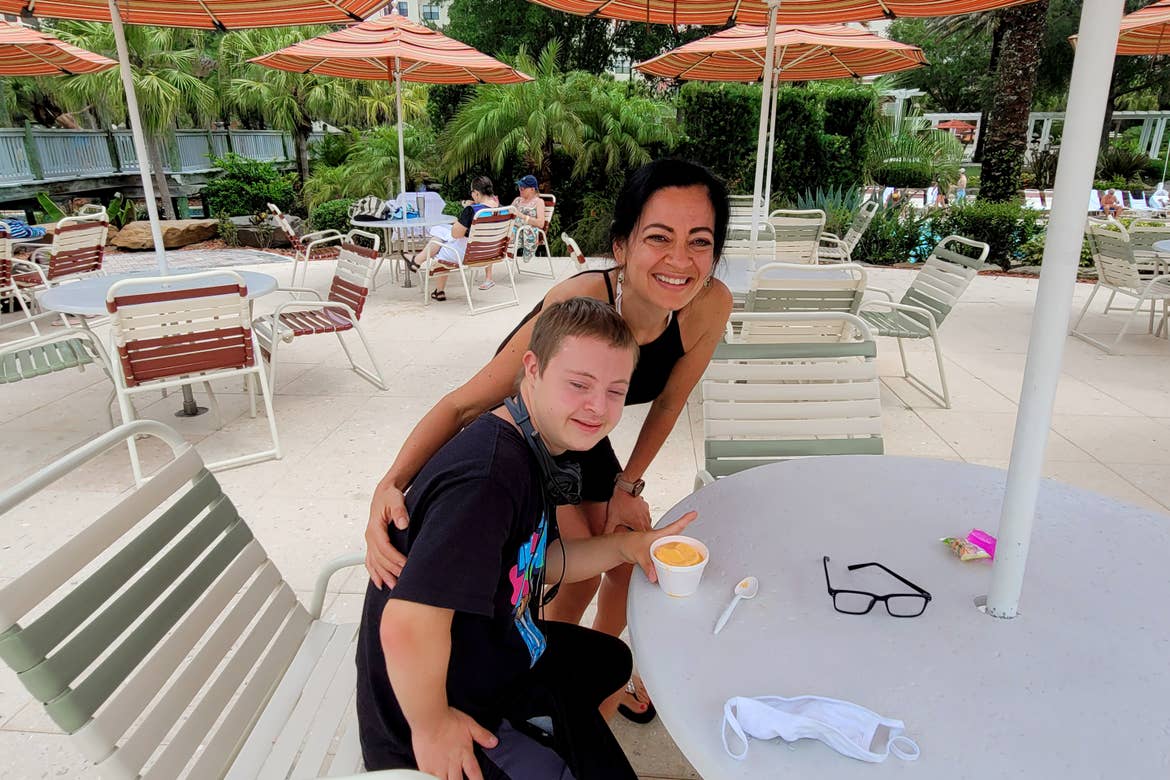 Pudimos hacer aún más actividades en el resort, como la pared para escalar, el minigolf y la sala de juegos. Y también hay tatuajes de henna y otras actividades divertidas para los niños.

El complejo tiene mucho aire fresco y te da libertad para explorar. El personal del complejo emite una energía muy positiva y te saludan con una sonrisa cada vez que te ven.


Agradecidos después de estas increíbles vacaciones
Con todo esto, solo podemos sentirnos agradecidos por las primeras vacaciones de nuestra familia en Orange Lake Resort. Otro capítulo para agregar a nuestros recuerdos familiares.

Fueron unas vacaciones que nos llenaron de un increíble sentimiento de alegría y gratitud en el proceso de regresar a un poco de normalidad después de épocas estresantes que nos han afectado a todos de muchas maneras.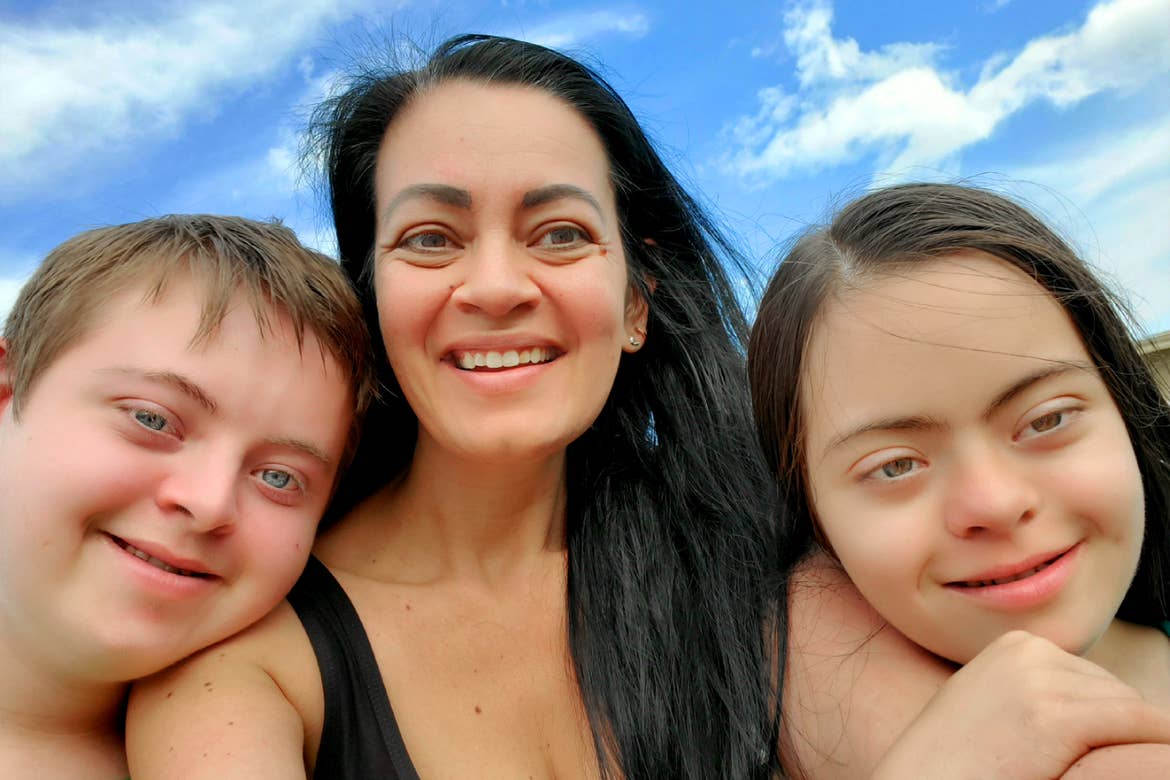 Volvimos a casa llenos de energía, felices y esperanzados. El efecto mágico que tienen unas vacaciones como esta en las personas es innegable.

Espero que todos tengan la oportunidad de disfrutar de una experiencia similar.

Y créanme, si está buscando la escapada perfecta para su familia, unas vacaciones en Orange Lake Resort es lo que necesitan.
Imagine sus propias vacaciones en Orange Lake Resort
¿Se pregunta qué estaría haciendo ahora mismo si estuviera en Orange Lake? Vea cómo esta familia aprovecha al máximo todo lo que el complejo tiene para ofrecer, desde su espaciosa villa hasta esas piscinas de color azul brillante y mucho más.
Our guest bloggers are compensated for their writing contributions and honest opinions.

All information is subject to change. This article is a curated guide and is neither sponsored nor considered an official endorsement. Please be sure to check information directly with any/all tours, guides or companies for the most up-to-date and direct details.

Nuestros blogueros invitados son compensados ​​por sus contribuciones escritas y sus opiniones honestas.

Toda la información está sujeta a cambios. Este artículo es una guía seleccionada y no está patrocinada ni se considera un respaldo oficial. Asegúrese de verificar la información directamente con cualquiera / todos los tours, guías o compañías para obtener los detalles más actualizados y directos.