Danny Pitaluga
Danny and his family are on a mission to enable PWDs (people with disabilities) and their families to explore the world around them and dismantle institutional barriers to accessibility. He's also a Club member with us here at Holiday Inn Club Vacations.
Instagram
Facebook
Twitter
YouTube
Website
Parenting is definitely one of the joys of my life that brings so much love and excitement to our house.

Especially in the early stages of pregnancy, meeting your little one for the first time can't come fast enough.

But soon, they're in your arms, and you're giving them all the love they need to feel safe.

As your baby grows, parenting becomes more of a strategy. Doing things around the house, going out to eat or taking a vacation must be carefully calculated.

It may seem like a challenge, but I have 5 travel tips for new parents that can help you pull off the trip you've been wanting since your baby was first born.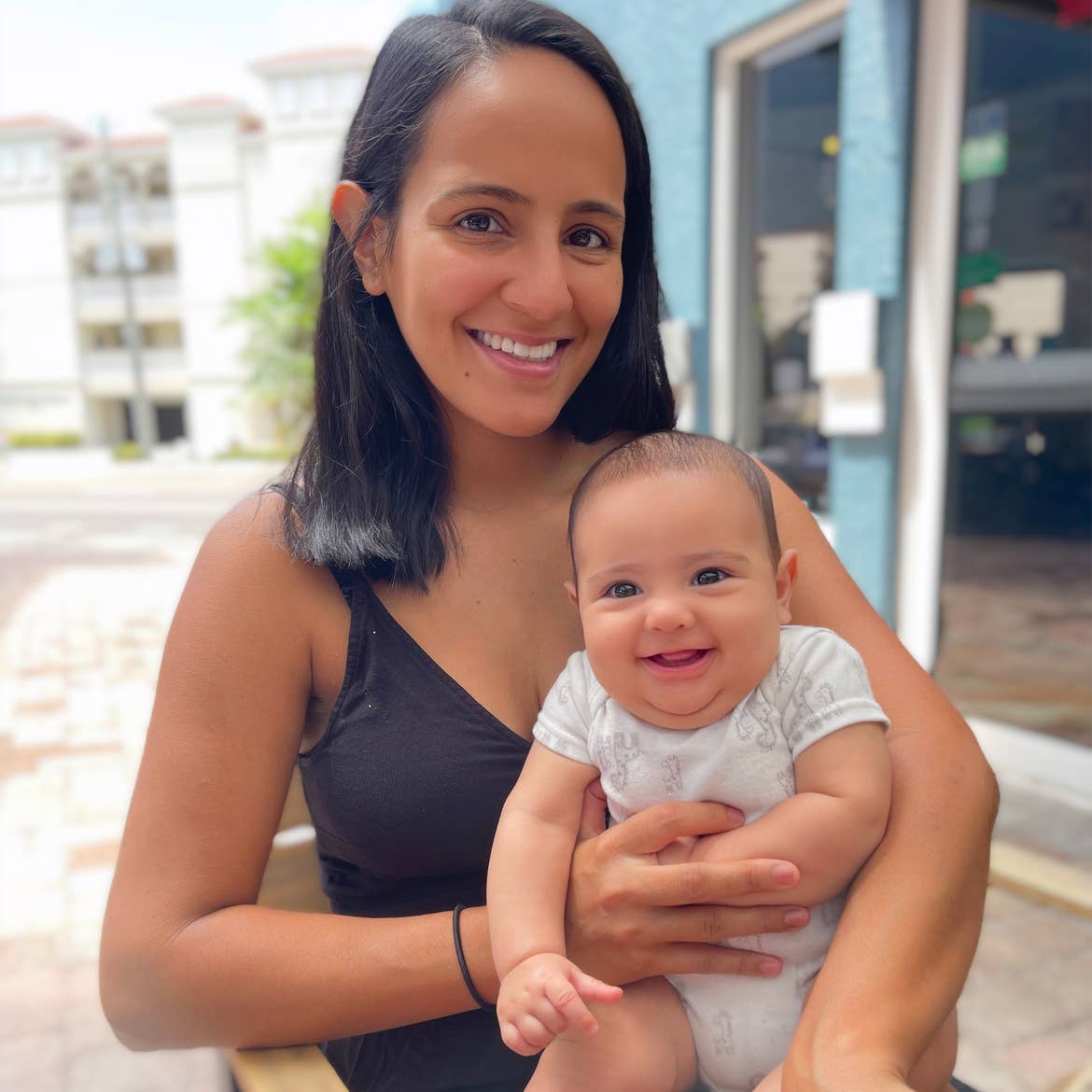 My wife, Val, and our newest member of the family, Julian

Take it from us — we have a four-month-old who requires our full attention at all hours and a 3-year-old with enough energy to run a marathon.

For us, life feels chaotic, but it's the kind of chaos that pushes forward and can't give up.

Our children bring so much joy and stress that living with that dualism becomes completely normal — and vacationing together becomes that much more important for us.

Now that we've officially taken our first vacation with our newborn to Orange Lake Resort in Orlando, all of this advice is fresh in our minds.

And not only have we put these 5 tips to the test, but we share them with our followers at Accessible Vacations, a travel blog for young families and families affected by a disability.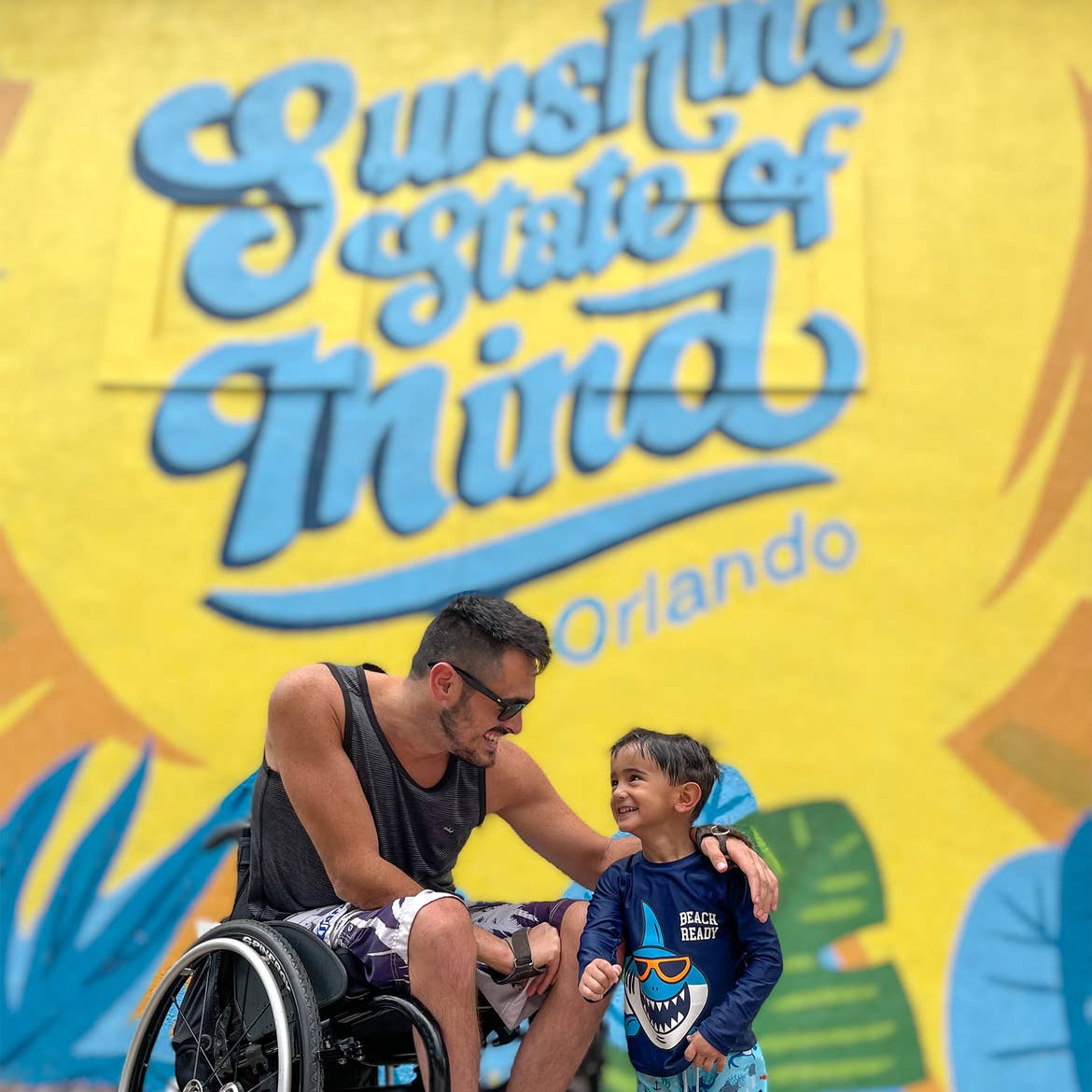 Me and my son, Joey, at our new favorite photo spot in the North Village at Orange Lake Resort!

So, if you're looking for some advice on getting away with your growing family, let us help and read on for everything we've learned so far about traveling with a newborn.


1. Fly with a Car Seat Travel System
Car seats are heavy items to be carrying with you if you plan on flying to your destination. The car seat base alone weighs around 5–10 pounds.

However, a car seat travel system (where the car seat goes right into the stroller) can really help.

If you purchase a travel system early on, you can simply push your stroller through the airport with the baby inside and a few small carry-on items in the storage space.

Not only does the stroller fly free, but once you arrive at gate check, you can also bring your car seat on the plane as long as it's approved to fly by the FAA.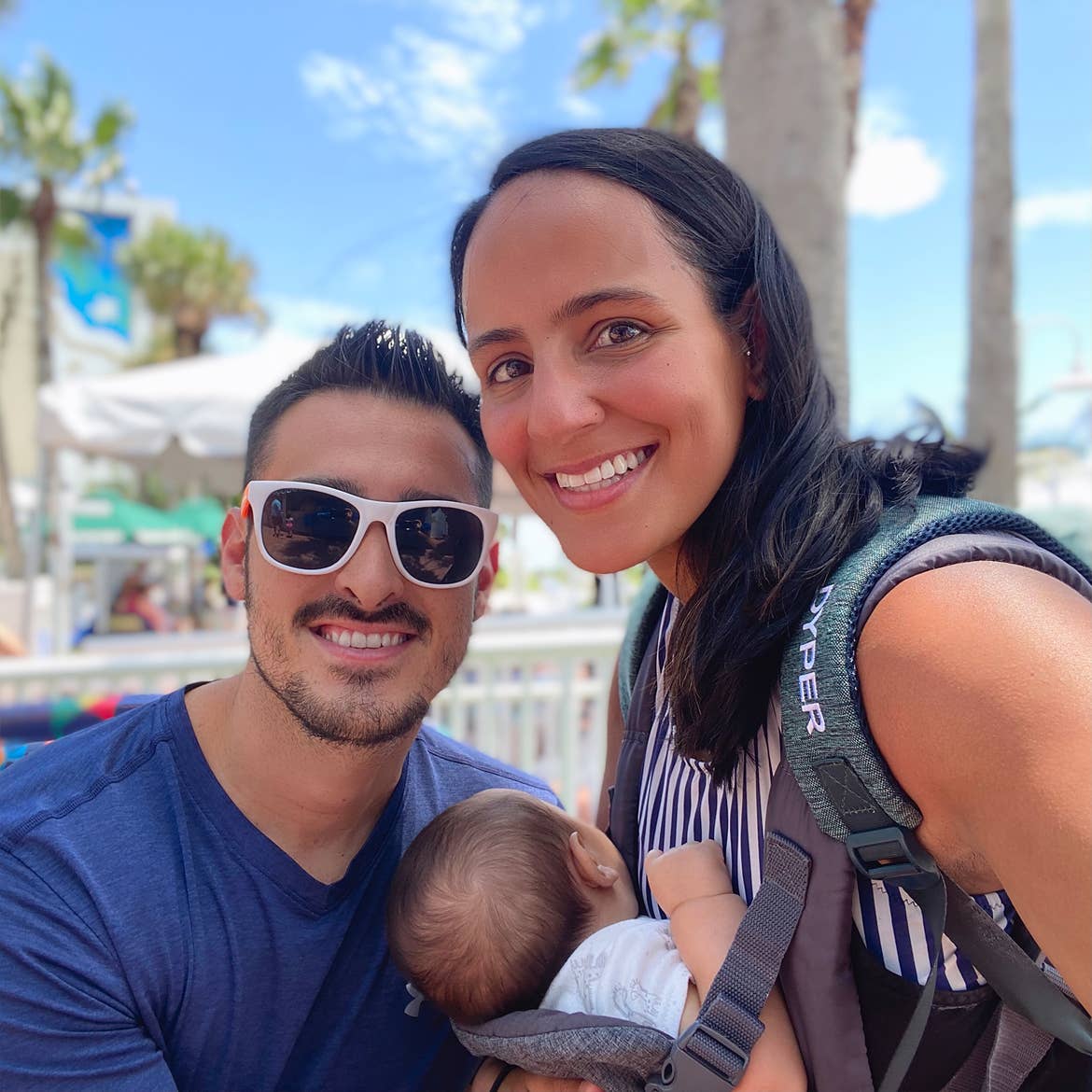 SUPER TRAVEL HACK: If you chose not to purchase a plane seat for your newborn, you can ask the agent at the gate if you can sit next to an empty seat on the plane.

If the flight isn't full, and with a little luck, your lap child can now fly in their own seat, in their own car seat, for the duration of the flight!

And if your flight is full, your lap child would just stay in your arms, and your car seat will be checked at the gate for free before boarding the plane.


2. Make Hotel Crib Accommodations
More likely than not, you'll need to get a hotel or resort to stay at.

But traveling to your hotel or resort with the added luggage of a playpen, whether by car or plane, can cause extra stress that can easily be avoided.

Luckily, quite a few hotels and resorts carry cribs, which are available to use upon your arrival.

Like I mentioned, our family recently took a relaxing vacation at Orange Lake Resort, and the team provided us with a crib in our villa before we got there.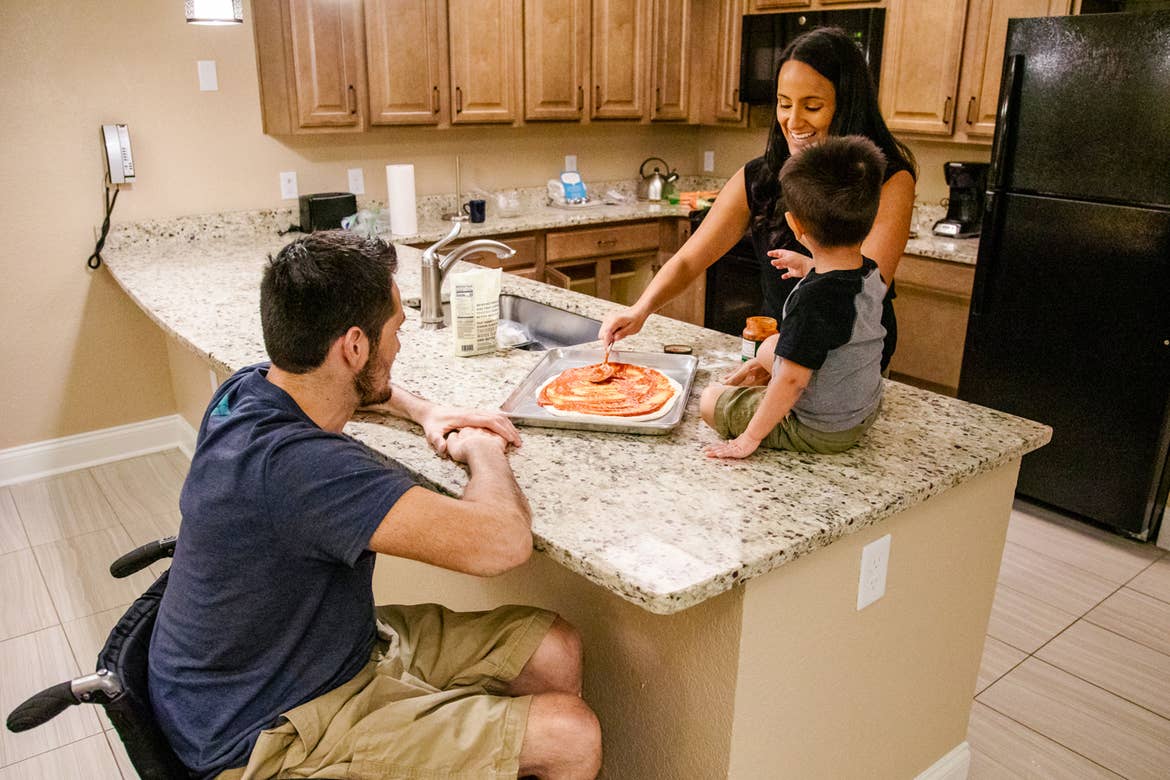 Orange Lake is one of our favorite getaways because we have everything we need right in our villa or on property.

It made our trip to Orlando, and our entire stay, so much easier.

The crib even had wheels, so we could just roll it around if we needed to move it at any given time.

Most cribs offered by lodging facilities are sturdy and safe for your little newborn, but it's always a good idea to check and make sure yourself before you use them.

Getting a crib from your resort or hotel will save the headache of carrying extra weight around on your trip.

And since playpens don't fly free of charge, leaving it behind could save you the price of an extra piece of luggage.


3. Plan Your Travel Times Strategically
After a while, you begin bonding with your newborn enough to know all their habits, sleep patterns (or lack thereof), feeding schedule, etc.

Strategically planning out the time you leave for your destination can drastically change your travel experience.

(This is one travel tip for new parents that not only applies to your newborn, but also toddlers and kids in general.)

For example, if you leave home just before a routine nap time, you may find that you can travel a few hours longer without a fussing child because they've slept through the time they would have been getting restless.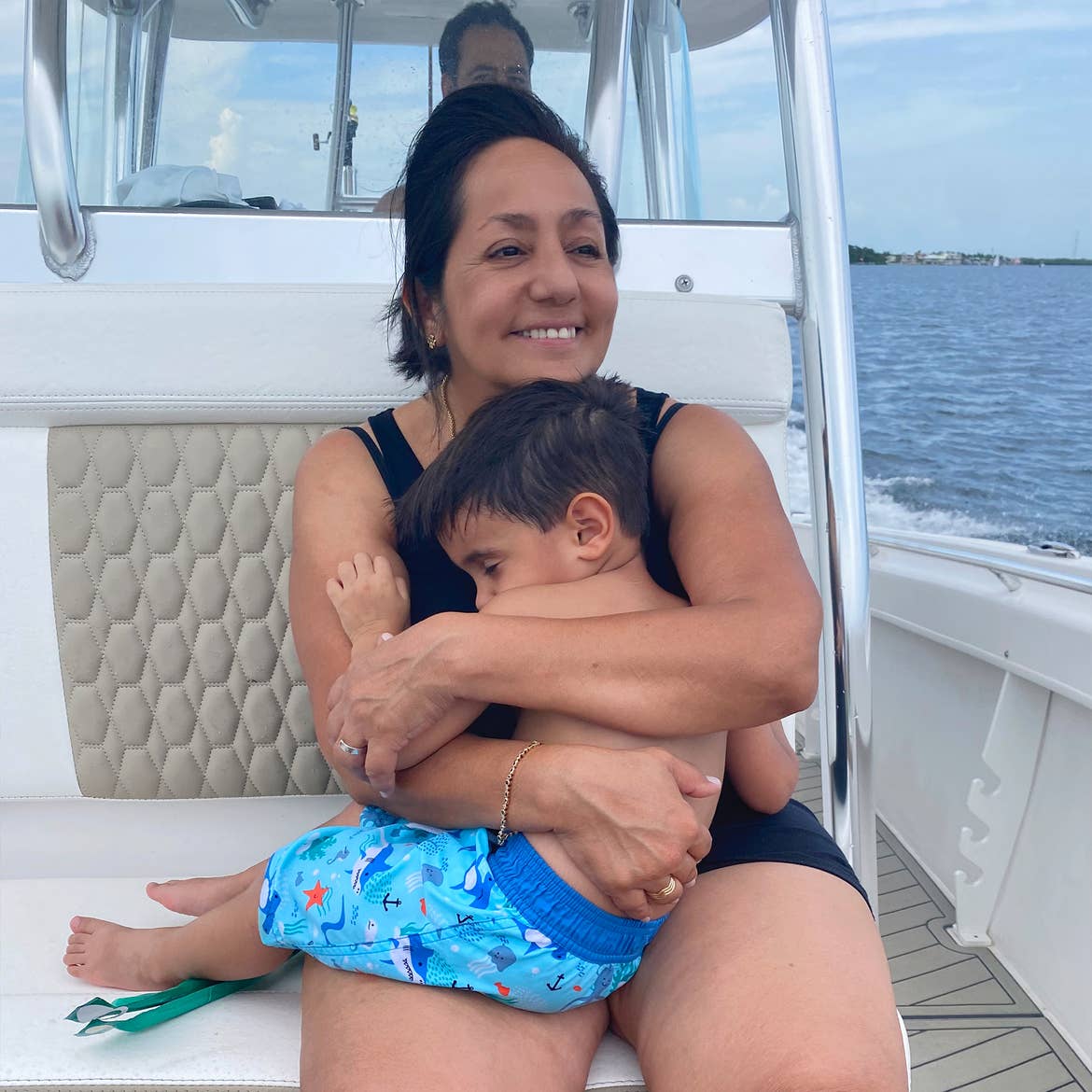 When choosing a flight, it may be better to have the plane's departure right at bedtime or nap time.

If you fly too late, it could be difficult to get through the airport or TSA with a baby who's trying to sleep.

But choosing just the right time can relax your baby and hopefully get you past the irritation they will go through with the pressurizing of the cabin.

As Club members with Holiday Inn Club Vacations®, we're also no strangers to road trips to Orange Lake Resort.

On our last one, we had both our children fall asleep for a nap a short time into our four-hour drive, and they woke up right before arrival.

With two well-rested kids, we headed straight for the lazy river and beach-entrance pool at the resort's River Island area.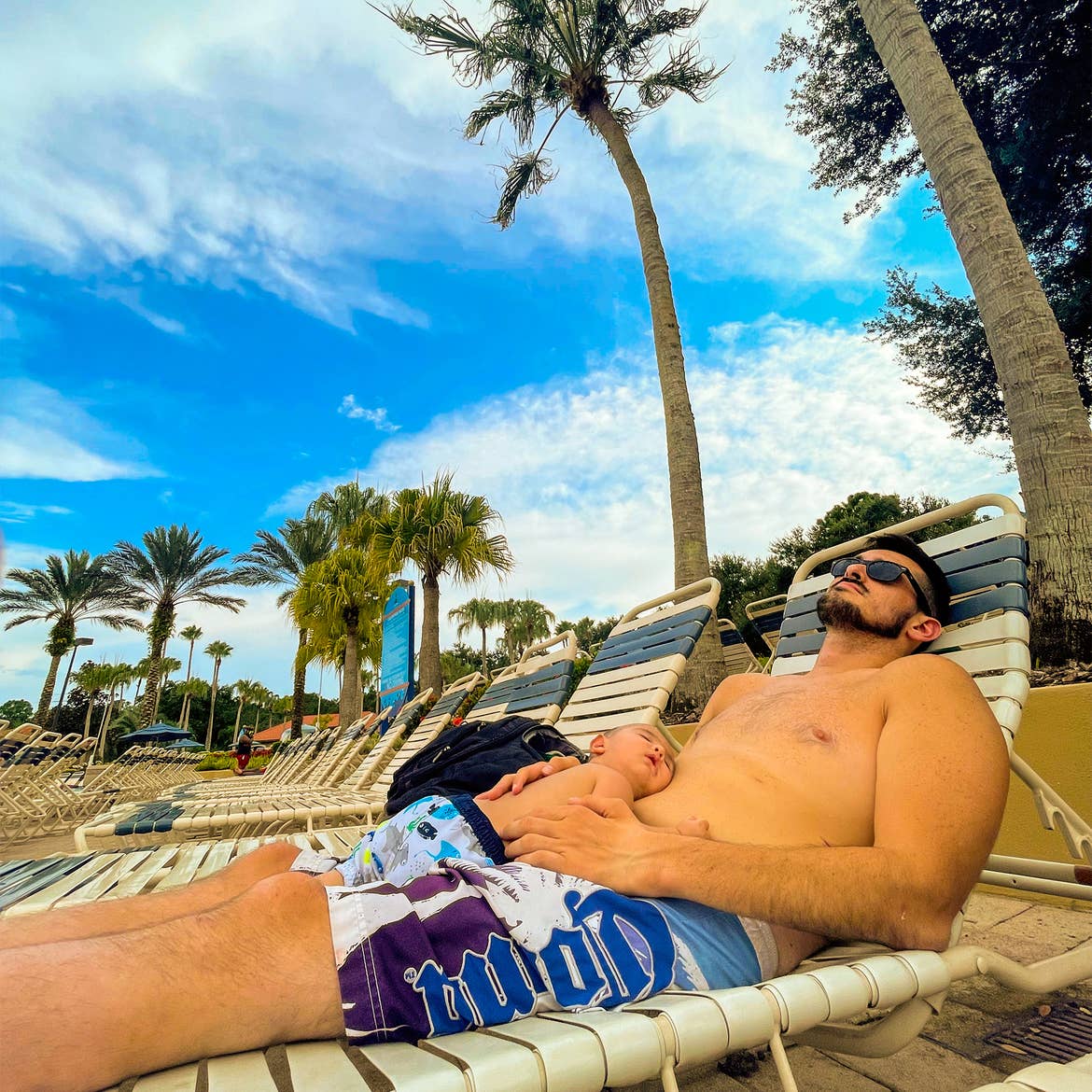 Poolside rest time at Orange Lake Resort!

We spent a few hours getting wet by the pool with some cold cocktails in hand and snacking on appetizers from the poolside restaurant on-site.

Had our kids not rested, there would be no way they could function or be able to enjoy themselves at the pool that afternoon.


---
Read Even More Travel Tips for Parents:
---
4. Minivans Are the New Sports Car
Have you ever taken a family road trip in a small sedan?

The trunk is packed, the middle of the backseat is stacked with extra bags, and the legroom is non-existent.

As new parents, you might be in that situation. You haven't taken the rite of passage some parents go through: the day you trade in the sports car for the minivan.

It may seem heartbreaking, but, in actuality, it's the best upgrade you can get at this time in life!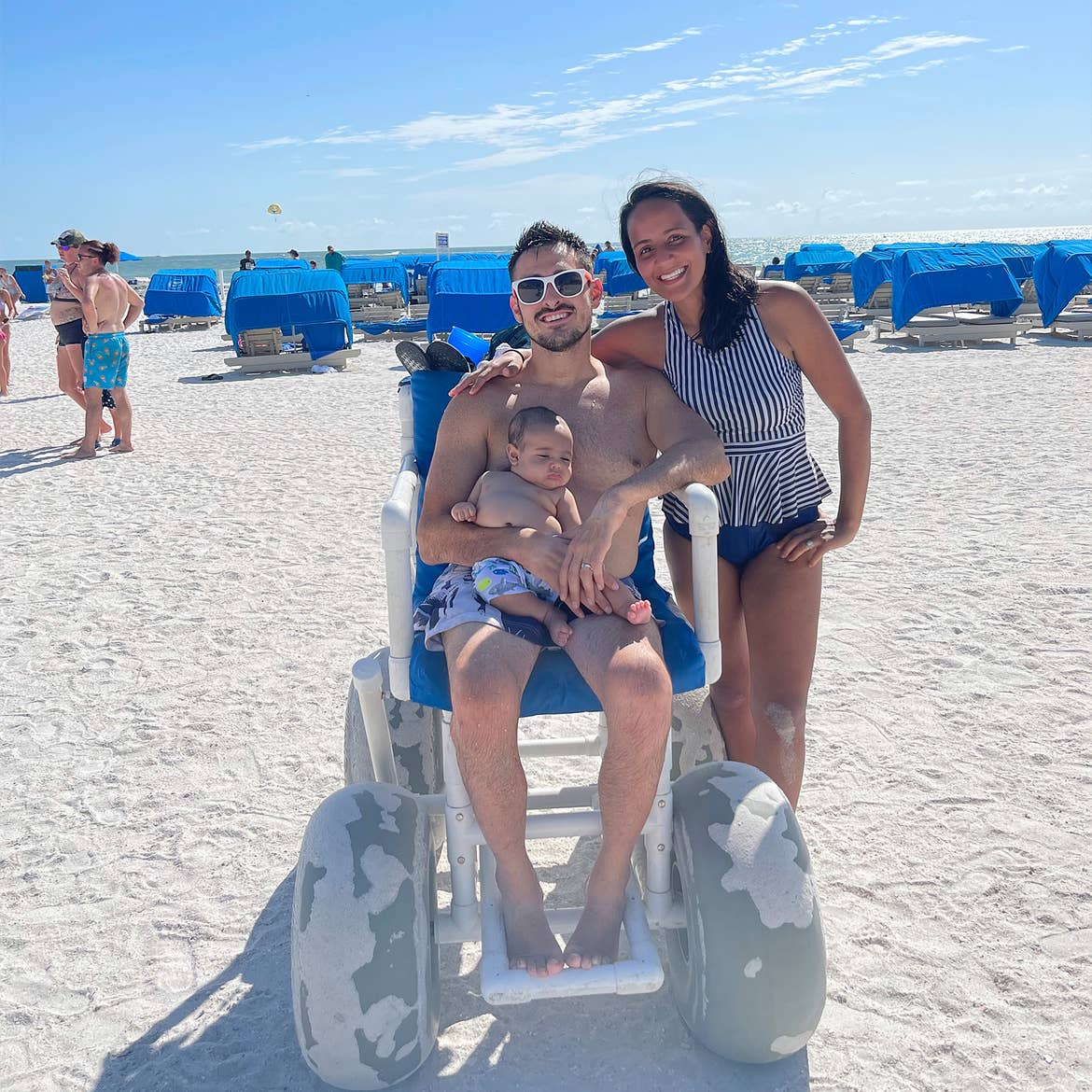 If you have a minivan, you know it's true. If you don't have a minivan, a long road trip is the perfect time to rent one and experience the difference so much extra space can make!

Let's be honest, you don't want to be revving your engine and doing donuts in the parking lot with a car seat behind you anyway.

You're probably thinking twice before hitting high speeds on the freeway with your infant sleeping in the car as well.

So, if you can put your glory days to rest and upgrade to the spacious and equally awesome minivan, your life might just change forever.

Minivans are designed with the parent in mind. They have:
Mirrors to see your kids
Their own A/C controls in the back
Infinite headspace if you need to climb into the backseat for an emergency
And cargo space galore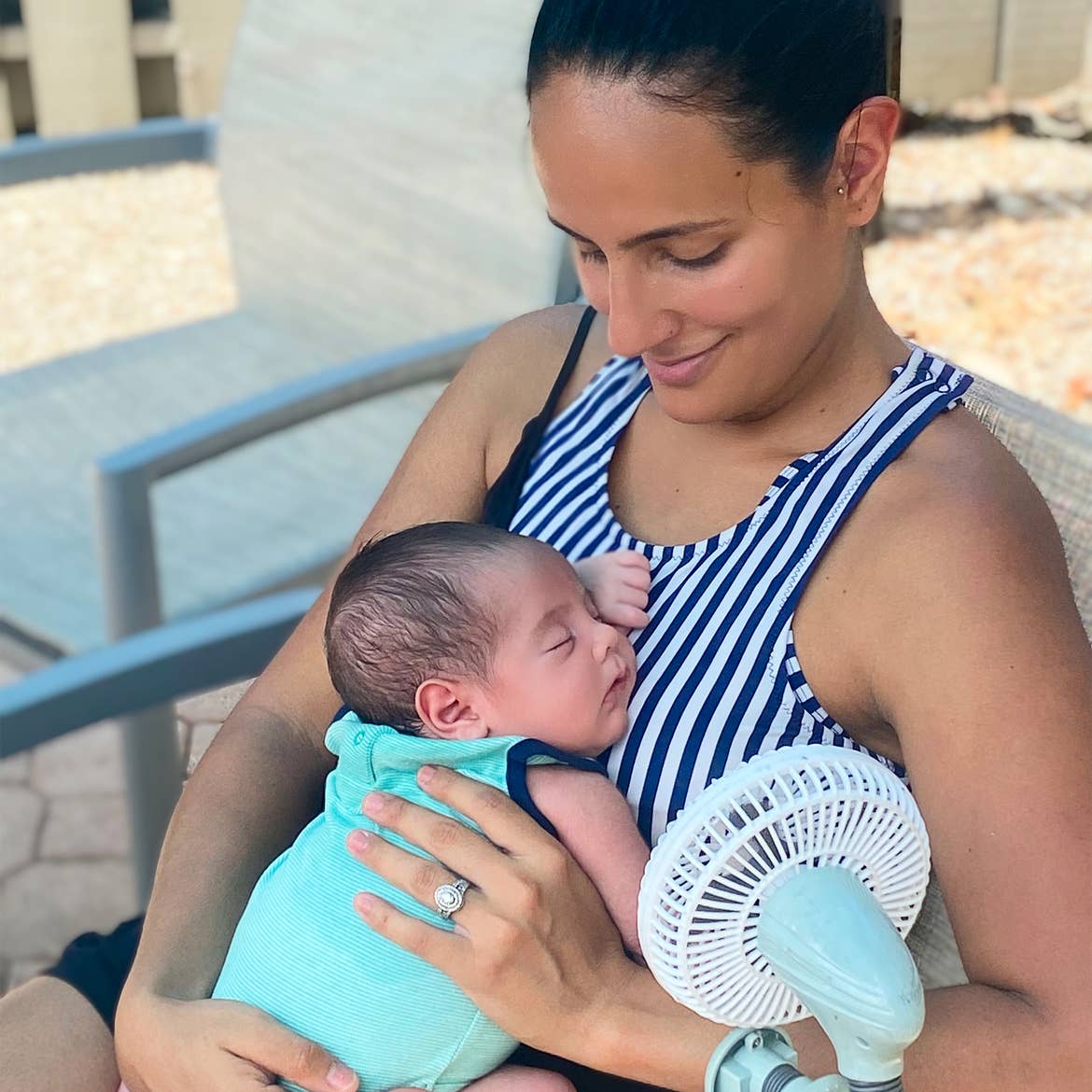 You can pack half your house in the trunk and not notice a thing (exaggerating, of course).

Accessing your child is so much easier, and the whole family can feel comfortable for the duration of your road trip.

Renting a minivan to try out first is an inexpensive way to:
Do something new
Save your own car from extra wear and tear and…
Finally become enlightened of how the minivan is the best thing you never knew you needed
5. The More the Merrier
As a parenting couple, kids seem to suck the time out of your day. It's exhausting. And single parents have even double the responsibilities of raising their kids every single day.

Even while traveling, some of those responsibilities don't go away, and it may feel like the same stressors from home, but in a new location.

In this case, taking another responsible adult on vacation to share the responsibilities is a huge game-changer.

Some of the most common traveling companions in this instance might be the child's grandparents, aunt or uncle, godparent or even a close family friend.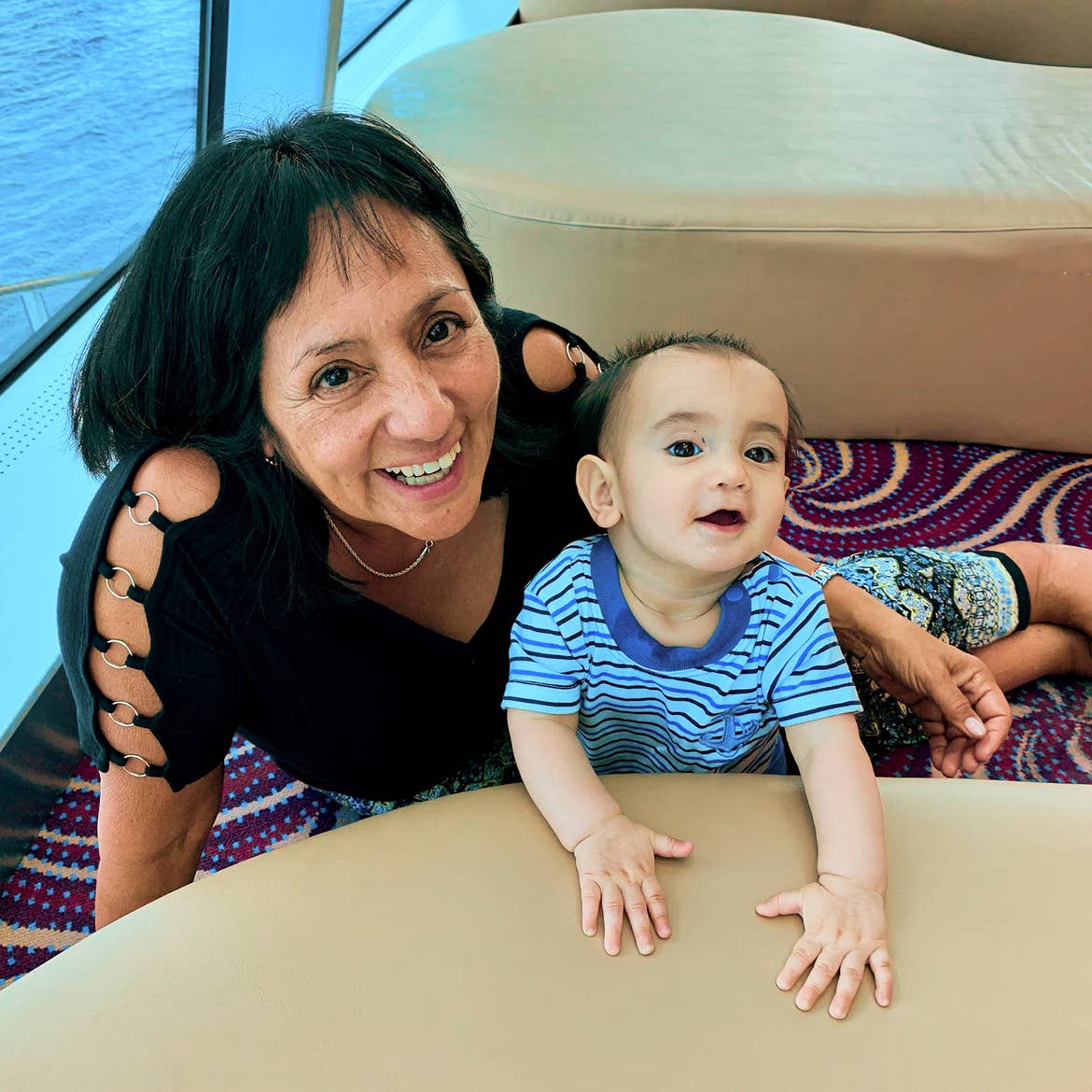 Joey and Julian's favorite babysitter and travel buddy is their Abuela.

You'll be amazed how relaxed you can feel with an extra set of hands to help even with the smallest of things.

In fact, when we went to Orange Lake Resort, we were all excited to take Abuela (grandma) along.

She watched our children while Mom and Dad went on a date together.

She also helped watch our newborn while we took our toddler to play a round of Putt-Putt® in the resort's West Village area. Our oldest loved having this special one-on-one time with us.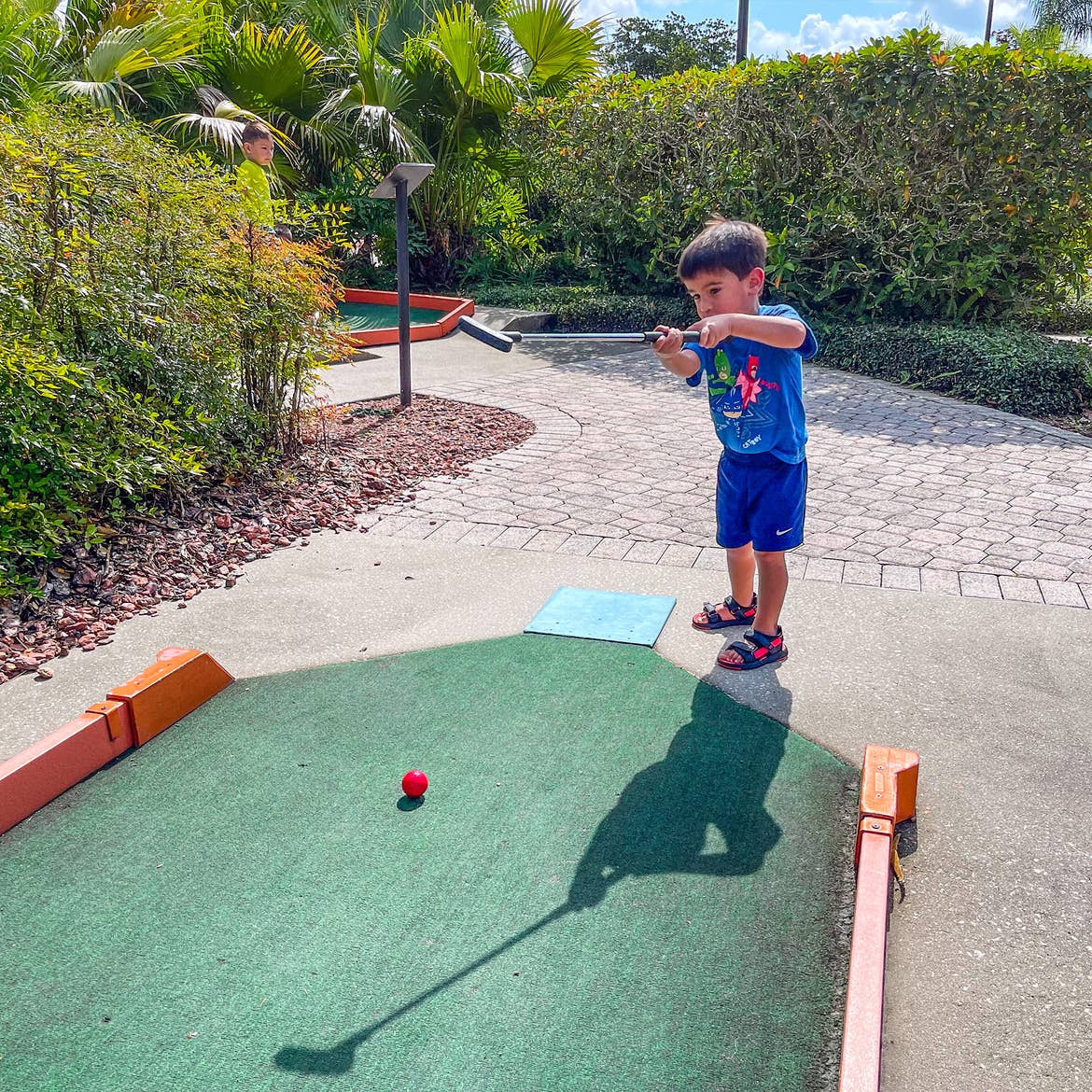 Playing Putt-Putt in West Village at Orange Lake Resort

Extra hands can't hurt in my opinion.

Whether it's taking the kids for a few hours or simply changing a diaper, you can get a vacation from your full-time parenting duties as well…

Let's be honest, you need it.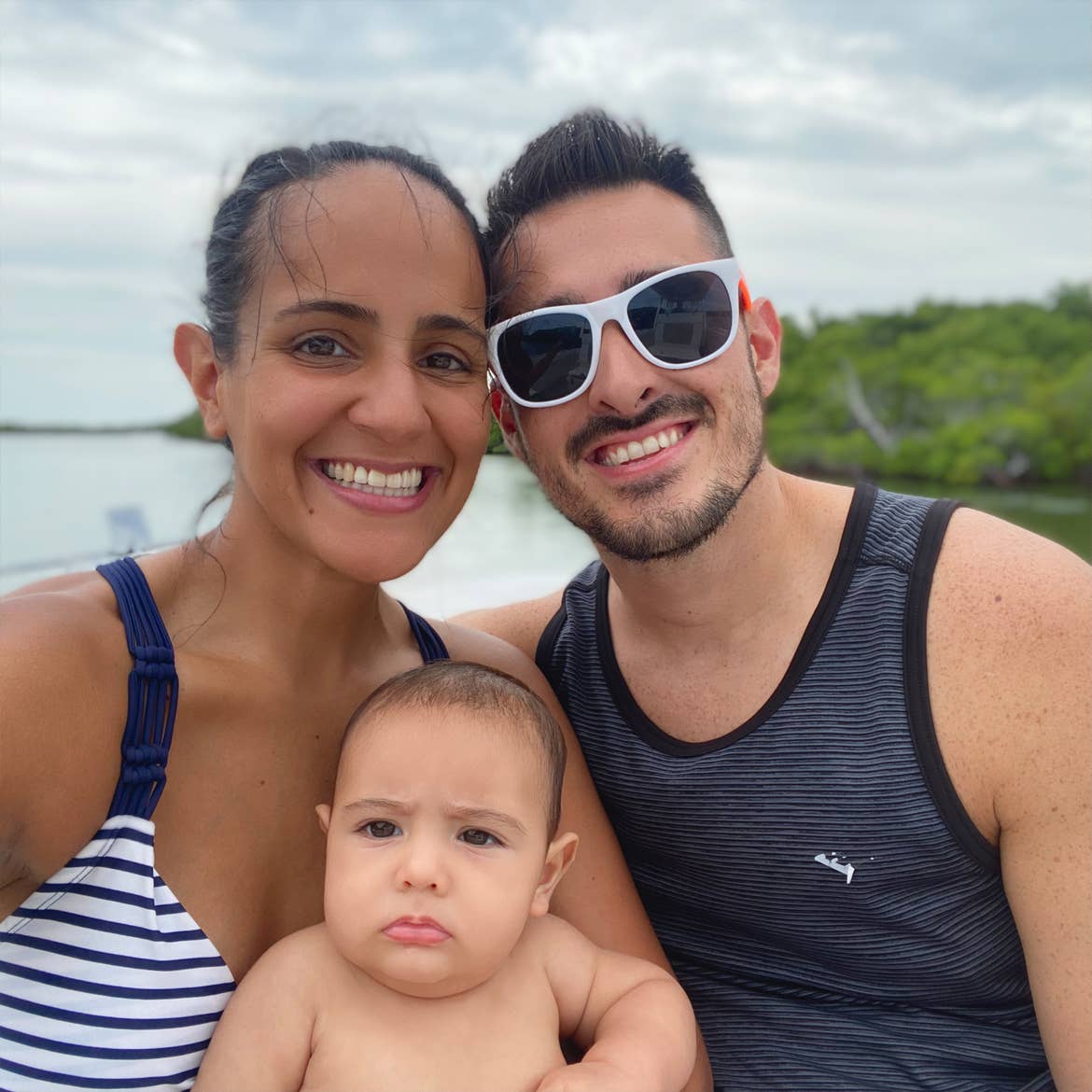 Traveling will never be the same — a new baby changes the whole game plan. But that doesn't mean it's impossible.

And there are a lot of ways to make it easier and enjoyable to spend quality, restful time together.

Hopefully, you can utilize our travel tips for new parents to take your new family wherever your heart desires.

And although I trust the resorts at Holiday Inn Club Vacations to never let me down when it comes to a good time, you can use these tips anywhere your next adventure takes you.


Our guest bloggers are compensated for their writing contributions and honest opinions.

All information is subject to change. This article is a curated guide and is neither sponsored nor considered an official endorsement. Please be sure to check information directly with any/all tours, guides or companies for the most up-to-date and direct details.