Brianna Steele
Brianna is the motherhood and travel blogger behind The Adventures of a Twin Mom, based out of Charleston, SC. When she's not with her husband or boy/girl twins, she's pursuing one of her passions: traveling (48 countries and counting), interior design, organizing or watching reality TV!
Instagram
Facebook
Pinterest
Website
Download Beach Packing List
Download Walt Disney World Packing List
Hi there! I'm Brianna, and I'm so excited to be back on the Checking In travel blog.

Last time, I shared my Family Beach Vacation Packing List, and today I'm bringing you a magical, new list!

Drumroll please … it's my Walt Disney World packing list for kids and parents!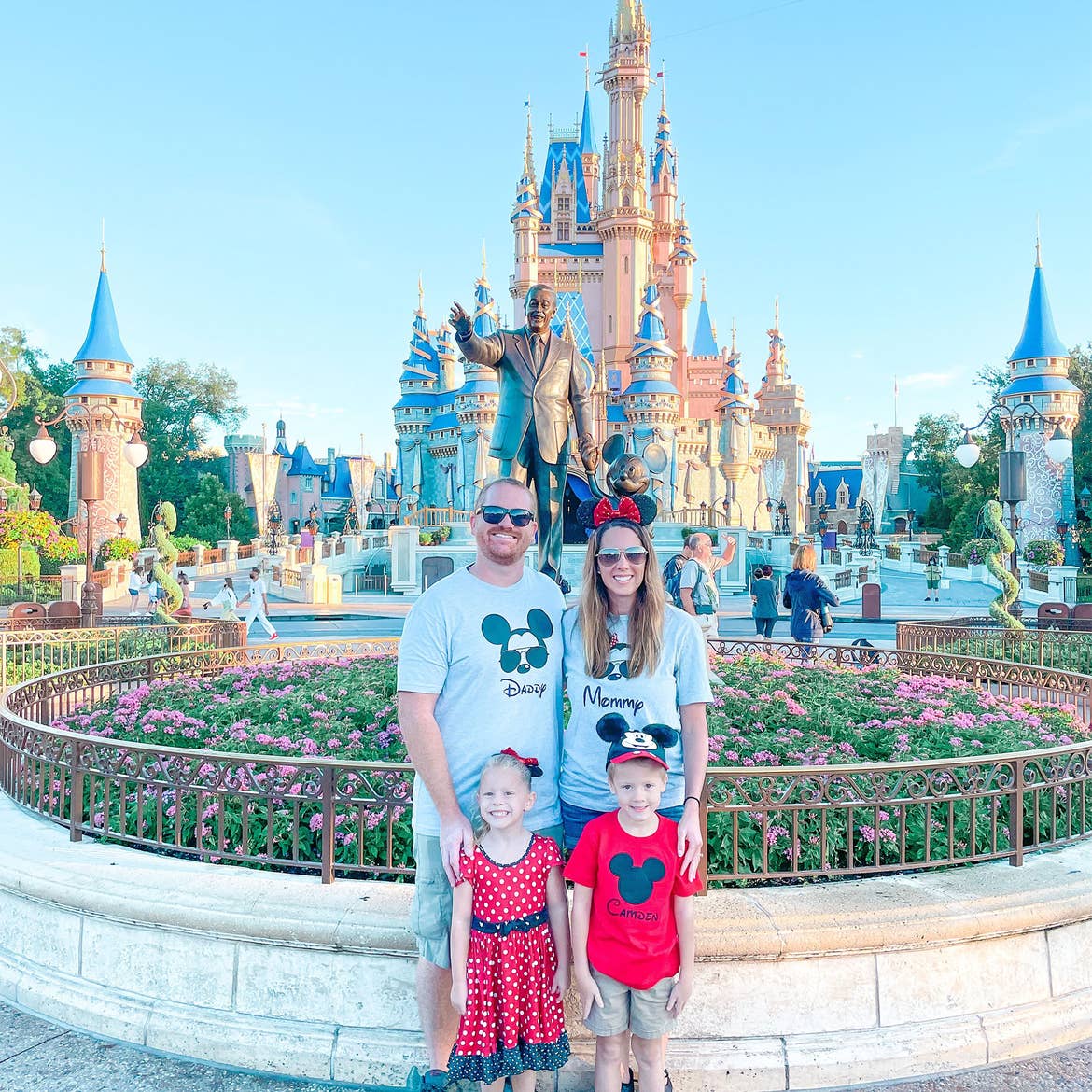 Meet the Steele family! Justin, Brianna, and twins, Camden and Ella.

Now, I don't know about you, but I love planning vacations.

However, planning and packing for Walt Disney World® Theme Parks is its own ball game and can be quite overwhelming.

We've been going to Disney World once a year since my twin toddlers were babies.

The first trip was a little rough — we were new parents and had zero experience in taking kids to Disney World.

Nowadays, we've had a lot of practice. In fact, we just used this list to pack for our recent trip to Disney World and Orange Lake Resort in Orlando!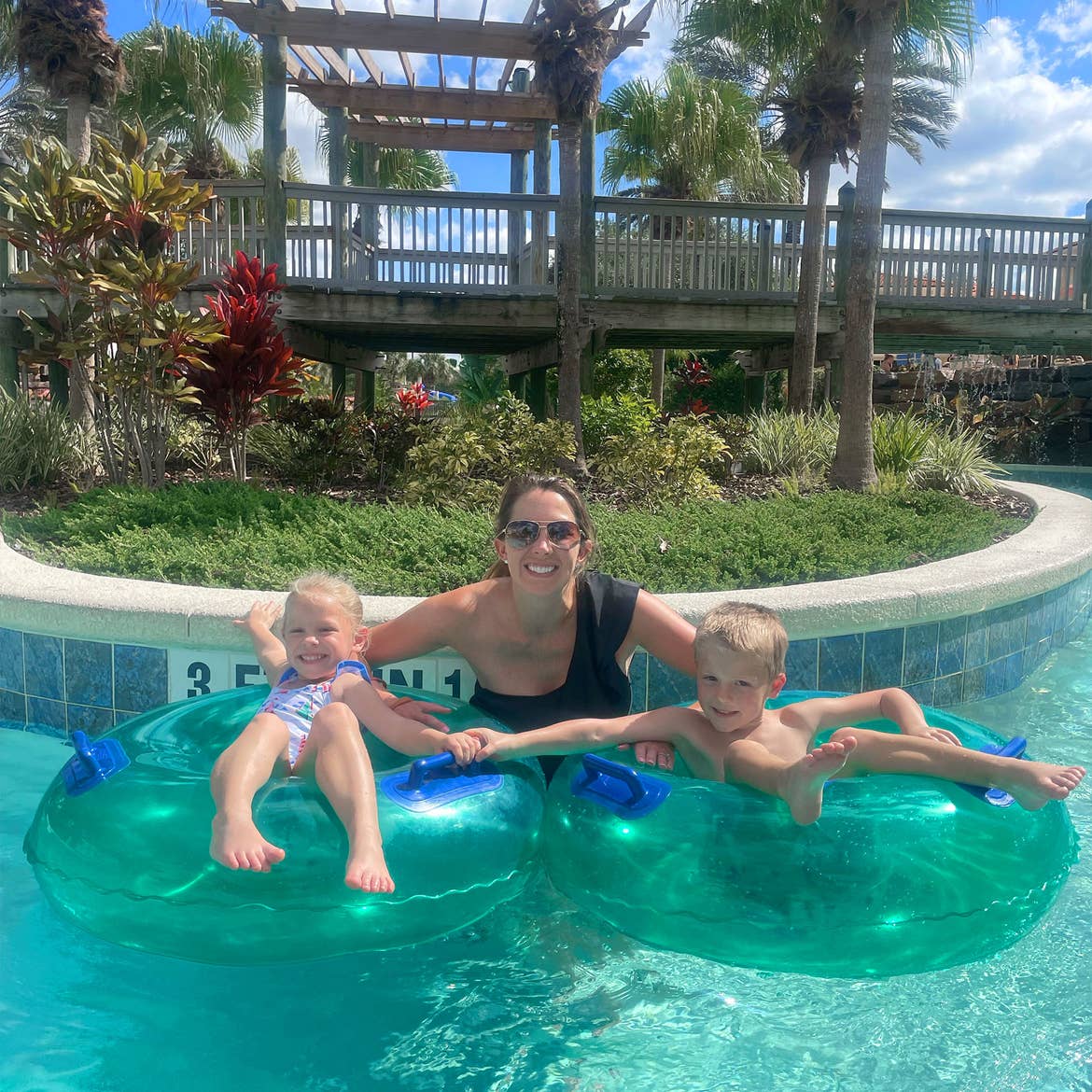 Family fun time on the lazy river in River Island at Orange Lake Resort

We've been to every park before, but for this visit, we decided to spend more time at the resort, so we just spent a full day at Disney's Magic Kingdom® Theme Park!

It was an absolute dream — probably my favorite trip to date and this list was a huge help!

Plus, you can easily download, print and save it for all your family vacations to make packing much easier.

DOWNLOAD NOW

All right, now let's get into it!


General Vacation Packing List
First, let's begin with what you need for any vacation with kids (not just for Disney World!).

I keep a packing template saved on my computer. Every time we travel, I pull it up and print it out to help me pack.

It makes the process much easier for me. I can't pack without it now!


Personal Items
Money

Debit or credit card
Cash


Driver's license & insurance card

Tickets to Disney World (or any other theme park or attraction you booked)

Travel plans: You probably have your documentation (reservations, plans, etc.) on your phone BUT ... I recommend printing out some of the important things!
I've found it's often easier and faster to pull out a folder with all your travel plans versus searching your emails.
Covid-19 Essentials
Hand sanitizer

Masks

Disinfecting wipes

Lanyard to hold the mask around your neck (more on this in the Disney list section)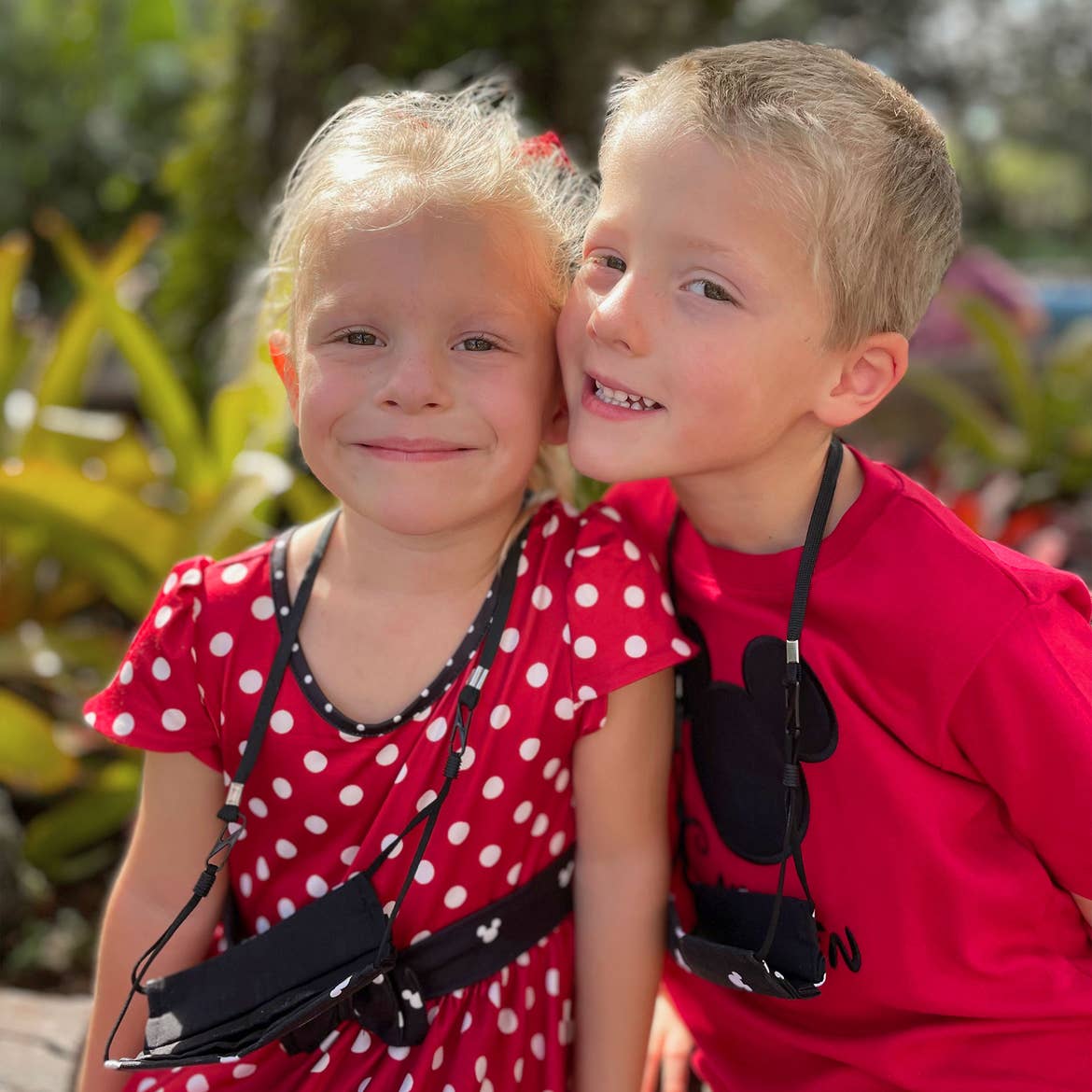 Medicine
As a mom, I've learned that it's always better to come overprepared, especially when it comes to medical situations!

Stomach aches, headaches, bug bites, boo boos … they're all inevitable with children…


Prescriptions

First aid kit

Tylenol

Bug spray

Stomach medicine
Vacation Essentials
Here are some things to pack for your family vacation in Orlando or even any trip in general.


Toiletries
Deodorant

Toothbrushes & toothpaste

Floss

Shampoo & conditioner

Soap

Razor & shaving cream

Hairbrush

Hair ties

Lotion

Makeup
Pro Tip: A few days before you're ready to pack, I recommend keeping paper and a pen in your bathroom for an entire day.

From the moment you wake up till you go to bed, write down everything you used toiletry-wise and then you'll know what toiletries you need to pack!


Clothes
Outfits for each day and night

Shoes & socks

Sunglasses

Jewelry
I don't know about you, but I find vacations more relaxing when no decisions have to be made!

We make too many decisions at home already, so I do my best to have EVERYTHING planned prior to leaving on a vacation … including outfits!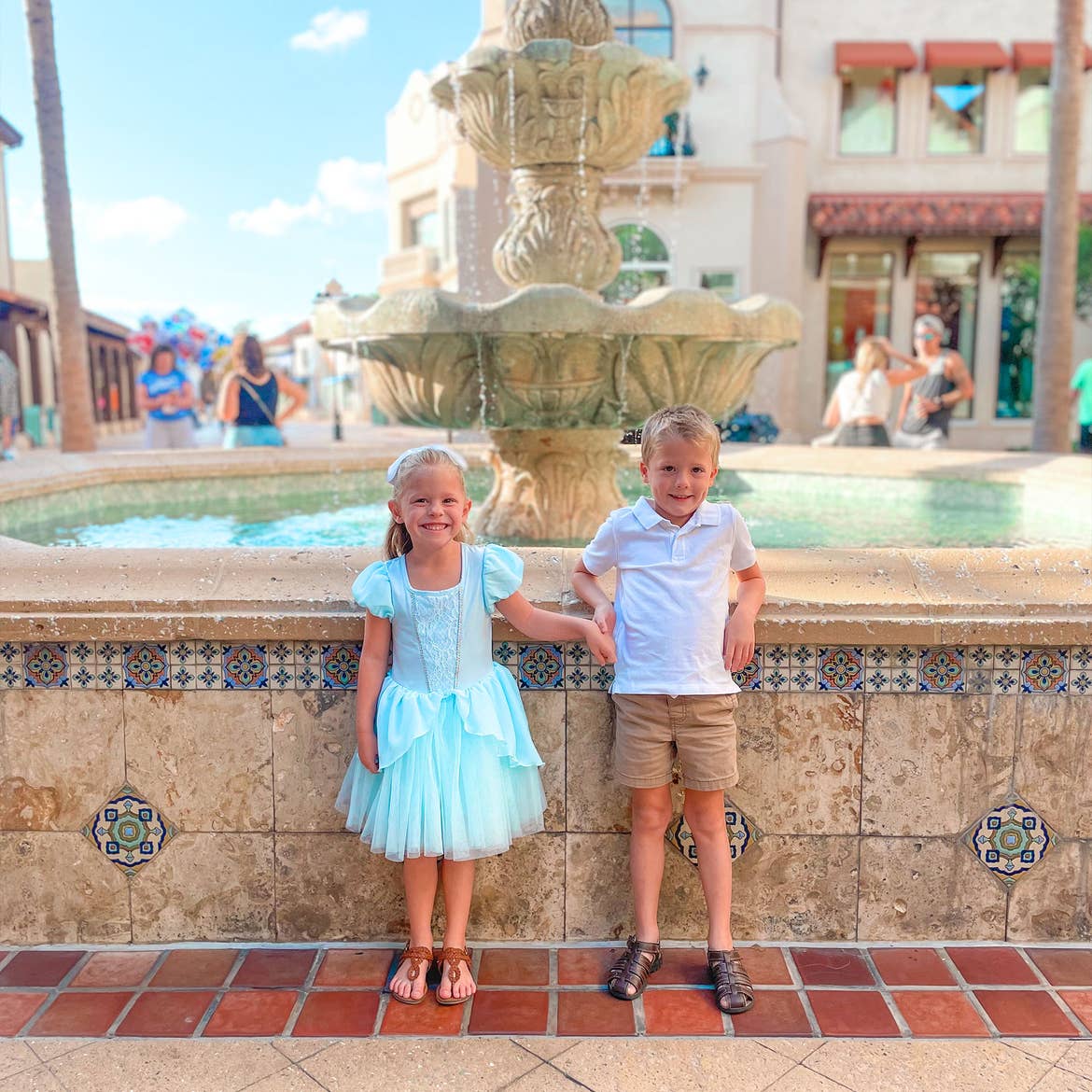 All dressed up for Disney Springs

I pick outfits for my family for every single day based on what we have planned. This saves us a lot of time and unnecessary headaches on the trip.

I often color coordinate and match our outfits, too, haha! I know my children won't tolerate that forever, so right now I'm enjoying it.


Laundry Products
I love staying at Orange Lake Resort because we have a washer and dryer, meaning we don't have to pack as much or worry about doing laundry when we get home!

Sometimes resorts include a few samples of detergents and dryer sheets so you might want to ask the resort this while you're packing.


Electronics & Fun Stuff
Camera & charger

Phone & charger

Games

Books

Magazines

Tablets
Stuff for Pool Fun!
If you're planning to visit one of Disney World's waterparks or if you're staying at Orange Lake Resort or anywhere with a pool, you'll want to pack these items, too!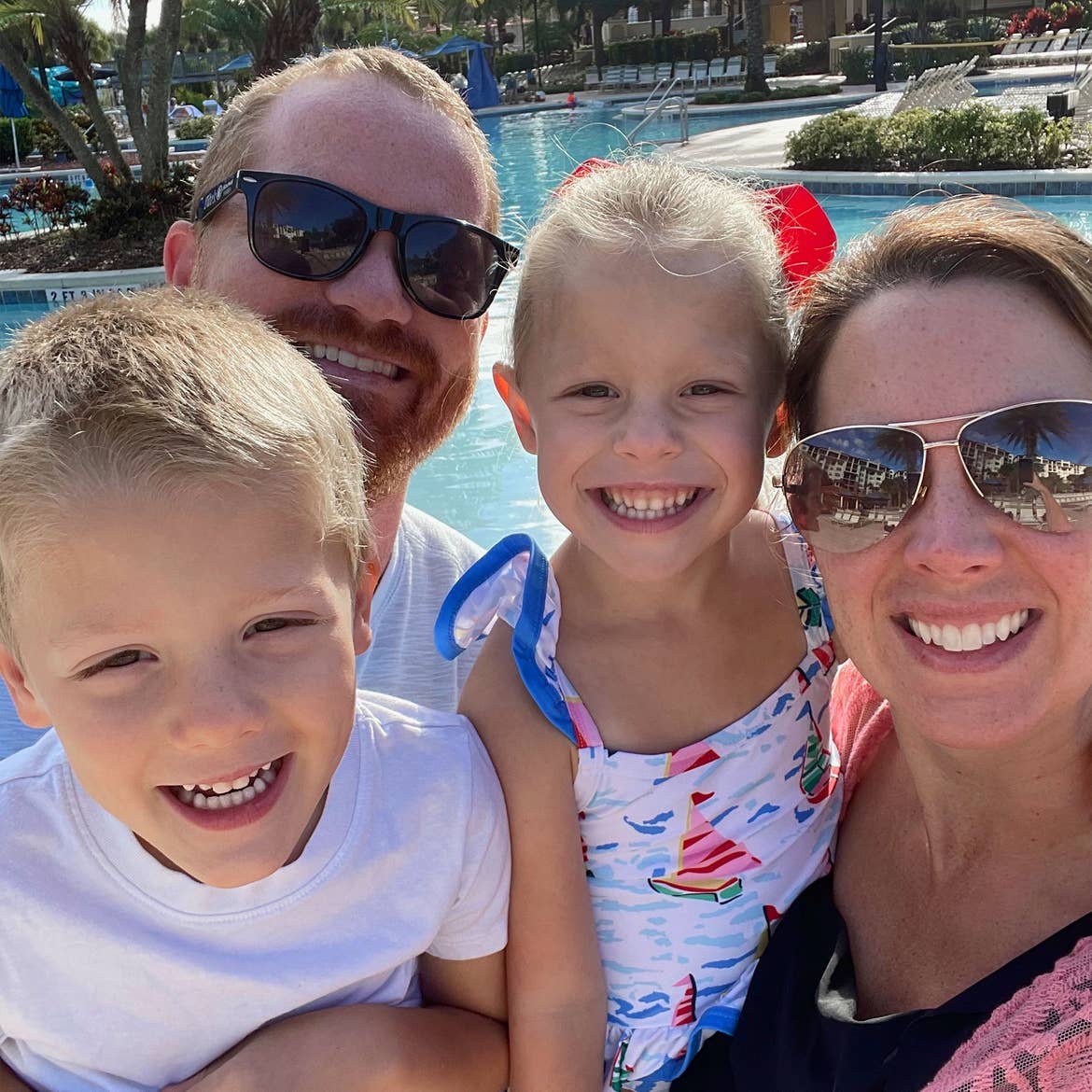 Sunscreen

Swimsuits

Cover ups

Goggles

Towels: Check to see if your resort offers these.

Sunglasses

Hats

Wet Bag

Small toys

Flip-flops

Chapstick

Snacks

Swim diapers

Change of clothes

Swimmies and/or life vest
We got to do a lot of pool-hopping at Orange Lake Resort, and it felt like we were at a different resort each day because the pools are all so unique and different…

If your kids are like my daughter, her favorite toy at the pool is a watering can. We brought two every time we went to a pool at the resort.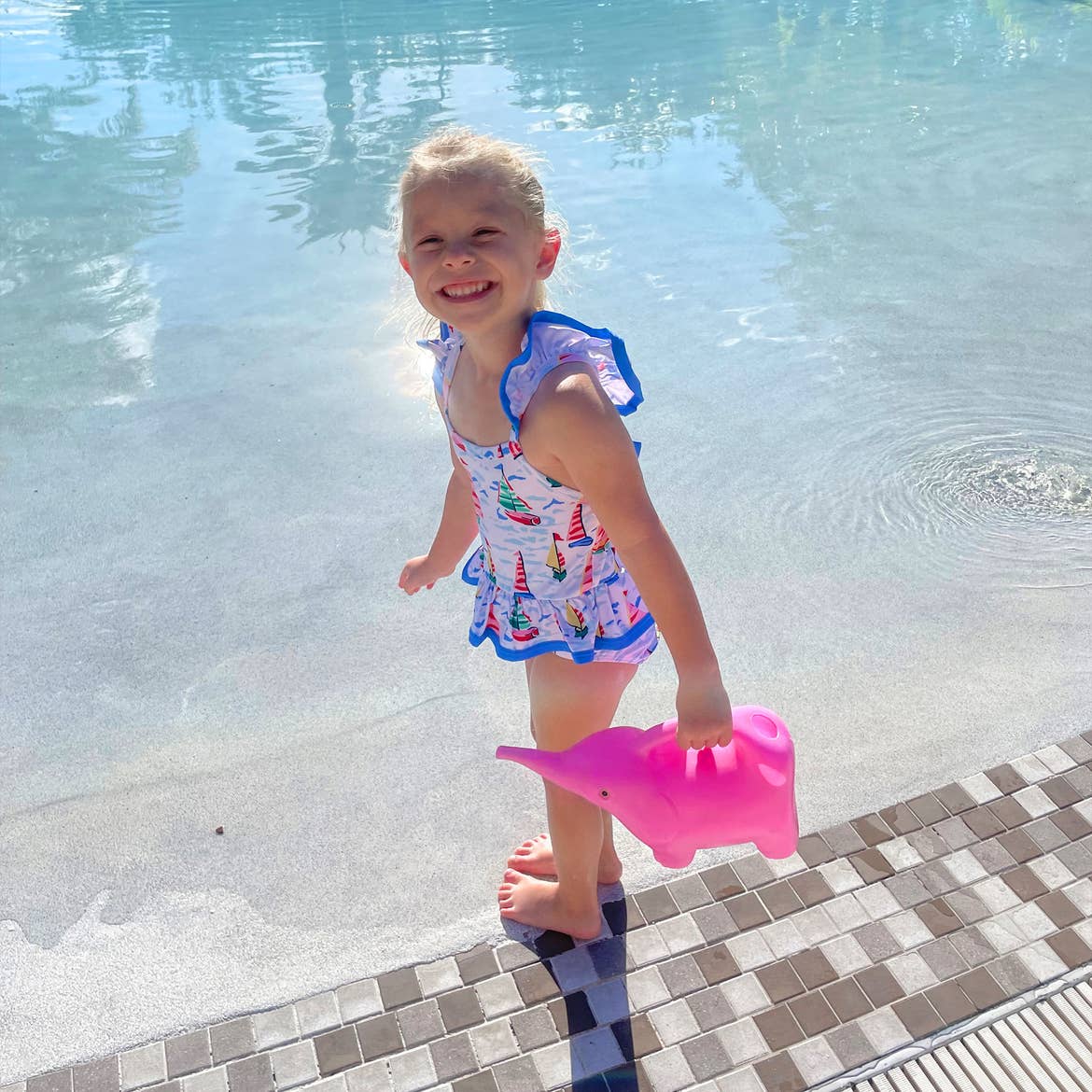 At one point, while we were at Water's Edge Beach Club, there was a group of around 6–8 kids all playing with the watering cans, pretending to make milkshakes. It was adorable!


Kids Packing List
Before becoming a mom, I wasn't prepared for how much stuff you have to bring when traveling with kids! It's crazy, right?

Here's a packing list by age, made specifically for the kiddos.


Any Age
Clothes & extra clothes

Toys

Pajamas

Shoes

Hats

Bath products

Hand wipes

Blankets

Toiletries
Babies & Toddlers
Diapers & wipes

Pacifiers

Sippy cups

Breast pump & attachments

Formula

Filtered water

Stuffed animals

Monitor

Pack N Play: Most resorts have cribs or Pack N Plays that you can borrow. Call ahead and ask if you can reserve one prior because these aren't easy to pack!
Walt Disney World Packing List
Now it's time for the part of my checklist you really want!

Like I said, I made the mistake of not being super prepared the first time we went to Disney World with our kids.

Our trip would've been a lot better if I had checked off a lot of these items, but hopefully, I can help you avoid the madness I experienced. 😀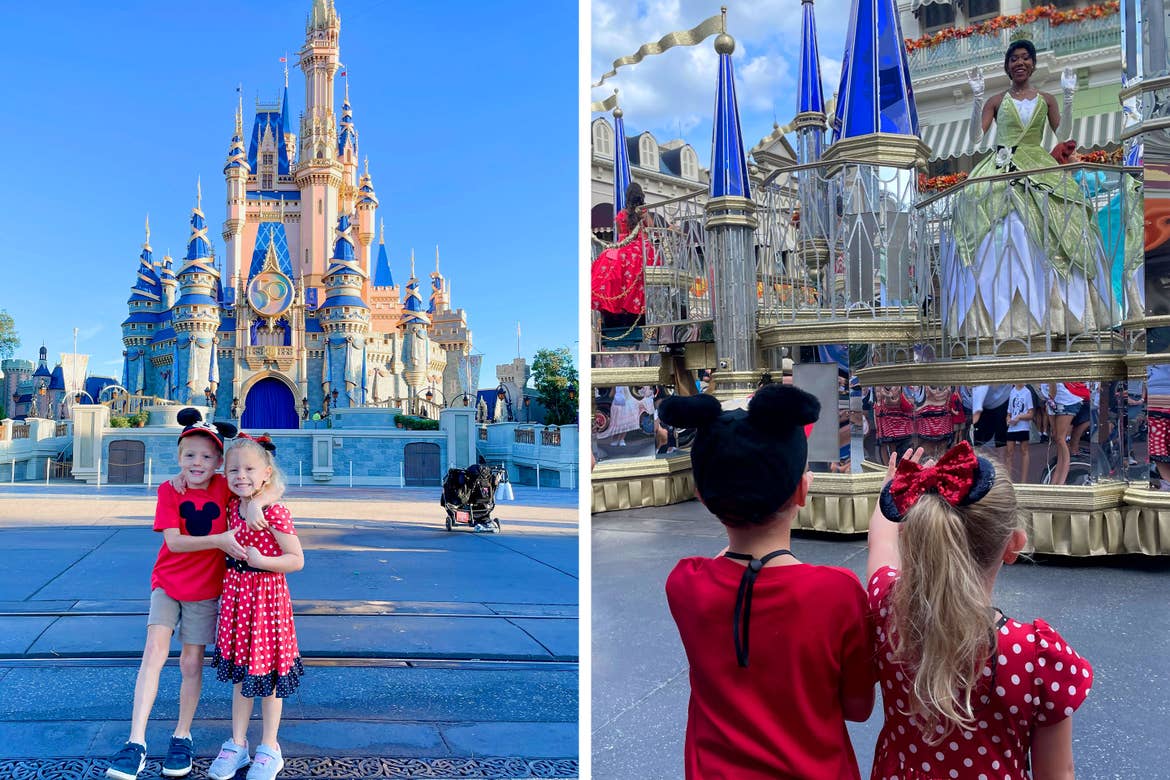 Such cute picture-perfect moments in front of Cinderella's Castle and the magical Parade with Princesses. 😍

I recommend putting everything in a backpack. It's easier to carry!

And Disney World is very accommodating about what can be brought into the park … we brought a backpack filled with snacks and water bottles.

Most theme parks don't let you bring certain things in, so I'm always impressed Disney World lets people do this.

To be safe, make sure you check the Disney World website for the most up-to-date rules.

Also, remember: This is a comprehensive list, and you might not need everything, so do what you think is best for your own trip!


Clothes
Magic Bands (or tickets)

Comfortable shoes

Hats

Disney outfits: Matching family t-shirts maybe? We always buy ours on Etsy!

Disney Ears: Whether you pack your own or buy them at the park, these are a must for any Disney trip!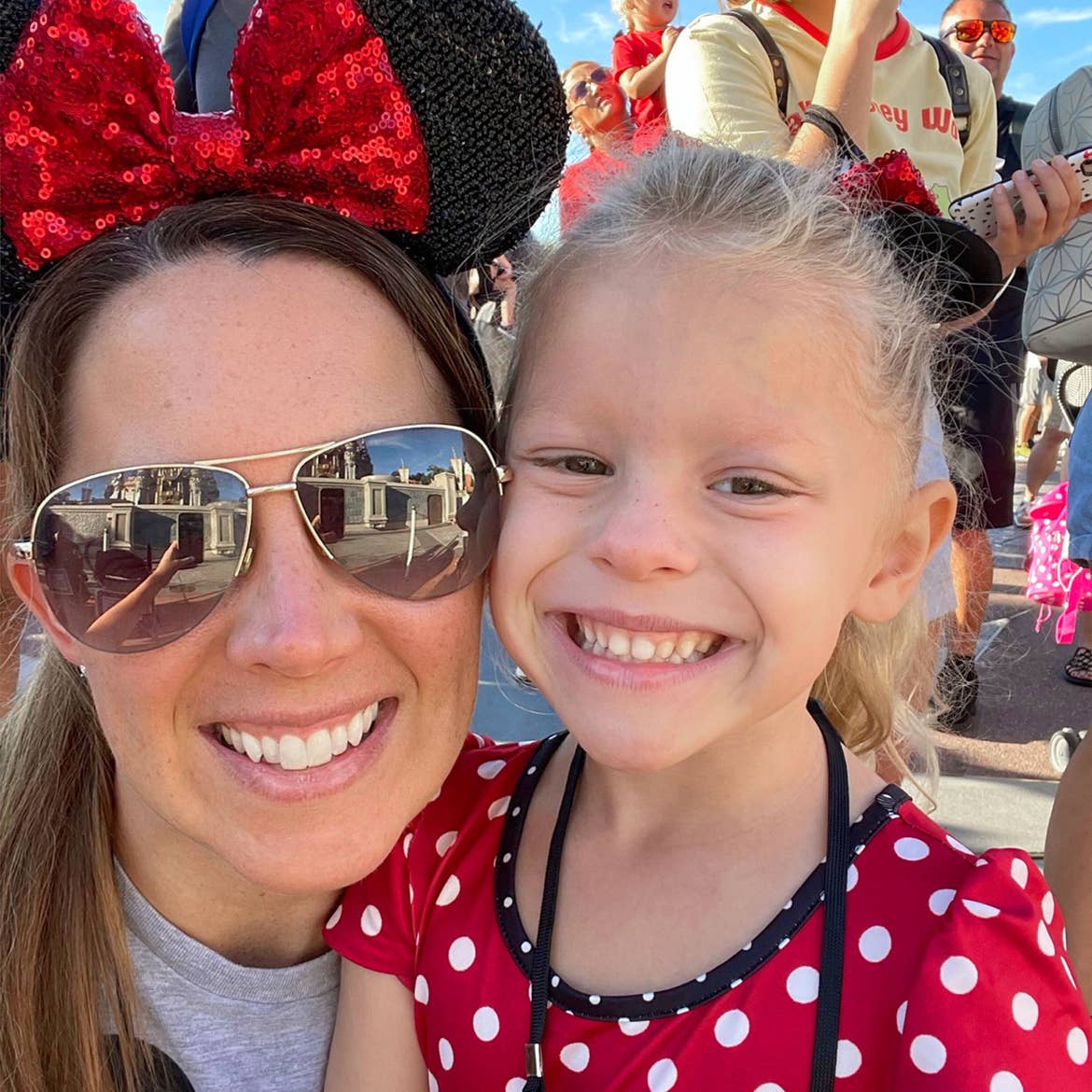 Documents & Personal Items
Wallet with ID & money/cards

Park maps, schedules & hours

Daily itinerary: Be sure to look up all the activities, food and rides at the park you're going to!

Disney World Smartphone Apps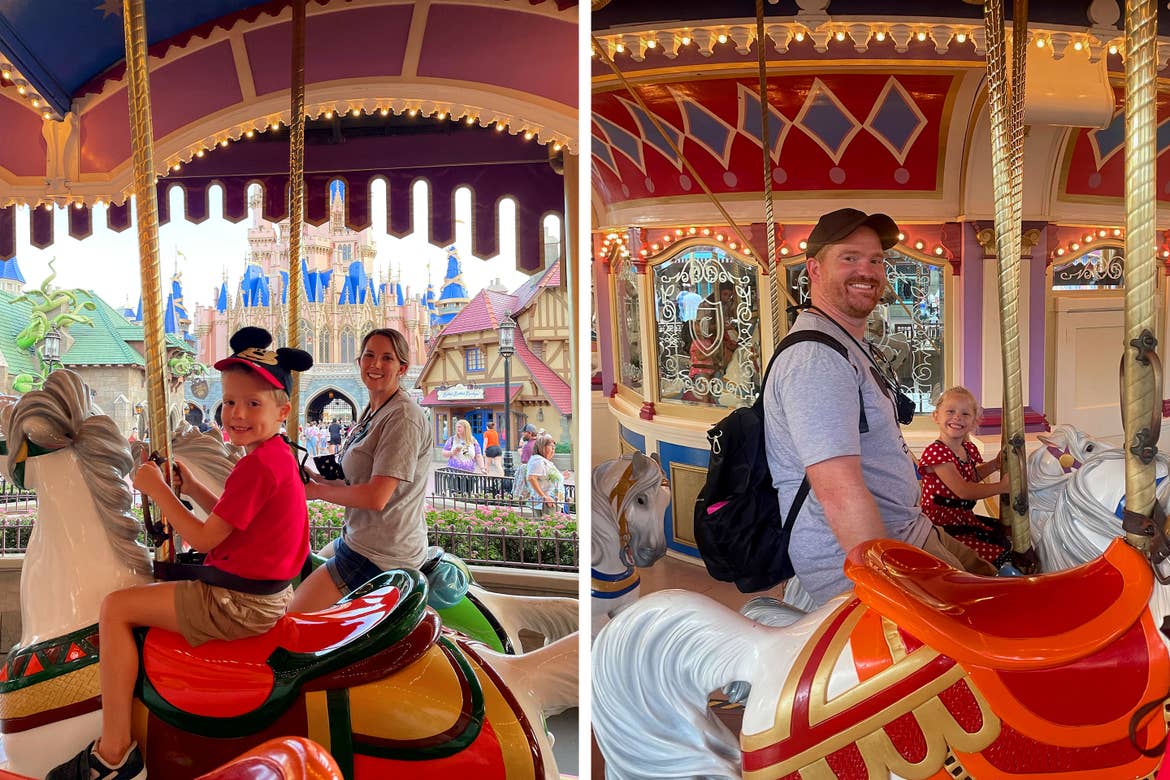 All-Day Necessities
Sunscreen

Lip balm

Sunglasses

Hair ties

Reusable or insulated water bottles: We brought full water bottles into the park and then refilled them with cups of water during the day.

Snacks: I recommend packing things you know your family will eat, won't melt and not take up a lot of room!

Camera or fully charged phone + portable charger

Umbrella

Poncho: For in case it rains or you go on a ride that you'll get wet on.

Wet wipes

Tissues

Fan mister

Mini cooler

Moleskin or blister Band-Aids: REALLY IMPORTANT TO PACK! You do a lot of walking in amusement parks and blisters are sometimes inevitable, especially if you're wearing new shoes.
COVID-19 Essentials
Hand sanitizer: I bring two and I really like the ones that clip onto your bag.

Masks: Bring extra in case they fall on the ground or get too sweaty.

Lanyard to hold the mask around your neck: Someone suggested this in a forum I read, and it was the best thing we packed for our recent day at Disney World!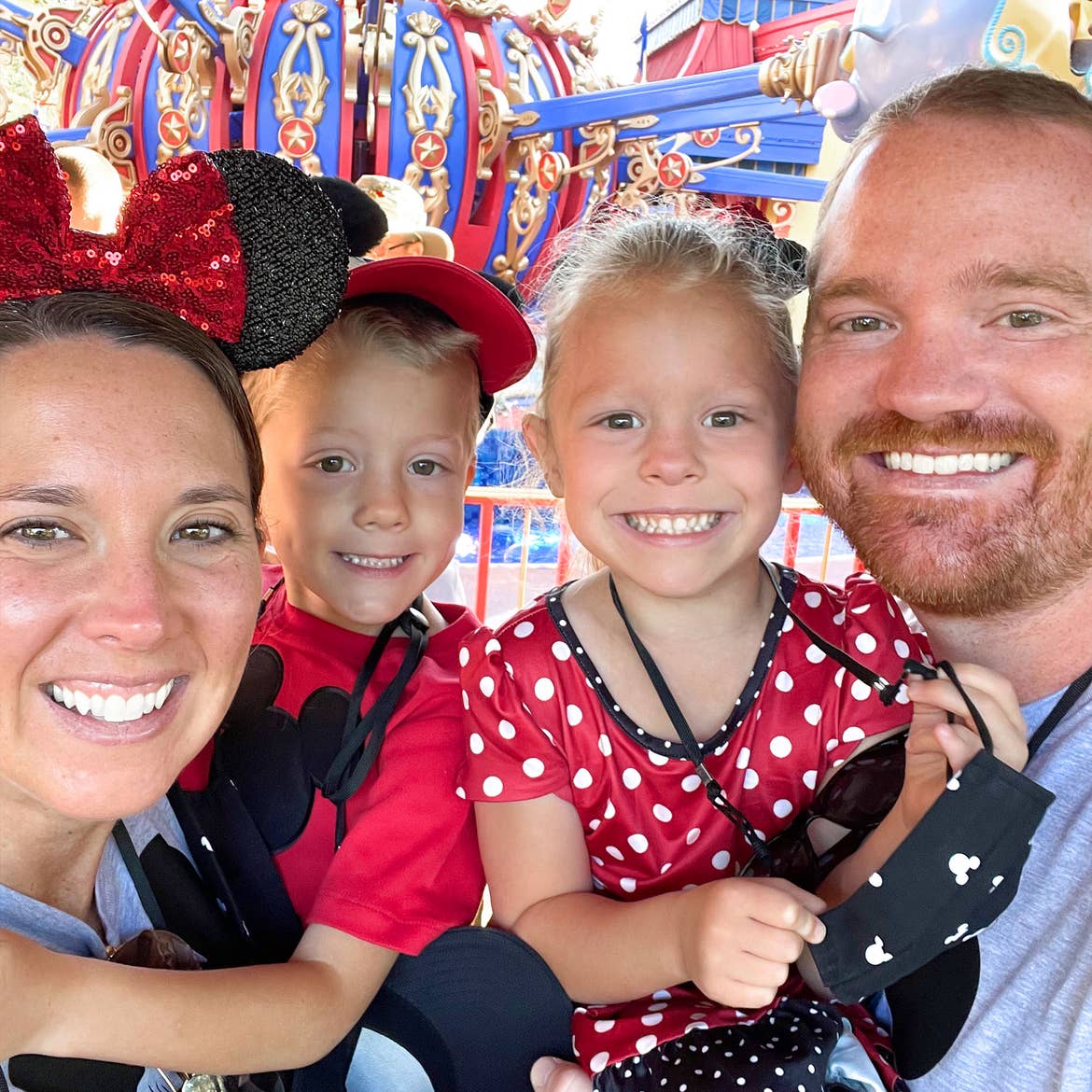 You're constantly taking your masks on and off, so this way, it's always on you and you just pull it up or down. You don't have to worry about putting it in pockets or dropping it.

We just told our kids, "Masks on or masks off," and they knew what to do!
Kids' Necessities
Stroller: If you have a child under 6, I would definitely bring a stroller! We wouldn't have been able to ride every ride in the park if my 4-year-olds had to walk all day.

Plus, they sat in their stroller (instead of on the floor) while we waited for the firework show.

Stroller fan

Extra set of clothes for young children

Toddler harness/backpack

Ziploc bags

Ear plugs (for loud shows/attractions)
Pro Tip: Make sure your stroller is labeled with your name or it's easy to find. We had a stroller stolen one year, but while it was still upsetting in the moment, Disney World handled it so well and even provided us a new one.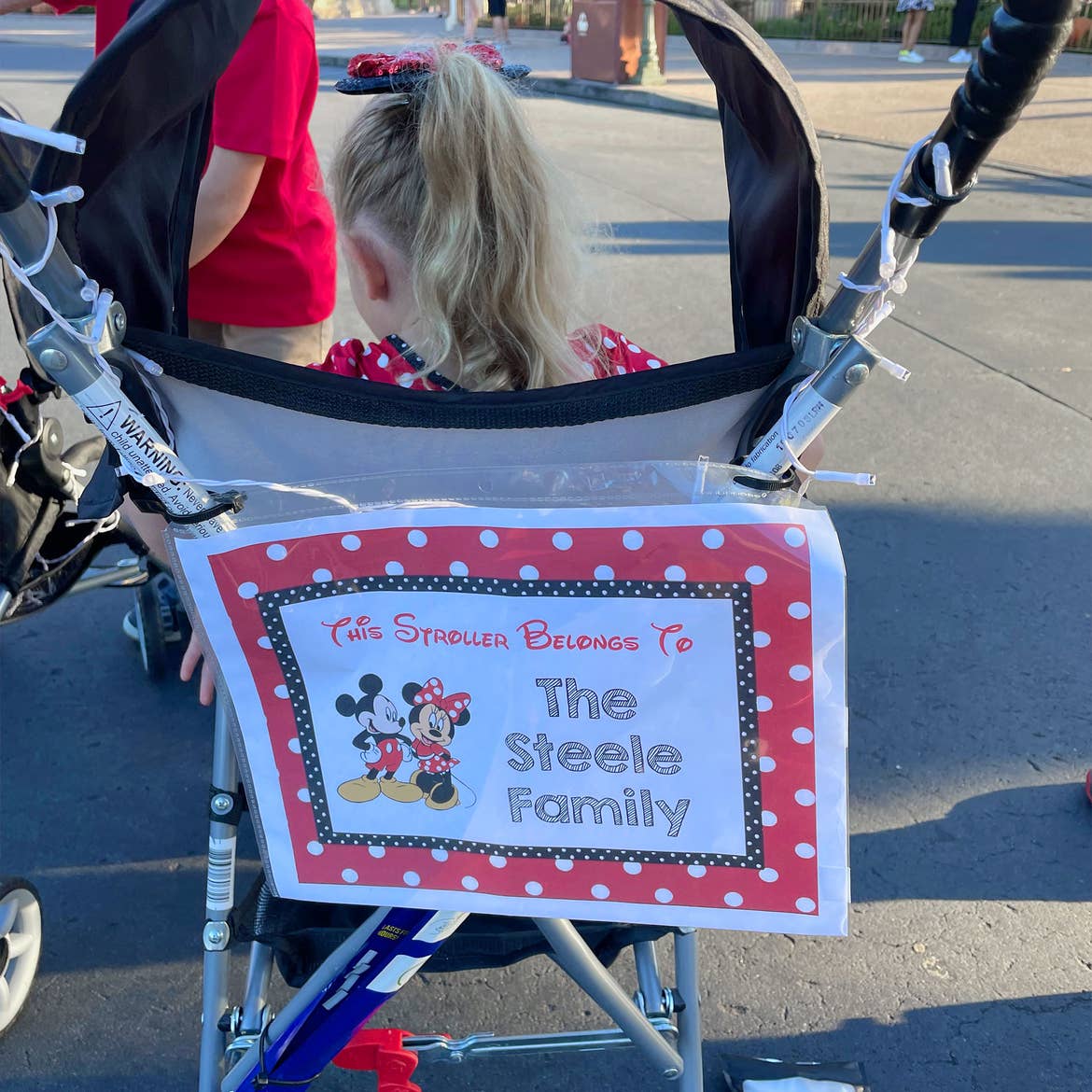 Fun Stuff for Kids
Light-up toys

Pennies or quarters for coin press machines

Glow sticks

Suckers/lollipops: We always keep a bunch of these in our bag for when a kid starts getting whiny. Give them one and you get 10–15 minutes of quiet … works every time!

Battery-powered stroller lights: You can get these at the dollar store. A friend suggested them to me, and my kids thought they were the coolest at night! It made our day just a little more magical.

Official Disney Pins for trading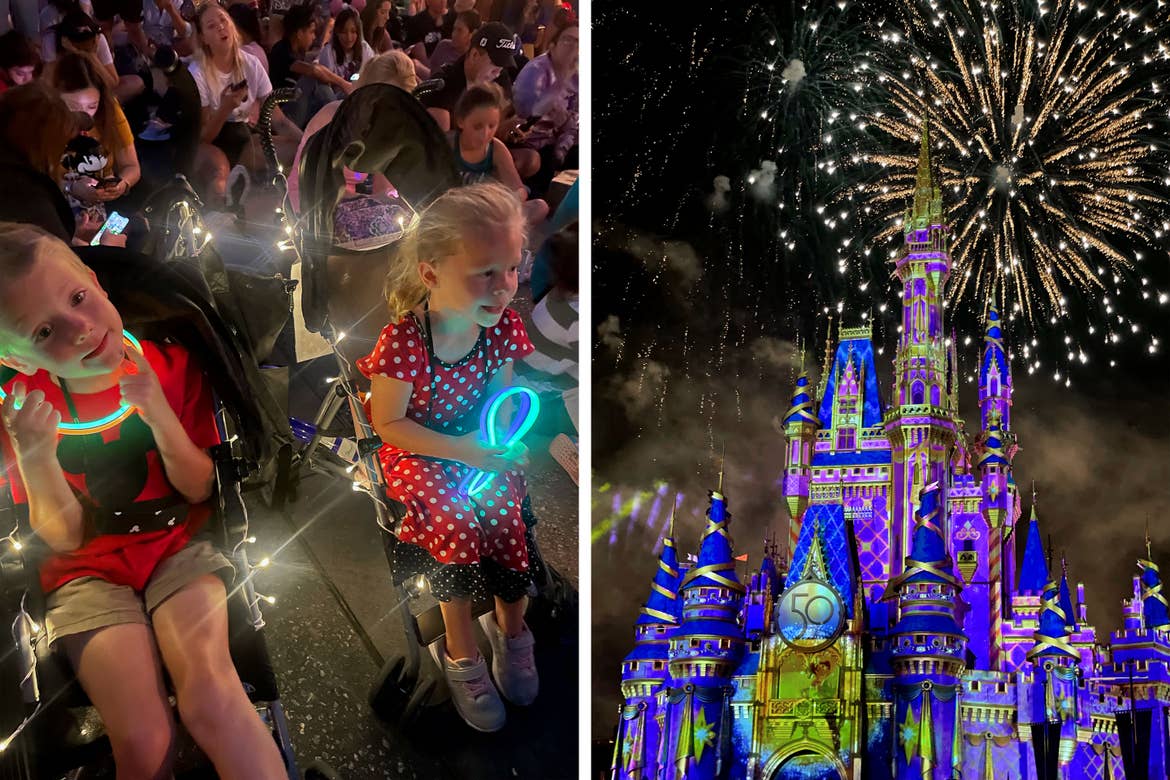 Getting our glow on during the fireworks show at night!


My Parting Advice for Your Disney World Vacation
Remember how I mentioned that I don't like making decisions on vacation? This includes food!

I always make our grocery list prior to arriving. Sometimes resorts even have full kitchens so you can cook and eat in your villa!

When we stayed at Orange Lake Resort, we ate breakfast and/or lunch in our two-bedroom Signature Collection villa, so we used the full kitchen every single day.

It's so convenient and saves us a ton of money on food!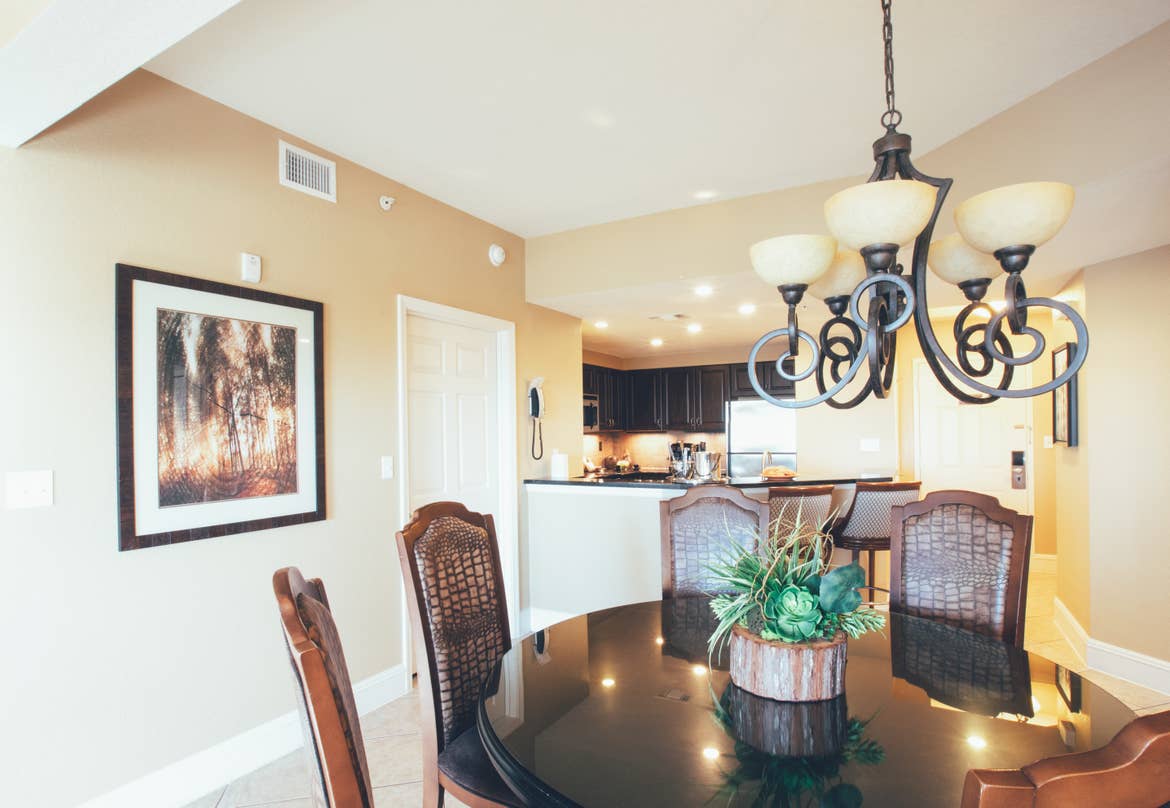 The full kitchen in the two-bedroom Signature Collection villa at Orange Lake Resort


The Best Place to Stay Near Disney World
We've been to Orange Lake Resort twice, and we've already decided to make it an annual trip; we love it that much!

The villas have full kitchens, plenty of space for our family (we didn't even have to share a room or bathroom with our children) and laundry machines.

And the resort has fun amenities like pools, restaurants and mini golf!

I personally love it because we can spread out as a family after busy days at Disney World or Universal Orlando™ Resort, and we can also spend time at all the resort's pools!


More cuteness at the zero-entry pool in North Village at Orange Lake Resort

I really enjoyed making this Disney World packing list for you! I hope it makes preparing for your trip a little easier.

Don't forget to download, print and save it for the future!

SAVE DISNEY WORLD PACKING LIST

Have fun at the most Magical Place on Earth!! And don't forget your Mickey Ears. 😉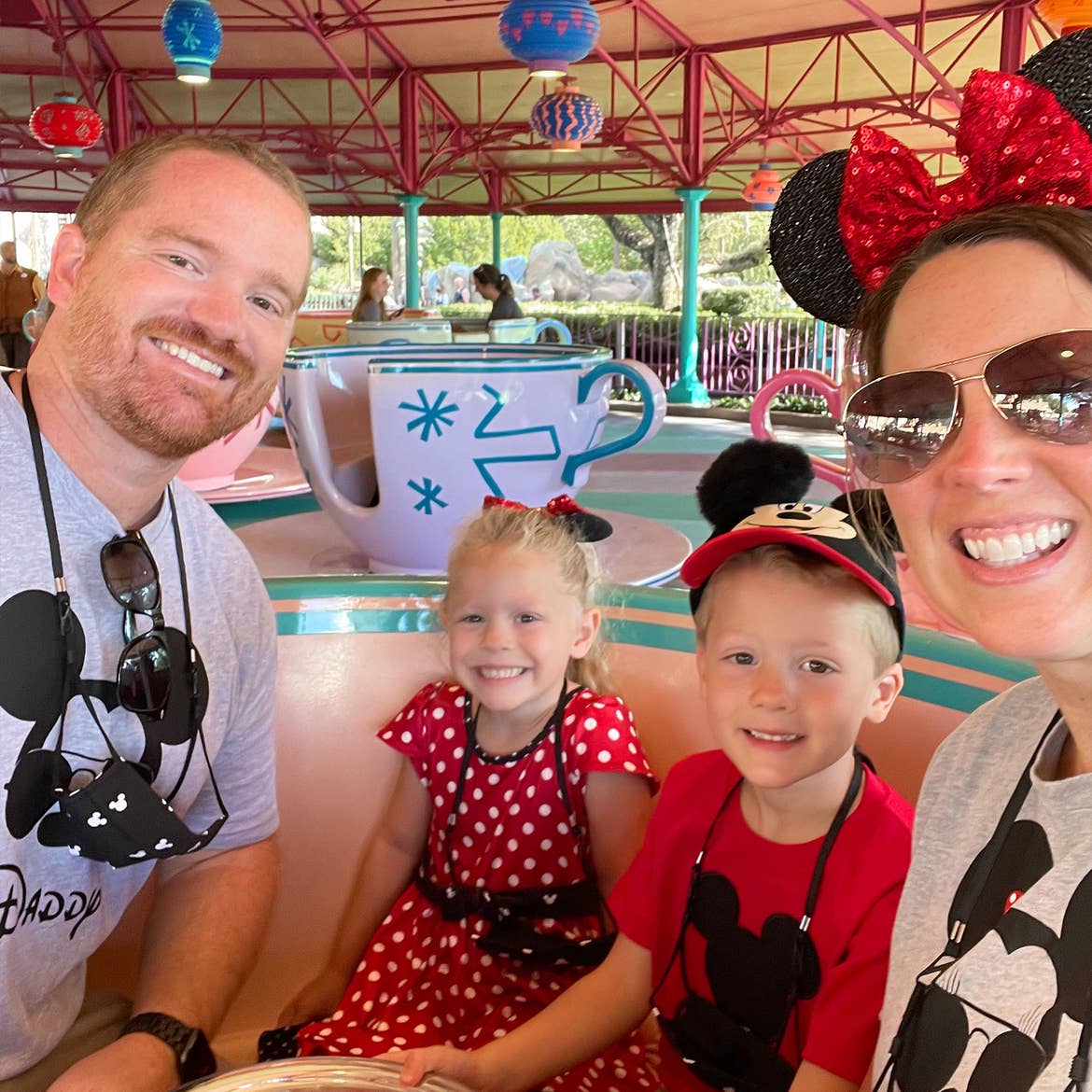 Our guest bloggers are compensated for their writing contributions and honest opinions.

All information is subject to change. This article is a curated guide and is neither sponsored nor considered an official endorsement. Please be sure to check information directly with any/all tours, guides or companies for the most up-to-date and direct details.