Tori Ferrante
Tori is a writer and editor for the Checking In travel blog. She's a wine lover, dog mother and adventure seeker who revels in finding those little-known, hidden gem spots. Her travel niche includes super budget-friendly, couples weekend getaways, and her absolute favorite vacations are the ones where she gets to explore new places with her husband, Brooks, and her fur son, Deagon.
If it's free, it's for me!

That was 18-year-old me's motto back in my college days, and it still rings true today.

If you're on the hunt for ideas that are heavy on the fun and easy on the wallet, check out these 6 free things to do in Orlando (+ a few bonus ideas!).

They're all real suggestions from our Club members, Facebook and Instagram followers and team of Holiday Inn Club Vacations® travel experts, so you know they're gonna be real good. 😉

You'll also notice some of these ideas are inspired by our Orange Lake and Orlando Breeze resorts, and while you do need to pay for your stay at both, we think you'll find their activities very fun and very worth it.


1. Enjoy a taste of Walt Disney World® Theme Parks — no ticket required.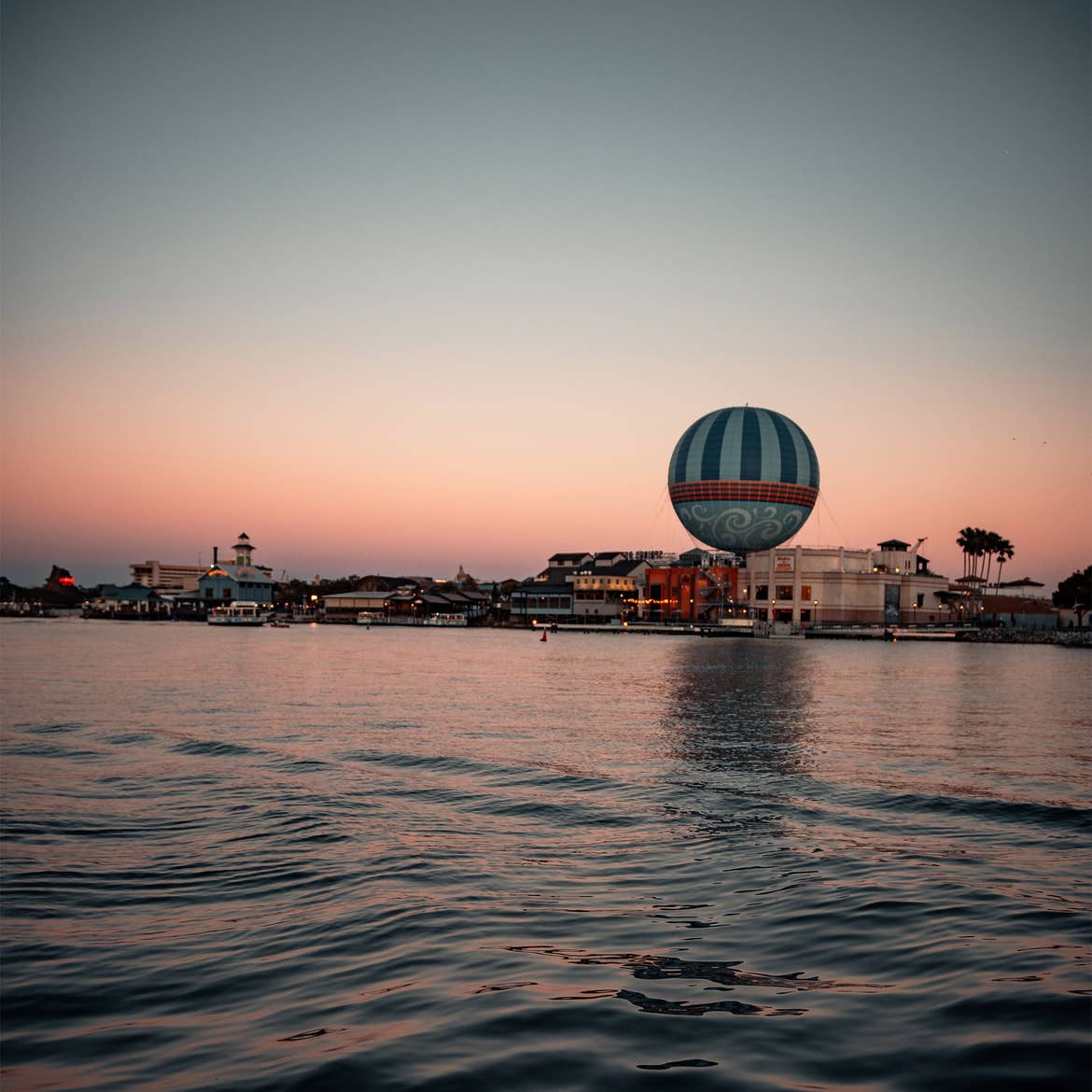 Disney Springs has lots of opportunities for fun photo ops for the "Gram."

There are so many great things to do at Disney Springs and Disney's BoardWalk, especially when it comes to free entertainment.

If you're a fan of all things Disney, fun photo ops, people-watching and window-shopping, you'll love strolling through these two areas.

Pro Tip: They're also both great for a little romantic date night with your special someone. 😉

"Going to Disney's BoardWalk, finding a nice spot, watching the amazing fireworks set off by the theme parks with that special someone, family or friends, and enjoying the view. Cost $0." – Susan D.

"As a Disney-obsessed adult and local Orlando expert, our family has spent quite a bit of time roaming Disney Springs, one our favorite Disney spots, especially when we want a little pixie dust on a budget." – Christie C.

"Disney Springs = a taste of Walt Disney World but with free parking and no admission/ticket." – Jennifer H.

"Disney Springs is fun and exciting." – Lamb's Travels


2. Pick a spot outside the theme parks to catch their fireworks shows.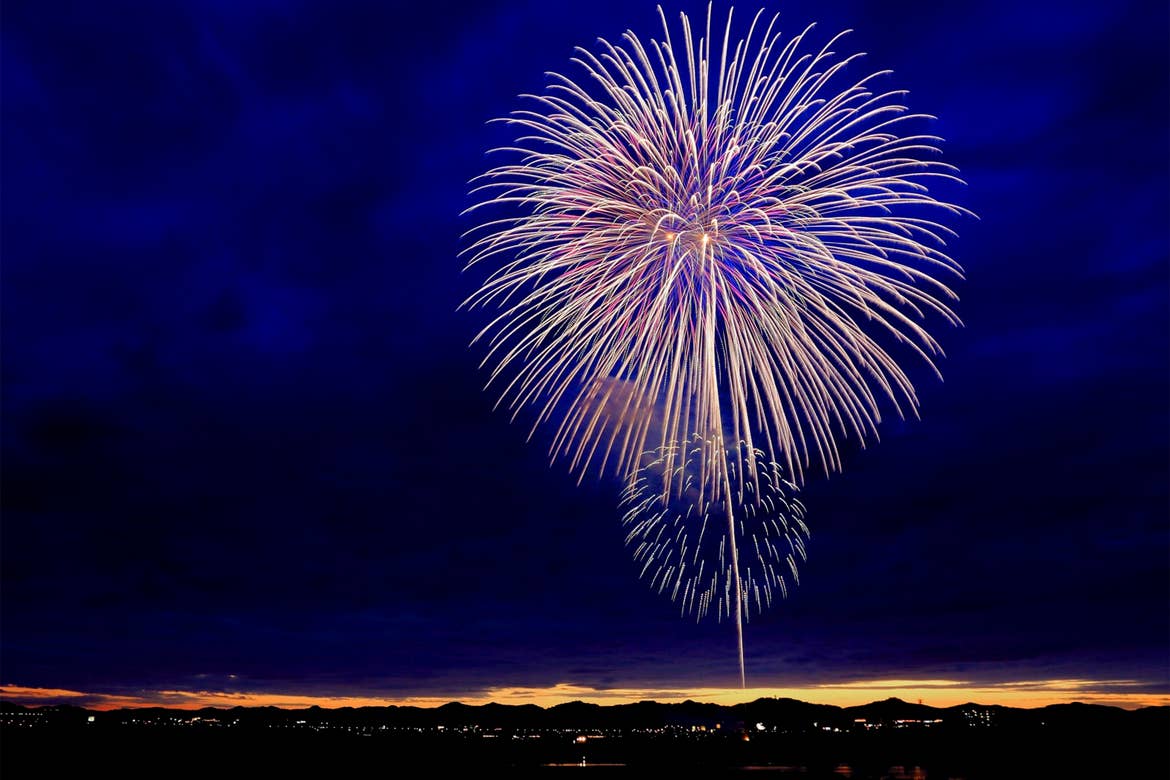 Every night is 4th of July when you live in the Theme Park Capital.

Between Walt Disney World® Theme Parks, Universal Orlando Resort™ and SeaWorld® Orlando, finding a spot to watch the spectacular fireworks shows displayed by a nearby theme park is a no-cost, low-effort way to light up your night.

"I love watching the theme park fireworks from my balcony. Priceless!" – Andrea A.

"Sitting at the resort's lazy river and watching the fireworks from Disney World. Can't wait to see my Orange Lake Resort family at Christmas." – Sarah F.


3. Soak up the sunshine at a pool or splash pad.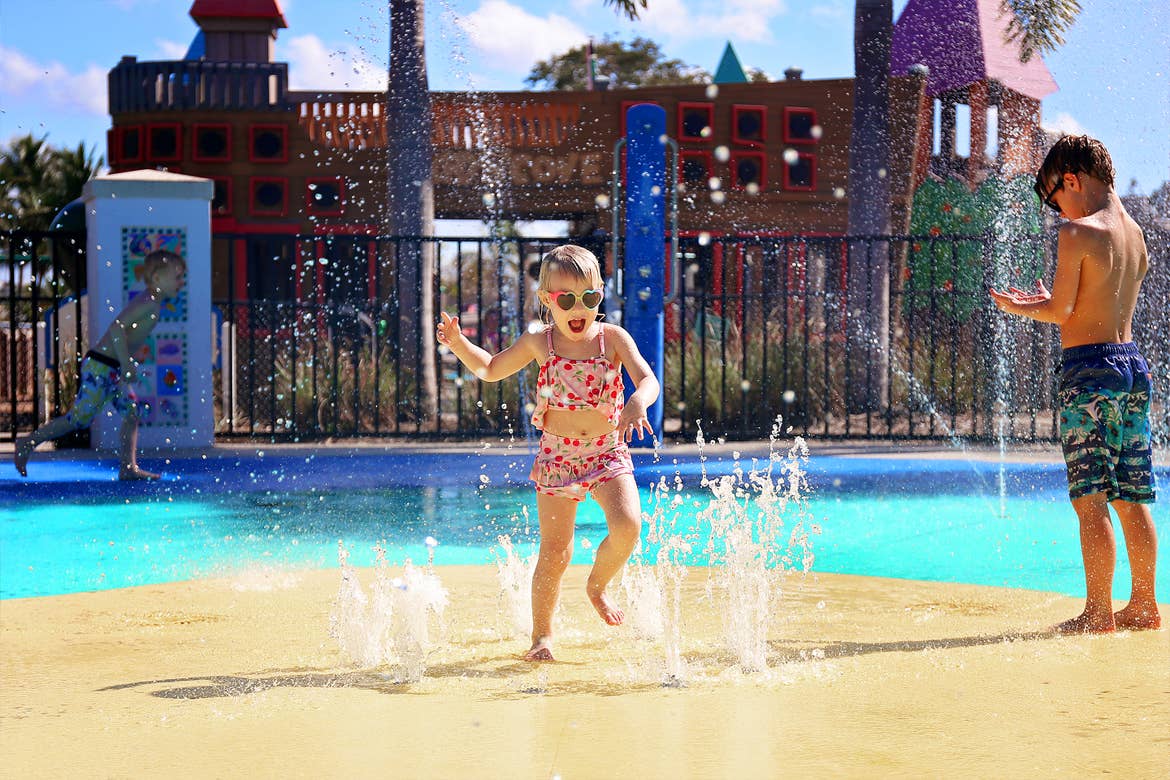 Soaking up some Florida sunshine is good for the soul (and the bank!).

To entertain your little ones, check out free splash pads and spraygrounds in Central Florida, including ones at:
Disney Springs
Kissimmee Lakefront Park
Winter Garden
Oviedo
And if you're not enjoying the cool pool waters included in your Orlando Breeze or Orange Lake Resort vacation, Orlando has a lot of public pools that are only about $3-4 for access.

"Chilling by the pool with a cocktail." – Robin M.

"Family time. Pool time. Street art murals." – Jennifer M.

"Love being around the pools and making new friends." – Julie B.

To maximize those sunny summer days, I've also been known to hook up my sprinkler, blow up my kiddie pool and spend a nice day cooling off on my front lawn… ahhhhhh.


4. Spend the day at a natural spring.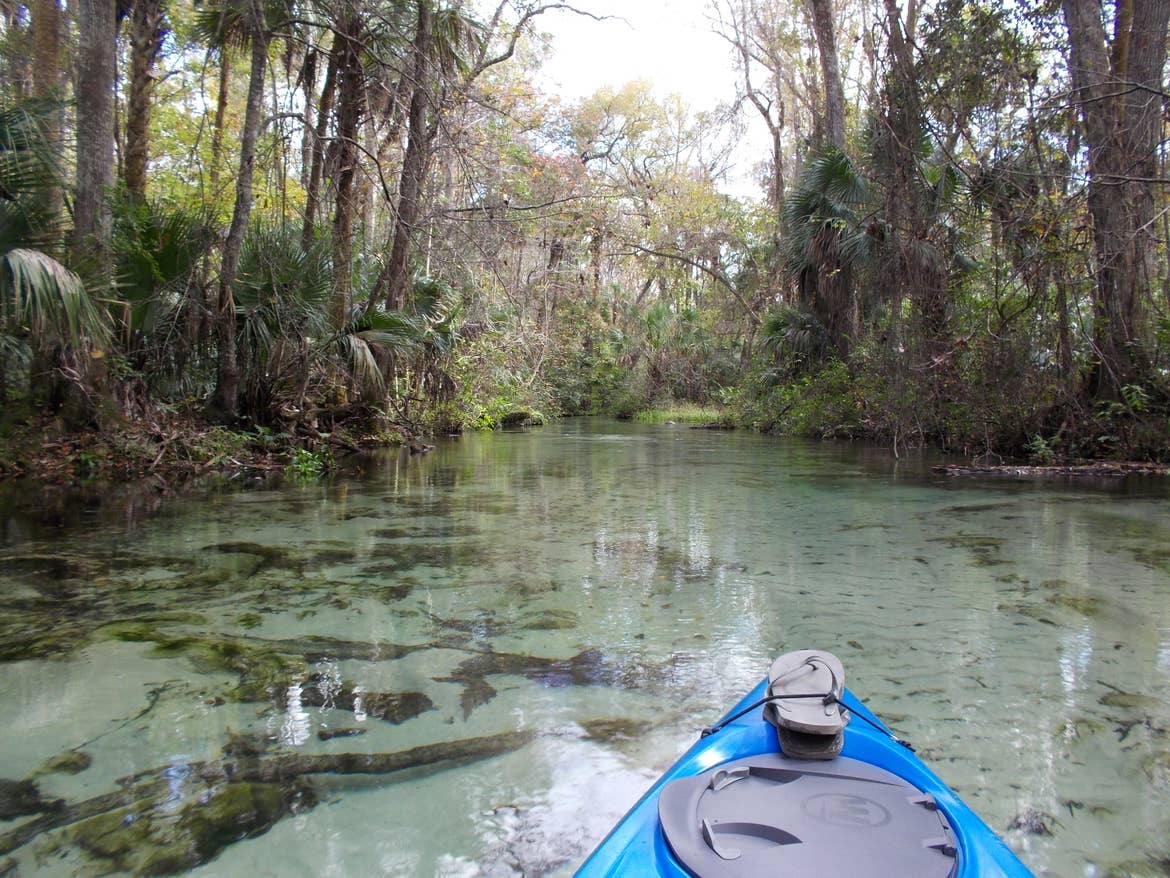 Wekiwa Springs State Park is only $6 per vehicle or $2 for pedestrians and bicyclists.

Ok, so a lot of Orlando's nearby natural springs might not be 100% free, but they're close enough! I'm talking $2 per person or $4-10 per car, and at some, kids under a certain age are free.

It's a really reasonable and really fun way to spend your day (and your money).

Some local natural springs near Central Florida include:
Rock Springs Run State Reserve
Three Sisters Springs
Blue Spring State Park (my personal fave)
De Leon Springs State Park
"I like to visit the natural springs." – Sheila R.

"Tibet-Butler Preserve and visit a natural spring (which isn't free or directly in Orlando, but cheap and within 2 hours)." – Amber C.


5. Hit the trails!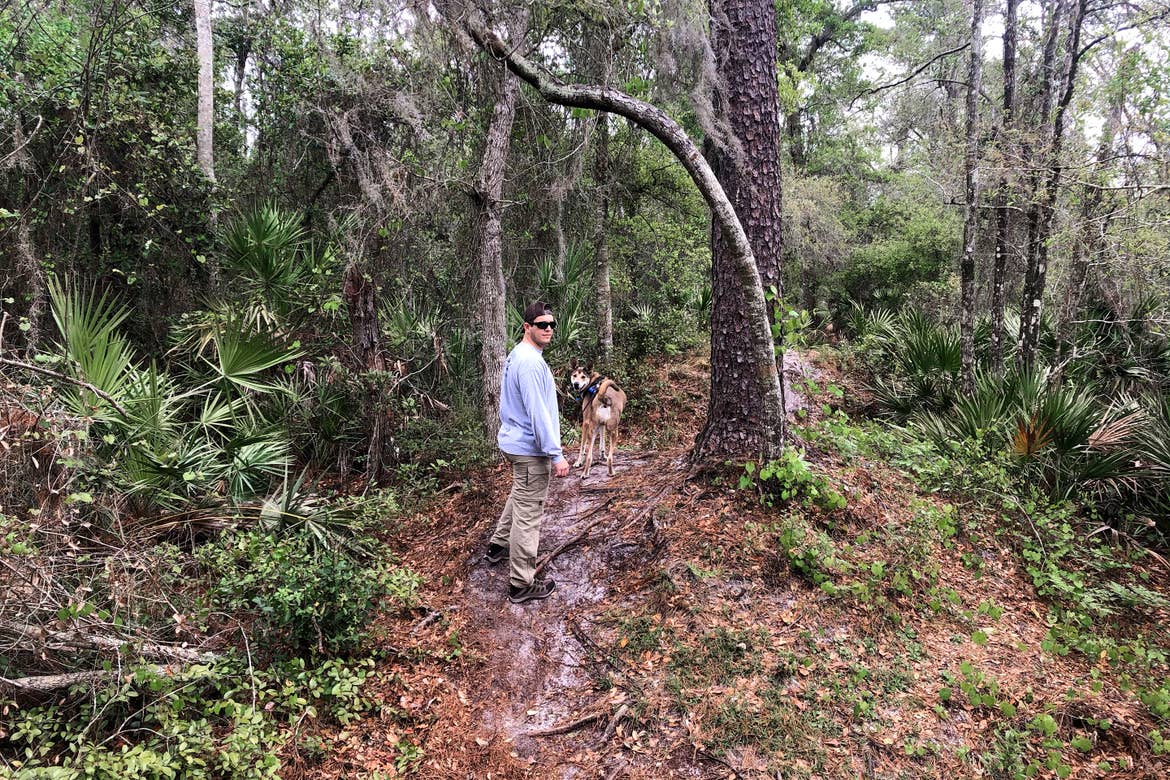 My hubby and my pup hiking in the UCF Arboretum

I'm a big fan of getting outside and hitting up hiking trails, and there are places to do just that allllll around Orlando.

Aside from all the exercise, fresh air and sun on your skin, another benefit of hiking these trails is that they're completely free, too.

Just some of the biking and hiking trails in and around Orlando include:
Little Big Econ State Forest
Tibet-Butler Preserve
Lake Baldwin Park
Split Oak Forest
When we have some Sunday free time, my husband, Brooks, my pup, Deagon, and I like to stroll through the Econ River Wilderness Area in east Orlando.

Super easy 3-mile hike, and the river is a nice halfway point to stop, rest, drink water, eat a snack, cool off and, if you're like my husband, take a few casts to see what you can catch in the river.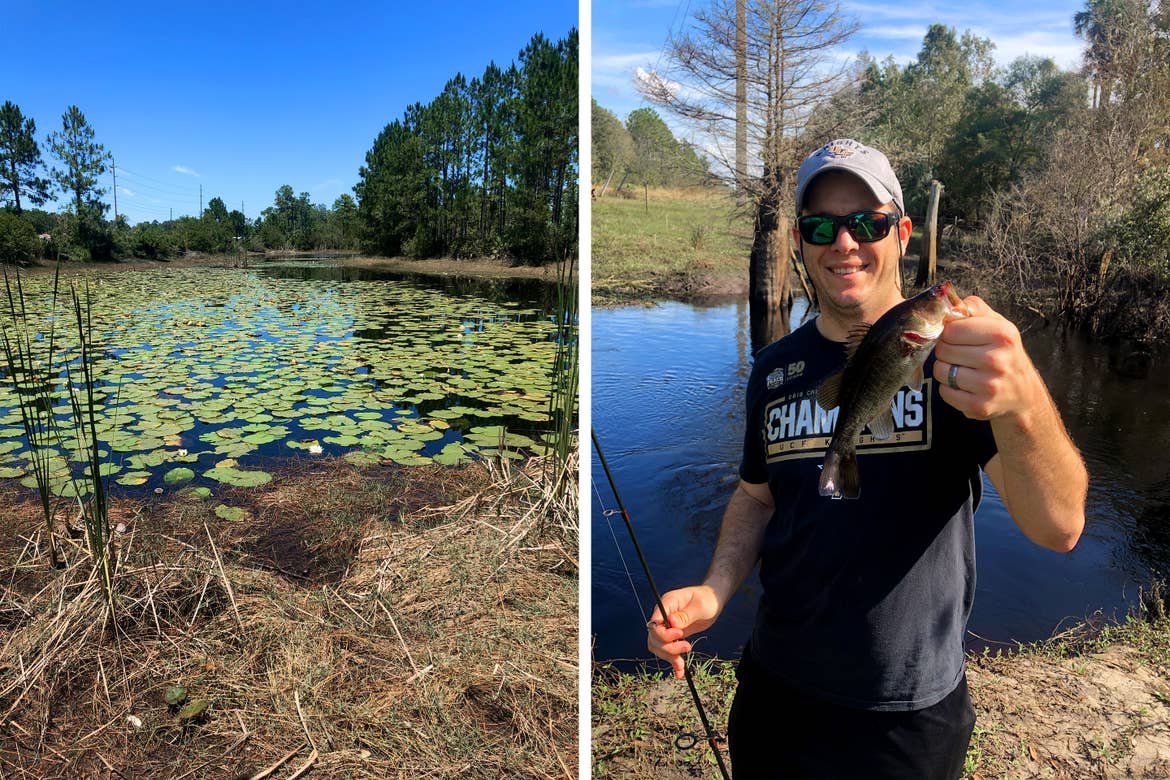 Brooks' nice little catch (aside from me) at the Econ River Wilderness Area

"Geocaching [aka treasure hunting while hiking]." – Laura L.

"I don't do this but have heard great things about the West Orange bike trail in Winter Garden." – Alia W.

Pro Tip: Try to head outdoors in the morning or evening. It's much more enjoyable than being out during the hottest parts of the day in the afternoon.


6. Explore a new part of Orlando you've never been to.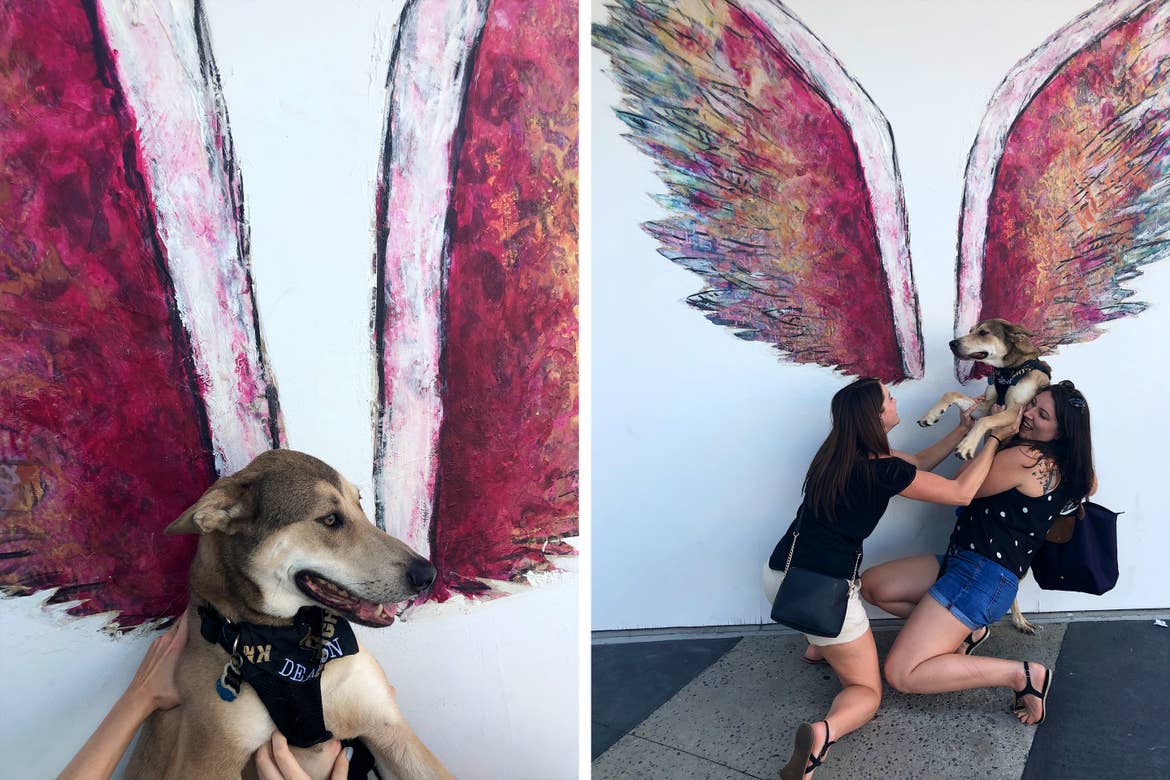 Instagram vs. Reality: A behind the scenes look at me failing to take a cute photo of my dog and the Angel Wings near Boxi Park

As someone who's lived here since 2012, I can confidently say I haven't even scratched the surface on new places to explore in this area.

The ideas below include fun things to do, local favorites, hidden gems and unique spots to discover, and I have a lot of these on my own personal list.

(Yes, I do in fact have a "Notes" app list of new places I still need to visit.)

"Boxi Park in Lake Nona, Plant Street Market in Winter Garden, CityWalk, Lakefront Park in St. Cloud, Lakeridge Winery in Clermont (wine tastings are free), Winter Park Farmer's Market and walking around Park Ave. in Winter Park" – Ashley F.

"Strolling through Old Town [in Kissimmee]." – Brandi H.

"Walking around Lake Eola, exploring Mead Botanical Gardens, enjoying a (free) tasting at Lakeridge Winery, checking out Winter Park's Park Ave., and doing the nature trails and walks around the 'lake' in downtown Celebration." – Jennifer H.

"Strolling through the Winter Garden Farmer's Market " – Marco A.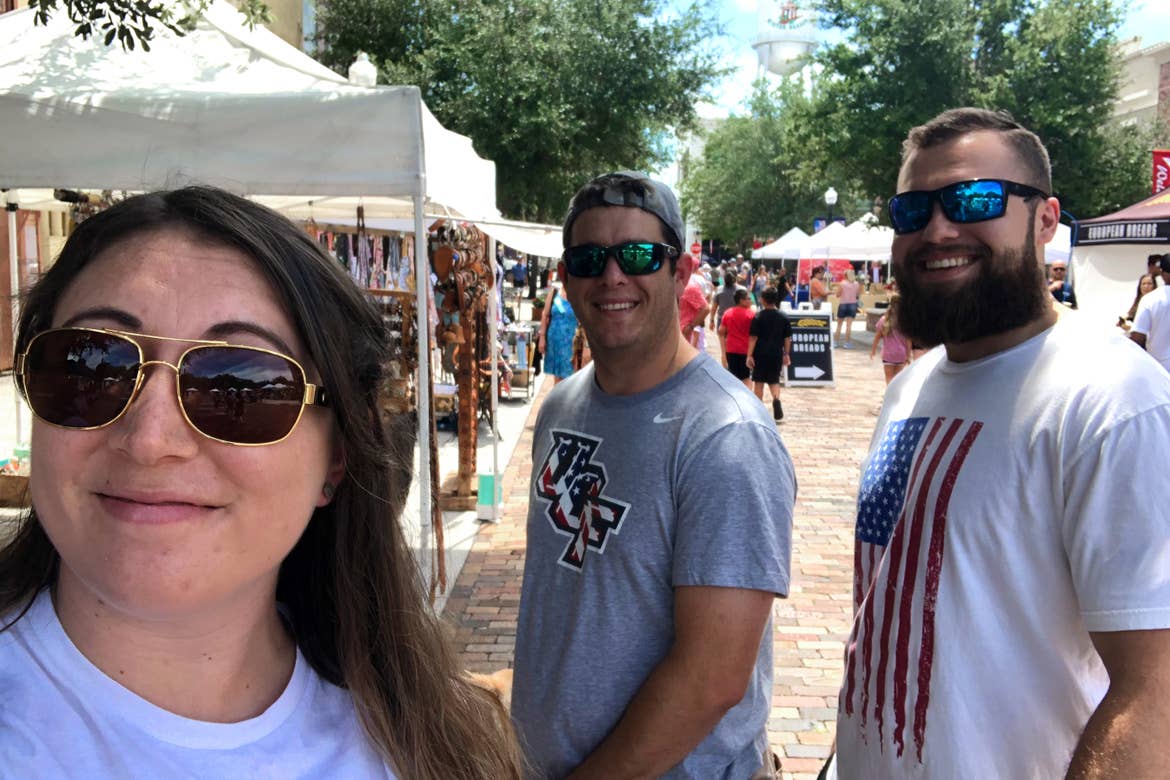 Checking out the local vendors at the Winter Garden Farmer's Market


Bonus Ideas
Looking for a few more ideas? Here are some of my personal favorite free things to do in Orlando:
Fishing in neighborhood ponds or at a nearby beach
Taking my pup to Lake Baldwin Dog Park in Winter Park
Volunteering for a local nonprofit
Tailgating University of Central Florida football and baseball games in East Orlando
Playing Pokémon Go at a nearby park or outdoor mall
Walking around Lake Eola in Downtown Orlando to see the swans and ducks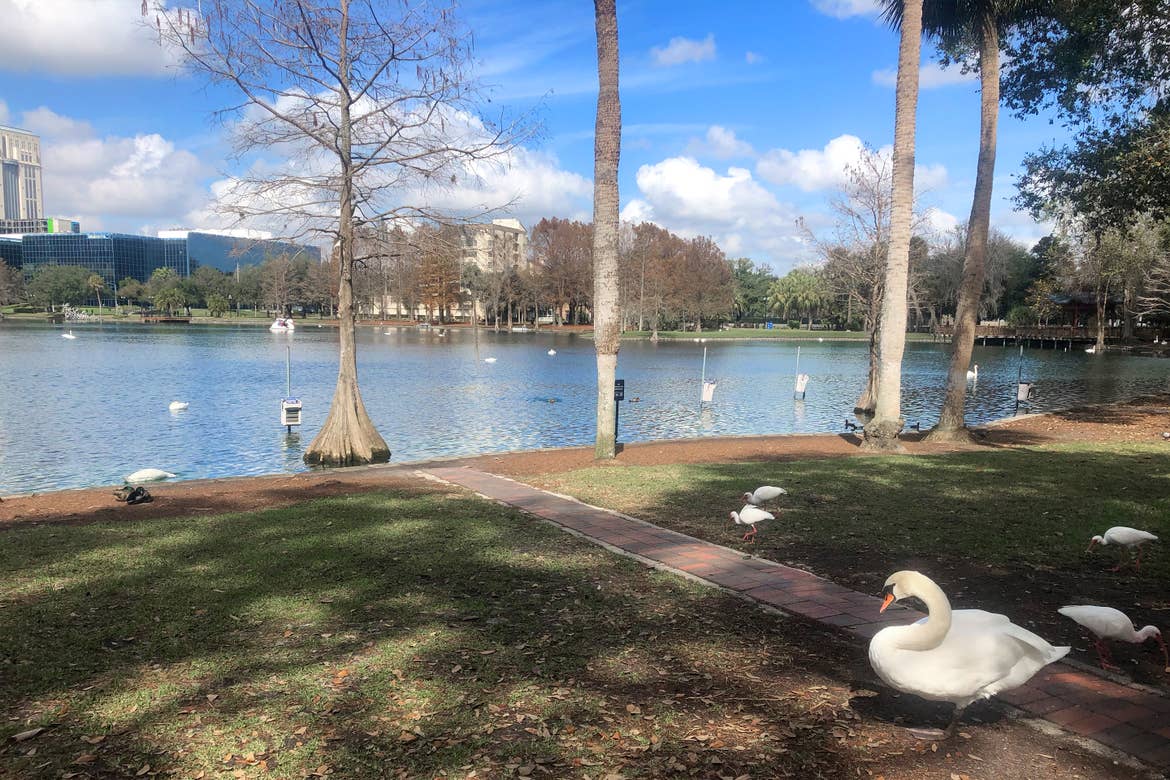 Blue skies, swans and the beautiful skyline at Lake Eola in Downtown Orlando


Your Home Base for All These Orlando Activities
If you're planning to stay or happen to be staying at our Orange Lake Resort or Orlando Breeze Resort, you'll have access to TONS of awesome things to do included in your reservation.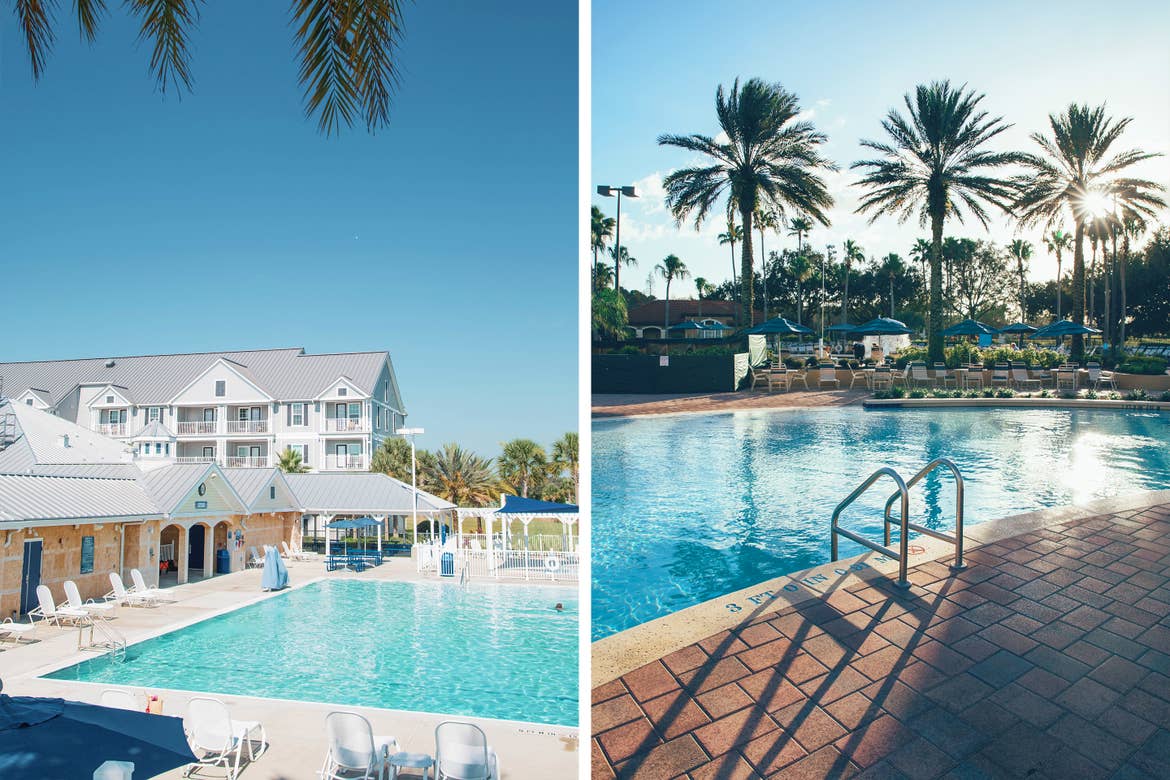 The sparkly pools at Orlando Breeze Resort (left) and Orange Lake Resort (right)

(Once you get there, you mighttttt not even want to leave.)

Some free resort activities include:
Crystal-clear pools
Hot tubs
Sports courts
Special activities every day
Fitness centers
And more!
Plus, there are even more things that do have an extra cost, but the fun is well worth it.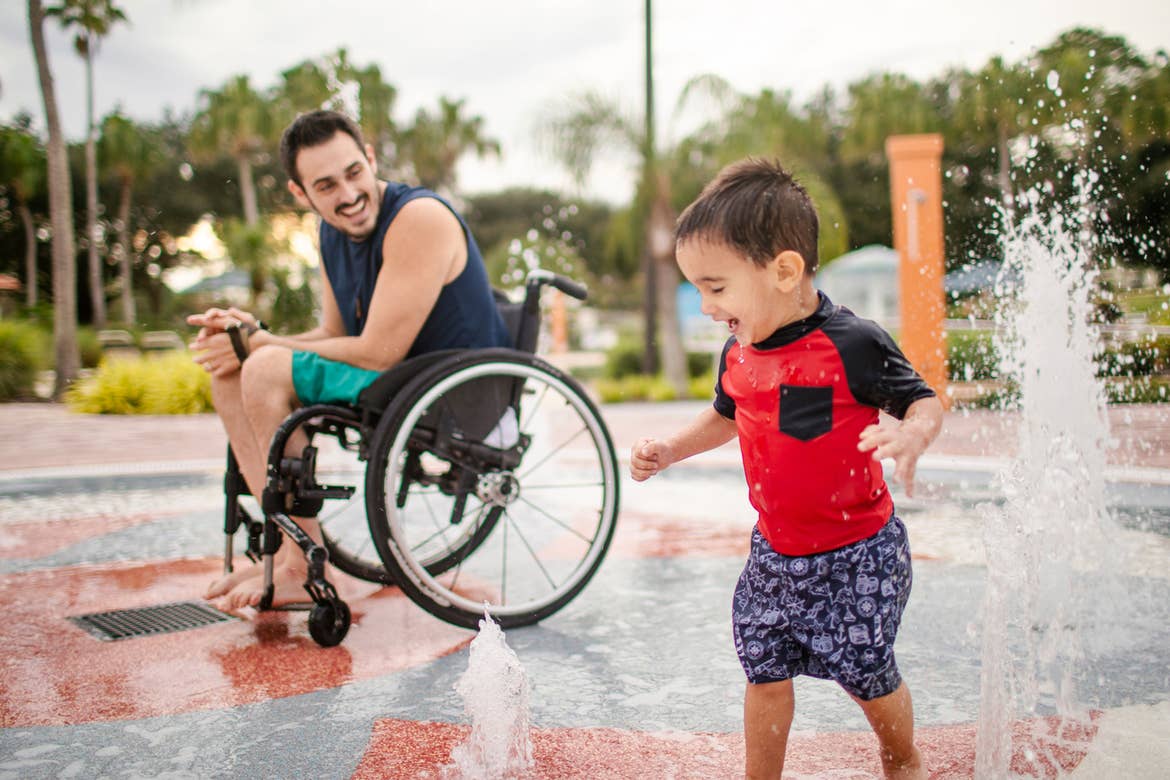 Take the kiddos to the North Village splash pad to soak up all the sunny resort fun you can!

Check out what our Club members and guests have to say about the resort activities they love (both free and for a fee)…

"We all get up early and bring our little fishnets to walk the lazy river [at Orange Lake Resort] and save the frogs … and enjoy the beautiful landscaping. Then we go to North Village to the waterslide and play trivia with the Fun Team. See you soon!" – Karen M.

"Hanging out with my family by [Orange Lake Resort's] West Village pool, playing bingo and drinking a frozen Pirate Booty. Nothing better. Coming again in August — I can't wait." – Anissa W.

"The family being together, the pool, playing cards or Yahtzee on the balcony, and taking walks around the resort." – Michele M.

"Using the amenities at Orange Lake Resort and then watching the sunset from the bar." – Joey B.

"Going to CityWalk after karaoke at Orange Lake Resort." – Ayesha W.

Fun Fact: Orange Lake Resort hosts karaoke every Saturday at Paisan Pizzeria in North Village, and Sundays and Tuesdays at Breezes Bar in West Village. It's a very fun, family-friendly good time!

If you're ready to book your Orlando vacation (or staycation?), be sure to check out the offers we have going on right now at Orange Lake and Orlando Breeze!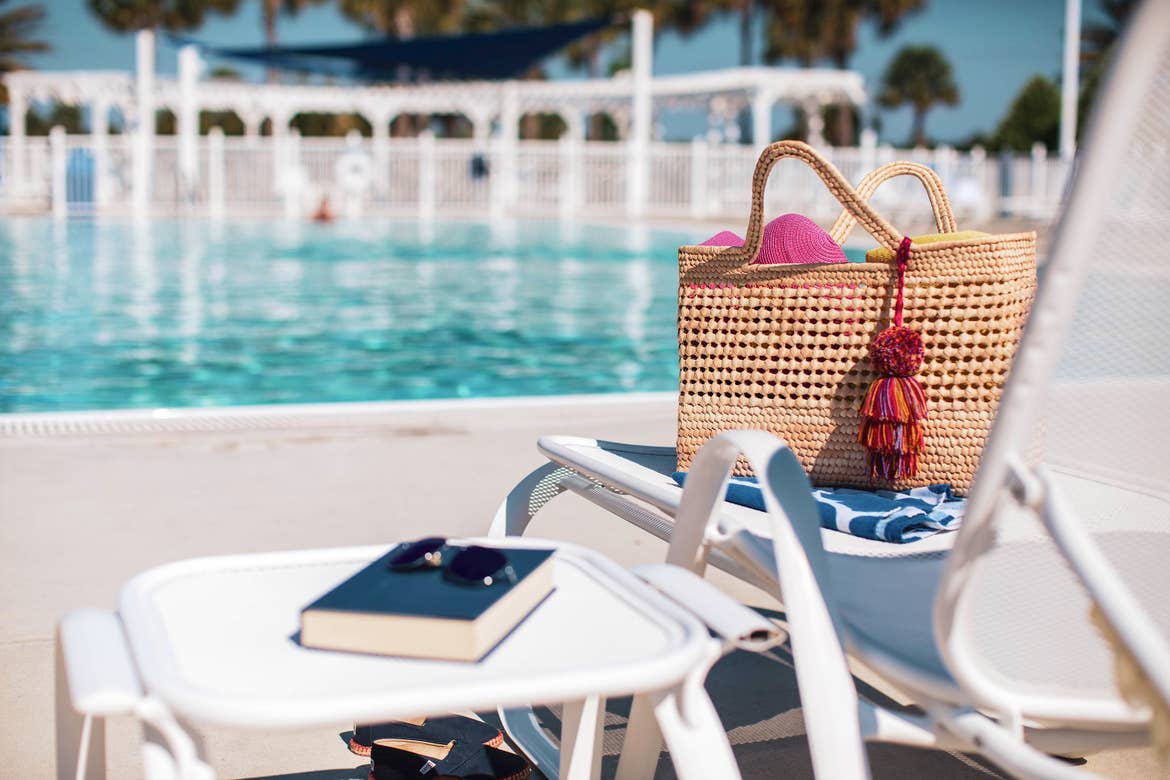 If you're like me, you can probably spend hours lounging by Orlando Breeze Resort's Main Pool.

From soaking up the sun to hitting the trails, I hope these 6+ free things to do in Orlando help you have a blast on a budget.

And if you're here for an Orlando family vacation, don't forget the one thing that is truly priceless: the memories you'll make while you're here…

"Watching my kids' faces as we create memories from our vacation." – Jon H.

All information is subject to change. This article is a curated guide and is neither sponsored nor considered an official endorsement. Please be sure to check information directly with any/all tours, guides or companies for the most up-to-date and direct details.