Tori Ferrante
Tori is a writer and editor for the Checking In travel blog. She's a wine lover, dog mother and adventure seeker who revels in finding those little-known, hidden gem spots. Her travel niche includes super budget-friendly, couples weekend getaways, and her absolute favorite vacations are the ones where she gets to explore new places with her husband, Brooks, and her fur son, Deagon.
Ok, so you only have one day in Boston and you're wondering what on earth you should do.

Luckily, you have me … and Nick, one of my best friends who's lived in the big and beautiful "Beantown" for a few years now.

My husband, Brooks, and I decided to take a weekend trip to visit him in the spring.

As our very first time in this huge, historic city, Nick was basically the BEST tour guide we could've asked for.

Together, we came up with a whole jam-packed itinerary, and we had an absolute blast exploring touristy spots and the hidden gems Nick found.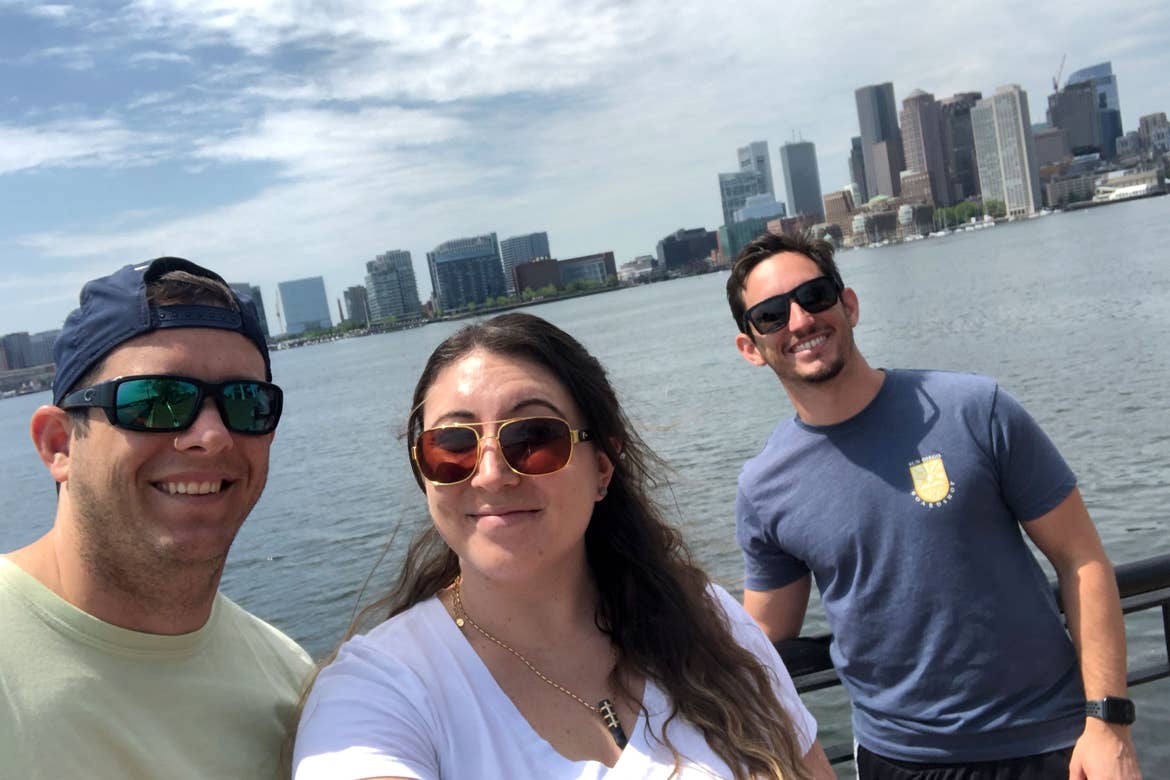 My husband, Brooks, me and my Boston-local-bestie, Nick

Now, I'm giving you the inside scoop on some of the best of the best things to do in Boston, and Nick's weighing in on his local picks, too.

We even included some alternative ideas, so you can pick and choose what's best for you and your travel crew.

Before we get into it, a little heads up: Boston is HUGE, and this itinerary is prettttttty packed.

You're not going to see it all in one day, one weekend or even a week, so try to set that expectation and soak up what you have time for!

All right, now let's kick off your morning in Boston…


Spend the Morning Exploring Public Garden & Boston Common
Boston Common was America's first public park, and the Public Garden was America's first public botanical garden. (Already very cool…)

As a historic gathering place for rallies, celebrations, assemblies and SO much more, Boston Common now has ballfields, a playground and the Frog Pond where you can splash in summer and skate in winter.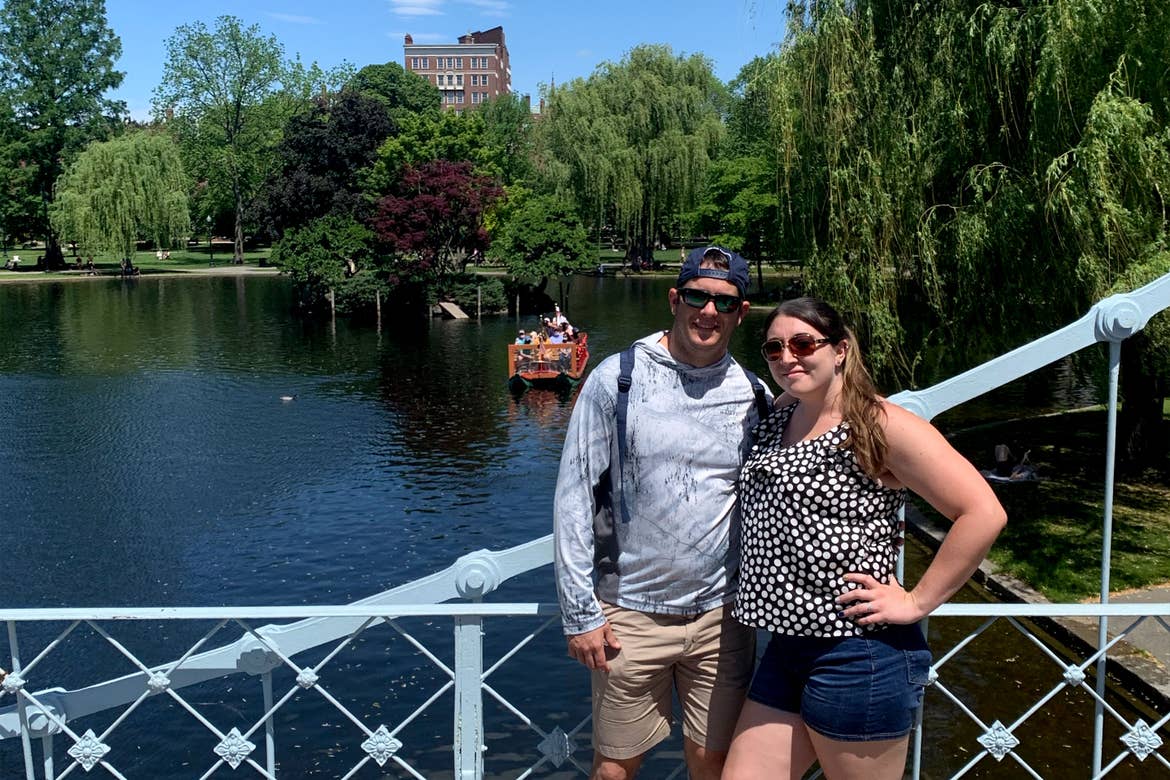 Brooks and me at Bawston Common (yes, we were those tourists saying 'Bawston' the whole time)

Right next to it, you can wander over to the Public Garden to walk the paths that are lined with colorful flowers, take a swan boat ride and see my personal FAVORITE part of this trip: THE DUCKS!

Visiting Mrs. Mallard and her 8 ducklings was the number one thing on my itinerary.

These bronze duck statues are actually one of the most popular Boston attractions for kids (and over-enthusiastic adults … like me).

Mrs. Mallard is about 3-feet-tall, so she's the perfect height for kids to pose for photos with her. And they're often dressed to impress for annual holidays or the time of year. (CUTE!)

Fun Fact: The names of all the ducks in order are Mrs. Mallard, Jack, Kack, Lack, Mack, Nack, Ouack, Pack and Quack.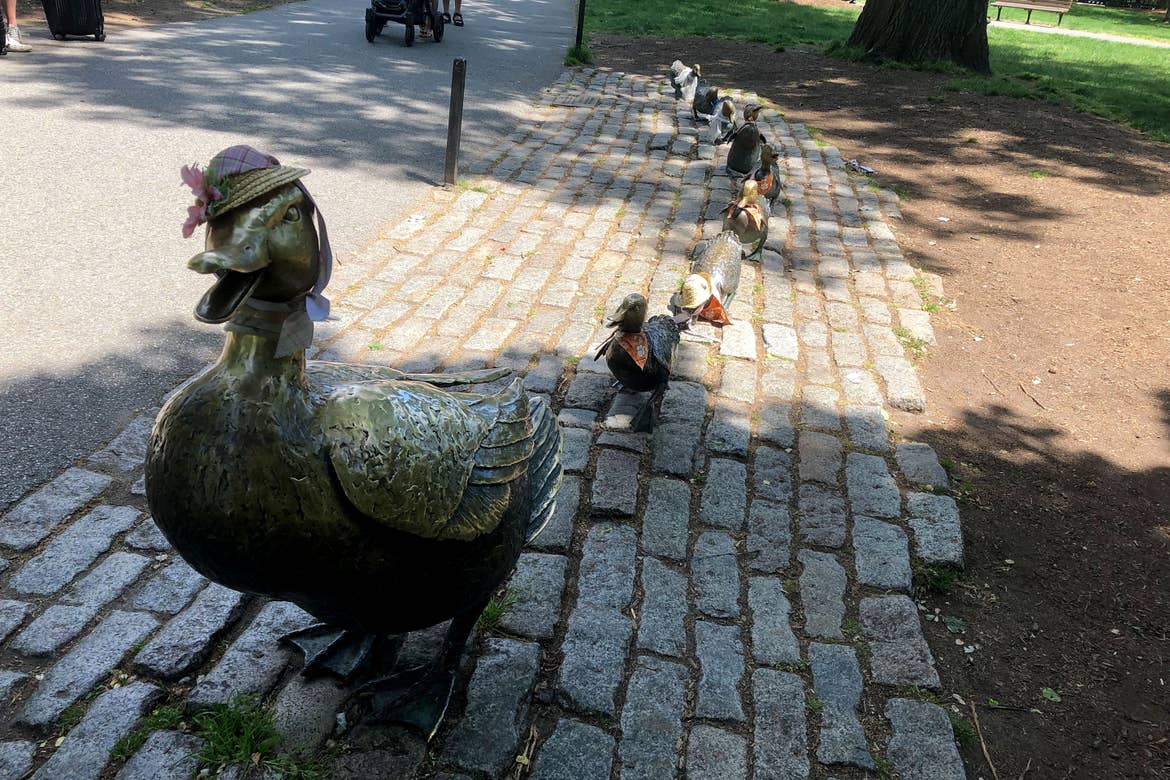 Make Way for Ducklings at the Public Garden (aka my new best friends)

Based on the well-known children's book, Make Way for Ducklings, you can find these national treasures located near Beacon Street and Charles Street.


Alternative Morning Ideas
Here are a couple more ideas to kickstart your morning in Boston.


Freedom Trail
Look down to follow the Freedom Trail (aka the red line you'll notice on the sidewalks throughout the city) to get a self-guided tour of historic sites from the American Revolution.

Fun Fact: You can also book a tour of the Freedom Trail with a guide dressed up like a colonial-era soldier.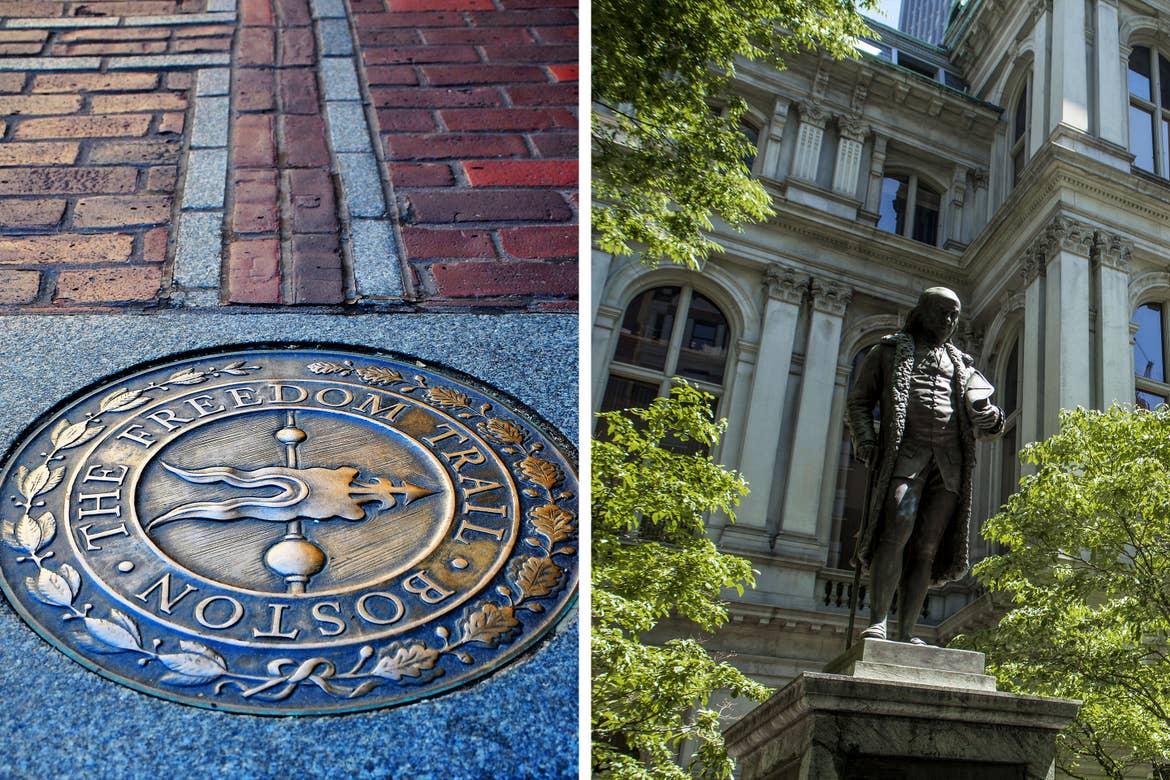 Left: Photo courtesy of Massachusetts Port Authority, photo by Charles LaMarre.


Boston Public Library
If you're a bookworm and love a little education on vacation, definitely check out Boston Public Library, probably one of the most beautiful libraries you'll see in your life.


John F. Kennedy Presidential Museum & Library
Go inside what the Kennedy era was like at this museum/library combo, which covers topics like the Kennedy-Nixon debate, Cuban Missile Crisis, space program, the Kennedy family and more.


Eat Lunch on Newbury Street & Stroll Along the Charles River Esplanade
It's actually just a 15-minute walk from the Public Garden to Newbury Street, which is fillllllled with restaurants and big-brand stores.

It's one of Boston's (many) hubs for good food, shopping, arts and culture.

Nick's Local Restaurant Pick: "Capital Burger is FANTASTIC! All the beef is cultivated specifically for its restaurants.

I usually get the classic Capital Burger and my roommate gets the Roasted Wild Mushroom Burger. And the Stoli Doli Spiked Shake is incredible."

After lunch, Nick recommends taking a stroll along the Charles River Esplanade, a 3-mile stretch of public green space on the river's shoreline.

This quote came straight from his mouth (read: text message). "The Charles River Esplanade from Newbury is soooooo pretty."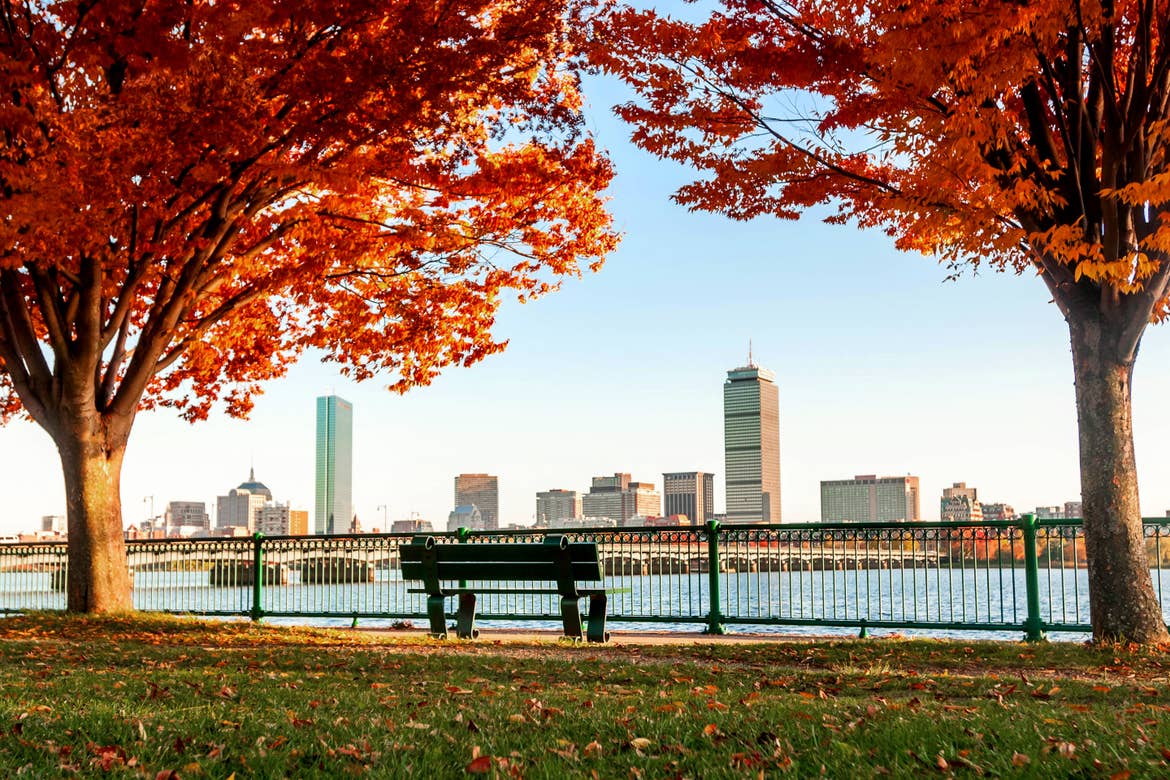 You just can't beat the views of the Boston skyline from the Charles River Esplanade.

Walk, check out historical monuments, have a picnic or take a tour — how you explore this gorgeous Boston gem is entirely your choice.

Pro Tip: If you love a good workout on vacation, go for a run or bike ride along the Charles River Esplanade. A view like that is worth the exercise.


Alternative Lunch Ideas
Here are a couple more ideas for grabbing some grub in Boston.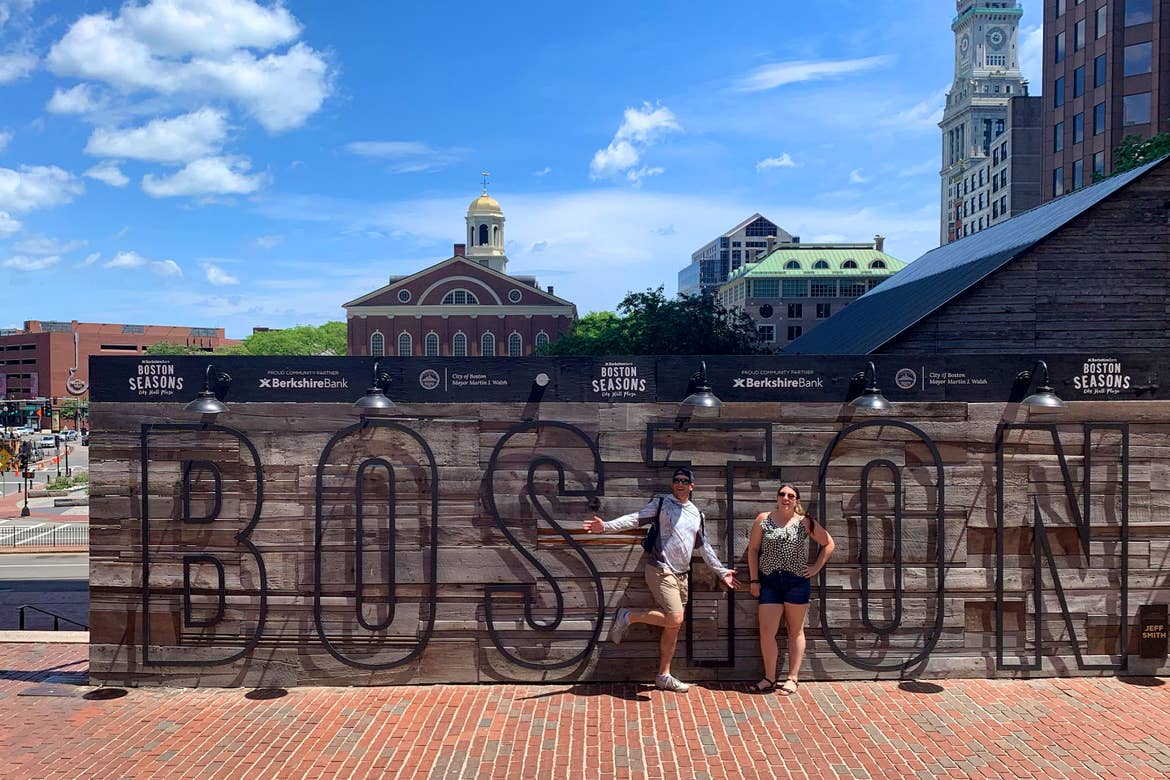 Pro Tip: Be sure to stop at the Boston sign for a photo op before Faneuil Hall (which is literally right behind it).


Faneuil Hall
Faneuil Hall is the largest food hall in New England with 12 restaurants and pubs, 30 food merchants and even more outdoor cafés.

It has everything from barbecue and enchiladas to clam chowder and lobster rolls.

It's a must-see for sure, but if you're way more into local gems, you might like the lesser-known spots a bit better.


Sam Adams Tap Room
The Sam Adams Tap Room is just steps away from the statue of Samuel Adams (aka Boston-born leader of the American Revolution).

The Tap Room is brand-new, serves light bites and is literally 2 minutes from Faneuil Hall.

We didn't go here, but as big craft beer enthusiasts, we reallllllly wanted to.

We did, however, get to go to the main Sam Adams Brewery in the Jamaica Plain area. It was the original home of the man himself, which was wicked cool. 😉

Pro Tip: If you're visiting Boston for a fall getaway, the sweater weather and fantastic foliage pair perfectly with a Sam Adams Jack-O Pumpkin Ale or Octoberfest.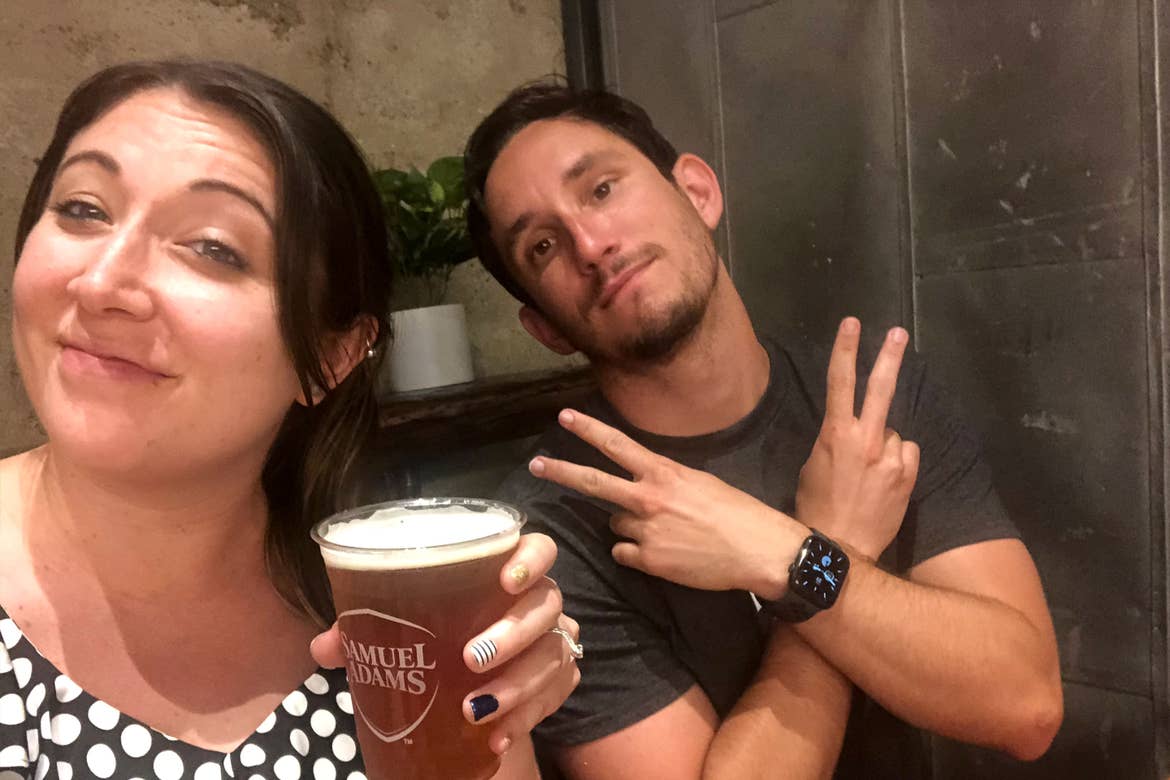 Peace, love and "hoppiness" at the Sam Adams Brewery in Jamaica Plain


Get to Know Boston's Past, Present & Future at a Museum
There's really no shortage of places where you can get to know what makes Boston, Boston, but museums are a great way to start!

When I looked up "best things to do in Boston," the Isabella Stewart Gardner Museum (ISGM) immediately caught my eye.

And I will say — this museum is a GEM.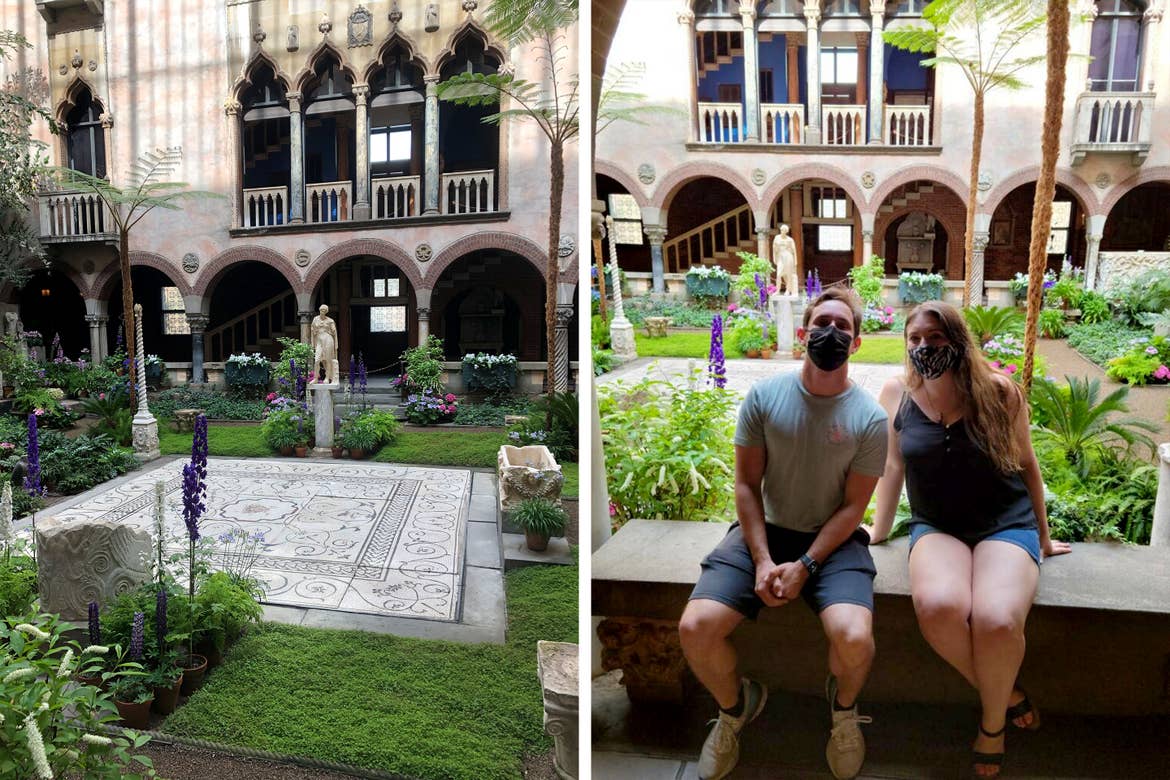 Isabella Stewart Gardner designed her dream home — correction: mansion — from 1898–1901.

When I told Nick I wanted to go to ISGM, he said, "HAVE YOU SEEN THE DOCUMENTARY?" I had not.

After I did sit down and watch "This is a Robbery: The World's Biggest Art Heist," I was in complete shock.

The premise: In 1990, 13 pieces of art worth $500 million were stolen from the museum.

We're not talking no-named art pieces here — these were masterpieces by Rembrandt, Vermeer, Degas and Manet.

All artists I learned about in Art History. I truly never thought I'd need this information ever again in my life, so that's just one more reason I was excited for this Boston museum.

Since many of the stolen works were cut out from their golden frames, they each still have their spots reserved on the walls — waiting for their return.

To this day, they still don't know who stole them for sure or where they are.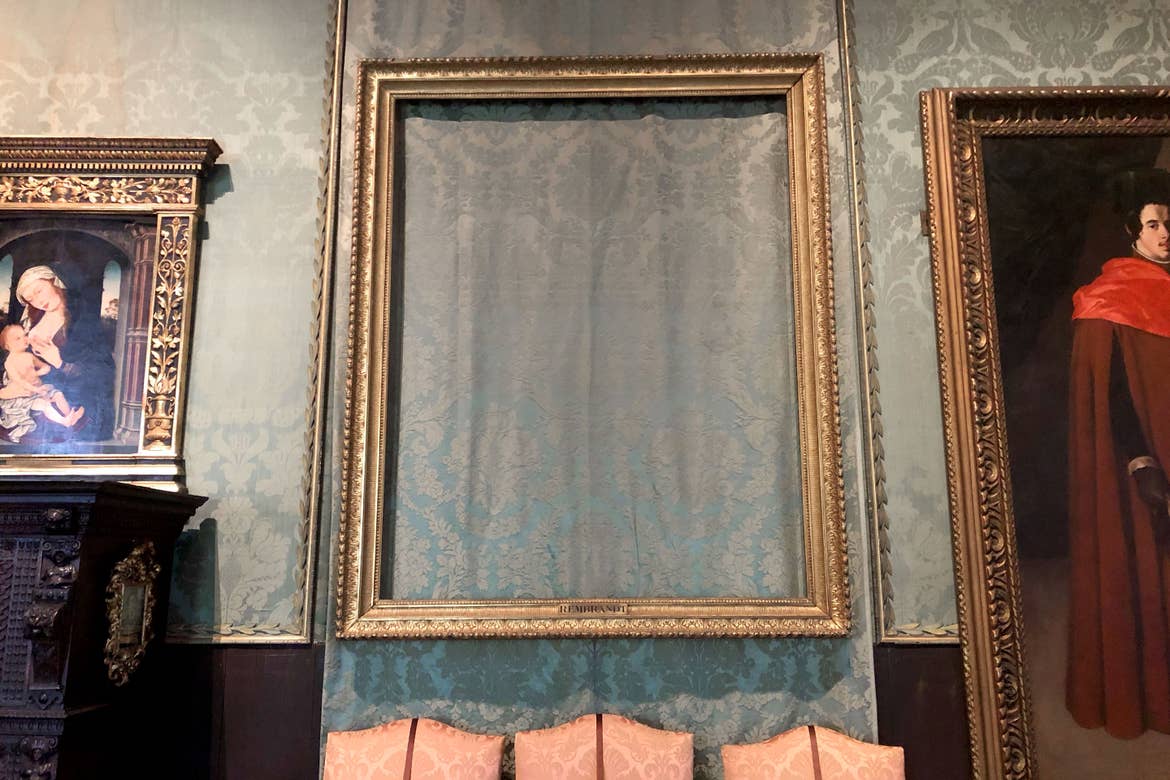 This spot once held Rembrandt van Rijn's "Christ In The Storm On The Sea Of Galilee."

After learning about the heist, walking through the museum felt a bit eerie as you're retracing the steps of the thieves who were there just a few decades ago.

Many people don't know about the heist and when you ask museum attendants, they're a little reluctant to talk about it. (It might still be a sore subject.)

Keep in mind: The walls in each room are completely covered in art from floor to ceiling, and there aren't many art plaques describing them.

I'd highly recommend scanning the room's QR code to learn more about what you're looking at.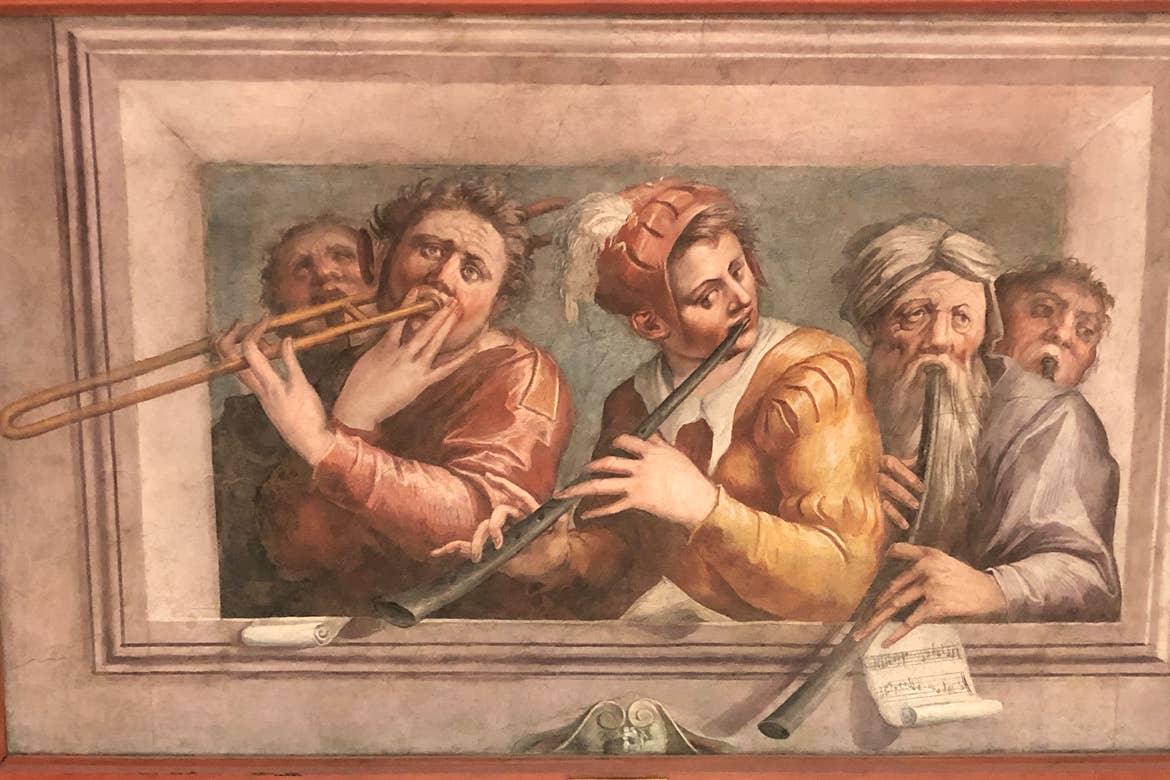 Giorgio Vasari's, 'Musicians, About' (1545)


Alternative Museum Ideas
If that wasn't enough excitement for you, check out some of these Boston museums that might steal your heart like ISGM stole mine.


Museum of Science
This is another one that's on my list for "next time." Science is pretty darn cool, and the Planetarium at the Museum of Science looks like something out of a movie.


Museum of Fine Arts
You can also spend the afternoon perusing nearly 500,000 works of art, from ancient Egyptian to contemporary exhibits, at The Museum of Fine Arts.


---
Ready to Experience the Beauty of New England?
---
Take a Tour of Fenway Park (or Hit Up a Red Sox Game!)
If you're in town during a Red Sox baseball game, forget everything we've told you and just go do that.

Apparently, everyone I know in my life is a Red Sox fan, and they raveeeee about how awesome the games are.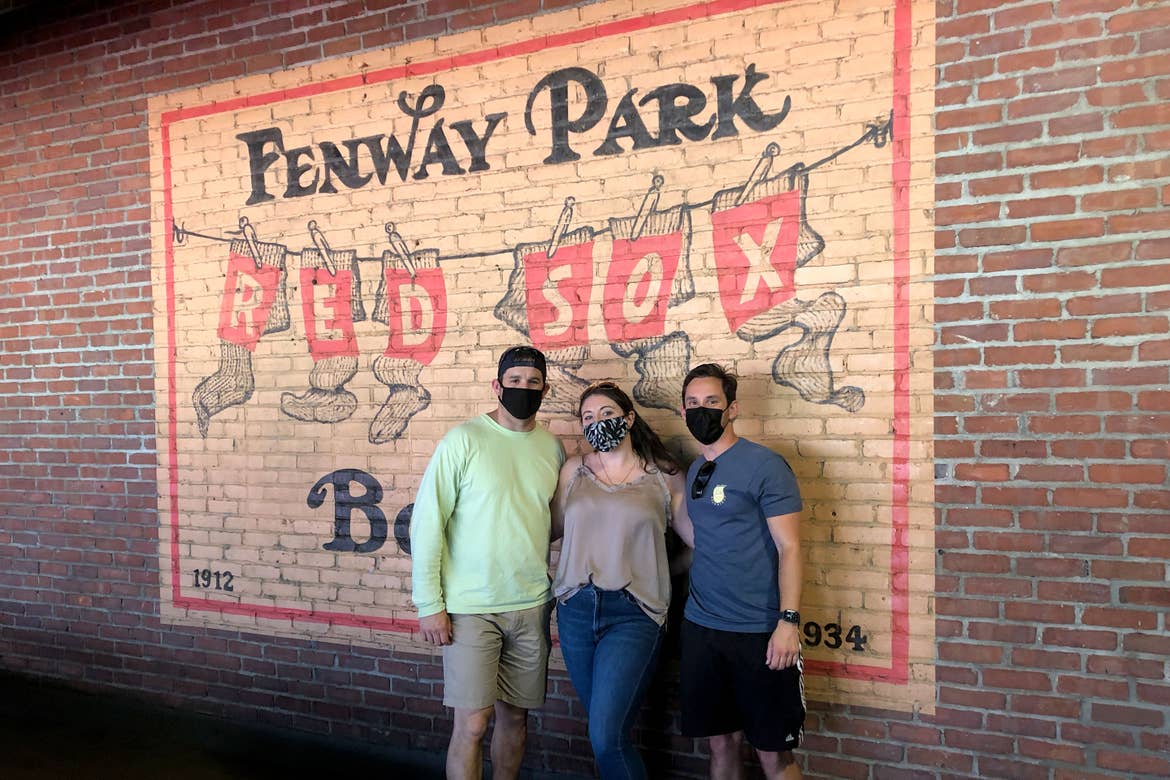 Fenway Park was pretty cool ... but did I mention I'm a Yankees fan? 😏

Our trip was during an away game, but a Fenway Park tour was the number one thing on Brooks's list. (He was literally named after the professional baseball player, Brooks Robinson.)

This one-hour tour was probably one of the best I've ever been on.

Our guide was knowledgeable and funny. He told us all about the legends of America's Most Beloved Ballpark.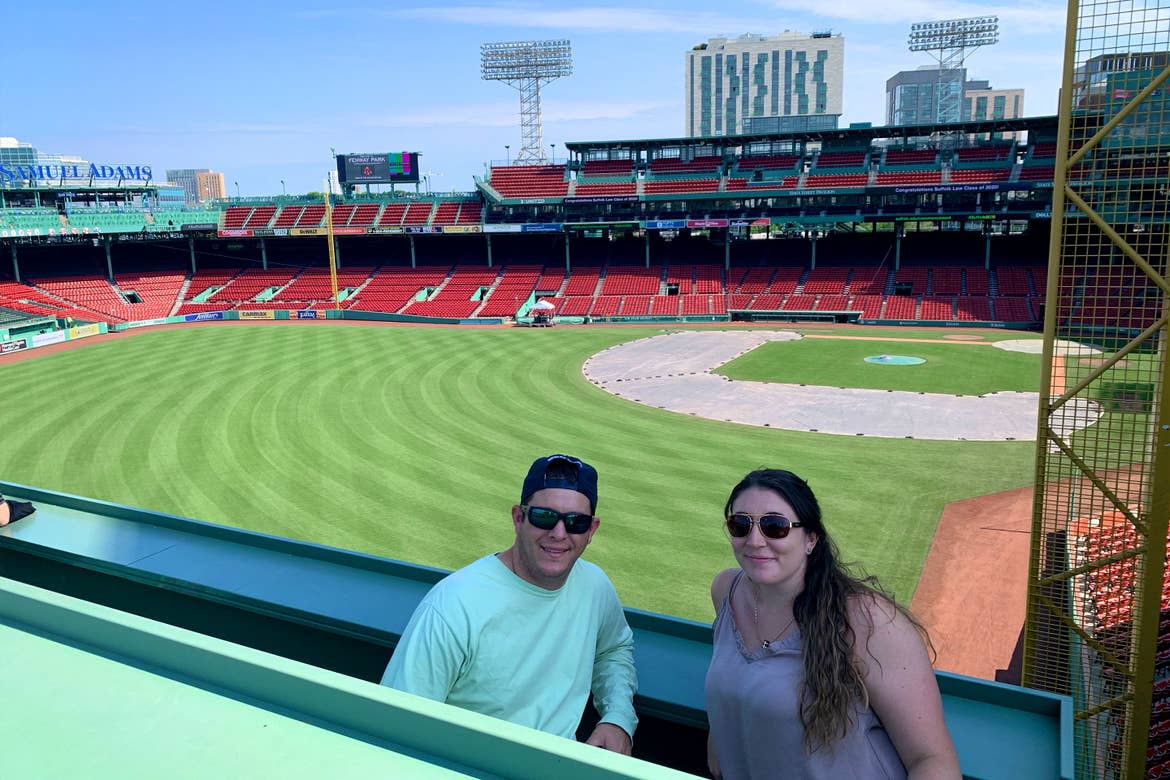 Not to mention, the views from the legendary Green Monster section were a homerun.

My favorite part was the story behind the famous "Red Seat" — a lone, red-colored seat in a sea of green. (I won't spoil it — seriously, go take the tour.)

Afterward, Nick took us to The Bleacher Bar. It's situated right under the bleachers of Fenway Park's centerfield, just a few feet away from the "Red Seat."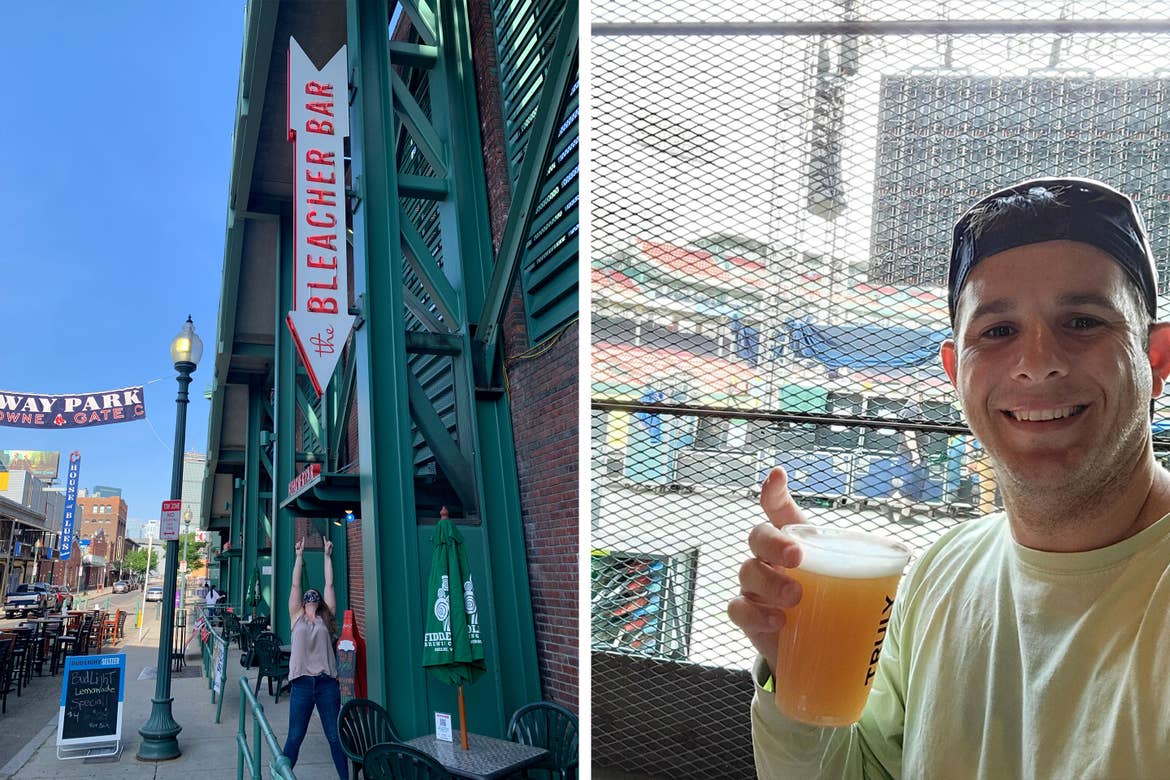 The Bleacher Bar at Fenway Park

It has a big garage window where you can see directly into the stadium. I've never been anywhere like it.

When we were there, there was a graduation stage blocking the view of the field, so it was just bad timing for us, and we'll definitely need a do-over.


Alternative Tour Ideas
Baseball not your thing? Not to worry — there are plenty more tours to choose from.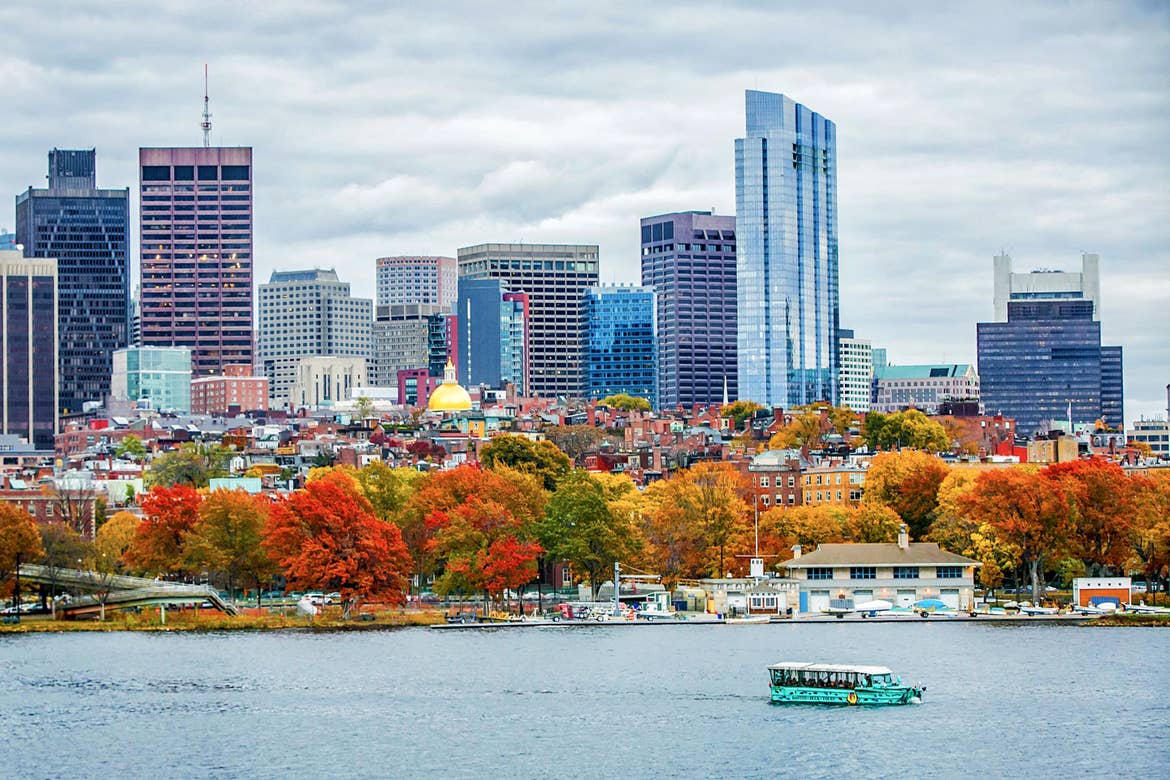 Photo courtesy of Greater Boston Convention & Visitors Bureau, photo by Kyle Klein


Duck Tour
Take a Duck Tour to see the city by land and sea with an exuberant guide called a "conDUCKtour."

My personal opinion on the Duck Tour is that if you're not a fan of corny jokes and touristy attractions, skip it.

And if you are, go to the bathroom before you hop aboard. (This pro tip is brought to you by someone who didn't.)


Harvard University Tour
Explore this Ivy League institution on a walking tour led by a student guide. They'll give you personal insights into the history, buildings, monuments and outdoor areas at Harvard.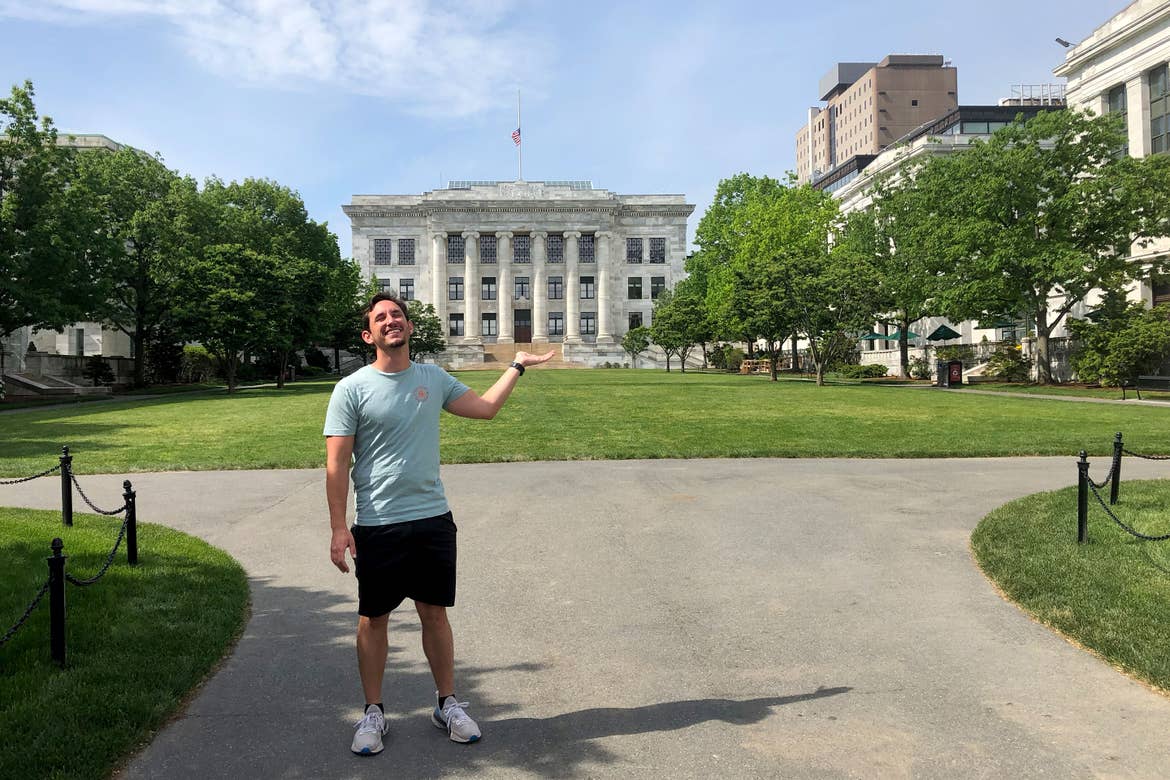 In a few years, Nick might even be your tour guide. (He'll be applying for his Ph.D. — proud friend moment 😭.)


Enjoy an Italian Dinner, Drinks & Desserts in the North End
After Fenway Park, you can hop on the subway (for the true local's experience) and head to the North End for dinner.

It's hard to choose my favorite part of our Boston vacation, but dinner in the North End was highhhhhh on the list.

We chose Florentine Café for dinner, mainly because it was the only spot that took our last-minute reservation … but I like to think it was destiny.

My lobster ravioli was chef's kiss delicious. 12/10 would recommend.

I also got an espresso martini because Nick told me it was a "thing" in Boston. Well, I'm glad it was a thing — it made me feel fancy.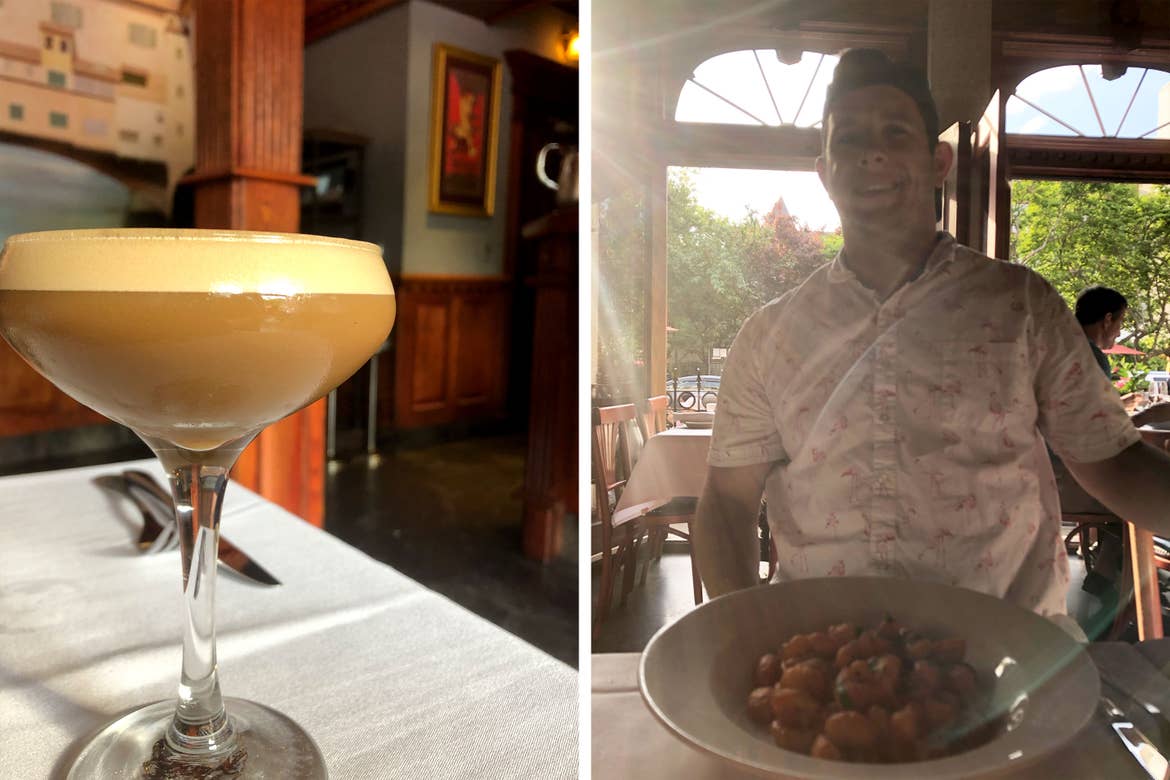 Martini, ravioli and gnocchi — that's amoreee.

Pro Tip: Make reservations in advance. We tried to make ours same-day, but everywhere was pretty booked up.

Pro Tip 2: Save room for dessert!! We walked over to Mike's Pastry for a cannoli, and it tasted like what dreams are made of.

You can actually choose from ~20 different flavors. I went with the classic, and I was very happy with my decision.

Pro Tip 3: Before you wait in line at Mike's, grab some gelato next door to get a little dessert before your big dessert.

I think we waited in line for 15 minutes, but Mike's was 1,000,000% worth it. And I got two desserts, so it was a win/win for me.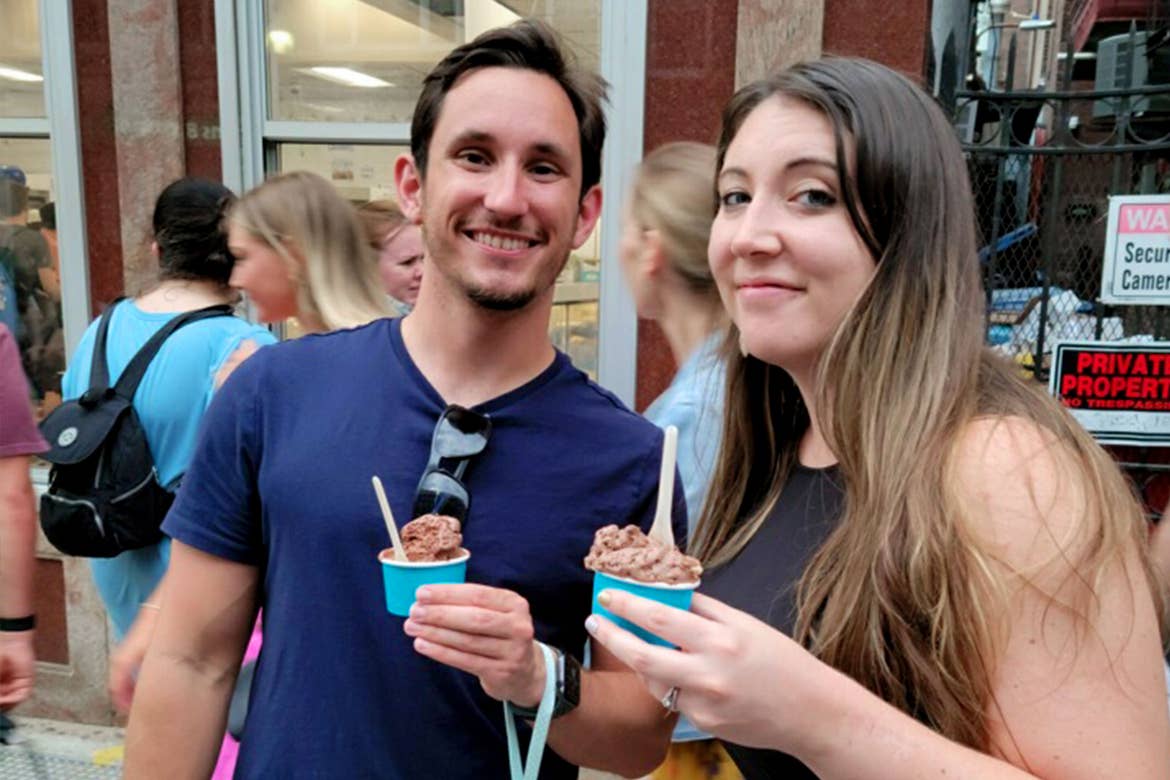 Our dessert before the dessert

Now, there's a Mike's vs Modern debate on who has the best cannoli. My friends weighed in, and it's a pretttttty even split.

I have yet to try Modern Pastry, but it's on my list for next time, so I can settle it once and for all. I'll keep you posted.


Alternative Dinner Idea
The North End is truly the best … BUT if you want a classic Boston dish, here's another option.


James Hook & Co.
For lobstah rolls! This spot is located near the Seaport district on the water, and its lobster rolls were fantastic.

Cold or hot, mayo or butter, you can't beat fresh lobster!

Heads up: Lobster rolls are pricey in Boston (like $28 pricey), but they're so so good. 😋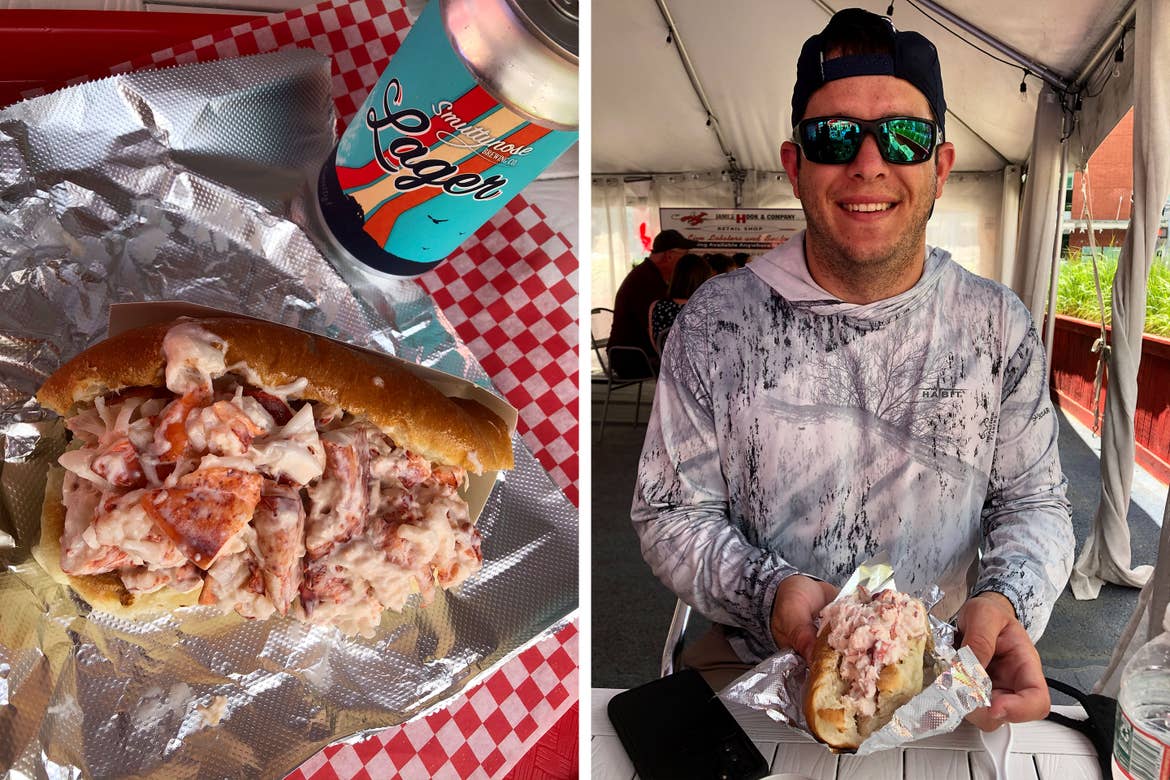 You can't go to Boston without getting a lobstah roll!


End Your Day with a Nightcap at a Rooftop Bar
By the end of each day we had, we were exhausted from our adventures. Like, in-bed-by-9-pm exhausted.

But next time, we'll make time for one of the city's vibrant, picture-perfect rooftop bars for a nightcap with a view.

If you have the time and the energy after your full day in Boston, shoot for the stars at a rooftop bar — even if it's just for one drink or mocktail.

Nick's Local Bar Picks: "Two of my favorite rooftop bars are Envoy in Seaport and Top of the Charles on the Charles River."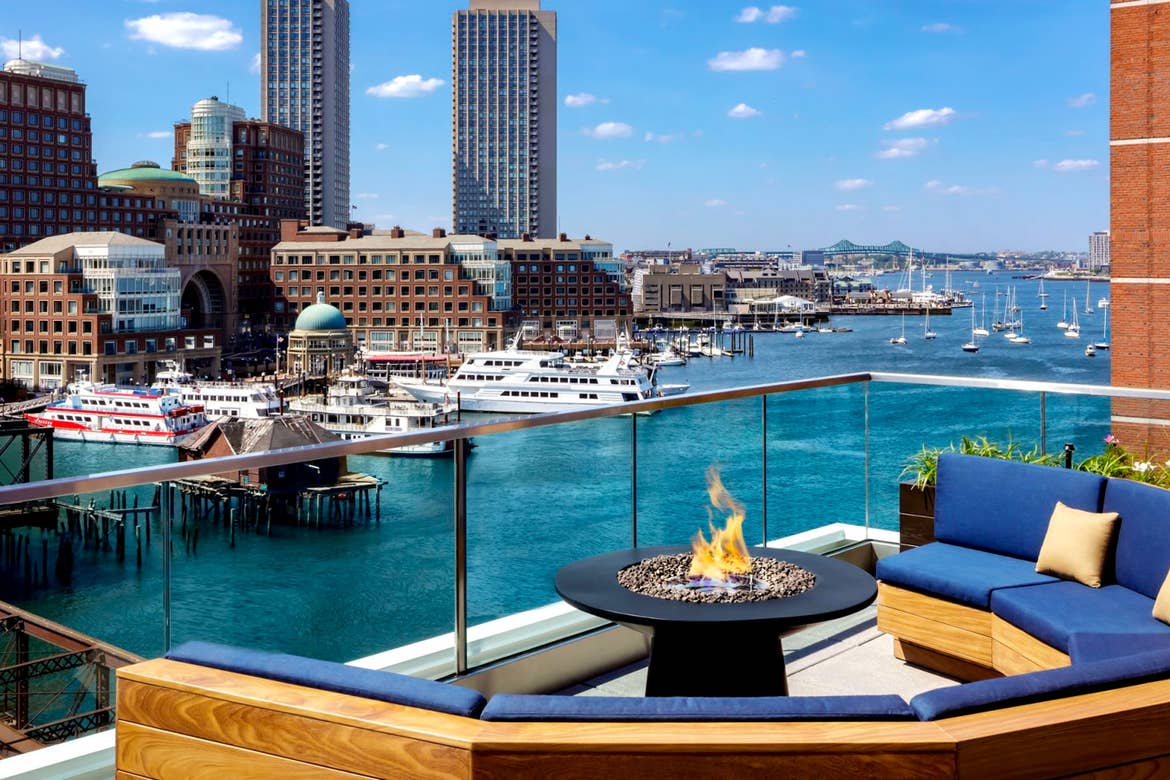 Photo courtesy of The Envoy Hotel Boston, Lookout Rooftop


Alternative Nighttime Ideas
Here are a few more ways to keep the fun going before ending your day in Boston.


Glowing Swings at The Lawn on D
Head to The Lawn on D to take photos on the Insta-famous glowing swings. Just keep in mind the lawn is located near Seaport, but a little out of the way unless you're already in the area.


Neighborhood Parks
If you want a more chill nighttime activity, or if you have kids who have some left-over energy to burn, Boston is full of well-lit parks where you can rest before heading "home."

Again, I'm partial to the Public Garden (for the duckies!), but there's a lot of great options.


The Leonard P. Zakim Bunker Hill Memorial Bridge on the Charles River


Where to Stay Near Boston
If you need a place to stay outside all of Boston's hustle and bustle, check out Oak n' Spruce Resort in South Lee, Massachusetts.

It's about 2 hours away, so this one-day Boston itinerary will come in mighty handy for a trip to the city.

Oak n' Spruce Resort is the very definition of a quiet retreat in The Berkshires, and it's situated in the perfect spot for outdoor adventures and resort fun.

Here's what you can expect at this nature-filled retreat:
Multi-bedroom villas with full kitchens to cook meals in
Indoor and outdoor pools
Mini golf
Game room
And much more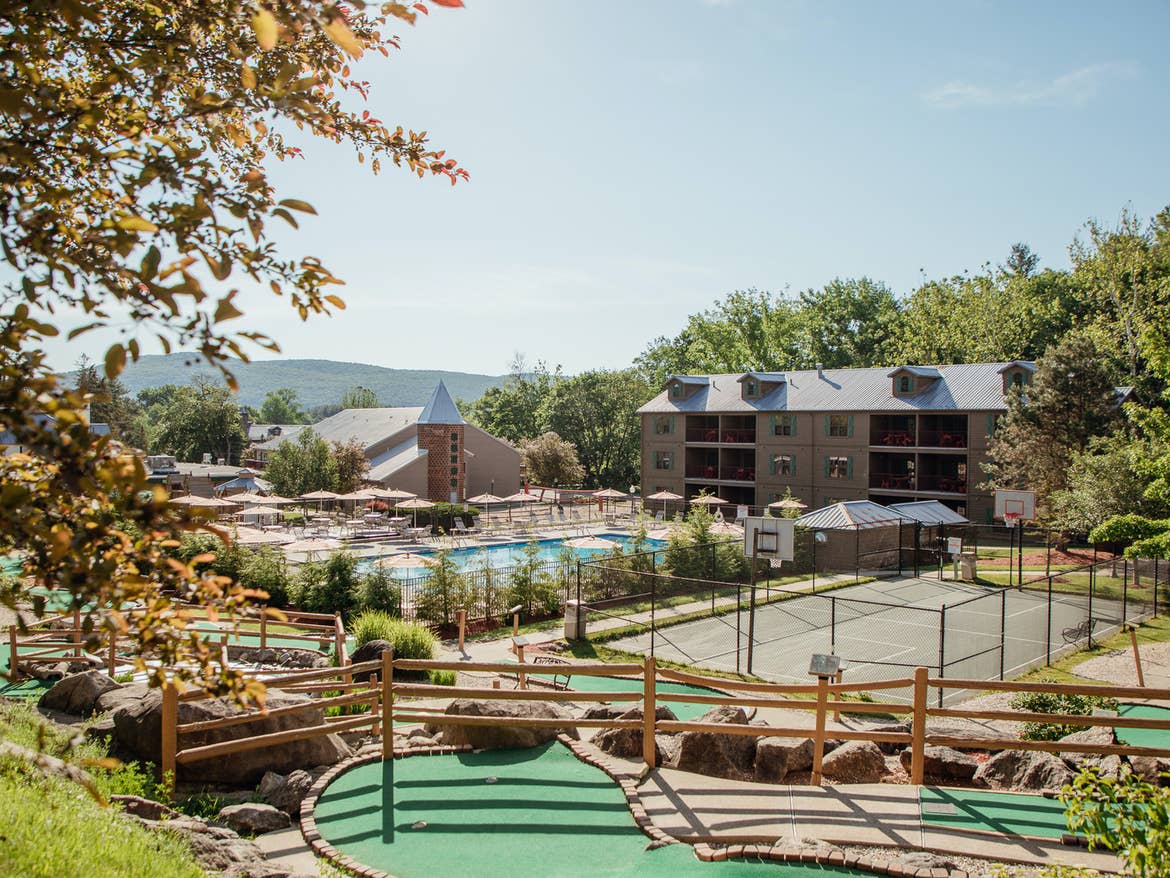 Oak n' Spruce Resort is a beautiful home base for big-city Boston adventures.

The sheer number of things to do in Boston is amazing … but it can be overwhelming.

Nick and I had a REALLY hard time picking these activities because you can truly spend a week in this city and not even scratch the surface…

But I think we did a pretty good job of giving you some ideas and different ways you can spend your one day in Boston.

We hope you have a wicked-good time! Say hi to Mrs. Mallard for me. 🦆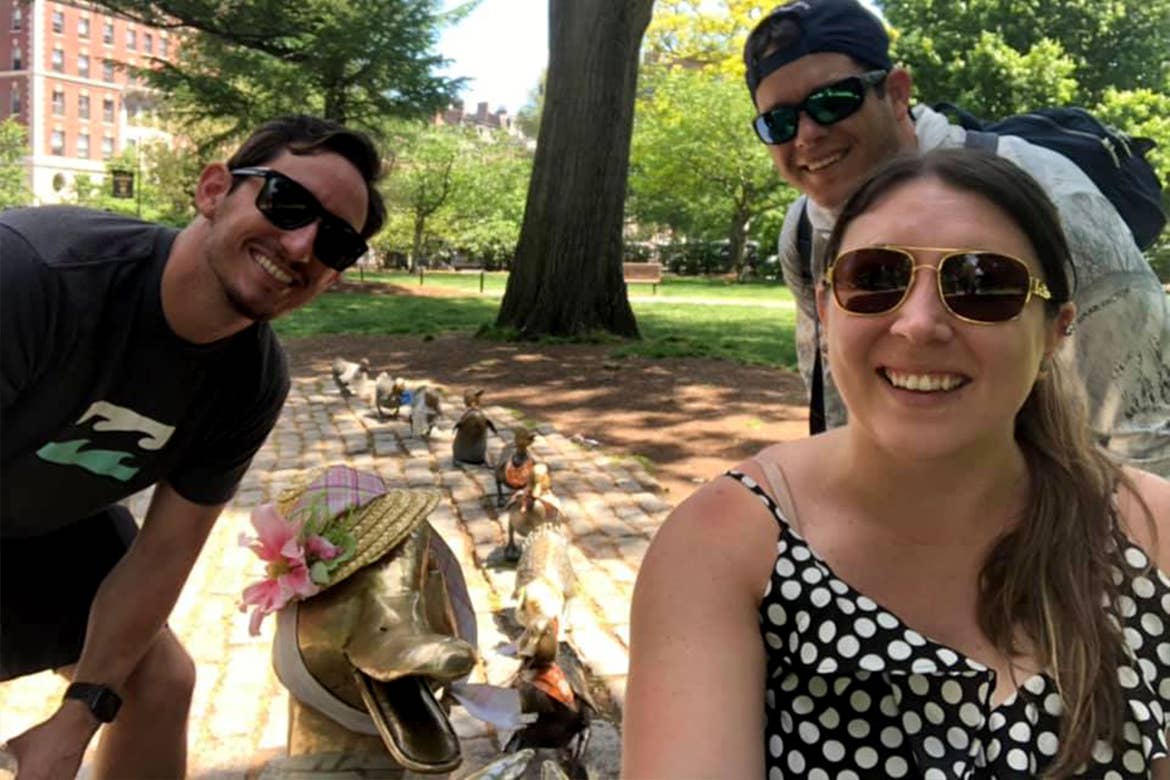 All information is subject to change. This article is a curated guide and is neither sponsored nor considered an official endorsement. Please be sure to check information directly with any/all tours, guides or companies for the most up-to-date and direct details.